Glacier Point & Yosemite Wrap Up
Yosemite is a huge park, and the four days we spent there only gave us a chance to see a tiny, tiny sliver. However, we think we hit most of the highlights. This post will share one final favorite from the park and wrap up our experiences.
After a few days of exploring Yosemite by raft and by foot, we decided to spend a day exploring by car and take a drive up to Glacier Point. From the valley, it takes almost an hour to get there, but it is a must do. For some quintessential Yosemite photos, Glacier Point is your place.  It allows you to see the valley from above, with Half Dome ahead and the waterfalls below.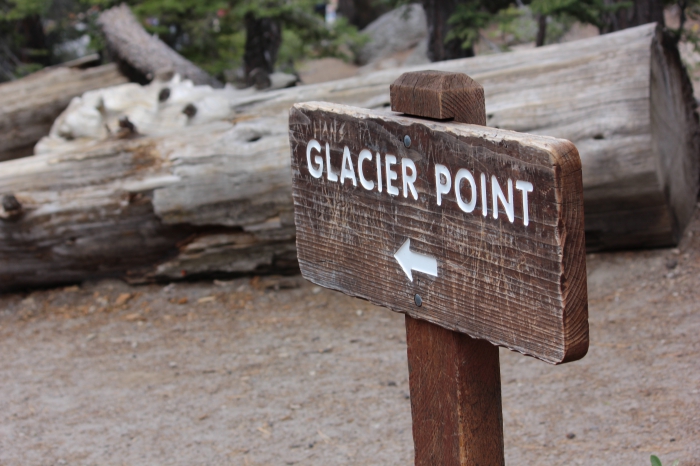 As we made our way out of the heat of the valley, I appreciated the drop in temperature as the road rose in elevation. Luckily, this mountain drive was not as nerve-wracking as the road into Sequoia. (Note: after our visit, Yosemite began closing the road to automobiles once the parking lots at Glacier Point are full, meaning visitors will have to take a shuttle at peak periods.)
On our drive to Glacier Point, we came upon a tour bus and cars stopped on the road. In a national park, that can usually mean one thing: BEARS! Soon enough, we spotted a beautiful bear foraging on the side of the road. We had seen several in Sequoia, but this was the only one we saw in Yosemite.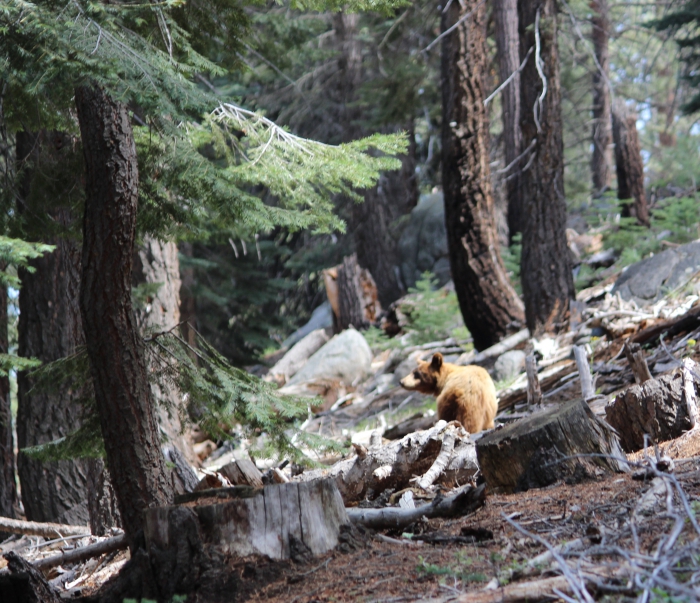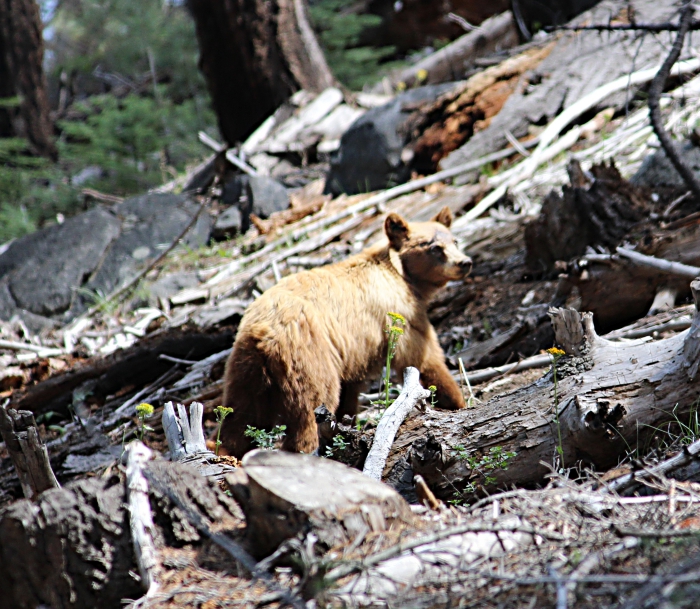 Before you reach Glacier Point, you'll come to Washburn Point. Be sure to pull off, since it is equally spectacular. The pictures below may have Washburn Point and Glacier Point intermingled since I have forgotten which came from where. Both places are stunning.
After a long drive, our boys were eager to hop out of the car and begin exploring. Though the trails to Washburn Point and Glacier Point aren't long, they are still interesting.  These trailside boulders were a big hit: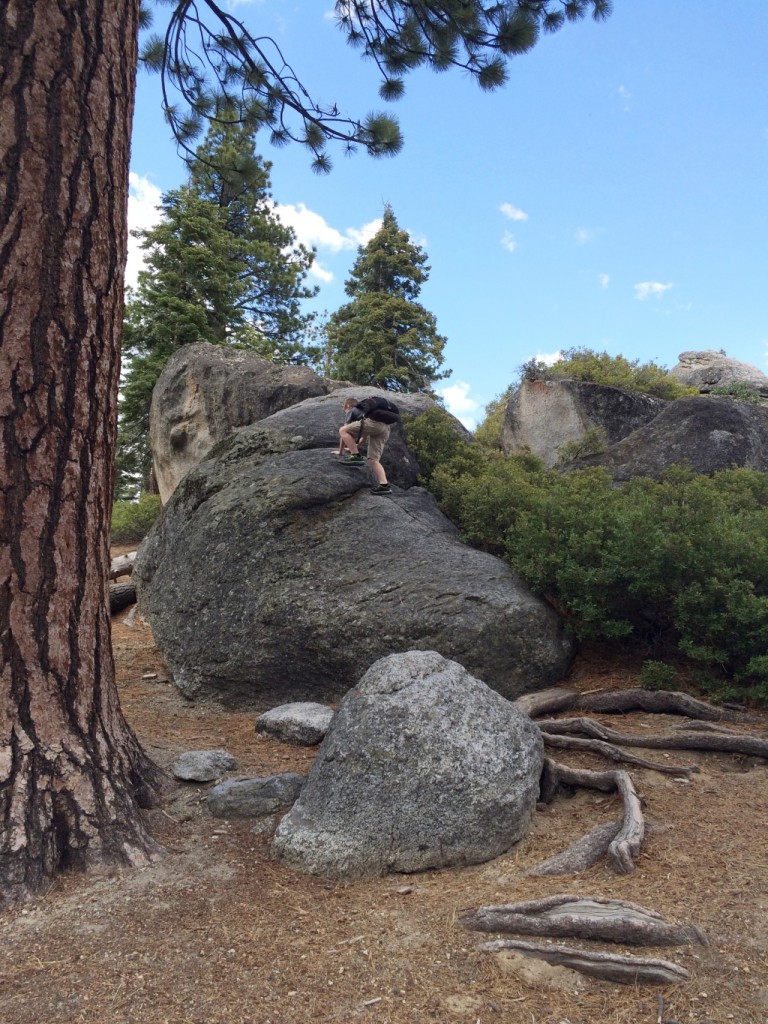 Walking toward the scenic overlook, we caught our first glimpse of Half Dome, rising over the trail: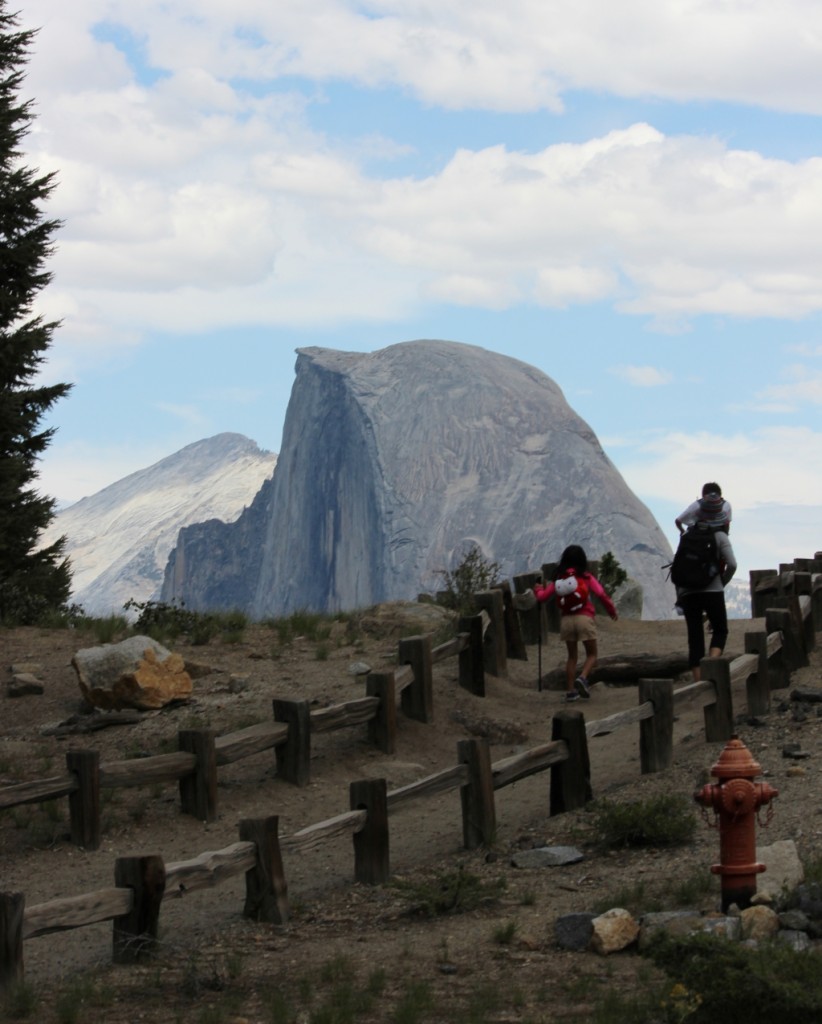 Eventually, the view opens up. It.is.epic! No wonder this is one of the places John Muir took President Theodore Roosevelt to camp when Muir was seeking to protect the Yosemite area. There's a great photo of Muir and Roosevelt taken at Glacier Point.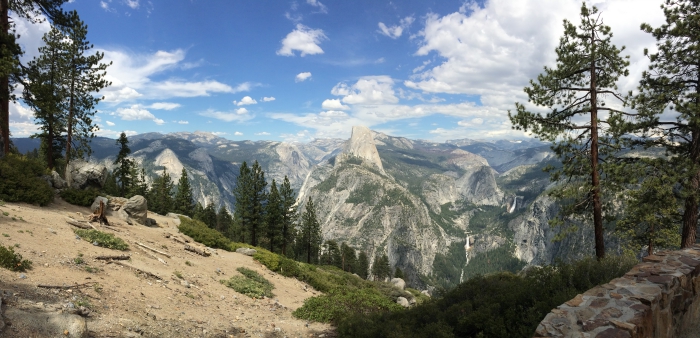 From this peaceful vantage point, it is hard to imagine that the the green valley is actually full of hotels, stores, restaurants, and thousands of travelers. The zoom lens on my DSLR camera helped us locate the Merced River and Ahwahnee Hotel.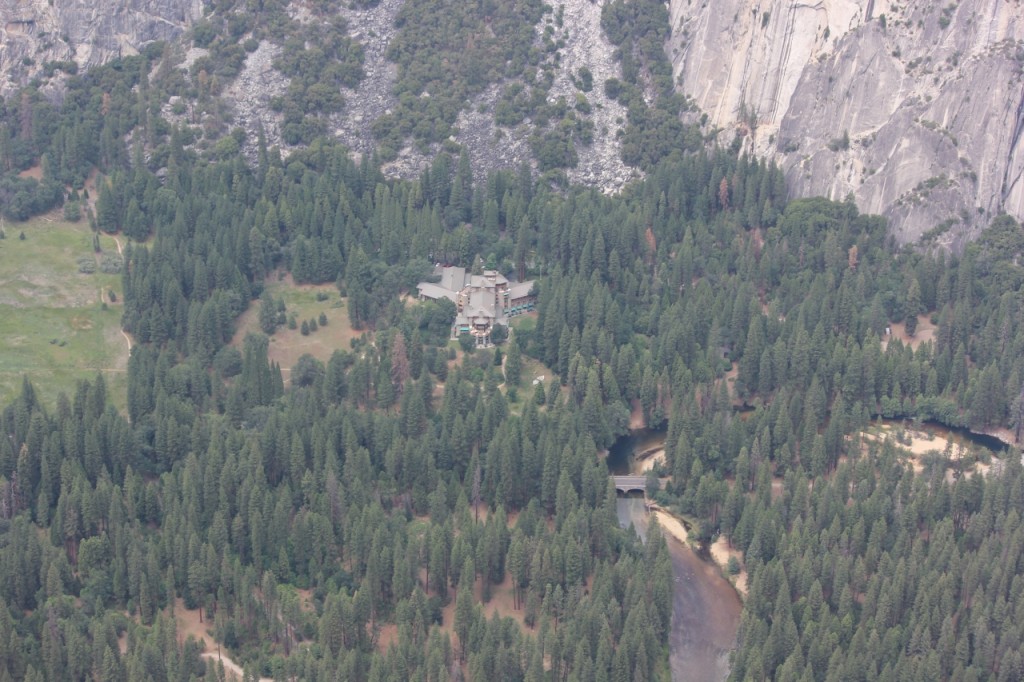 After enjoying the waterfalls from below when we were in the valley, Washburn and Glacier Point allowed us to see them from above.  You can see a couple to the right of Half Dome in this picture: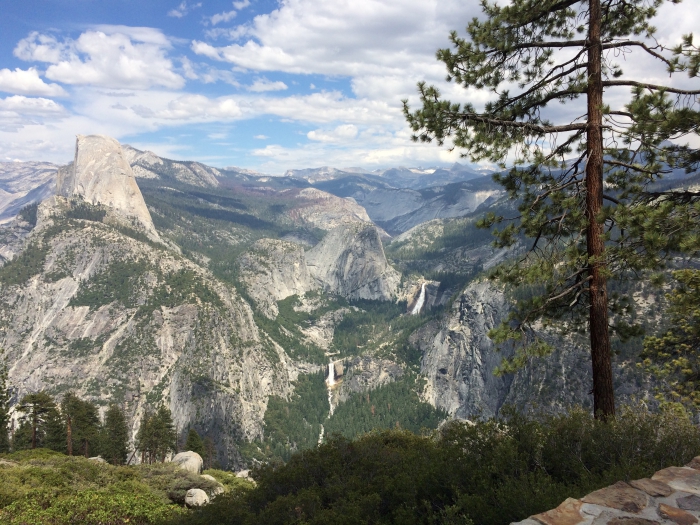 Here are a couple of zoomed-in shots of the waterfalls. Since we visited Yosemite in June, the waterfalls were really flowing and could easily be seen from miles above.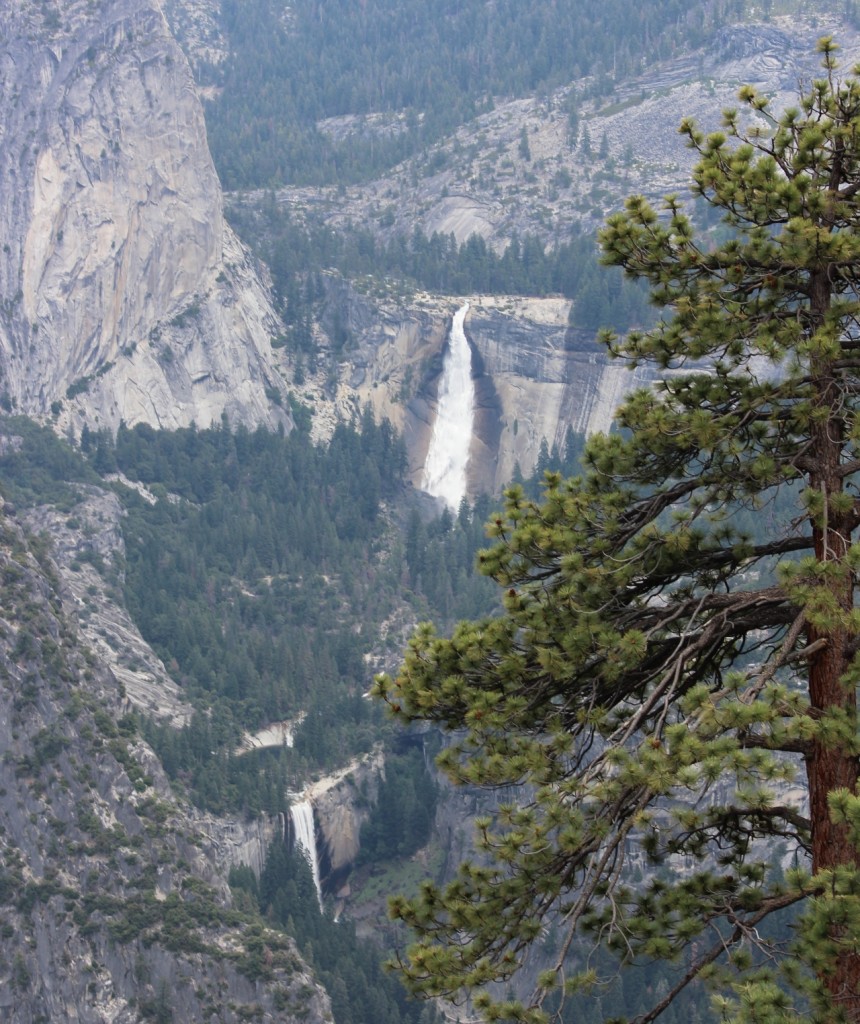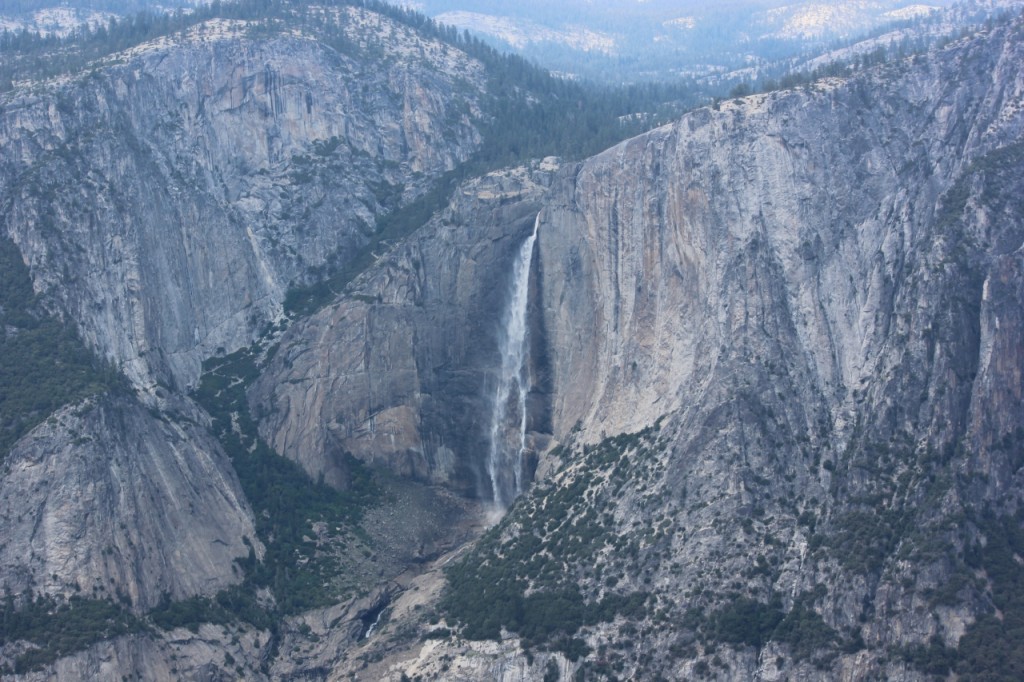 One thing we did not do at Yosemite was hike the Mist Trail to the top of Vernal Falls. This trail involves quite an elevation change up some stone steps that get soaked with mist from the falls. I had made the mistake of Googling whether anyone had died on this trail and found out people had. Of course, many of those people had gone off the trail (most were actually swimming ABOVE the waterfall and got washed over), so it's not likely the trail itself is dangerous, but once I had that thought in my head, it was hard to get it out! With so many other choices, we marked the Mist Trail off of our list. We did, however, get to see an amazing view of Vernal Falls from above…rainbow and all!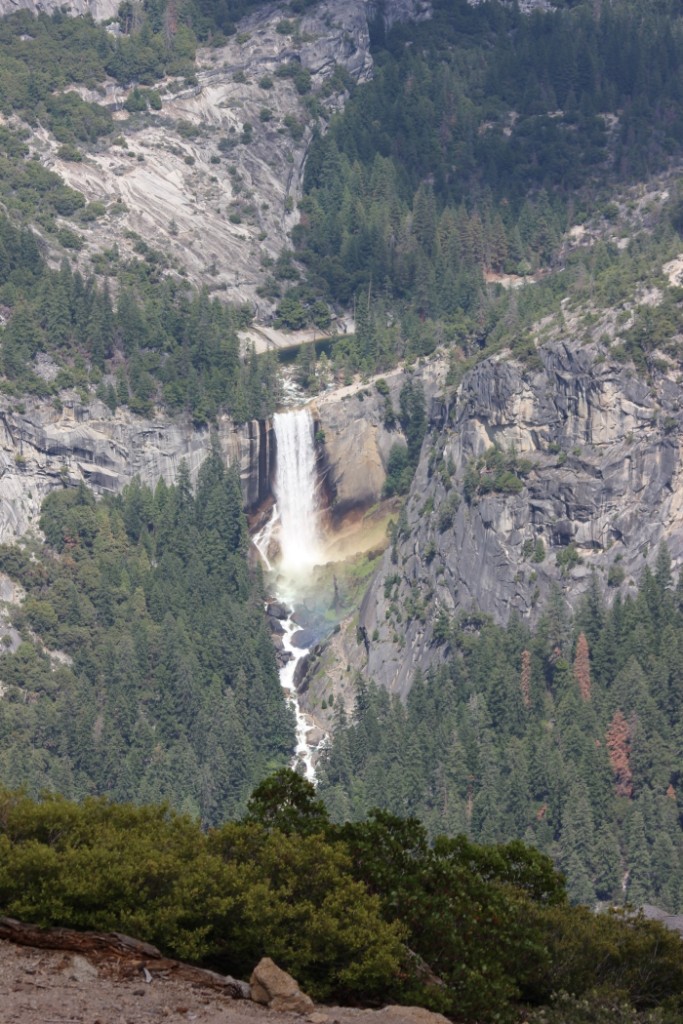 Waterfalls also make great backdrops.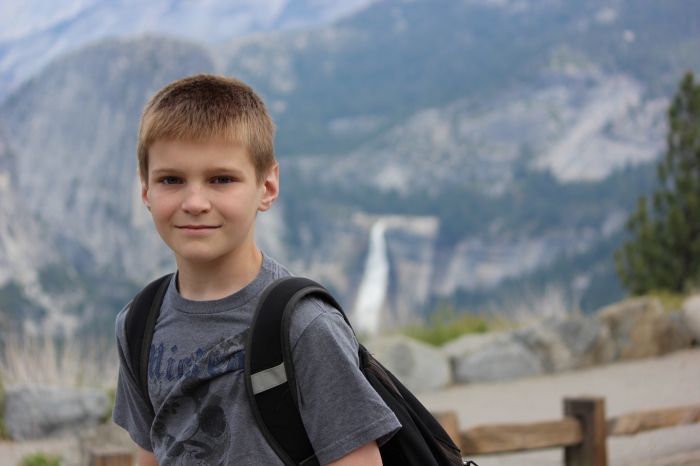 At Glacier Point, it really felt like we were standing on top of the world. So much beauty to take in all at once–it hardly looked real! I would love to see a sunrise or sunset from this spot, but we never arrived that early or stayed that late since we we were staying in an RV park so far from the park.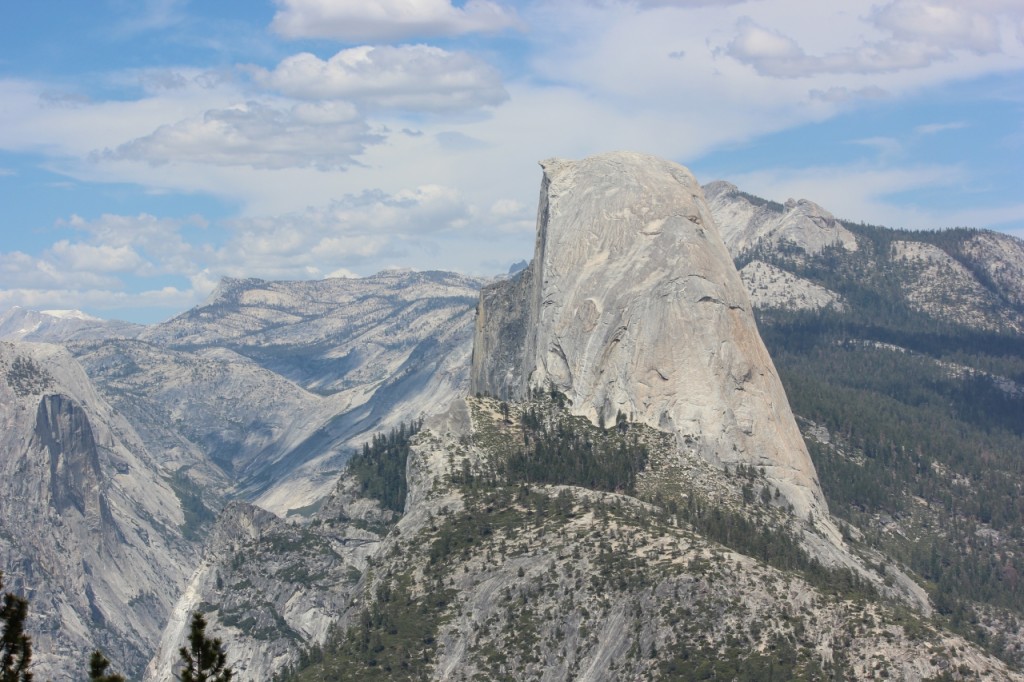 I love the photo below because it looks like our younger son has scaled a mountain and is standing at the top of a peak. Have no fear, he is surrounded by a huge rock ledge below.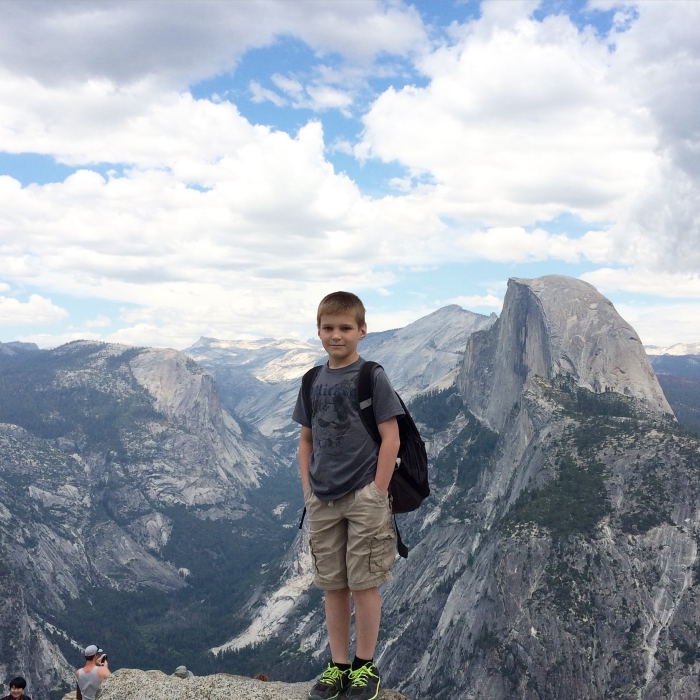 As we left Glacier Point, we planned to stop for a short hike to Sentinel Dome, but a pop-up thunderstorm seemed to be brewing in the area. With thunder booming, we decided it wasn't the best time to head out for a hike.
Yosemite Wrap Up
Yosemite National Park was one of those bucket list places that popped in to my mind one day and became an obsession. After buying Birdy last year, we took a few small trips and then decided to go ahead and do this epic road trip to Yosemite, even though we were complete newbies who had spent no more than three nights in our RV. And yet, we made it!
Yosemite was epic, and we could leave feeling we had experienced the best of the park.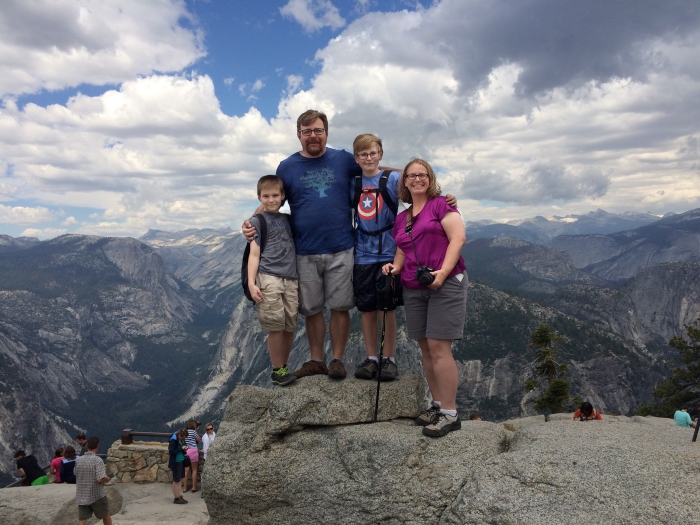 Yosemite Trip Planning Tips
If you are planning a trip to Yosemite, here are some tips:
If you want to reserve a campsite in Yosemite, you'll have to do so several months in advance. The park opens reservations for summer dates in February and in March, and they fill up immediately. If you want hookups (even electricity!), you'll have to stay outside of the park.
Unless you stay in the park, you will drive about an hour from any of the closest towns to reach the valley. We stayed near Groveland and had a beautiful drive that didn't seem to get old.
Yosemite is HUGE! Buy some guidebooks before you come, so you'll be familiar with the various areas. Know that you won't be able to do it all. Figure out what works for your family!
Yosemite is really crowded unless you get far off the beaten path.
Consider renting or bringing bikes and spending a day touring the valley on wheels. We did not do this, but I think it would have been fun.
If the river is high enough, be sure to consider rafting the Merced. This was truly our favorite experience in Yosemite. We paid to rent rafts, but it's much cheaper if you bring your own, if you can.
Avoid the plague! Ok, so I don't actually know how to avoid the plague, but I hope you do.
Don't miss Tuolumne Meadows. We loved this area of the park.
Plan to be without cell phone or internet reception through most of the park and surrounding area. I know people say you don't go to national parks to use your phone; however, I felt a little isolated having virtually no contact for the four days we spent in the area. We did find an amazing Verizon signal in the parking lot of the Merced Sequoia Grove, which was halfway between the valley and our campground. It has a nice picnic table and pretty pine trees, so you can enjoy nature and technology at the same time. If you're lucky, it might look like this while you're there:
P.S. If you'd like to hear me talk about our Yosemite adventures, be sure to check out the RV Family Travel Atlas podcast!  Episode #48 includes our trip, as well as another correspondent's trip to Glacier National Park.  You can find it here or on iTunes.
Find Travels with Birdy:
Share this post: