Should You Stay on the West or East Side of Rocky Mountain National Park?
Rocky Mountain National Park has two main gateway towns: Grand Lake and Estes Park. While both make for a great basecamp, how can you choose whether to stay on the west or east side of RMNP? We've been lucky enough to do both. These two vacation hubs offer unique experiences. Here are some considerations to keep in mind when deciding:
Gateway Town on the West Side of RMNP: Grand Lake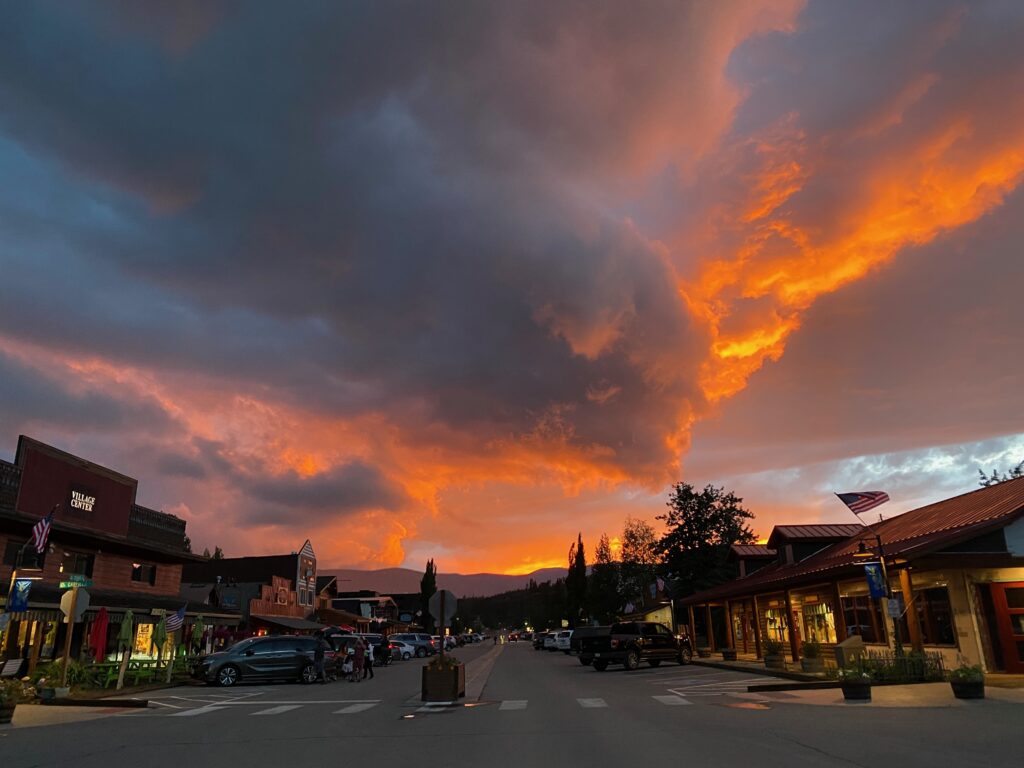 Located west of Rocky Mountain National Park, Grand Lake has a cozy, mountain town vibe. The downtown area is charming, with a great selection of local restaurants and shops, and views of the surrounding peaks. The buildings all have wood or rustic exteriors, adding to the charm.
Plus, you have the beautiful lake at the center of it all. Grand Lake feels like an old resort community where people would "summer" at the lake, with rustic cabins tucked into the surrounding forest. The swim beach is a popular spot in the summer. It's a great spot for SUPing or kayaking, followed by ice cream downtown.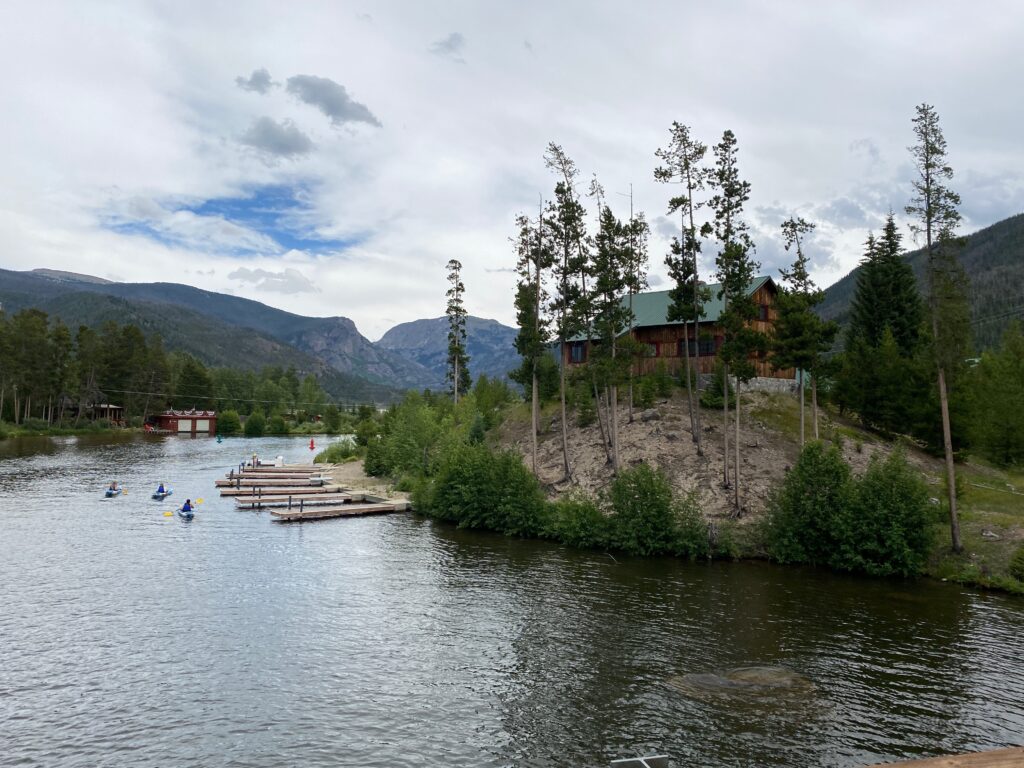 Gateway Town on the East Side of RMNP: Estes Park
Estes Park is larger and has a lot more development, which can be good and bad. We have loved Estes Park each time we've visited, but it is more commercial than Grand Lake. It has a more typical variety of chain stores and restaurants (which can be a key consideration if you are traveling with picky eaters or if you need to restock on familiar supplies).
The large downtown shopping and dining area has a lot of offerings, with a riverwalk located along the banks of the Big Thompson/Fall River. The first time we visited Estes Park, I kept asking my husband if this was real. I had seen so much fake scenery at theme parks that I thought maybe this was "enhanced" scenery, but nope, it really is this beautiful.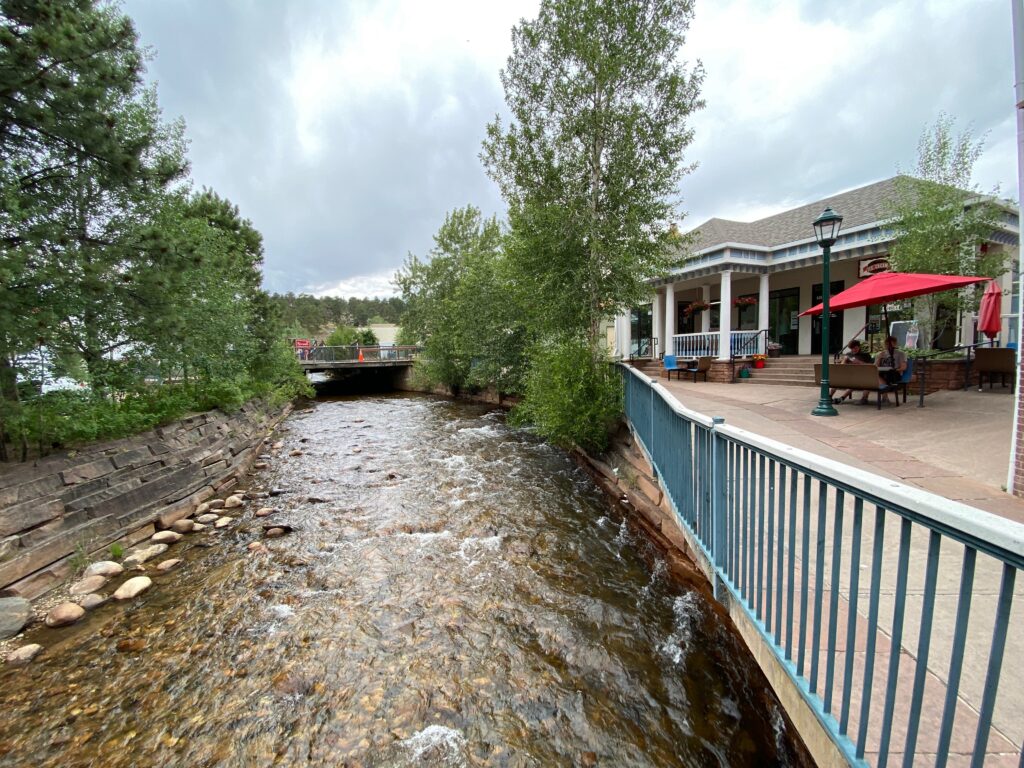 Each time we visit Estes Park, we enjoy the selection of shops and local restaurants. You'll find a lot to explore! The summertime weather at this high elevation makes it perfect for patios.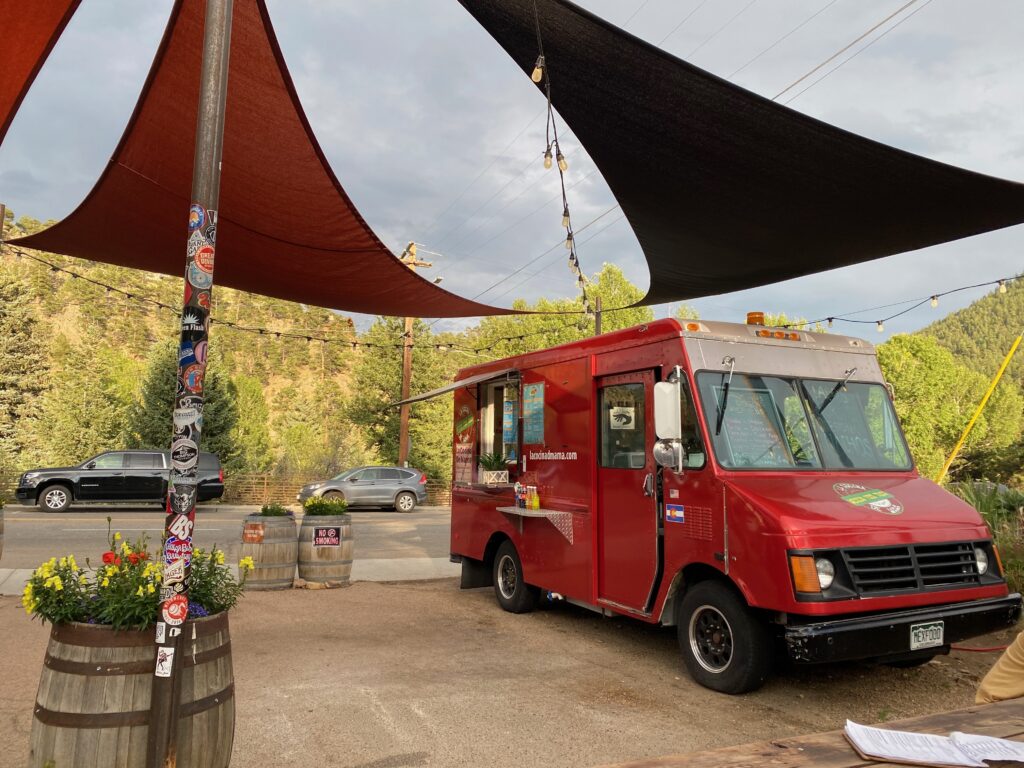 Which Side of RMNP is Busiest?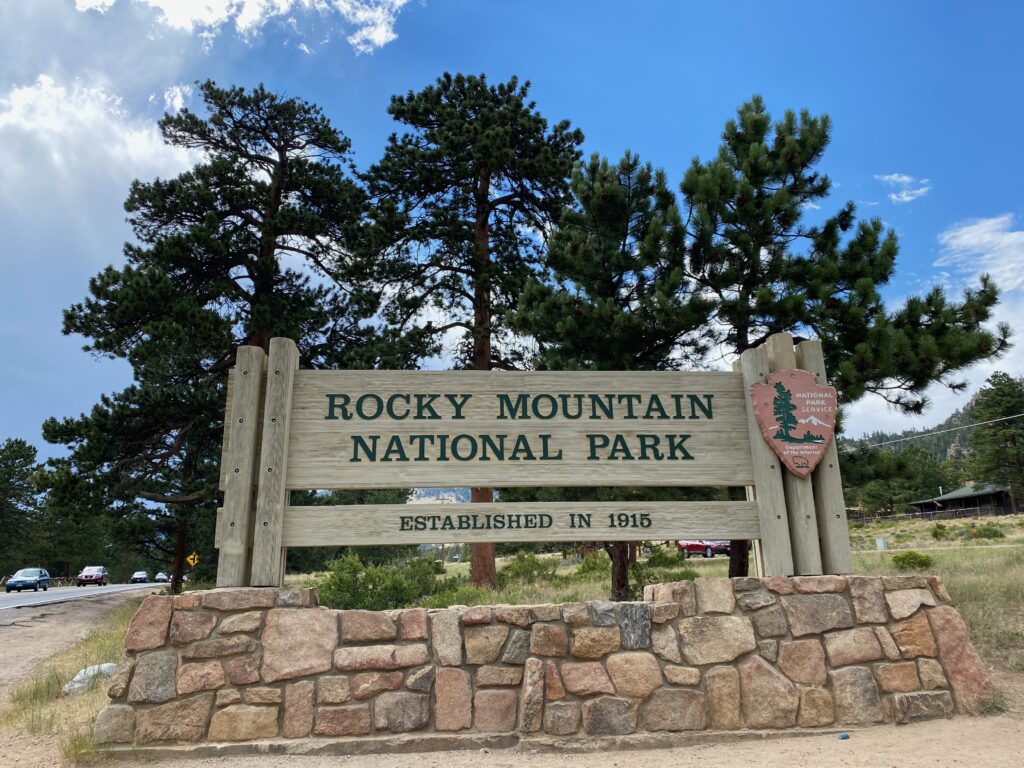 RMNP is a large park with several entrance stations. Grand Lake is home to the primary western entrance. Estes Park provides easy access to the Beaver Meadows entrance, which is the park's busiest. When heading into the park, you may encounter more traffic at the Beaver Meadows entrance.
Plus, if you are trying to get in during the hours without reservations for the Timed Entry Permit System, you may wait longer at the Beaver Meadows entrance. During our recent visits, you could enter in the afternoon without reservations, and a line would form right at that opening time.
The west side is considered the quieter side. Though the small town of Grand Lake can swell with visitors during the day, it is less busy than Estes Park. We also never noticed people waiting at the gates in Grand Lake, like we had on the east side.
Which Side of RMNP is Closest to the Best Hikes?
Many of the main hikes and well-know sites sit on the eastern side of RMNP. You can tell by this park map where the main attractions are located, and they truly are clustered more on the east. Bear Lake and the hikes in that area are considered the quintessential must-see and must-do items. (More on this in a future post)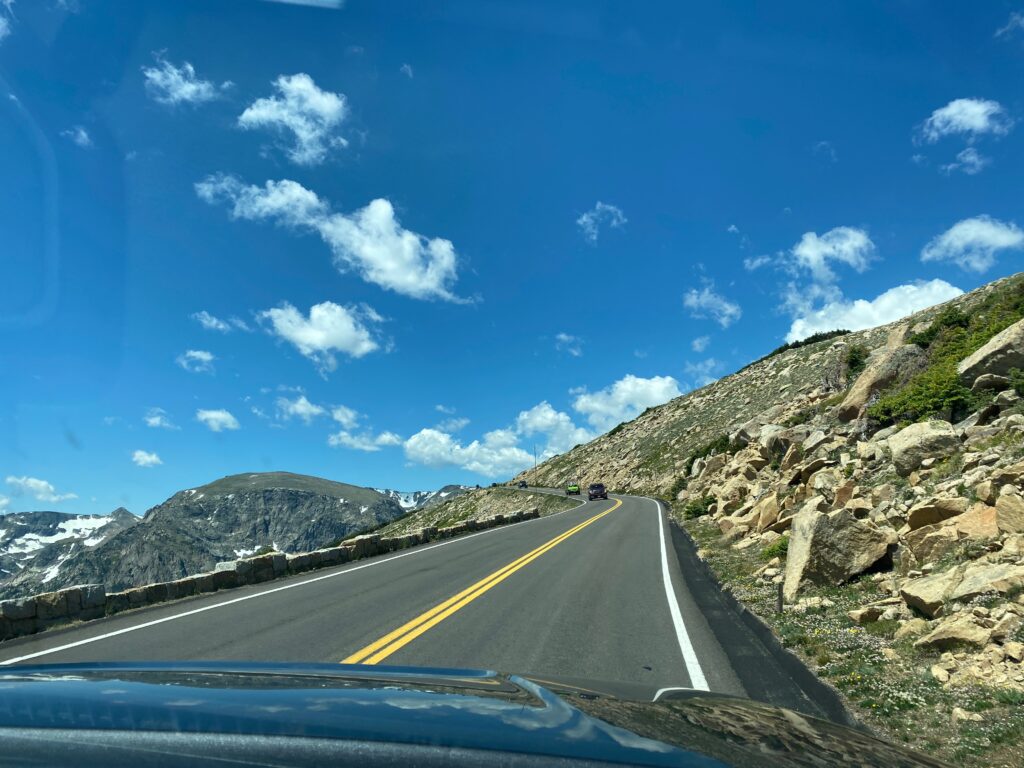 Reaching the popular east side attractions from the west side involves traversing the Trail Ridge Road. Trail Ridge Road is the highest paved road in the U.S. and reaches an elevation of 12,000 feet. While the road doesn't have terrifying drop offs or rough switchbacks (in my opinion), it can make some drivers and passengers nervous.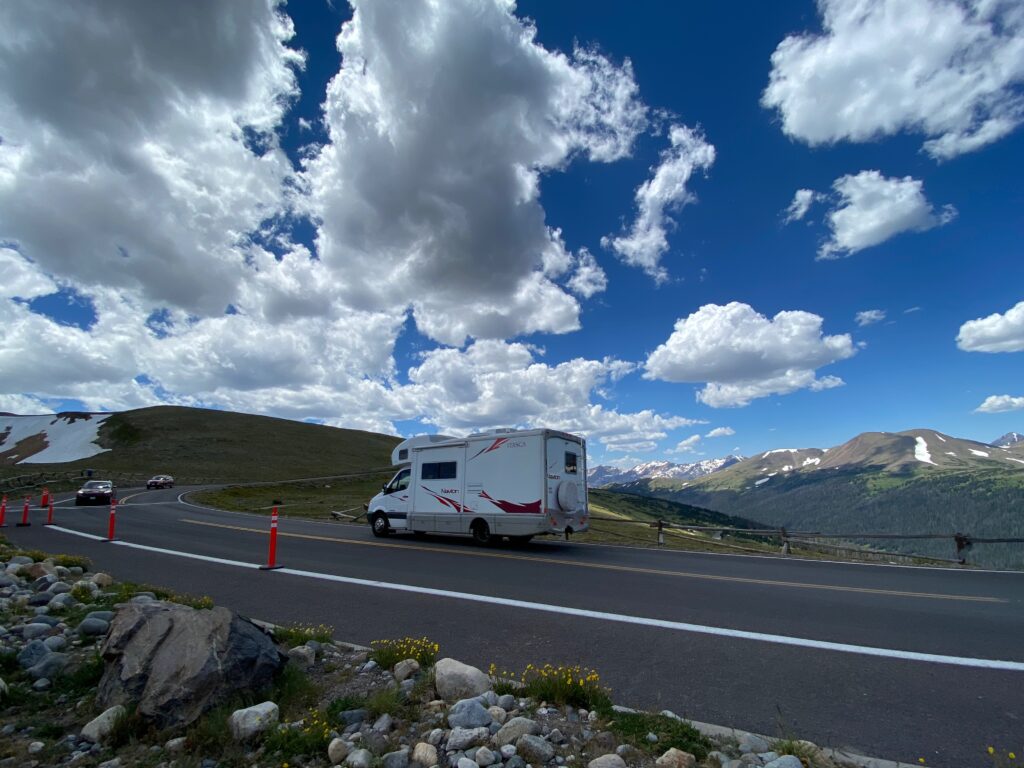 Plus, Trail Ridge Road is a very busy roadway during peak season. If you stay on the west side, plan to spend well over an hour driving to reach the eastern attractions, due to the traffic as much as the length of the drive. (Also, Trail Ridge Road is closed during the spring and fall seasons due to snow pack, requiring a much longer route outside of RMNP.)
Even if you don't use Trail Ridge Road to traverse the park, make sure you spend a day doing the full drive, as it is spectacular.
Wildlife: East Verses West Sides of RMNP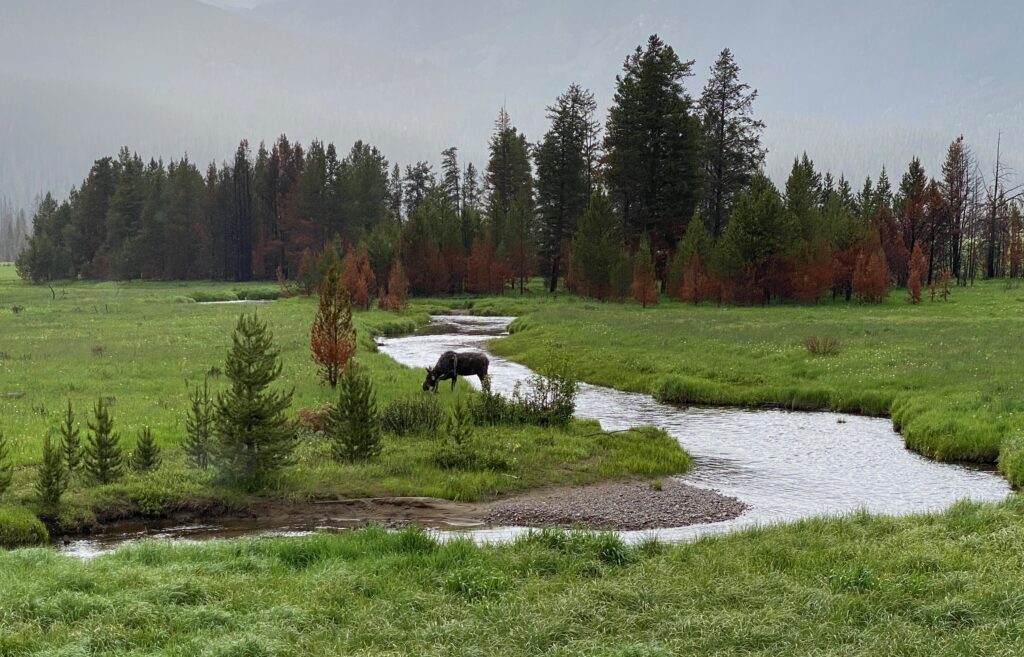 While both sides have abundant wildlife, the west side is known to have better wildlife sightings, particularly of moose. You're also more likely to see larger elk herds. Despite our many visits to the mountains, I had never seen any moose until we stayed at River Run and drove in and out of the west gate. Moose particularly like the Kawuneeche Valley, just inside the Grand Lake entrance. You may also spot them in the town of Grand Lake on occasion. So, if spotting moose is on your bucket list, the west side wins this battle!
Which Side of RMNP has the Best Camping Options?
We have not camped inside of RMNP, so I can't particularly comment on the campgrounds IN the park. The parks inside RMNP do not have electric hookups, so that has been a no-go for us so far. However, we have stayed outside of the park on both sides, and we have driven through several campgrounds.
Estes Park definitely has more private campground options, with a KOA, Jellystone, and several non-chain campgrounds. None has over-the-top great reviews, with each having some major benefits and drawbacks (some don't have great customer service, others don't have cell signals, some are very tightly packed). Read the reviews carefully to decide which works for you. During our 2020 visit, we stayed at Mary's Lake Campground, which is a public option with hookups. It was a great basecamp for us (check out my review on The RV Atlas).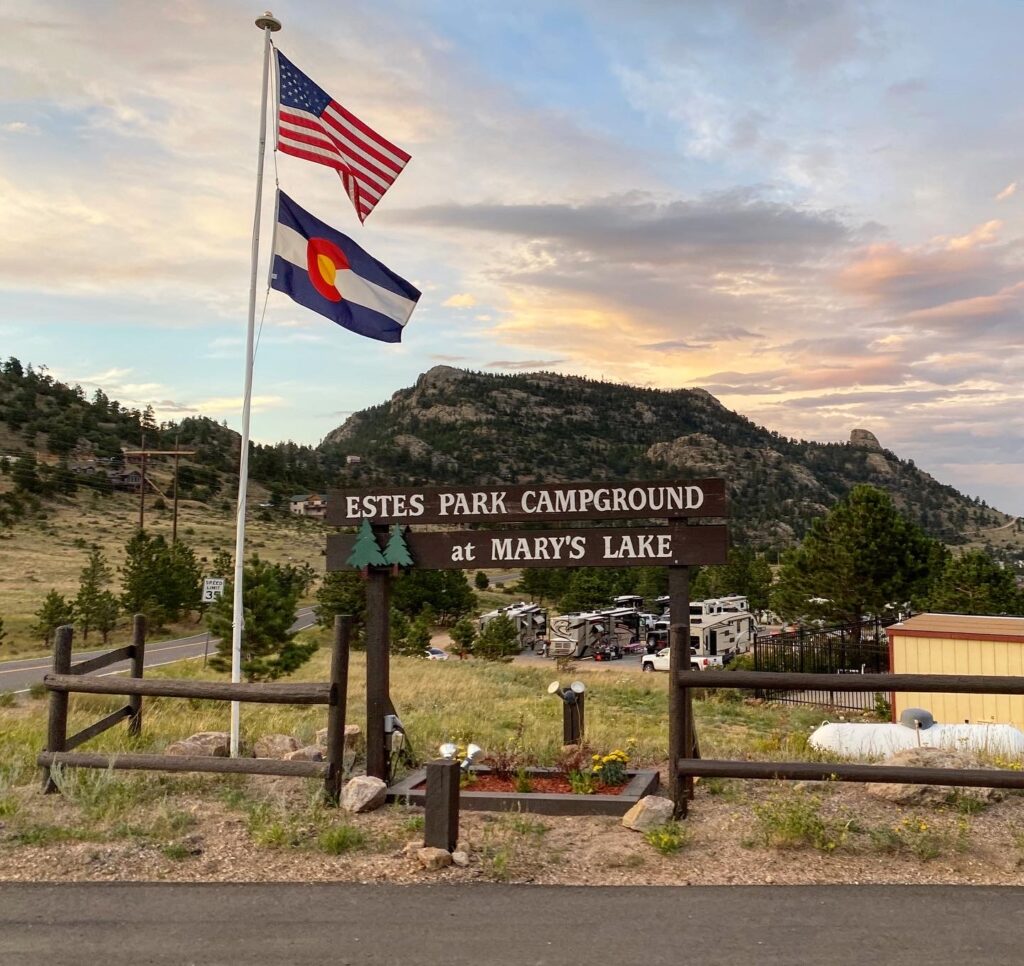 Grand Lake has a couple of truly great private options offering different experiences. The Winding River Resort is right outside the park gates, and it is beautiful. It feels like a public campground, but it has private-park amenities, with some sites offering hookups and lots of fun onsite activities. Plus, you can often spot moose right in the park.
Further from the park gate is River Run RV Resort, which is a wonderful resort-style option (full review here) that is great for families. It's more of a drive to the park gates, so it may not be best if you plan to drive in and out of RMNP a lot. It can be a vacation in and of itself, however.
Which Side of RMNP is Prettiest?
Obviously, both sides are remarkably beautiful, but I had been afraid to stay on the west side because I had heard it had been more ravaged by the pine beetle infestation, which destroys the pine trees. By the time of our 2021 trip, I would say some swaths of pines were hit hard in various areas of the park, not necessarily just on the west.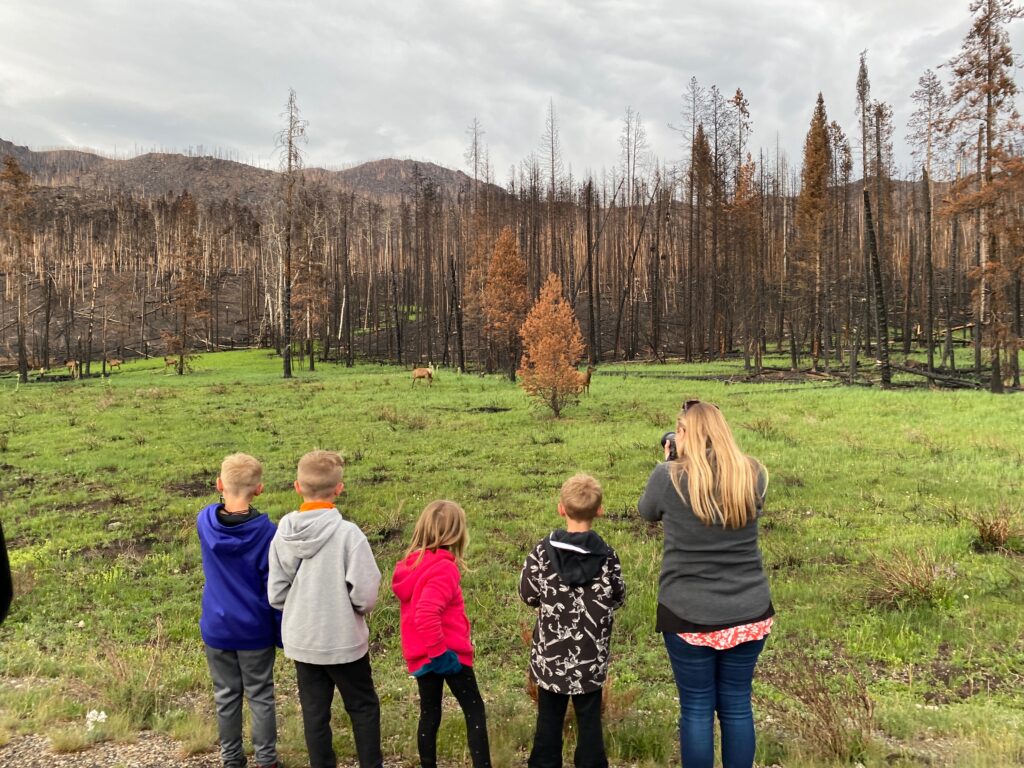 To make matters worse, the west side was hit by the largest wildfire in park history in 2020. As you head into RMNP from Grand Lake, you will go through areas destroyed by the fire. It's sad and eerie, but you soon move into healthy areas of the park, and they are truly spectacular.
What is My Opinion?
Our verdict? If you plan to spend several days touring RMNP, you might prefer Estes Park as a base. It does offer easier access to the main areas of the park, and it has a lot of options. Once you drive in the eastern gates, you quickly reach the areas with many of the favorite trails. If you stay on the west side, you have a long drive to reach those. However, I think the campgrounds on the western side are better and probably easier to book.
If you want the best of both worlds, divide your trip and stay on both sides. If you do this, you *can* tow across Trail Ridge Road, but you might not love the experience, as there are some areas that would be white-knuckle with a trailer or large motorhome, plus you can experience high winds and winter precip. There's always the alternative route outside of the park, but it takes a few hours.
Or, for the best of both worlds, return to the Rockies again and again like we have done, so you can fully experience all sides of the park!
Find Travels with Birdy:
Share this post: