Campground Review: Hog Valley RV & Treehouse Resort
Hog Valley RV & Treehouse Resort is a solid choice for family camping and a good basecamp for visiting Fayetteville, Bentonville, and the greater Arkansas Ozarks region. As I watched Northwest Arkansas grow as a travel destination hotspot, I kept saying to myself, "This region needs a great RV park!" Now it has one.
This family-run campground opened in 2019 with 20 sites. Since then, the park has grown to over 100 RV sites, several cabins, and three treehouses (rentable through Airbnb). The location is easy to access from Interstate 49.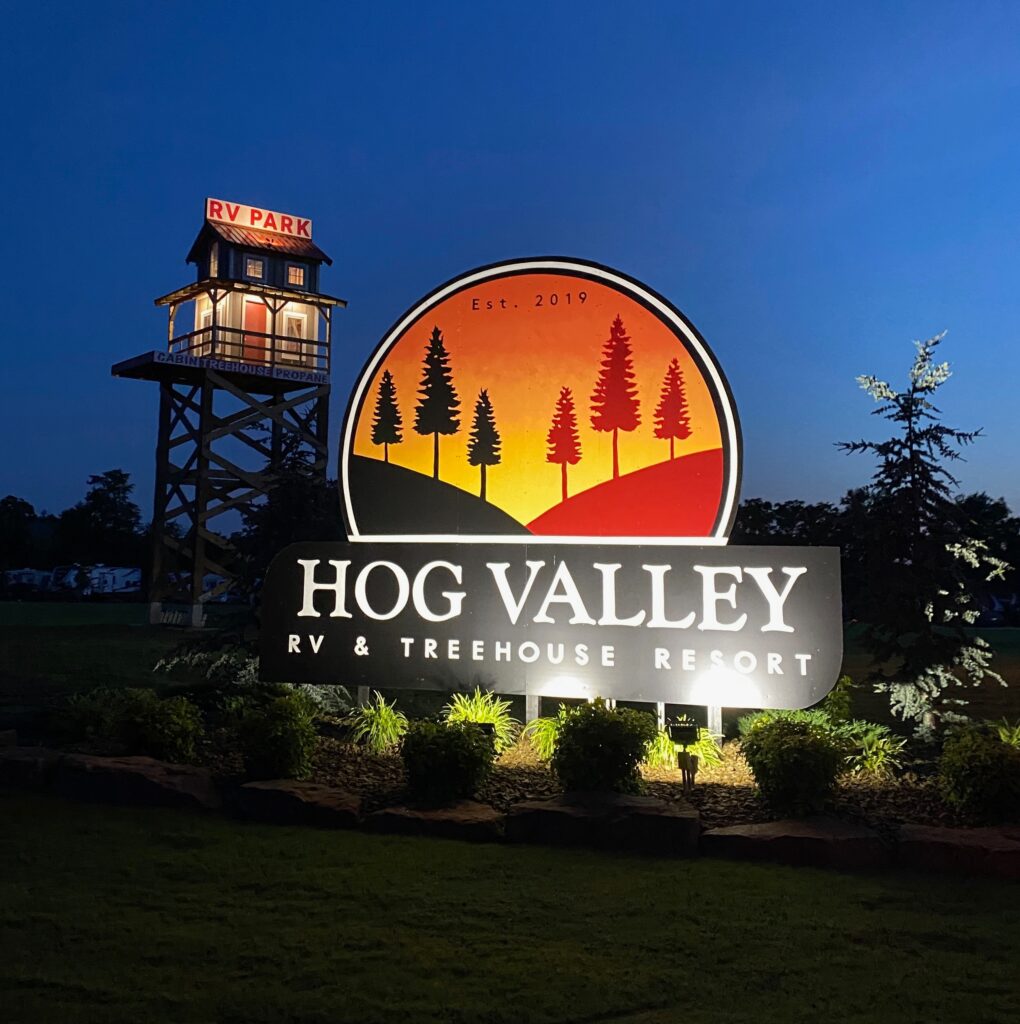 Where is Hog Valley RV Park Located?
Hog Valley RV & Treehouses is located near Northwest Arkansas's quad cities (Bentonville, Fayetteville, Springdale, Rogers) south of Fayetteville. As the home of the University of Arkansas, Fayetteville attracts visitors to the college, including many who come to cheer on the Razorbacks. I'm assuming the beloved Hogs surely gave Hog Valley its name.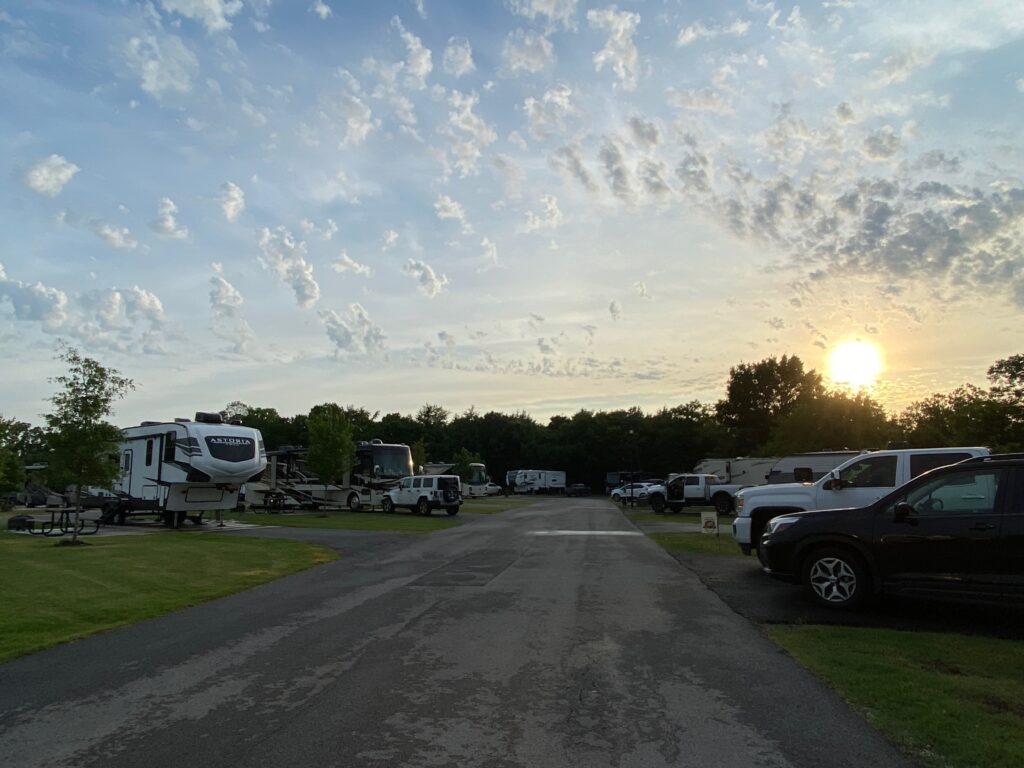 The campground's location is just 15 minutes south of Fayetteville. While you have easy access to the town and its neighbors, the campground is in a relatively rural area. As you head down the interstate, you'll be treated to great views of the Boston Mountains.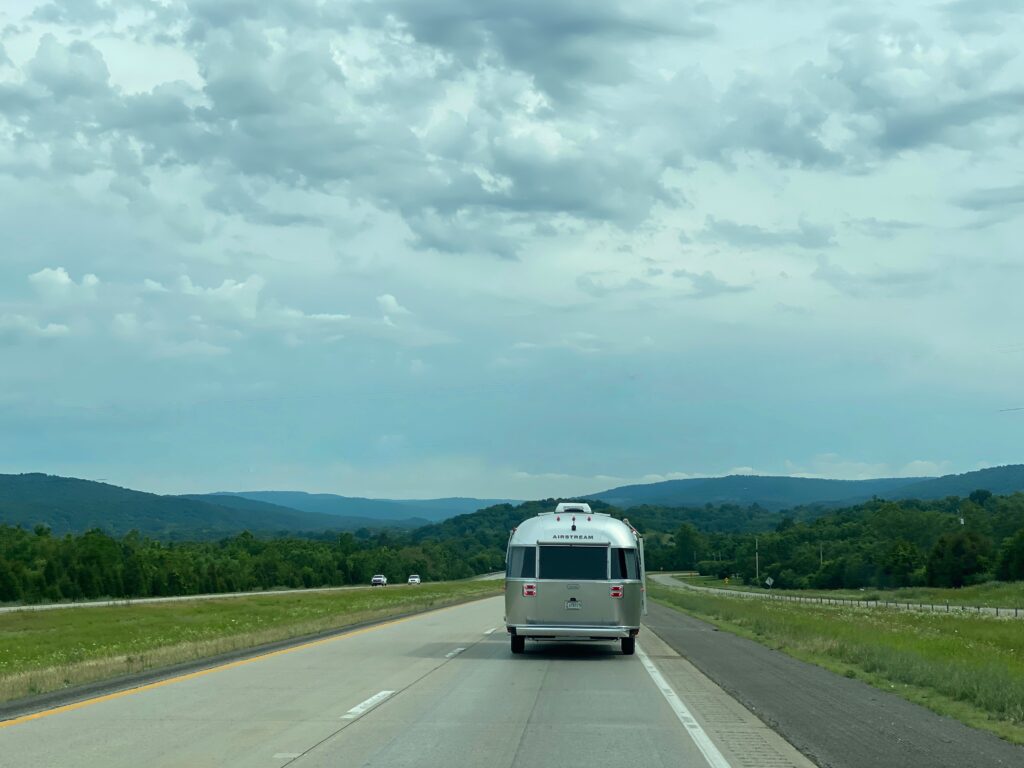 What Type of RV Sites are Available at Hog Valley?
Hog Valley offers a variety of pull-through and back-in campsites. On the online reservation system, you'll notice some sites marked "premium" and others marked "standard." As far as I can tell, premium sites have blacktop pads, while the standard sites are gravel. A few sites are water/electric only, while most are full hookup.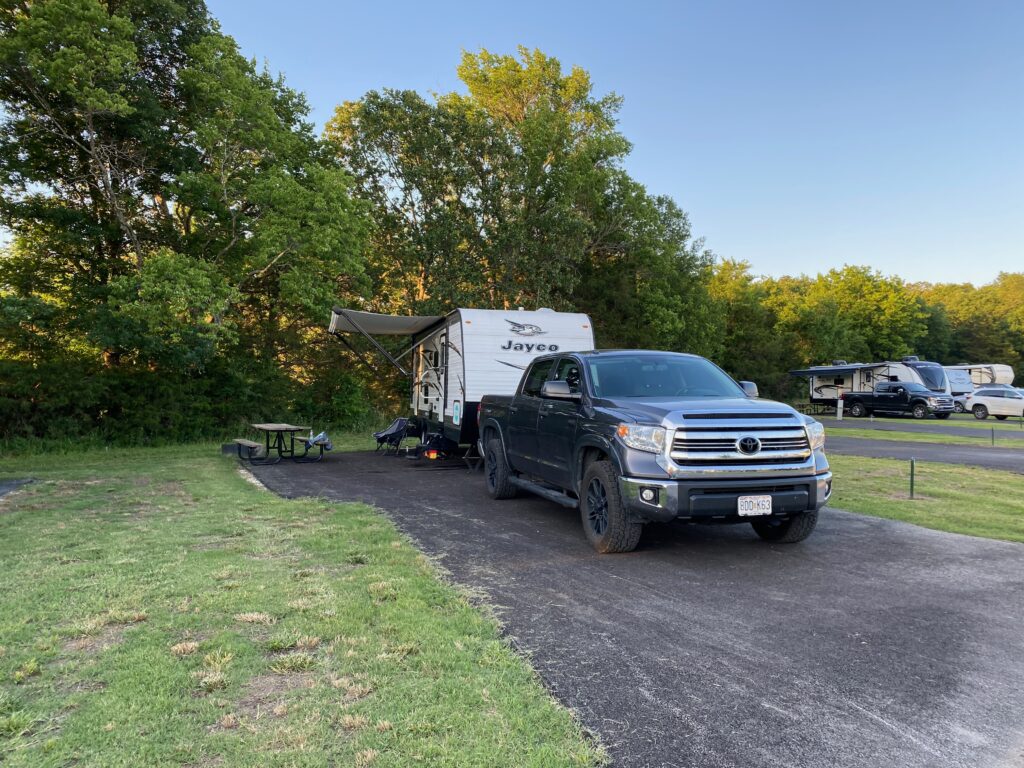 In my opinion, the sites were a good size, similar to what you would expect to find at most private parks–maybe a little larger. My favorite spots were the back-in campsites with numbers 7-28, as these back up to a line of trees. There isn't a lot of shade on the interior sites currently.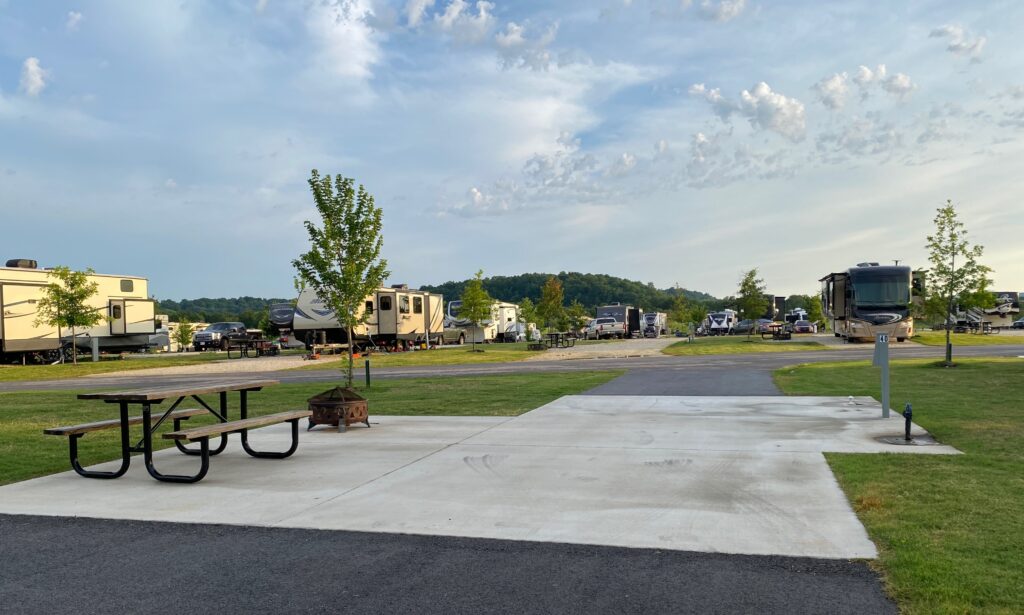 Expect to pay around $40-65 per night for RV sites. Weekly and seasonal rates/sites are also available.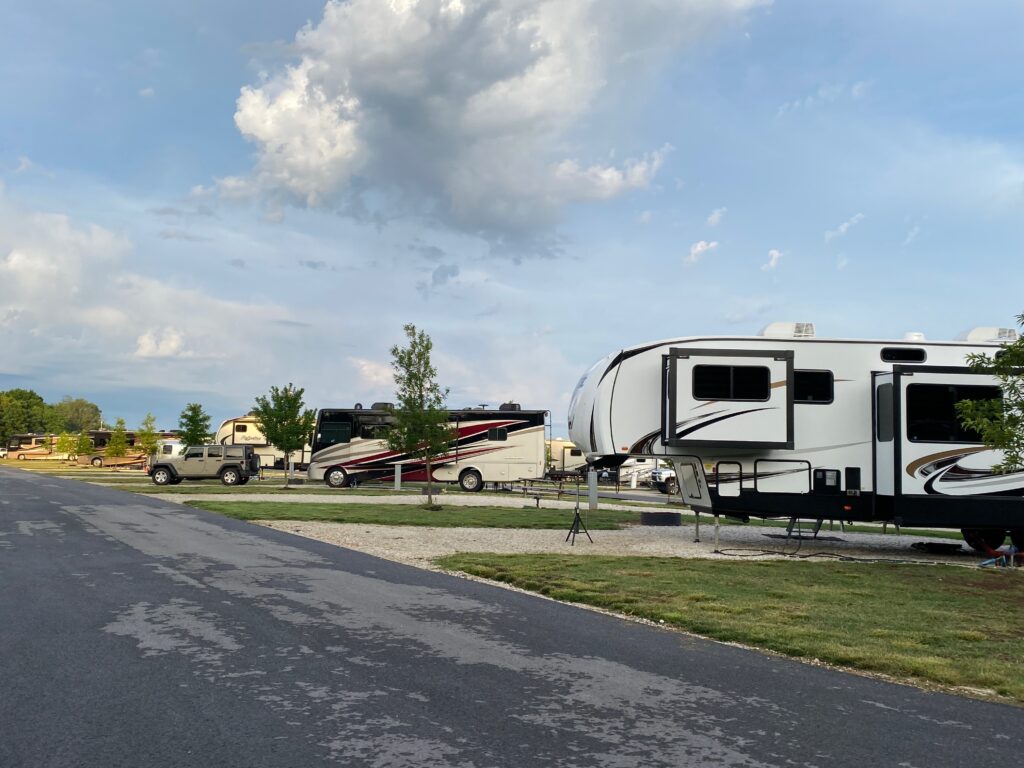 What Other Accommodations are at Hog Valley?
The tent sites at Hog Valley deserve a special shout out. The campground has built level camping platforms. Each site has electricity and a picnic table. Tent sites are located under some large trees, though the area is busy due to its proximity to the pool and playground.
As mentioned earlier, this park also offers some tiny house cabins and treehouses. We didn't get to check out the treehouses since they were located down a private road in the park (with a sign requesting only renters to enter). The treehouses are in a wooded area and look charming online, as do the cabins. The cabins are in a field near the entrance and are not as private as the treehouses.
What Amenities are Offered at Hog Valley?
I was very impressed with the grounds at Hog Valley. The amenities looked well developed and well cared for. Kids will definitely enjoy the pool, which has a fun-looking splash pad. Nearby is a large playground and family game area, which includes gaga ball, corn hole, badminton, and more. For pets, you'll find two dog runs. One offers a dog wash, which I thought was a cool feature.
I wish I had taken a better picture of the pool and splash pad, but there were people in them, and it seemed a little creepy to snap close-up photos.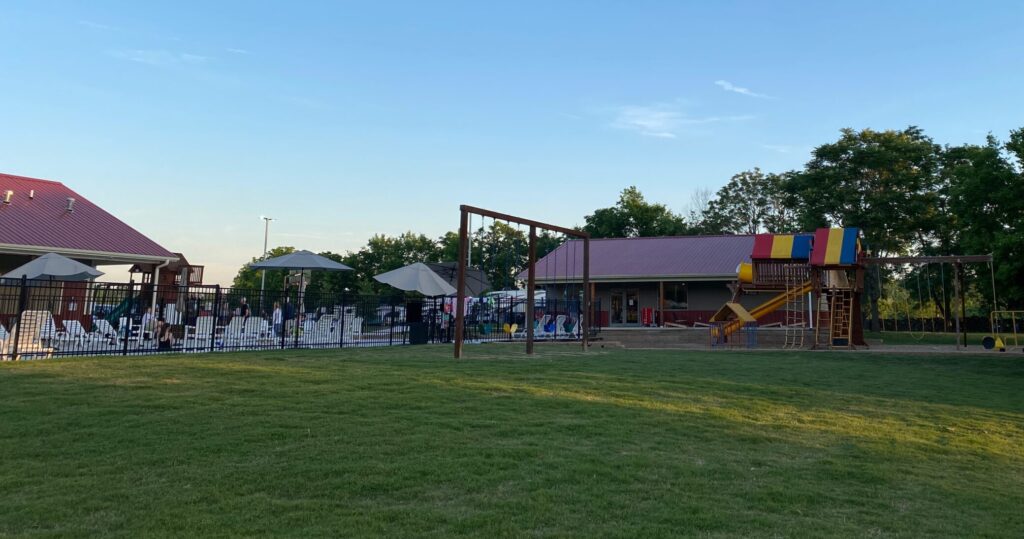 Hog Valley looks like a great campground for family or group gatherings, thanks to the large picnic pavilion, which offers a grill. You'll also find a rec room (which we didn't explore), clean laundry facilities, and restrooms with private shower rooms.
A small camp store has a variety of food, RV supplies, and souvenirs. Propane refills are offered onsite. A unique amenity mentioned on the website is a courtesy car (available to visitor's with valid licenses and insurance)–this seems great for people traveling in motorhomes without tow vehicles.
Hog Valley does offer wifi, though the website directly states it may not be reliable enough for working/schooling on the road. I used it minimally and found it to be functional. We have Verizon and had a strong signal for cell and data.
Exploring Northwest Arkansas's Cool Towns
Northwest Arkansas is one of my favorite travel destinations, as evidenced in my posts about why you should visit Bentonville and this profile of Crystal Bridges Museum of American Art. Bentonville is a seriously cool town. Despite our many visits to it, we hadn't explored much of Fayetteville until this trip.
Fayetteville definitely has a college-town vibe. Downtown, you'll find a charming selection of shops (with vinyl records, vintage clothes, outdoorsy stuff, Razorback souvenirs, and more). Fayetteville and the neighboring towns have a great variety of local restaurants, as well. For an innovative array of sandwiches, Hammontree's Grilled Cheese is not to be missed.
A quirky place worth exploring is Terra Studios, where little glass bluebirds are produced. You can see blown glass demonstrations and explore a 6-acre art park, which is covered with fun sculptures.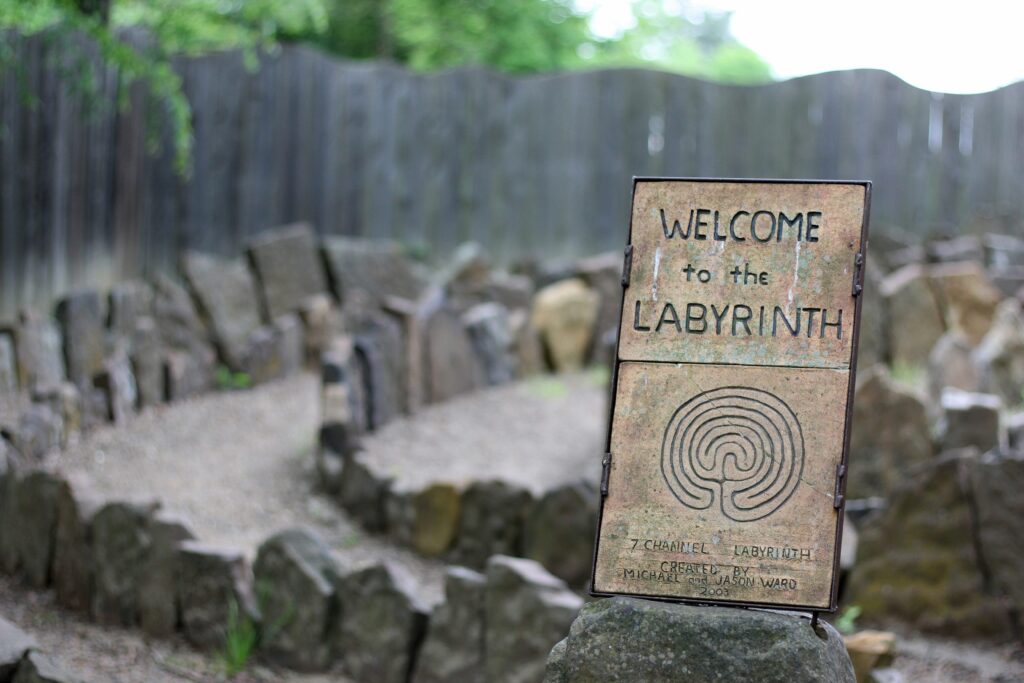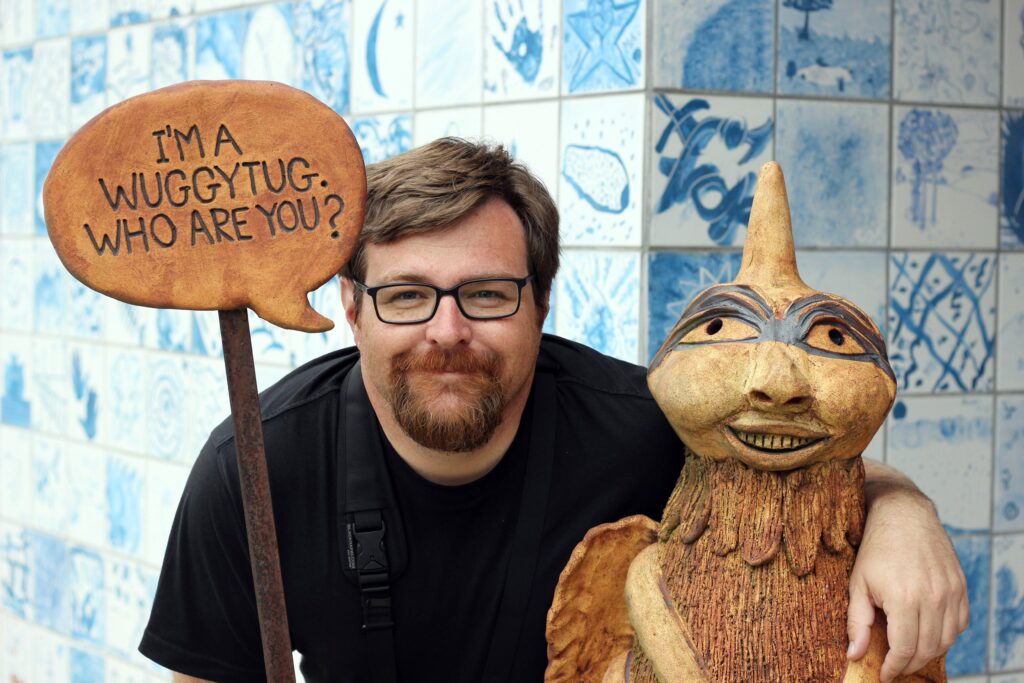 Exploring the Great Outdoors Near Hog Valley
In addition to providing a basecamp for exploring the quad-cities, Hog Valley is also close to locations where you can explore the natural beauty of the Ozarks, including Devil's Den State Park and Hobbs State Park. We visited Devil's Den, which has this picturesque dam, a small lake, a creek valley, and facilities built by the CCC.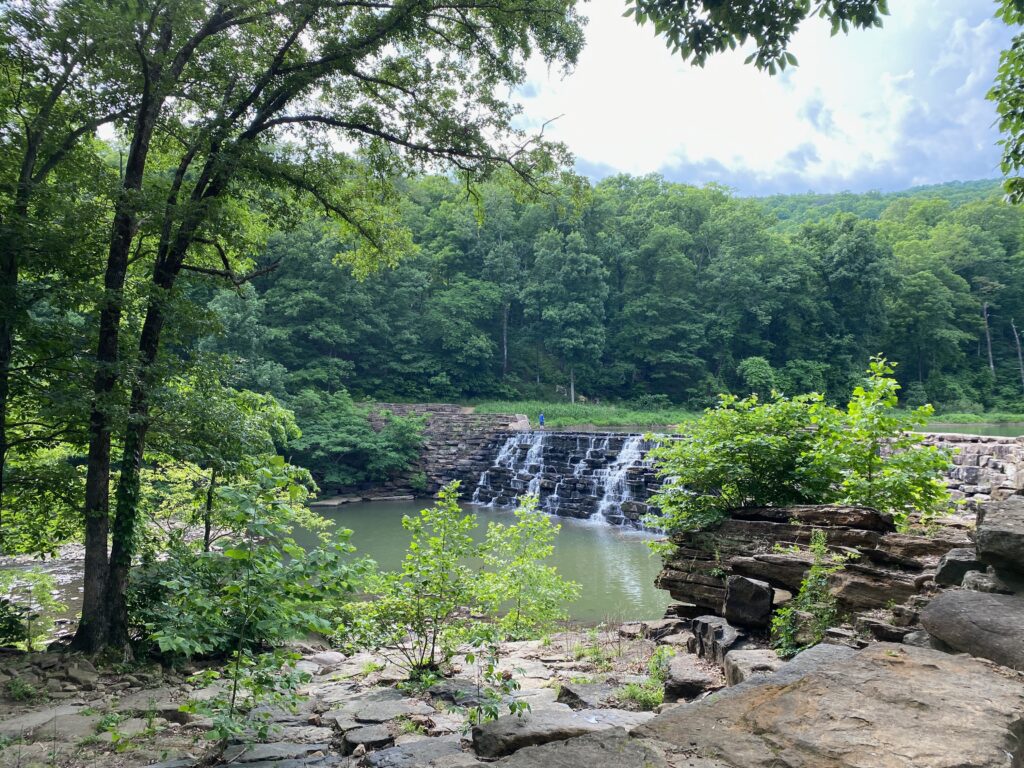 The region surrounding Hog Valley is home to superb mountain biking and hiking trails, as well. We've explored some great family-friendly trails in the Ponca area (check out my profiles of Glory Hole Falls and Lost Valley Trail), which is a great day trip from Hog Valley. And, of course, there is the Buffalo National River, popular for paddling in the spring and early summer (I've had that adventure but haven't written about it yet!).
Final Thoughts on Hog Valley RV & Treehouse Resort
Hog Valley is the private RV park option Northwest Arkansas has been waiting for! We will definitely stay again when we explore this energetic slice of the Natural State.
Just the Facts
Name & Website: Hog Valley RV & Treehouse Resort
Location: 15 minutes south of Fayetteville, Arkansas
Description: Private, well-maintained RV park with family-friendly amenities
Rates: $40-65 a night for RV sites
Utilities: Most sites are full hookup; some water-electric only
Bathhouse: Very clean with private showers
Amenities/Activities: splash pad, pool, playground, family games, pavilion, dog run, and more
Bottom line: This is a great park in a great location for exploring the natural beauty and fun towns in Northwest Arkansas
Find Travels with Birdy:
Share this post: