Campground Review: Sequoia RV Ranch
While in eastern California visiting Sequoia and Yosemite National Parks, we were tempted to stay in the national park campgrounds. They looked beautiful and would have definitely been more convenient than staying outside of the parks. I began exploring our options and then quickly realized that none of these parks offered hookups.
Birdy is a great little camper, but she really isn't meant for boondocking. We don't have a generator, and our tanks aren't large enough to support us for more than a couple of days. I really tried to imagine our family being true, adventurous campers and making due without any kind of hookups, but I decided I could not live without electricity. So, we opted to stay outside of the parks. For our visit to Sequoia, we chose to stay at Sequoia RV Ranch in Three Rivers, CA.
Three Rivers is sixteen minutes from the entrance gates to Sequoia National Park, making it the most convenient place to stay if you want to be close to the park (however, once you enter the park, it's still quite a drive to get to the main visitors areas).
Due to a tire blow out in the Mojave Desert, we were arriving in Three Rivers much later than we had expected. We headed toward town as the sun was setting and enjoyed some beautiful views of the Sierra Nevada foothills.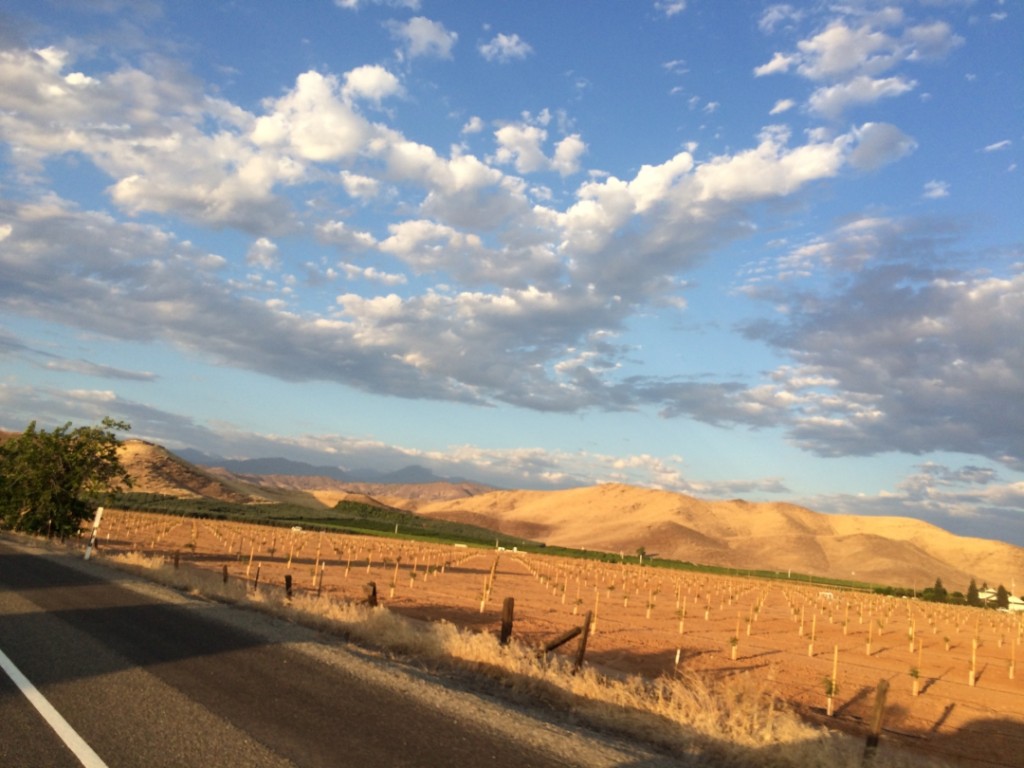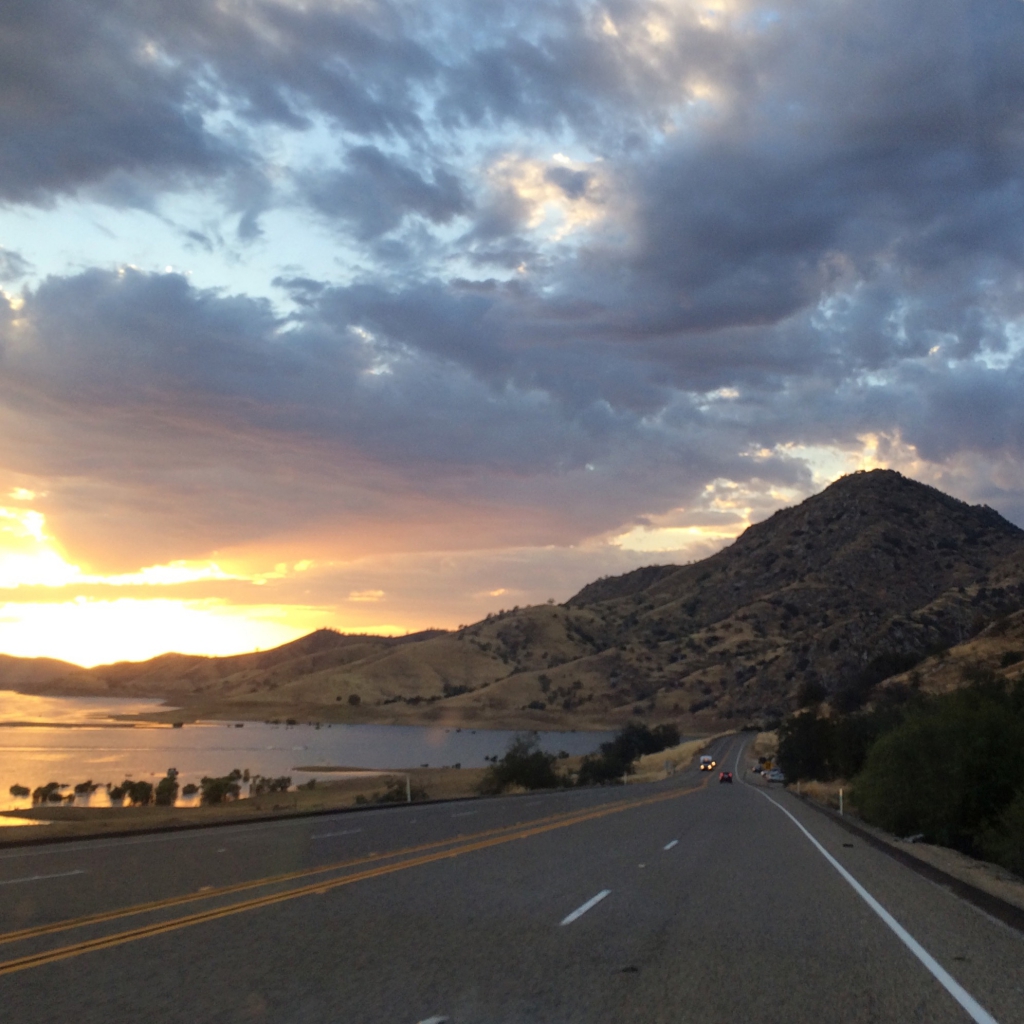 We had read many great reviews of the Sequoia RV Ranch, and we were especially interested in the sites overlooking the river. A fork of the Kaweah River runs along this park, and the pictures we saw looked beautiful.
We had reserved a riverfront site for an extra fee, but we were a little disappointed we couldn't actually see the river. Even without the river, our site was worth the extra cost since it was huge (I believe we had site #26). We had a fire pit and large patio area with no neighbor in front of us. We also had more shade than some of the other sites, which is something I always request whenever possible.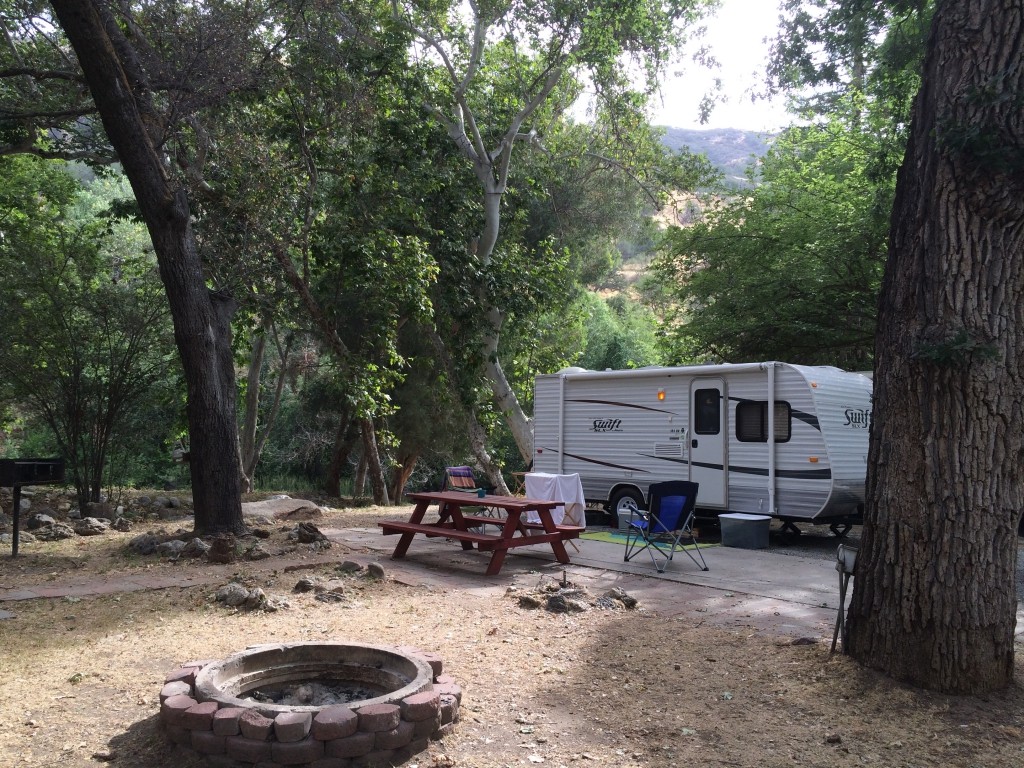 Sequoia RV Ranch felt more like a campground than an RV park. It is a rustic, laid-back place situated in a large field with RV spots along the gravel roads and lots of room for tents in the grass. The managers from Rancho Sedona would probably have a fit about this place since it isn't nearly as tidy as theirs. Also, there aren't many of the amenities you'd expect to find in an RV park, such as a pool or playground (but, that's probably why they call it an "RV ranch" instead of a resort).
Despite the lack of formal amenities, we had read a lot of positive reviews from campers who loved swimming and fishing in the river. Since we spent most of our time in Sequoia National Park, we didn't have time to play in the campground river. We did walk along it one evening to check it out. We wondered if the water was much lower than usual.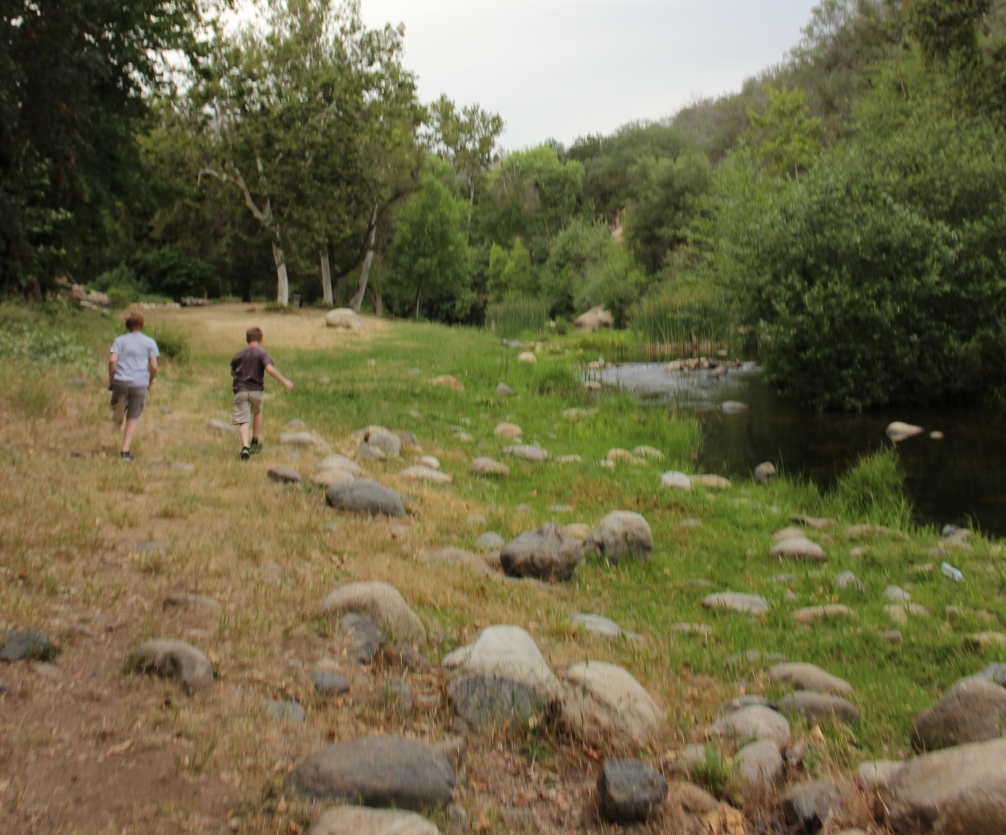 Our main complaint about this park was the shower situation. To get to the shower house, campers walk through an area of permanent residents (that being said, these were well-maintained houses with mostly elderly residents, but it still felt a little odd). I didn't like walking through there alone in the dark.
Also, this is one of the few campgrounds we encountered where we had to pay for showers. It seemed weird to pay for a spot and then have to pay for a shower. Since the showers don't alert you when your time is about up, I worried the water would cut off in the middle of washing my hair, and I didn't have any spare quarters the first time I used the shower. The showers were clean enough and had a good area for keeping clothes dry, but overall, the room was a little dark and less than appealing.
Within the park, we couldn't get Verizon signal on our cell phones. We arrived at Sequoia RV Ranch after hours the first night and didn't realize they had left us a pamphlet with the WiFi code on their information board, so we didn't have any connection the first night. Our tire blow out had caused some damage, and I needed to check around for new tires and repair options.  The lack of internet or phone made it difficult to figure out a plan. The RV park website had warned about the lack of phone signal, and I think I would have been okay with that had I not been worried about our camper troubles.
Though we didn't spend a lot of time in the park, we did take time one evening to enjoy some Apples to Apples on our large patio.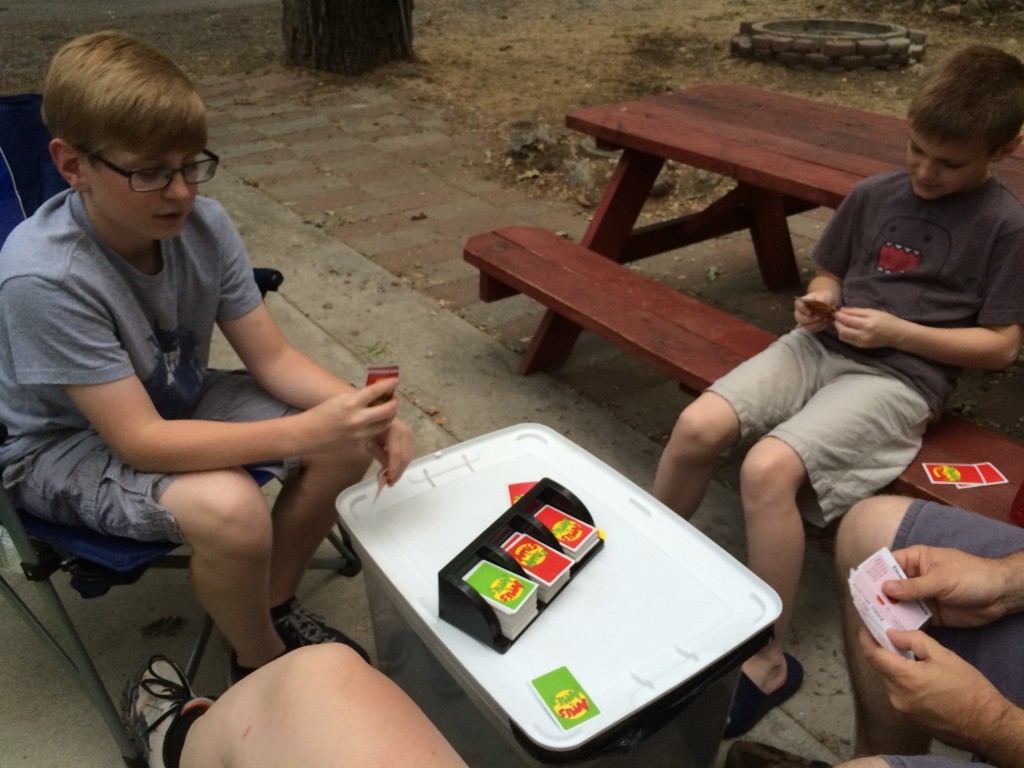 One evening, we had very friendly neighbors who were both teachers from California. It was interesting to share our thoughts on education, learn about the similarities between our districts, and compare some of the problems that were universal. We also had fun talking about their concerns about tornadoes when they visited our home state of Missouri (we had faced that reality when we camped during a tornado warning one night) and sharing our concerns about earthquakes while visiting their home state of California. Though I tend to be a "keep to myself" kind of person, I do find that I enjoy some of the campground small talk that pops up with RVers.
In addition to being close to the national park, Sequoia RV Ranch is just up the road from the small town of Three Rivers. One evening, we ate at Casa Mendoza and enjoyed a good Mexican meal while relaxing under the lights and trees on their patio. Our kids got a kick out of a large bird that kept swooping down to eat the leftovers off of a nearby table. If we had more time, we would have liked to explore Three Rivers. It looked like it had some small art galleries and shops, as well as several local restaurants that looked good. "Quaint" is a perfect description for this town.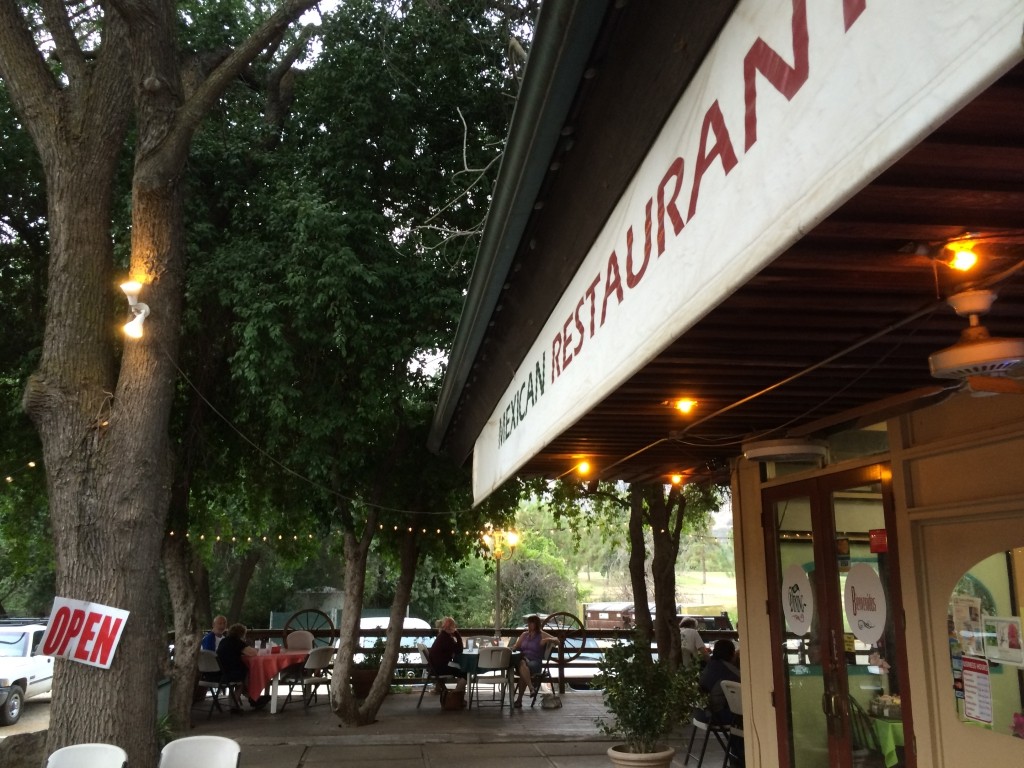 To make this an outstanding RV park, a newer bathhouse and more amenities would be wonderful improvements (even if they would require higher rates). However, as it is, Sequoia RV Ranch is a fine, economical place to stay while exploring Sequoia National Park since visitors aren't likely to spend much time in the RV park, anyway.
If you plan a visit to Sequoia RV Ranch, here are some tips:
Site 26 doesn't really have a river view, as advertised, but it does have a great patio. (And perhaps it does have a river view when there's not a drought)
Some of the riverside sights had big wood decks overlooking the river.
Watch carefully as you approach the park entrance since GPS might overshoot you, and it's a difficult area to find a spot to turn around in.
Even though you are sixteen minutes from the entrance to Sequoia, you are closer to an hour from the giant trees.
Be sure to fill up with gas before you head into Sequoia since you might do a lot of driving to and around the park and won't have a place to get gas in the park.
There is a small market in Three Rivers, but no large grocery stores.
Verizon phones do not get a signal here, but you may pick up a signal in some areas of Three Rivers.
Bring plenty of quarters for the showers.
Find Travels with Birdy:
Share this post: