Yosemite's Tranquil Tuolumne Meadows
In Yosemite, the valley is packed with many things to see and do, and it can be easy for visitors to fill their days in the park without leaving the valley. However, to fully understand the scope of the park and to get some of the best views, visitors should spend some time away from the valley.
Taking Tioga Road to Tuolumne Meadows is a great way to escape the crowds and heat of the valley and to explore the tranquil, sub-alpine meadows that can be found in higher elevations.  After an adventurous day of exploring Yosemite by raft, we hit the road the next day and headed up to high country.
Along Tioga Road, there are beautiful views around every turn. Yes, I think I've said that about several places in Yosemite, but it's simply true. It is beautiful enough that Abraham Lincoln and the US Congress chose it as the first place to be protected and to serve as public land. Thank you, President Lincoln! I'm glad views like these were preserved: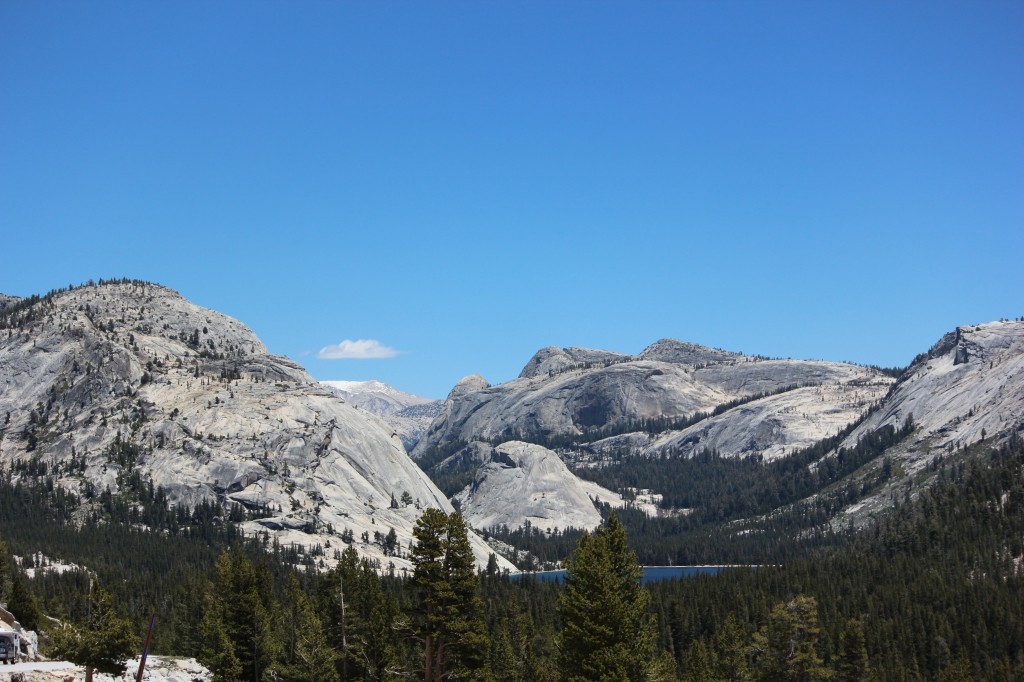 Tenaya Lake
On our way up Tioga Road, we pulled over for a roadside lunch at Tenaya Lake. The lake is bordered by large, smooth stones, providing a perfect perch for a picnic with a lovely view.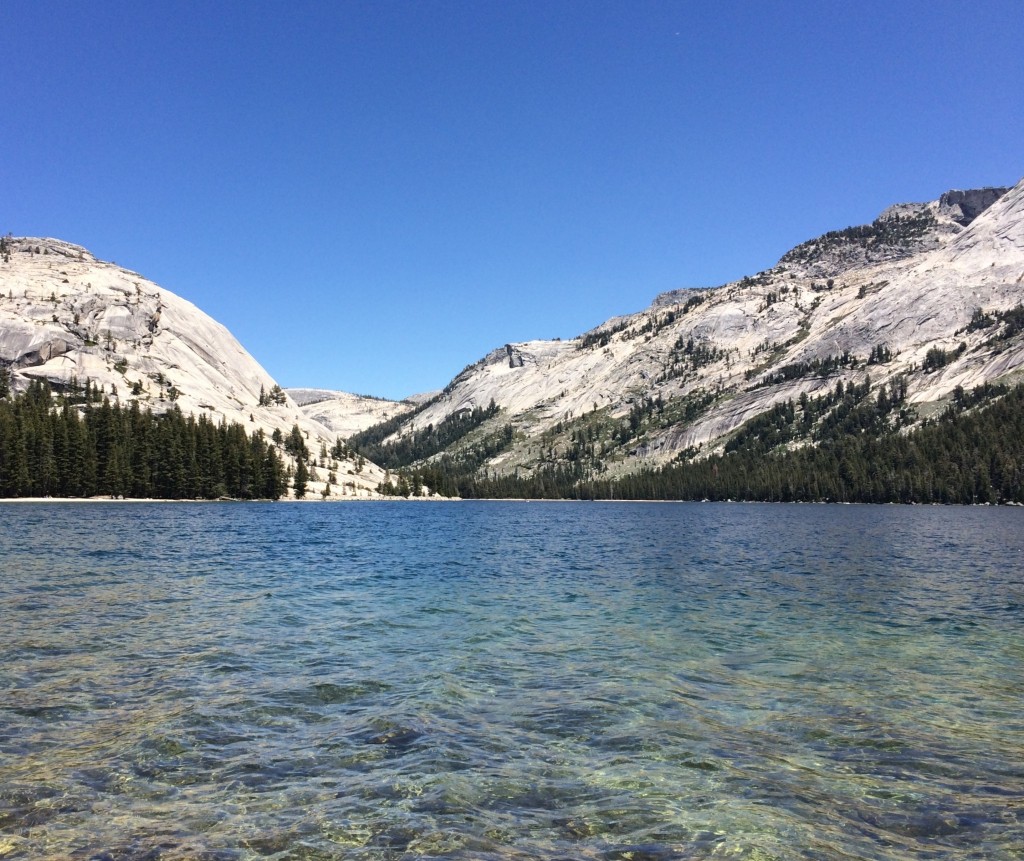 The sparkling clear sapphire lake was too chilly for us to swim in, though we were tempted. We did watch an older Norwegian man hop into the lake in his Speedo, undeterred by the temperature. Our boys opted to explore the water with our Go Pro video camera instead.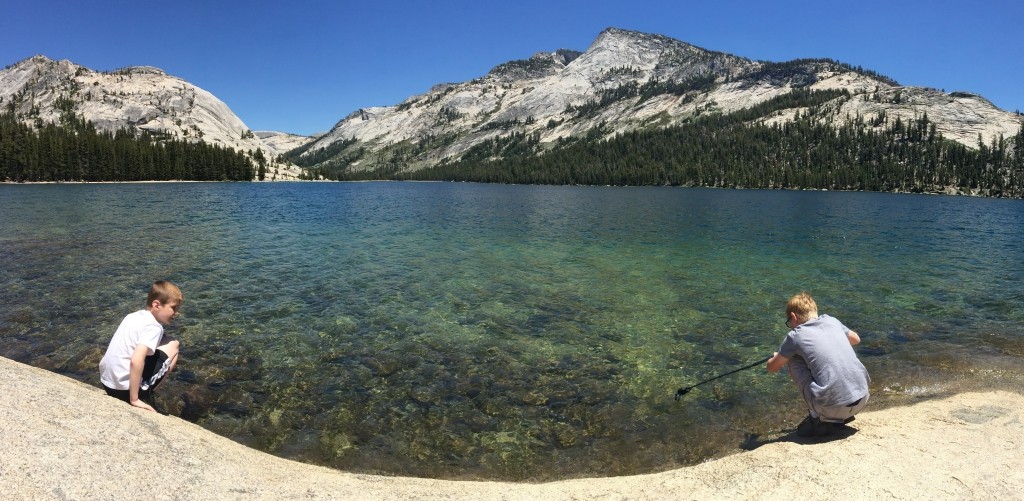 Bellies full, we continued our trek up Tioga Road. We made a short stop at the visitor's center and a couple of stores. At the store that served as the post office, I noticed a rack of boxes marked with names. Thanks to Cheryl Strayed's book Wild: From Lost to Found on the Pacific Crest Trail, I realized these boxes were full of supplies for hikers who would be passing through as they made their way along the PCT. I could easily imagine how much joy and comfort these boxes would bring to weary hikers.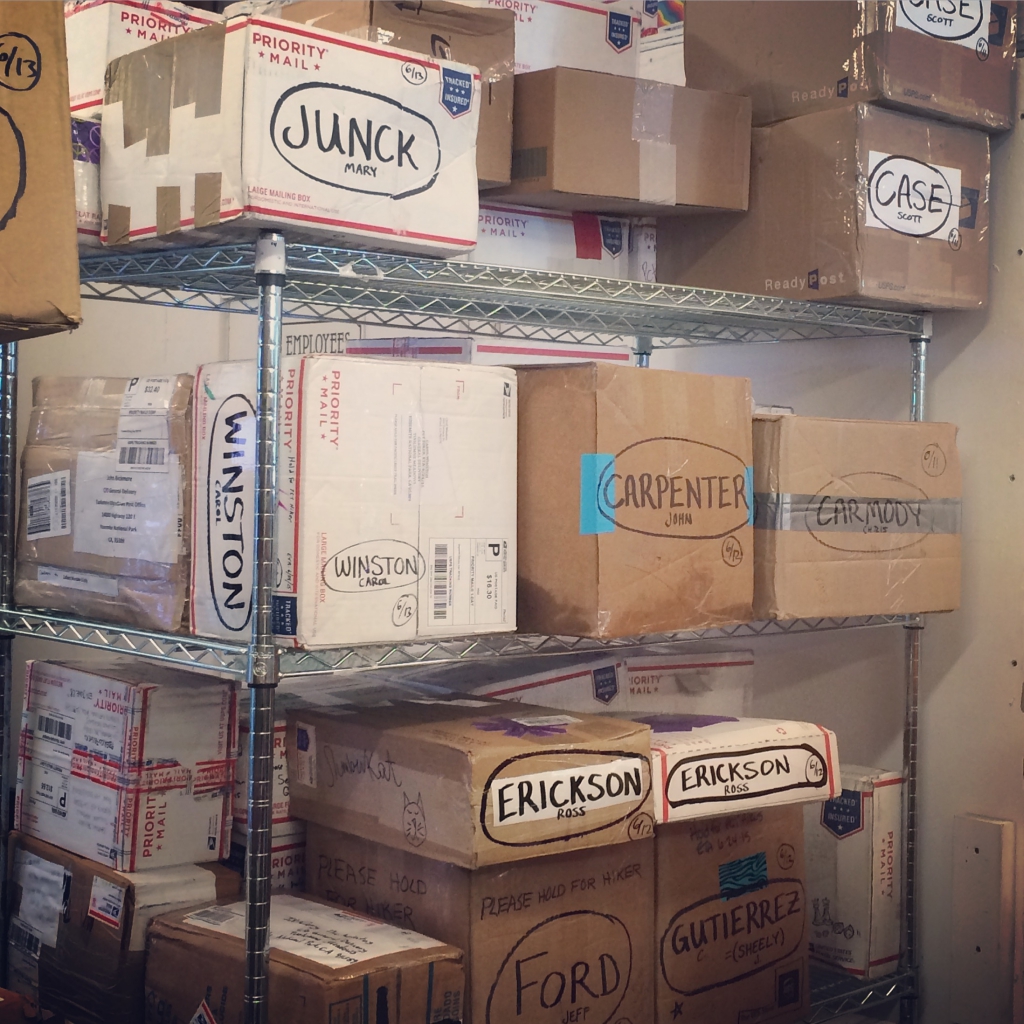 Pothole Dome & Tuolumne Meadow
Speaking of hikers, our family had not yet completed a hike in Yosemite (a shame–I know!!), and the beautiful Tuolumne area seemed like the perfect place to explore on this refreshing spring-like day. Our younger son always wants to climb and hop around on rocks, despite his mother's fears.  After reading about Pothole Dome, I figured it would be the perfect place for him to scamper around. Driving toward the parking area, we spotted some deer taking a break in the Tuolumne River.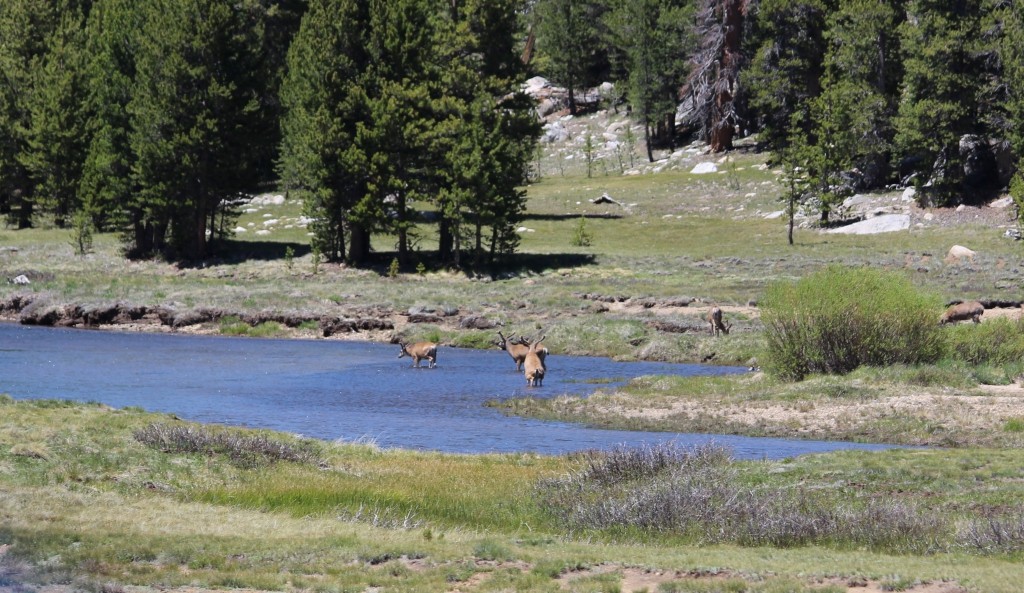 Pothole Dome seems to emerge from the green meadow, and it easily towers over the tall pine trees bordering it. To hike it, we just had to select a starting point and head up, up, up since there was no specified trail. We began by walking a short trail that took us to the base of the dome.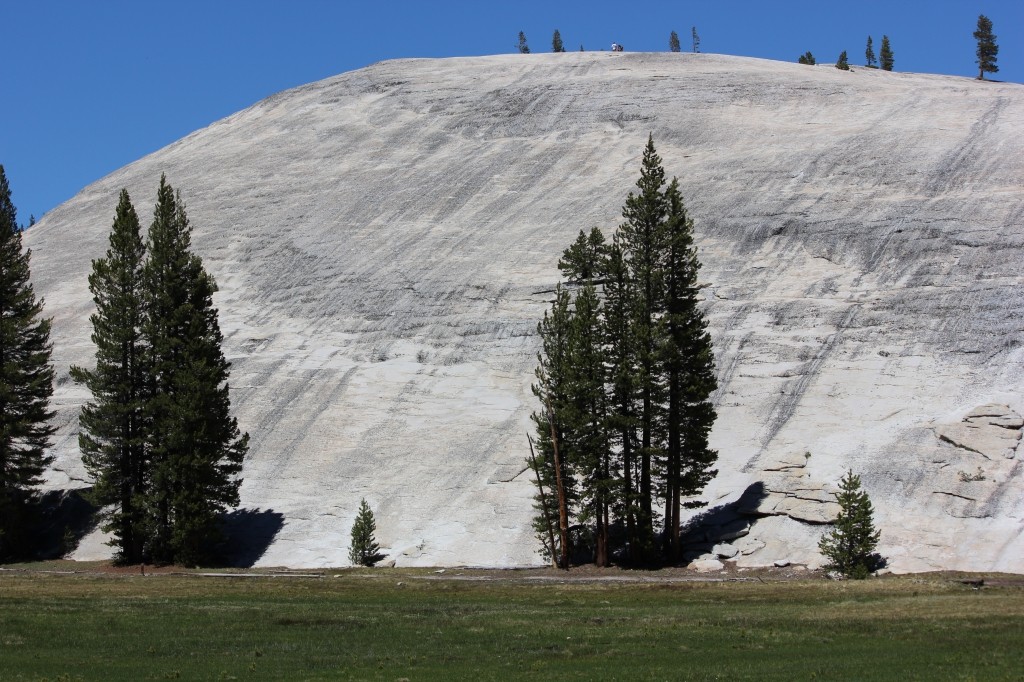 Along the pine-tree shaded trail, we enjoyed treasures, both tall and small: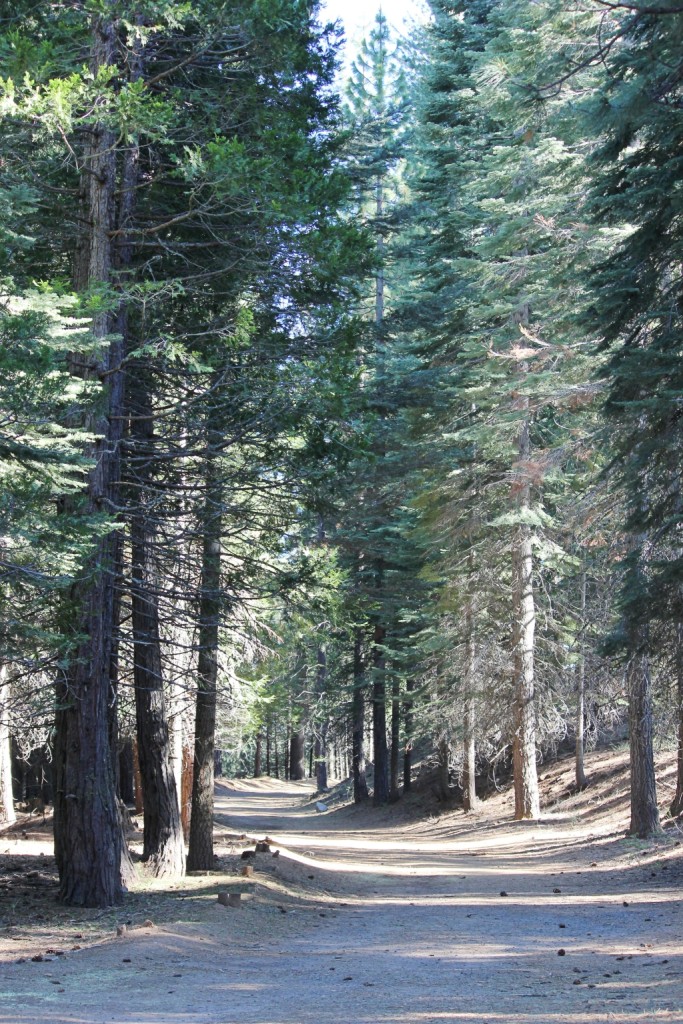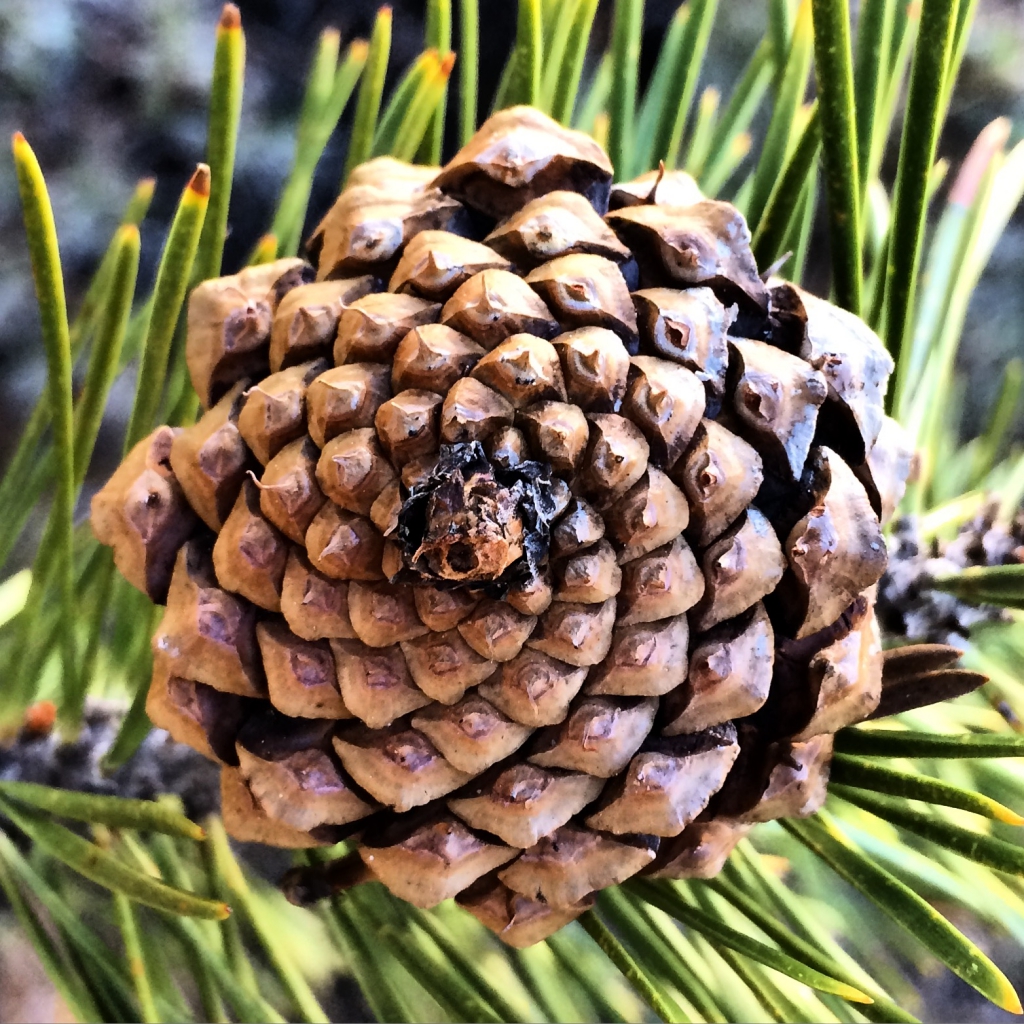 After walking around a curve in the trail, we found a good spot to ascend the dome.  Our boys rushed up the side. We adults lagged behind, huffing and puffing up the incline (the altitude didn't help matters).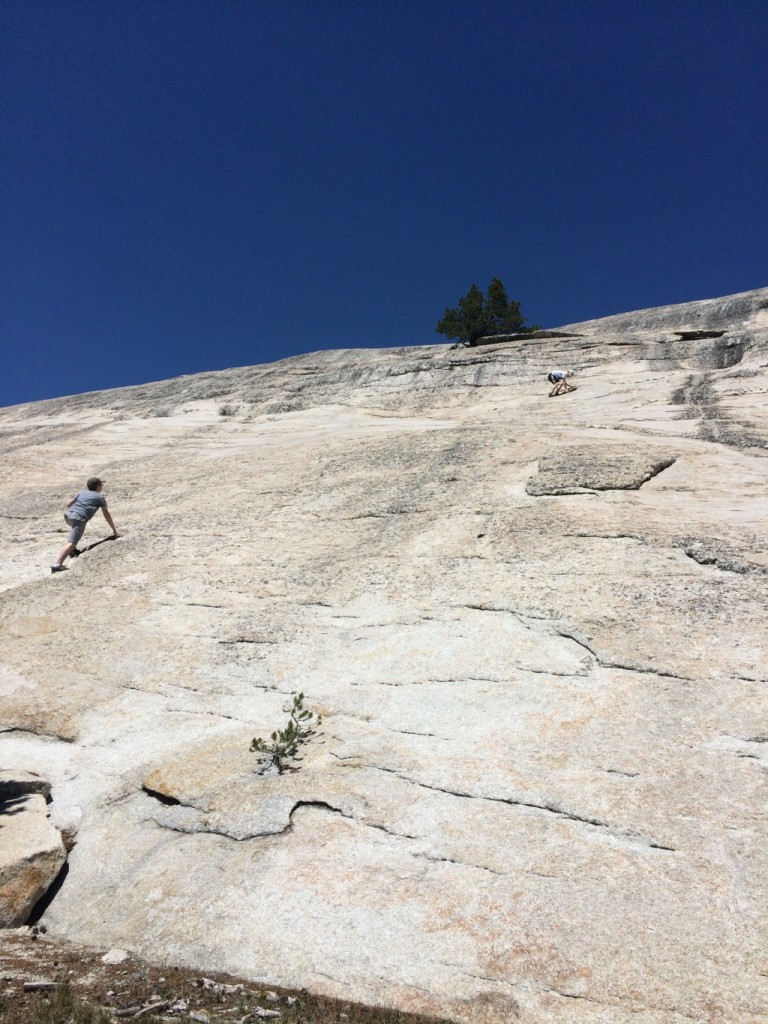 I loved this hike because it felt very adventurous and didn't make me nervous at all. That is until my youngest son went over the peak, where I couldn't see him. We realized we didn't know what was at the top, and our boys were out of sight heading into the high-altitude unknown all alone.

As my husband and I climbed up after the boys, we took a few rest breaks and enjoyed the scenery. From the side of Pothole Dome, we could take in the whole picture-perfect view of Tuolumne Meadows.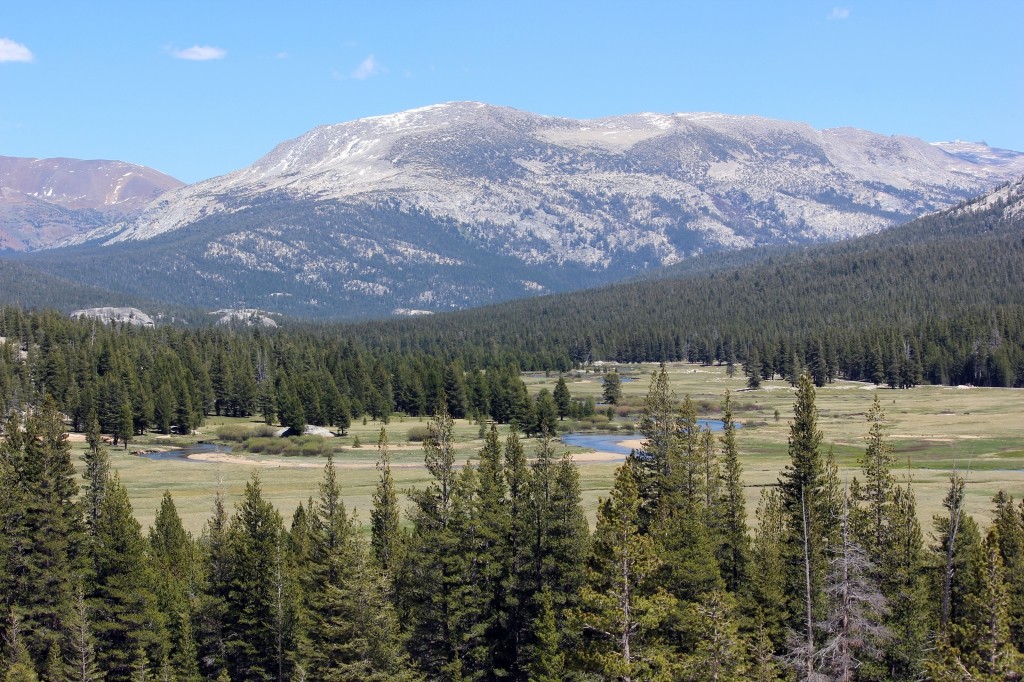 We finally reached the peak and found our boys enjoying themselves at the top of the world. Our younger son looked pretty pleased with himself: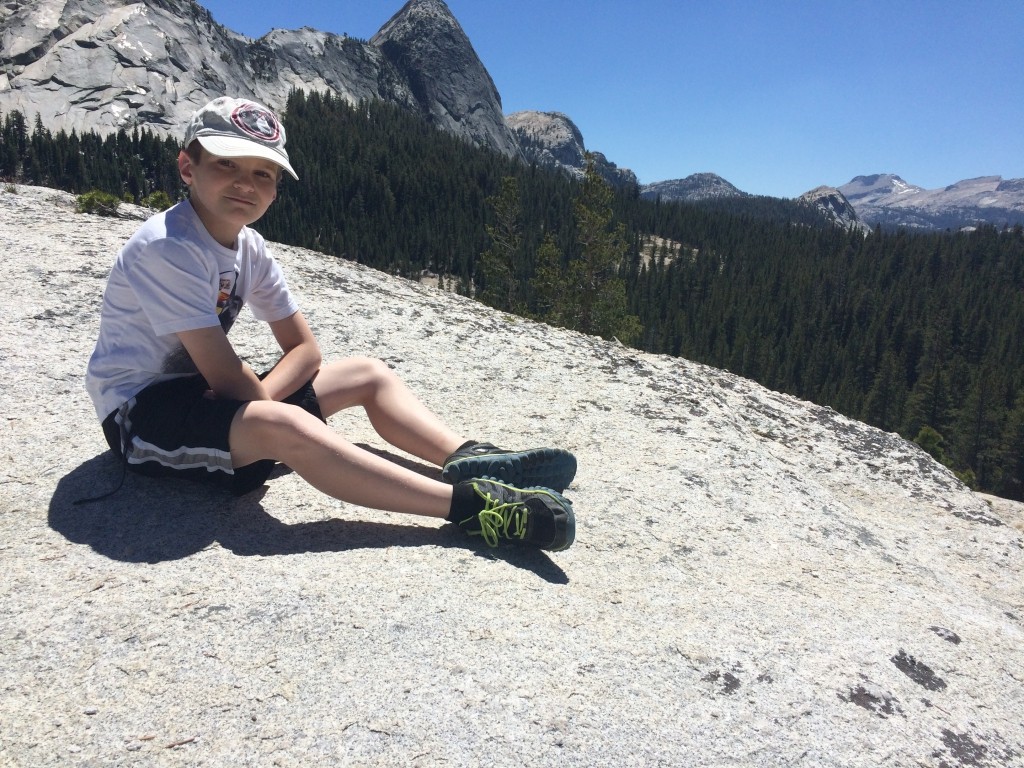 We sat awhile and dangled our legs off a ledge while taking in the spectacular 360 degree view around us. In the distance, we could see Cathedral Peak with its rugged top that had been carved by glaciers.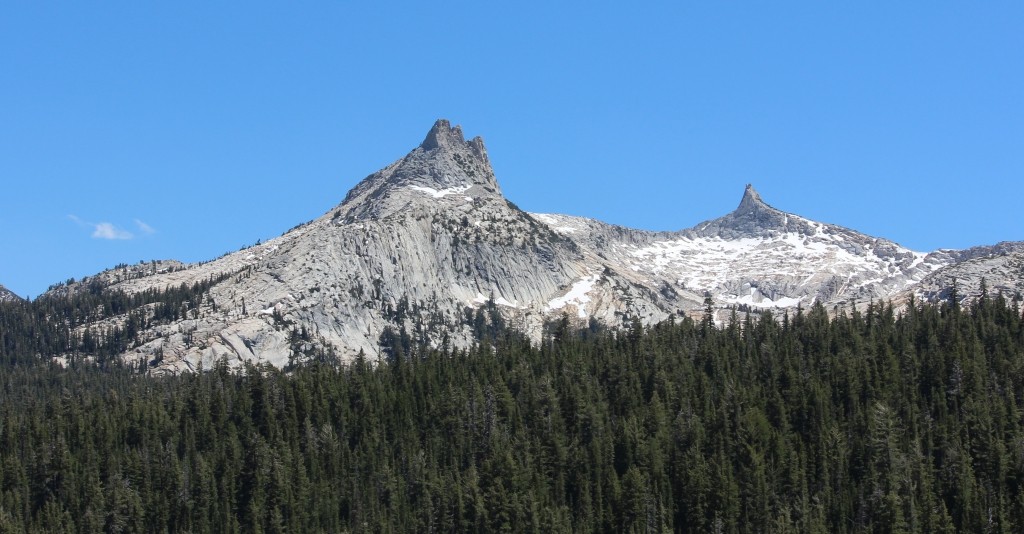 Eventually, it was time to head down Pothole Dome and head back down Tioga Road.
Olmsted Point
As we descended, we made one final stop: Olmsted Point. We had read that it offered a unique view of Half Dome from a different angle than the other viewpoints.
Olmsted Point has a short trail that we had fun exploring. As a mom who spends too much time listening to her children arguing, I really love when I see them heading off on an adventure together.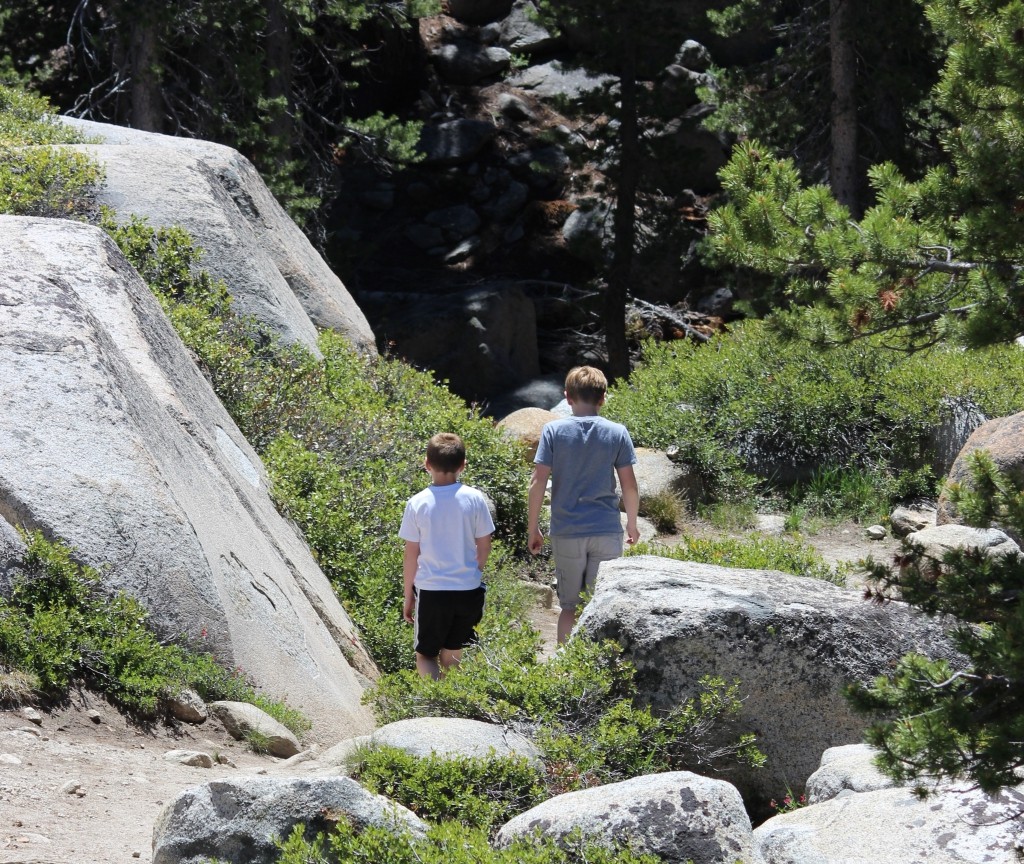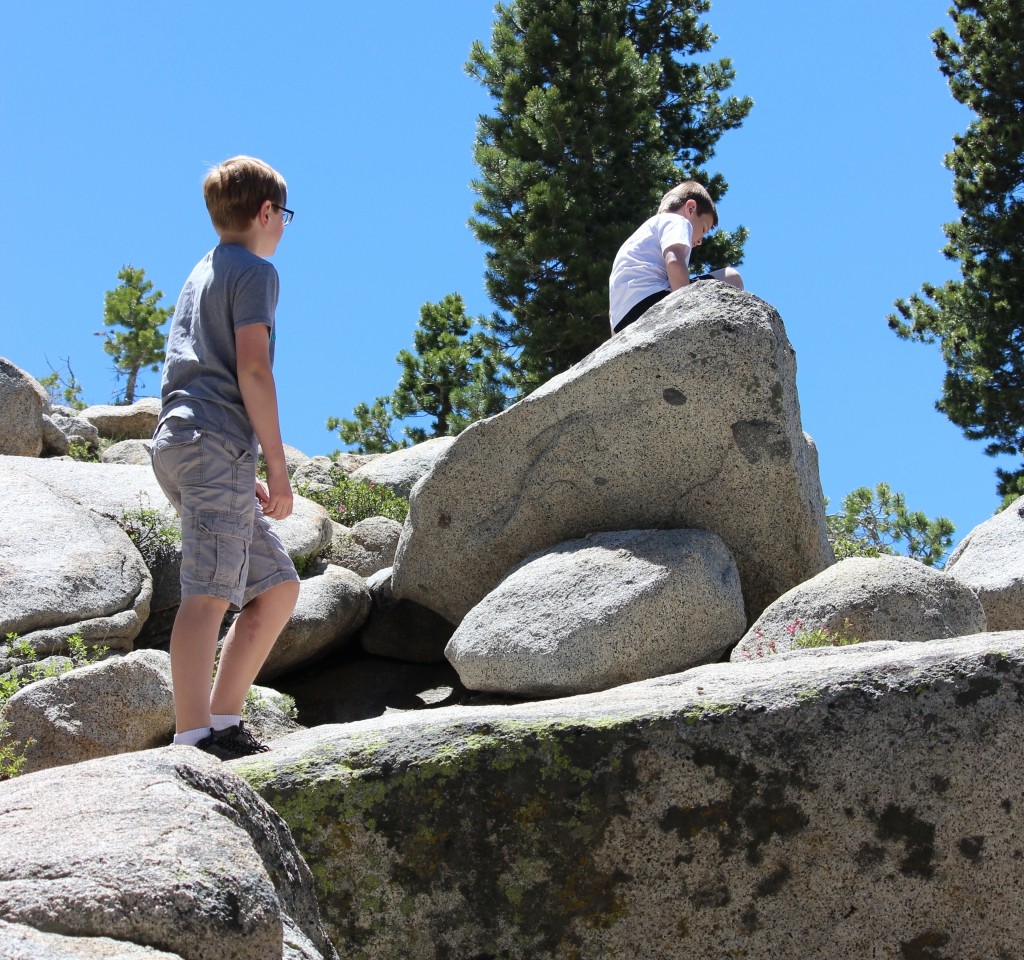 The boys enjoyed scampering around on the large boulders that punctuated the area. We also came across a cool rock staircase that was perfectly concealed into the landscape: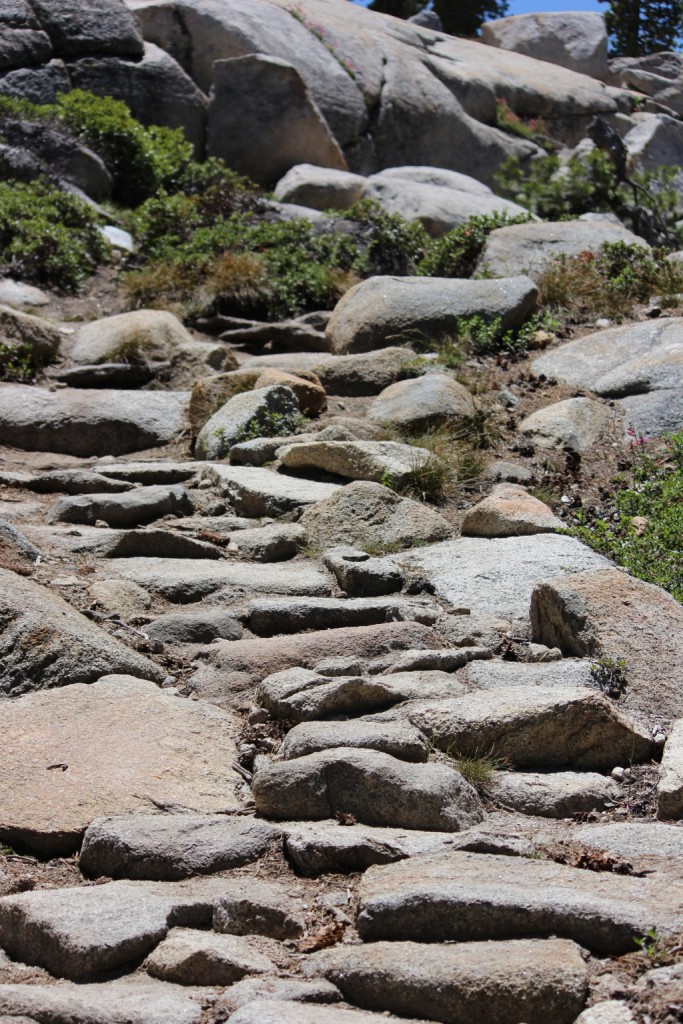 A small metal sign alerted us to the scenic overlook ahead, and I enjoyed playing with my camera's depth of field. I thought this view was quite scenic: My two boys contentedly sitting together.
We finally reached the scenic overlook and, of course, the view did not disappoint. Seeing Half Dome from this angle made me feel like we had fully explored the extent of Yosemite since we had seen Half Dome from above and below and from the front and now the back.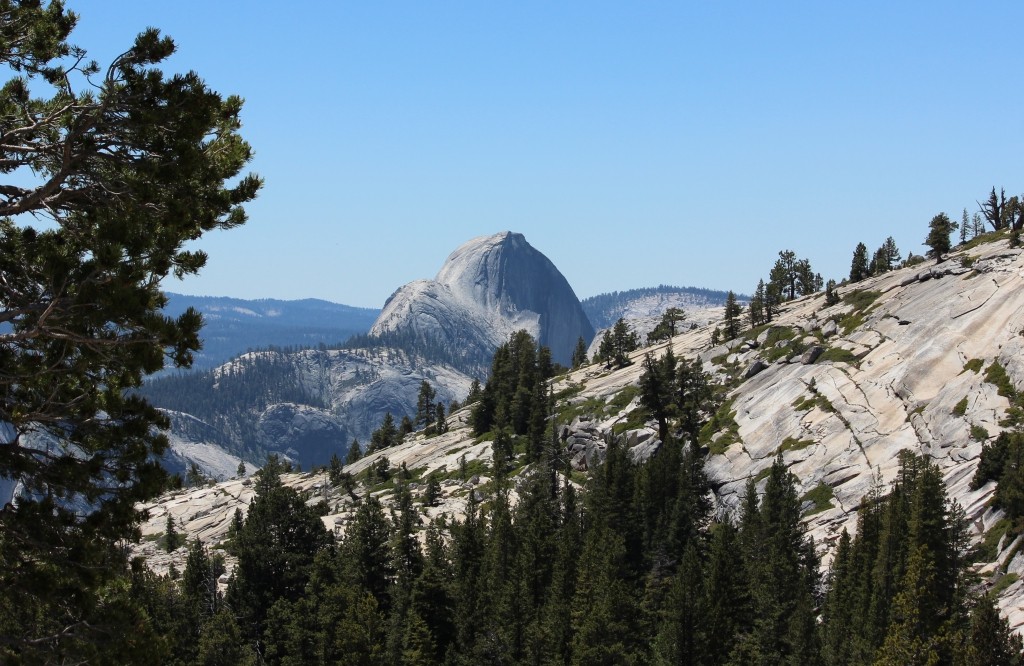 After an amazing day in Tuolumne Meadows, we headed out of the park. We had spent a full day in this area but only saw a small portion of it. If we return to Yosemite some day, this area would first on my list for hiking and exploring. There were dozens of hikes in the area that we just didn't have time to do with only four days to spend in Yosemite.
I'm glad we had a chance to finally put our feet on the ground in the Tuolumne Meadows area of Yosemite National Park. At the end of the day, we all felt like this: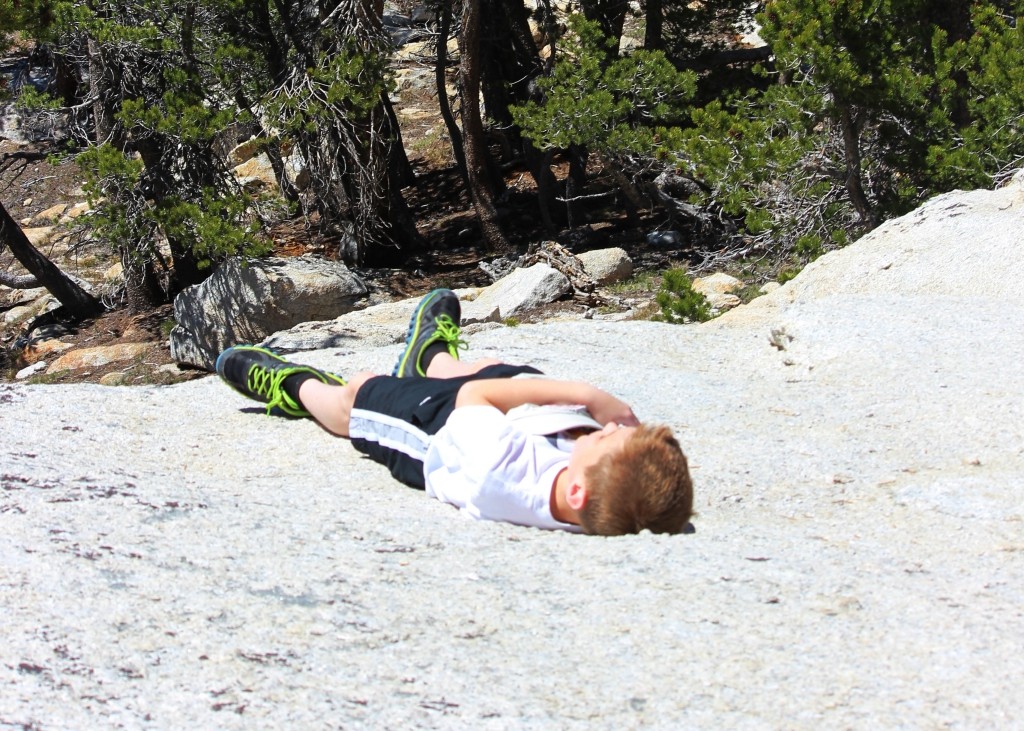 A day well spent, indeed!
RV Family Travel Atlas Podcast
If you'd like to hear about our adventures in Yosemite, check out the RV Family Travel Atlas podcast, where I talked out our 25-day journey. On that episode, I accidentally called Pothole Dome "Lembert Dome" instead. My apologies for any confusion!
Find Travels with Birdy:
Share this post: