Everything You Need to Know about Sun Outdoors Rocky Mountains
Sun Outdoors Rocky Mountains (formerly River Run RV Resort) is a new deluxe campground option on the west side of Rocky Mountain National Park. After several trips where we stayed on the east side, we trekked to the west side for the first time. What's it like staying on the west side of Rocky Mountain National Park? Did this new resort offer a full resort experience? Check out my campground review of Sun Outdoors Rocky Mountains to find out.
How We Ended Up at Sun Outdoors Rocky Mountains

I fell in love with Estes Park and Rocky Mountain National Park on a family trip in 2011. Since then, I've been pulled back many times, trying to recapture the magic of that first mountain crush. Because I was afraid of missing the magic, we never stayed on the west side of RMNP. (Yes, I know this is not a sensible response, but I was worried: Sure, the west side sounded nice, but would I feel the flutters?!)
Last summer, I attempted to plan a trip to Asheville, NC. The campgrounds were booked, deposits paid, and plans made. But suddenly, 10 days before the trip, I decided I MUST return to the Rockies. The Blue Ridge Mountains would not suffice. So, with 10 days to go, I needed reservations outside of one of the most popular national parks. Luckily, I remembered this new campground resort I had written about the year before, and they had a spot!
Since we already had spent a lot of time touring RMNP on a previous trip, we decided not to make that the focus of this trip. Instead, we wanted to have more outdoor adventures outside of the park. Our teenage sons wanted to do things like ziplining and whitewater rafting instead of our usual national park hikes. Sun Outdoors Rocky Mountains seemed to be in a fine location, especially since we didn't mind daytripping far from the park to find adventure.
Where is Sun Outdoors Rocky Mountains Located?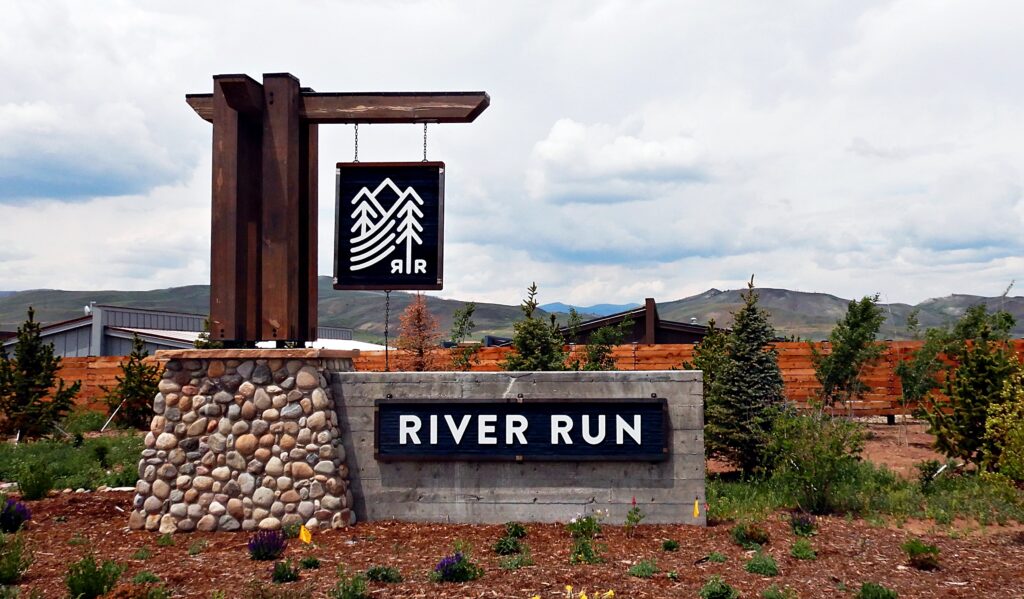 Sun Outdoors Rocky Mountains is located just over 20 minutes from the western gate to Rocky Mountain National Park. If you are planning to do a lot of exploring in RMNP, you need to decide whether it's better for you to use the west side or the east side as a basecamp. There are nice gateway towns on both sides. After experiencing both, I put together this post to help you decide whether to stay on the east or west side of RMNP.
Sun Outdoors Rocky Mountains isn't in the western gateway town of Grand Lake. Instead, it's in the small town of Granby, which has local restaurants, a nice grocery store, outdoor shops, and more. We enjoyed exploring the town and nearby communities (like Winter Park and Grand Lake). And, as I said above, it takes 20 minutes to reach the park gate from here.
From I-70, you can take US-40 over the Berthoud Pass through Winter Park to reach Granby. We were nervous to pull our trailer over this route, so we took the alternative, but after driving US-40 another day, we realized this route was fine. There are switchbacks and major elevation gains, but the road is smooth, and the drop offs weren't the kind that generally terrify me (this mountain-loving girl doesn't love mountain roads). We saw plenty of big rigs and tractor trailers on this route.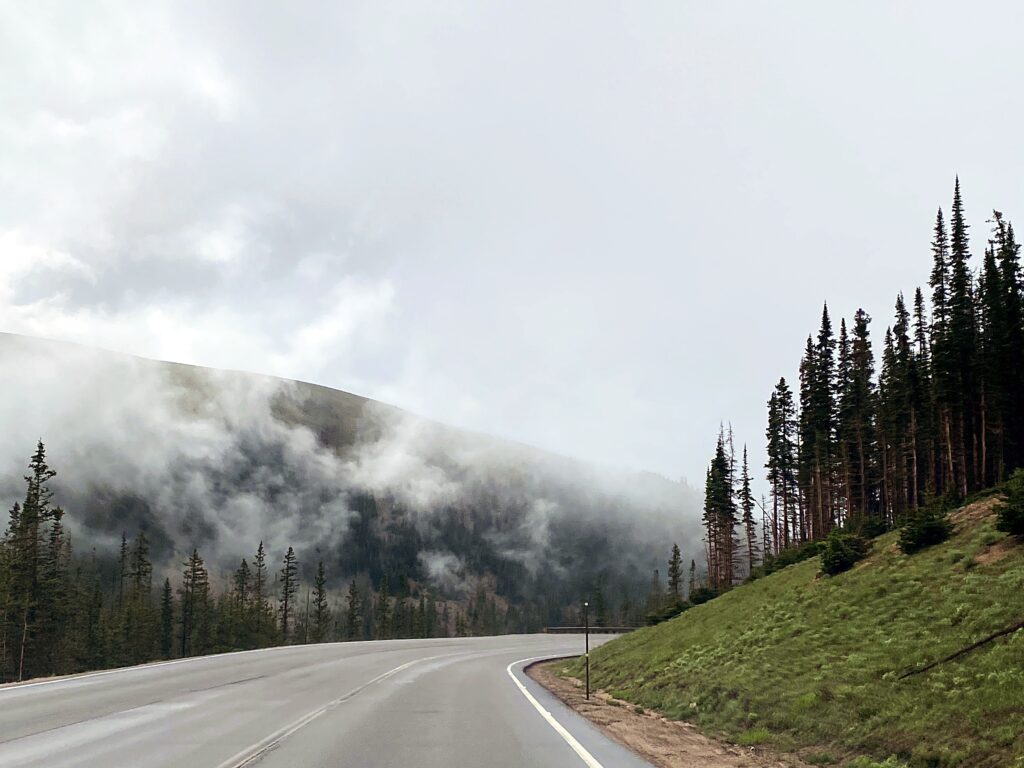 The other route is to take CO-9 north of Silverthorne to Kremmling and to then connect with US-40 into Granby. This route was 30 minutes longer, but it eliminates the mountain pass. If you're nervous at all (or coming from the west), this route is the better choice. Plus, Silverthorne is a great town with tons of offerings, if you need any major supplies.
Sun Outdoors Rocky Mountains Campground Vibe
While this resort is in the mountains, it's not really a "mountain" campground, as you might imagine. The park is located in what seems to be a dry bowl in the Granby area (there's probably a proper name for this that this Midwesterner doesn't know). Don't go in expecting hills and pine trees. Instead, it is a large, flat area with wide-open views. To their credit, the park has planted lots of trees, which will grow in the coming decades, but while it is new, vegetation is sparse.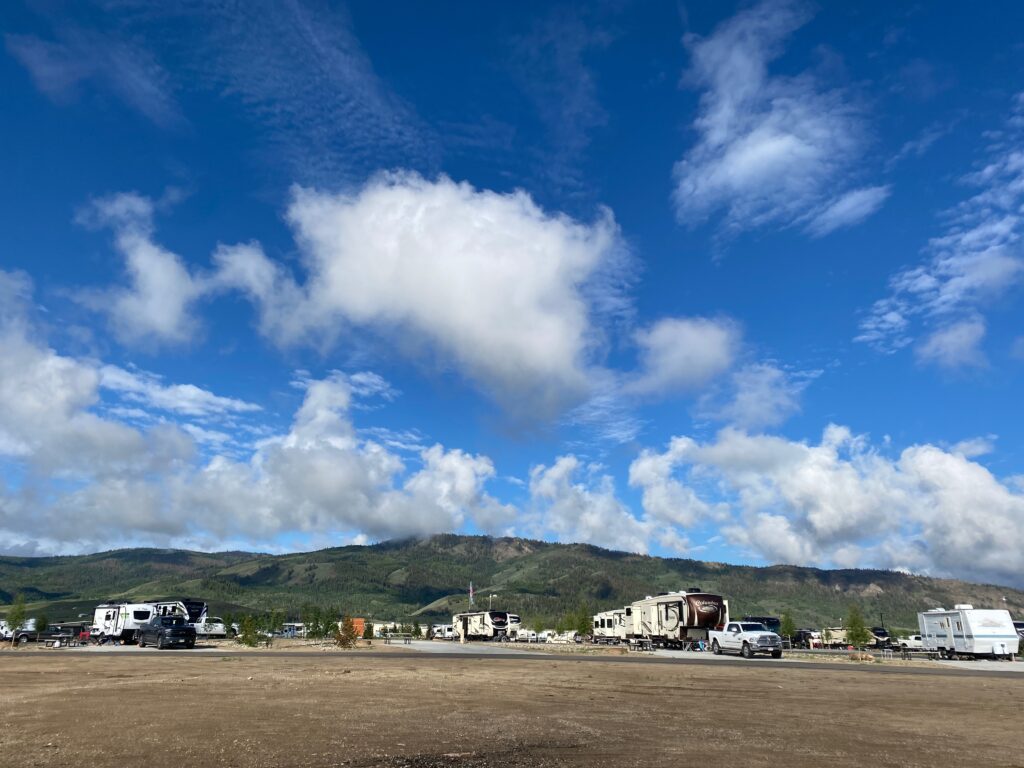 That being said, the sparseness does open up the views. You can see the sun rise and set over the surrounding peaks, which is really beautiful.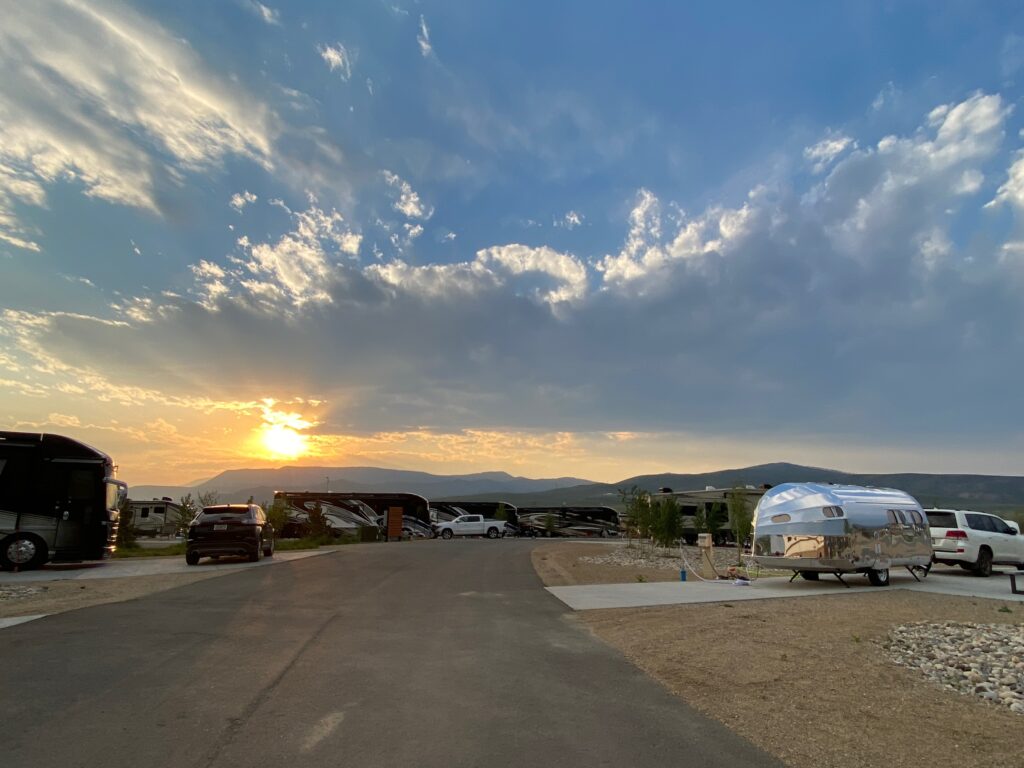 You do see all of your neighbors, but it seems like the park has purposefully arranged the fire pits so that campers can sit at each site and look out at the views instead of just looking at their neighbor's trailer.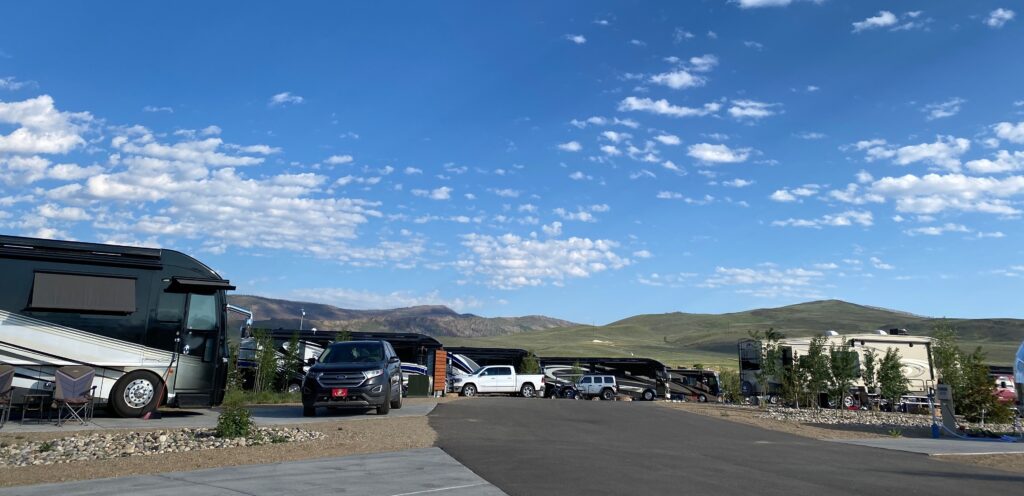 While it wasn't the quintessential mountain feeling like I love, overall, I appreciated the landscape and truly felt like I was in the mountains.
A few important items to note: It is dry and windy here. Someone gave us the tip to take chapstick, and that was spot on! Also, though the summer days were quite warm, the evenings cooled off quickly, so you'll want to take jackets. The campground sits at an elevation of around 8,000 feet above sea level, which may take an adjustment if you are coming from a lower area.
Sun Outdoors Rocky Mountains Indoor Amenities
As its name implies, Sun Outdoors Rocky Mountains is part of the Sun Outdoors network, which seems to set a high standard. Lots of parks call themselves "resorts," but some don't add anything extra to deserve the title. This park definitely does. We felt it from the moment we checked in.
Sun Outdoors Rocky Mountains has several large buildings offering a camp store, community center (with bowling, game room, and bar & grill), wellness/fitness center, event center, and more. All of these are really impressive and have nice decor and well-thought out amenities.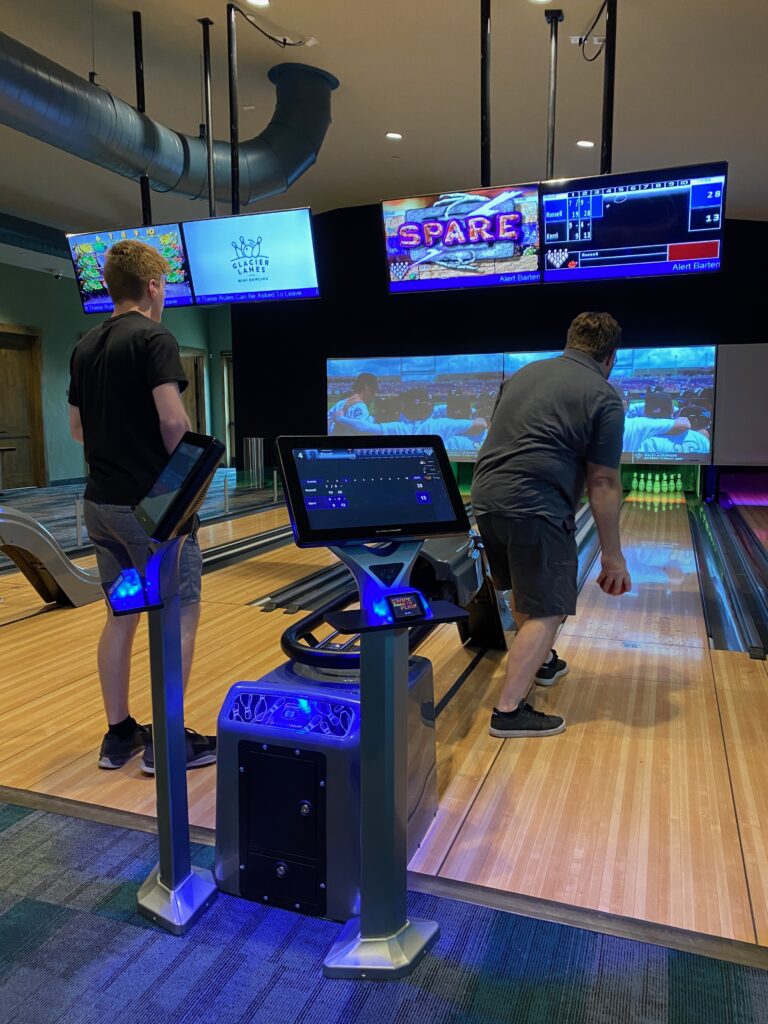 We spent a rainy day playing in the community center, which was as fun for our teens as it looked for the younger kids. The mini-bowling is great for families, and the game room had activities for all ages. We grabbed lunch at the attached bar & grill. While the food was pretty typical fare, we appreciated having the option onsite.
Outdoor Amenities at Sun Outdoors Rocky Mountains
Outside, the facilities are just as grand, with the pool and hot tubs as the central focus. There is one large swimming pool and 2-3 smaller hot tubs. Around these, you'll find plenty of seating.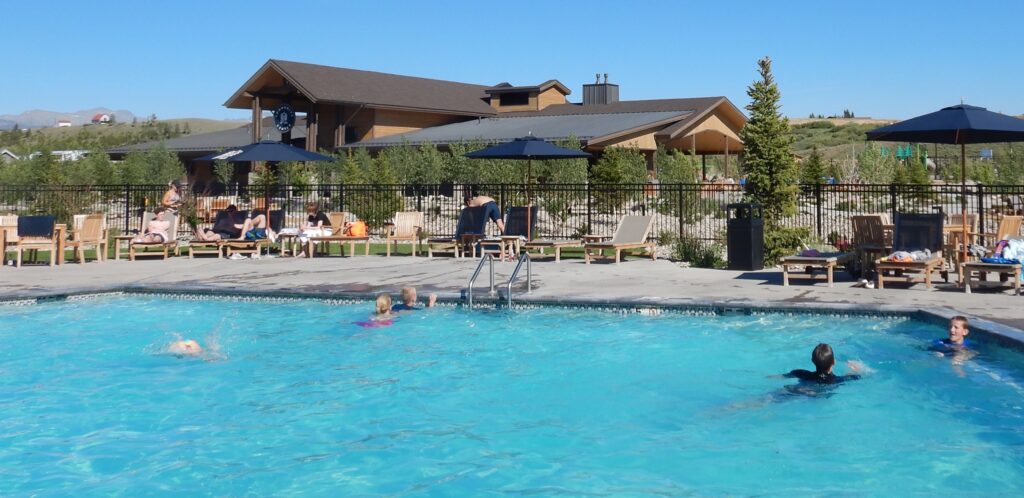 Surrounding the pool area, Sun Outdoors Rocky Mountains has several lawn game stations and fire pits, all surrounded by lovely landscaping. This is where I really felt the most like I was at a resort, since there were plenty of places to relax and play. We could have stayed entertained for the full week without leaving the park.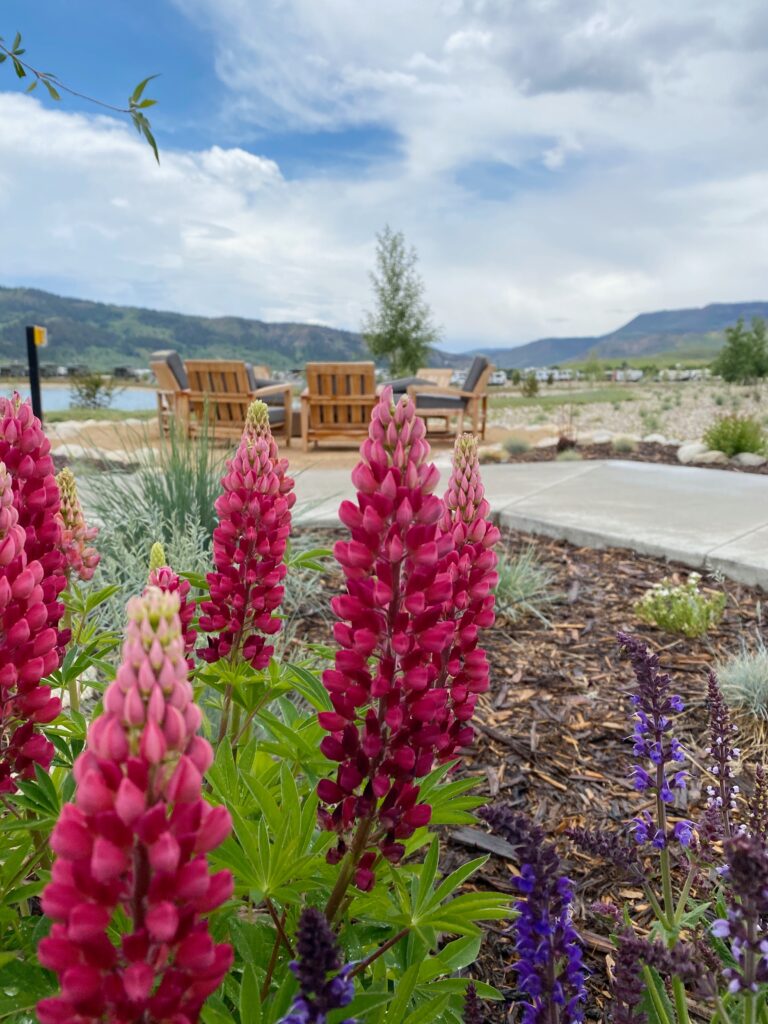 In addition to the pool center, Sun Outdoors Rocky Mountains has a sports game area, with basketball, gaga ball, volleyball, pickleball, jumping pad, playground, and more. Check out the park map to see the layout. While we were there, a vendor was offering bike rentals. This is a great park for long boards and bikes since it is huge and paved. They also rent golf carts. This is a park where you can get a lot of use out of those.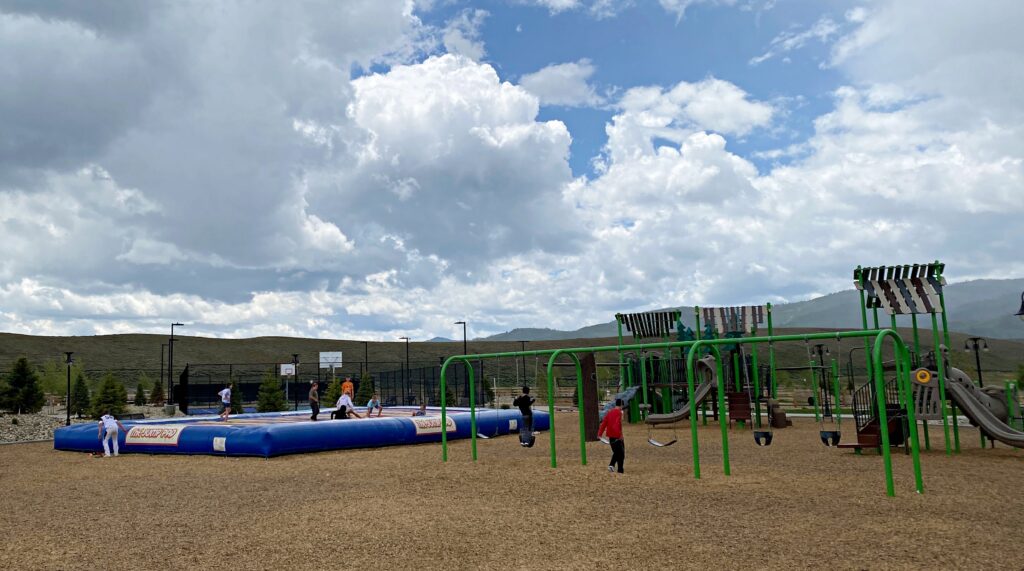 Another focal point at Sun Outdoors Rocky Mountains are the lakes and ponds. Aside from just looking pretty, these also provide recreation, with onsite SUP and kayak rentals (or bring your own). We didn't get a chance to get on the water, but we did make use of the smaller fishing pond, where we each caught a couple of trout. You need to ask at the front desk about what type of fishing licenses/permits are required, as there are different rules for the ponds and the creek that runs through the park.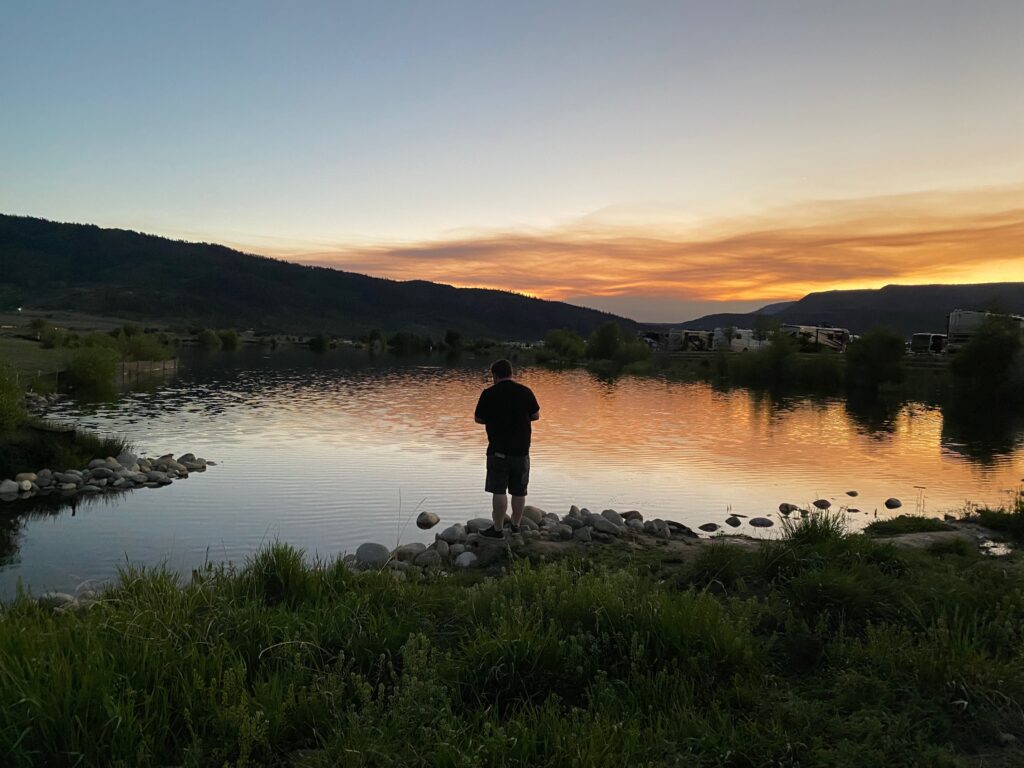 Though it's not part of the resort, just across the street, you will find a dog park with great play equipment. There are also some walking trails, including one that goes up a hill and offers a bird's-eye view of the RV park.
What About the WiFi at Sun Outdoors Rocky Mountains?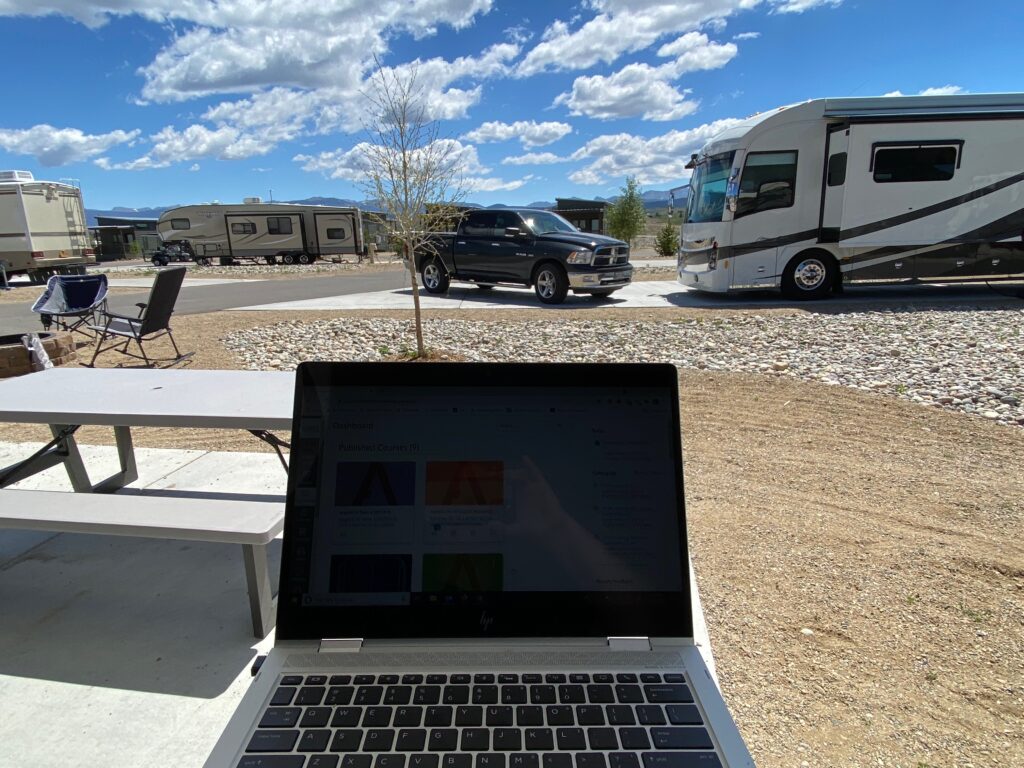 Since I was teaching summer school online during our trip, good internet access was essential. Sun Outdoors Rocky Mountains has free WiFi that is actually pretty decent. While we were there, I would say the campground was 80-90% full, and the available WiFi worked well enough for most needs.
Since I needed to do several Zoom meetings, I paid for the upgraded WiFi. I believe it was $15 or so to cover several days, and it was definitely worth the investment. We could use the upgrade on as many as 4 devices, I think. I speed tested both options, and the upgrade was noticeably faster. I thought $15 was reasonable.
Planned Activities at Sun Outdoors Rocky Mountains
Sun Outdoors Rocky Mountains offers several types of planned activities each week. We noticed family-friendly crafts, live entertainment, outdoor socials, and more on the agenda. The park also has themed weekends throughout the year.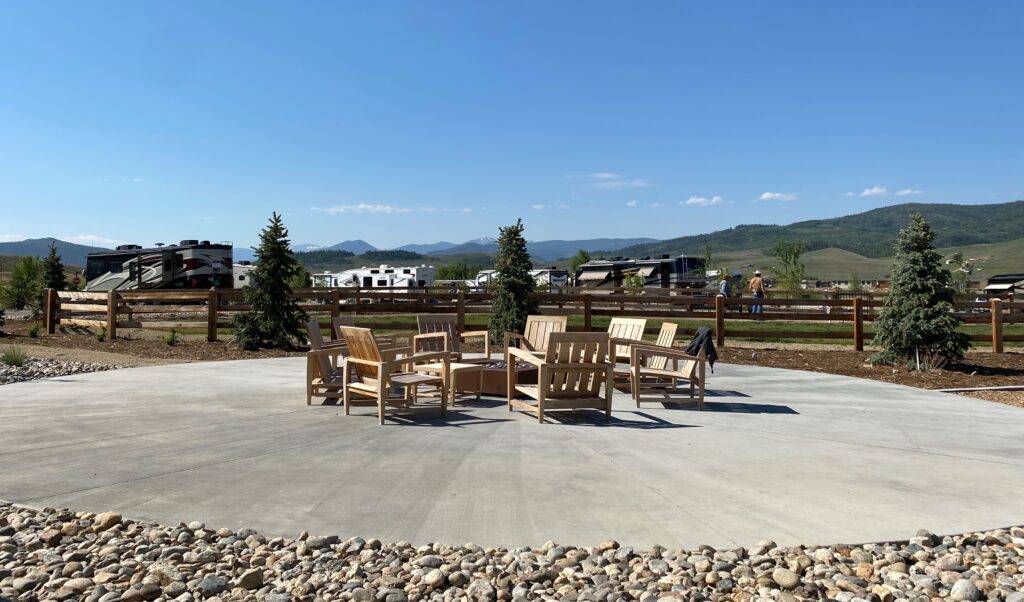 Sun Outdoors Rocky Mountains Resort Campsites
As for the RV sites, all of the sites are well thought out and well manicured. You'll find a mix of concrete and gravel sites, with both back-in and pull-thru. When booking, you'll pick which type of site and can even select your exact number, if you wish to be in a particular part of the park.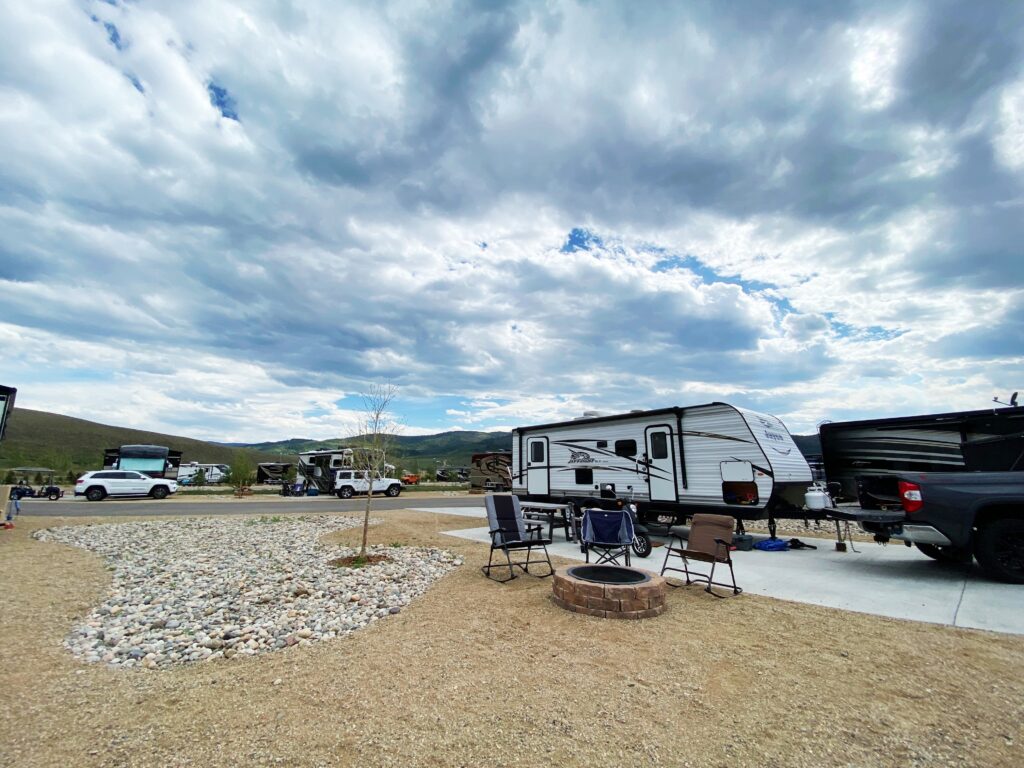 The best RV sites are the Premium Lakefront. These are back-in sites overlooking one of the lakes. They come with deluxe furniture and a barbecue grill, which is a nice upgrade. We had a standard pull-thru on a concrete pad. The site was a nice distance from our neighbors, even though we didn't have any privacy due to the openness of the park.
All of the campsites come with full hookups, which is nice. Plus, there are several large comfort stations around the campground. I did my laundry at one and thought many families would appreciate that the park thoughtfully placed lounge furniture and a playground right outside, which made it a nice place to hang out while waiting.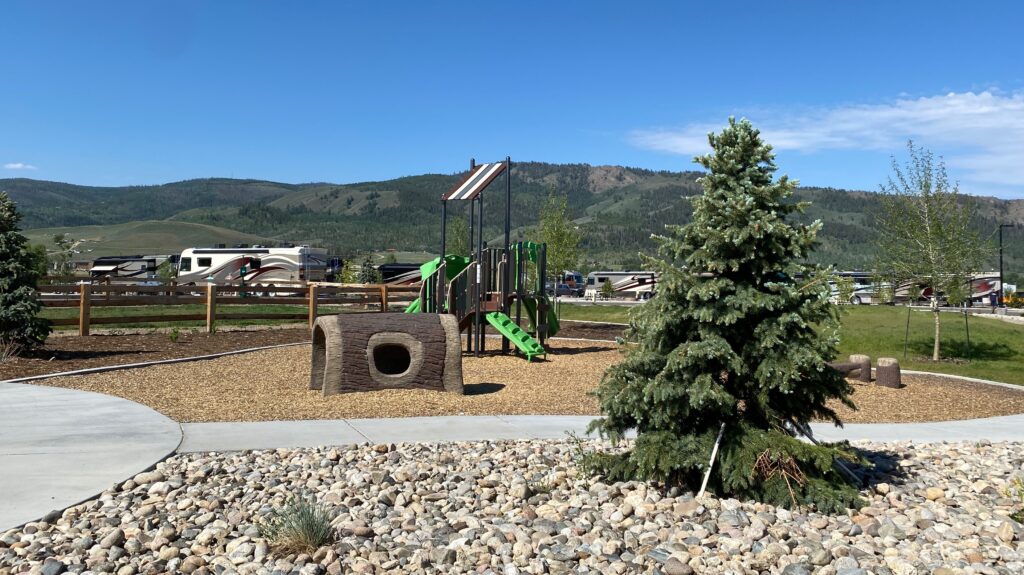 Other Types of Lodging at Sun Outdoors Rocky Mountains
In addition to campsites, Sun Outdoors Rocky Mountains has all kinds of accommodations, making it perfect for traveling with friends and family who don't have RVs. There are cabins large enough for big families or groups, as well as traditional tiny cabins.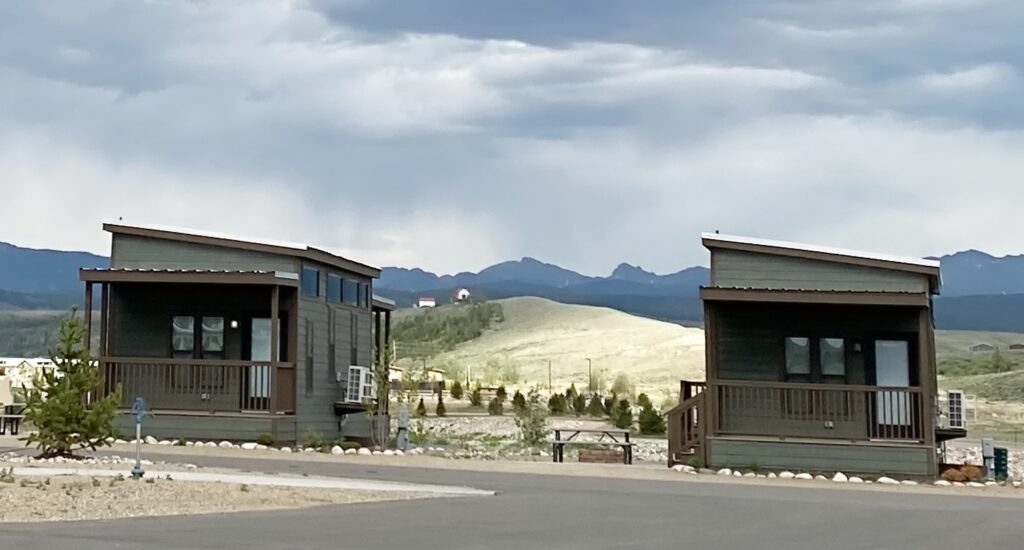 There are two fun camping areas. One has a round up of conestoga wagons. If you'll be camping with kids, this would be such a memorable experience. Extra credit if they are studying pioneer times in school. They have wagons with and without bunkbeds.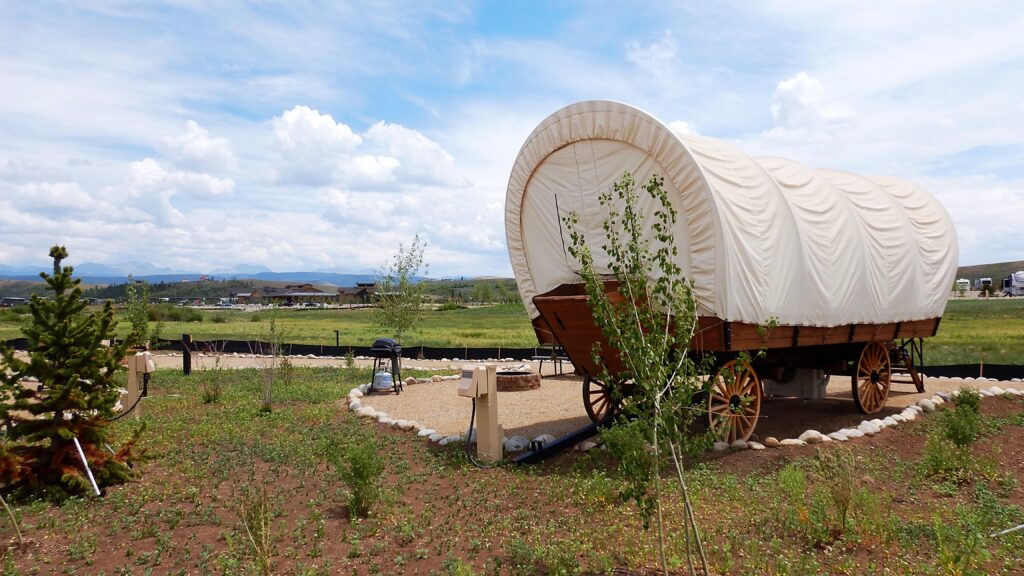 Another fun camping area has Airstream rentals. If you want the RVing experience without the RV, this is the way to go. Everything is already set up!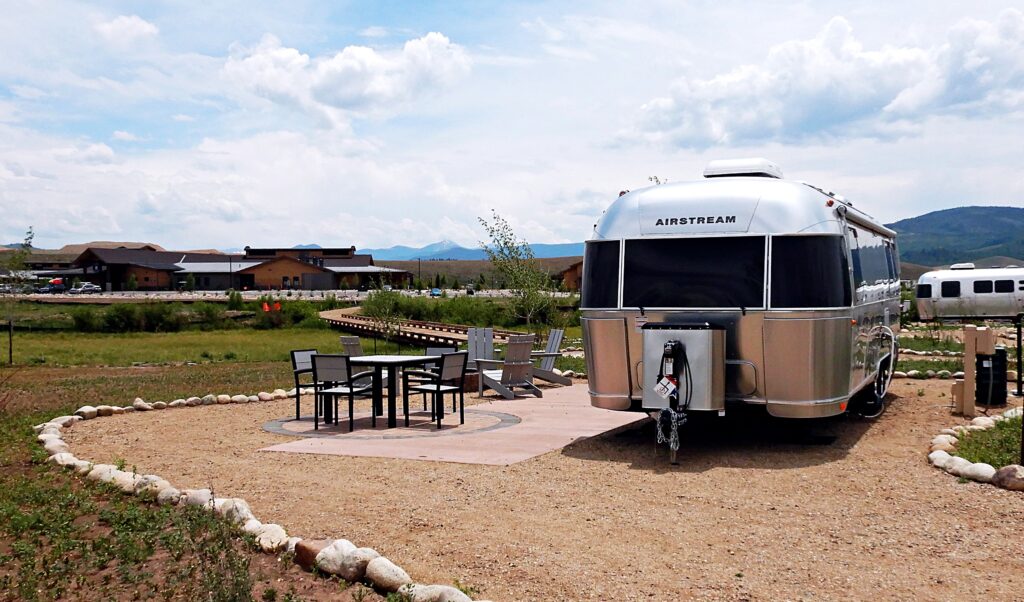 What's Near Sun Outdoors Rocky Mountains?
Sun Outdoors Rocky Mountains is right outside the small town of Granby. Granby has a small downtown area with several local restaurants and shops. You won't find a lot of chain restaurants in town, though there are a couple. We enjoyed a great meal on the patio of My Cabin Mexican Food. We also thought the grocery store (City Market) was especially impressive thanks to the large deli area.
Winter Park is a short drive away and has a few more offerings. The Winter Park Ski Resort has activities in the summer, including a ropes course, alpine slide, and more.
Grand Lake is 20 minutes away, and we loved the vibe here. We ended up randomly joining the trivia night at Rockies Restaurant. It was a ton of fun, the food was great, and we won the whole shebang!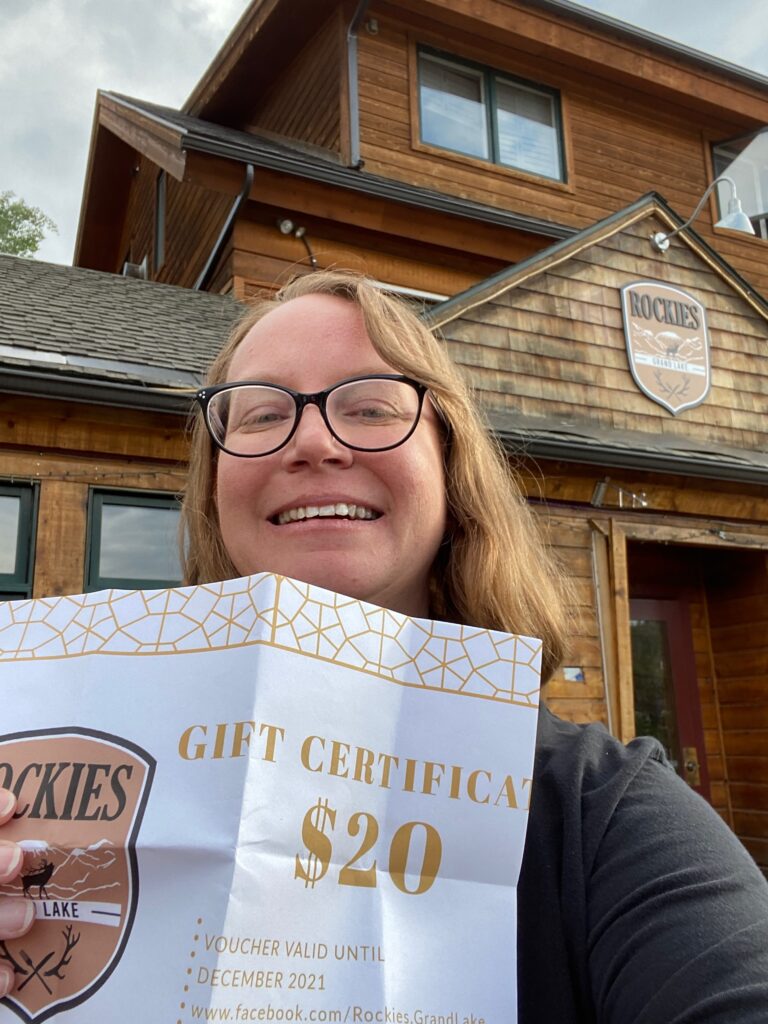 While we were there, RMNP was requiring permits to enter between the hours of 9 am – 3 pm, which we didn't have. We found that we were able to still enjoy the park by going before or after those hours. Outside of the park gates in Grand Lake, the Adams Fall Trail is super easy and has some pretty scenery.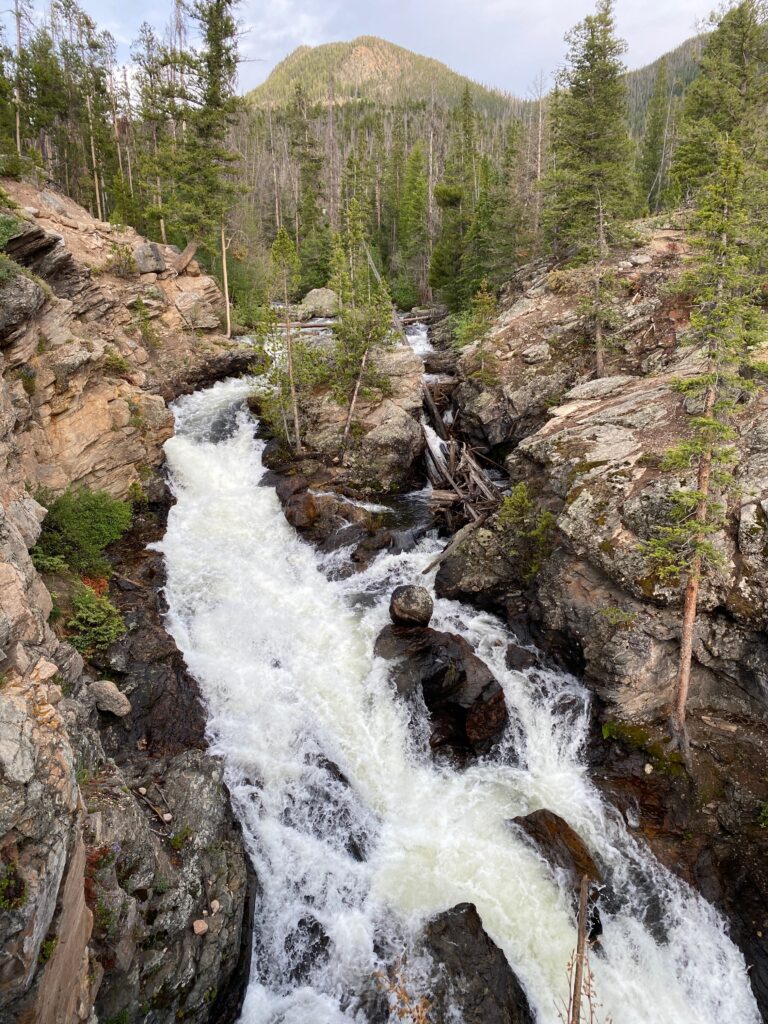 Final Thoughts on Sun Outdoors Rocky Mountains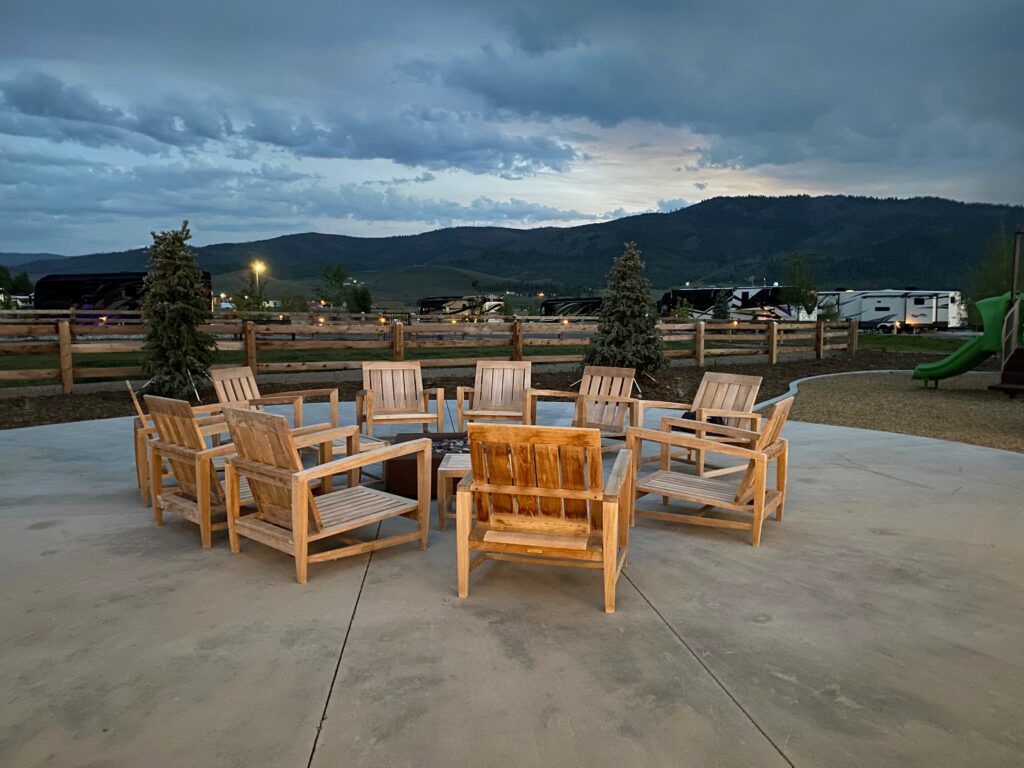 We had a great stay at Sun Outdoors Rocky Mountains (or River Run RV Resort, as we called it)! It's the kind of campground where you can enjoy a lot of downtime in the park and really get the vacation relaxation, but if you want to have adventures, you can take your pick of all that the Rockies offer. While I still prefer Estes Park as a basecamp for RMNP, splitting your trip to spend half of it on the west side or staying here when RMNP isn't your main focus would be perfect.
Just the Facts
Name & Website: Sun Outdoors Rocky Mountains
Location: Granby, Colorado — 20 minutes from the west entrance to RMNP
Description: Part of the Sun Outdoors network, this is a high-end, family-friendly resort
Rates: Rates vary by site type and season, but for summer, expect to pay $85-110 a night for RV sites
Utilities: All sites are full hookup
Bathhouse: Exceptionally clean comfort stations
Amenities/Activities: Pool, hot tub, lawn games, rec room, and more!
Bottom line: May not be the absolute best choice for spending several days touring RMNP, but it is a great vacation location of its own, with plenty for families to do onsite.
Find Travels with Birdy:
Share this post: