Yosemite: Keeping it Real
Our Birdy Goes West trip was planned around our ultimate destination: Yosemite National Park.  After 1800 miles and ten days of traveling and exploring, we finally made it!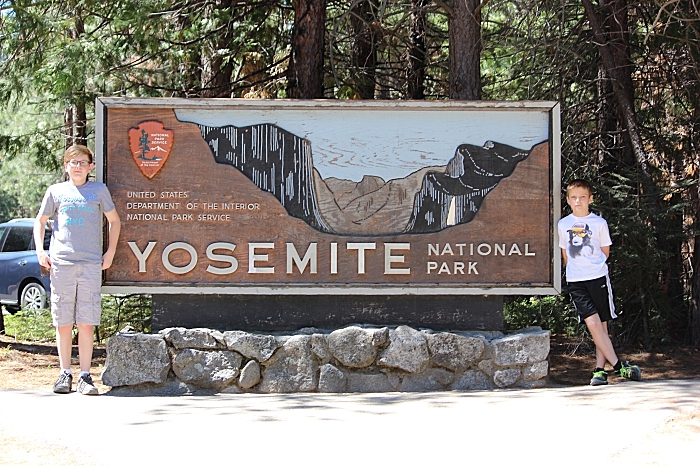 Yosemite can be a little overwhelming, and this is coming from a girl who navigated Disney World with military precision. Even though I read three guidebooks, I landed in Yosemite on our first day feeling a little lost and confused.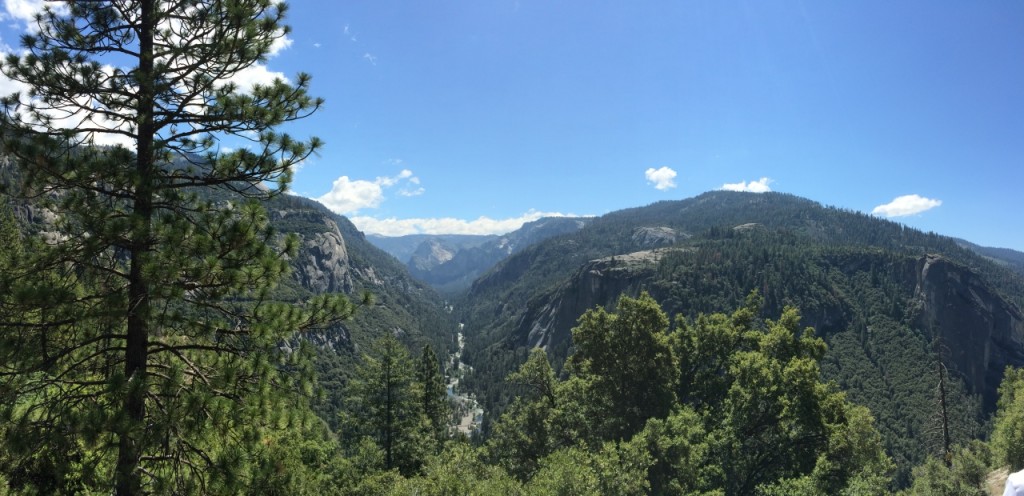 Should we drive? walk? take a tour? rent bikes? eat overpriced concession food? find the visitors center? take a hike? ride a shuttle?  We needed to find a restroom, find some food, and find out what to do first. Maybe I had read too many guidebooks, and thus, my mind was swirling with too many ideas and no action plan.
Meanwhile, our family fell into dysfunction due to being too hot, too hungry, and a little road weary. We fussed, we growled…I may have sat on a log and pouted for a few minutes.  All while surrounded by some of the most beautiful scenery our eyes have ever seen.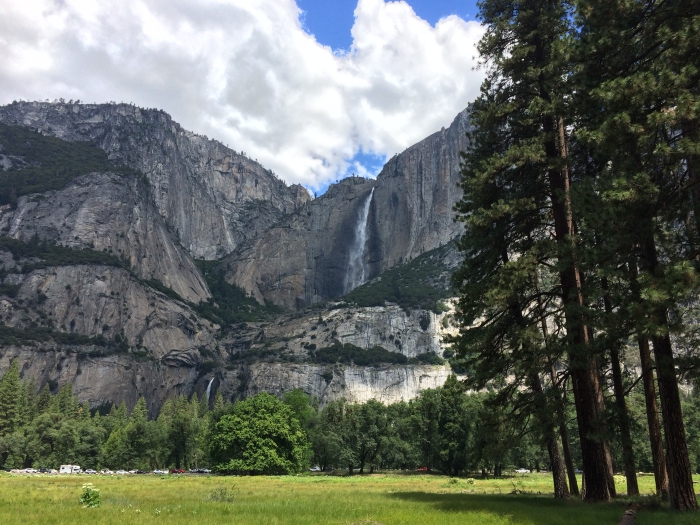 It's really comical to look back on these stunning sights pictured in the photos and to know what was actually happening in our family that first day. I kept trying to write this post without telling you the truth, but that felt fake.
In reality, I want you to know that your family can travel, fall apart sometimes, and still pull yourselves together and do great things. That's the reality of pushing yourselves outside of your comfort zone, and it's okay.
So, we persevered and continued to explore, even though our moods did not match the beauty of the park. We thought some food might perk us up and decided to grab lunch before we did any hiking. The squirrels at the Yosemite food courts are a force to be reckoned with. These brave rodents were trying to steal our food, making them less adorable than the squirrels back home. My husband did manage to live his dream and was able to touch a squirrel.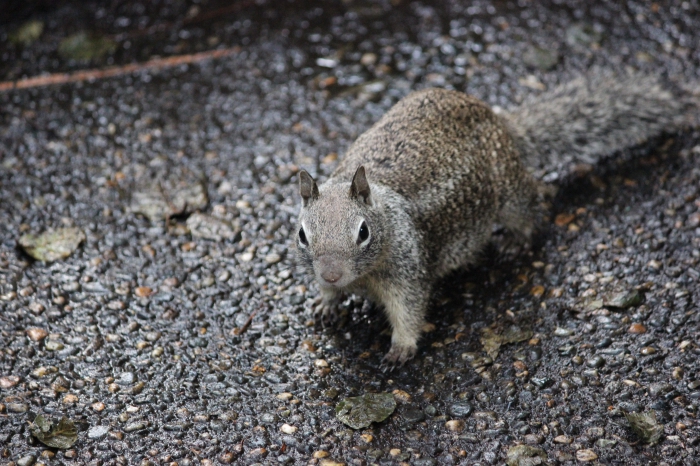 Lower Yosemite Falls
As we made our way into Yosemite Valley, we found the trailhead to Lower Yosemite Falls, which is a short, mile-long walk through some lovely pine trees.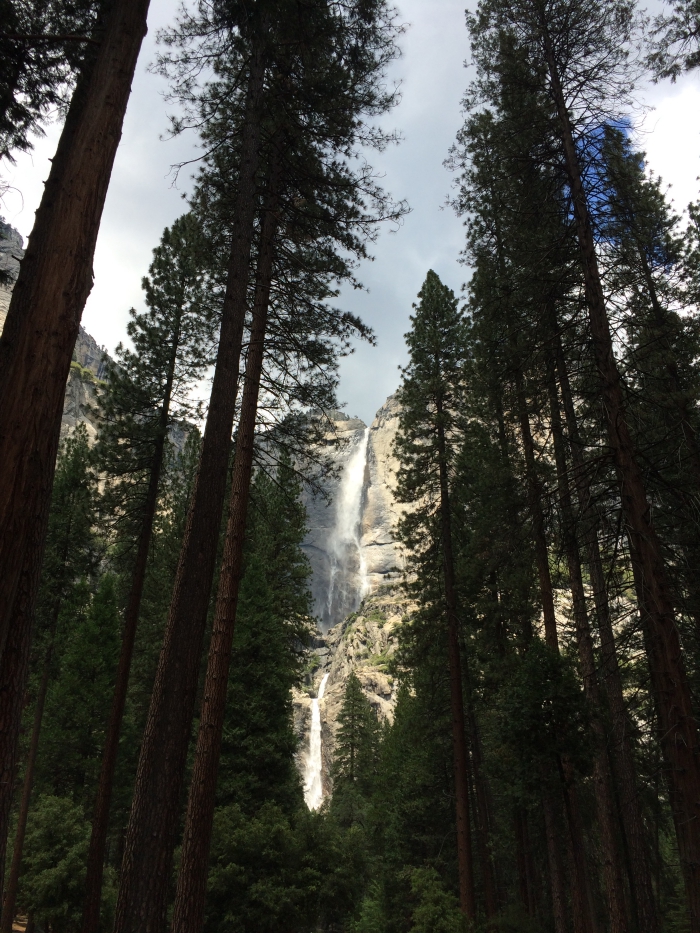 Along the way, we found an artist painting a picture of the falls. He could easily sell paintings on the spot and make a living.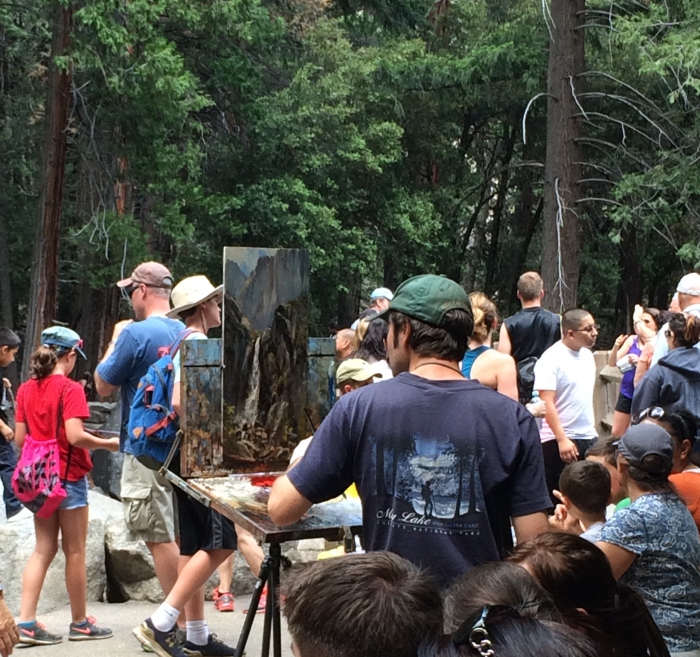 Standing in the crowd at this spot, we heard families speaking many languages. One interesting thing about national parks is the travelers who've made their way to America from oversees. In the RV parks, we talked with several families who came over and rented RVs for month-long tours of the US. It was interesting to hear their stories, along with their accents.
After a short walk, we arrived at the base of Lower Yosemite Falls. Since we were visiting in June, the water was still roaring over the precipice. As John Muir said, "The snow is melting into music." Later in summer, these falls will become a trickle or dry up entirely.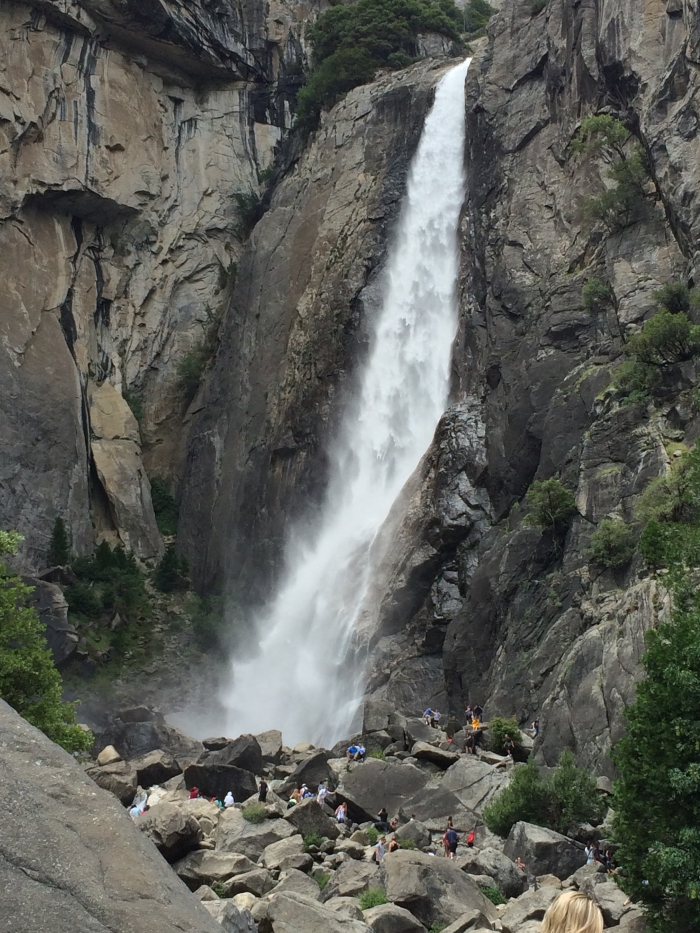 One cannot explore Yosemite without thinking of two people, John Muir and Ansel Adams.  Muir used his words to tell his story of the profound beauty of the park, while Adams depicted it in his photographs. I decided to try my hand at Adams' style: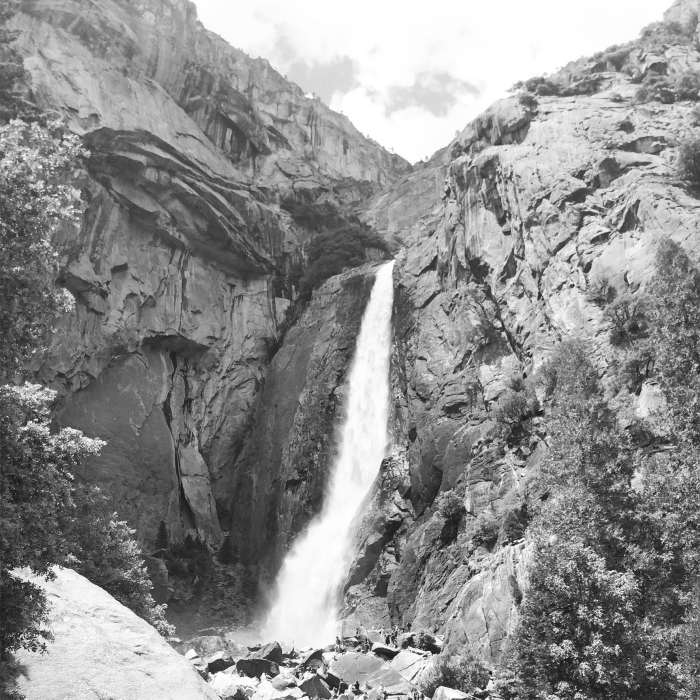 Walking away from the falls is just as beautiful as the walk to the falls. The crystal clear water cascades through the boulders.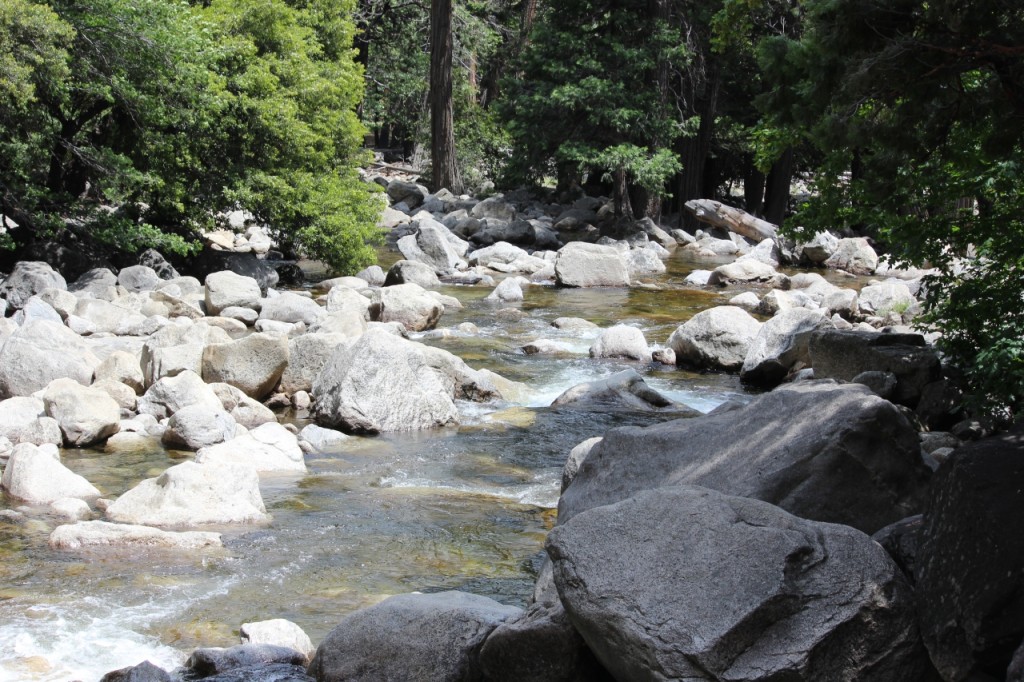 El Capitan
Next, our family decided to take a closer look at El Capitan, so we hopped on a shuttle that took us to that end of Yosemite Valley.  Here, the peaks push out of the meadows below.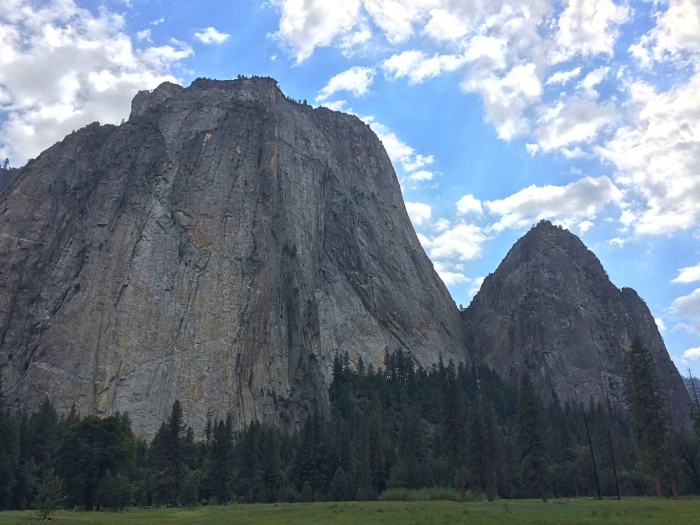 As we walked closer to the monolith, we realized rock climbers were ascending the face. They were mere specks on the granite walls, but our zoom lens allowed us a closer view of their sleeping arrangements: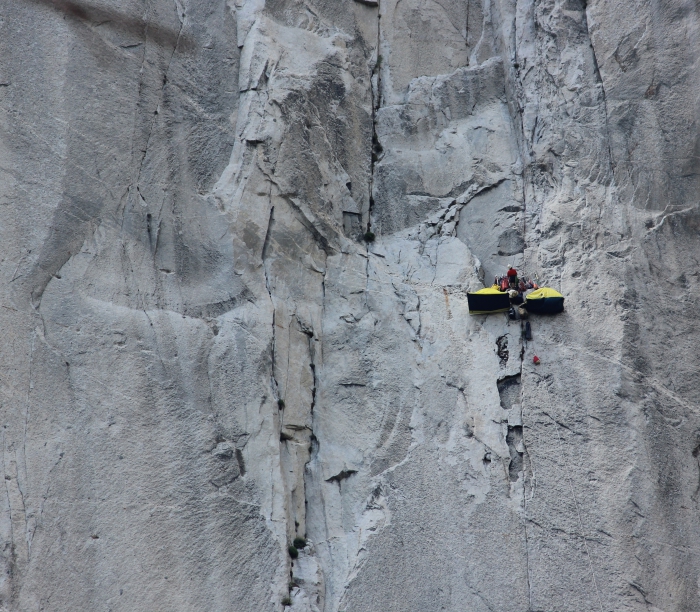 Tunnel View
To capture the quintessential photographs of Yosemite, one must head to Tunnel View. This allows you to see the granite peaks and flowing falls from above. El Capitan stands guard on the left, with Half Dome barely peaking out above the valley. To the right stands Cathedral Rocks with Brideveil Falls cascading down.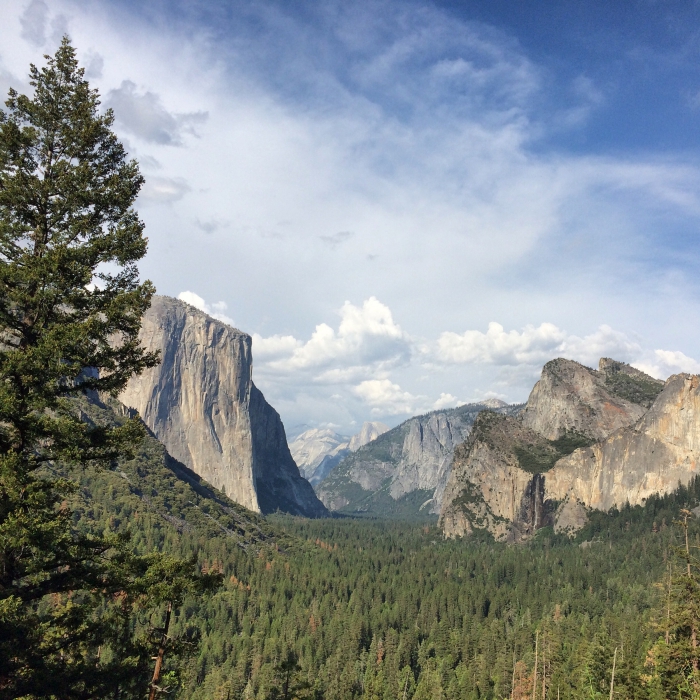 I think Ansel Adams was looking out from Tunnel View when he said, "Yosemite Valley, to me, is always a sunrise, a glitter of green and golden wonder in a vast edifice of stone and space."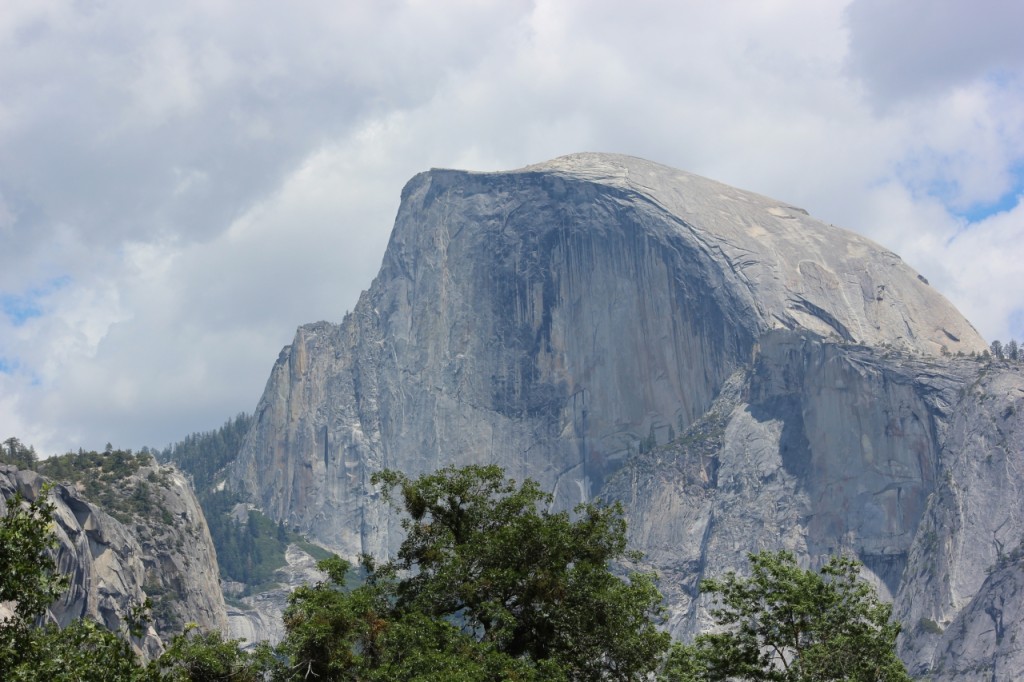 Brideveil Falls
As we were driving back from Tunnel View, we saw the trailhead for a short walk to the base of Brideveil Falls and decided to hop out of the car.  Since it was getting closer to evening, the park was beginning to quiet down and we enjoyed a peaceful walk.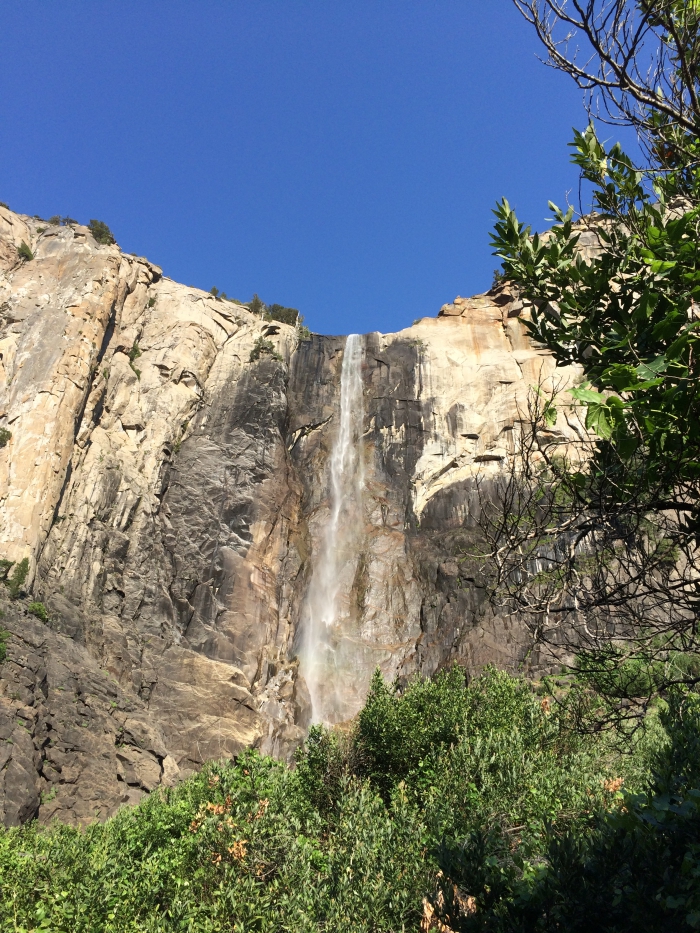 This is a less powerful waterfall than Lower Yosemite Falls, so there wasn't as much to see; however, we did enjoy the walk through the woods as the sun began to sink lower in the sky.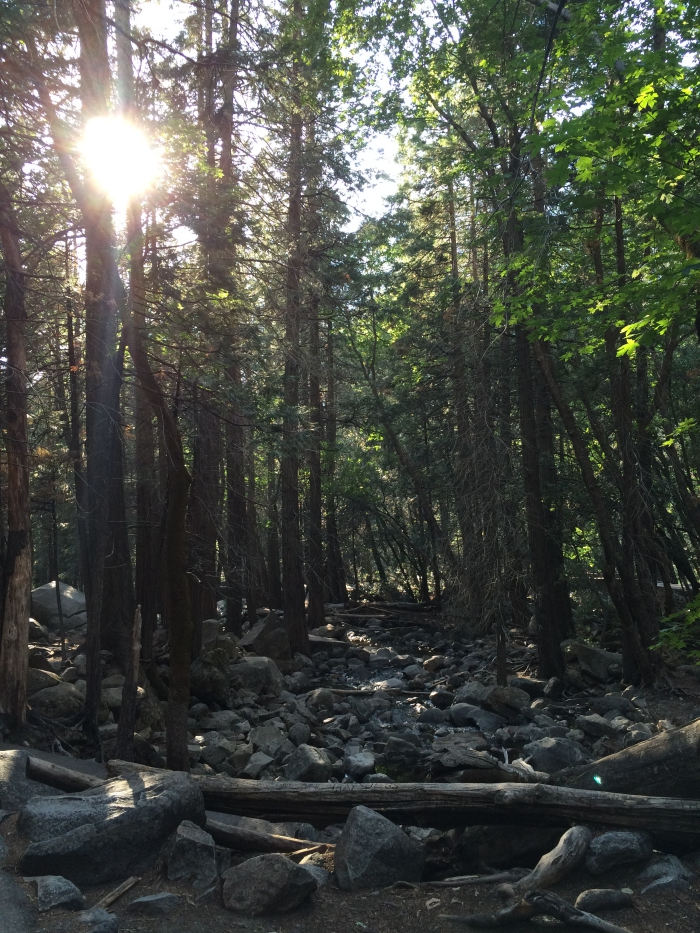 If you plan to visit Yosemite, my first advice is for you to understand the scope of the park. It's a large park, and most importantly, it's a crowded park.  Though Yosemite isn't the nation's most visited national park (that distinction goes to the Great Smoky Mountains National Park), I think the visitors are much more concentrated in one area than they are in the Smokies.
With a little planning and patience, you will find the activities that are the right fit for your family.  Despite our grumpy first day in Yosemite, we were able to make sense of the park and figure out a game plan for our remaining three days. We decided to raft the Merced River and head up to Tuolumne Meadows and Glacier Point. More on those soon.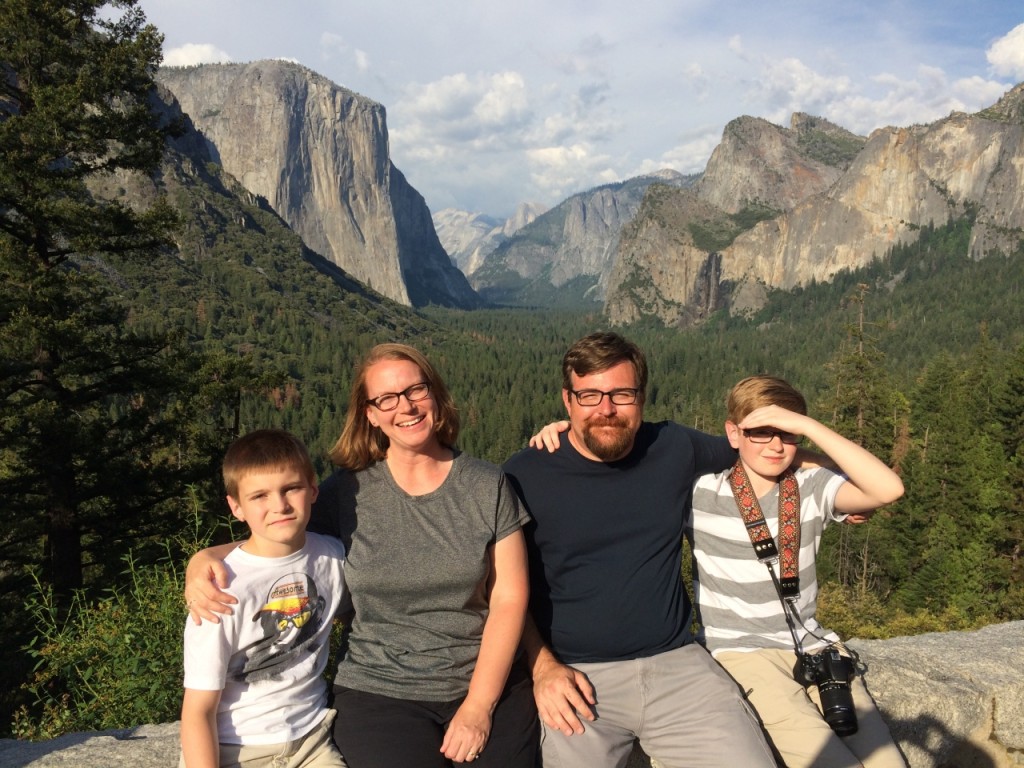 One last quote from John Muir: "Thousands of tired, nerve-shaken, over-civilized people are beginning to find out that going to the mountains is going home; that wildness is a necessity; and that mountain parks and reservations are useful not only as fountains of timber and irrigating rivers, but as fountains of life."
Ultimately, we arrived at Yosemite tired and nerve-shaken, but after we found our bearings, we were ready for more!
P.S. I must confess, my husband remained cheerful while the rest of us fell apart on our first day in Yosemite. He earned a gold star for good behavior!
Find Travels with Birdy:
Share this post: