Meet Birdy: Our Jayco 184BH
Summer is a dangerous time for teachers. Those extra hours in the day aren't always filled with productive activities…sometimes, they give you too much time to browse Craigslist…which then leads you to the perfect little travel trailer for your family.
We had daydreamed about buying a camper, but we decided that we really could not and should not buy one, no matter how fun they sounded. However, I continued to browse Craigslist in my spare time. Of course, I soon came across a nice little camper that seemed perfect for us, and most importantly, it was reasonably priced. Our camper dream suddenly seemed doable!
After taking a tour and negotiating a price, we became the proud owners of a Jayco Swift 184BH. This trailer model is perfect for us at this point in our lives:
It is light weight, which can be easily towed by our Toyota FJ Cruiser
It has bunkbeds, which gives our boys their own space
It has a small couch, in addition to the dinette (many of the smaller campers don't have this extra bit of space)
It seemed to be a good-quality trailer. We compared similar models, and the Jayco materials seemed sturdier.
It was reasonably affordable. We bought a used trailer late in the season, and it has some minimal exterior damage. Our travel trailer cost less than many of the nicer popups.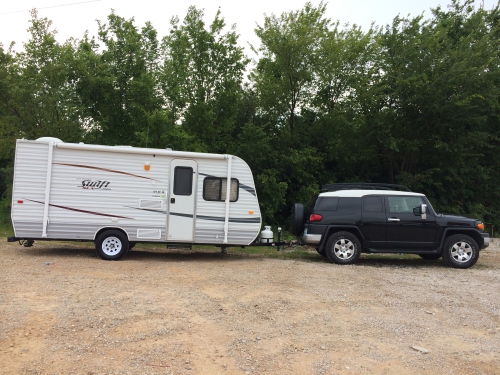 So, despite our decision to not buy an RV, we soon found ourselves the owners of a nice little trailer. If you've read the book If You Give a Mouse a Cookie, you know that if you give a mouse a cookie, it's going to want some milk. Similarly, if you give a gal a travel trailer, she's going to need a brake control system, a replacement tire, decorations, packing supplies, a bike rack, and more. So, we began the process of making our camper our home.
We are the kind of people who wanted a clever name for our trailer. Since we are big readers, we considered literary names, like Scout (from To Kill a Mockingbird) or Odysseus (from the Odyssey). The name Swifty seemed like a fun idea since our camper is a Jayco Swift.
Ultimately, the name that stuck was Birdy to match the large Jayco bluebird decal.  Then I came upon this quote: "I always wonder why birds choose to stay in the same place when they can fly anywhere on the earth, then I ask myself the same question." Yes, that is what we are all about. Thus, Birdy was christened.
A Tour of our Jayco 184BH
Birdy has a small kitchen with all of the essentials–microwave, sink, stove, and fridge. This model does not have an oven, however.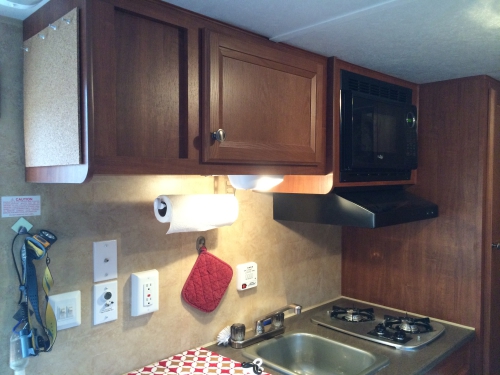 We have a dinette that folds down to a bed. We decided to leave it as a bed all of the time and use it like a couch when we are inside. We have a couple of tv trays we can use as tables, if needed. For Christmas, my husband bought me the lovely map we hung above the bed. We can dream about our destinations!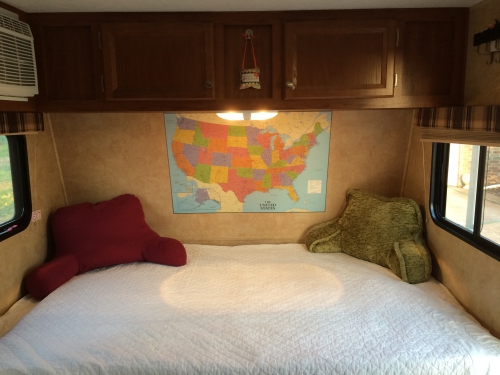 Even though our trailer is quite small, it was important for us to feel like we had some personal space. The bunks give each of our boys their own "room."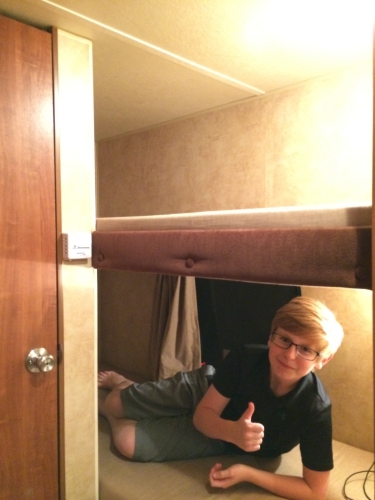 Our little couch is just the right size to give everyone a place to sit when we are sitting around inside. Ideally, we won't do too much of that, but if we do, we are comfortable.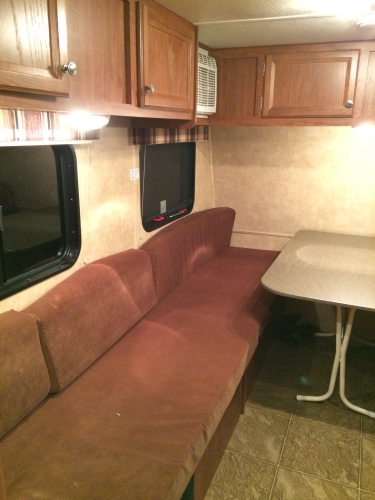 Here are some decorative touches we added: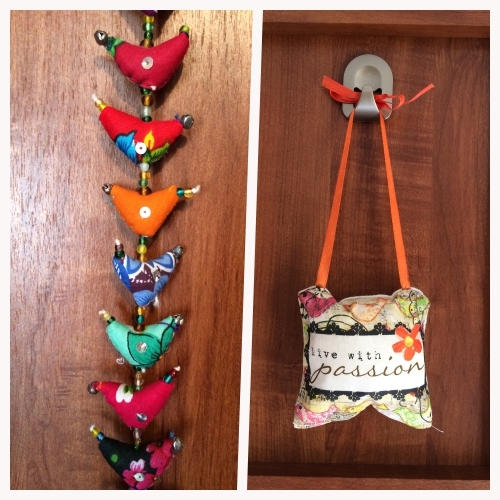 We have also done some "mods" thanks to some great ideas I found on Pinterest.
We added some cork tiles to the spaces between the cabinet doors, inside the doors, and inside the bunks. I hate clutter, so I'm hoping we can stick papers on these to keep them out of the way.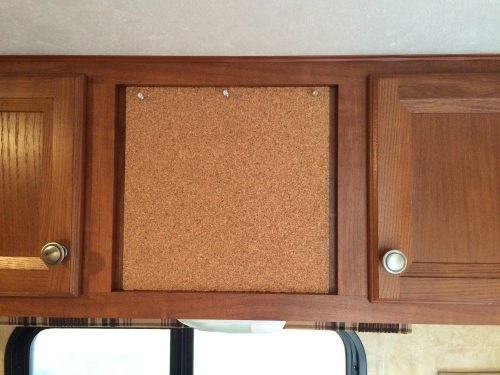 I installed a key rack and made a little box to store pencils and office supplies.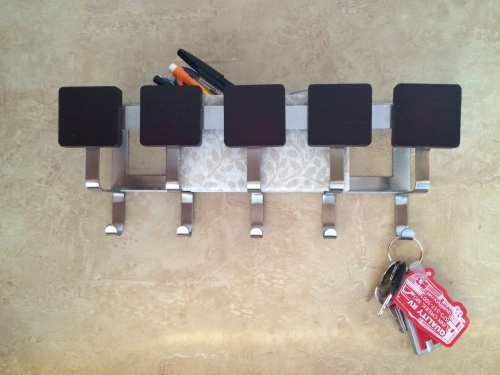 This nifty product makes the perfect "night stand" for a small space. It gives me a place to store books, kleenexes, my phone, and my glasses. It attaches to the edge of our mattresses.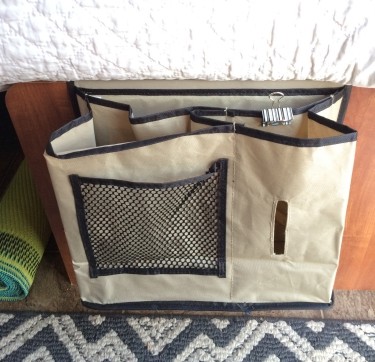 It really is the small touches that make a camper a home!  Hope you enjoyed your tour of Birdy.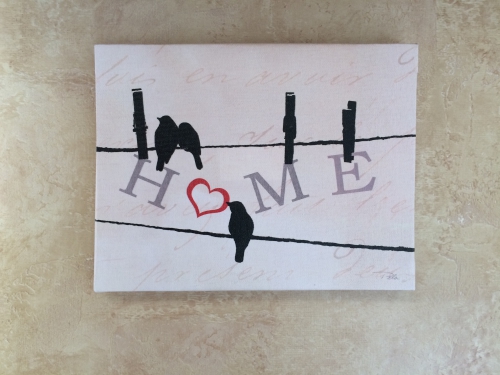 Find Travels with Birdy:
Share this post: