Floating the Merced River
After 25 days on the road, seeing sights in 5 states, including 7 national parks and national monuments, what was the absolute best thing we did?
According to my younger son, his favorite was the day we spent floating down the Merced River through the heart of Yosemite. If you want a unique way to see the wonders of Yosemite National Park, this is the way to go, especially on a hot summer day.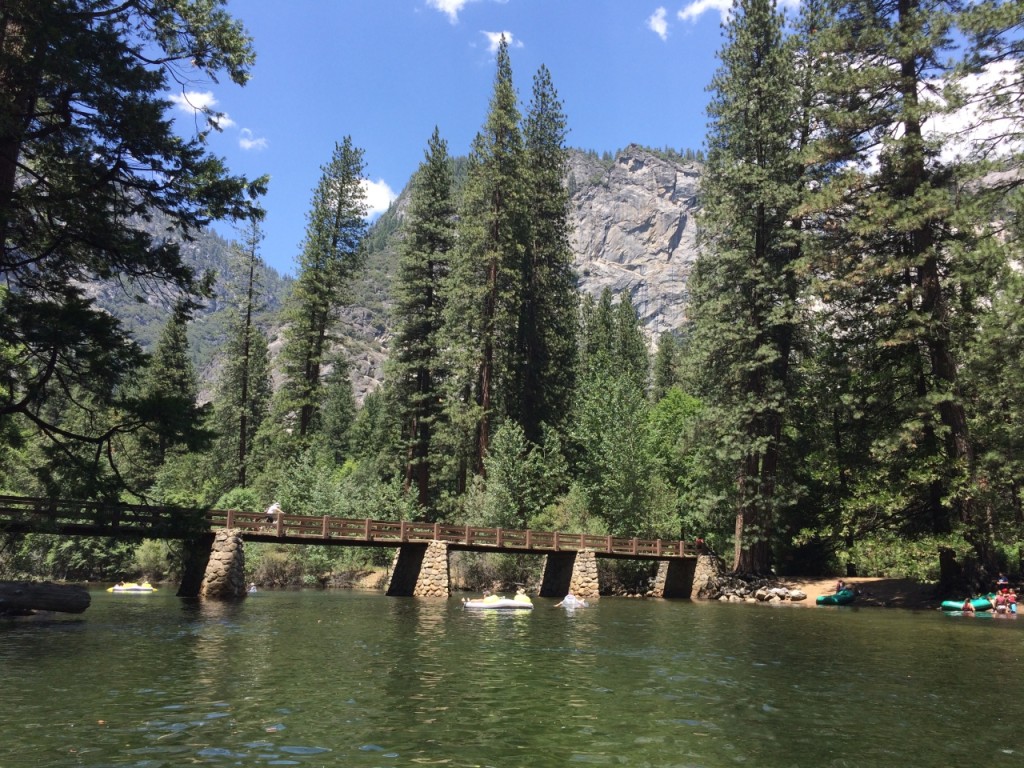 After a rough start to our exploration of Yosemite National Park, our second day in the park more than made up for it.  We decided floating the Merced River would be a fun way to see the park and would provide some relief from the unexpected heat.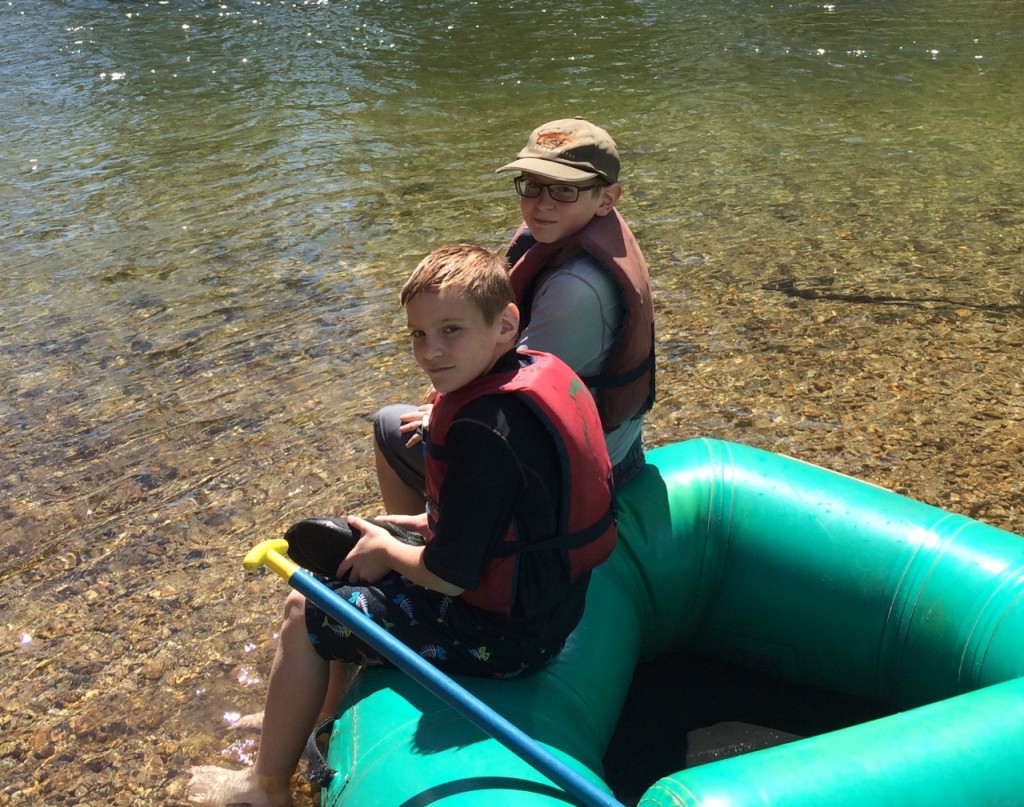 At first, I questioned whether the price would be worth it. At $31 per person, we would be spending $124 for our family of four. At home, we could easily take a cheaper float any time. We live in a beautiful area of the Ozarks, with an abundance of spring-fed rivers offering amazing places to float. We are a short drive from both the Ozark National Scenic Riverways and the Buffalo National River.
Would floating the Merced River be worth $124 when we could spend less than $30 to float at home? We decided that it was all about location, location, location, as realtors are apt to say. Plus, since our only entertainment expense on our trip was the $80 we spent for our National Parks Pass, we decided we could splurge on this float trip.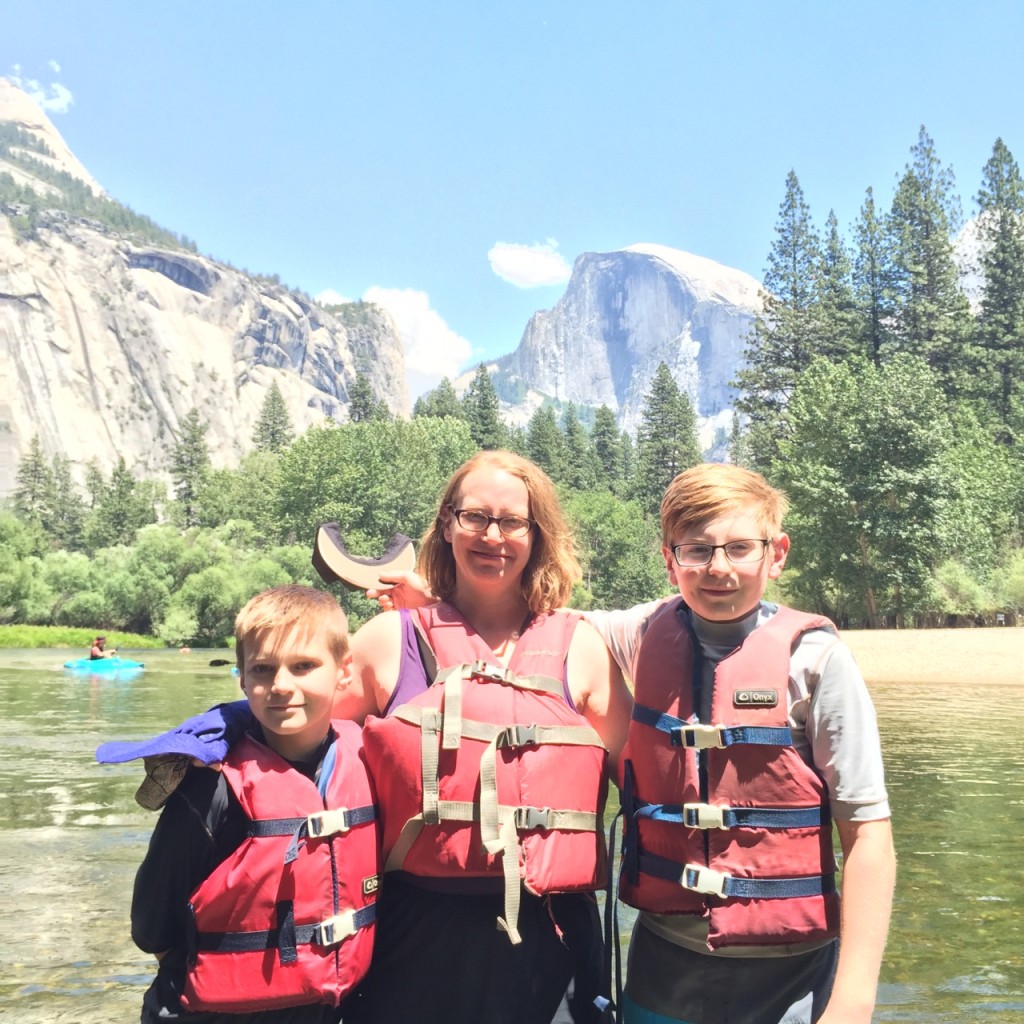 We parked at Curry Village and got in the long line for rafting. The wait was tedious, but this was a good time to slather on some sunscreen. After picking up life vests, we were given a short presentation on safety precautions and rafting tips. Then, we headed down to pick up our raft and paddles and hop in the river.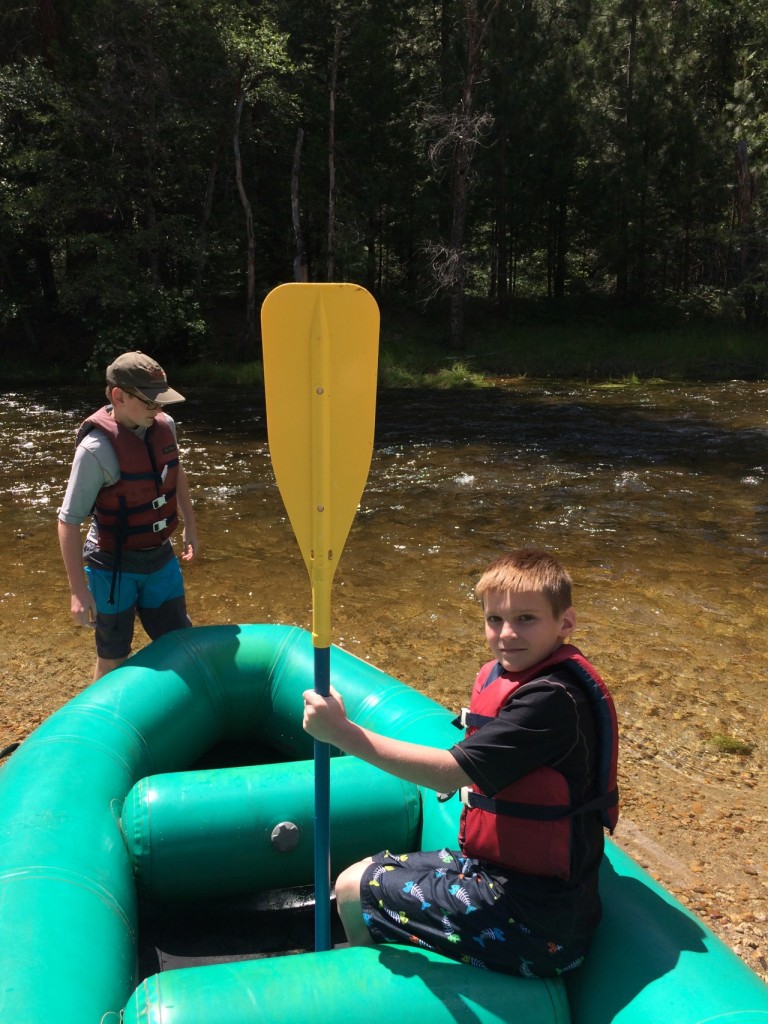 Soon after pushing off, we were amazed at the sites around us. Look, there's Half Dome behind us! I think that's Yosemite Falls up ahead. Every turn revealed a new picture-perfect scene.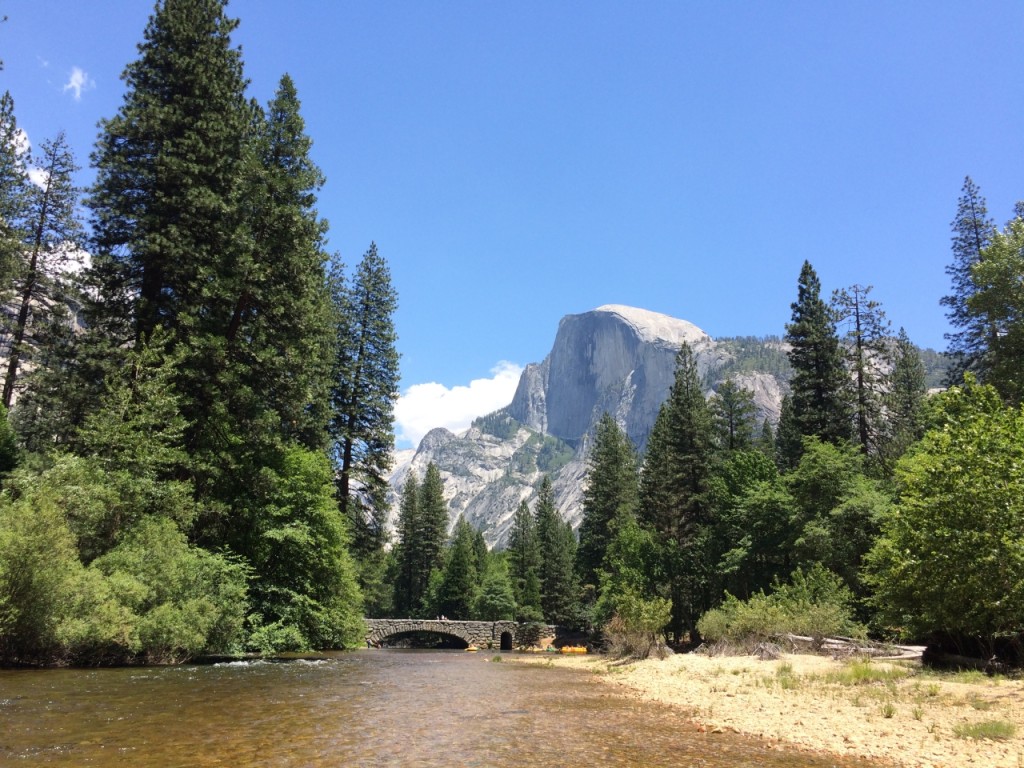 I expected the trip to be pretty, but it blew my expectations out of the water (pun intended–hee!). As John Muir said of the Merced River, it was as if "Nature had gathered her choicest treasures, to draw her lovers into close and confiding communion with her."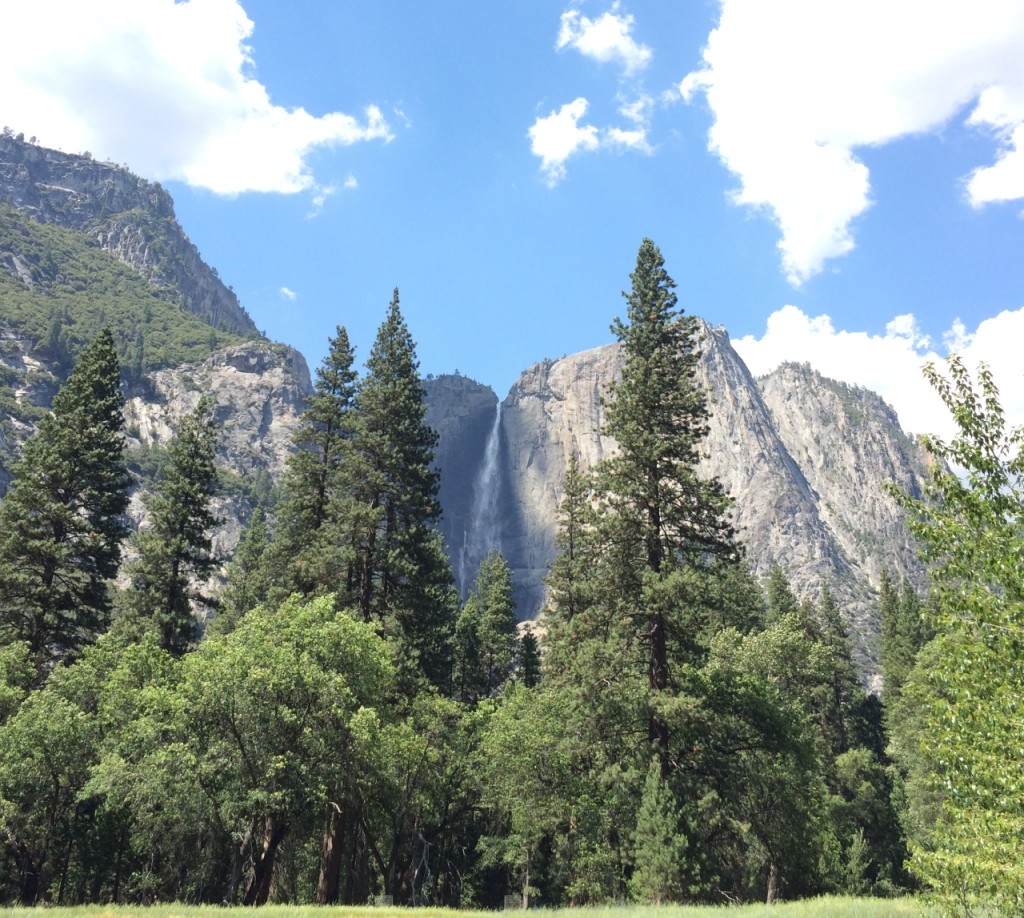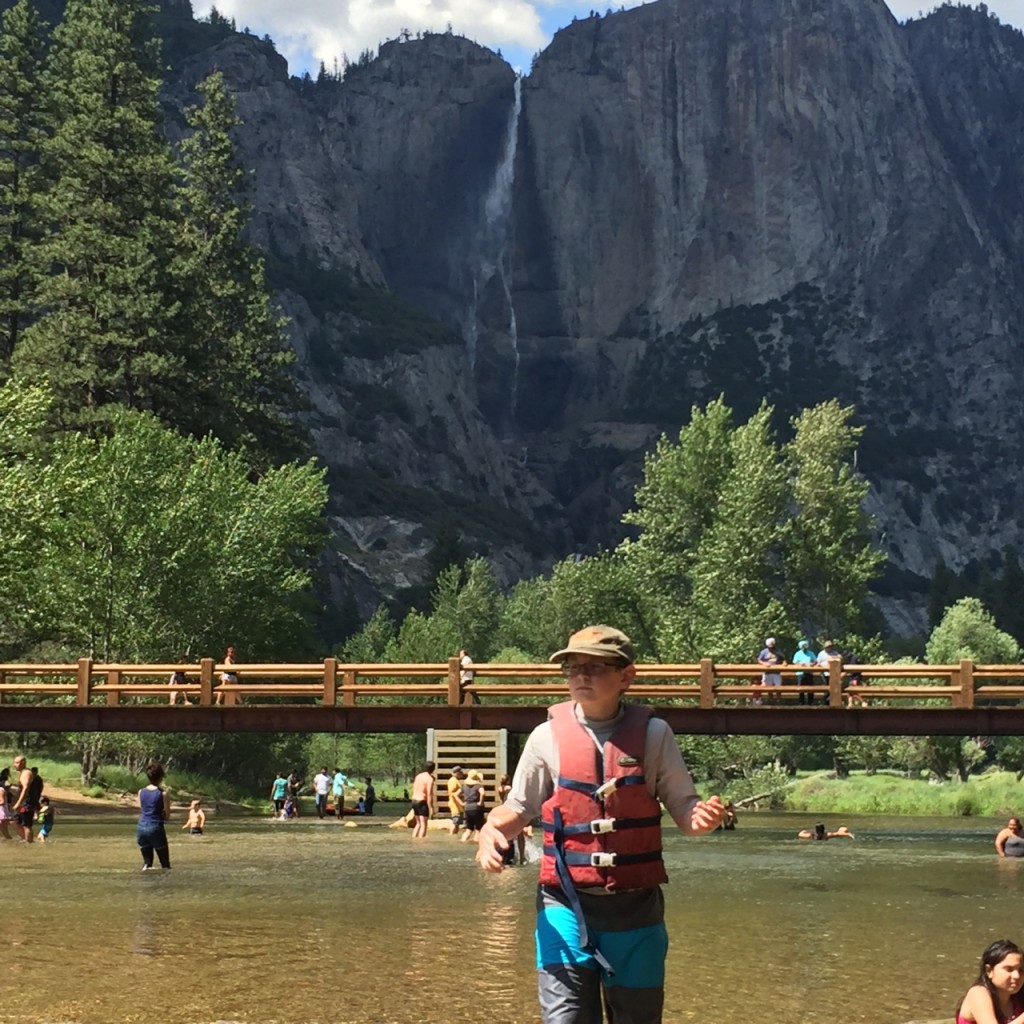 As we made our way down the river, our 10-year-old son spent as much time in the water as he spent in the boat. He loved hopping over the edge of the raft into the chilly river. Before long, his lips were blue, even though it was a 90-degree day. In, out, in, out, in, out–he did this dozens of times. We discovered he was truly a river rat!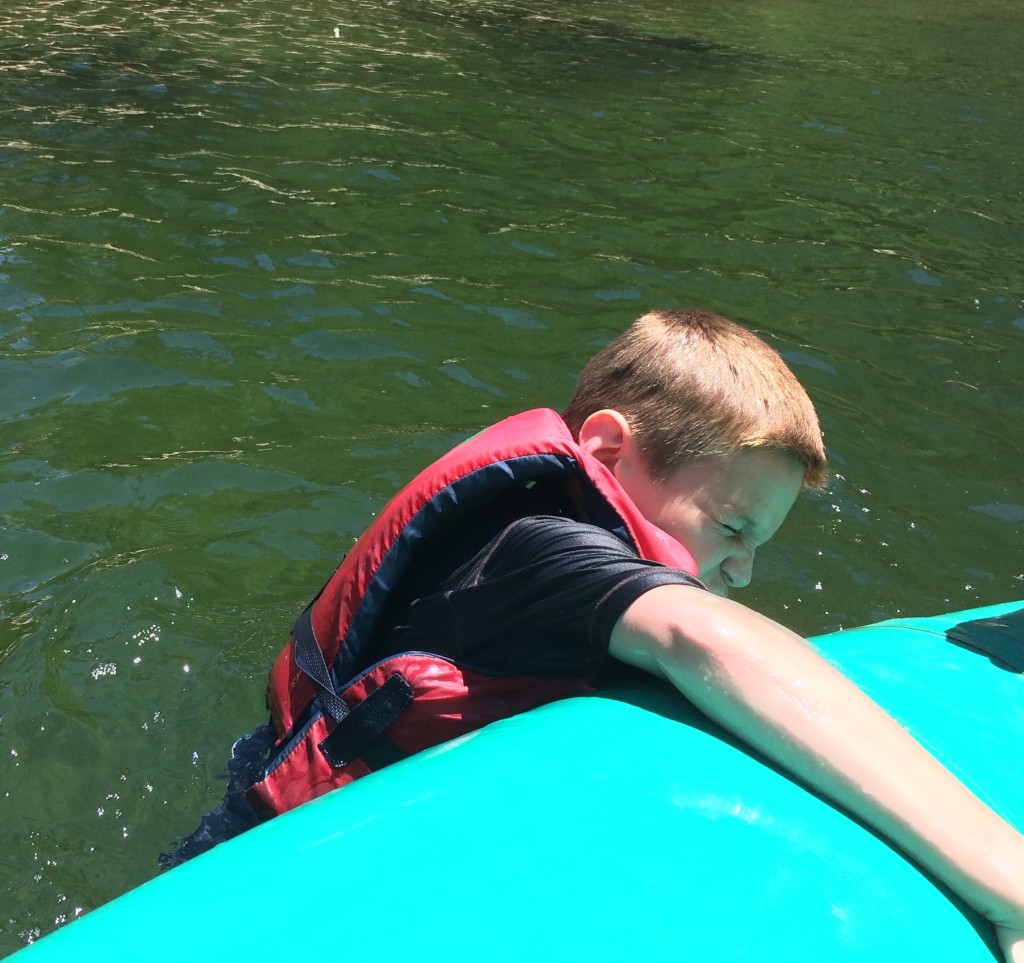 Where the clear, shallow water met the riverbanks, we found lots of opportunities to pull off and splash around. Though there were many people floating that day, we never had a problem finding our own piece (peace) of the paradise to explore.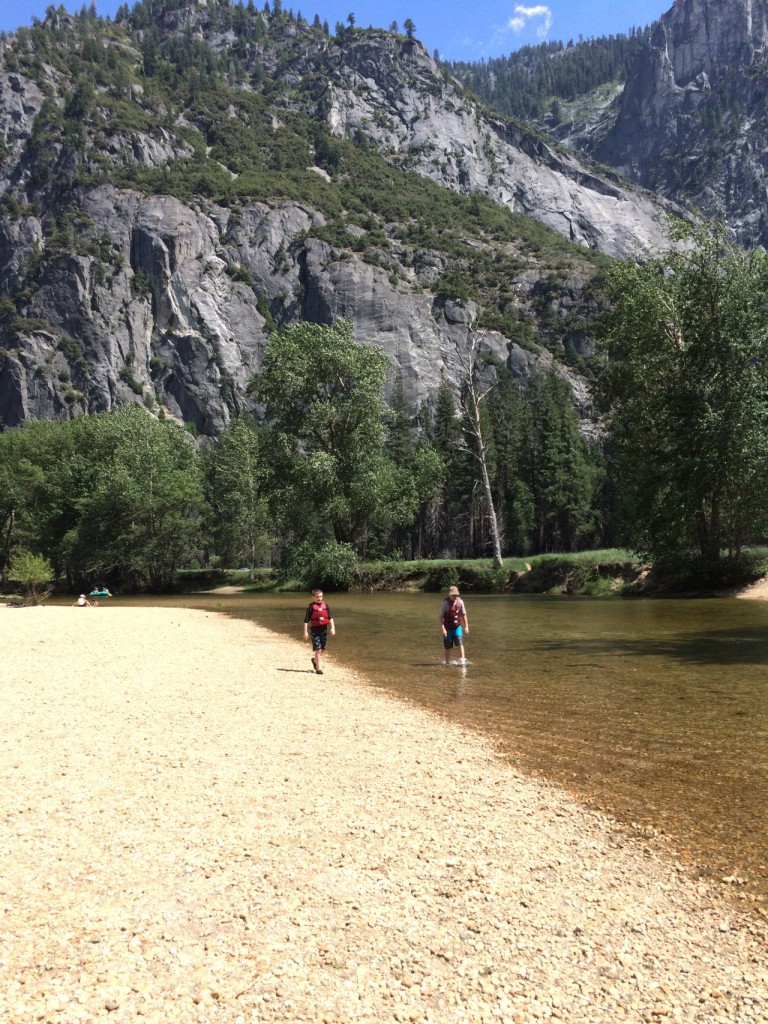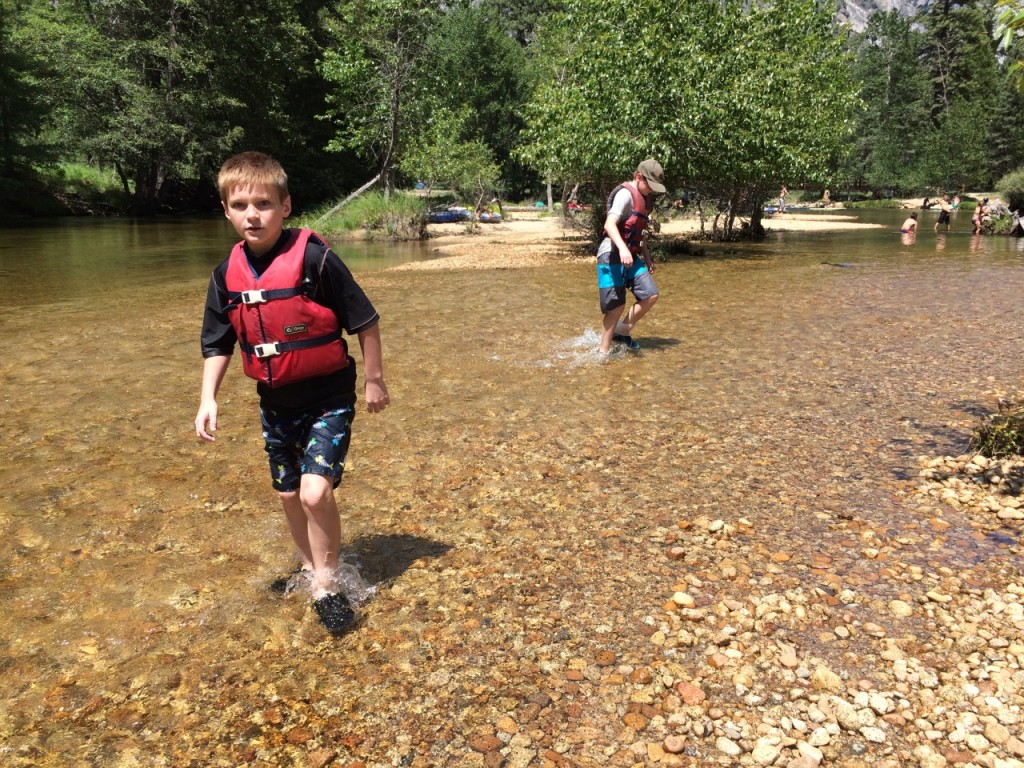 At one stop, our family enjoyed jumping into the waist-high water and letting it take our breath away. My husband, who normally doesn't like getting wet, plunged in face first, hoping to elicit some laughter from us. When he emerged, we were shocked to see his eyeglasses were missing from his face.
We panicked. The river was flowing swift enough that it seemed likely the glasses were pulled down river. We all scanned the water, desperately hoping to spot the glasses.  It was hopeless. We concluded that my husband would have to float the rest of the way down the river with no glasses and fuzzy vision. Furthermore, we worried that it would take most of the next day to drive to a town with an optical store to get new glasses since the town we were staying in was small and isolated. We would lose one of the four days we had planned to spend in Yosemite–not fun!
We resigned ourselves to this fact and hopped back into the raft, disappointed that this would mar the beautiful day. As we pushed the raft into the current and began to float downstream, my 13-year-old son suddenly dove into the water. I started to grumble at him for rocking the boat, when suddenly he emerged holding my husband's glasses! We have no idea how he managed to spot the small glasses in the large, flowing river, but he did. We shall forever remember this as the Merced River Miracle!
With renewed spirits, we continued our float, marveling at the beautiful views along the way. We lay back in the raft and looked at where the granite peaks met the bright, blue sky.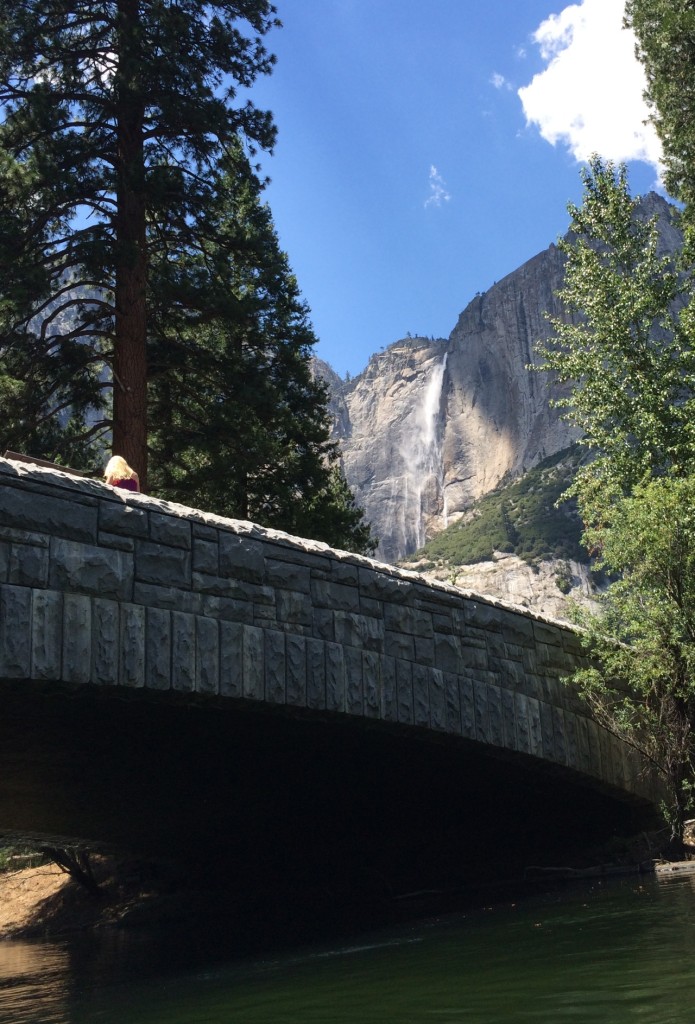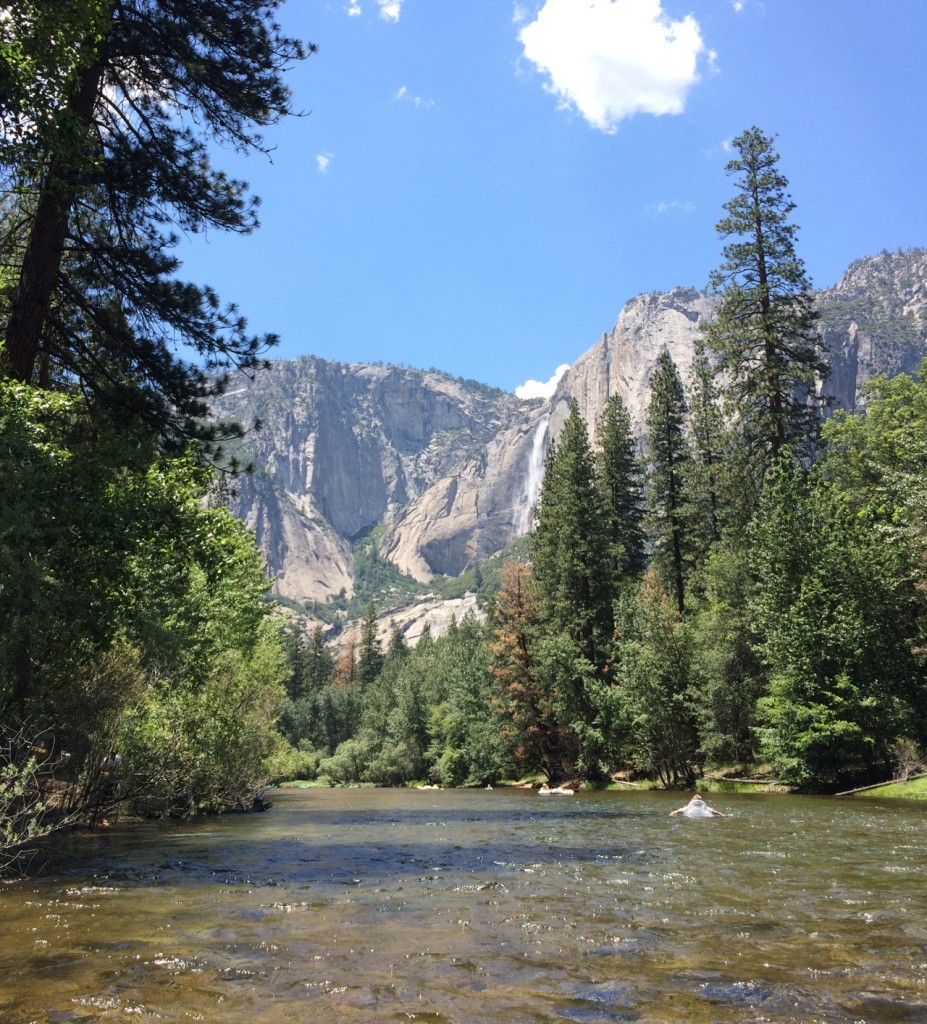 All too soon, we arrived at the take-out point and hauled our raft up on the banks. We had to wait in a long line for a shuttle to take us back to Curry Village. The first bus filled up, and we barely squeezed on the second bus. I made some new friends as we squished together in the seats for the short ride.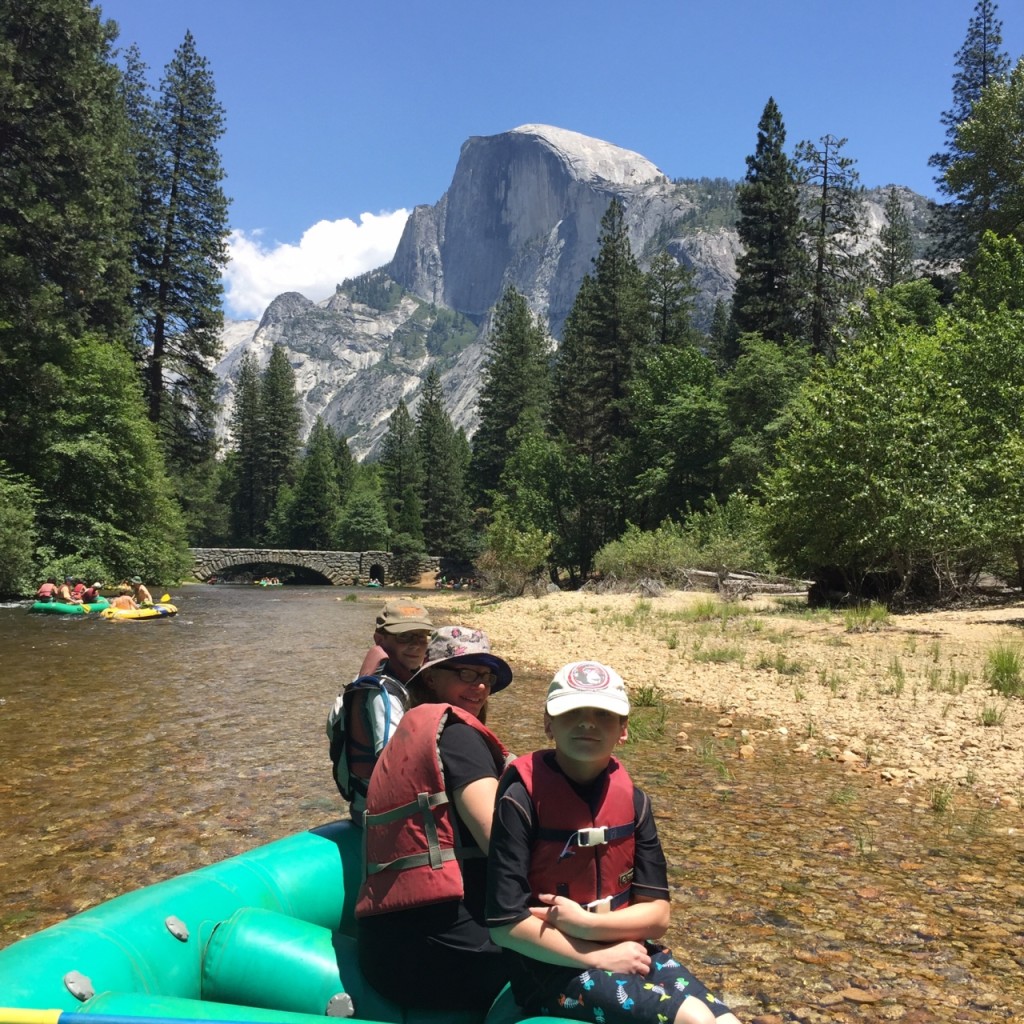 In Yosemite, it's possible to see many amazing sights without much effort. You can drive to stunning vistas and take short walks to see beautiful waterfalls. However, this doesn't really let you experience the park. For us, floating down the Merced River truly helped us feel like we had experienced Yosemite.
If you make it there, we hope you enjoy the Merced River float as much as we did….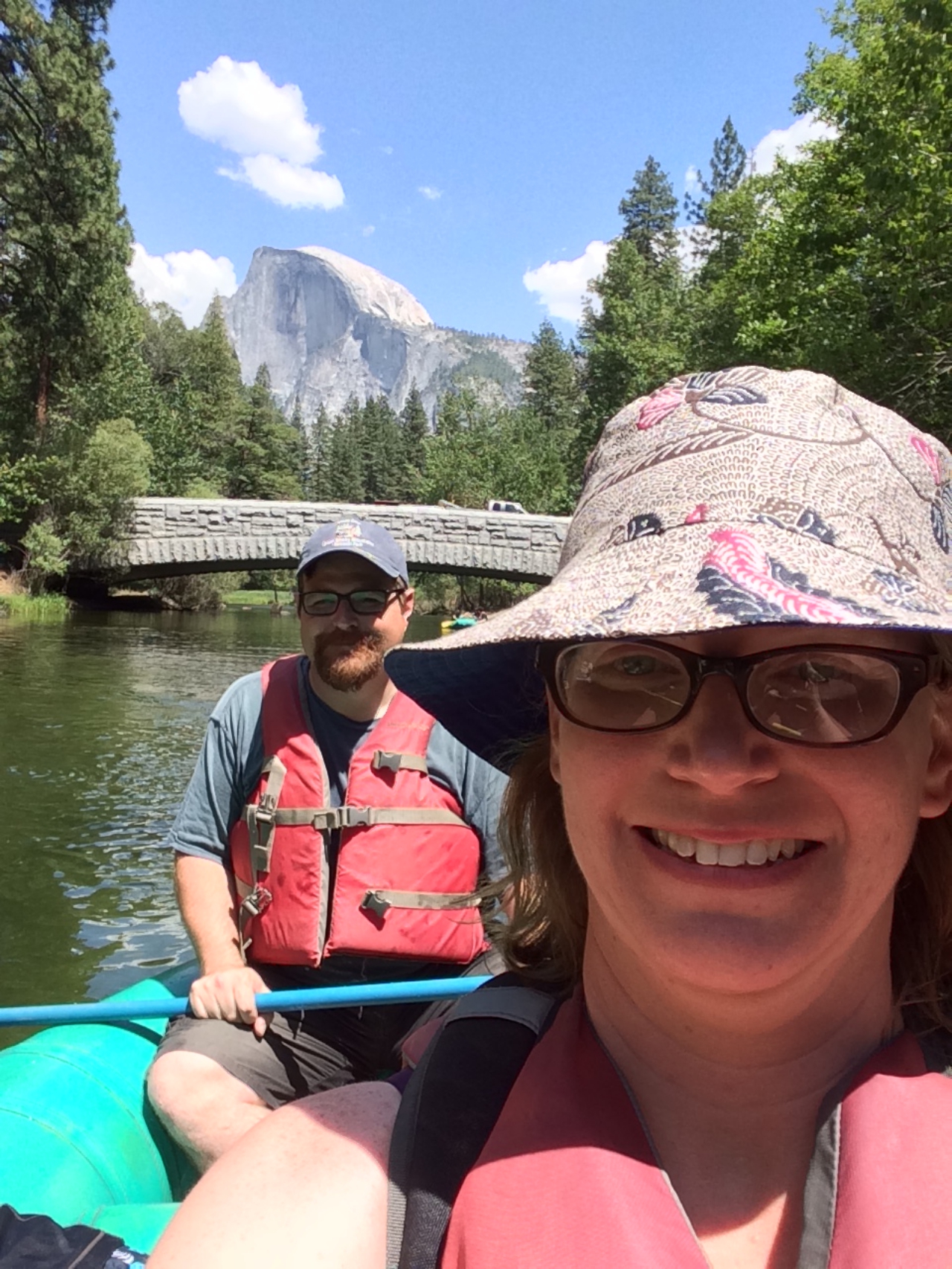 Tips for Floating the Merced River in Yosemite
If you'd like to float the Merced, there are a few things you must consider:
You must be in Yosemite at the right time. Floats are only offered when the water level is not too low and not too high, which is generally in June and July.
Allow 2-4 hours for the float, depending on how much you hop out to play in the water.
You can avoid paying the $31 per person fee! One way is to bring your own rafts and park a car at the take-out spot.  Or, for a mere $5.50 a person, you can use your own raft and hop on a shuttle bus that will take you back to your car. You must deflate your raft and carry it on your lap for the shuttle.
The line for the return shuttle can be as long as 20-40 minutes. Luckily, you are waiting in a shady spot.
This is a great raft trip for families, but not for adventure seekers.  It was one of the calmest floats I've ever done. This makes it easy to sit back and enjoy the views, without needing to pay attention to the water. (Edited to add: We visited after a year with a very light snow pack, so the river wasn't flowing very fast for us. I've learned that this summer, there is a faster current. If in doubt, ask about conditions before deciding to float.)
The rafts have mesh bottoms, which allow water in. Make sure you pack carefully if you are carrying anything that must stay dry. My husband has a waterproof box we used for our phones; I was not brave enough to risk bringing my DSLR camera along.
The water is chilly! This is delightful on a hot summer day, but would be less enjoyable on a colder day.
"The sun shines not on us but in us. The rivers flow not past, but through us, thrilling, tingling, vibrating every fiber and cell of the substance of our bodies, making them glide and sing." ~John Muir
P.S. If you'd like to hear me talk about our Yosemite adventures, be sure to listen to episode #48 of the RV Family Travel Atlas podcast. You can find it here or on iTunes.
Find Travels with Birdy:
Share this post: