Campground Review: Yosemite Ridge RV Resort
Before picking a campground at Yosemite, I researched tons of options. The thing that is tricky with Yosemite is how large the park is and how many towns surround it. We had to first decide whether to stay on the west or east side of the park and then pick a base camp from there. Since we were visiting Sequoia National Park first, it made sense for us to travel north from there and stay on the western edge of Yosemite. We drove through some interesting little towns and had some lovely scenery for parts of the drive.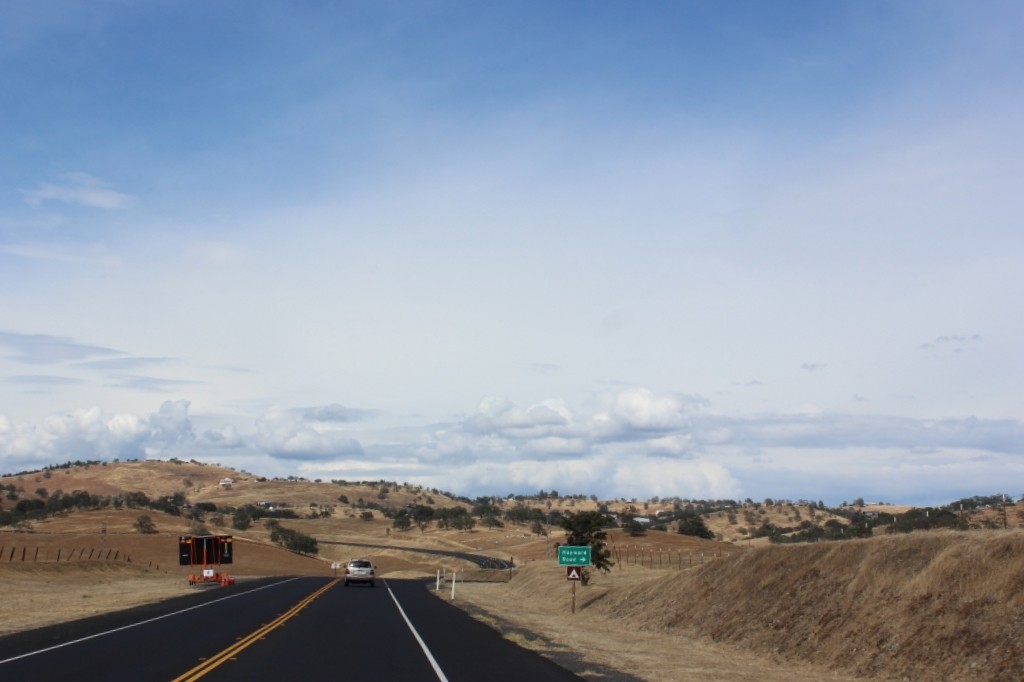 We selected Yosemite Ridge Resort based on its reviews and proximity to the park. This park is located seventeen minutes from the north entrance to Yosemite off of Highway 120. As I mentioned about driving to Sequoia, it takes quite a bit longer to get to the main attractions after you enter the park, and on weekends, visitors may encounter long lines at the entrance gates. Part of the drive takes visitors through areas that were burned by a wildfire, which was sad to see. However, we didn't mind most of the long drive because it was really beautiful.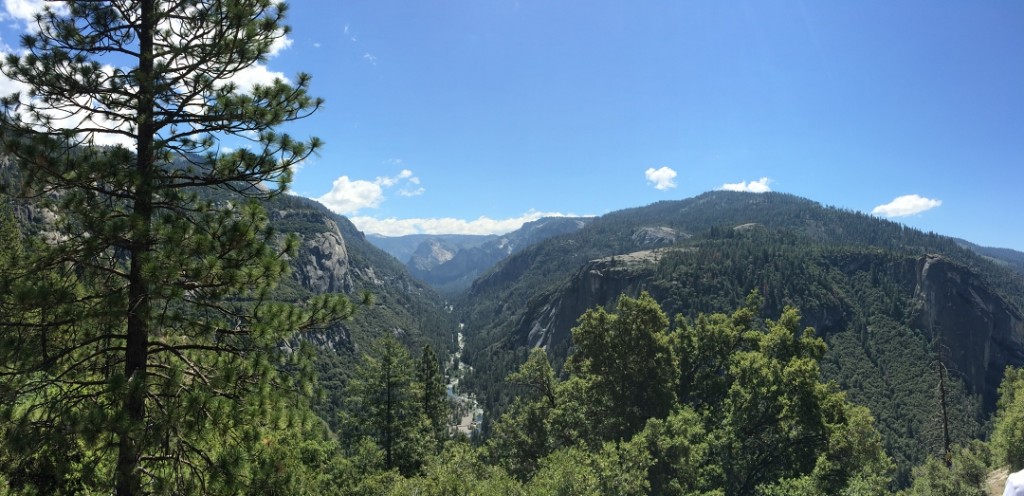 First, you must know that Yosemite Ridge Resort is not really a resort. It's a small, private campground with a playground. While we were there, they were building a pool, which would make it a bit more of a resort.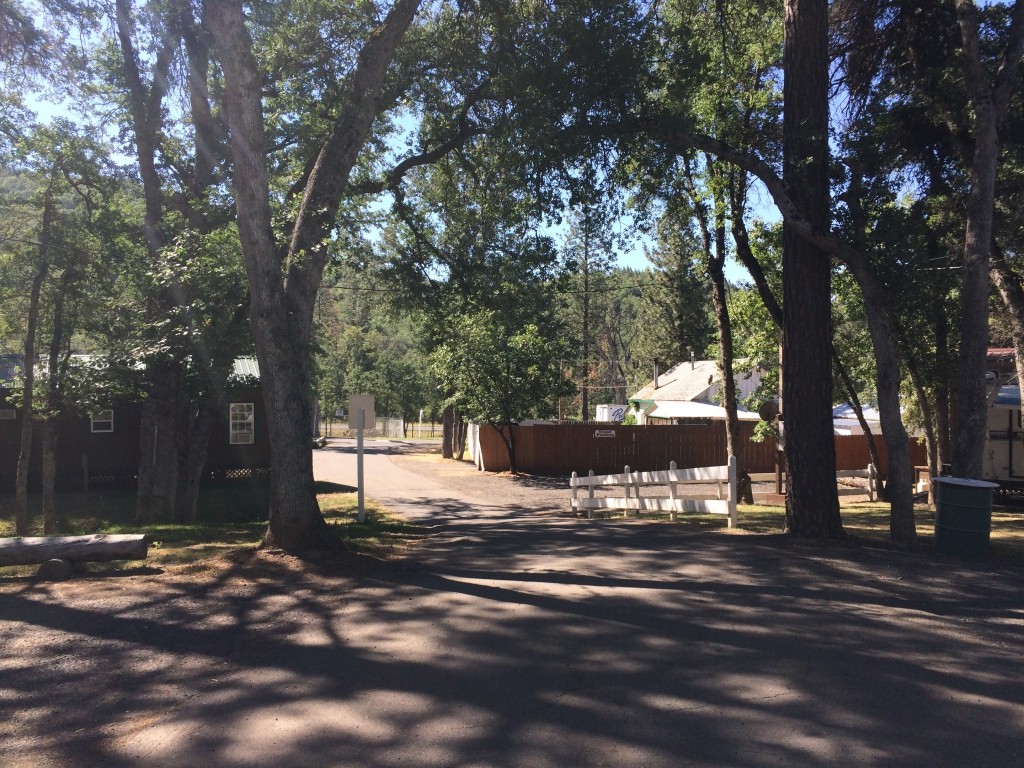 Yosemite Ridge consists of around 15-20 RV sites with full hookups and a handful of cabins. It's a clean little park. Though the sites are fairly standard, some are larger than the typical sites at private campgrounds. It's definitely worth inquiring about a larger site when you make reservations. (The picture below makes it look more crowded than it actually felt, unfortunately, but I didn't have any other pictures of the park.)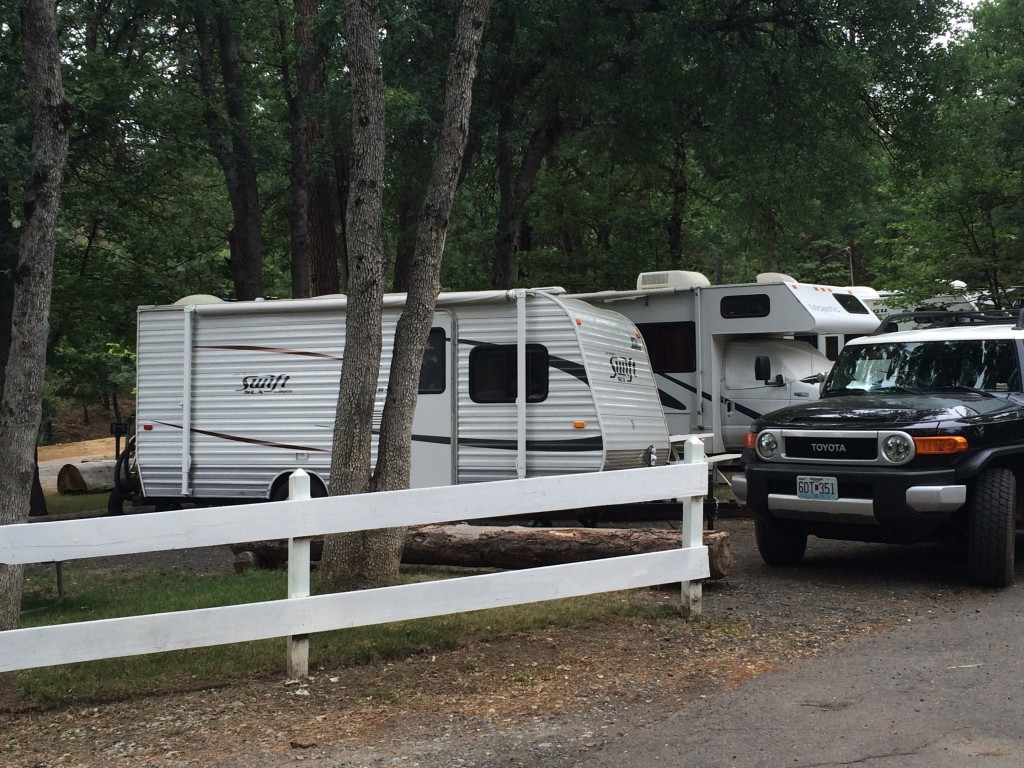 We lucked out and got an end site with a large grassy area in front of our trailer. We had similar luck at Sedona and Sequoia—I think booking our sites several months early helped us get the cream of the crop. We also really appreciated the trees that shaded the entire park. It was in the 90s while we visited the Yosemite area, and we didn't feel the heat in this park due to all of the huge trees. Also, the grassy areas were frequently watered, making the park a lush retreat.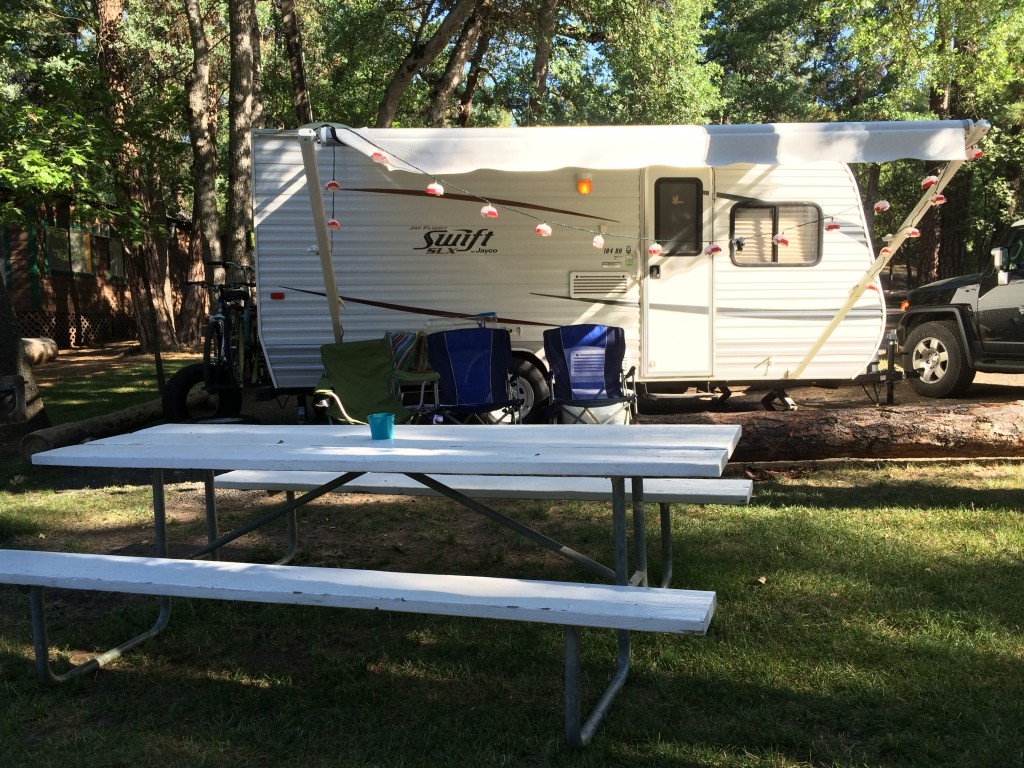 Though the pool wasn't done in time for our visit, our kids did enjoy the small playground and the tetherball. I liked that they could roam around the park without being out of eyesight. Small kids would especially enjoy wheeling around the small hills.
Like I said about Sequoia RV Ranch, the showers were definitely my main complaint about this campground. They were free, which was an improvement over Sequoia; however, they were quite dark. The showers walls were made out of concrete, which has been painted a dark grey. I felt a little claustrophobic in them. However, I appreciated that there was a roomy changing area to store my dry clothes and towel. My husband was not at all bothered by the showers, so this is probably a case of me being pickier.
The only other amenity we used in the park was the washer and dryer. The laundry room was tidy, and it had two of each appliance. These were much cheaper than others we had used along the way and worked well.
Another similarity to Sequoia RV Ranch was the lack of cell phone signal. When traveling near these national parks, there are a lot of hills, trees, and rural areas, making cell phone reception limited. Also, though the park had advertised free WiFi, it rarely worked. One of the workers explained that they planned to take it off of the advertising since their satellite internet worked so inconsistently. I really feel for the campground owners who are trying to provide WiFi and facing campers who use up huge amounts of bandwidth downloading videos and other media. Hopefully, better services will be available in the future. As I mentioned in my Yosemite Tips post, the parking lot of the Merced Grove of Giant Sequoias is a great spot to pick up Verizon phone and internet (and to hang out under some beautiful pine trees).
While we were at Yosemite Ridge, I had to submit some homework for an online class. Since we had no WiFi in the park or on our phones, we took a late night drive to the neighboring town of Groveland, which sits about fifteen minutes west of the park. We finally picked up a great signal in the parking lot of the Pizza Factory restaurant, which I used to submit my homework. My entire family sat in a dark car in a parking lot for twenty minutes while I finished my task. It was definitely an adventure trying to keep up with homework while living on the road.
The next evening, we decided we should give the Pizza Factory some business since we had "borrowed" their internet the night before. We ended up really enjoying this gem of a restaurant and returned again another evening. While waiting for our pizza, the restaurant's Jenga and checkers games kept us occupied (our checkers were missing, but we fashioned our own out of paper).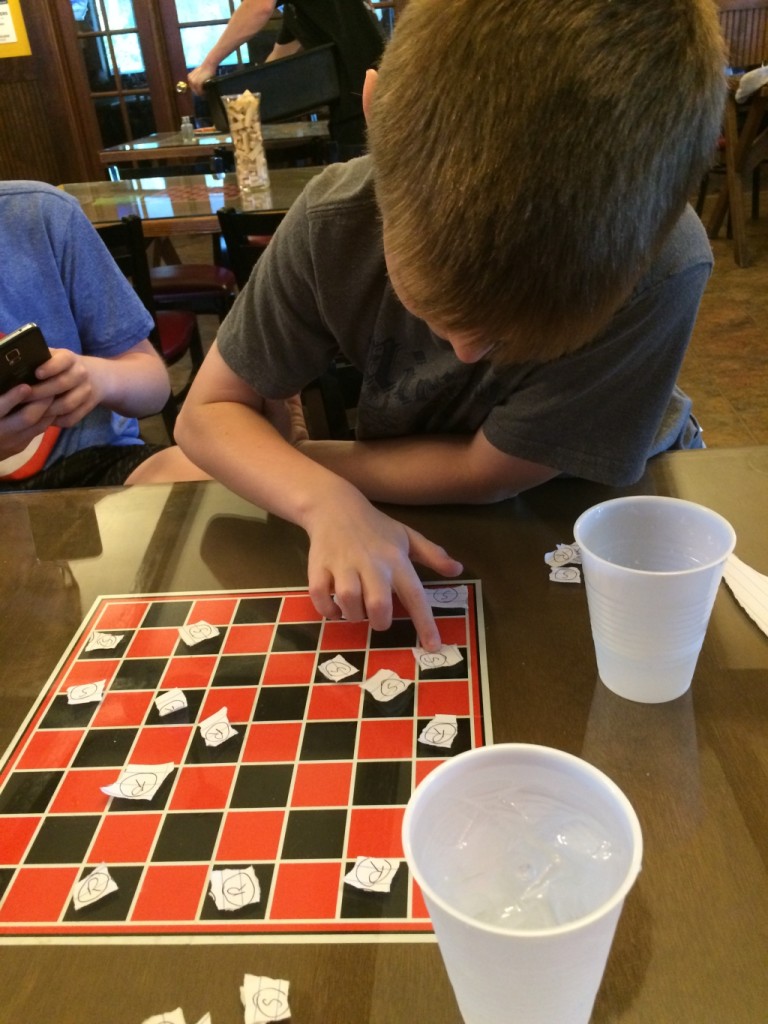 The pizza really hit the spot, and I appreciated that it was a little cheaper than restaurants where we order separate meals. After eating, we let the boys play in the video game room, while we used their WiFi to reconnect with home. It was a great place to eat and relax.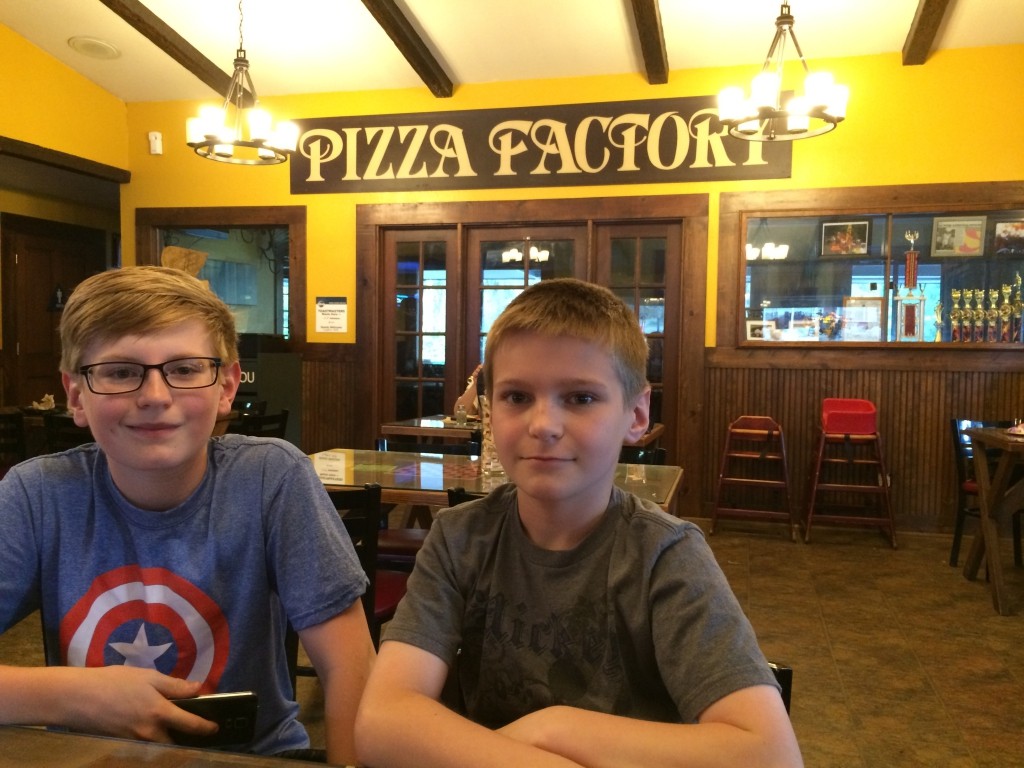 While in Groveland for dinner, we bought groceries at the small market and checked out the area. Groveland seems like a cool little town. It has a historic downtown area that features a coffee house, an ice cream shop, several local restaurants, and the Iron Door Saloon (which claims to be the oldest continually-operating tavern in California). We saw lots of people walking around enjoying the area.
Luckily, if you want dinner without going to Groveland, there is another choice within walking distance to the RV park. Fans of home-cooking style meals and blue plate specials will enjoy Buck Meadows Restaurant. I had their Philly cheesesteak sandwich, which was served open face with the cheese bubbling on top.  It was delicious! After the long drive home from Yosemite, it was a great place to relax and unwind before tucking in for the night.
Since we were staying five nights at Yosemite Ridge, we decided to go all out and hang up our awning lights. We spent several nights sitting in our camping chairs enjoying the peaceful area.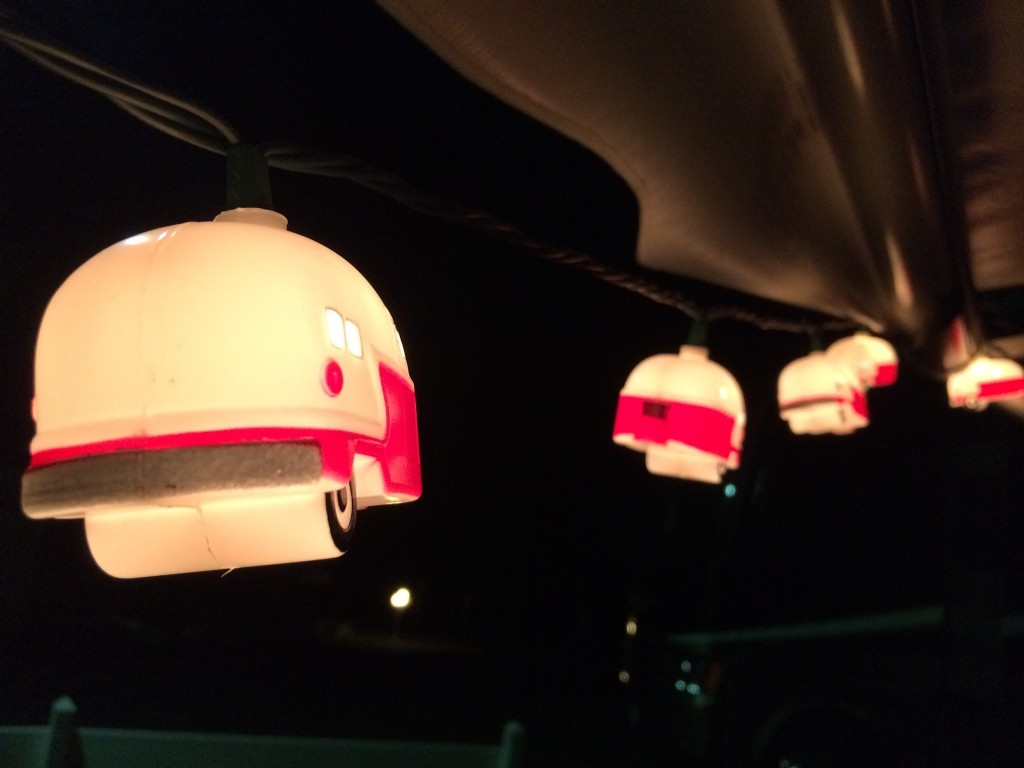 The Buck Meadows area also serves as a bus stop for the Yosemite National Park transit system, making it possible to reach the park without driving. Visitors who don't have a tow vehicle would especially benefit from this convenience.
Many campers who stay at Yosemite Ridge also enjoy visiting the Rainbow Pool, a natural swimming hole on the Tuolumne River. We didn't get a chance to hang out here, but we drove through to check it out. It looked like a beautiful, albeit crowded, spot to take a dip and cool off.
Yosemite Ridge RV Resort has a small store and gas station on site, which was convenient as we headed off to Yosemite each day. To get major supplies, campers will need to drive to Groveland.
Though I would have loved to have brighter showers, WiFi, and a pool when we stayed at Yosemite Ridge RV Resort, I definitely could not complain about the atmosphere or the price. At $40 a night, this was one of the cheapest parks we stayed at on our Birdy Goes West road trip, and it really served as a nice base camp for exploring Yosemite.
Yosemite Ridge is a quaint, quiet park that happens to be close to one of the most beautiful places in the United States, Yosemite National Park. 
Find Travels with Birdy:
Share this post: