Seeing Santa Fe
I'll remember two contrasting images of Santa Fe. The first will be the busy Plaza, full of vendors, tourists, and beautiful architecture. The second will be the Santa Fe National Forest Scenic Byway, full of aspens, creeks, and beautiful views.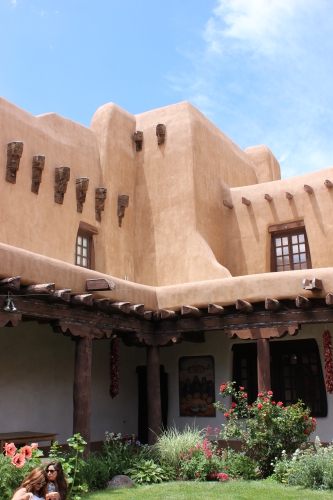 Walking around the plaza in Santa Fe gave us a chance to see a glimpse of the adobe architecture and the vibrant culture of this city. This area is where old meets new. Some of the buildings date to the 1600s, and the Native American street vendors sell traditional arts and crafts. And yet, this area is also full of contemporary restaurants, art museums, and shops.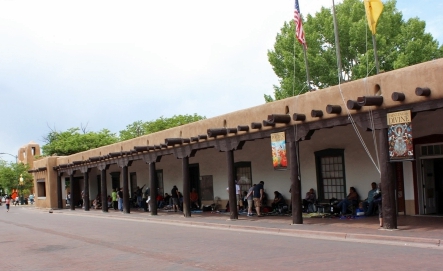 Georgia O'Keefe Museum
While downtown, we visited the Georgia O'Keefe Museum. I have been an O'Keefe fan since I was in middle school. I first saw one of her pieces in person on a trip to the National Gallery of Art in Washington DC. Seeing her paintings in books is one thing, but seeing them in full size and full color is an entirely different experience.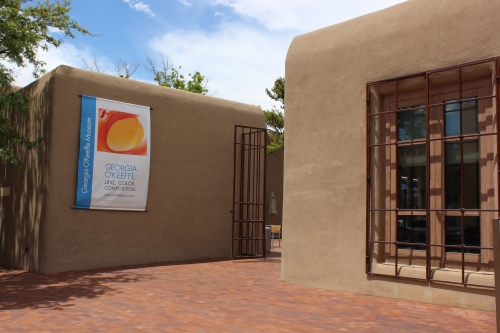 The museum in Santa Fe doesn't have many of her large masterworks; however, it is the place to go if you want an intimate look into O'Keefe's life. You'll see a short biographical film that explains her influences and intentions, and then you can trace her development, starting with her very early works through the years right before her death. A small gallery of portraits of O'Keefe by her husband, the photographer Alfred Stieglitz, and others gives you a personal glimpse into the artist at home, at work, and at play.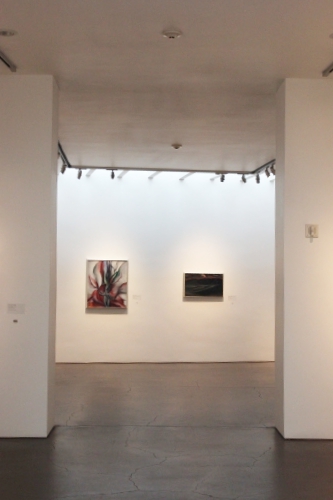 While I would not have driven across the country just for the Georgia O'Keefe museum, I am glad we had a chance to stop by.
Santa Fe National Forest
After having our fill of the city, we decided to escape to the mountains by driving up the Santa Fe National Forest Scenic Byway. I could feel my excitement build as we climbed in elevation. We admired the scenic overlooks and the aspen trees.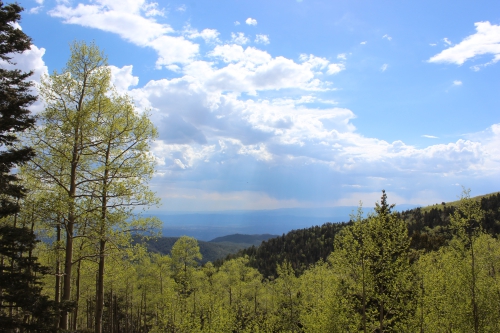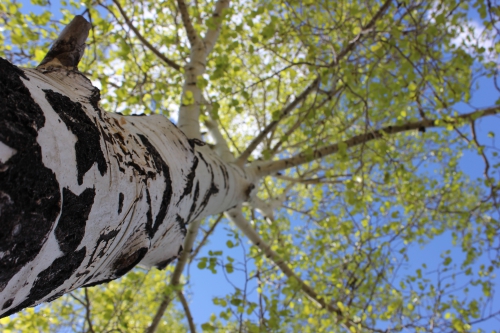 We eventually reached the top, where a little snow remained. In the parking lot of the ski park, we found a small wooded area along a creek. It was an odd place to find such a beautiful spot, but we soaked it up for a while.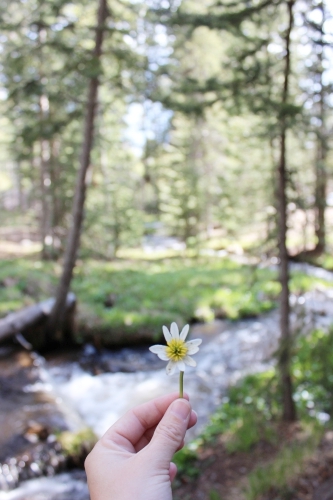 Santa Fe Restaurants
While in Santa Fe, we had two wonderful meals. Tired and hungry after a day of driving, we were lucky enough to find the Rooftop Pizzeria, which had beautiful views of the sunset, as well as delicious pizza. Ben and I enjoyed an adventurous mushroom pizza with truffle oil, roasted garlic (the whole bulb!), and alfredo sauce.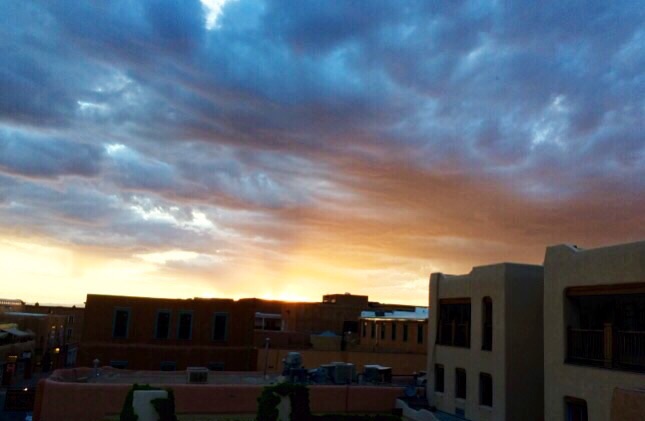 The next day, the boys were hoping to find some access to good wifi, so they googled "best wifi in Santa Fe," which led us to the Santa Fe Baking Company and Cafe. Ben and I shared the Santa Fe omelet, which came with a freshly baked blueberry scone. (You can probably tell that Ben and I are more into food than the other two.)  We had amazing food in their charming restaurant…and the wifi was as good as promised.
Having only spent one full day in Santa Fe, I'm sure there is a lot we didn't get to experience, but I'm glad we were able to get a taste of this vibrant city.
Find Travels with Birdy:
Share this post: