San Francisco Fog City
Blue skies were bountiful as we explored Muir Woods National Monument and the Fisherman's Wharf area and downtown San Francisco, but we got a true taste of Fog City on our final day. Fortunately, the fog didn't make San Francisco any less beautiful.
Pacifica Beach
Being landlocked midwesterners, we rarely see oceans. We knew we had to make it down to the shore at least once while we were in San Francisco so our boys could touch the waters of the the Pacific. Just up the road from our RV park, we found the Sharp Park Beach in the city of Pacifica.
You'd think a cold, foggy day would be a bad time to visit a beach, but you would be mistaken. On this day, the wisps of fog danced along the shore as we made our way to the waves.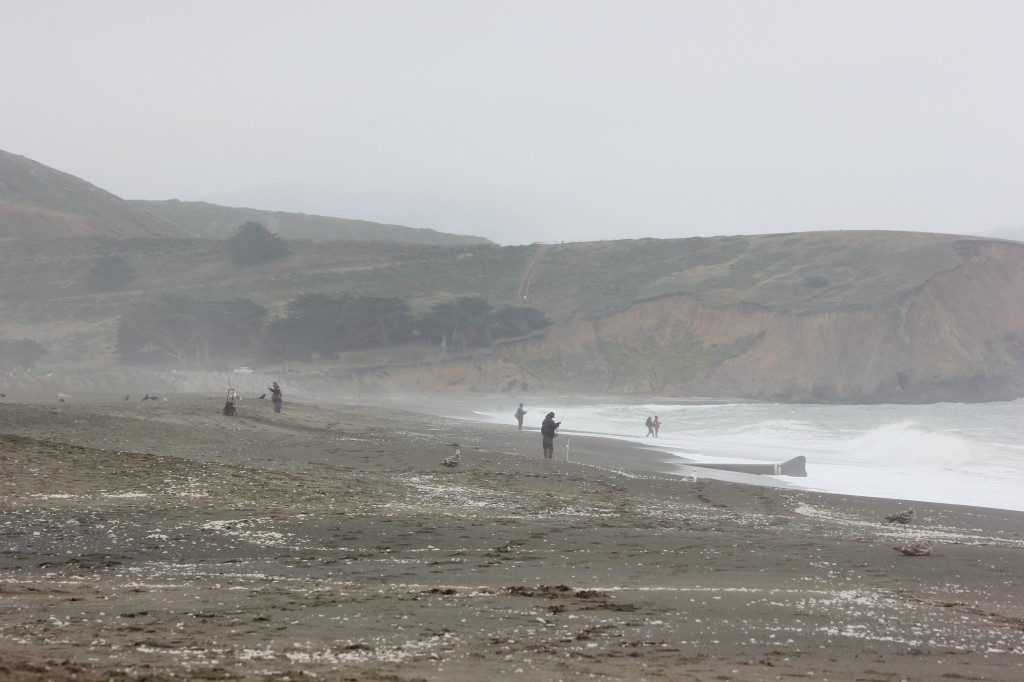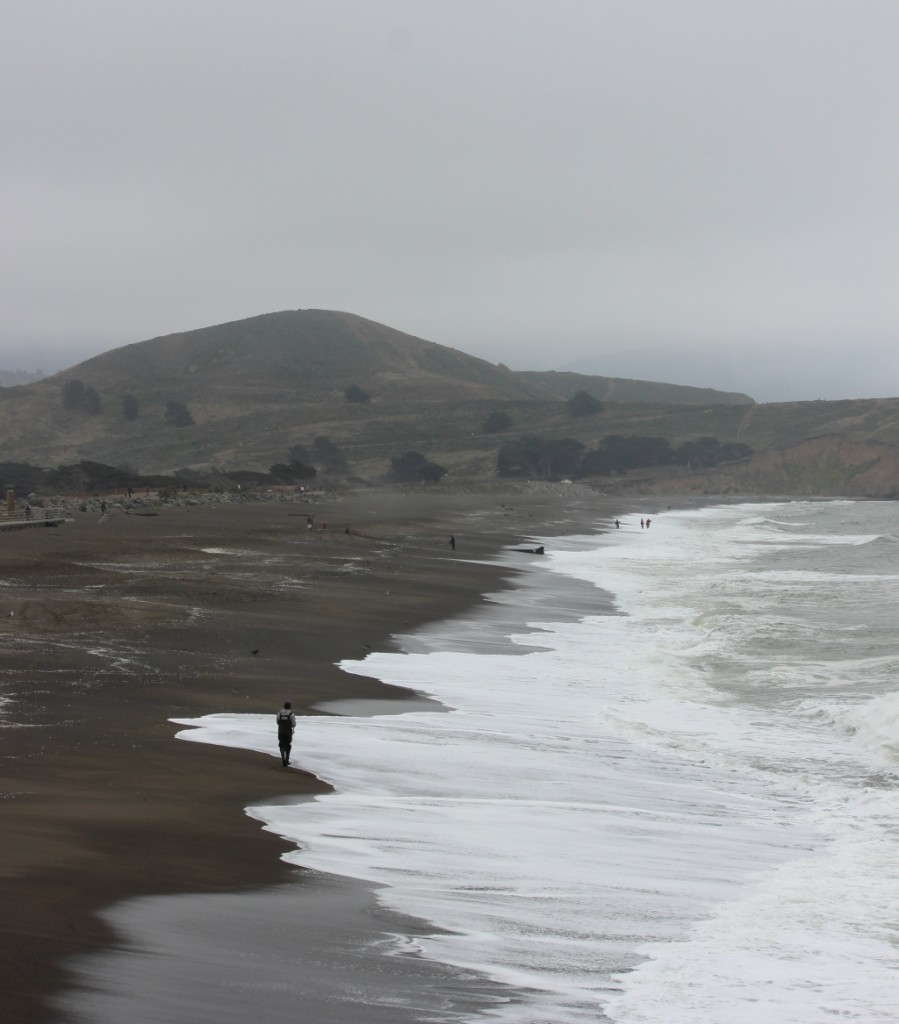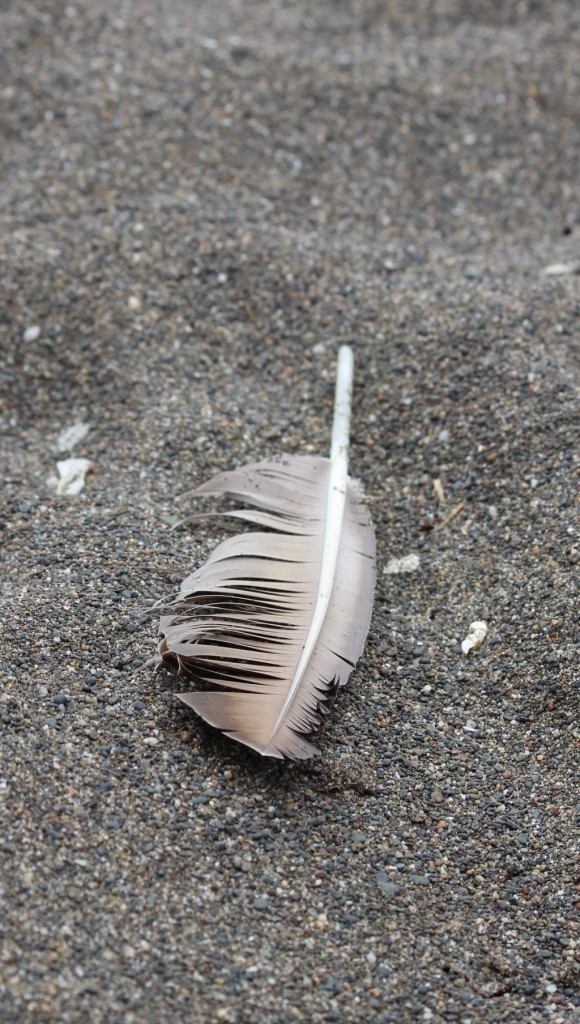 The boys decided they would try to jump a wave. They didn't think this plan through very well….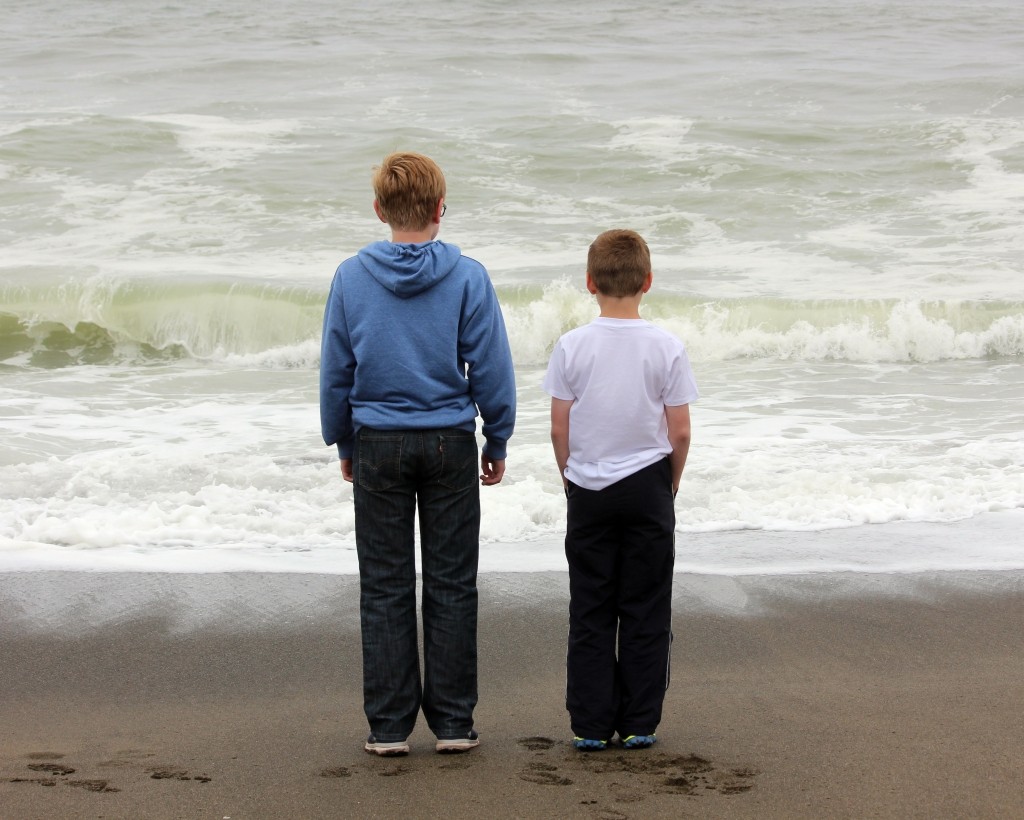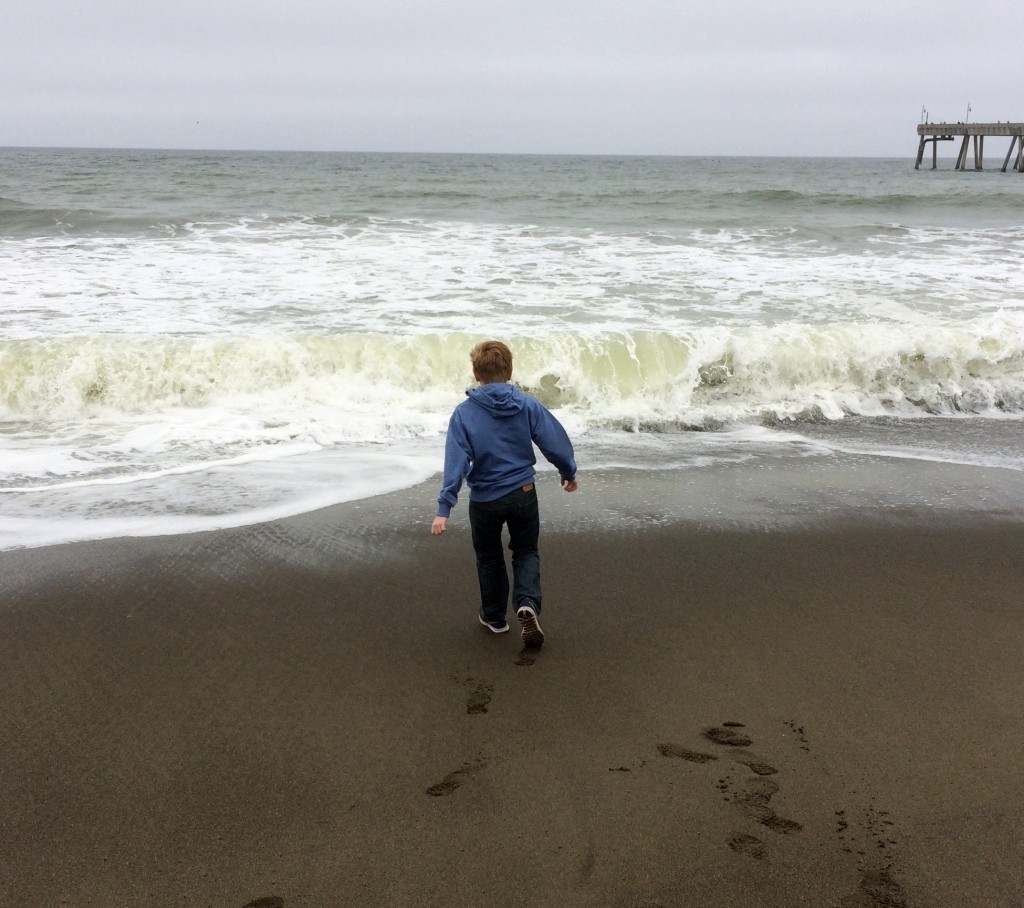 After jumping the wave as it came in, the boys very quickly thudded back down on the sand, of course…while the water was still underneath them. Our younger son tripped and got soaked. Unfortunately, I didn't get a photo of the moment, but I did capture the aftermath.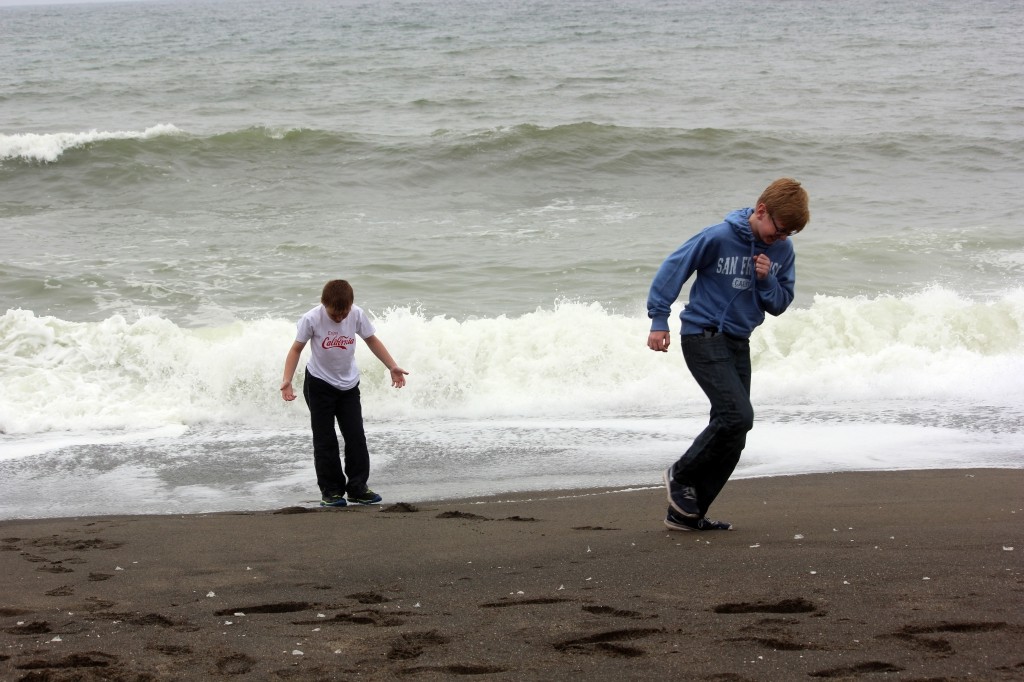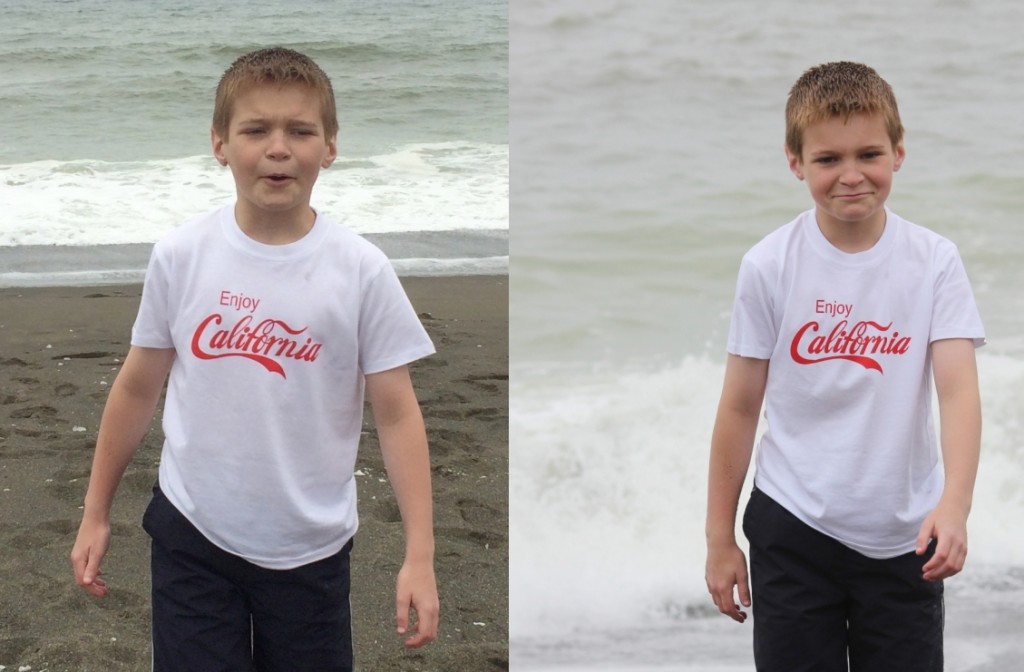 They got a bigger taste of the Pacific Ocean than we had expected (and required a trip to the store to buy some new shoes and pants).
Pacifica seems to be a sleepy beach town. We enjoyed the muted colors of the day, as wells as the sights and sounds. Some small children were excitedly feeding the birds.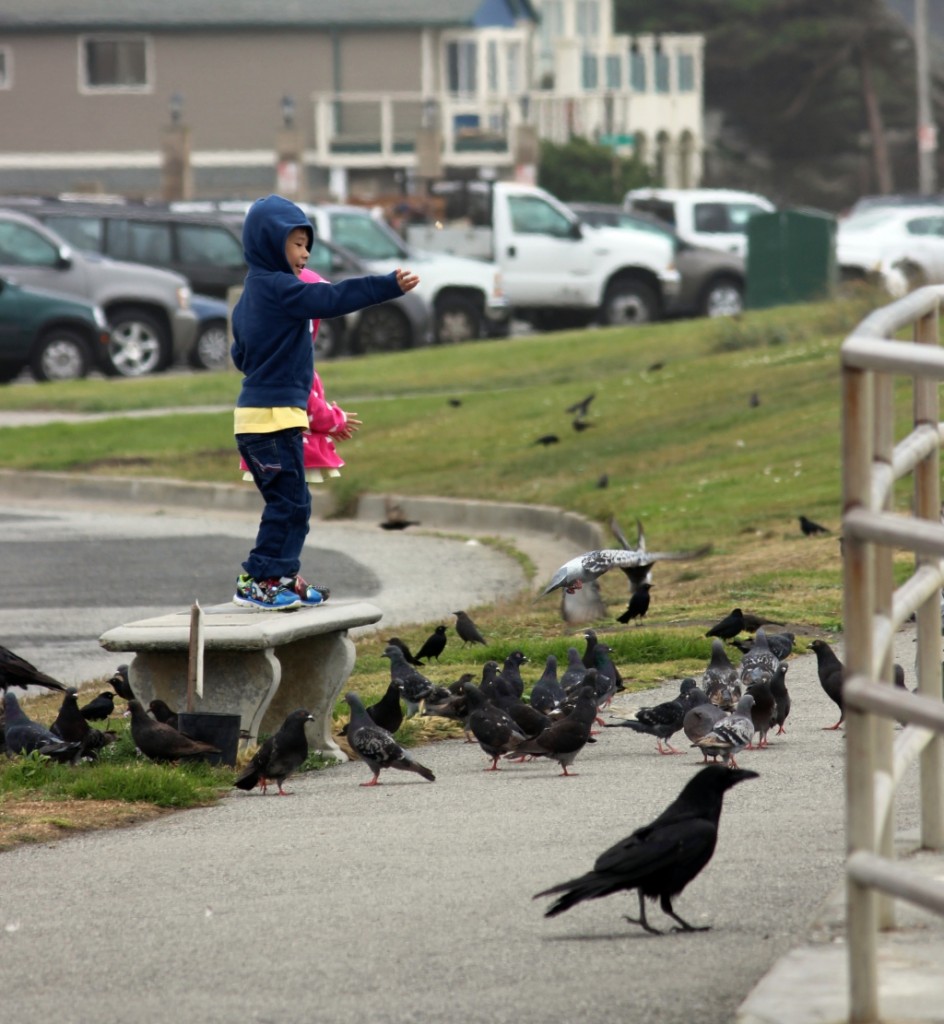 At one point, we looked up and saw a woman who had dogs attached to the front of her bike like sled dogs, and they were racing ahead of her. Our boys thought this was hilarious. Perfect San Francisco moment!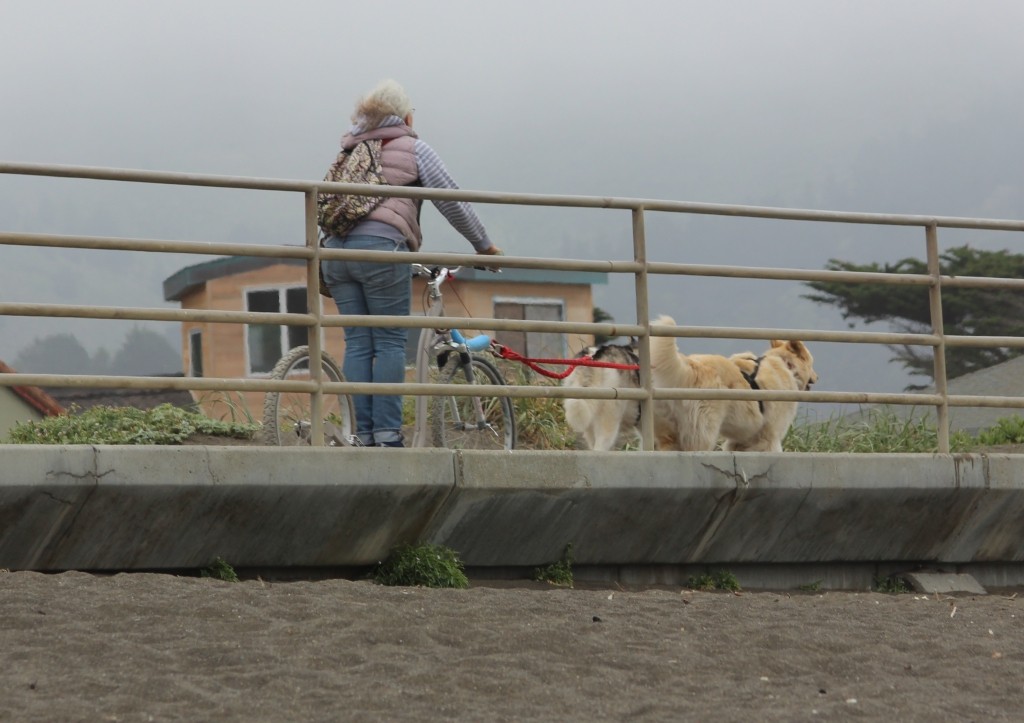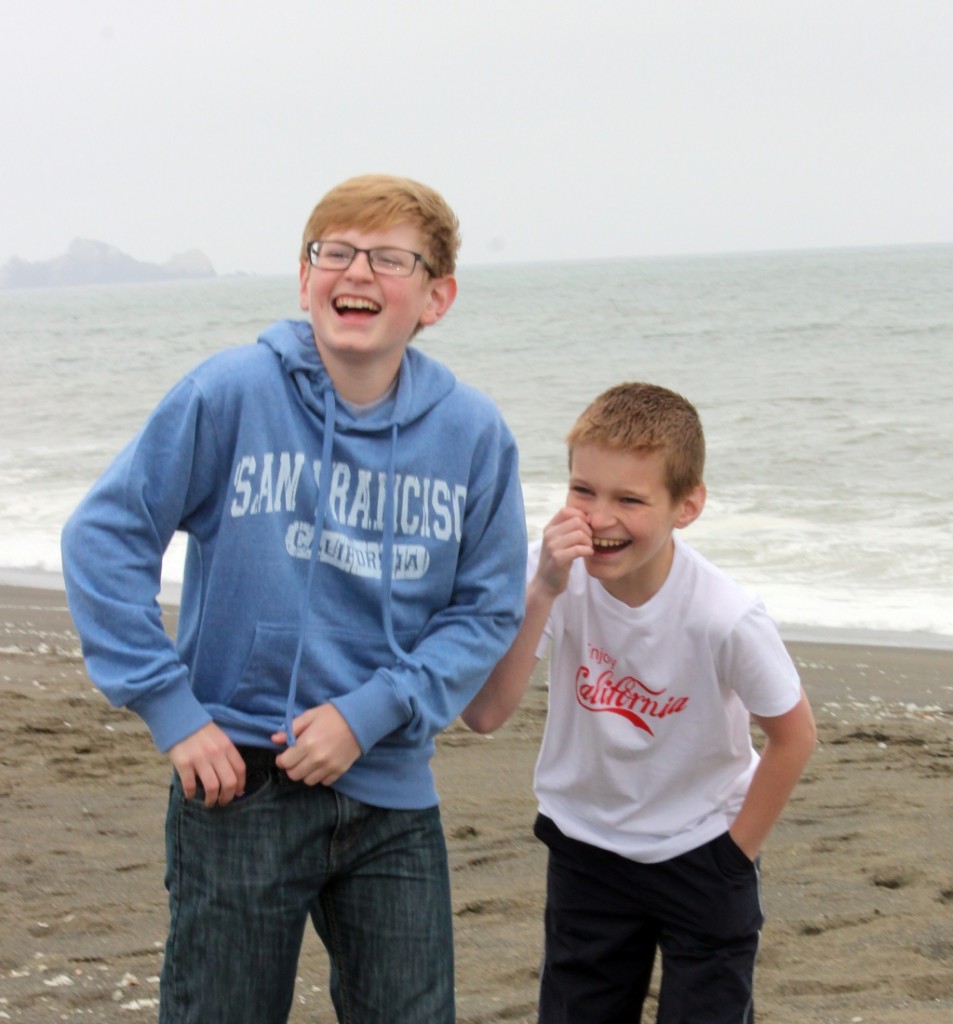 Haight-Ashbury
We were curious about the infamous Haight-Ashbury area of San Francisco and decided to take a stroll. We found it to be a fun, colorful area of shops and restaurants.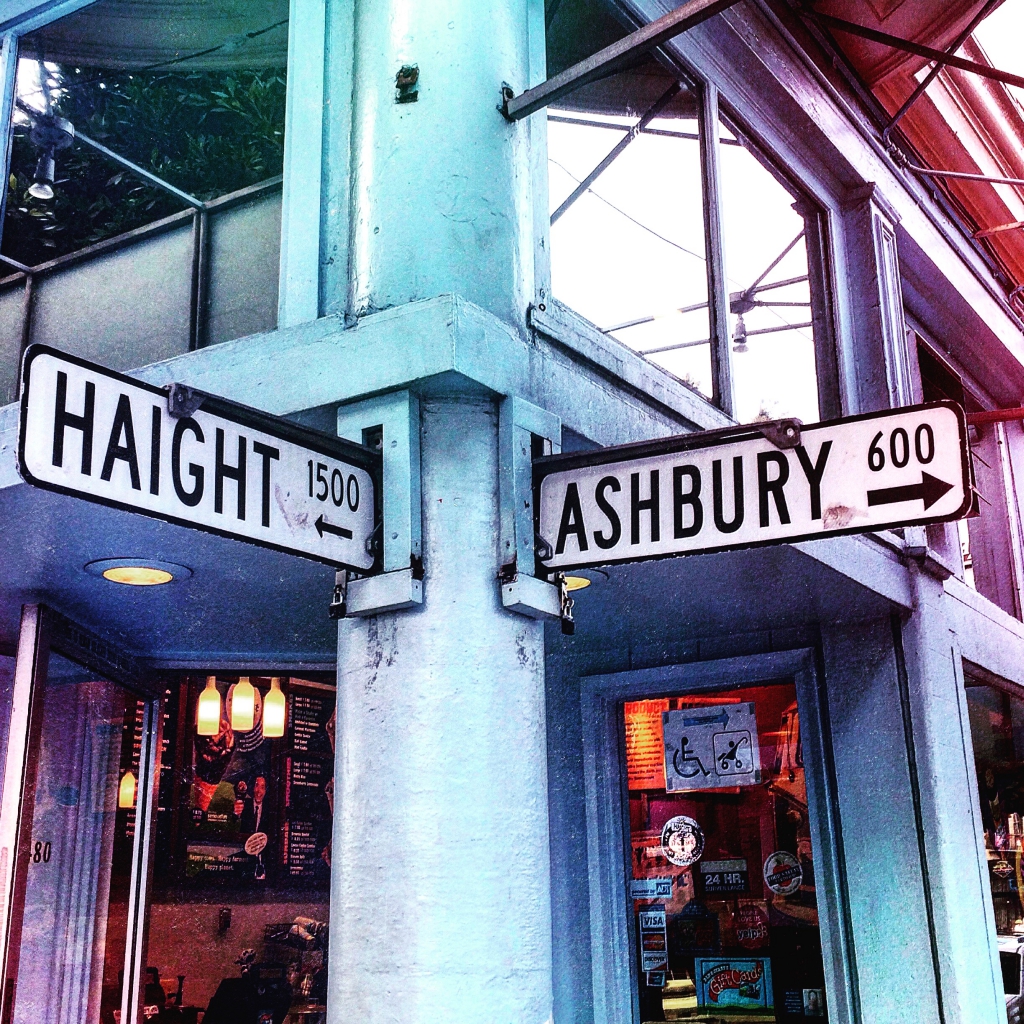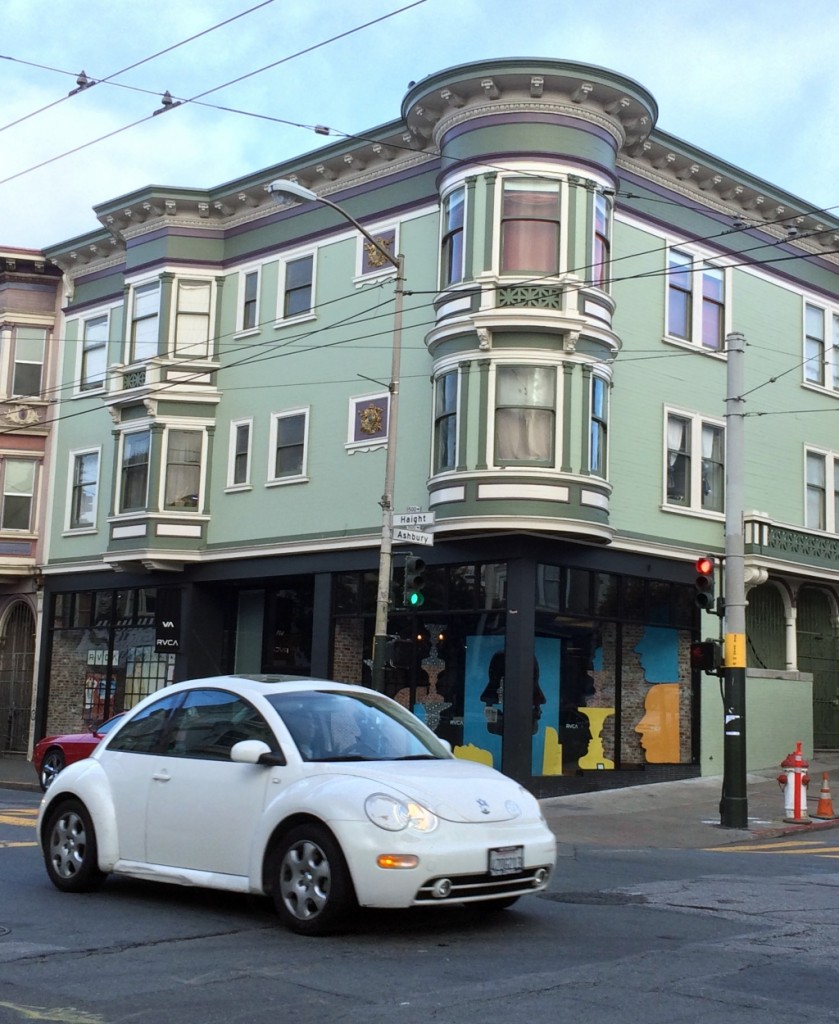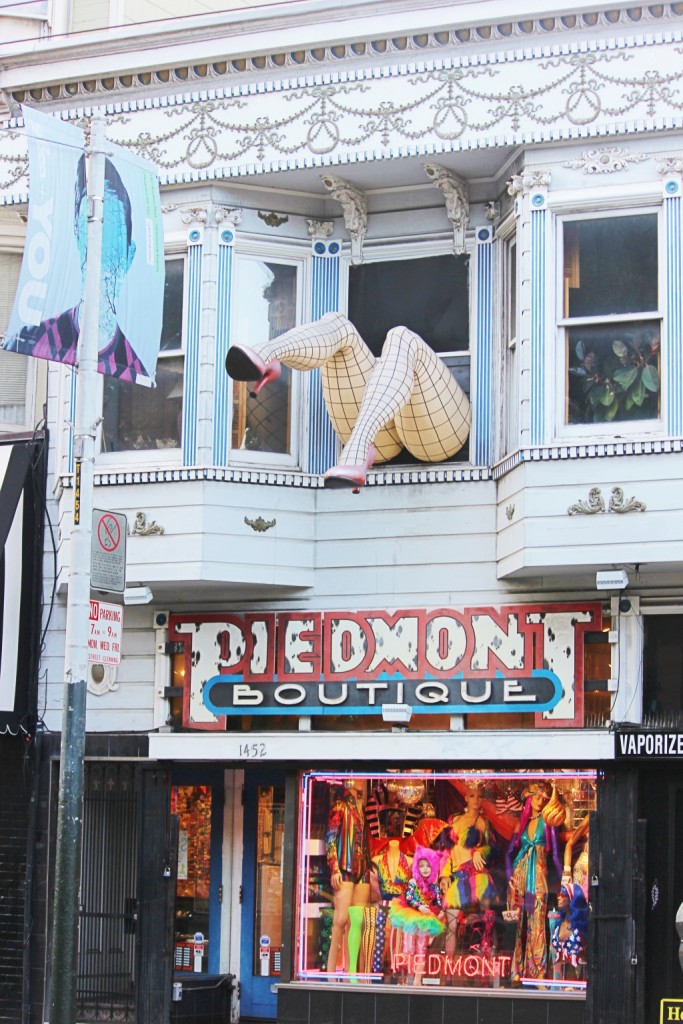 The counter culture is still very vibrant to this day, much to the dismay of my younger son (we don't know where he gets this, since his father and I may have a few hippie tendencies).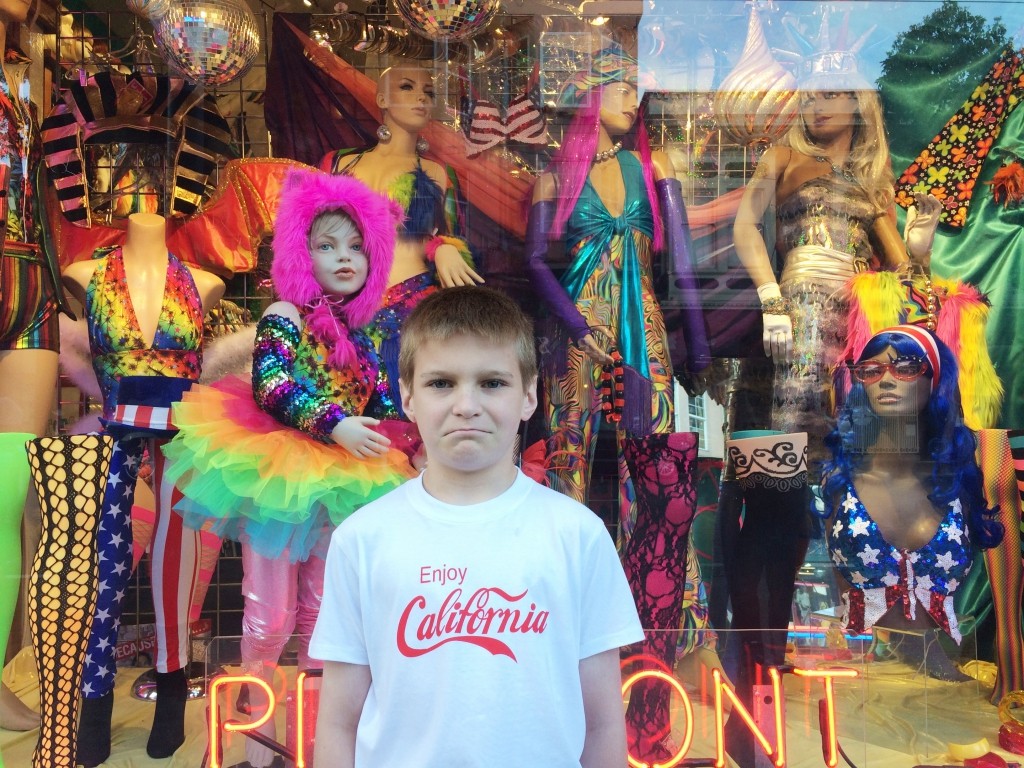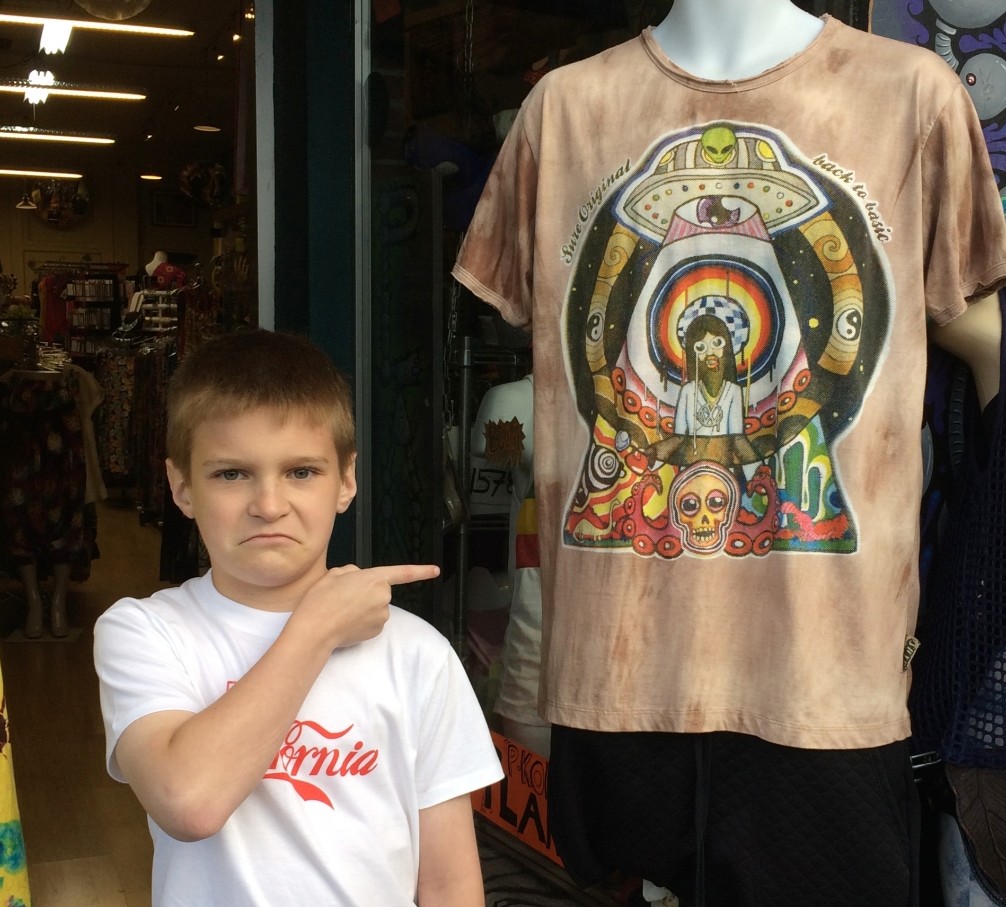 If you need a UFO/skeleton/Jesus/yin-yang shirt, Haight-Ashbury is the place to go. Needless to say, our younger son didn't want one as a memento.
My husband got into the spirit of the area after finding an abandoned sign on the sidewalk. The rest of us tried to pretend we didn't know him, but we still snapped a picture: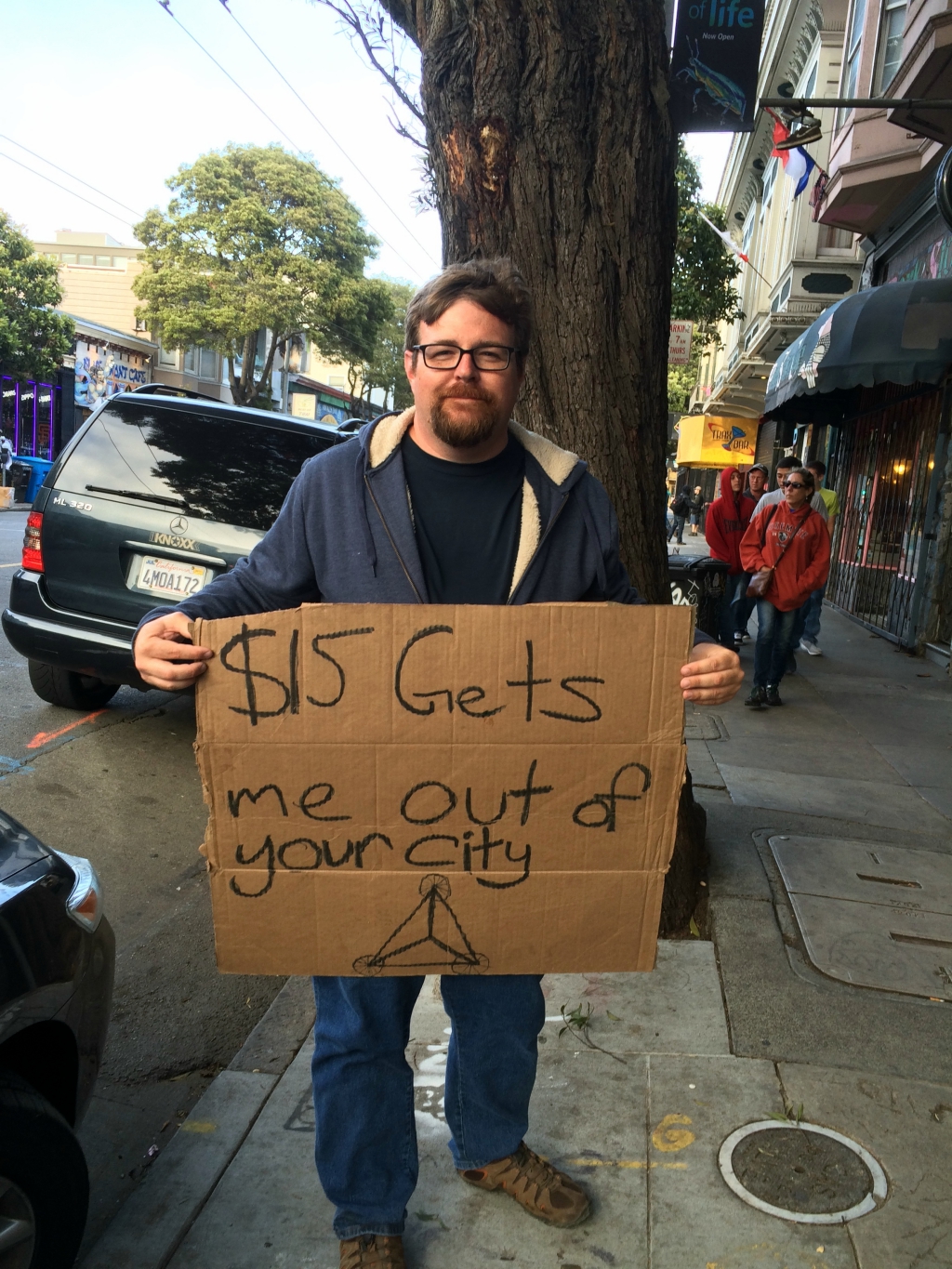 Lands End
We decided to end our day at Lands End Lookout at the Golden Gate National Recreation Area. There is plenty to explore here, including a visitors center, bathhouse ruins, and several trails.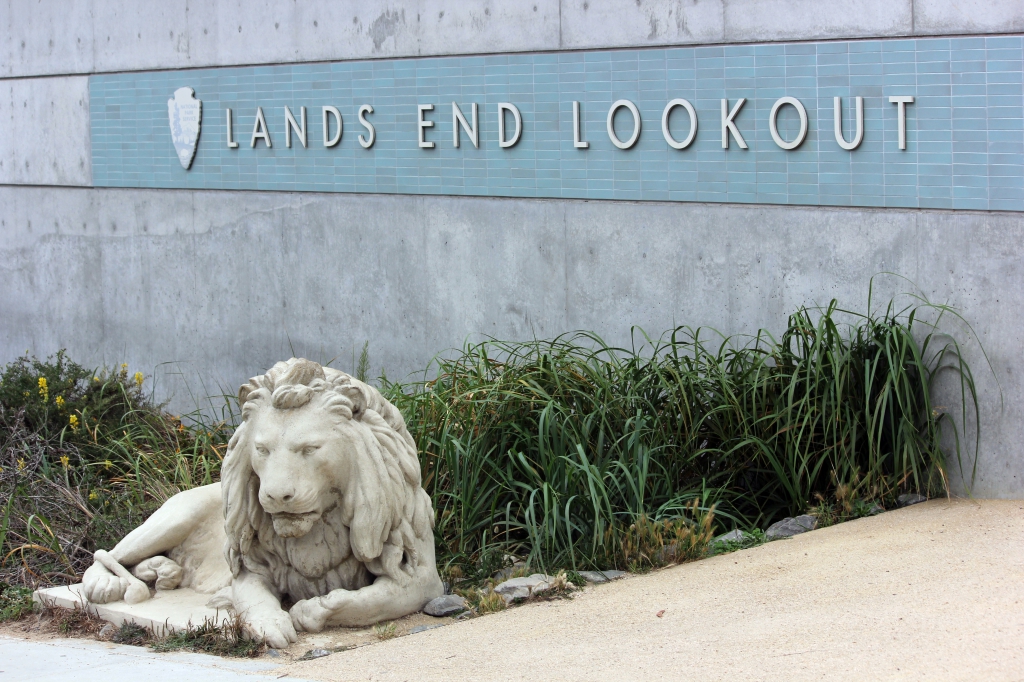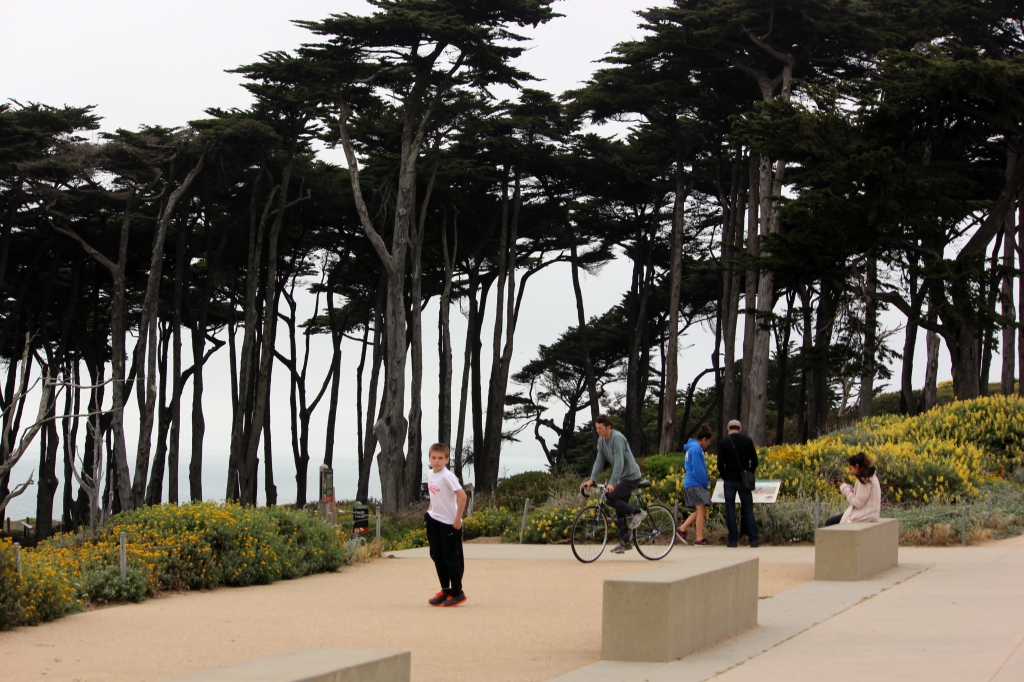 The trail took us along the edge of the bay. We saw lots of wildflowers and beautiful views along our route. This trail does have some steep ascents and descents, so it may not be good for all families. However, those who make the trek will find plenty of rewards.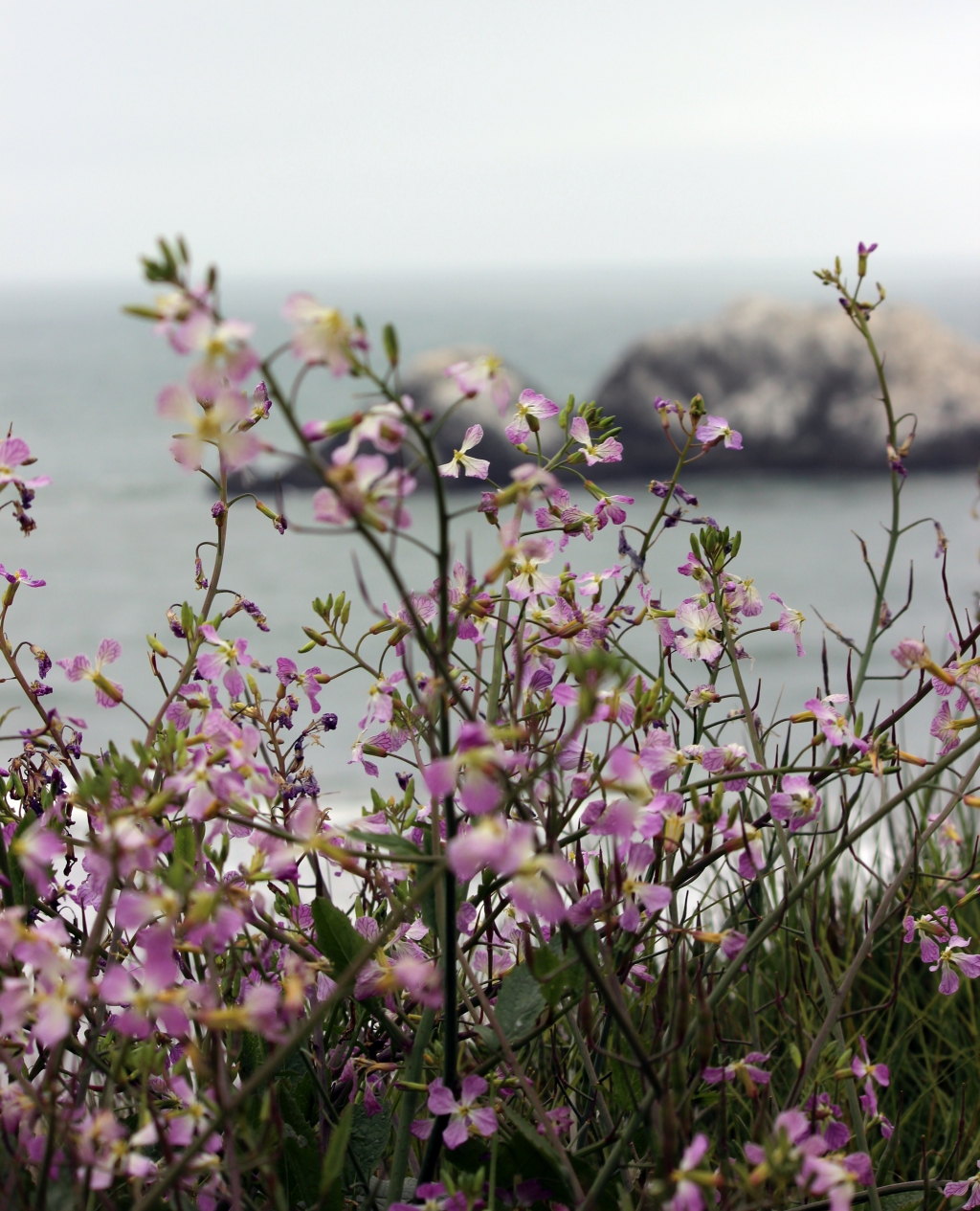 Thanks to an Instagram friend, we had seen some cool photos of a rock labyrinth, and we decided to follow the trail until we found it. An artist built the labyrinth over a decade ago. Sadly, it was destroyed later in the summer by vandals who removed every.single.rock. This beloved landmark wasn't left vacant for long, as many volunteers came together to rebuild it. In an interview posted on the SF Gate, the current caretaker of the labyrinth said, "The labyrinth is there as a sign of peace, love and enlightenment for all."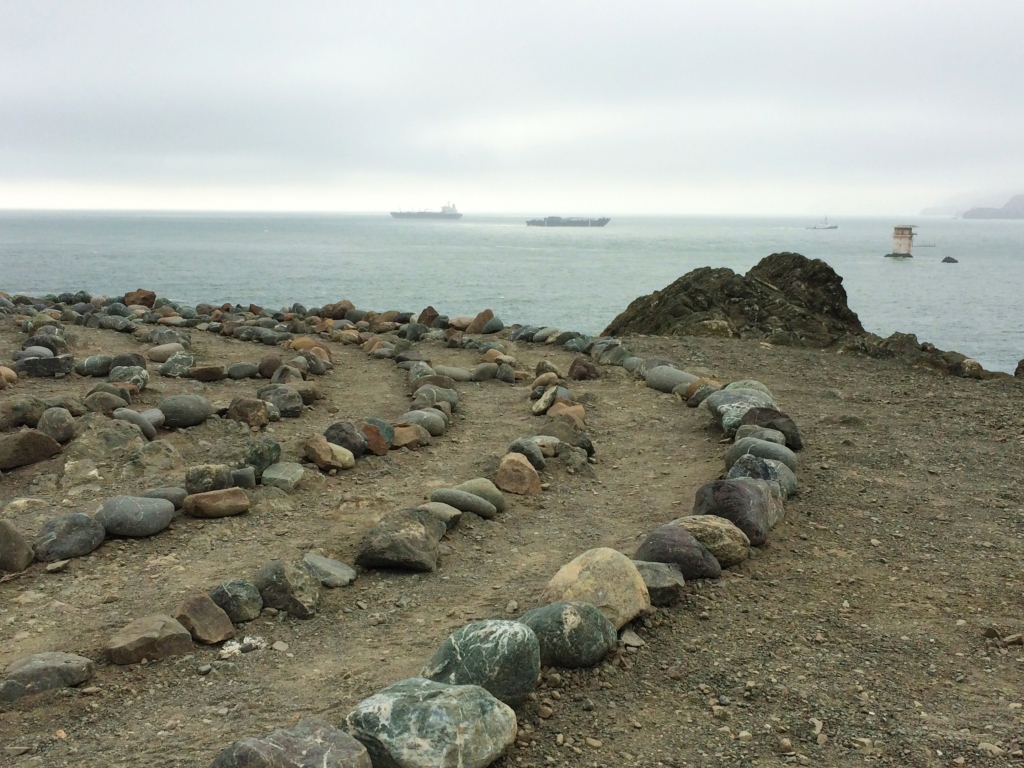 Around the corner, we found ourselves across from the Golden Gate Bridge. We had seen it from several angles on our trip. This day, it was barely discernible under its blanket of fog.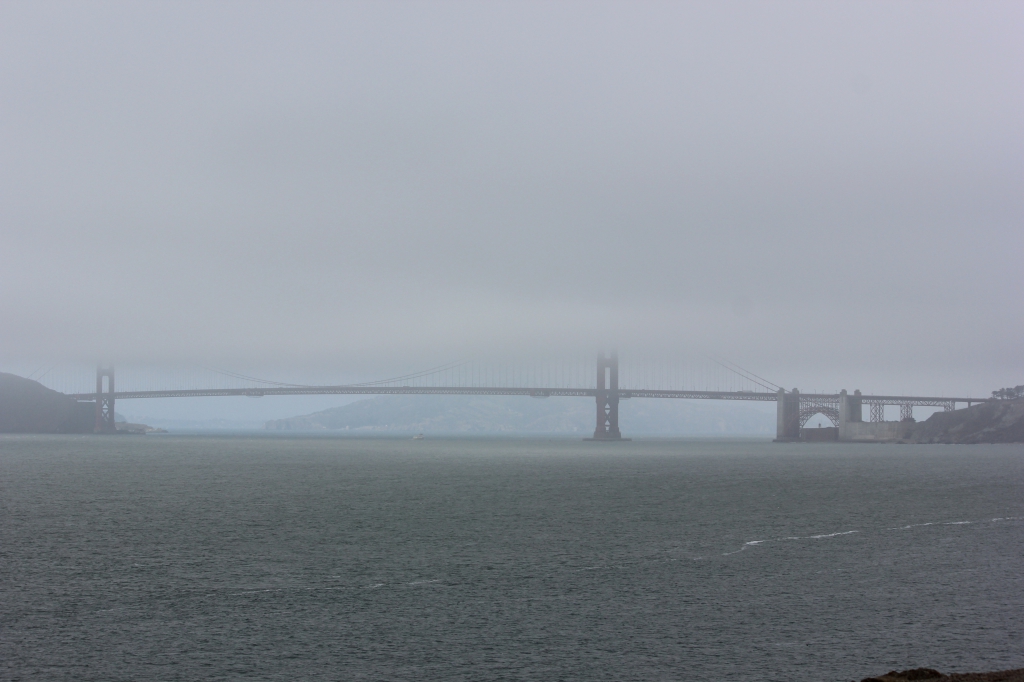 We heard the waves crashing and looked into the sea far below.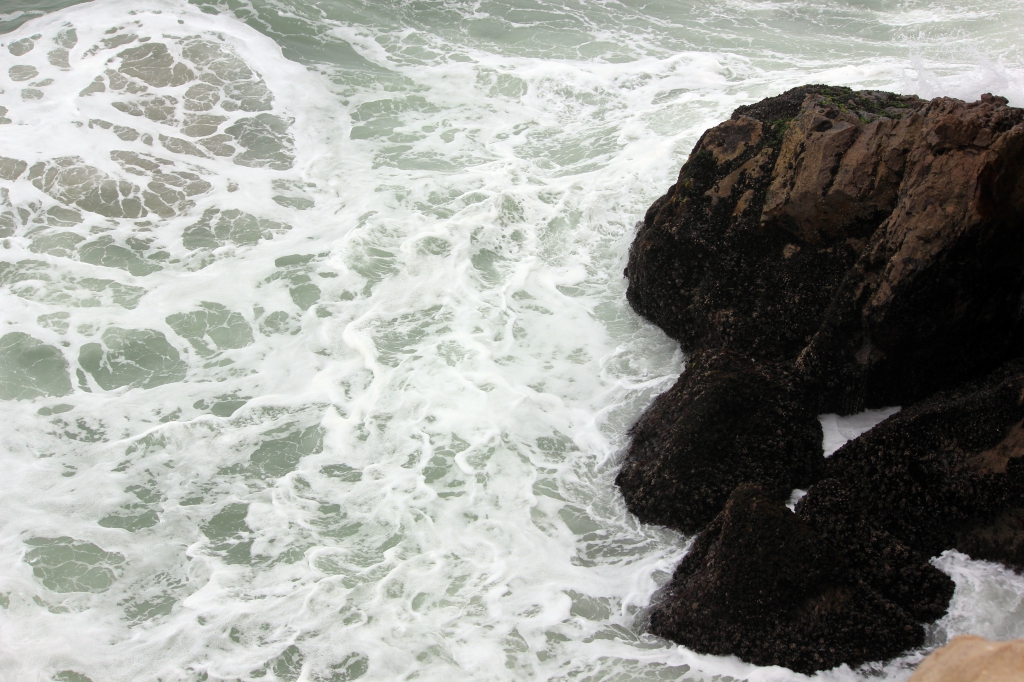 This seems like a good place to quote some poetry. I think Mary Oliver has stood over an ocean a few times in her life:
"Still, what I want in my life
is to be willing
to be dazzled—
to cast aside the weight of facts
and maybe even
to float a little
above this difficult world."
~Mary Oliver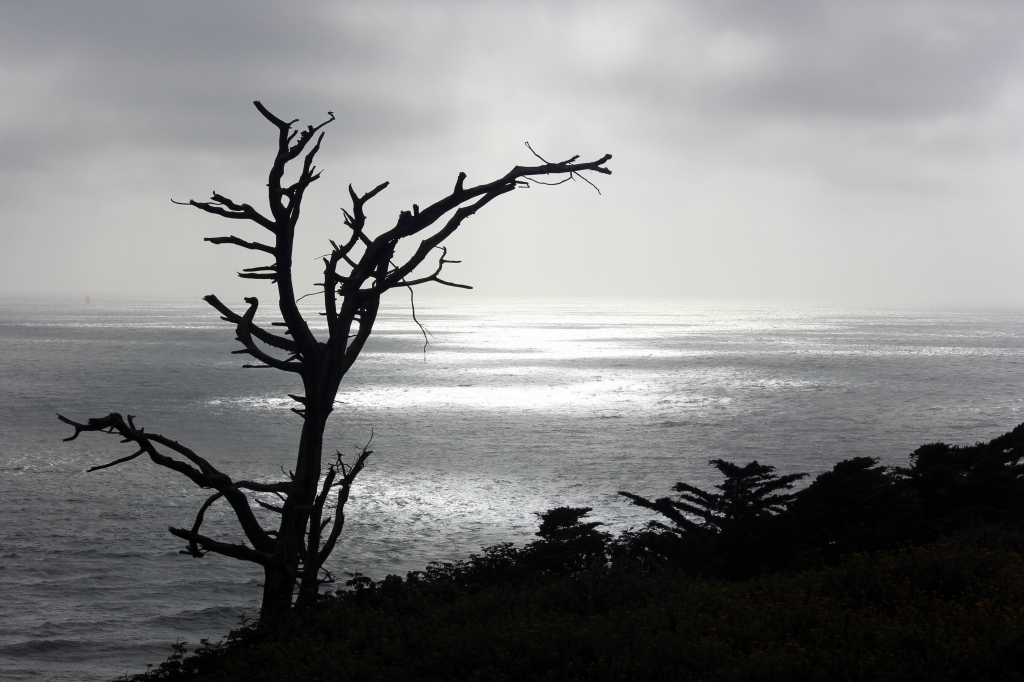 Lands End is a place to take in both natural and man-made wonders—from the towering majesty of the Golden Gate bridge to the simple statement of the rock labyrinth, from the fading ruins of an abandoned bath house to the pops of wildflowers along the trail.
Our busy day in San Francisco seemed to capture two of the city's faces. Lands End and Sharp Park Beach gave us muted beauty to contrast the vibrant wit of Haight-Ashbury.
With all we did in our three days in San Francisco, we barely scratched the surface of this amazing city. San Francisco is the most beautiful city I have ever seen. Here, the natural world perfectly intermingles with an urban area. The city is full of color, vibrancy, and charm. It just seems quite calmly content with itself.
While our Birdy Goes West trip was all about the national parks, I'm so glad we spent a few days on the coast. We truly did feel like we were leaving our hearts in San Francisco and hated to go; however, we had one final big stop coming up on our trip (the Grand Canyon), and it looked pretty promising.
Find Travels with Birdy:
Share this post: