Petroglyph, Painted Desert, & Petrified Forest National Parks

The I-40 corridor through the southwestern US is rich with National Parks. Some are right off the highway, while others would require a little extra driving. Though Yosemite and Sequoia are the purpose of our #birdygoeswest tour, we decided to see as many of the national parks as we could. Probably mostly so I could get as many cancellations as possible in my National Parks Passport book (I'm kind of an achiever like that).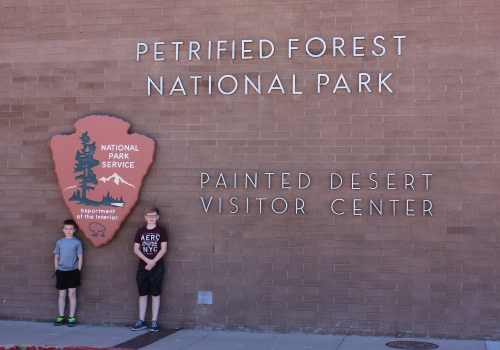 If you're not familiar with it, the National Parks Passport is a little book that lists all the National Parks and has spaces for you to get cancellations at each park you visit. Each visitor's center has a stamp that shows the date and location. This is a fun way to keep track of the parks you visit and makes a good memento.
As we left Santa Fe, we took the Turquoise Trail Scenic Byway south. Some scenic byways are a little too scenic (i.e. curvy) to travel while hauling an RV, but the Turquoise Trail was fine. It winded us down through some interesting territory and took us by some old mining towns. Some towns have been revived into arts and crafts villages, while others remain dusty.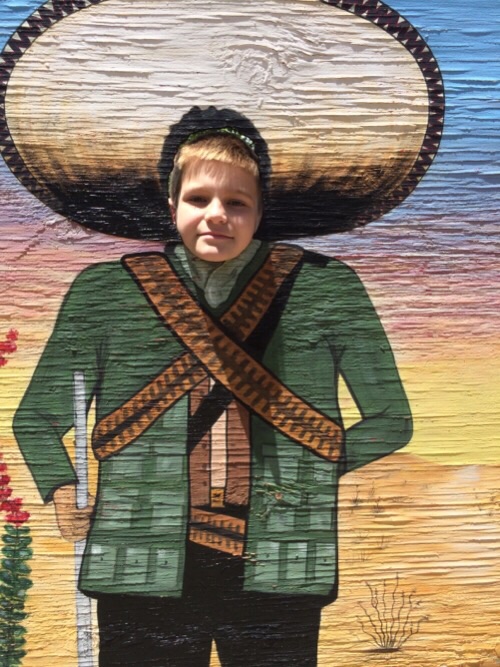 Petroglyph National Monument
Our first stop was at Petroglyph National Monument. It sits just outside of Albuqurque Albuquerque (I might learn how to spell that by the time this trip is done), making it an easy stop on our way out of Santa Fe. This park contains thousands of petroglyphs left by Spanish settlers around 400-700 years ago.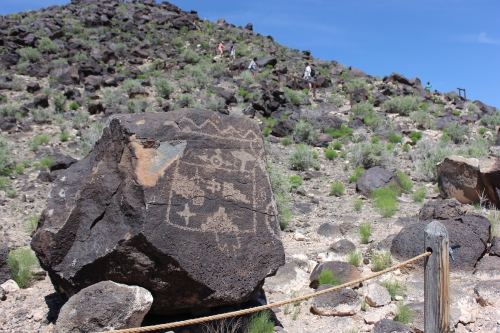 As we drove up, my older son was being really grumpy about not wanting to get out into the desert heat to go on a hike, so I kept trying to convince him about how great it would be. Upon arriving at the trail and seeing the tall mound (cliff? tall hill?) with the trail going up it in front of us, I suddenly changed my mind and thought those petroglyphs would not be worth that hike.  However, our younger son said, "Come on!" and started scurrying up the mountain.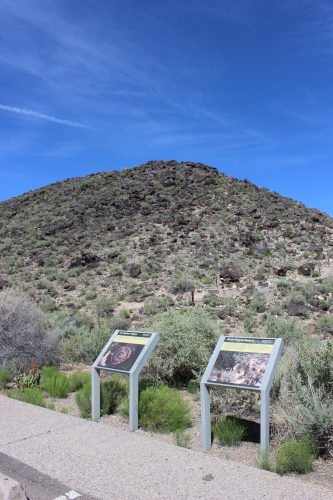 Now, you might remember that my younger son, Sam, is the one who is obsessed with video games. At home, it's nearly impossible to get him outside. So, to see him eagerly heading up a trail really filled me with joy. THIS is why we are on this trip. This meant we had to hike up that mountain.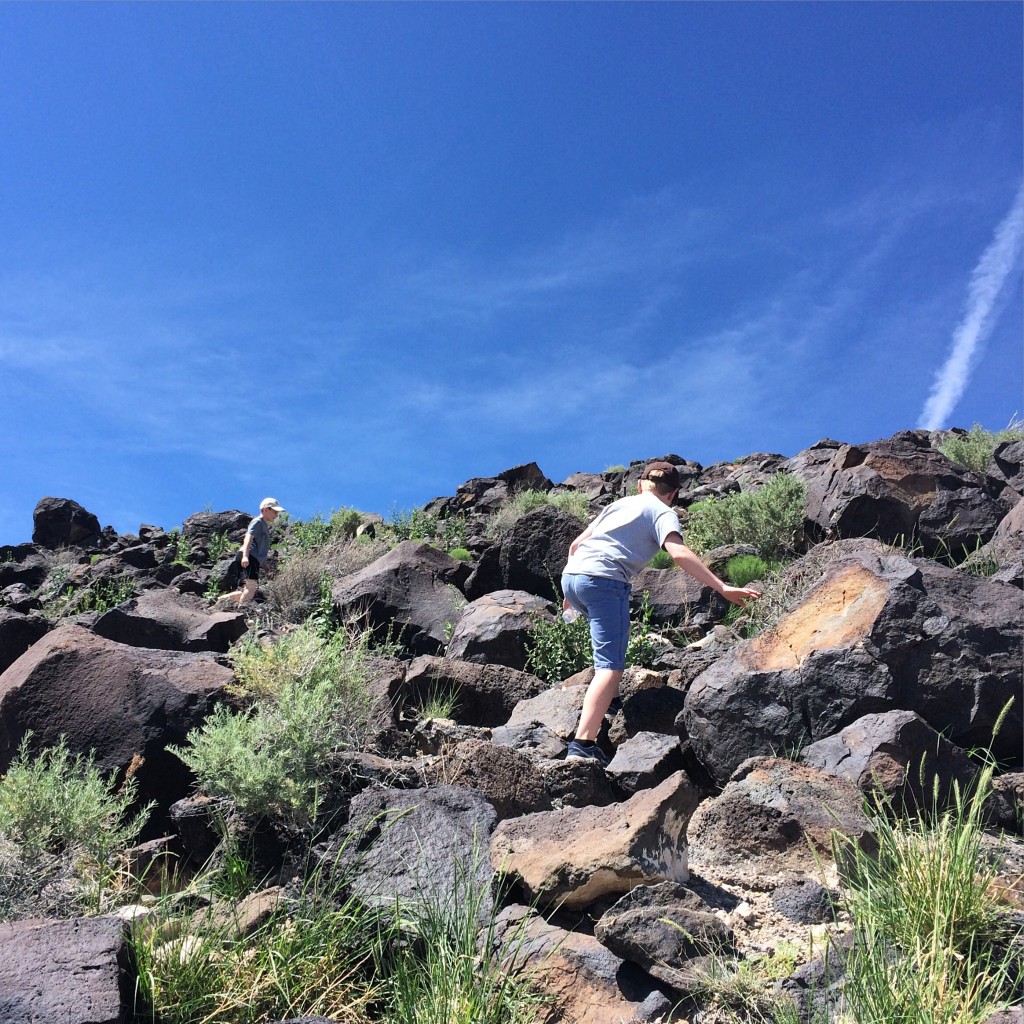 The boys made it to the top quicker than my husband and I. Along the way, we did, indeed, see several cool petroglyphs. We tried to stop midway up, but my younger son hollered, "Come see this!" The view from the top was worth the extra push.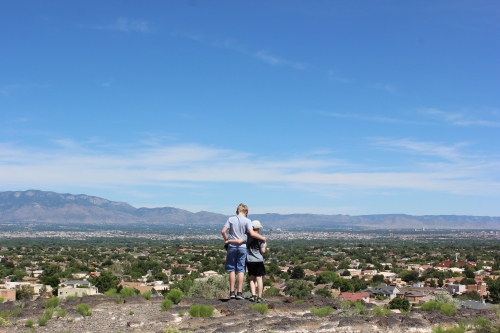 If you're traveling through Albuquerque and have time to spare, Petroglyph National Monument makes for a nice stop. There's a visitor center, restrooms, and water, and it only costs $1 to enter. In my opinion, I'm not sure I would go out of my way to get there, unless you were a huge petroglyph fan or just really wanted another cancellation for your National Parks Passport.
Petrified Forest & Painted Desert
The next day, the Petrified Forest National Park was another easy stop from I-40. In fact, it's a park you can drive through. We entered the park on the eastern side, which was where the Painted Desert lies. Before this trip, I didn't realize these two were actually the same park and we could easily visit both at once.
The Painted Desert looks a little like a miniature Grand Canyon in my mind. I haven't seen the Grand Canyon yet, so I could be way off on that. I'll report back in a few weeks. The colors were amazing. Yet again, the boys took off down a trail, eager to explore.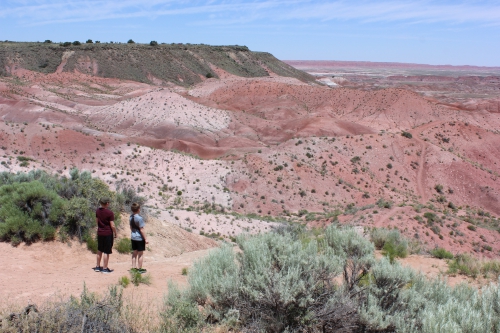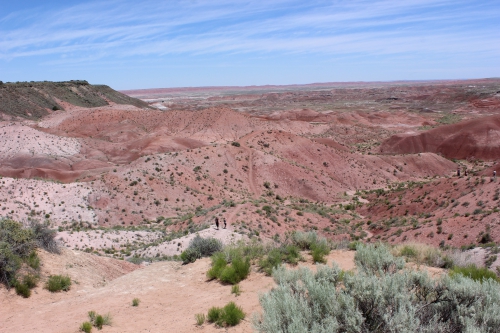 We continued the drive through the park, stopping at scenic overlooks and worthy stops. The landscape changes so drastically throughout this park. At times, it looked like we were on the moon.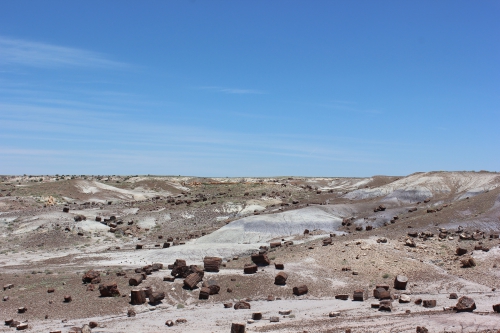 Toward the end of the 30-minute drive, we entered the Petrified Forest part of the park. Here you'll see what looks like huge logs that have actually mineralized and become rocks. Some have even turned into quartz. (This is not the scientific explanation of these things, so please don't quote me.)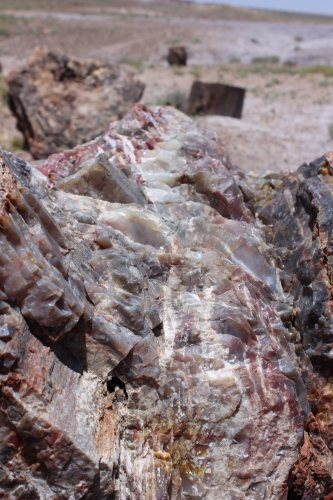 If you're driving on I-40, I would definitely make time to visit the Petrified Forest and Painted Desert National Park. It's an interesting drive with some wonderful views. It does charge a higher fee than the Petroglyph National Monument, at $10 per car. Since we are planning to visit several national parks, we went ahead and purchased a National Parks Pass. For a mere $80, this pass will get our whole family into any national park for a whole year. I'm thinking we need to do another epic road trip next summer!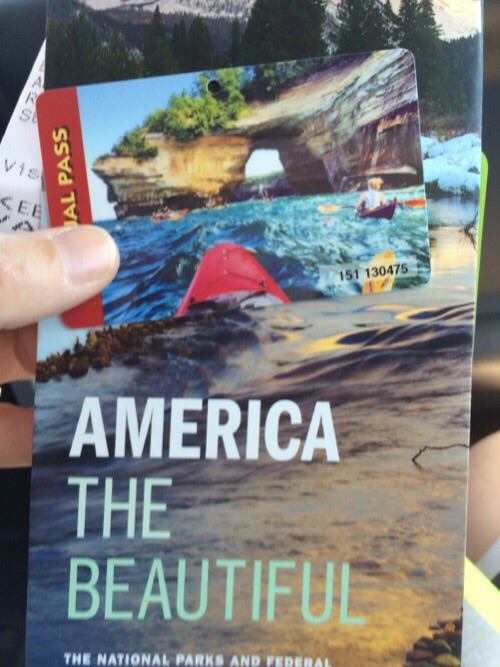 We didn't explore all there was to explore on our stop at the Petroglyph National Monument, Painted Desert, or Petrified Forest National Parks because we were eager to head to Sedona. However, I'm glad we took the time to visit these unique national parks. These two days alone have felt like five vacations in one due to the changes in scenery. I'm eager to see what the road ahead brings! (Well, other than the Mojave desert, I'm not super excited about that.)
Find Travels with Birdy:
Share this post: