Niagara Falls: The Canadian Side
Should we go to the Canadian side of Niagara Falls? This is a perpetual question for Americans traveling to the falls. Crossing into Canada is relatively easy, as long as you have the proper documents. If you don't already have passports, however, it is natural to ask whether or not it is worth the time and money to get them.
Since we already had passports, the decision to visit the Canadian side of Niagara Falls was an easy one. We had heard that it offers better views of the falls and has a nicely developed area nearby. Those things proved to be true. Visiting the Canadian side truly rounded out our experience, and we were glad we were able to go.
Getting into Canada
Crossing into the Canadian side of the falls involves a simple trip over the Rainbow Bridge, which crosses over the Niagara River and connects the two countries. We encountered a short wait at the border before it was finally our turn.
One thing we've learned is that border agents are not the Welcome Wagon. Don't expect them to smile, and don't expect them to exude warmness. Have your passports ready. After answering several questions about who we were and where we were heading, we finally got to enter Canada.
Fall Views from the Canadian Side
A pedestrian walkway runs along the Niagara River, and as promised, it offers amazing views. While the US side is protected as a state park, the Canadian side is surrounded by more commercial developments, which is both good and bad, depending on your preferences. What isn't debatable is the views. On the American side, you are essentially at the top of the falls. You can experience them in multiple ways, as we did, but it is hard to get a full view of the full chain of falls.
The Canadian side provides magnificent views from afar. If you're lucky, you might even catch a rainbow in the mist:

The Canadian side also has epic up-close views. Continue along the walkway to the Table Rock Welcome Center, where you can stand along the brink of Horseshoe Falls: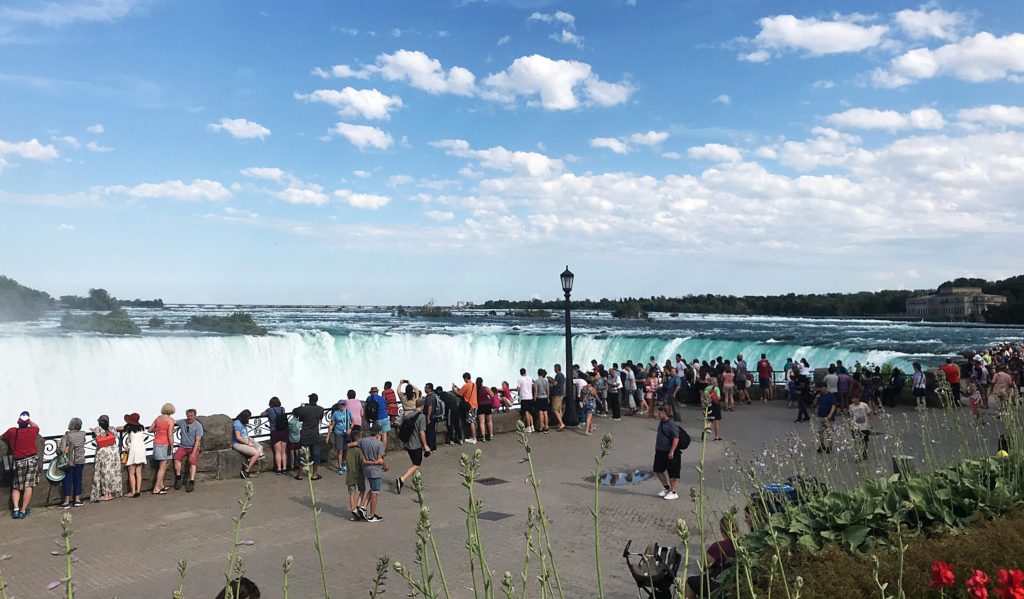 This is another spot where you can just stand and ponder the power of the falls. How in the world does this amount of water flow and flow and flow over the falls every single second of every single day?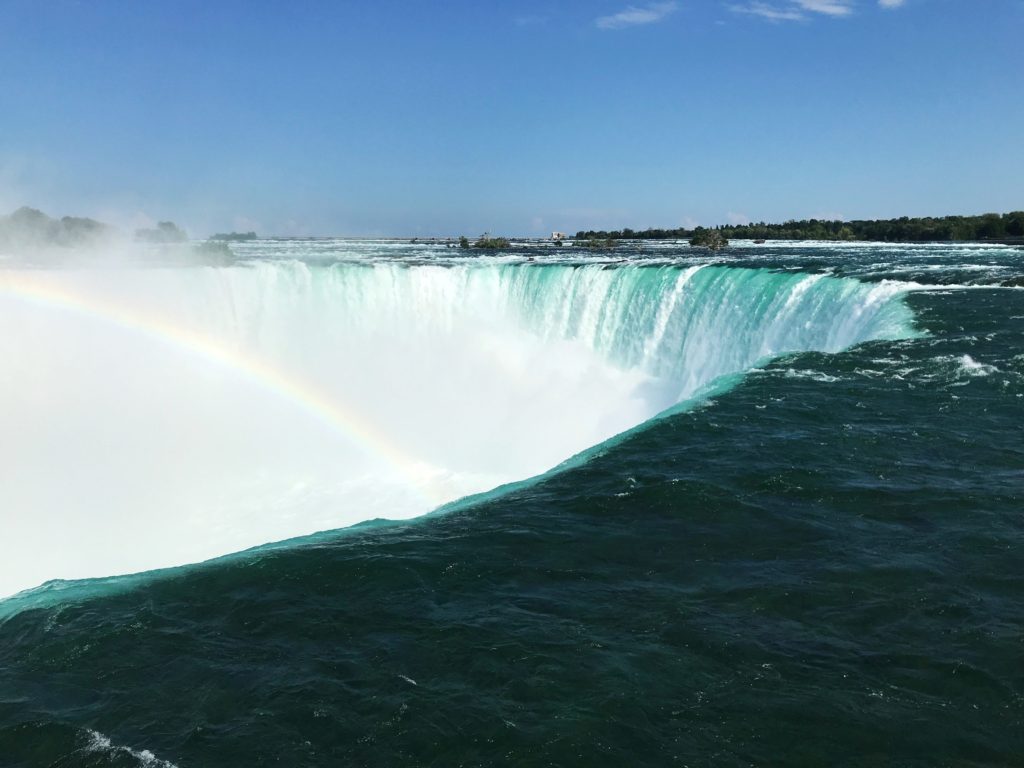 The nearby Table Rock Welcome Center is the jumping off point for many attractions on the Canadian side, including Journey Behind the Falls (which takes you down to the base of the falls) and more. You'll also find restaurants and shopping here. We bought some Canada souvenirs, of course.
On the other side of the walkway, across from the falls, you'll find Queen Victoria Park. This is a lovely spot to rest and enjoy a snack or picnic.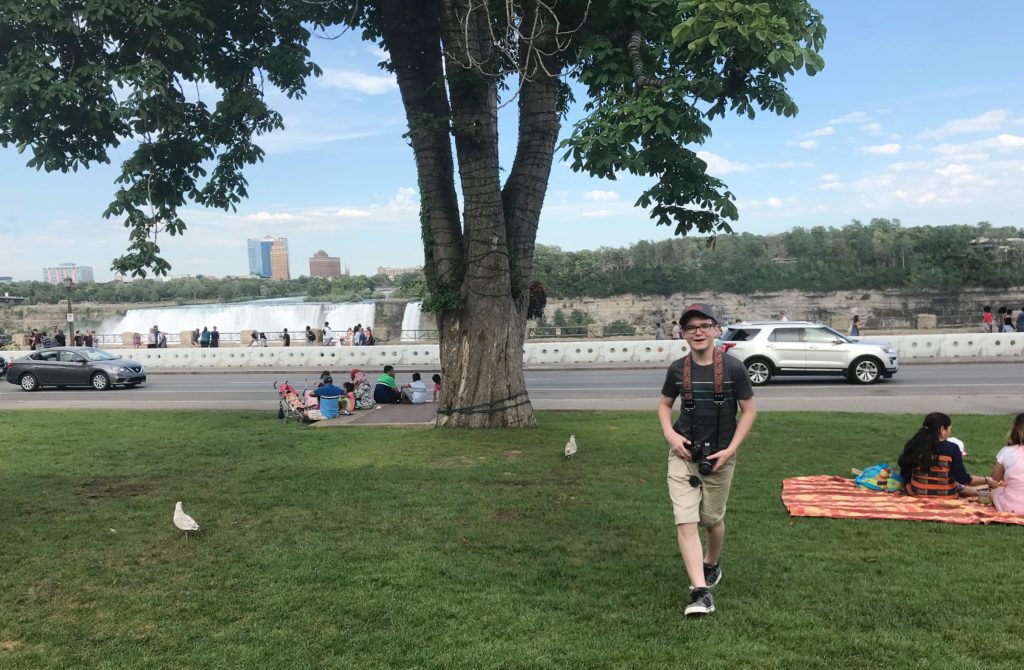 At night, the Canadian side also offers terrific views of Illumination, the nightly light show, which adds a colorful glow to the falls.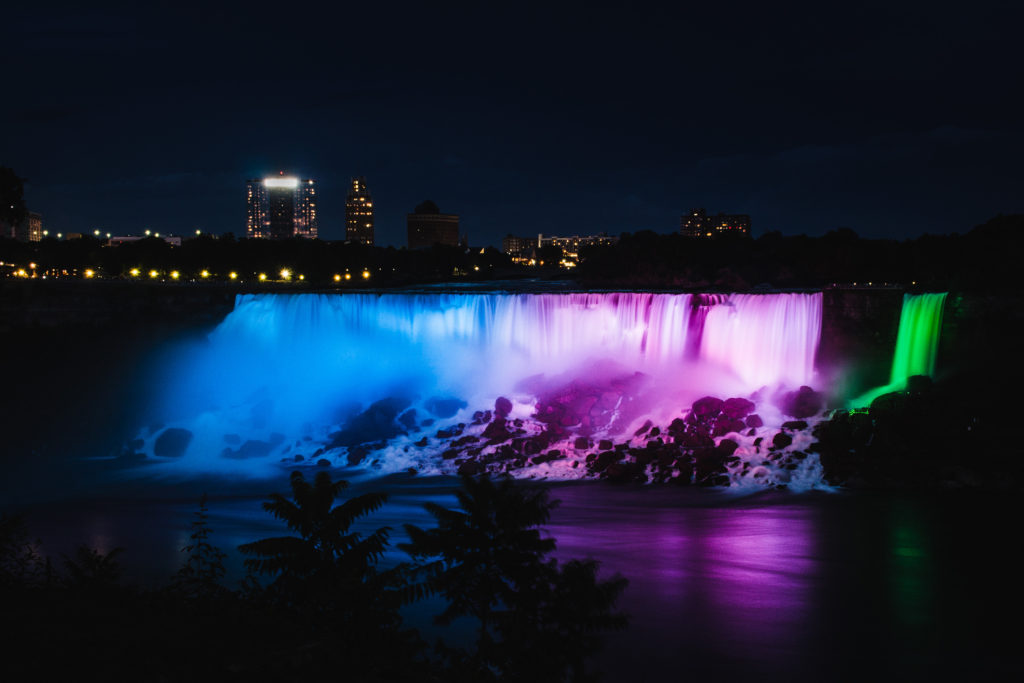 We knew the nightly fireworks show would start at 10pm and worried there would be a long line of cars crossing back into America, so we tried to beat the rush by getting to our car before they started. Luckily, we were crossing the Rainbow Bridge right as the first bursts lit up the skies, with loud booms rocking our car.
This picture captures the magic, even though we were zooming across the bridge in the dark when I shot it: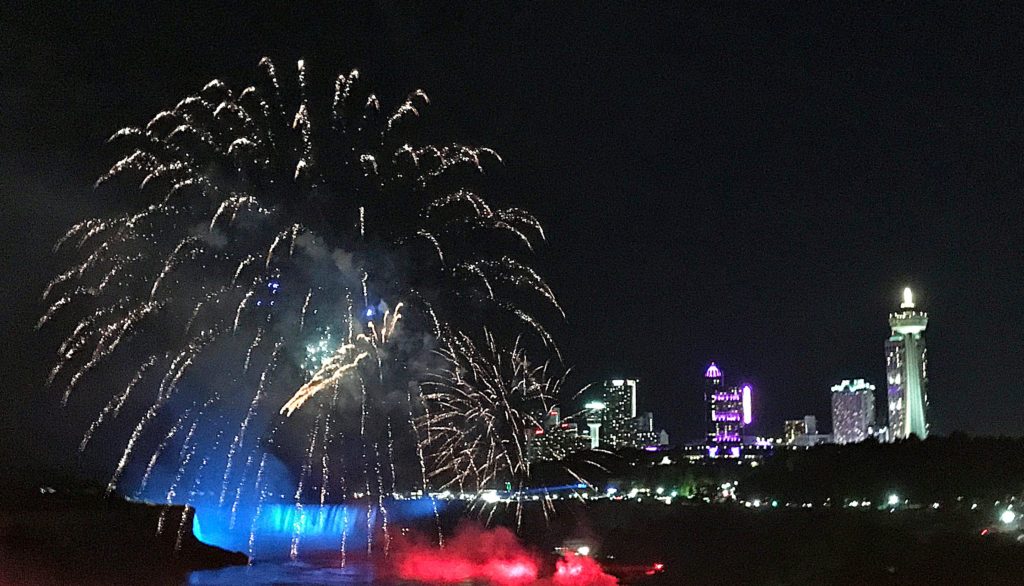 Zipline to the Falls
When my younger son heard that there was a zipline that went over Niagara Falls, he said that was the one thing he wanted to do on our vacation. As a mom, I was like, Really?? It seemed expensive and time consuming (and a little too risky for this nervous mom to like)
But, my younger son never asks for much, so when he does, we try to make it happen. Plus, he doesn't like to travel, so if we can make something fun happen for him, we have to (as I discuss on this post for the Jayco Journal, which has recommendations for traveling with teens and tweens, if you want to win your tweens and teens over, you have to include them in the planning and indulge some of their desires).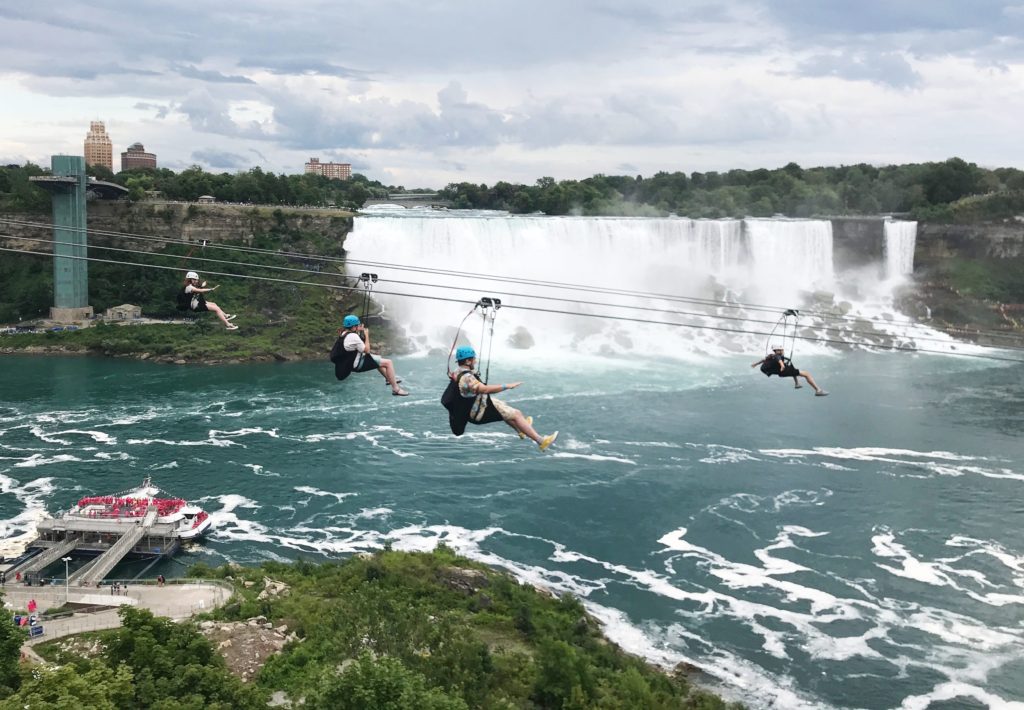 While the Zipline to the Falls attraction does go over the Niagara River and offers epic views of the falls, it doesn't technically go over the falls, like you might imagine. However, it still looked like a pretty cool thrill!
We booked a ticket for our son online, which gave him a specific time to arrive. Luckily, I had read online that it actually takes up to a couple of hours to go through the whole experience of suiting up, getting safety training, and actually working your way up the tower to the take-off point.
As I waited for my baby (he was 14, so he wasn't really a baby, but he was still MY baby) to take off on the zipline, I had a knot in my stomach. This zipline is WAAAAY up there above the river. It truly is a thrill attraction not for the faint of heart.
I tried to reassure myself that it was relatively safe, even though it looked terrifying to me. Finally, my baby went gliding by…smooth as butter! He's the one waving in this video.
Clifton Hill
The Zipline to the Falls is just a small taste of the kinds of fun found on the Canadian side of the falls. There's a whole lot more to explore.
One of the most iconic attractions at Niagara Falls, besides the falls themselves, is Canada's Skylon Tower. Rising 775 feet above the falls, this tower offers phenomenal views from the observation decks and rotating restaurant.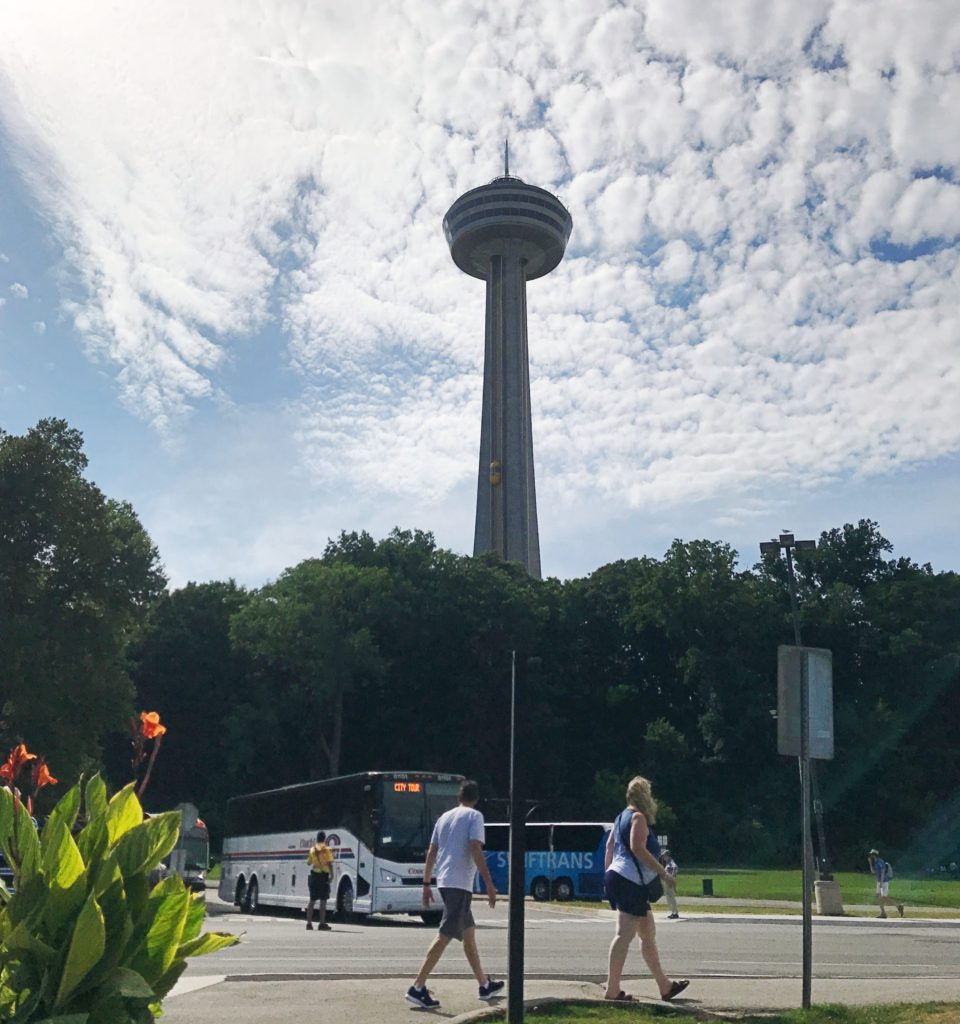 I have vivid memories of looking out from this tower when I was around 5 years old, so I know it makes quite an impression. Our family didn't get a chance to go up this time.
Underneath the Skylon Tower, you'll find Clifton Hill, an entertainment district that has all of the offerings of a classic tourist trap. You'll find a ferris wheel, miniature golf, go-kart track, a wax museum, carnival games, a Ripley's Believer it or Not museum and more!
If you've been to a place like Gatlinburg, Branson, Myrtle Beach, or so on, you've probably seen a similar slate of attractions. Add in some fudge, and you have a tourism trifecta.
If you have elementary-aged kids and tweens who aren't wowed by the falls themselves, hit Clifton Hill to perk them up!
Niagara-on-the-Lake
Since this was our family's first time visiting Canada, we wanted to see a little more of the country than the small area around the falls. We heard the small town of Niagara-on-the-Lake was charming and was less than 30 minutes away, so we put it on our agenda.
Located where the Niagara River meets Lake Ontario, Niagara-on-the-River is known for the surrounding wine country and for the cluster of colonial buildings that form the downtown area.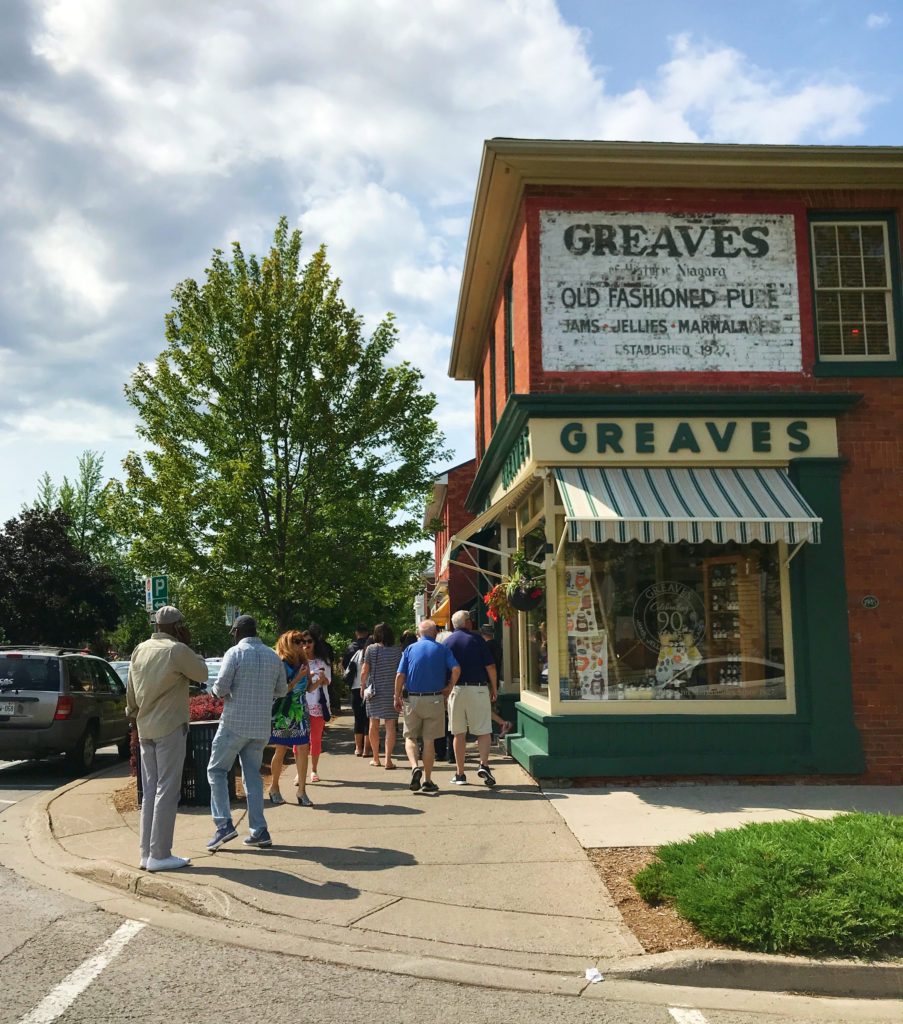 As we headed deeper into Canada, our first mission was to try some authentic poutine. Ever since I heard about this concoction of french fries smothered in gravy and cheese curds, the Midwesterner in me wanted to try it.
This regional cuisine from a region far from home somehow managed to seem perfectly familiar!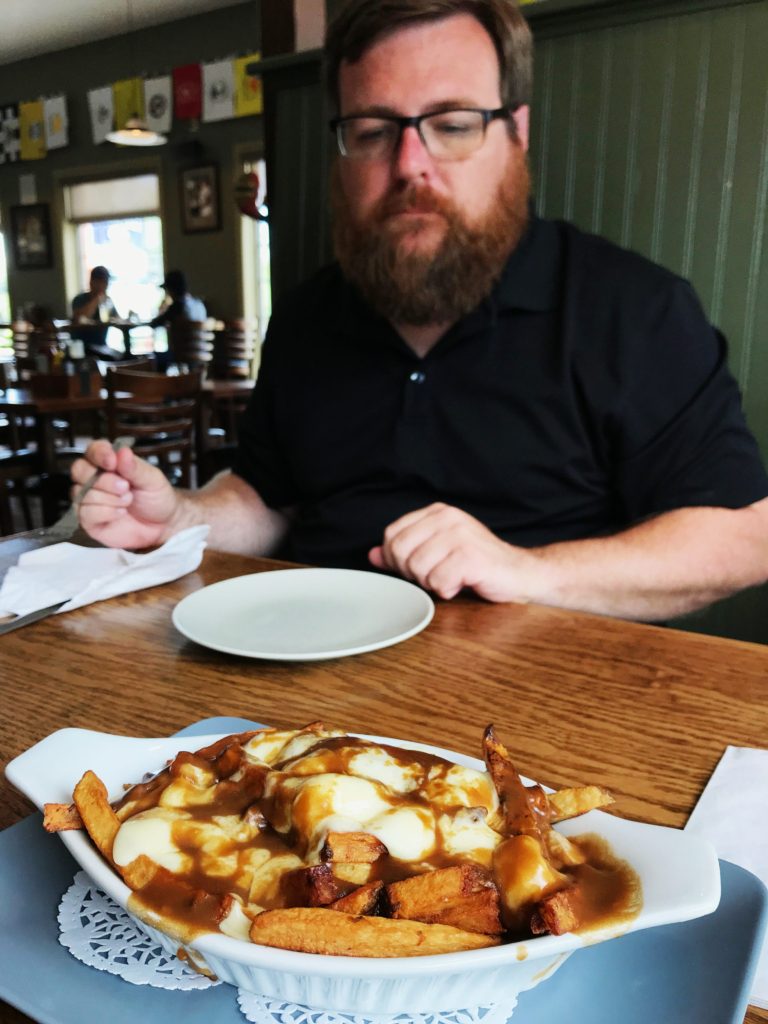 I have to say, it did not disappoint! The smooth gravy was a savory complement to the salty hand-cut fries, while the stringy cheese curds added another pop of flavor. I seriously don't understand why this isn't commonly found in Missouri.
With full bellies, we continued our journey past the gently rolling hills and vineyards of Niagara wine country. If wine is your thing, you'll find over 20 wineries to visit here. We enjoyed the scenery as we looked for differences between driving in Canada and driving in the USA.
Once we arrived in Niagara-on-the-Lake, we perused the shops, finding a good mixture of nifty items well beyond the typical souvenirs.
Everywhere we looked, we found colorful bursts of flowers, adding pops of color to the streetscapes. It was as charming as promised, reminding me a lot of the Main Street in Magic Kingdom.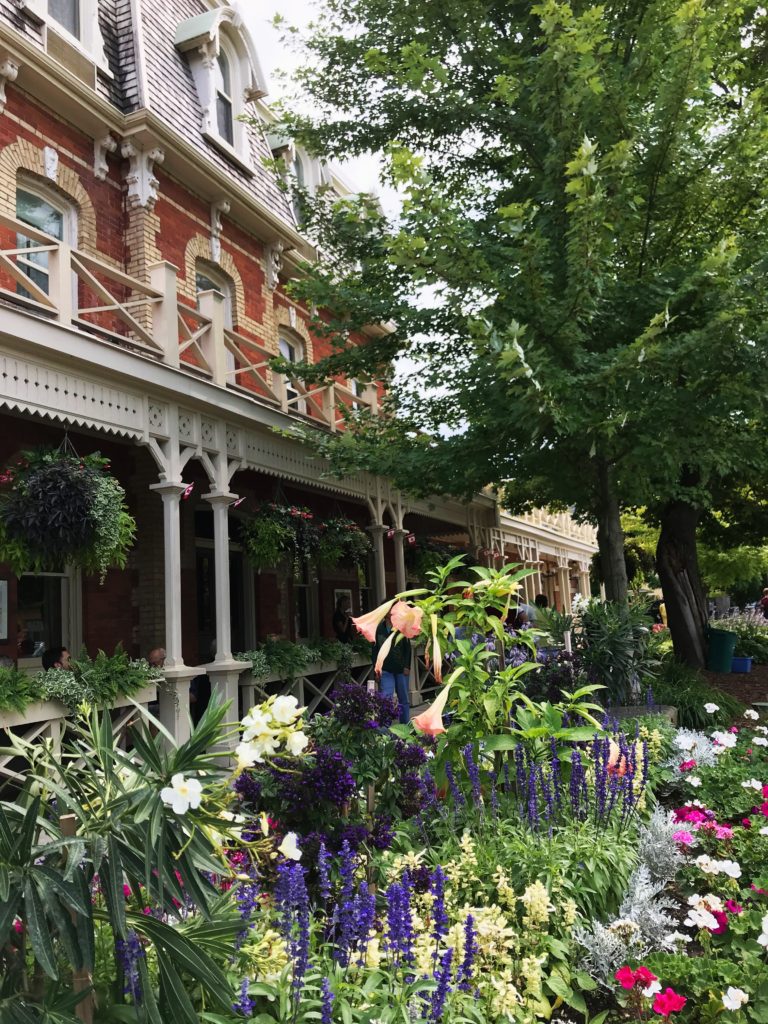 The melodic notes of jazz music emanating from a nearby park added to our experience. We had happened upon the TD Niagara Jazz Festival.
As we headed back to America, we kept trying to find a good spot with access to Lake Ontario. We could see the turquoise water extending to the horizon as we looked out our car window, but we could never find a place to park, alas.
Camping on the Canadian Side?
When we plotted out our trip to Niagara Falls, we debated whether to move our trailer or to just take a day trip to the Canadian side. Either is a great option.
Since we were staying at the fabulous Branches of Niagara Campground and Resort (find my review here), we decided we would rather make a day trip so we could continue to enjoy this amazing park. Plus, the drive from the campground to the Canadian side of the falls only takes around 30 minutes, including the stop at the border.
If you do decide to camp on the Canadian side, you'll find plenty of great options, including the Niagara Falls KOA Holiday, the Yogi Bear's Jellystone Park Camp Resort Niagara Falls, and Campark Resorts.
We also strongly considered camping close to Toronto and extending our journey by exploring the city, but we decided to just take it easy.
Should I Visit the Canadian Side of Niagara Falls?
The final verdict is YES, absolutely. If you have the time and have passports, the Canadian side is definitely worth a visit. You'll get an all-new perspective of Niagara Falls, you'll find more attractions to explore, and you can head deeper into Canada.
Our family was certainly glad we embraced the international experience offered at Niagara Falls.
If you'd like to hear more about our adventures at Niagara Falls, check out this episode of the RV Atlas podcast:
Find Travels with Birdy:
Share this post: