Campground Review: Branches of Niagara Campground & Resort
Niagara Falls is one of the most visited tourist attractions in America. Of course, you're almost guaranteed to have an epic experience at the falls…but can the same be said for a campground? Absolutely! That is, if you are staying at Branches of Niagara Campground & Resort.
Located fewer than 15 minutes from Niagara Falls, Branches of Niagara is the perfect basecamp for a visit to the region. Plus, it offers tons to do in the campground, ensuring that everyone, kids to grandparents, can enjoy their time. We happened to be traveling with my husband's parents and our teenage sons, and we all loved this park! (Read about our adventures at Niagara Falls here)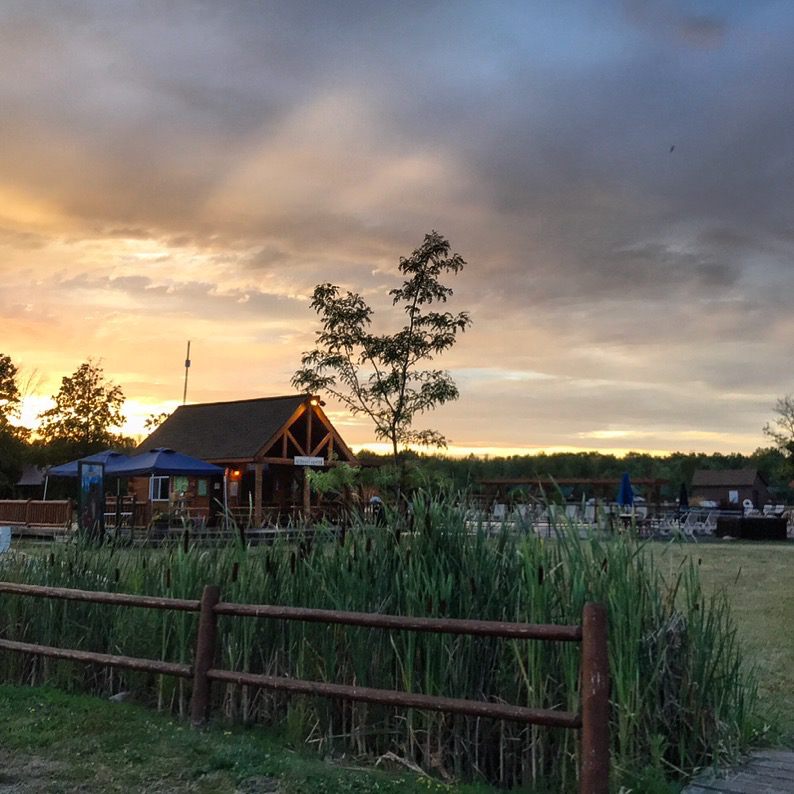 Branches of Niagara is located in the small town of Grand Island, which is a mere 8 miles southwest of Niagara Falls. Grand Island is actually a real island–the largest in the Niagara River. This area provides easy access to the falls, as well as restaurants and shopping. Plus, it is just 13 miles north of Buffalo, NY, if you're seeking some big city action.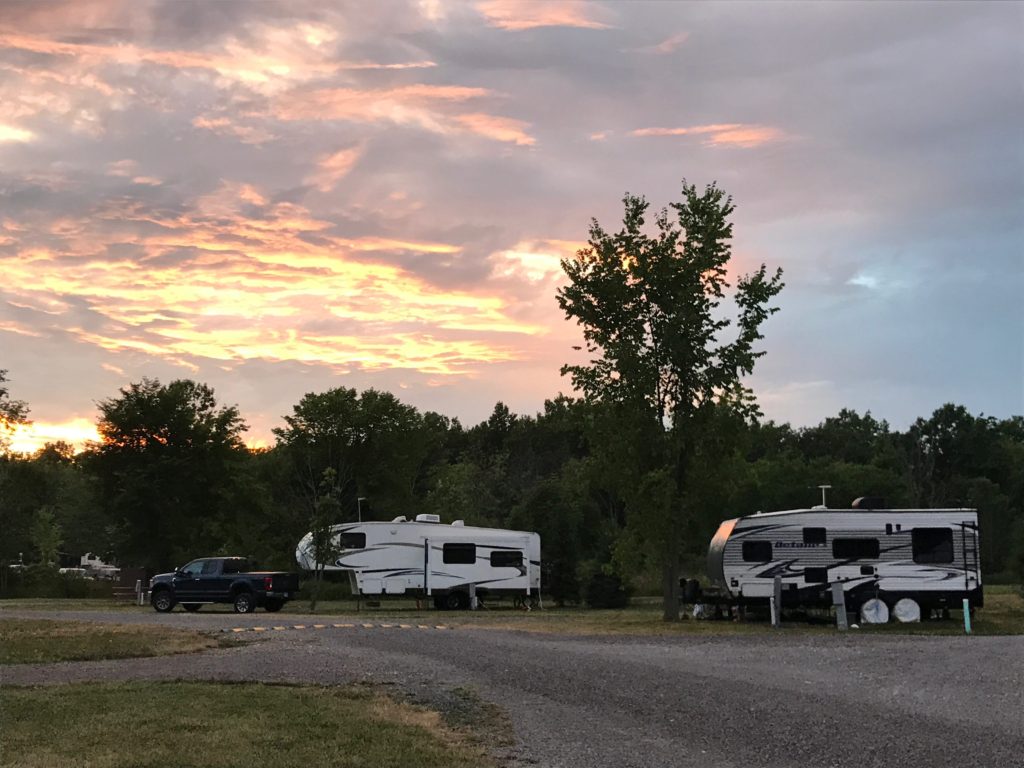 Appreciating the Ambiance
Branches of Niagara is easily one of the nicest RV parks we've visited. It bills itself as a resort campground, and it truly lives up to that distinction with the ambiance, attractions, and amenities.
At the heart of Branches of Niagara is a small lake, ringed by tidy cabins and campsites just beyond. While some campsites have water views from a distance, none are right on the water. The landscape is a mix of open fields and woodlands, providing a nice natural environment for relaxation. We truly enjoyed returning to this park after our busy days exploring the region.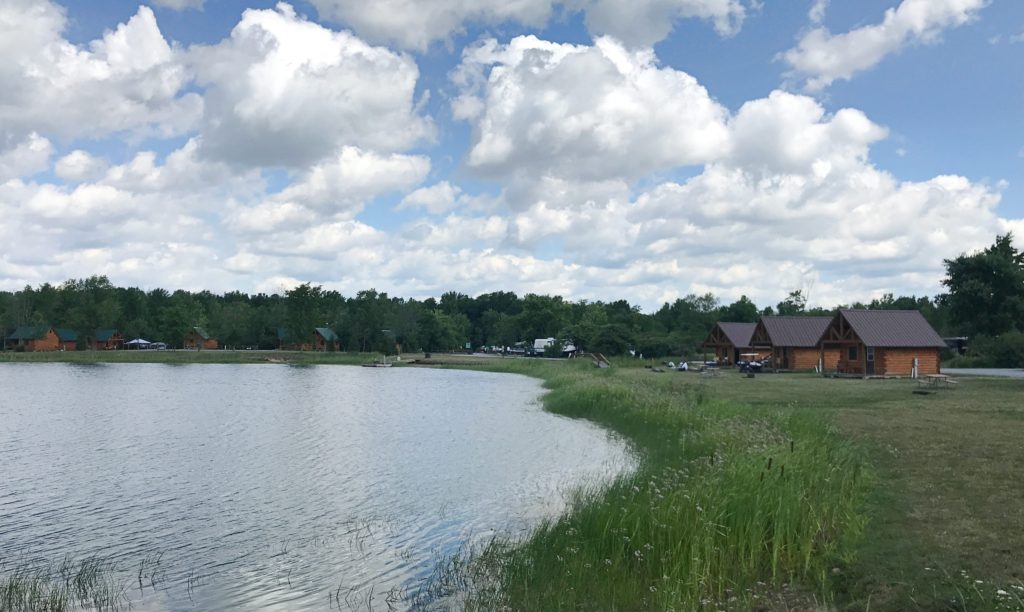 Campsites at Branches of Niagara
Branches of Niagara offers a variety of campsites. The majority have 30-amp electric with full hookups or water/electric only. A few 50-amp sites are available. Most sites are back ins; however, there are a number of pull thrus, primarily with 50-amp service.
Our campsite was in the #100 loop, and we really liked this area. There are plenty of shade trees, and there is a good amount of foliage between campsites, which gives you some separation from your neighbors. The #200 loop looked quite similar, and I might have liked it even a little better than ours.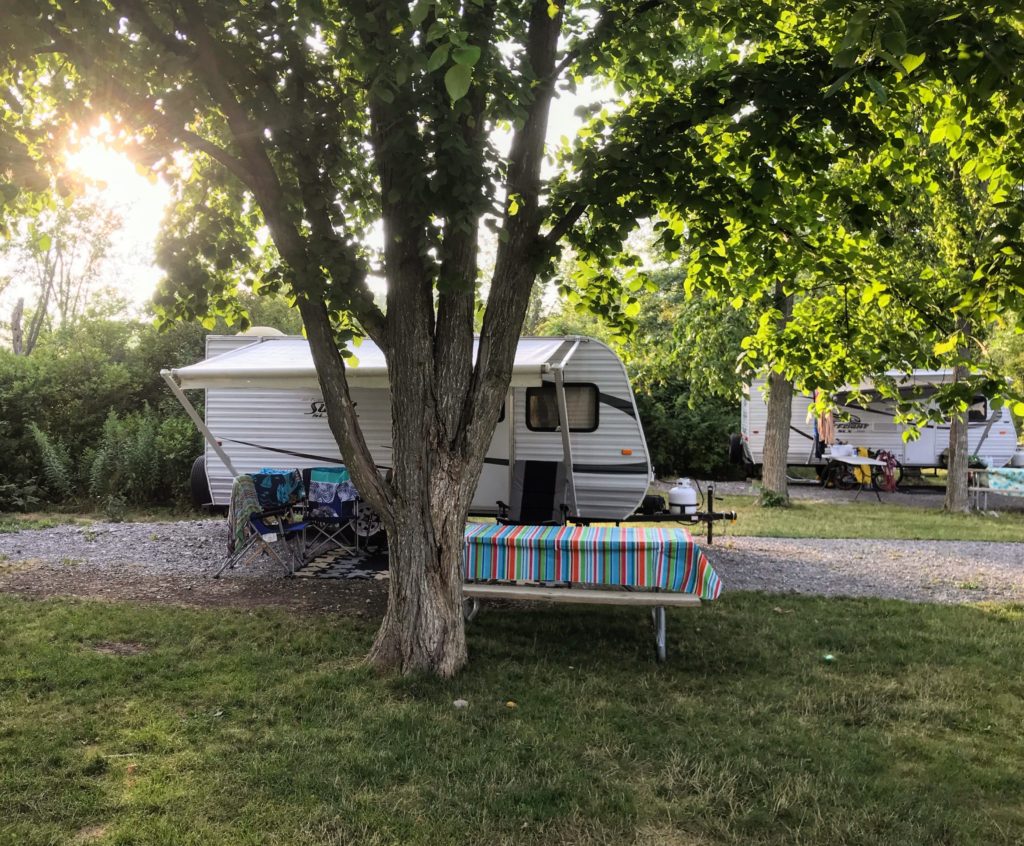 Our least favorite sites were the ones along the main road, as these saw the most traffic. The sites in the middle have the fewest trees and no foliage between neighbors; however, the sites are nice and wide and are a great choice for big rigs seeking easy navigation. My in-laws brought their motorhome and had a huge end site: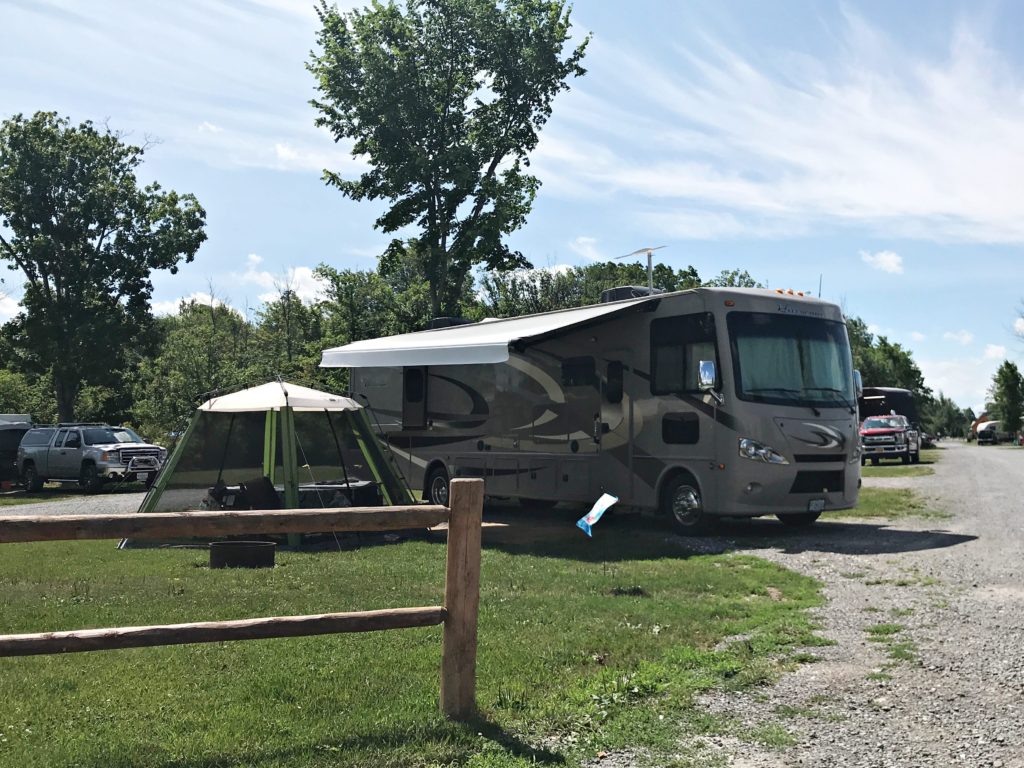 The back-in sites along the main road do have the advantage of having nice trees since they push back into the woods, but you'll have a ton of traffic going by. These sites are the closest to the recreational area, which can be a plus if your kids are old enough to explore independently.
Expect to pay $55-$93 during the off-season up to $85-123 during peak holidays. Check out the rates schedule here. This is a Good Sam park, but there's not a way to get the discount when reserving online, and I forgot to ask about it during our stay. That was my only complaint.
Branches of Niagara is definitely a pricy campground; however, it is totally worth it. First, the park is located in an expensive tourist area, which drives up costs. Second, it offers a ton of extra activities and amenities and most are included in your site fee.
Amenities at Branches of Niagara
The amenities at Branches of Niagara make it totally worth a stay, even if you aren't exploring Niagara Falls. Start with the pools. There are two of them. One is a traditional pool, the other is shaped like a lazy river. Both are well maintained, with plenty of seating areas along the decks.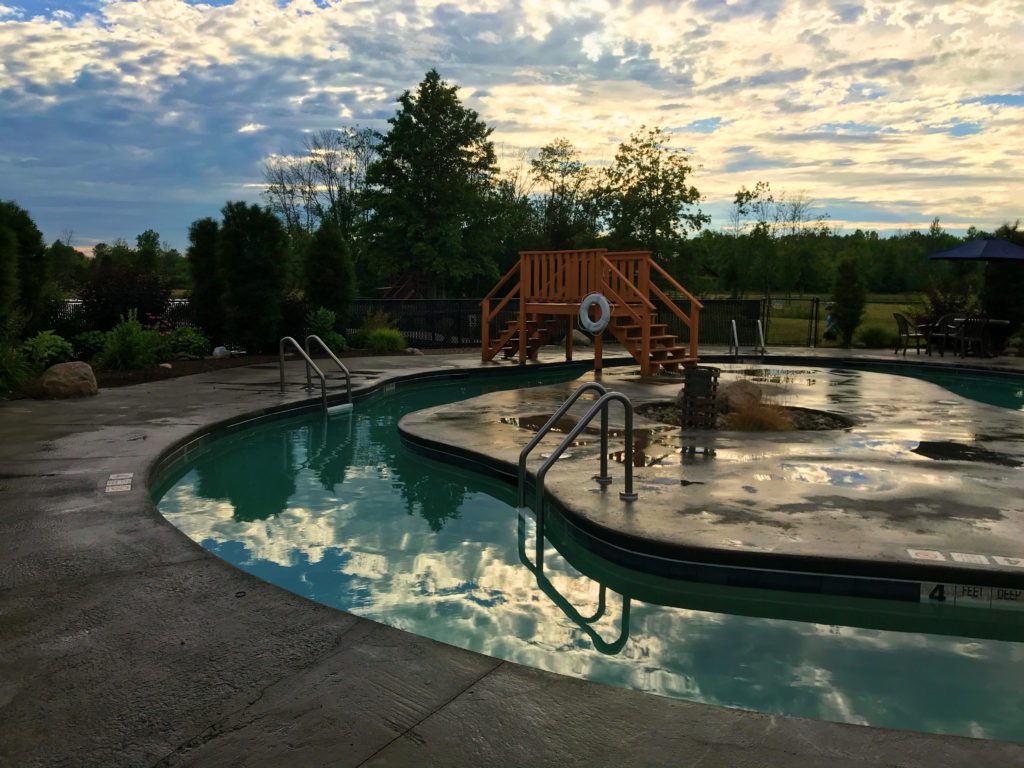 Next, there's the large pond that is the central focal point of the park. Aside from just being beautiful, this pond also provides recreation.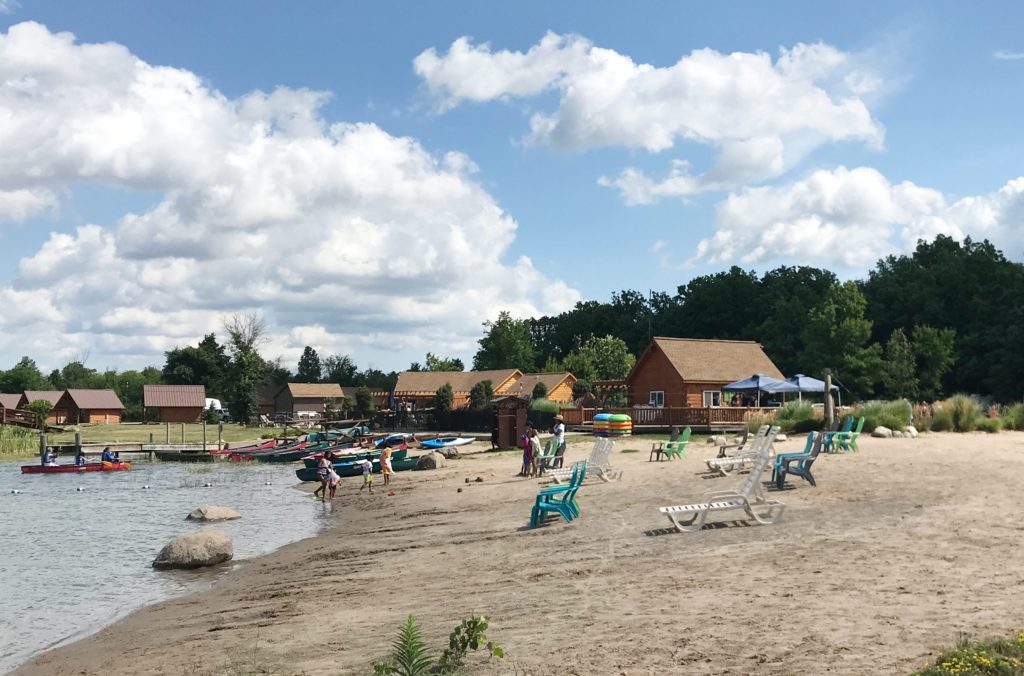 You can do some catch-and-release fishing, rent kayaks or canoes, or enjoy the sandy swim beach. Weirdly enough, the pond primarily exists because the campground owners sold clay from the land to fund their project.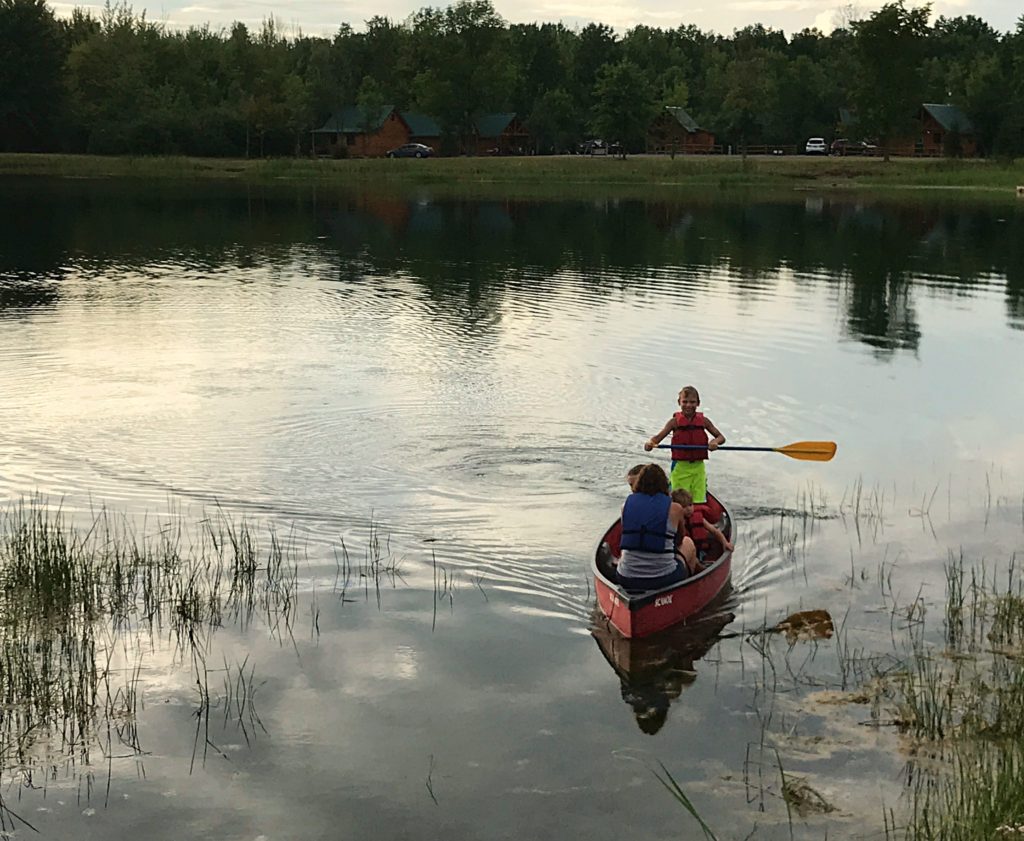 High over the lake, you'll notice two ziplines. One is appropriate for kids seeking more of a thrill, while the other is a little calmer. These do cost extra, but the prices seemed reasonable.
Since my teenage boys have outgrown playgrounds, they sometimes find campgrounds lacking in amenities they enjoy other than pools. This wasn't true for Branches of Niagara since it had tons of activities they could enjoy.
One of my favorites was the gaming area, with giant chess/checkers, ladder ball, and etc. The boys loved mocking my short arms during a rousing game of tetherball, and they got to see gaga ball in action for the first time.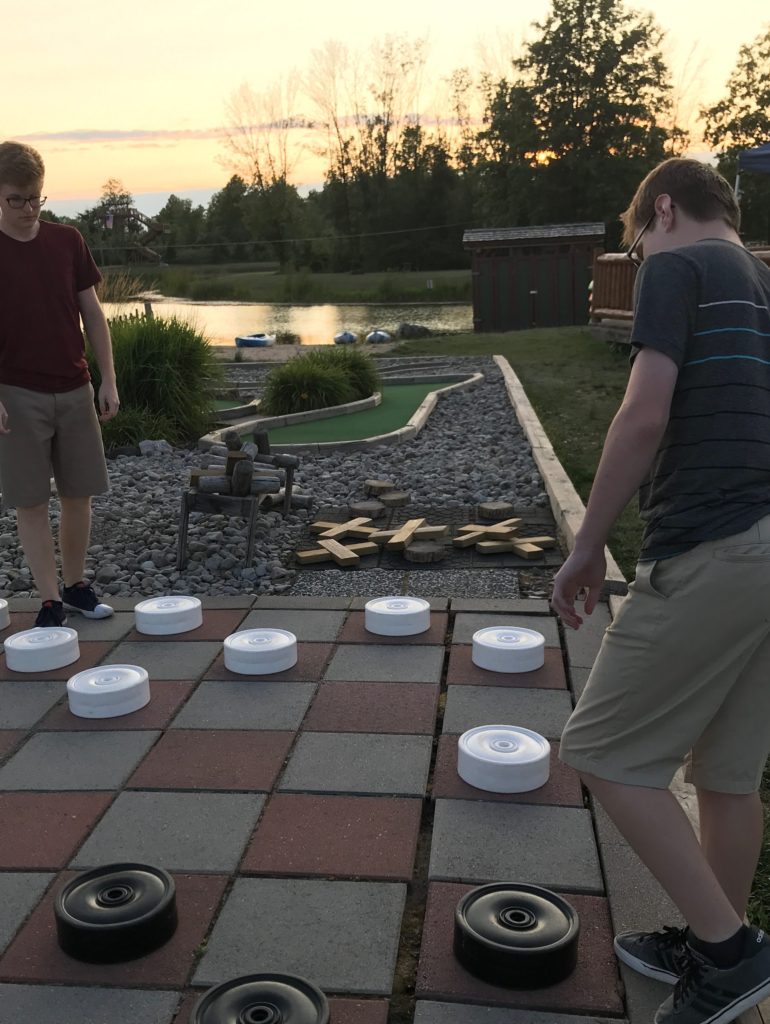 Bocce ball, tetherball, volleyball..if you can think of it, chances are, they offer it at Branches of Niagara. We were even compelled to rent a 5-seater peddle bike.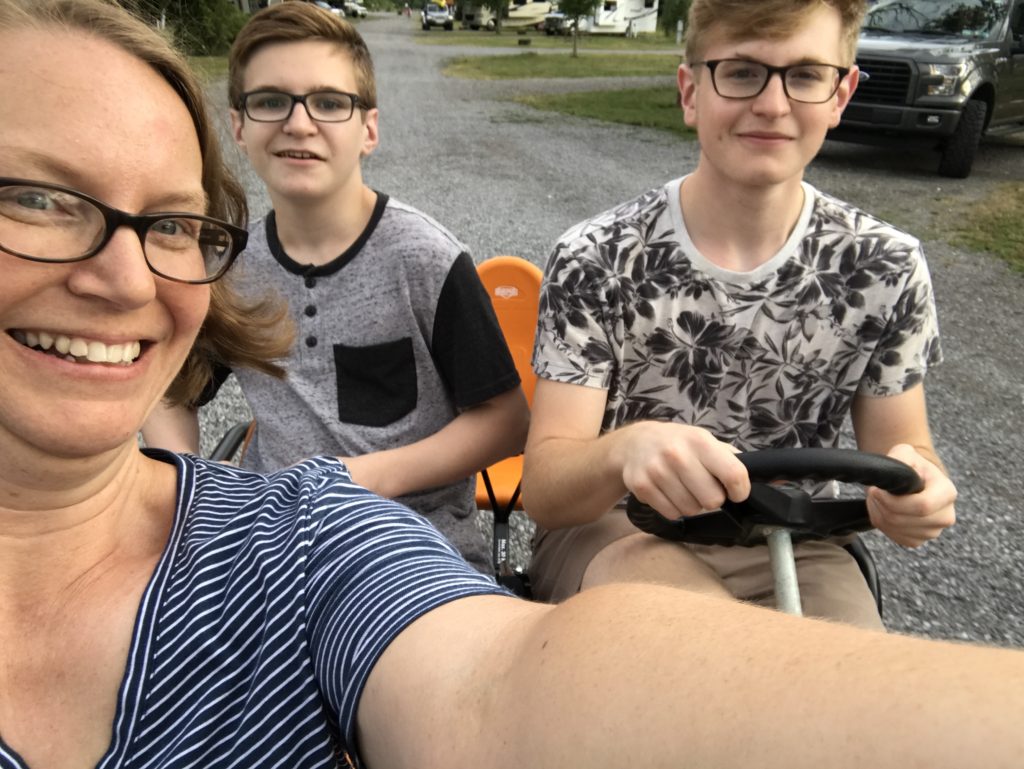 Families with little ones can enjoy the playground (which has recently been upgraded), the giant sandbox, the adorable playhouse, and more. There is also a full activities schedule. We noticed the park was hosting movie night and several crafts during our visit. There's so much to do in the park, you really want to plan your schedule to allow time for you to enjoy the amenities, instead of spending all of your time at Niagara Fall.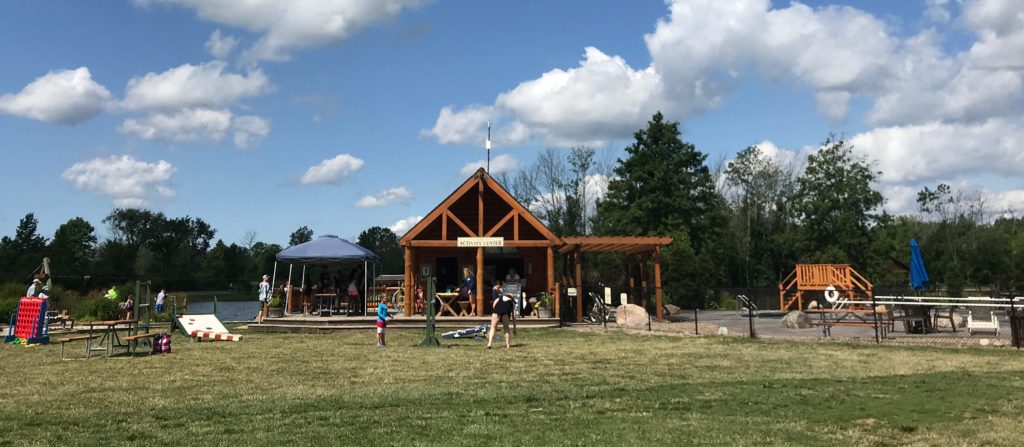 Local Area near Branches of Niagara
We appreciated that Grand Island had everything we needed. We could easily find groceries and local restaurants. We even took a drive over to Wegmans grocery store since we heard it was worth it (and it was!).
There are very few restaurants that earn a repeat visit from us during a trip since we like to explore all of the options, but Adrian's Custard and Beef was so cool that we visited several times. Located right in Grand Island, Adrian's is super accessible to the campground. The highlight for us was the rotating list of 20+ ice cream flavors, with names like Panda Paws, Kahlua Almond Amaretto, and Study Break.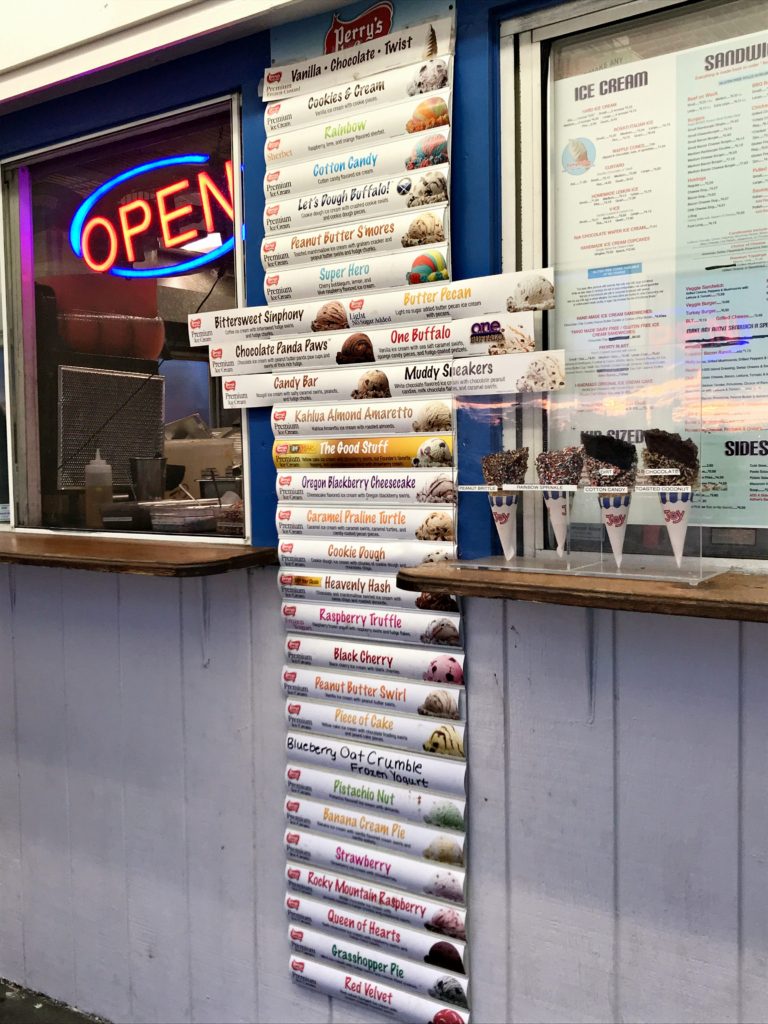 We were so intrigued that we kept going back for more. Adrian's features Perry's Premium Ice Cream from a company based in NY. Aside from its ice cream, Adrian's is known for its beef, primarily beef on weck, a regional favorite. This truly felt like a small-town joint that the locals just love. Visitors like us loved it, too!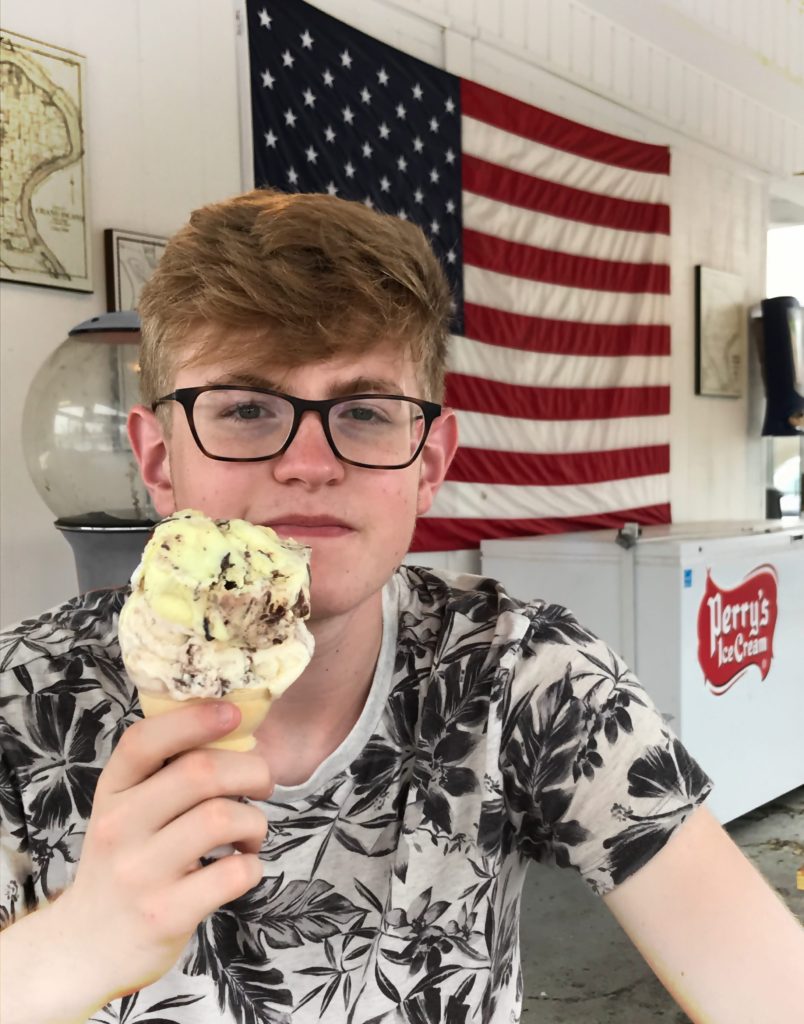 Final Thoughts
You really can't ask for a more well-planned campground than this! Attention was clearly paid to providing attractive, good-sized campsites (sometimes rare in a private park). Plus, the surrounding offer a lot of natural beauty.
And, then there's the activities and amenities. While Branches of Niagara clearly caters to families, even those traveling without kids will find something to do in this campground. This is truly the model for a perfect campground. We wish we could find more like it across the country!
Just the Facts
Name & Website: Branches of Niagara Campground & Resort.
Location: Grand Island, NY–less than 15 minutes from Niagara Falls
Description: Resort-style, private campground
Rates: $55-100+ for campsites, depending on hookups and season
Utilities: water/electric and full hookup sites
Bathhouse: Super clean shower houses and restrooms are located in each area.
Amenities/Activities: Pools, games, zipline, fishing pond, bike rentals, kayak rentals, and more! Plus a full slate of activities
Bottom line: Branches of Niagara is one of America's best campgrounds!
The RV Atlas Podcast
I shared our adventures at Niagara Falls on the RV Atlas podcast. Find that episode here:
Find Travels with Birdy:
Share this post: