Missouri's Roaring River State Park
On last week's Campground of the Week podcast, I told listeners about Bennett Spring State Park and described how it is a place to go for the "classic campground experience," which brought to mind another of my favorite local parks: Roaring River State Park.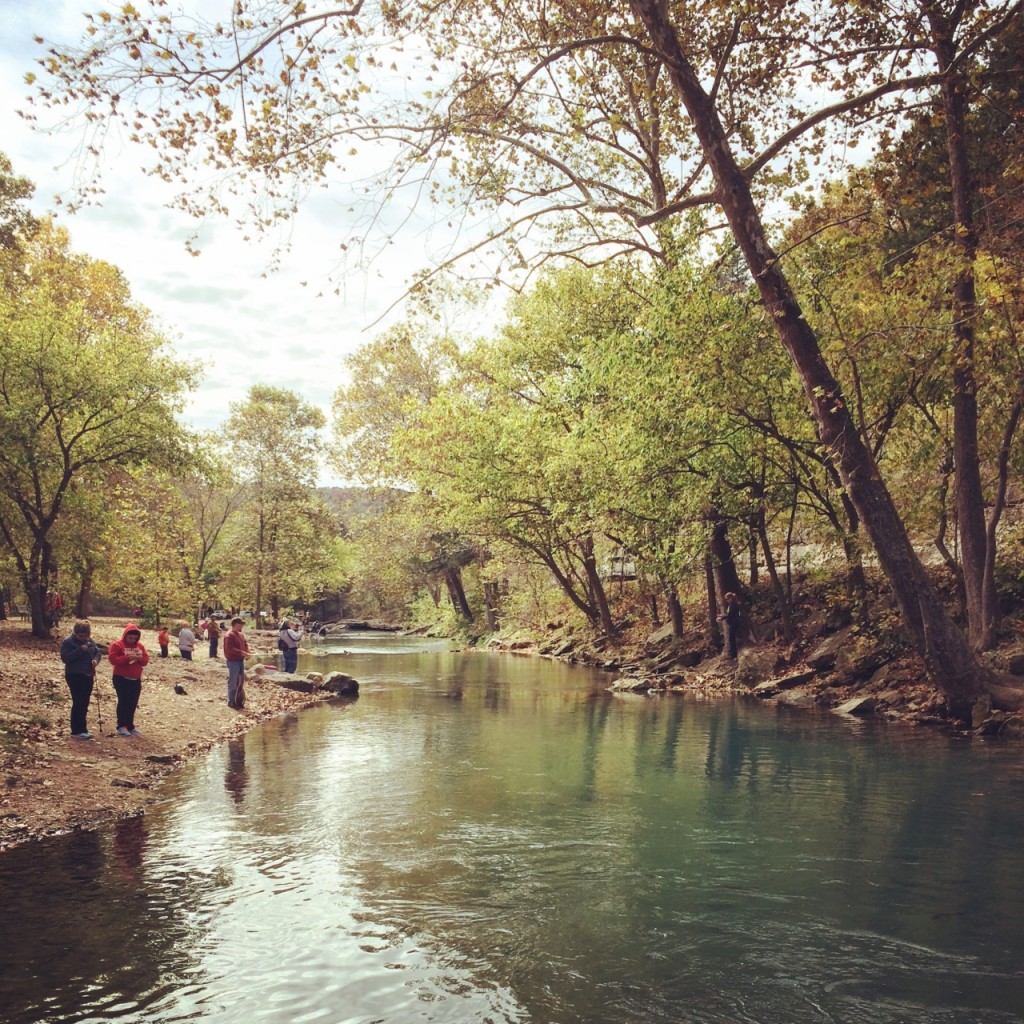 Roaring River is located in the southwest corner of the state. It takes about an hour and a half to get there from Springfield and is near the small town of Cassville. Much like Bennett Spring, this special spot drew visitors to it long before it became a state park.
The brilliant blue spring that emerges from a cave was one of the features that attracted the earliest visitors to Roaring River. This is one of those spots that just seems ancient. As you walk back toward it, you'll feel the coolness of the spring as it chills the air around it.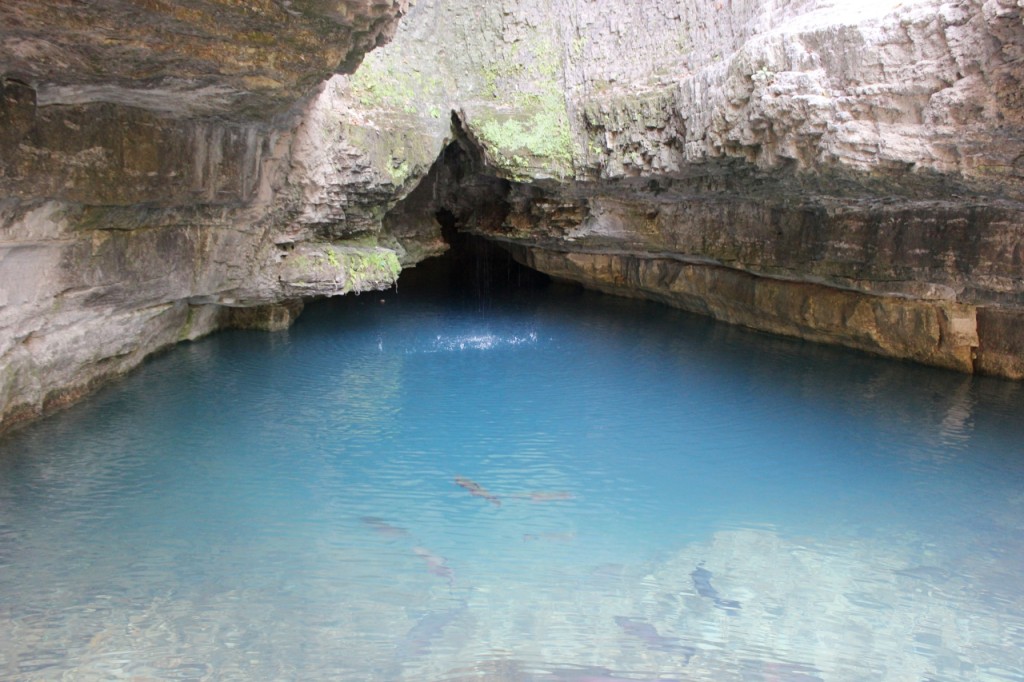 Much like Bennett Spring, Roaring River was set aside as a park in the 1920s and developed by the CCC in the 1930s. I truly think the CCC is one of the best decisions that America made. Many of the parks we frequent have facilities that were built by the hardworking young men of the CCC. From park to park, we often recognize their work from the woodcrafting and the use of local stones. These structures give a sense of history to our parks.
With all that cold water flowing through the park, Roaring River was eventually developed into a trout park with a hatchery to breed and grow the trout that would stock the waters in the park. Today, fishing is one of the main things that attracts people to Roaring River.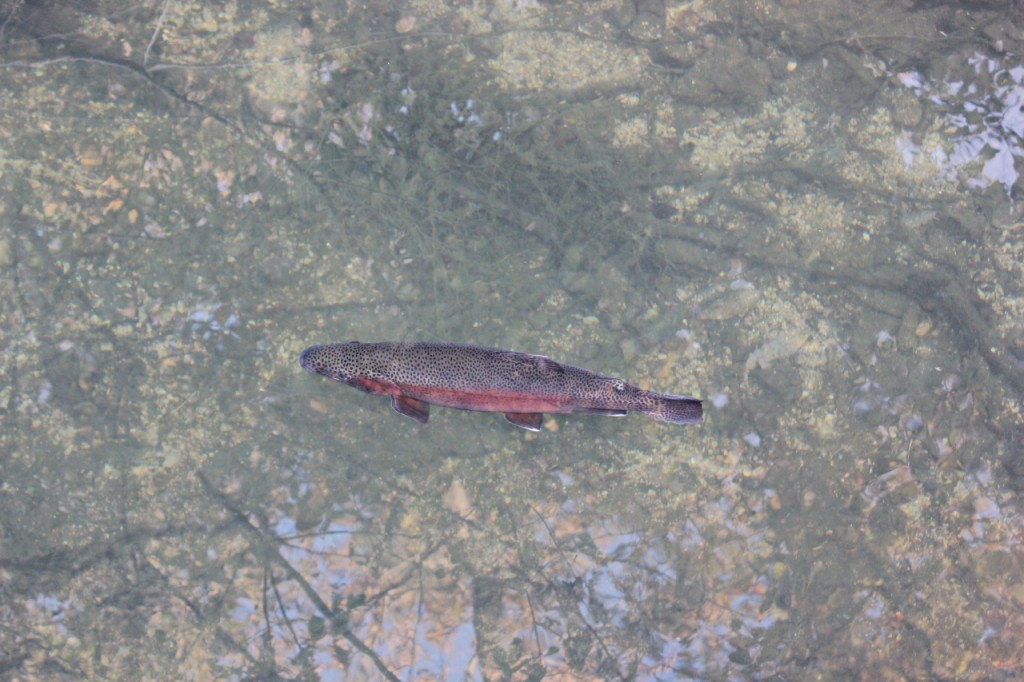 Fishing at Roaring River State Park
On our trip last fall, I decided to let my husband finally teach me how to fly fish. I had accompanied him on several fishing outings during our marriage but never wanted to participate. I don't know how to tie the lures, and I definitely wanted no part in touching any fish I caught that would have to be removed from the hook. Therefore, I often chose to sit on the banks reading a book.
However, with another trip out West on our docket, I decided I would like to be able to join my husband on the banks of a river for some epic fishing in Wyoming, so I had better learn a little about the sport. On one of my early casts, I managed to catch a beautiful leaf: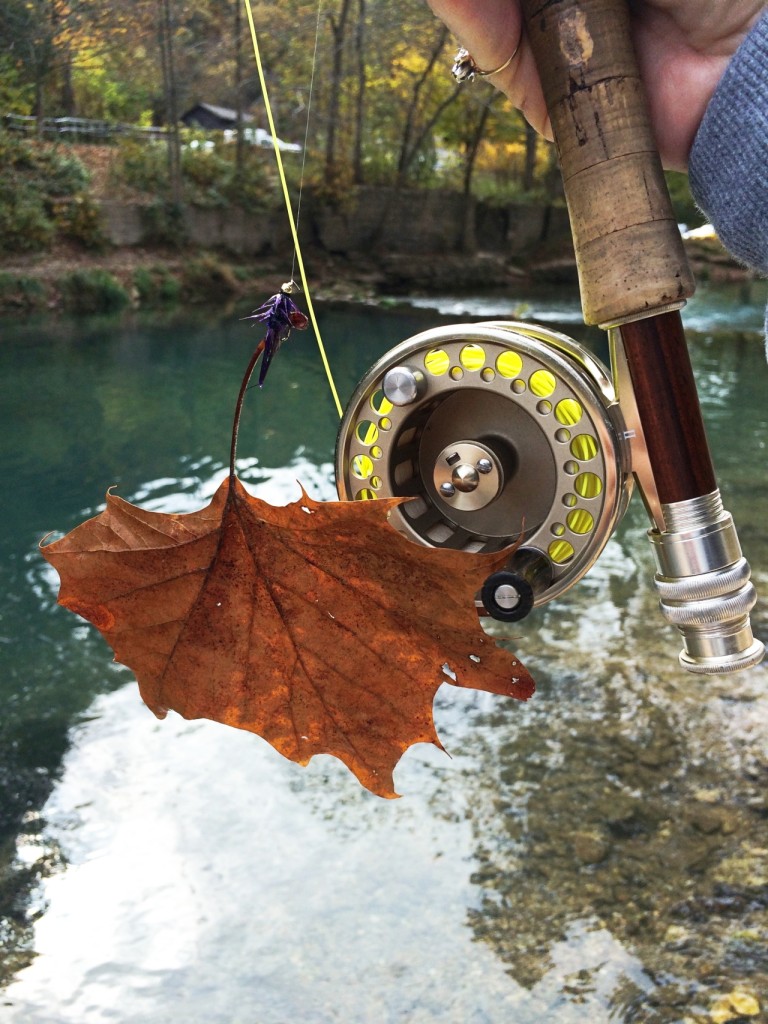 I did eventually catch a lovely fish, and I discovered that fishing at a park like this is less about the catching and more about standing on the banks of a beautiful spring. I enjoyed watching the families come and go. I enjoyed watching the wind rustle the fall leaves in the trees above. I enjoyed watching my sons casting a line. There are definitely worse ways to spend a few hours.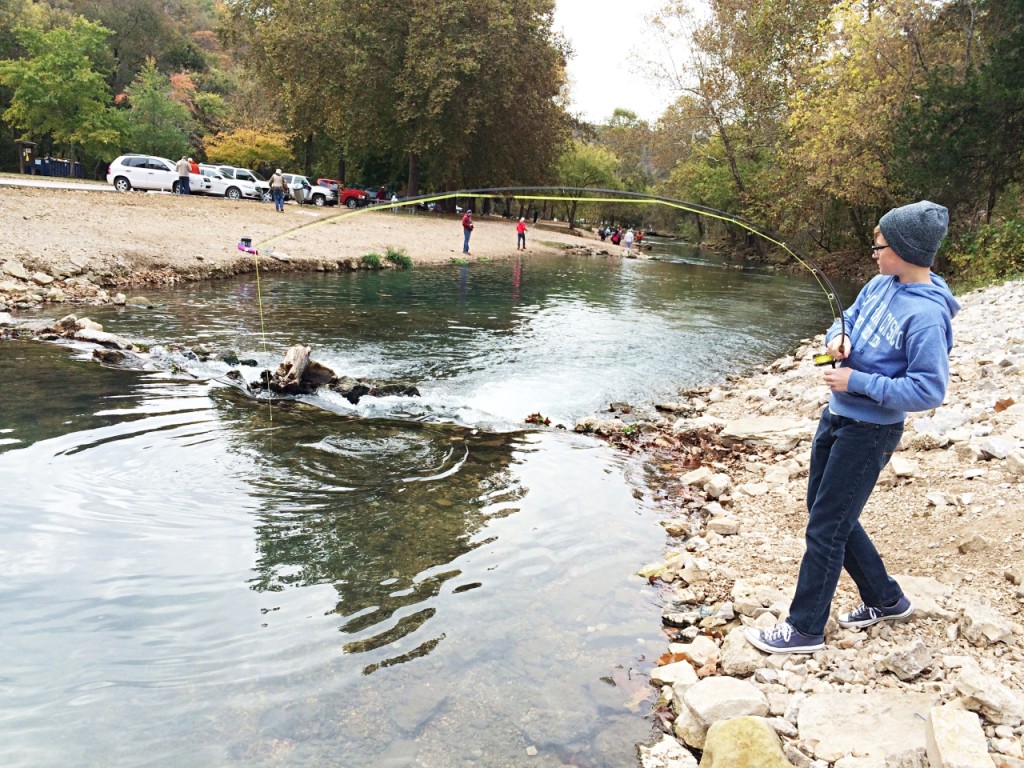 Here's the fish I caught. Notice who is holding it. I vow to work on becoming less squeamish.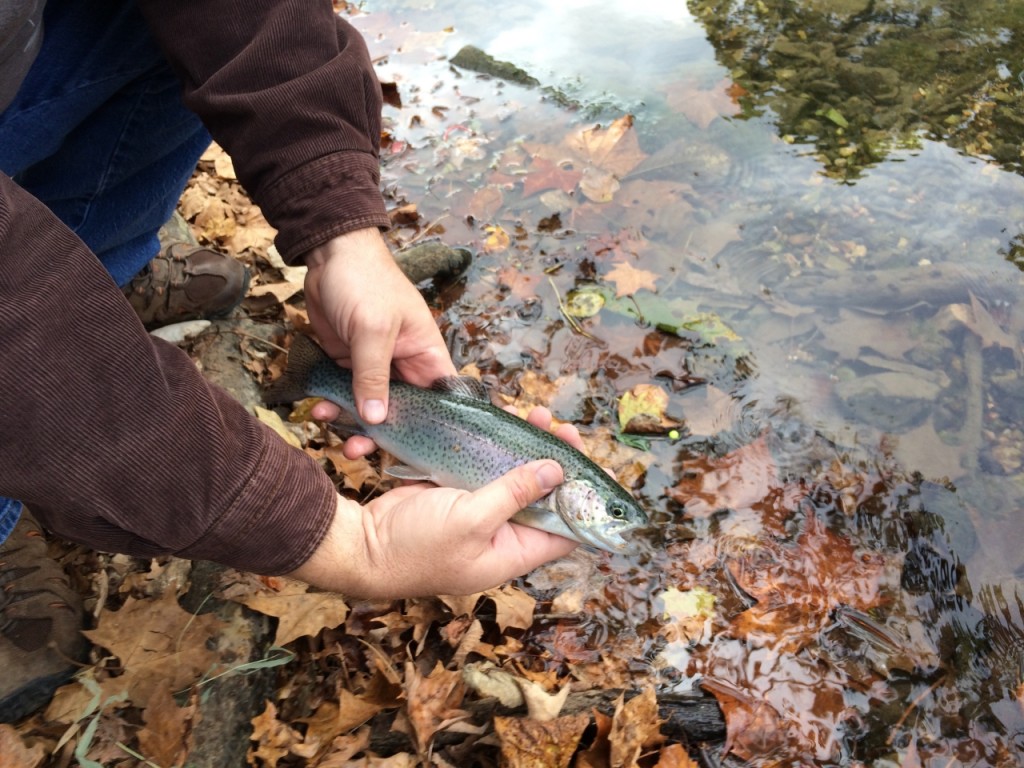 True fishermen (and women) enjoy fishing at Roaring River because they can cast their lines across the creek without the need for waders (at Bennett Spring State Park, many people don waders and walk out into the water to get their lines to the spots where the fish are hiding out). Also, people who keep their fish to eat like that Roaring River has cleaning stations visitors can use to filet the fish.
Hiking at Roaring River State Park
Though I enjoyed fishing for a bit, it certainly wouldn't hold my attention for a whole day. Luckily, Roaring River offers other activities. We decided to hike the 1.5 mile Devil's Kitchen Trail. On this fall weekend, the trees were popping like fireworks.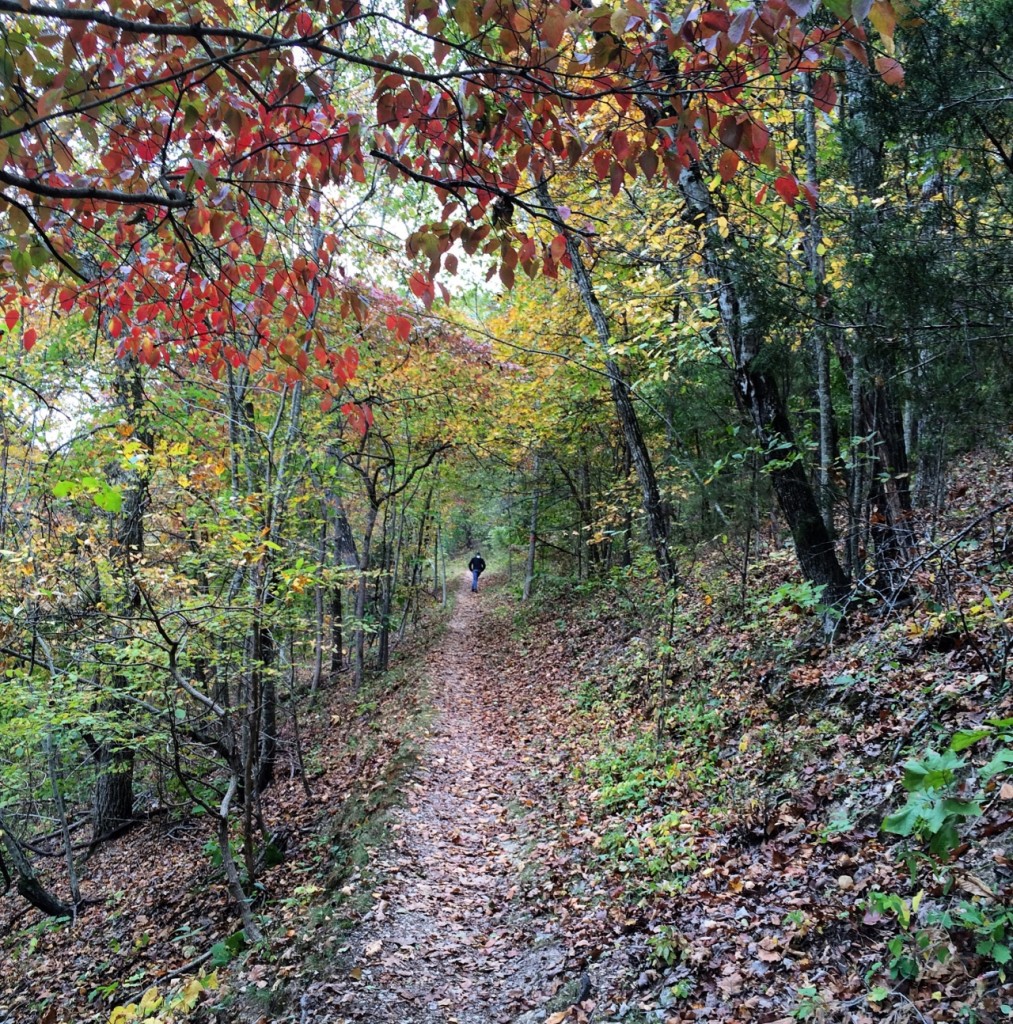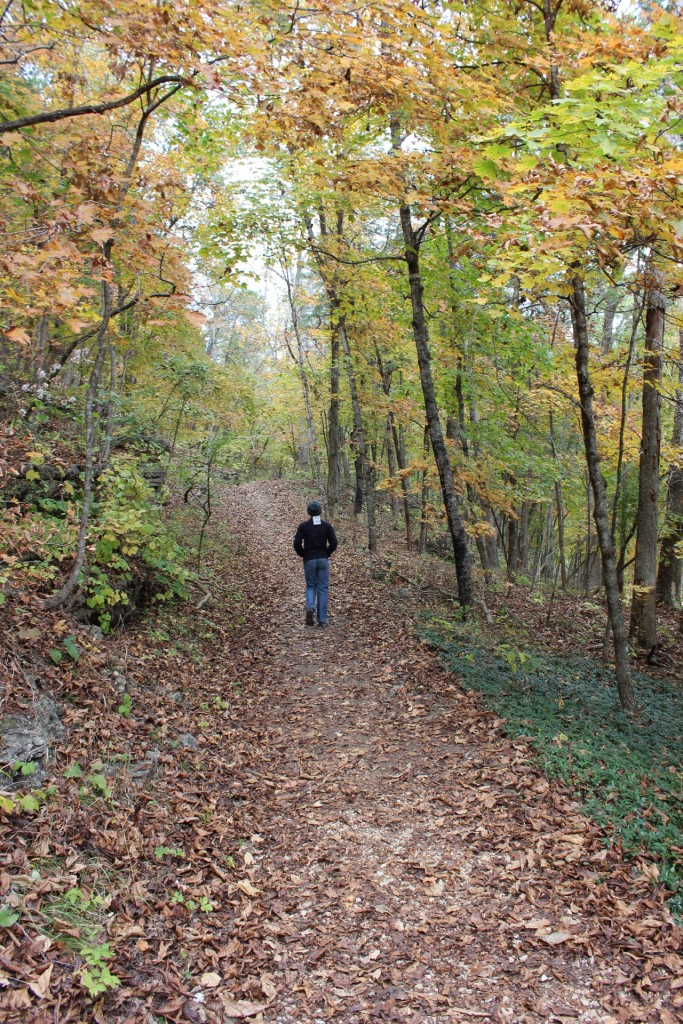 This trail takes visitors to a rock formation that used to look like a room, a room where the devil prepared his meals, apparently. Rumor has it that it was used as a hideout during the Civil War. As we walked along the trail, we wondered when we would find the Devil's Kitchen and wished we had stopped by the visitor's center to get the interpretive map. Eventually, we found it. From one side, it just looks like a jumble of rocks, almost like LEGOs that were used to build a house and then knocked down.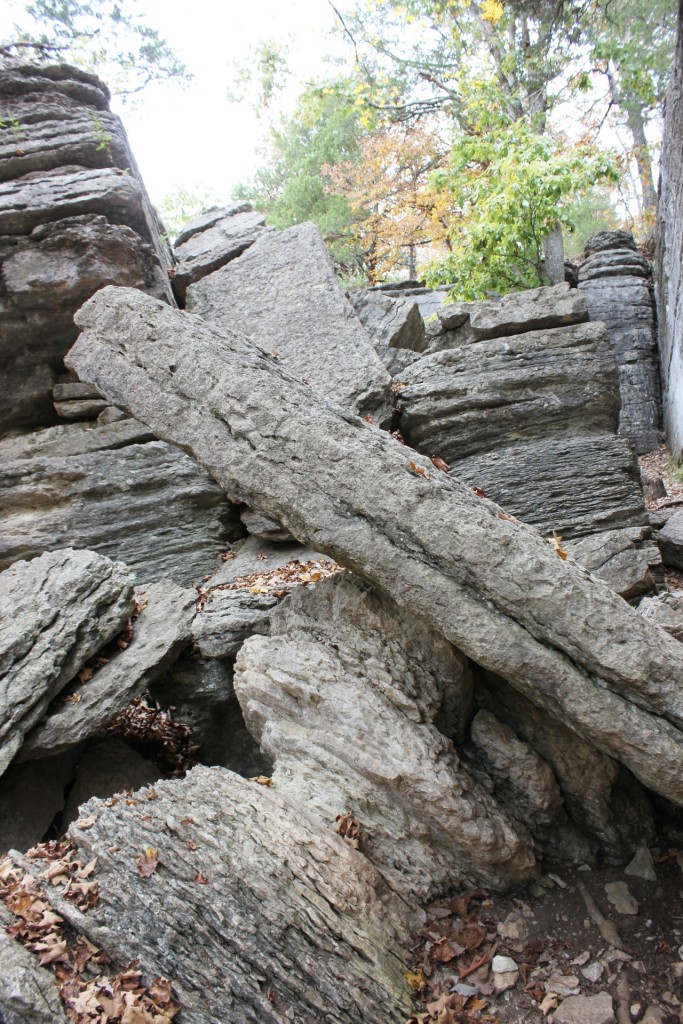 As we hiked around, the boys climbed on the rocks, and I snapped lots of pictures. We speculated about where the walls of the room stood.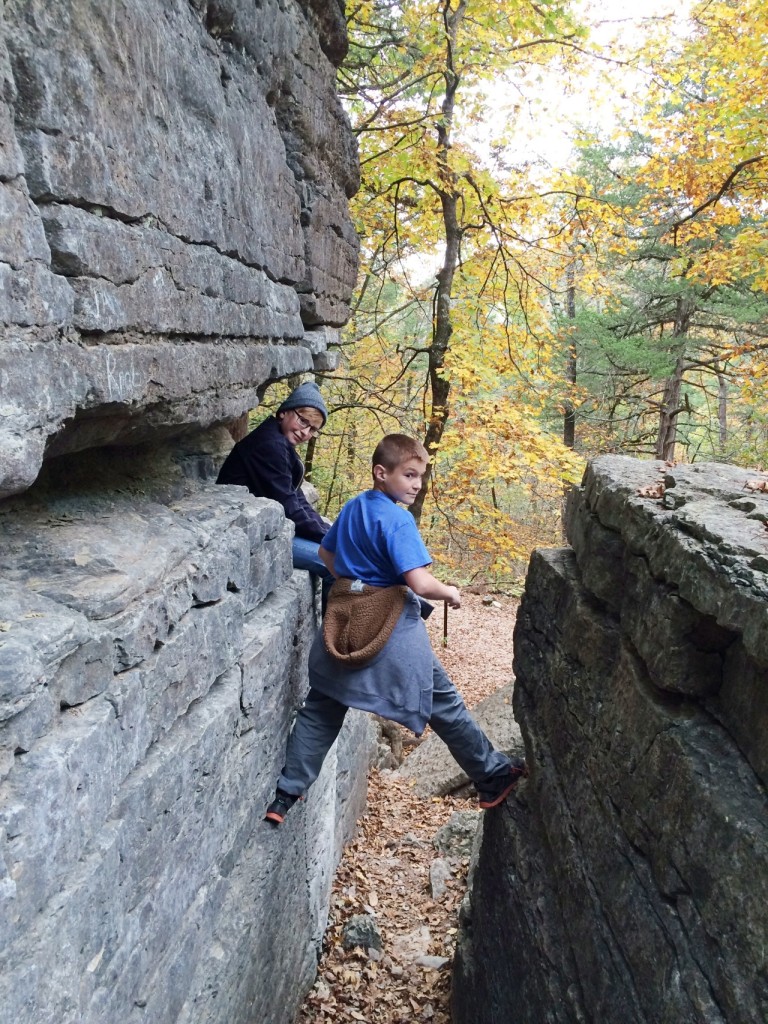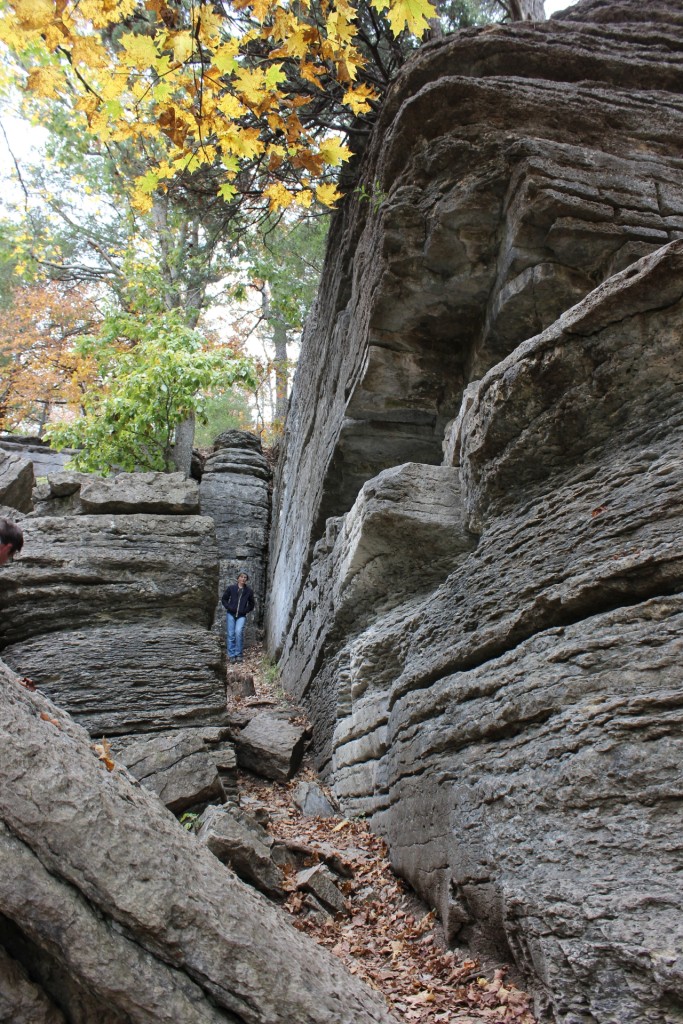 Though I'm sure the park is beautiful in any season, I have to tell you that fall is probably the best time to go. (Which makes me wish I had written this post during the fall, but somehow, it got away from me, and I couldn't find the words I wanted to say. Now, it's almost spring, which would surely be a lovely time to visit, as the wildflowers begin peeping out.)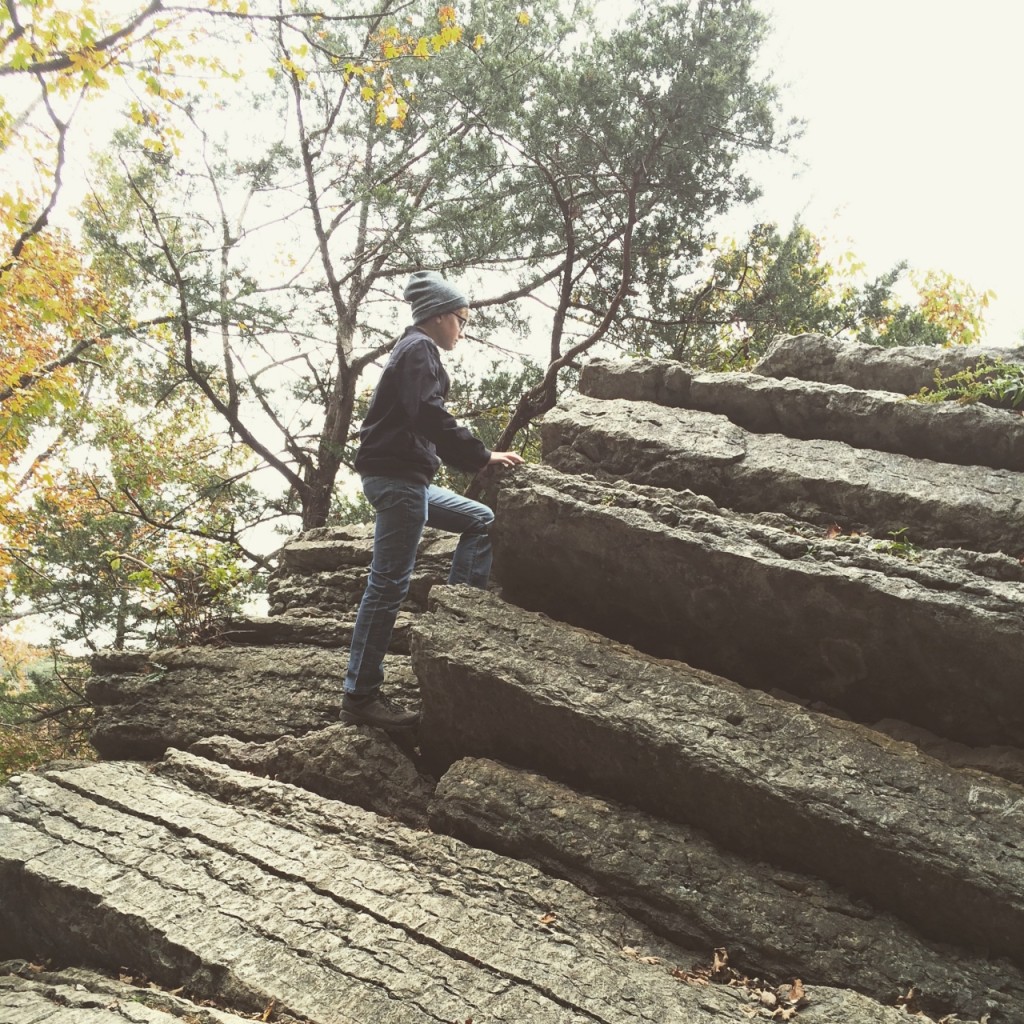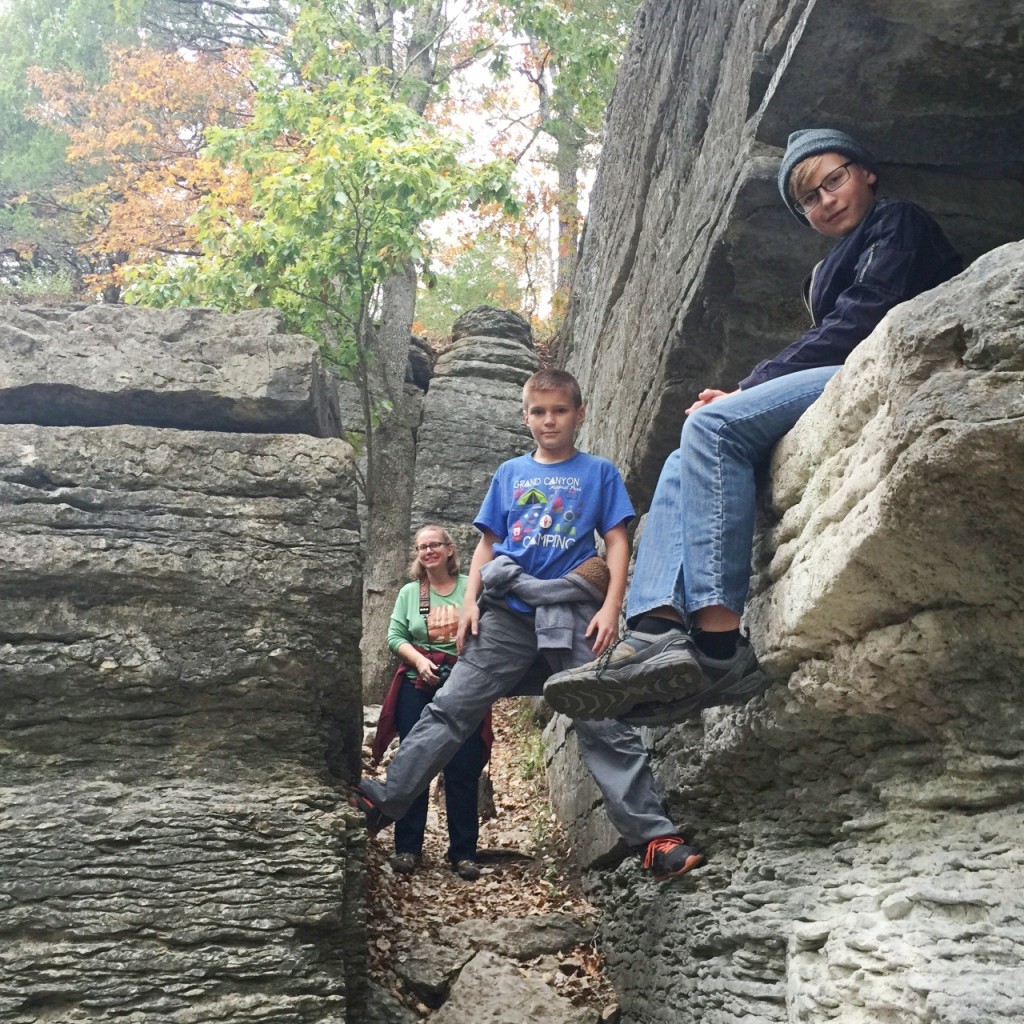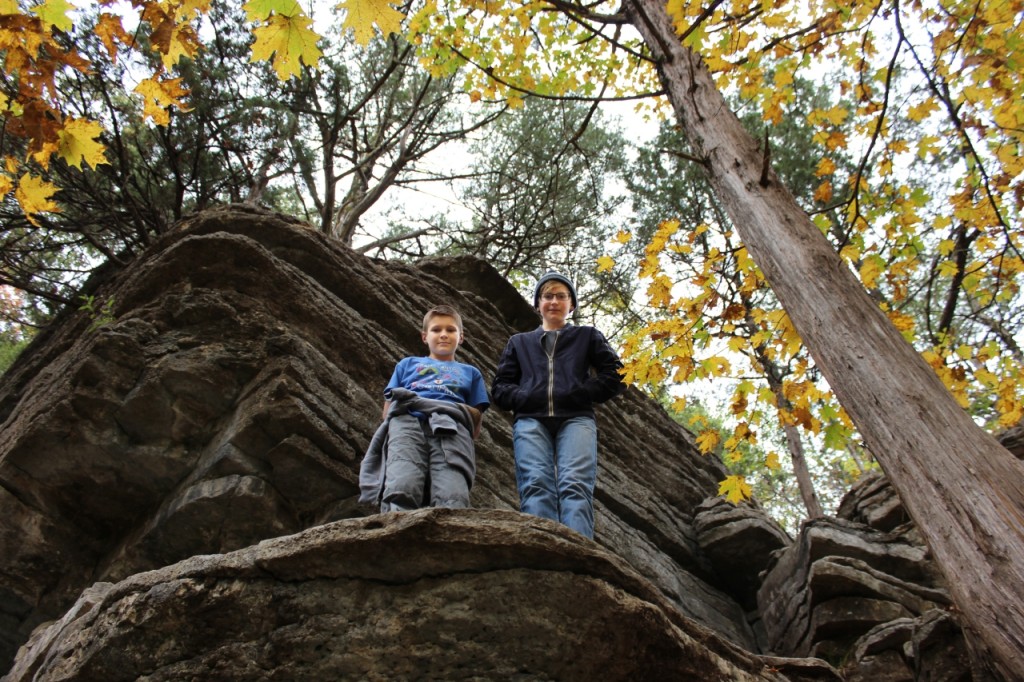 Taking these shot of my son made me think about senior portraits. He's only 14 now, but I feel like I'll blink and we'll be sending him off to college. That's why I feel compelled to travel now. These are the days…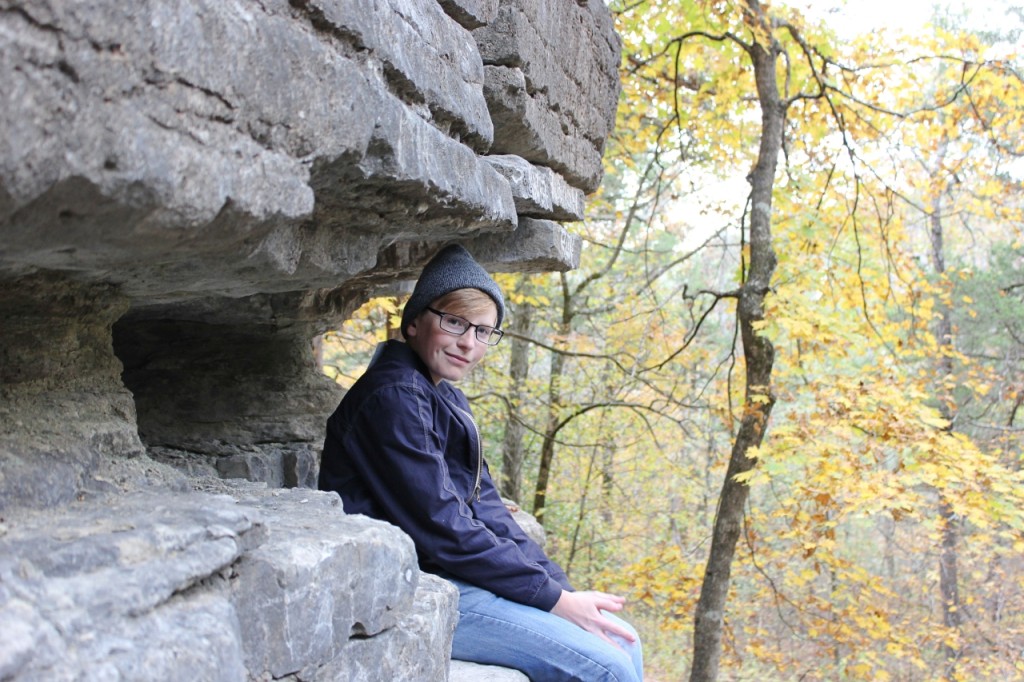 We finished this hike and headed back to the main part of the park to do the Deer Leap Trail, which is only .2 miles long and takes visitors high above the park for a birds-eye view of the hatchery. You go up, up, up for a while: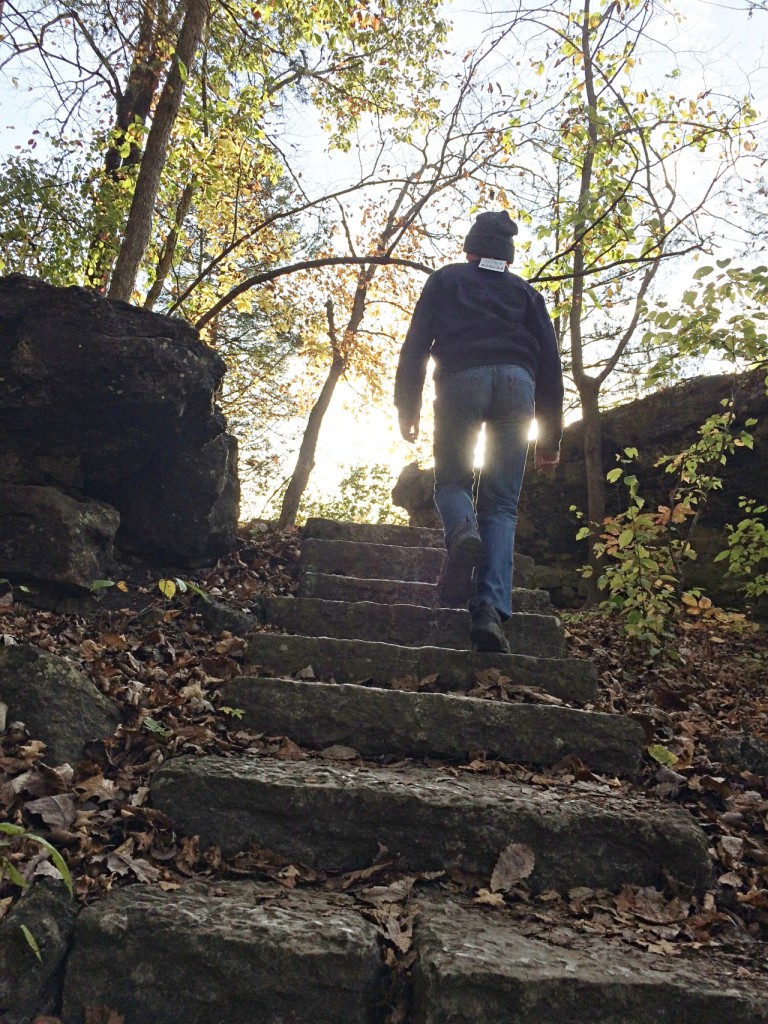 Then, you can stand on an overlook to check out the hatchery. The rectangular pools contain trout of various sizes. Visitors can walk along and feed the fish here.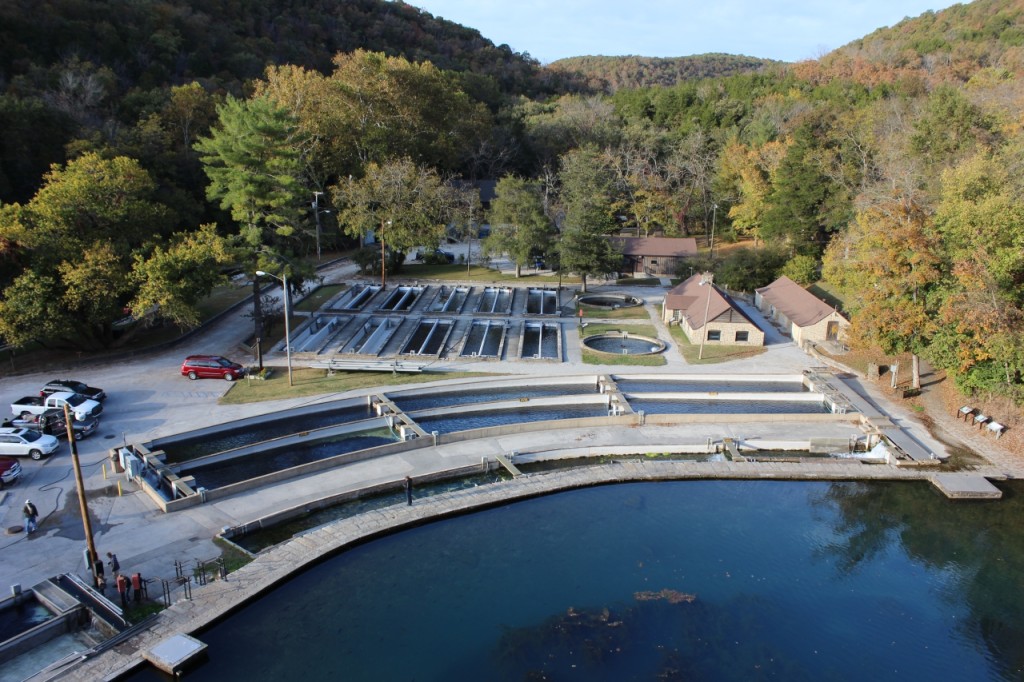 Though the Deer Leap Trail is short, it's a nice hike through the woods.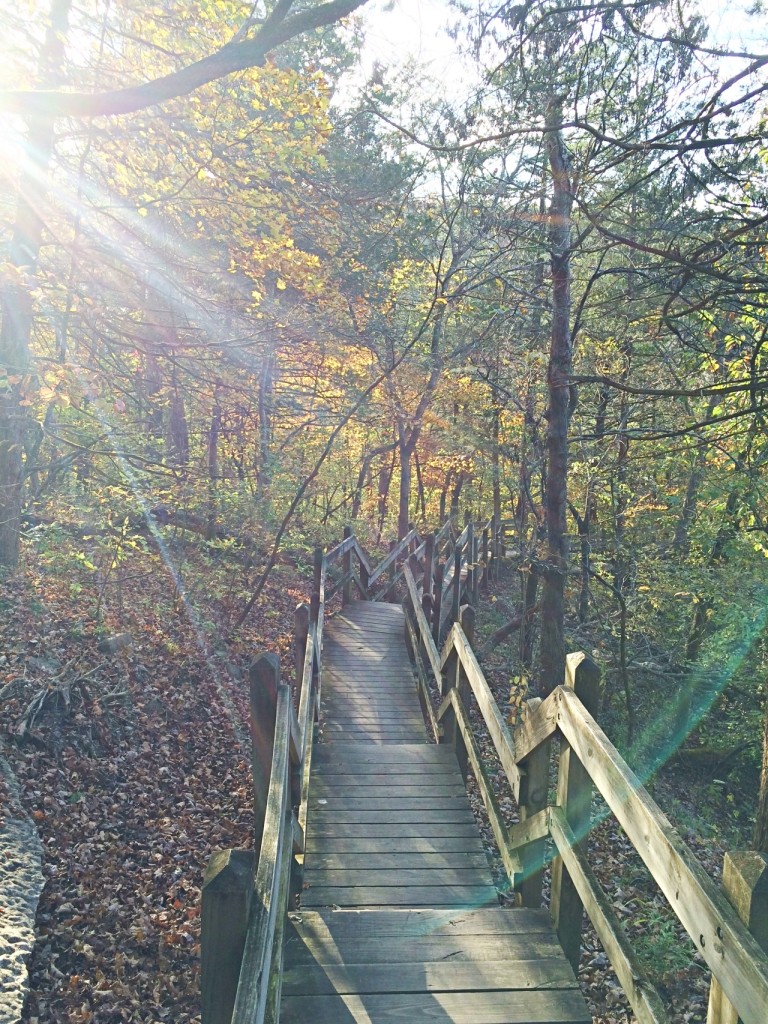 There are several other trails of varying lengths and levels of difficulty that we haven't explored yet. Since Roaring River is a place we'll return to in the years ahead, it's always good to leave something more to explore another day.
The Tree at Roaring River
Sitting on the banks of the creek while your husband fishes gives you lots of time to think, ponder, and play. The boys found this amazing tree with long, gnarled branches that sweep the ground. It is the perfect place to sit a spell.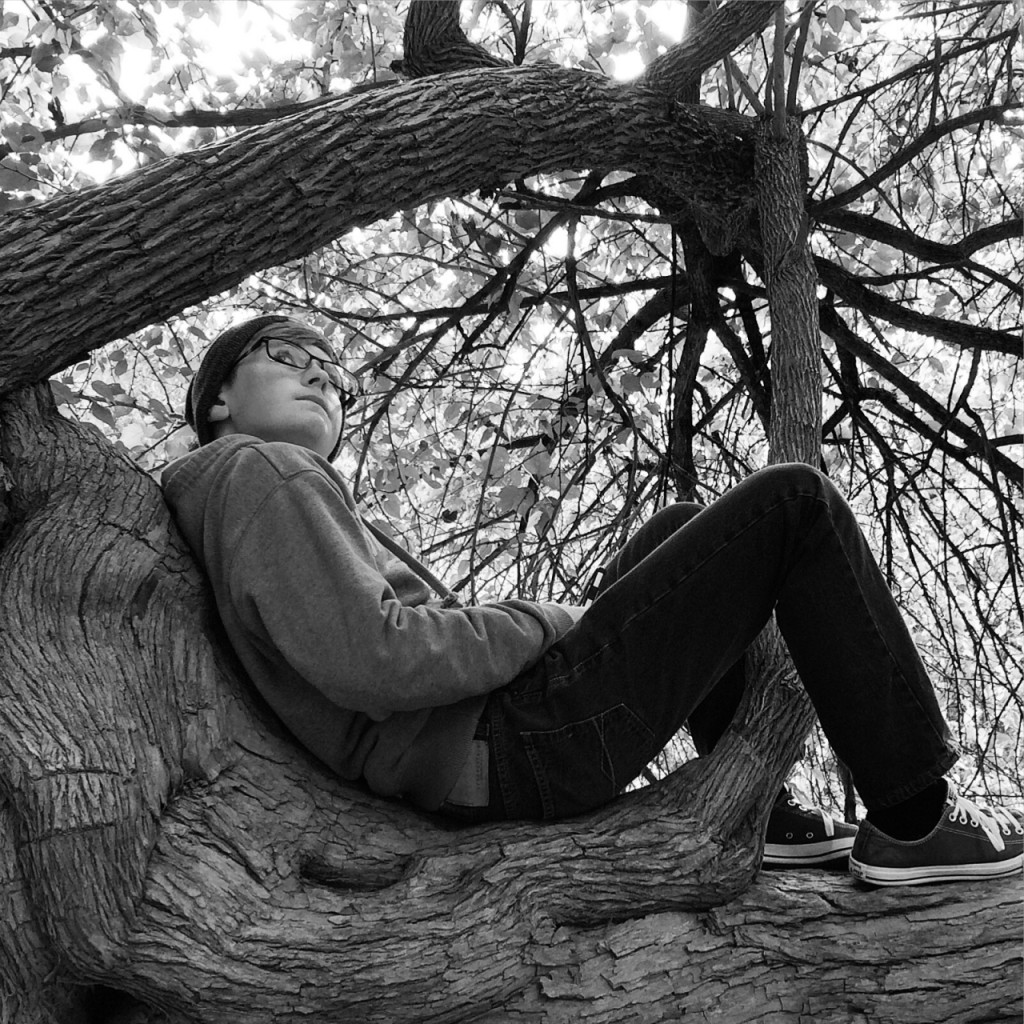 It is also the perfect place to take lots and lots of pictures. This may well be my very favorite picture of my kids I've taken.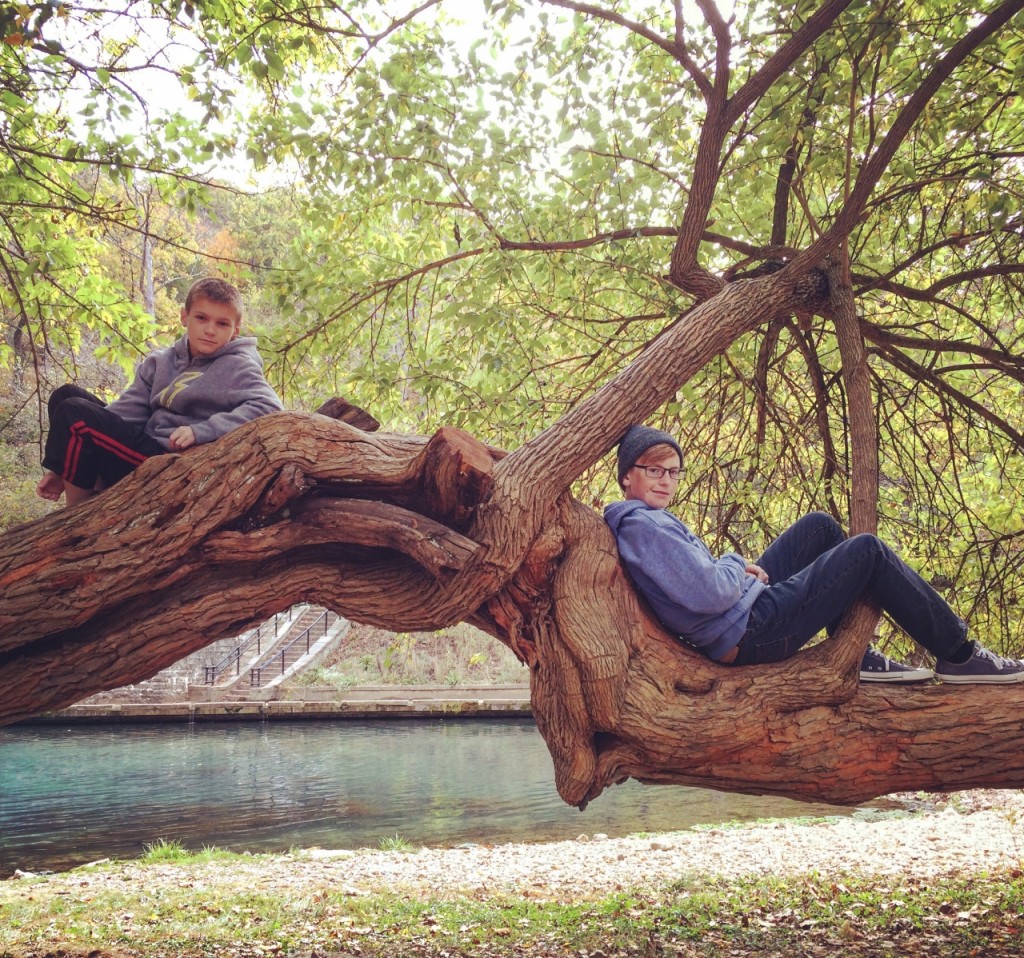 If you visit Roaring River, I highly recommend tracking down this giant.
Final Thoughts
If you haven't visited Roaring River State Park in Missouri, you should. If you like trout fishing, you'll love this sweet spot in the Ozarks. If you enjoy hiking, you'll find a variety of trails with interesting things to see. If you enjoy sitting, you're surrounded by beautiful scenery. Check out the state park website for more details about all the activities and amenities you can find in the park.
Since the park's campground was full during our visit, we stayed up the road at Oak Hill Court. Check out my review here.
Roaring River is a great place to relax on a day trip or a weekend getaway.
Find Travels with Birdy:
Share this post: