You Should Visit Bentonville, Arkansas
Northwest Arkansas is an up-and-coming tourist destination. This area of "The Natural State" has long been known for its beautiful landscapes with scenic overlooks and rambling waterfalls. It is also home to the Buffalo National River, with its crystal clear waters flowing alongside towering bluffs. In addition to the natural beauty , there is so much to experience and explore, making Northwest Arkansas a perfect vacation destination.
We were blessed with an early arrival of spring in Southwest Missouri, making it possible to de-winterize Birdy much earlier than we did last year. We decided to head to Bentonville, Arkansas, for our first trip of 2016. With a week off for spring break and a couple of sunny days ahead, we were eager to hit the road.
Crystal Bridges Museum of American Art
Part of Northwest Arkansas's claim to fame is its history as the home of Sam Walton, the guy who brought us Walmart. The headquarters of this international corporation is located in Bentonville, AR, and the area was blessed in 2011 when Sam's daughter, Alice Walton, decided to pour some of her wealth into building a museum and stocking it full of major artworks. Thus, Crystal Bridges Museum of American Art was born .

Crystal Bridges is a world-class museum–a completely unexpected find in a location so far from a major metropolitan area. Plus, it's free! Since the museum opened, our family has visited several times, finding something new to explore on each visit. Check out my earlier post to get a sense of this spectacular place.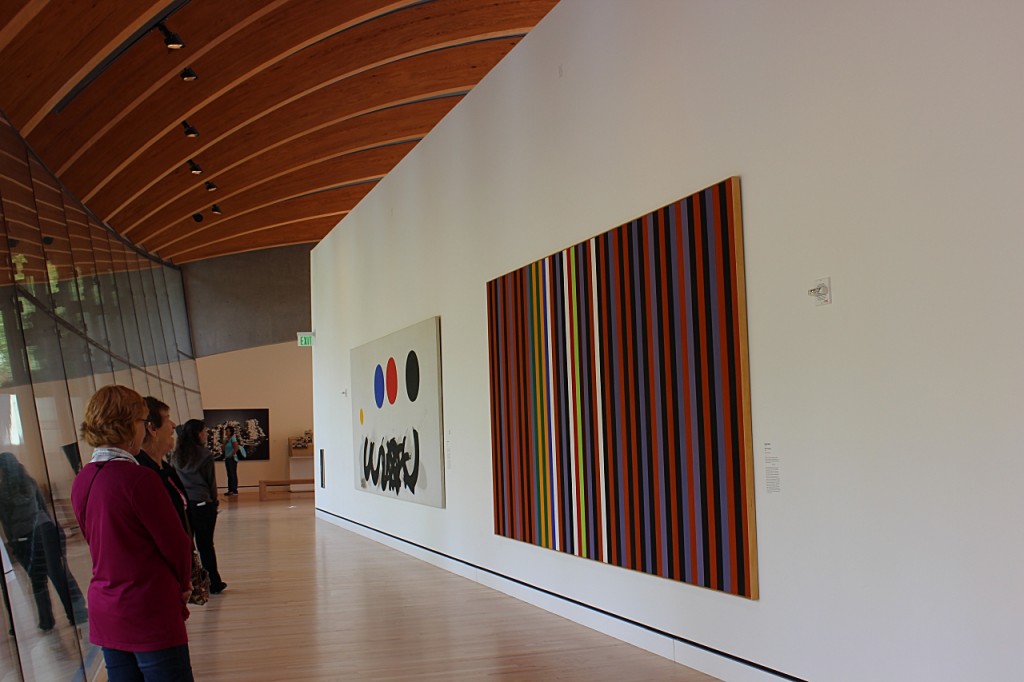 In addition to the solid collection of art in the permanent collection, Crystal Bridges brings in a wide range of traveling exhibits. On our spring break trip, we were excited to check out The Open Road: Photography and the American Road Trip, which showcases road trip photography from the 1950s through today. This, of course, was a natural draw for me!
The Open Road exhibit had photos of several locations that seemed familiar to us, thanks to our Birdy Goes West trip.  We also saw places we hope to visit someday.  I especially loved Lee Friedlander's photograph of tourists looking at Mount Rushmore because we will be standing in their shoes in a few short months! I may have to try to recreate this photo.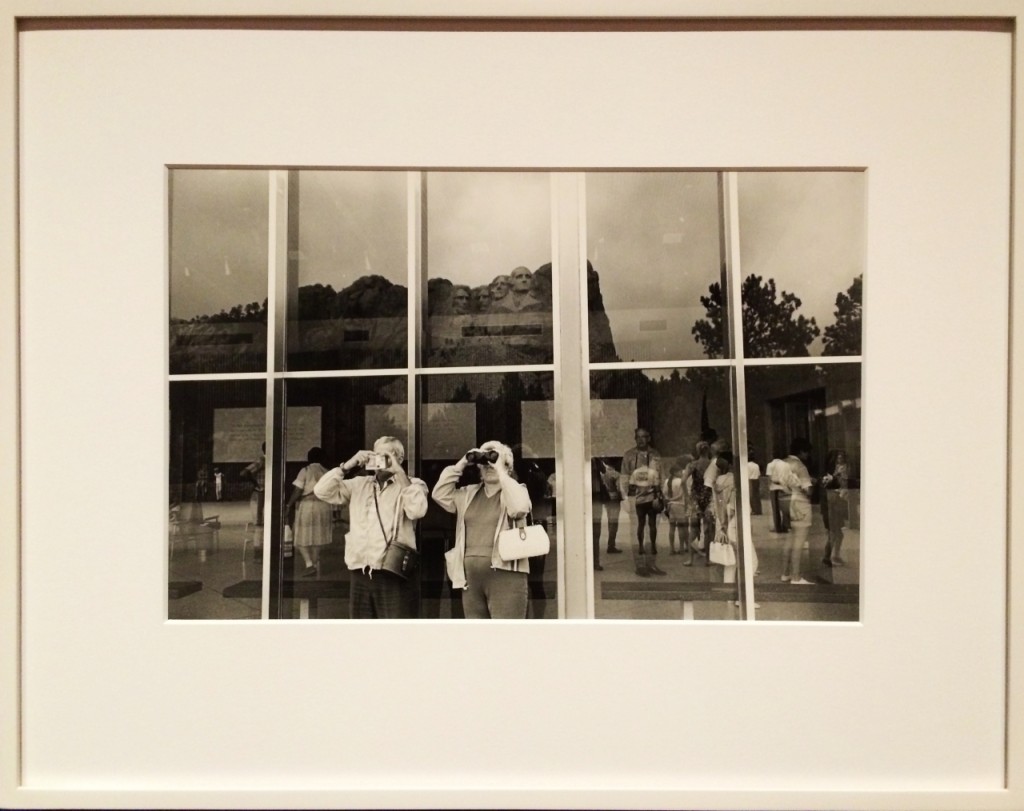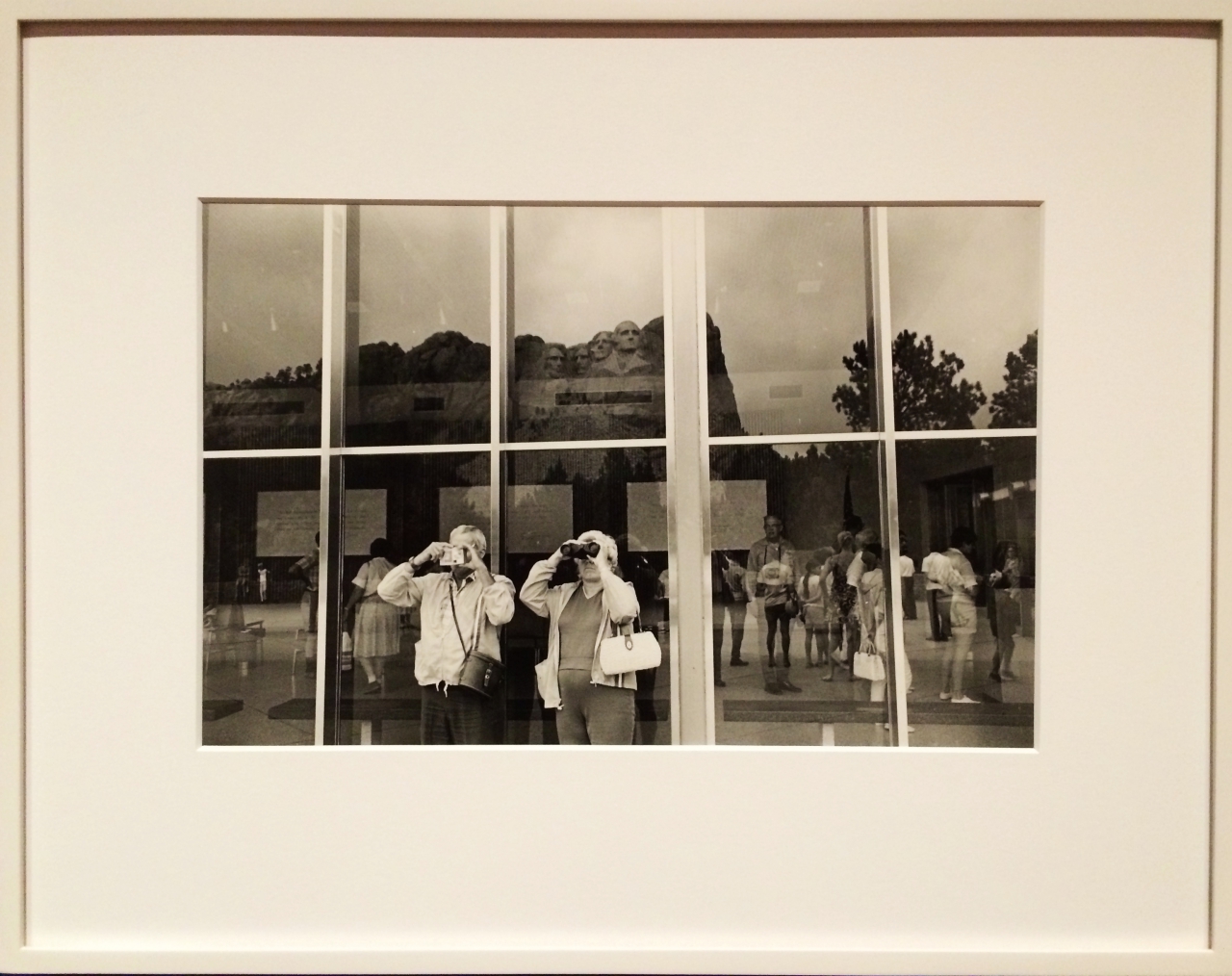 The final stop of the exhibit included an interactive feature where visitors could add their own future road trips to the map. Here I am adding my dot to represent our upcoming trip to Yellowstone.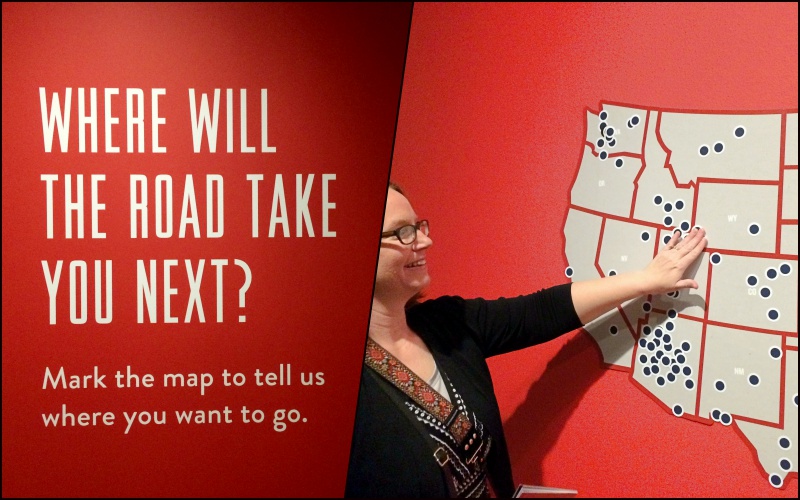 Last year, Crystal Bridges moved a Frank Lloyd Wright house to the grounds. The Bachman-Wilson House had repeatedly flooded in its original location, so a plan was hatched to relocate it, rebuild it, and share it with museum goers. I've been a longtime fan of Frank Lloyd Wright, and this was my first opportunity to tour one of his houses. Standing inside this structure, looking at the trees through those huge panes of glass, made Wright come alive for me.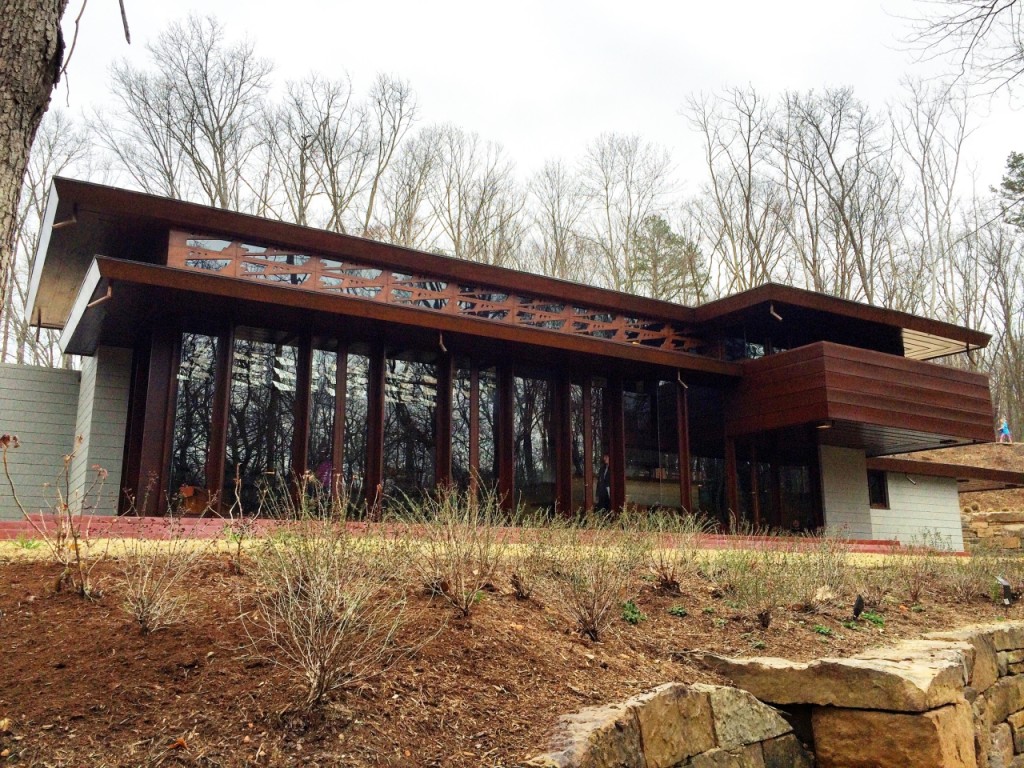 Visitors must note that reservations are required for the Bachman-Wilson house (so it doesn't become overcrowded). Since the spots do fill up, you must plan ahead. Hop on the website the day before to select the time you'd like to visit. We did the audio tour, and there was one moment when my mind was blown by the information that was shared. If you visit, please do the audio tour or a guided tour so that you'll get a fuller understanding of Frank Lloyd Wright's genius.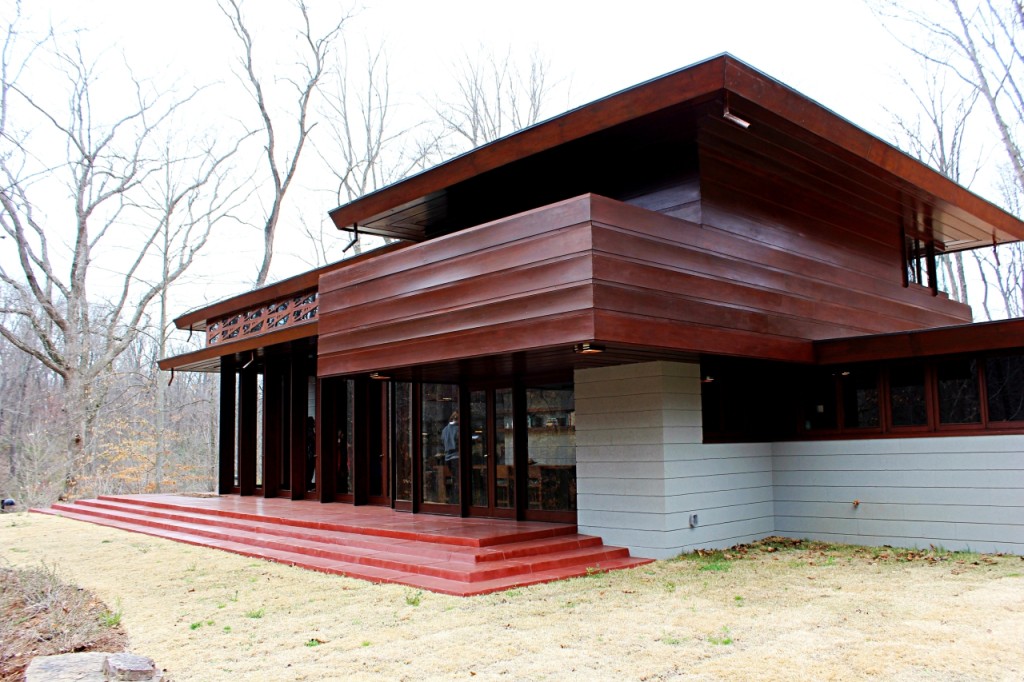 On our recent visit, we did not tour the trails around the museum, but I also highly recommend doing so. Dozens of interesting sculptures are displayed in the natural surroundings. This also gives you an opportunity to see the spring Crystal Bridges is named for. You can see some pictures of the trails in my earlier post.
21C Museum Hotel
Not long after Crystal Bridges opened, the 21C Museum Hotel came to town. I can't imagine a more perfect place to stay when visiting the museum; however, since we have never actually stayed in this hotel, I cannot actually testify whether or not my imagination is true. That's okay, we like staying in Birdy anyway! These green penguins seem to like the hotel. You'll spot a lot of them there.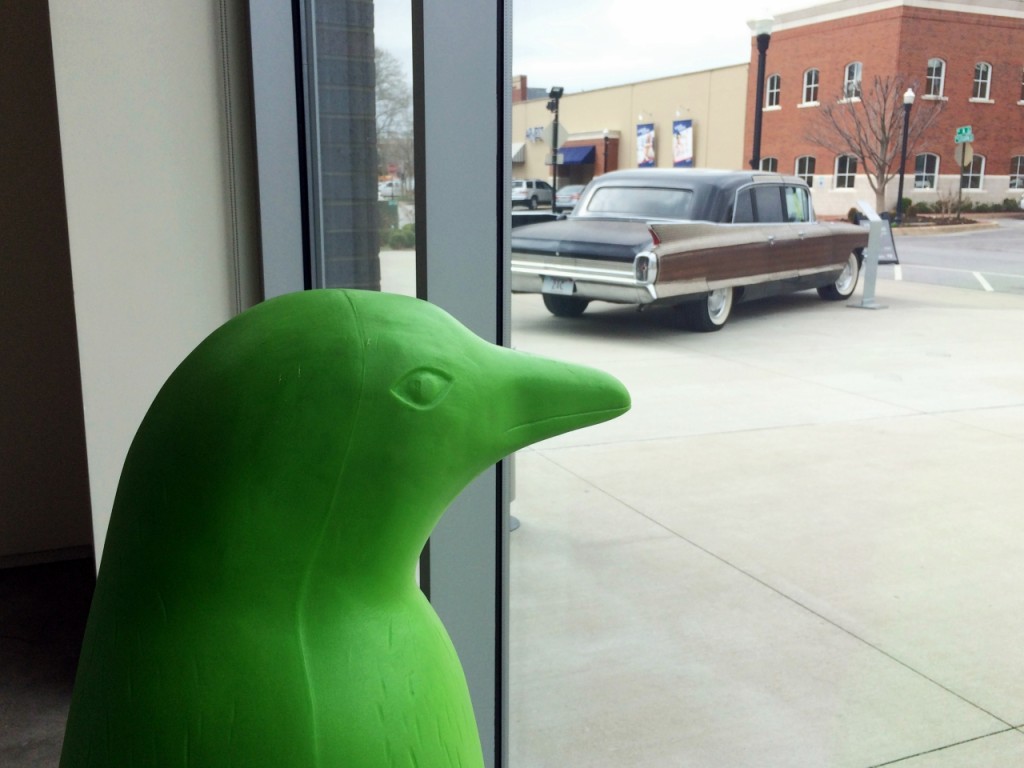 Despite the fact that we didn't stay at 21C, we decided to stop by and check out the museum portion. It has several quirky pieces on permanent display, and the main exhibit rooms have traveling pieces that change periodically. It is worth a stop if you have spare time.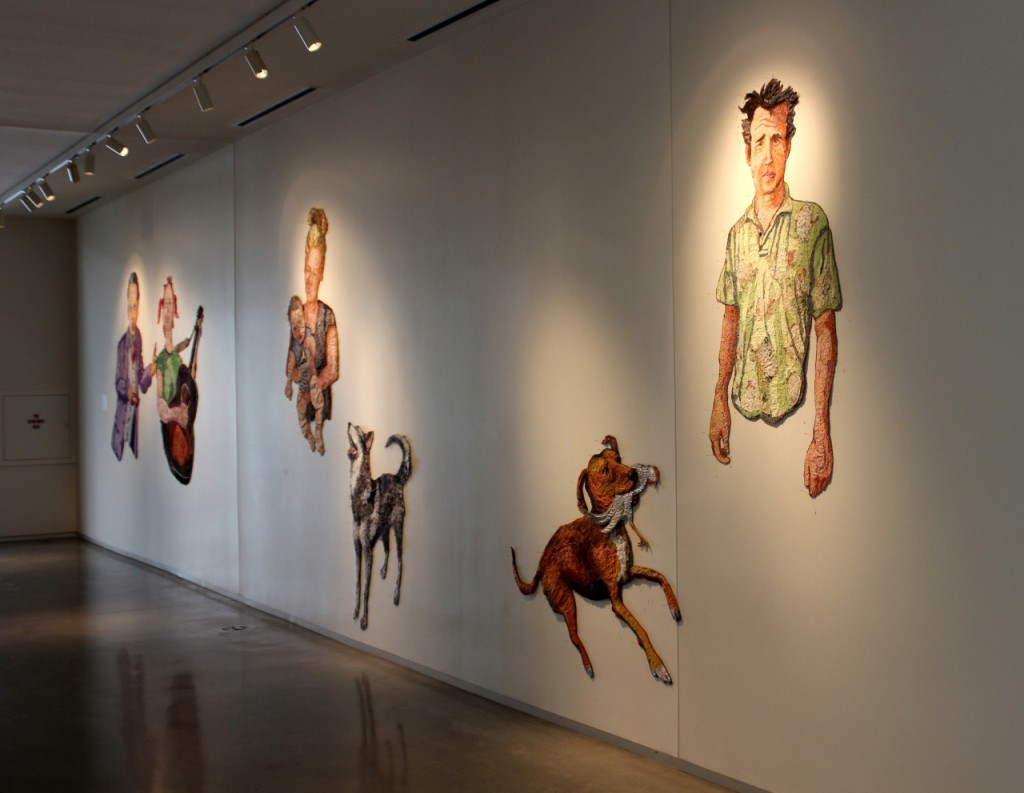 Bentonville Square
The Bentonville Square is a quintessential old town square with a large courthouse and several businesses serving as the hub of town. We always enjoy checking out Phat Tire Bike Shop and dreaming about getting new wheels.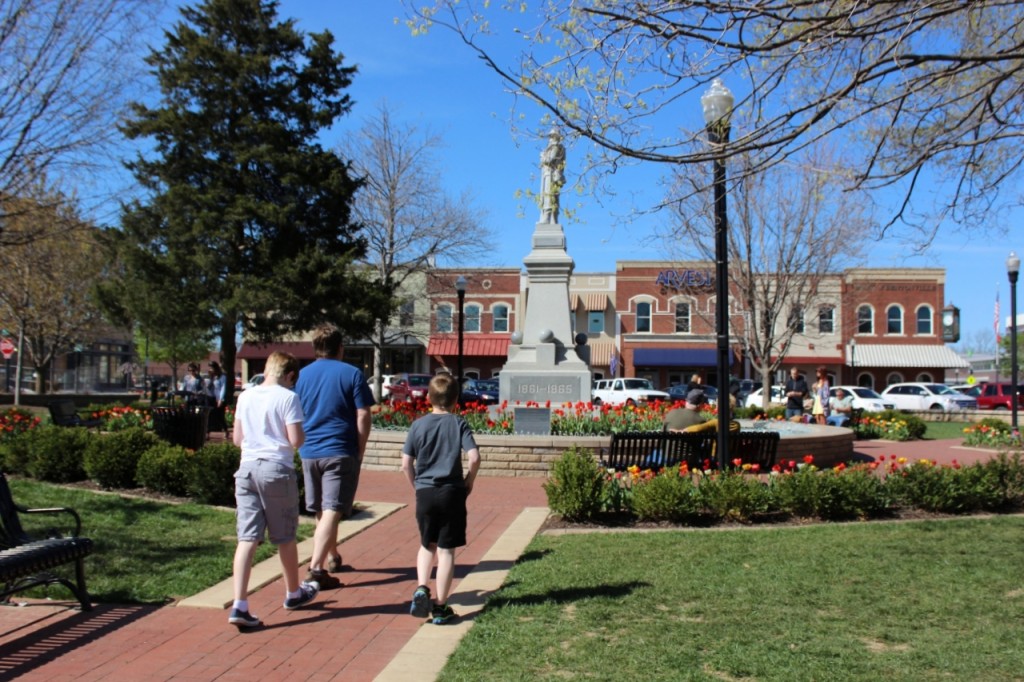 This square is one of the most famous in America because it is where Sam Walton opened his first store, Walton's 5 & 10. Today, visitors can tour a Walmart museum to learn about the history of the company. With Sam's old pickup sitting out front, you'll feel transported back in time.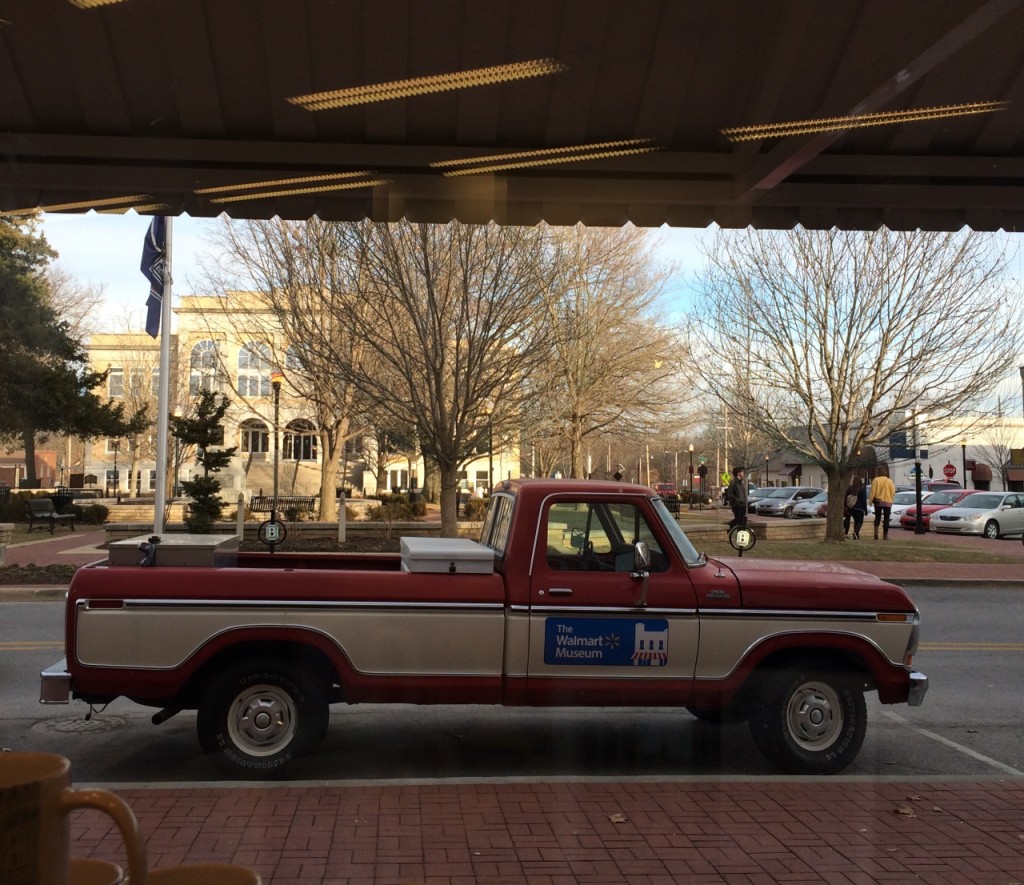 Though we did not partake in the Walmart museum, we did enjoy the small store that sells classic candies, toys, and American kitsch like the 5 & 10 that once stood in its place. We also checked out the ice cream shop, which is set up as a classic soda fountain with a row of twirling stools. On this lovely spring day, we got our cones to go.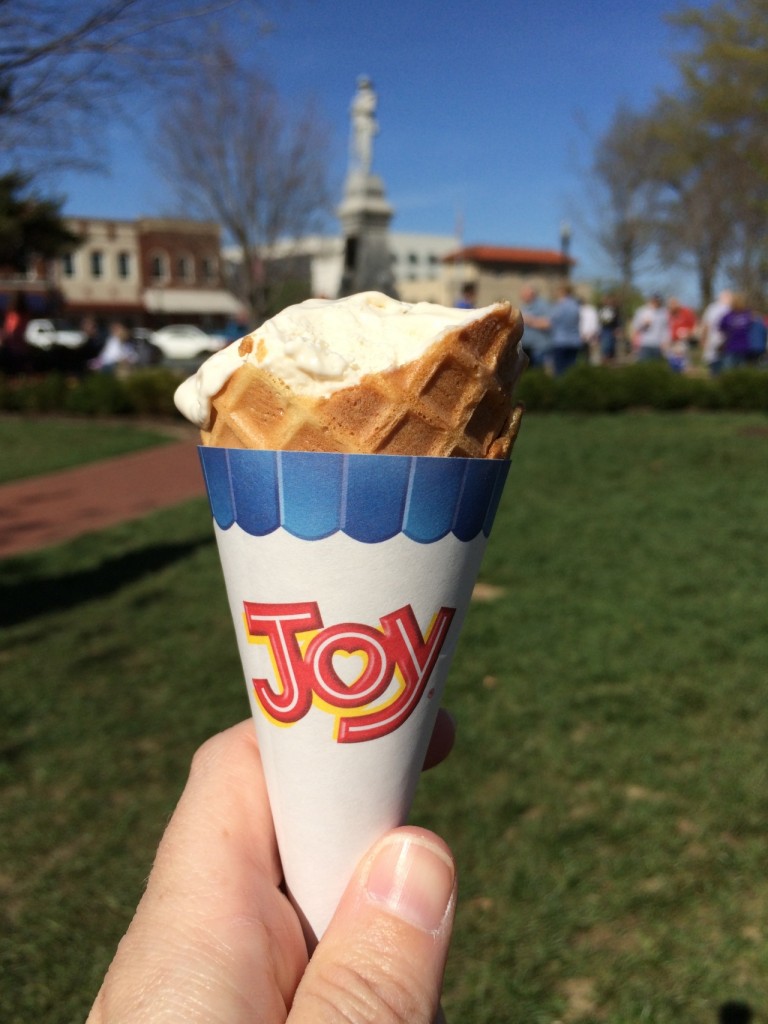 Walk, Hike, Bike
With all of the natural beauty in the area, people look for a variety of ways to enjoy the great outdoors. Whether you want to take a short walk on a paved loop or ride a mountain bike on a crazy off-road trail, you'll find a spot for you near Bentonville. Here's a website with tons of trail information: Northwest Arkansas Trails.
On our spring break trip, we stayed just north of Bentonville in Bella Vista, which is home to the Tanyard Creek Nature Trail. This is a great trail for families, and it's easy enough for small children.  The full loop is 2 miles, but shortcuts can be found. Near the start of the trail, you'll learn about the early settlers who lived here and used the spring for fresh water. The tin they used to protect the spring remains to this day.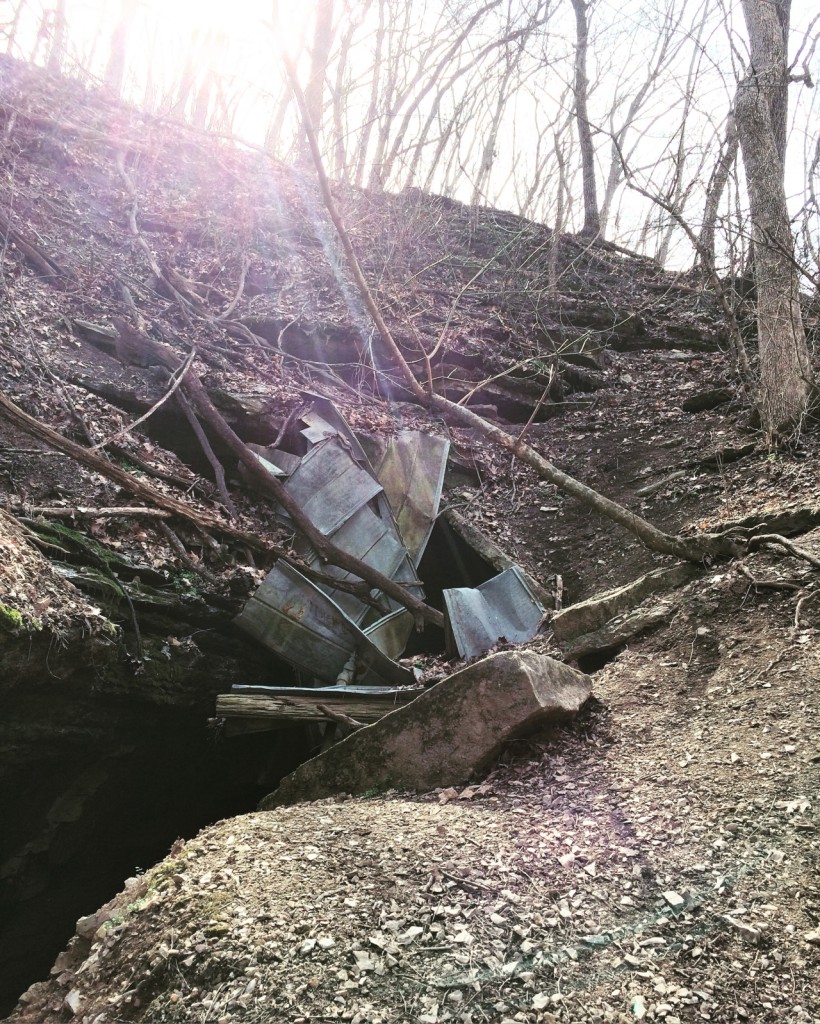 There are interesting limestone bluffs, caves, and other geological features to check out as you hike along.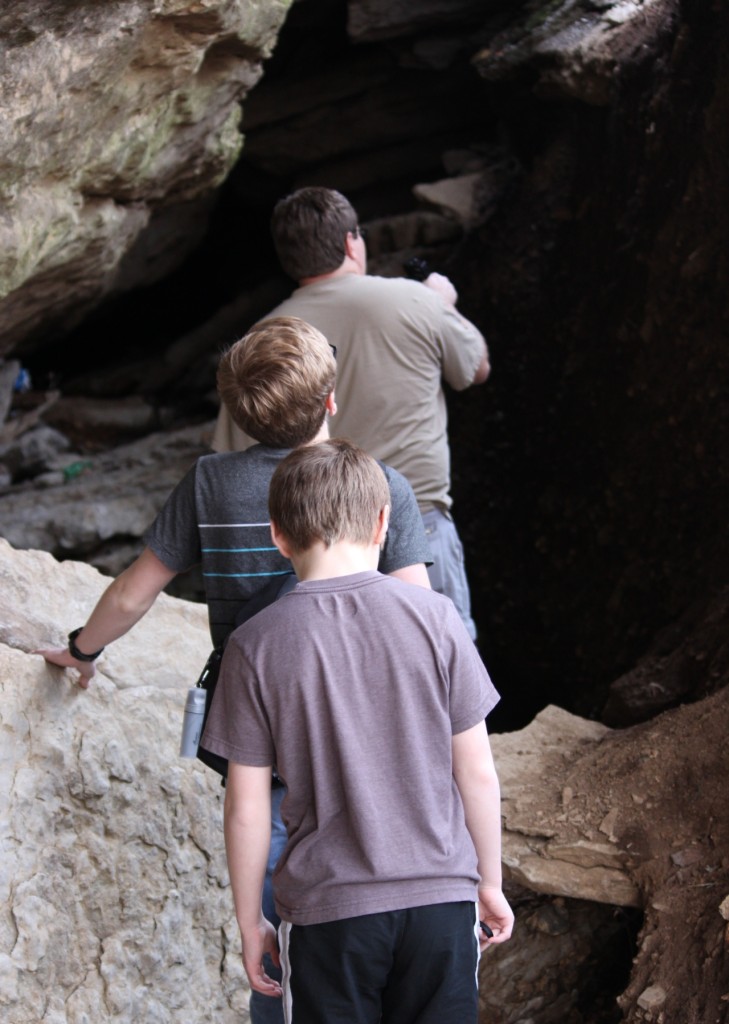 One of the main highlights of the Tanyard Creek Trail is a small waterfall and a creek that flows through the park. It looks like a great place to splash around in the summer. It was a little too chilly for anyone to be in the water on our spring break trip, but plenty of people were soaking up the sunshine at the falls.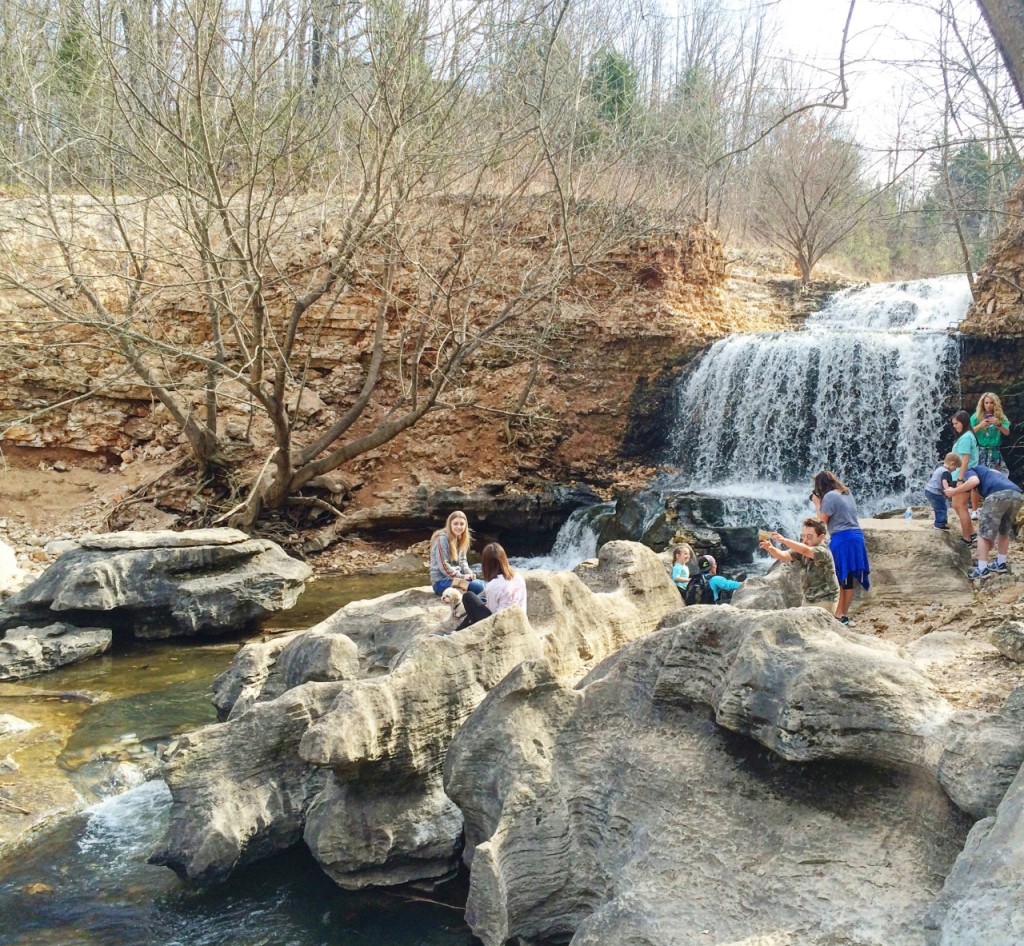 Further down from the big falls, there's another set of small falls. This spot is a perfect place to sit and relax. You'll hear the trickle of the water as it cascades along the rock ledges. Song birds may serenade you. I'm sure it's even lovelier once the trees bloom.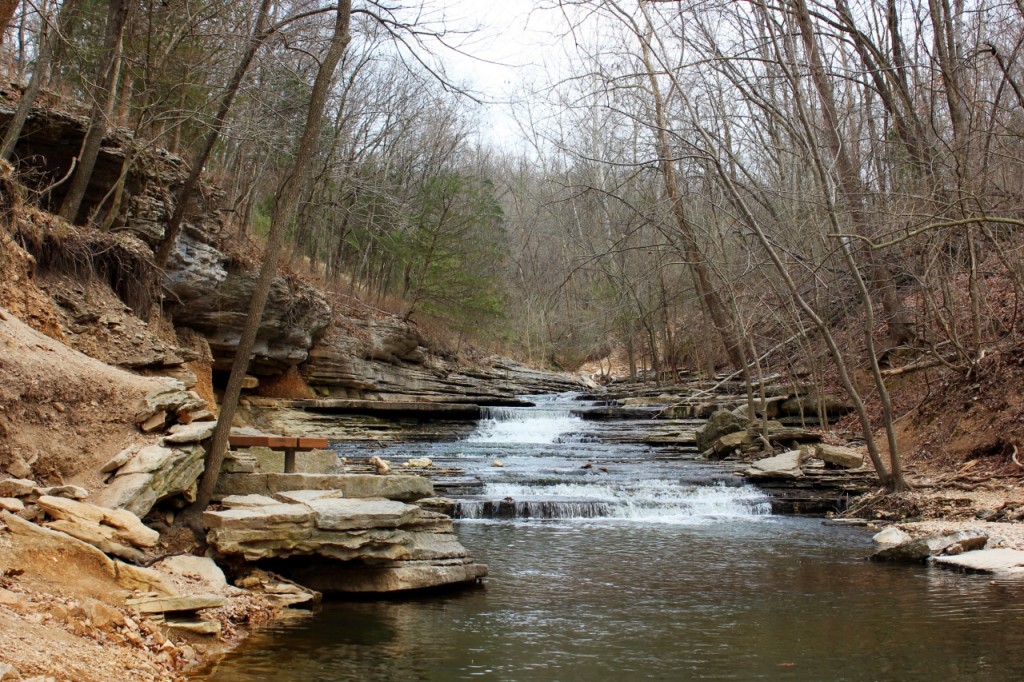 A fun swinging bridge helps visitors cross over the creek to continue on the trail.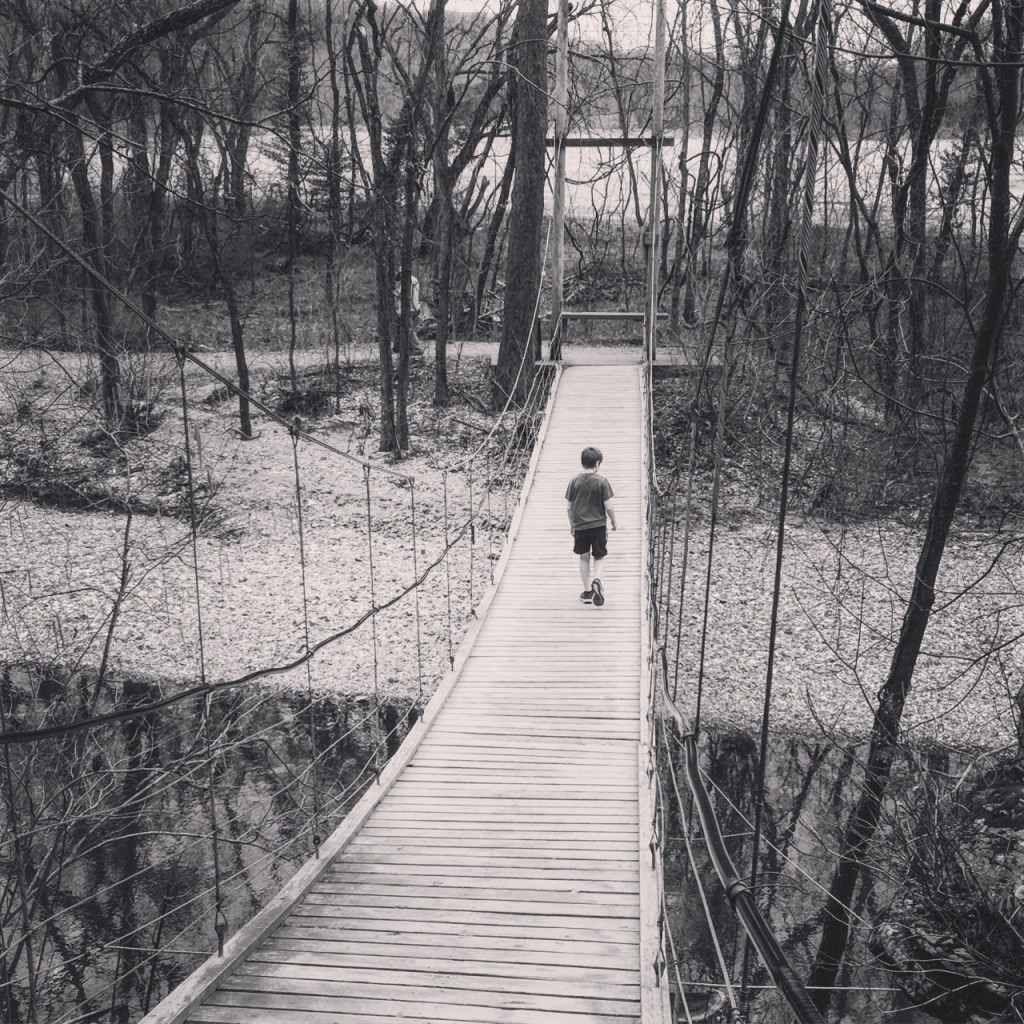 There are a lot of interesting features packed into this easy, 2-mile trail. Informative signs explain the history, geography, and botany of this lovely area. Take a picnic and a camera, and head to Tanyard Creek Nature Trail if you're in the area.
More adventurous hikers can find tons of challenging trails within an hour or two of Bentonville. I highly suggest buying a guidebook and learning more. I've barely scratched the surface of all the outdoor activities you can find in Northwest Arkansas, a place I like to call "the Colorado of the Ozarks."
Amazeum Children's Museum
If I could have talked my tween/teen boys into a visit to the Amazeum Children's Museum, I would have eagerly checked it out. Bentonville's newest museum is one designed for children, with lots of educational play areas. Water features, climbing areas, a dinosaur dig, a cave, and more can all be found inside. If you have children under the age of 10 or so, I'd say this is a MUST do.
Mildred B. Cooper Memorial Chapel
Gothic arches, glass, and steel come together to form this beautiful chapel, located in Bella Vista, just north of Bentonville. It makes for a nice 15-minute stop if you're someone who appreciates architecture. The architect, E. Fay Jones, was an apprentice to Frank Lloyd Wright.  He went on to become a respected architect who is most known for the soaring chapels he designed in Arkansas.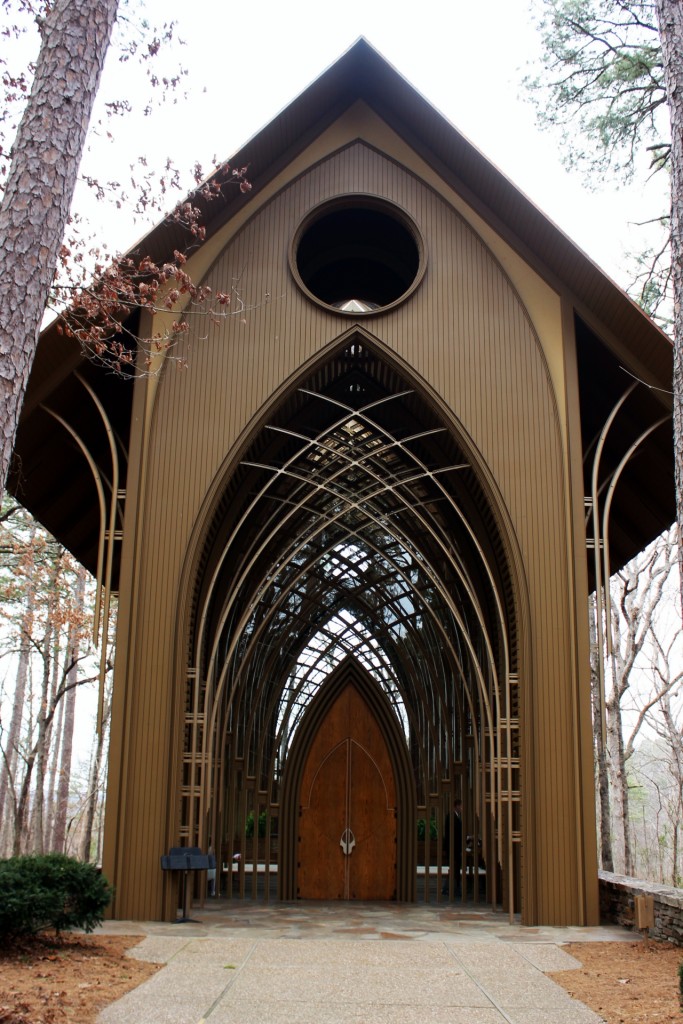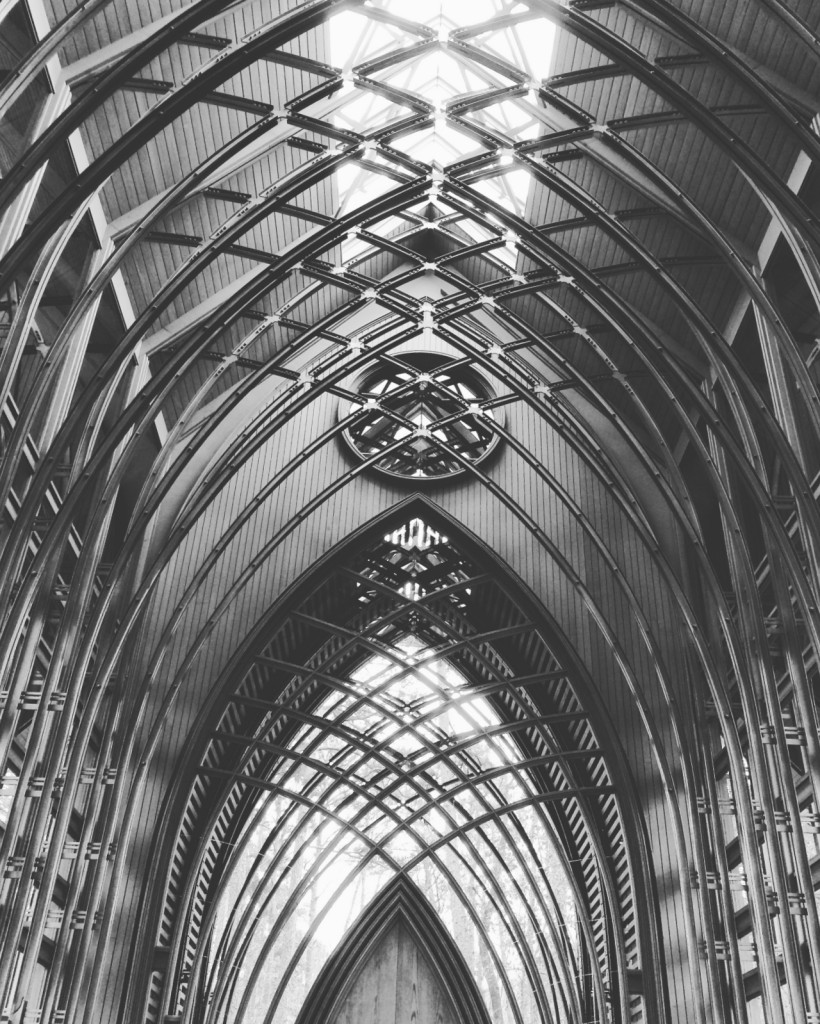 Shopping & Restaurants
Sadly, we have not had time to eat at any of the highly recommended restaurants in the Bentonville area, nor have we done any shopping while we were in town. However, I wanted you to know that YOU could. The small town of Bentonville connects to the larger cities of Rogers, Springdale, and Fayetteville. Each of these towns has more metropolitan offerings.  Great restaurants, malls, fun shops, and more are all within a short drive from Bentonville.
Final Thoughts
Northwest Arkansas is a great day trip for our family, but every time we take a day trip, I leave feeling as though we could have seen and done so much more. I'm glad we were finally able to spend some extra time and truly explore this area. Heavy rains chased us back home; otherwise, we could have extended our stay another day or two and still never ran out of adventures.
Whether you take a day trip or a full-out vacation to get here, I truly hope you make a visit to Northwest Arkansas!
Find Travels with Birdy:
Share this post: