Family Fun in Ponca, AR
Northwest Arkansas has been said to be the Colorado of the Ozarks. The area is filled with over 200 hiking trails which take you to curious geological wonders, along scenic bluffs, and through the wilderness.
Last spring, we took a day trip to the Ponca area for some family fun. Ponca is located in northwest Arkansas. It is often used as a base camp for rafters floating the beautiful Buffalo River, one of only 5 rivers in the nation to be designated as a national park. It's also known as a place to observe the elk herd that was reintroduced in the area in the 1980s.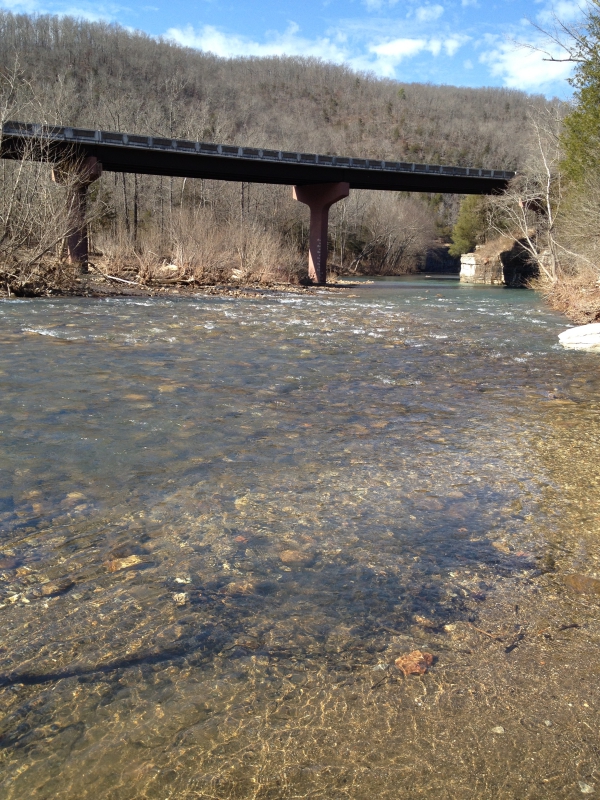 What took us to Ponca last year was actually neither of those things. Instead, we went for a family-friendly hike on the Lost Valley Trail. This trail is relatively short and easy, but it offers plenty to explore. The trail is just over 2 miles roundtrip and doesn't require difficult climbing. Since our family had little hiking experience, Lost Valley seemed perfect for us.
It's important to note that there is no cell phone reception in the area. We planned to use the map on my phone to explore the trail's features, but without reception, we had no map. In retrospect, I realized taking a picture of the map would have been quite helpful. Because of our lack of planning, we didn't get to see the largest waterfall, Eden Falls, because we thought the smaller one was it.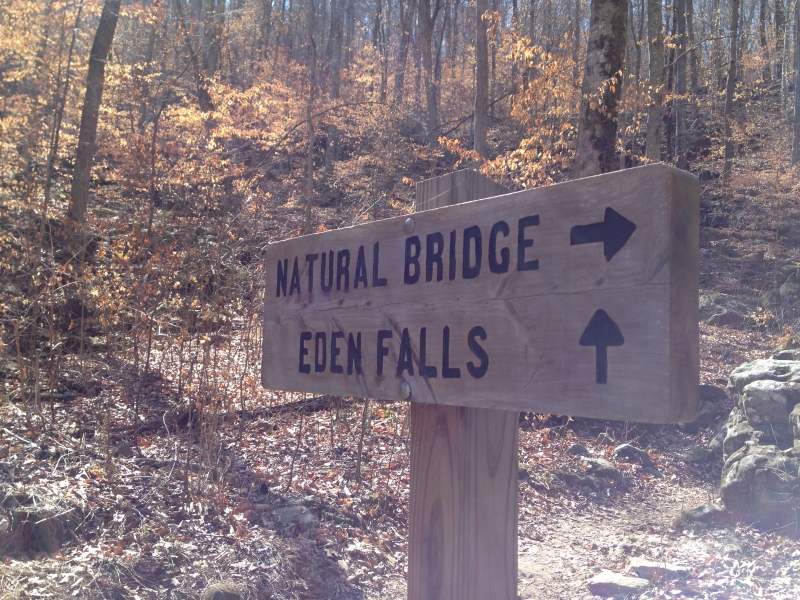 The beginning of the trail is a flat, paved trail through the woods. This area would be perfect if you wanted a trail where you could roll a wheelchair or baby stroller. I imagine this would be especially beautiful in the fall or spring when the woods are bursting with color. We visited in mid-March, which was lovely in its own quiet way.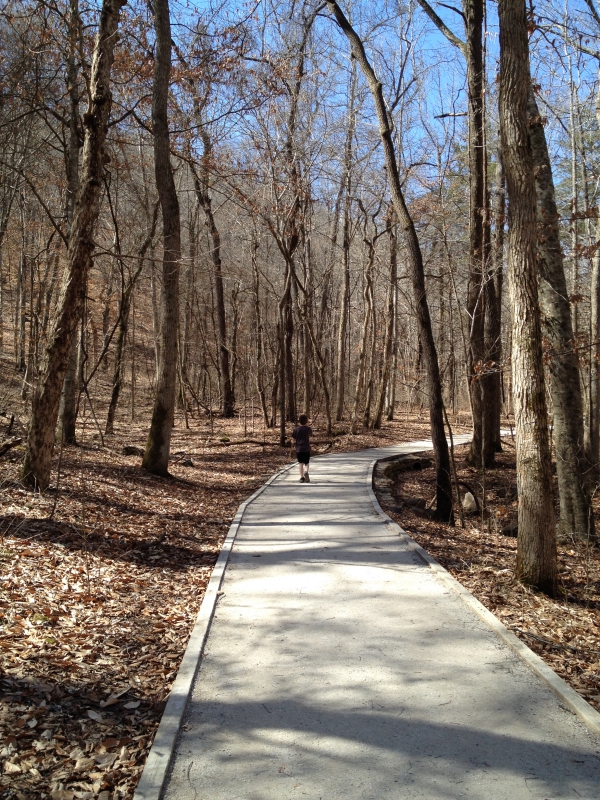 Eventually, you encounter a small creek rippling alongside the trail. Our boys enjoyed splashing in the water and climbing up, over, and around the huge boulders. We wished we had brought some water shoes.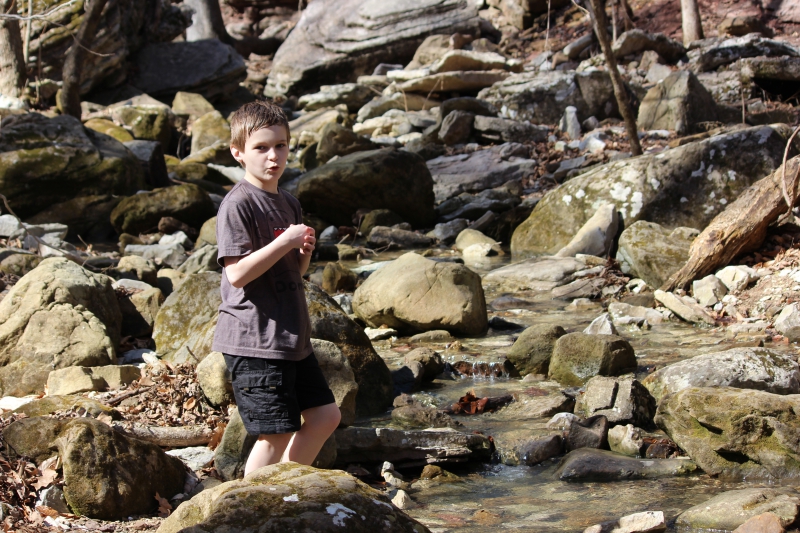 Interesting boulders line the trail.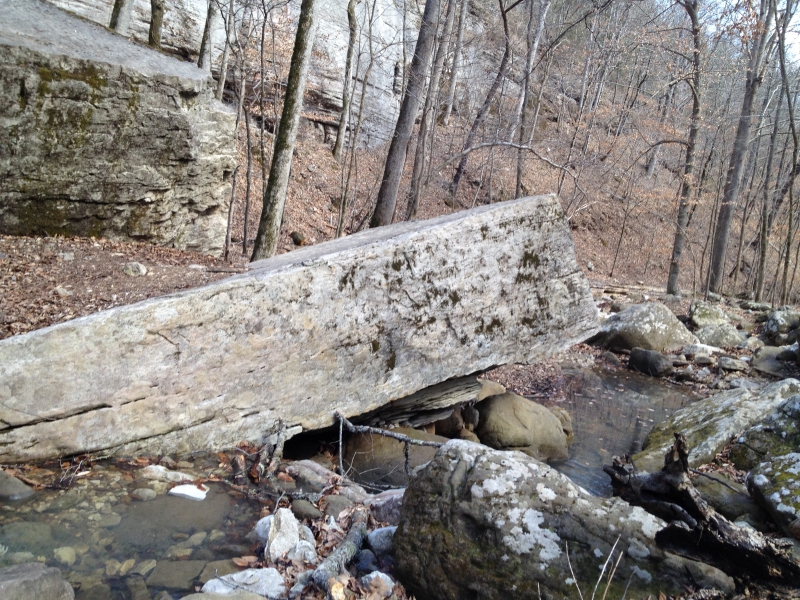 The next trail highlight is Natural Bridge Falls. This small waterfall seems to emerge from a cave and forms a pool that reflects the scenery. Our older son had ventured along the edge of the pool to reach the waterfall. This is a great spot for photos.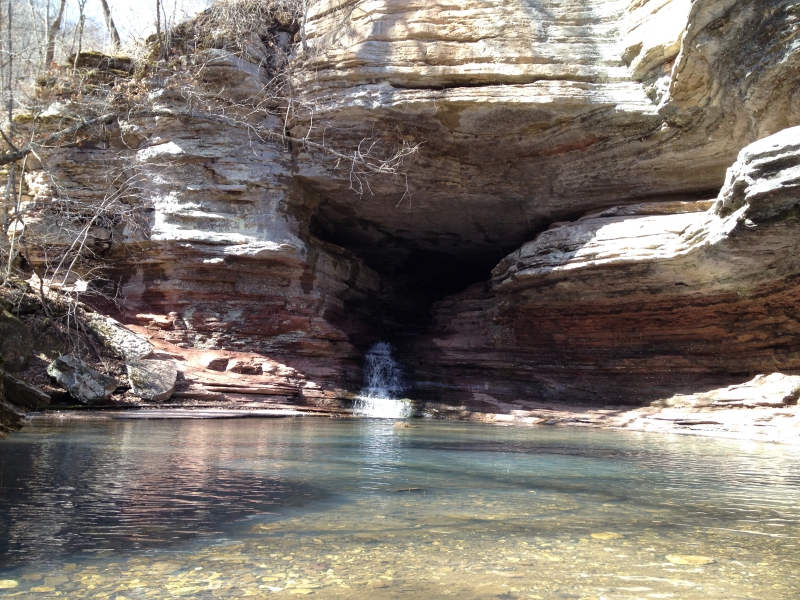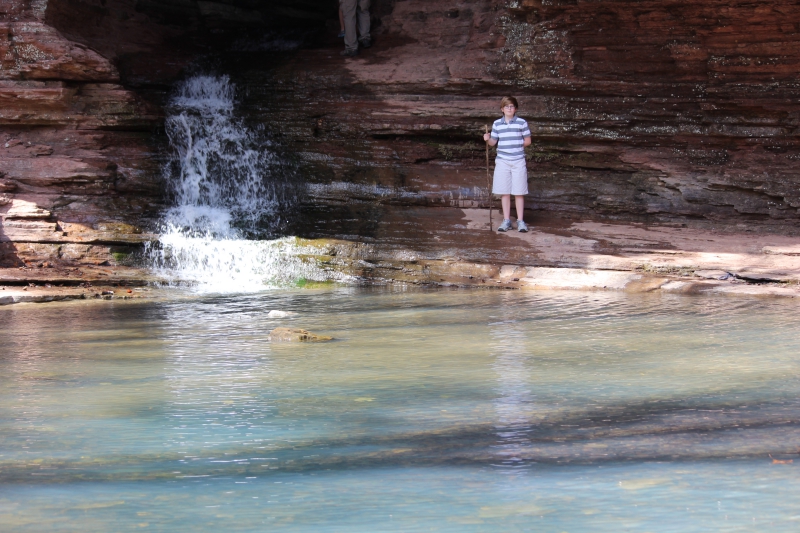 From there, the trail gets more difficult and involves a climb up the hillside to continue. We wish we had done this part and continued on to Eden Falls, a 53-foot waterfall, but due to our confusion, we didn't realize the trail continued. But, there's always another day!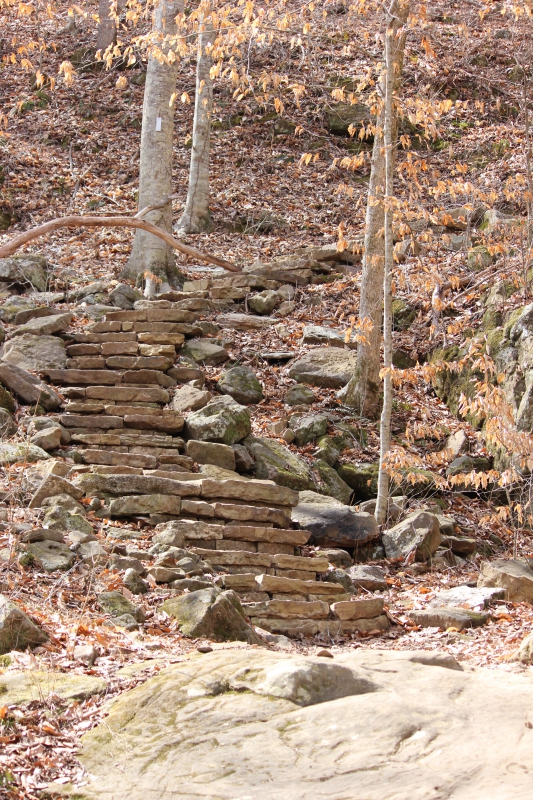 More adventurous people will want to take flashlights (a headlamp would be especially useful) and a change of clothes because you can climb through a small opening to get inside a cave that has a waterfall inside. We have adventurous friends who did this, but we did not.
Though we missed out on the larger waterfall, we greatly enjoy the time we spent at Lost Valley Trail.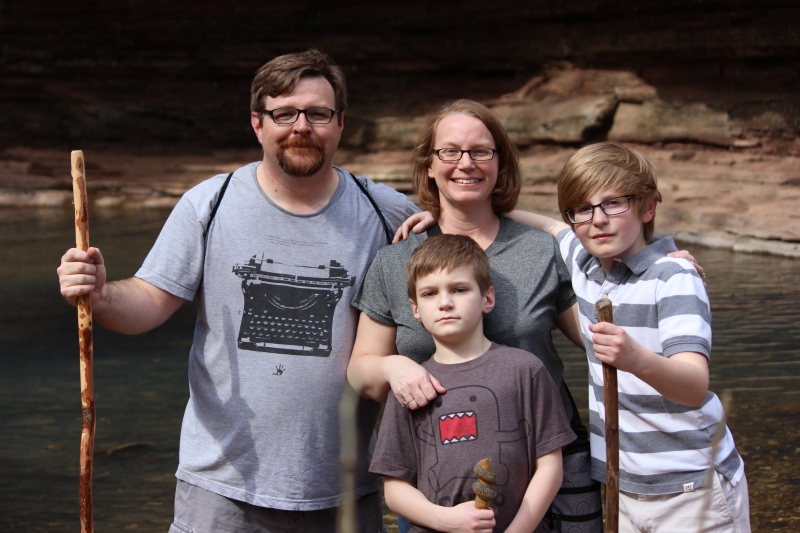 From there, we headed back to Ponca to visit the Buffalo River access. The gem-colored water didn't seem real.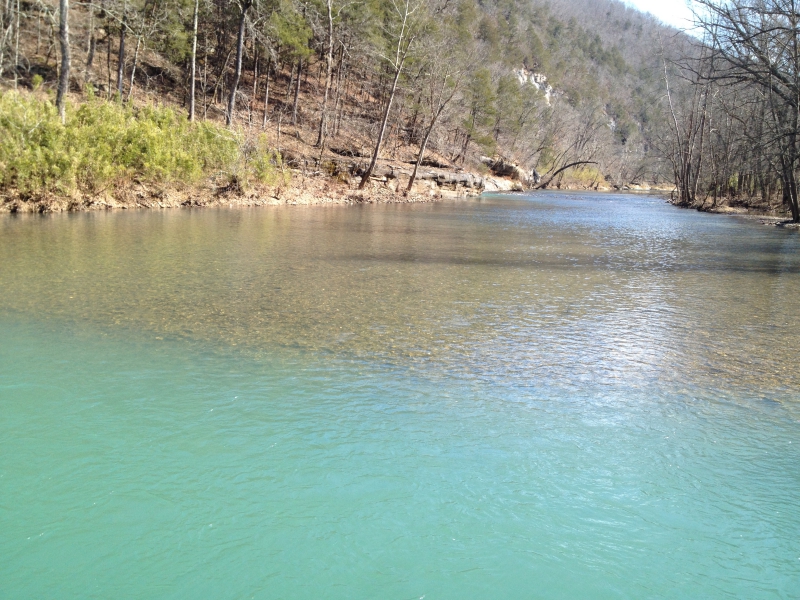 Up the hill from the river sits the Old Villines Homestead, which includes a log cabin and several outbuildings. The log cabin is preserved enough to truly make you imagine what life was like for its inhabitants.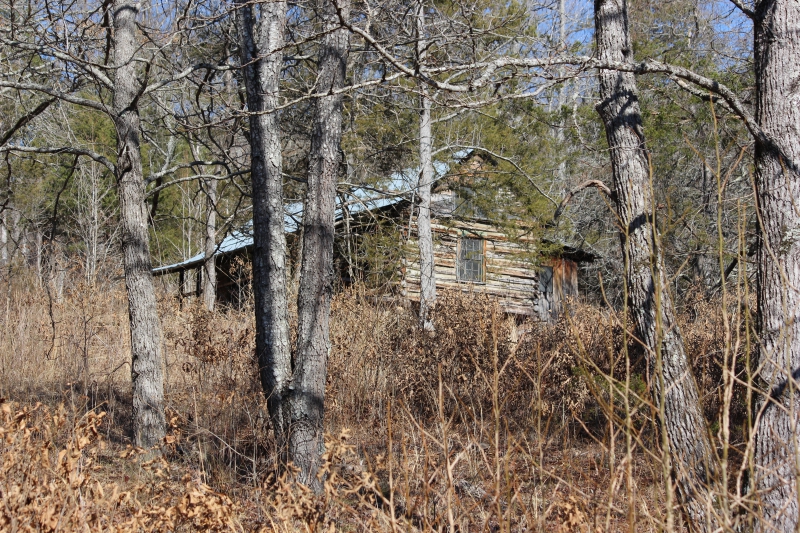 We were glad we made the hike up the hill to explore this cool little place. We found the log work and stone work to be interesting.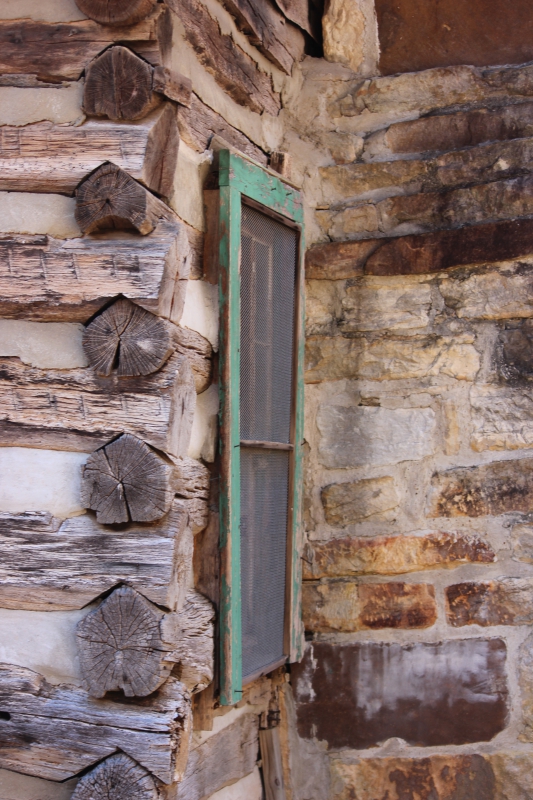 Can't you just imagine the history?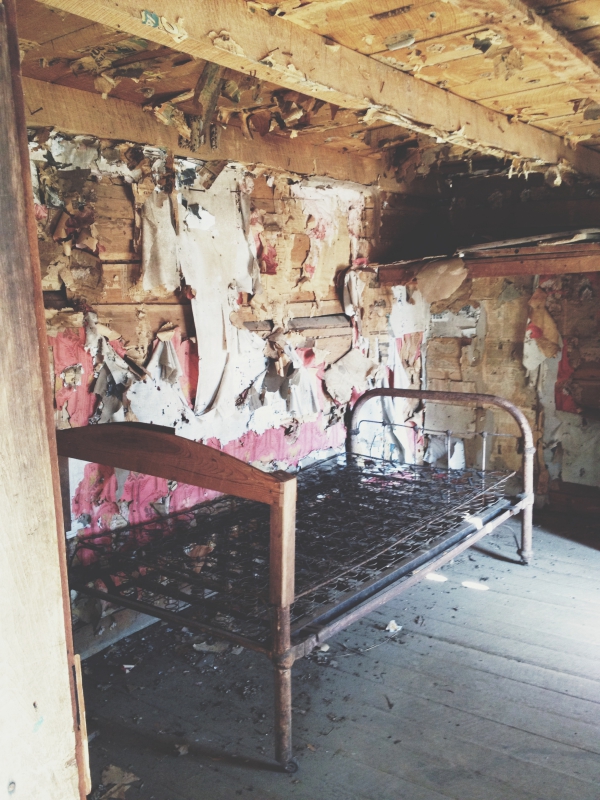 It was a day well spent and left us hungry for more. I'll follow up with a post about our trip this year to the nearby Glory Hole Falls.
What's your favorite hike in northern Arkansas?
Find Travels with Birdy:
Share this post: