Custer State Park and More: Black Hills Part II
The Black Hills of South Dakota are home to spectacular scenery (in addition to the massive monuments and family fun I wrote about in a previous post) You'll find rolling prairies, pretty pines, and towering granite spires. A drive along the Needles Highway and Iron Mountain Road through Custer State Park allows you to experience a plethora of picture perfect points in the Black Hills.
Iron Mountain Road
As we planned our day exploring Custer State Park, we routed a path that would take us into the park on the Iron Mountain Road and take us along the Needles Highway as we exited the park. With blues skies above, we packed a lunch and headed to Keystone.
Iron Mountain Road starts in Keystone, near Mount Rushmore. This scenic roadway was devised by Governor Peter Norbeck, who actually plotted it out by walking the landscape and looking for the best views. Someone once said of Norbeck's road planning, "He found great pictures in nature and gave them to the world."
Norbeck specifically designed several tunnels that framed views of Mount Rushmore in the distance (I didn't get any great shots of this since we had filthy windshields. Pro-tip: Wash your windshields before you take a scenic drive!). After picking his spot, they had to blast through the granite to create these monumental picture frames.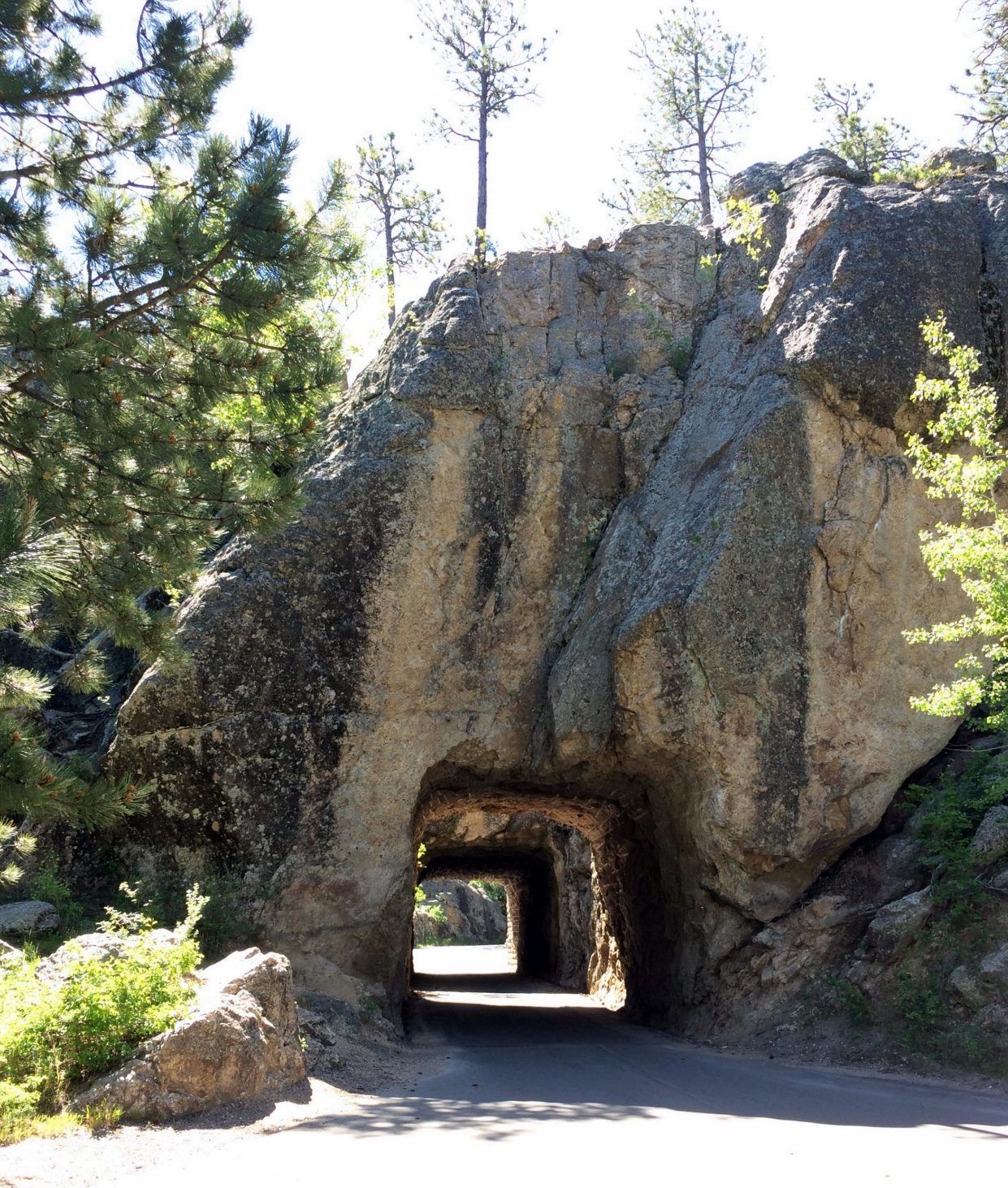 FYI–With its many tunnels, Iron Mountain Road isn't a good path for towing an RV! Be sure to check out the Scenic Drives page for information about the tunnel clearances.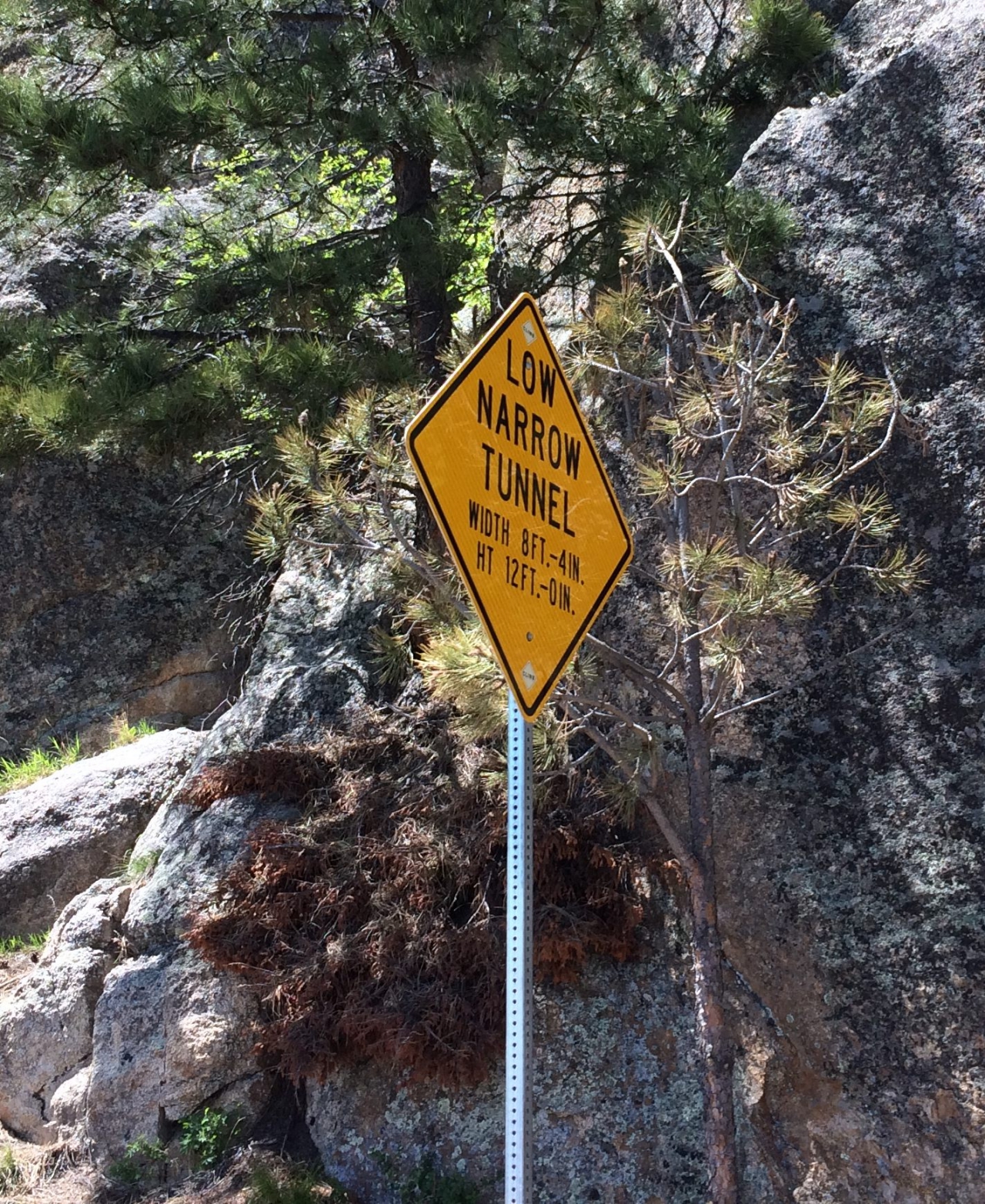 Iron Mountain Road is also known for its unique "pigtail bridges," which corkscrew around like a roller coaster, allowing the road to quickly gain or lose elevation. These engineering marvels are constructed out of wood and look like a natural part of the landscape.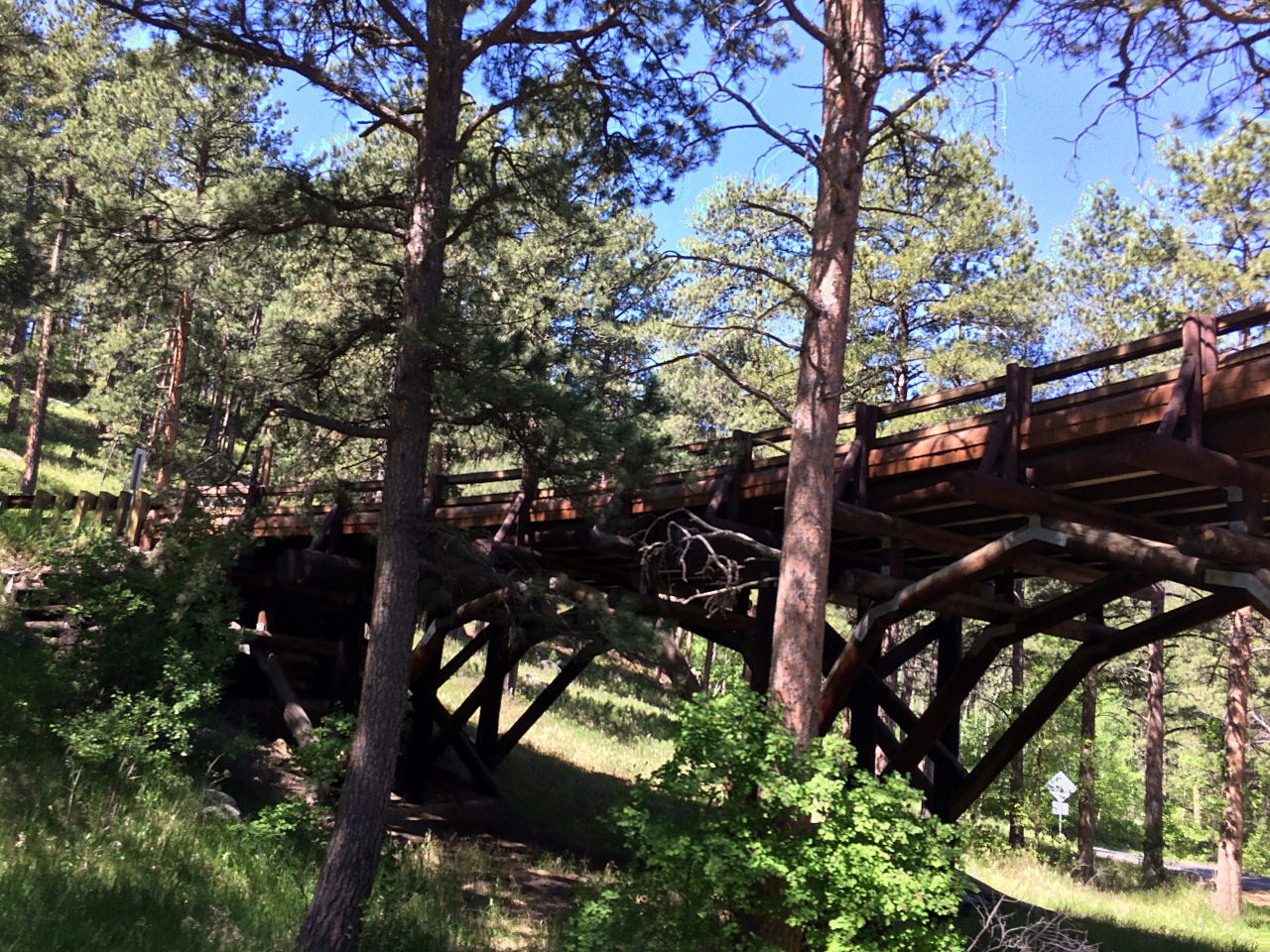 While driving through the beauty of the Black Hills, you'll also want to stop and get out to experience it firsthand. The Norbeck Overlook is the perfect place to take in stunning views of the rugged hills off in the distance.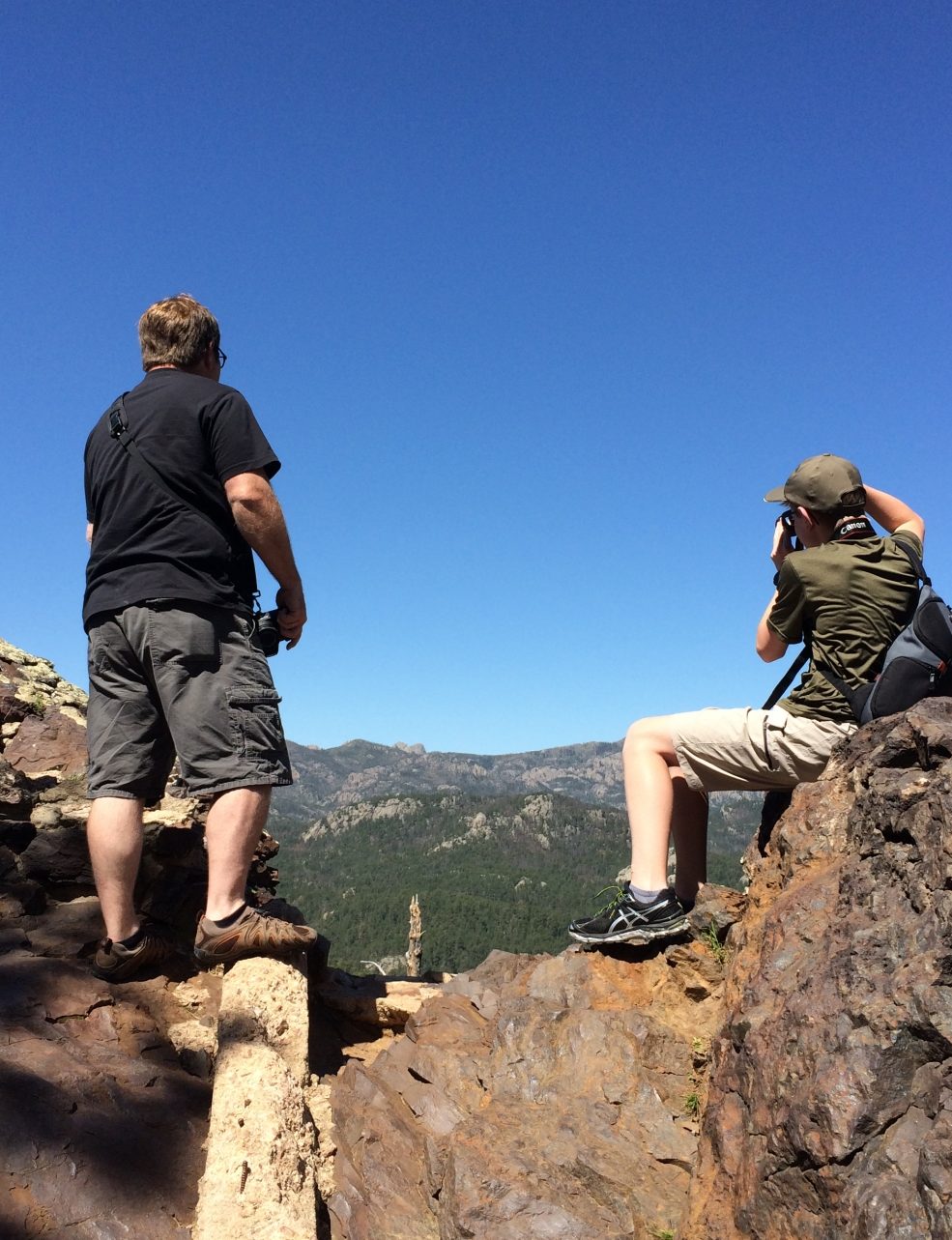 After getting an up-close view of Mount Rushmore the day before, it was interesting to see it off in the distance as part of the grander Black Hills landscape. After this, I kept expecting to see faces in other rocky tops.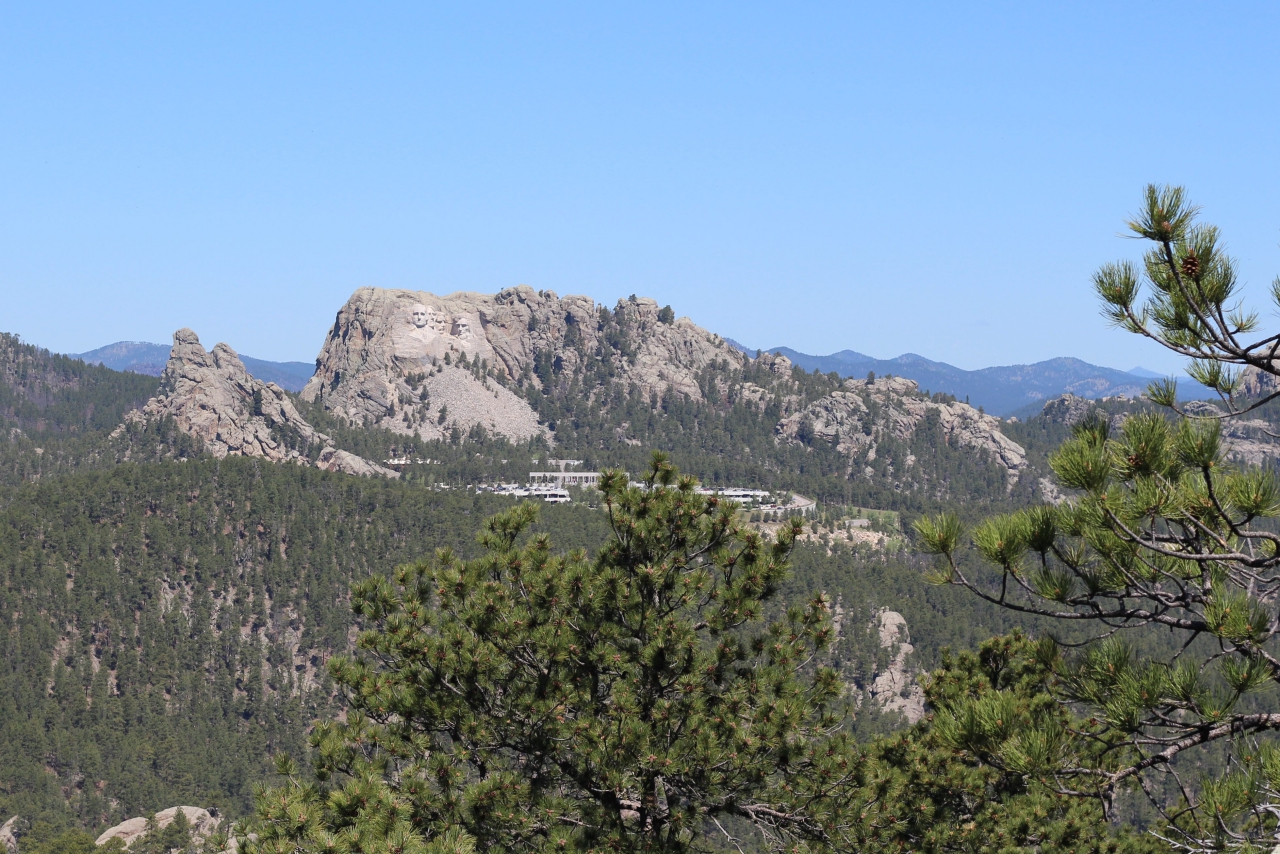 After a lovely drive on Iron Mountain Road, we arrived at the entrance gate to Custer State Park.
Custer State Park
Custer State Park is one place to experience the diversity of the Black Hills landscape and wildlife. With over 71,000 acres of sightseeing, fishing, hiking, and wildlife viewing, it is one of the top attractions in this region. If you're planning a visit here, you'll want to plan a full day (or more) to explore all that Custer State Park offers.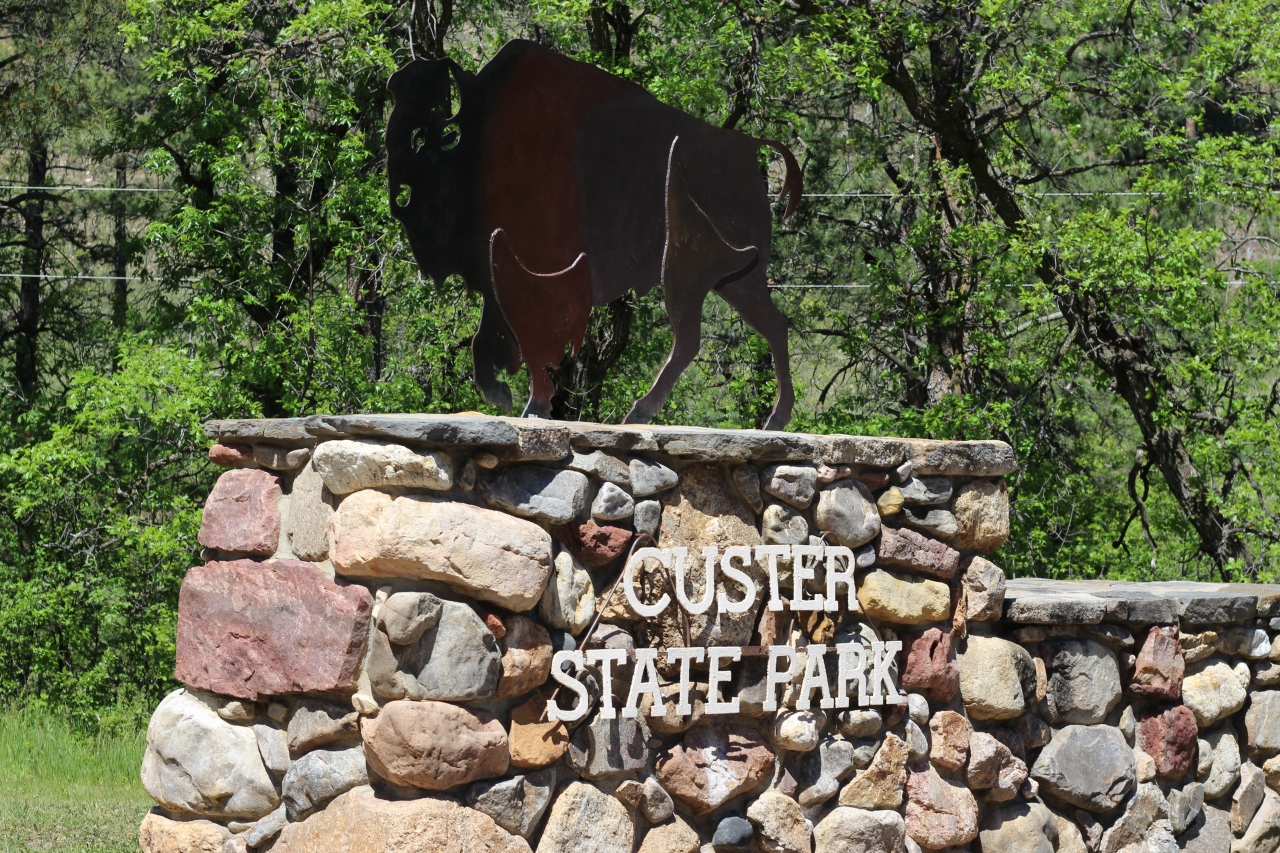 We opted to take the Wildlife Loop Road through the park. This loop takes you across the rolling prairies, which feel so expansive, compared to the rest of the Black Hills, which have more trees and rocks.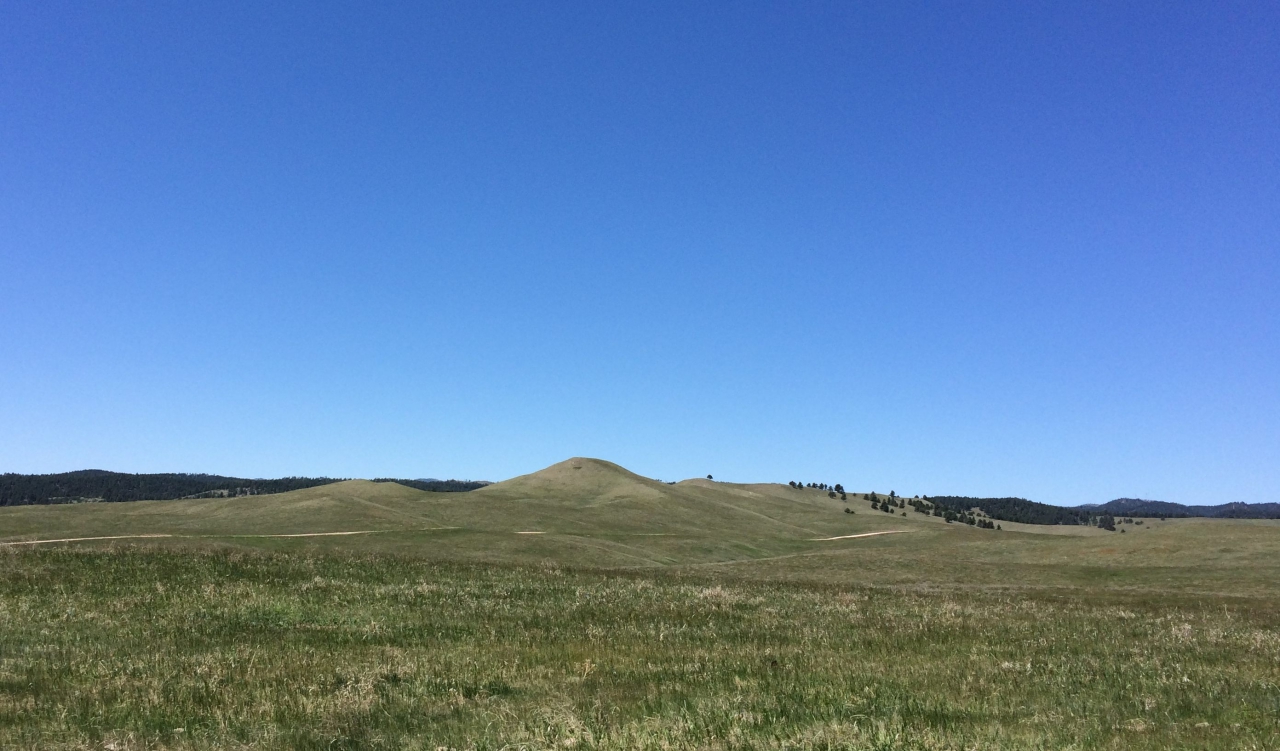 We quickly spotted our first buffalo. A heard of 1300 buffalo roam the park, making this one of the largest herds in the US. Each September, the park hosts a buffalo roundup, which is a big attraction.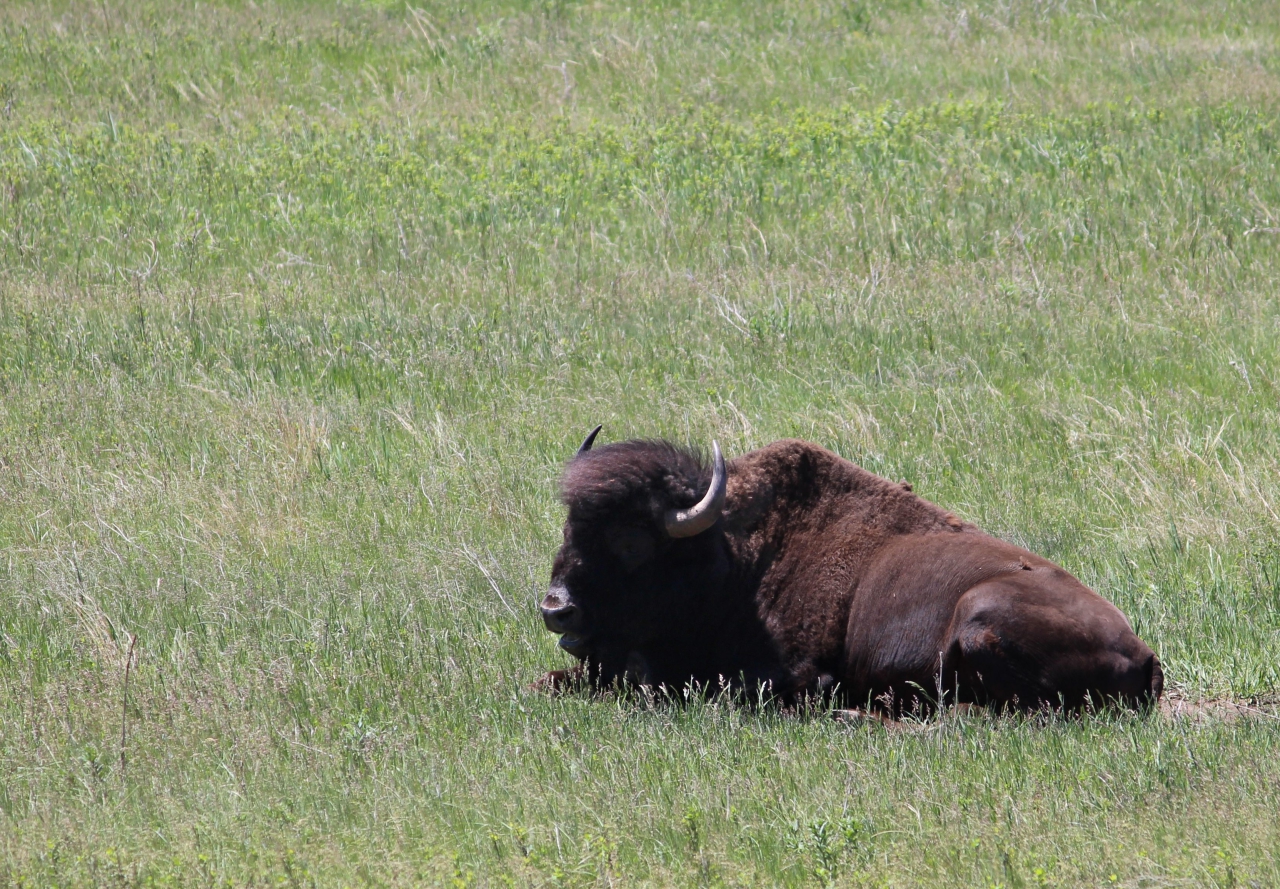 We also saw a lot of pronghorn. I wasn't familiar with these creatures until this trip. Though they may resemble deer or antelope, pronghorn aren't either. They're their own thing. These are fairly abundant in Wyoming and South Dakota, so you may spot them outside the park, as well.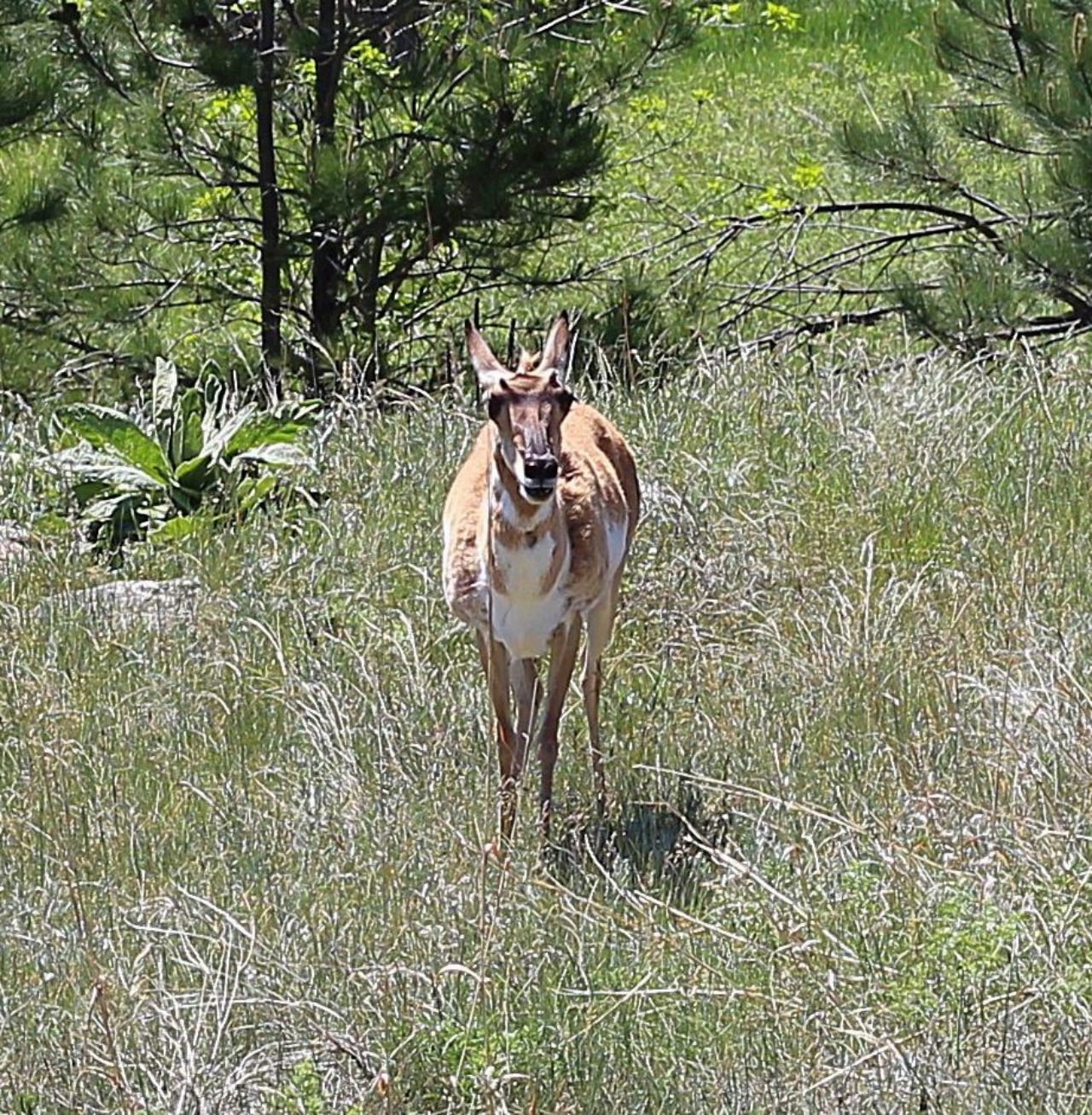 Another interesting fact we learned is that pronghorn are the fastest animals in the western hemisphere. Maybe that's why my picture of this mama and her babies turned out so blurry…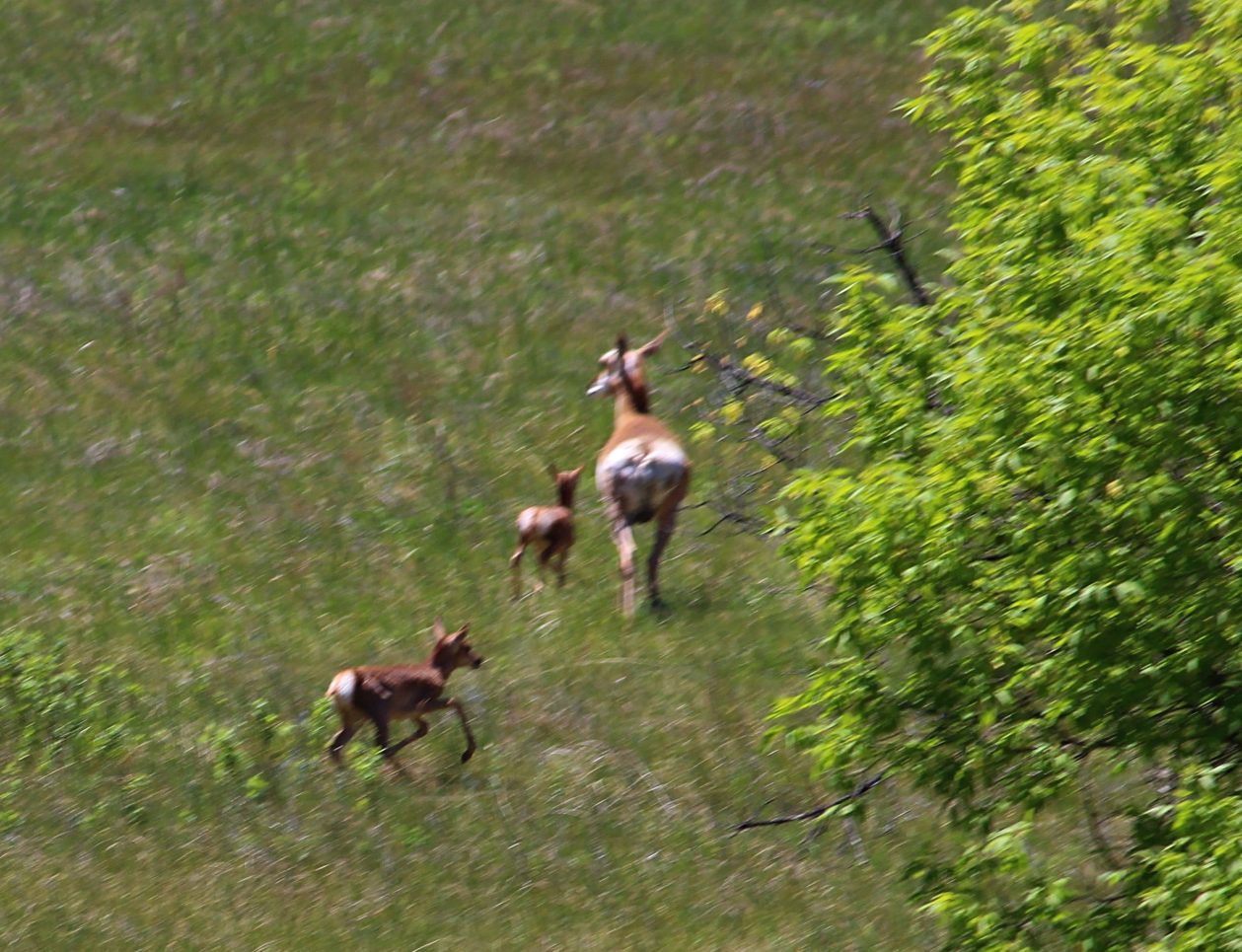 In addition to buffalo and pronghorn, Custer State Park is home to a roaming band of burros. These are reportedly tame enough that you can feed them from your car (carrots are the recommended snack). We, unfortunately, did not come across these. Nor did we encounter the bighorn sheep or mountain goats. If wildlife viewing is your thing, get up early or stay late for the best chances to see more species.
Many wildflowers were in bloom during our visit, which made this pretty landscape even prettier.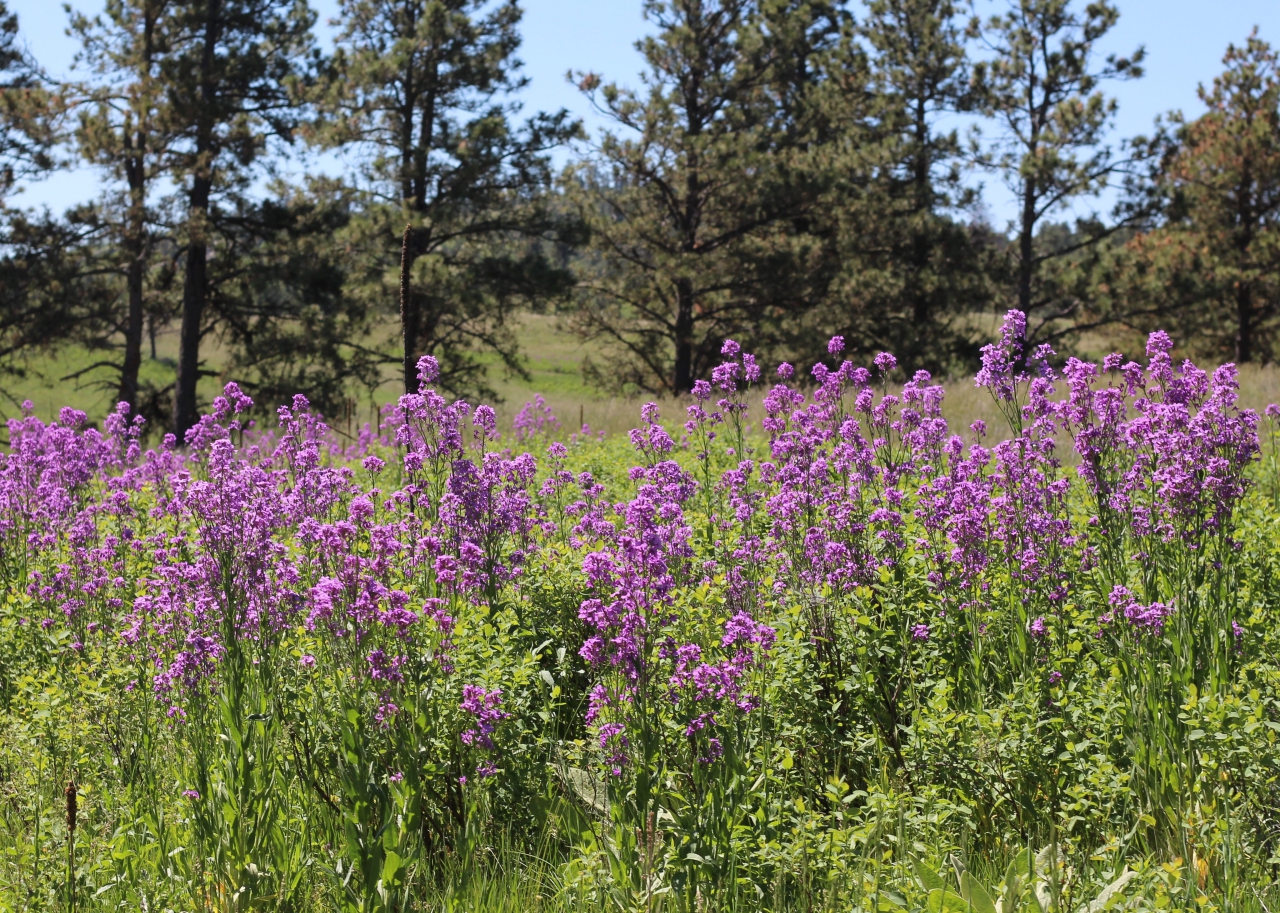 In such a beautiful park, hiking is a favorite activity. You can find a description of several trails on the Custer State Park Trail Guide. Since we got a late start and weren't sure about our time frame, we opted to do a short mile-long walk around Sylvan Lake.
Sylvan Lake is a crowning jewel of Custer State Park. Massive granite formations rise above its sapphire waters.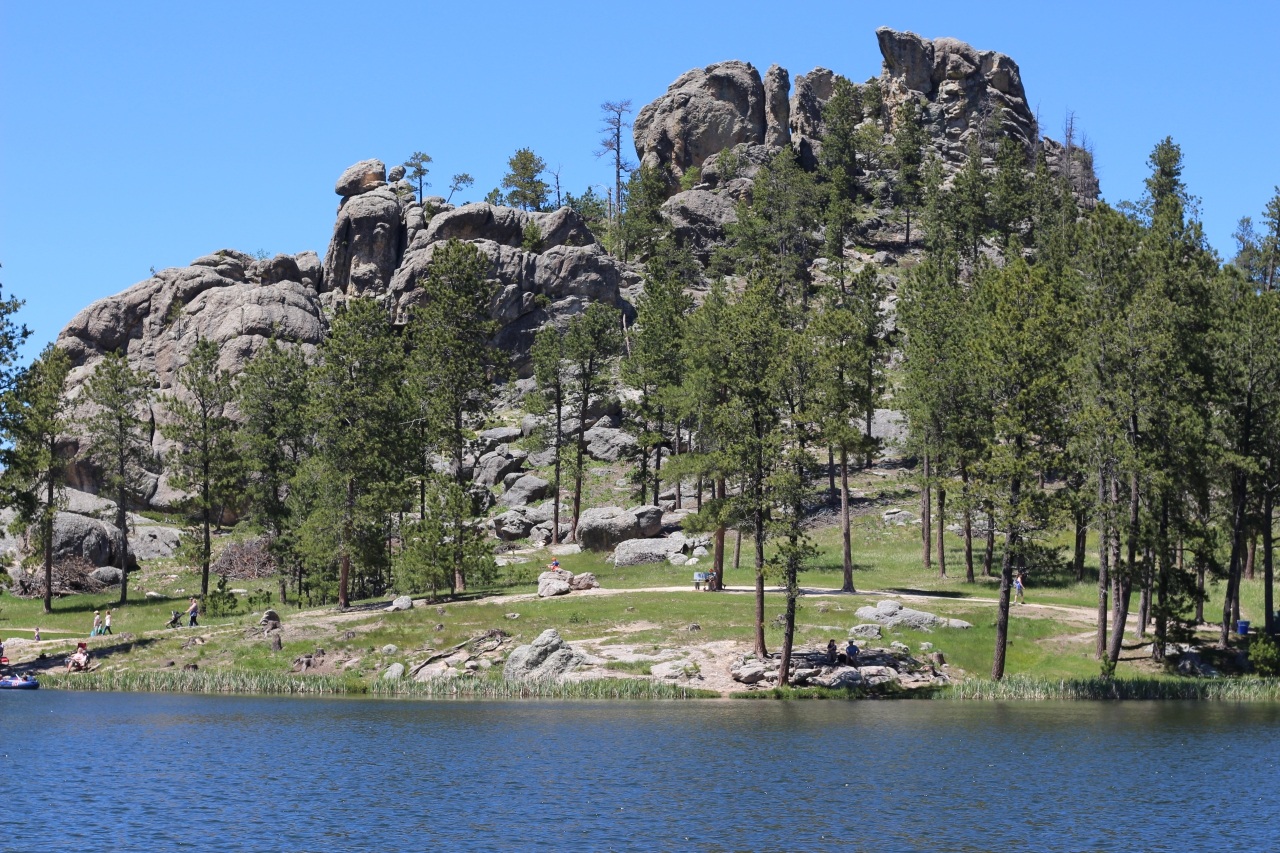 Canoe and kayak rentals are available. This looked to be a divine way to explore the lake.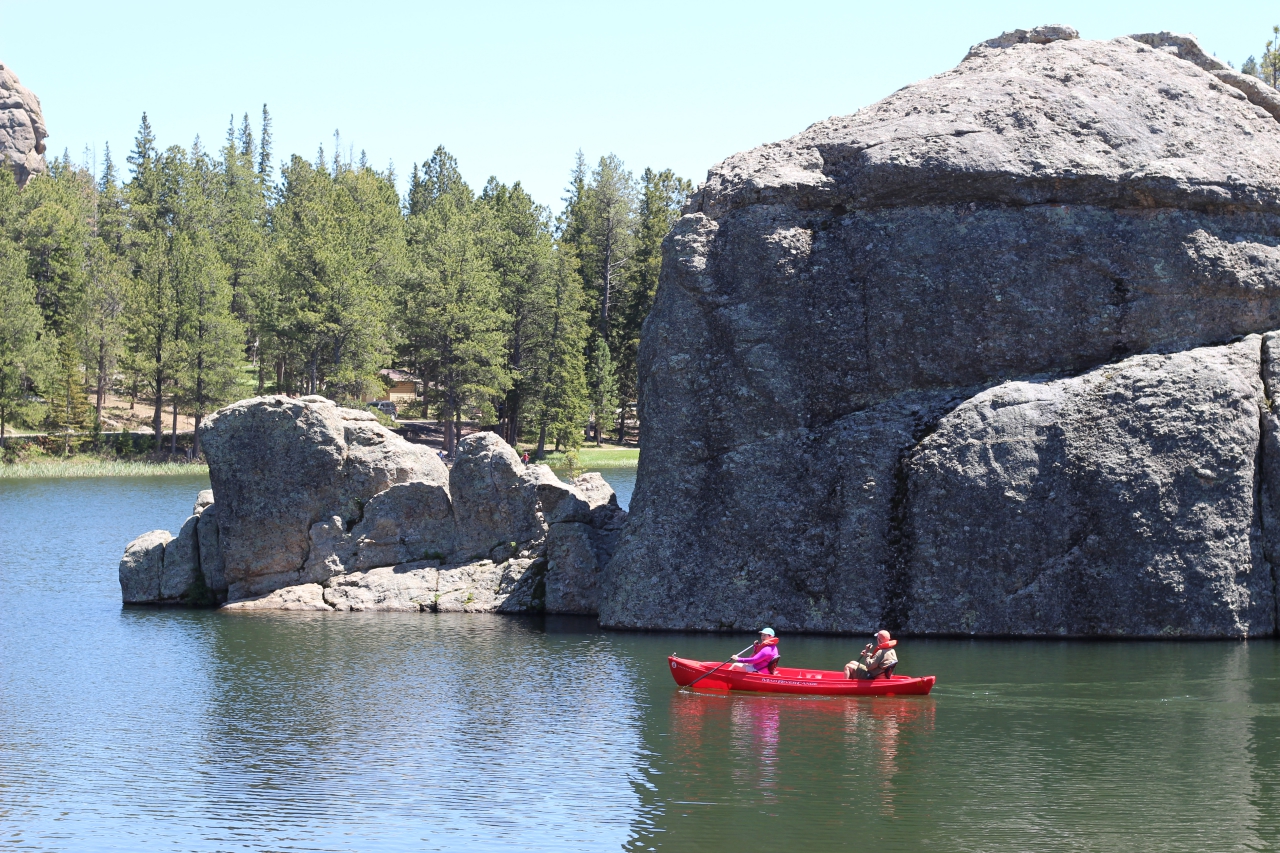 Though it is too chilly for swimming, Sylvan Lake is a popular place for little ones to wade in the crystal clear waters.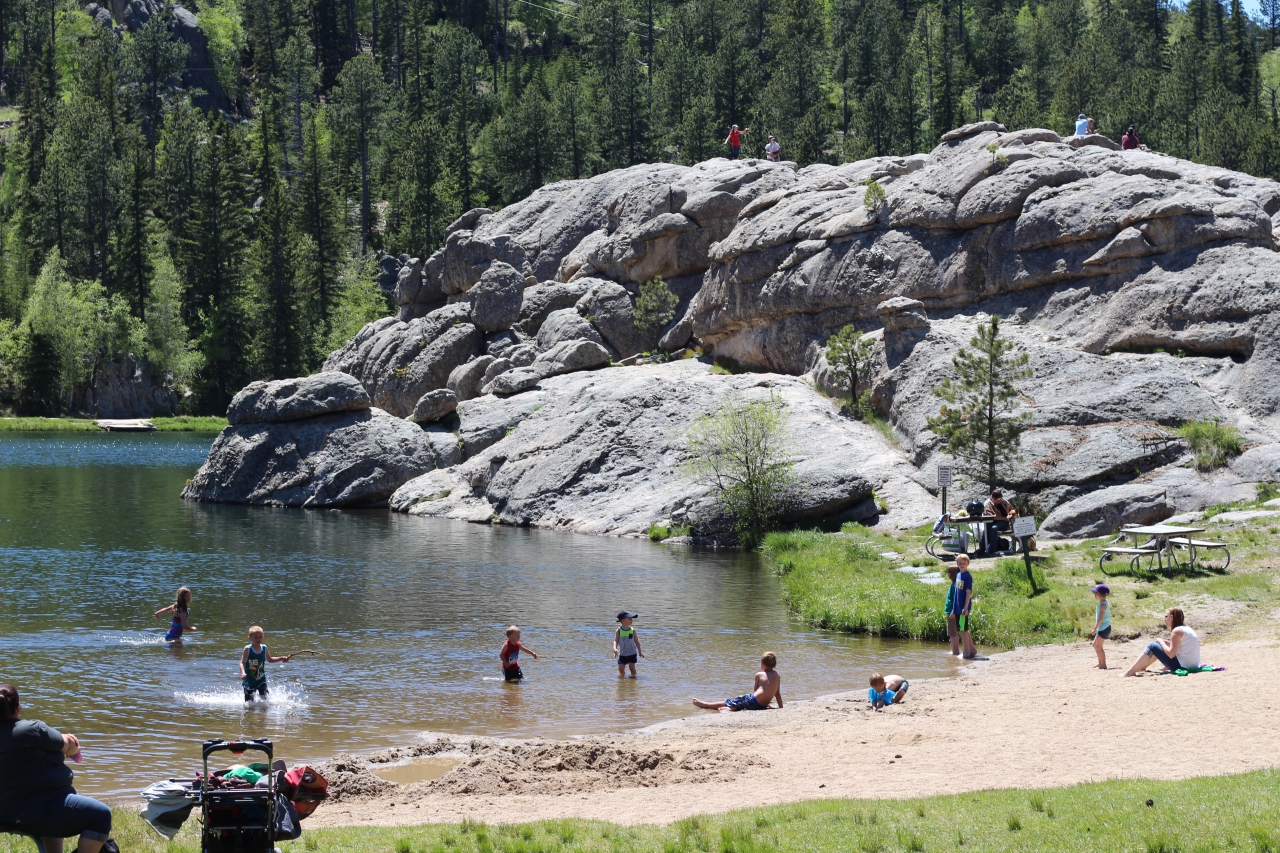 Our boys enjoyed climbing up the rocks to get a bird's eye view from above.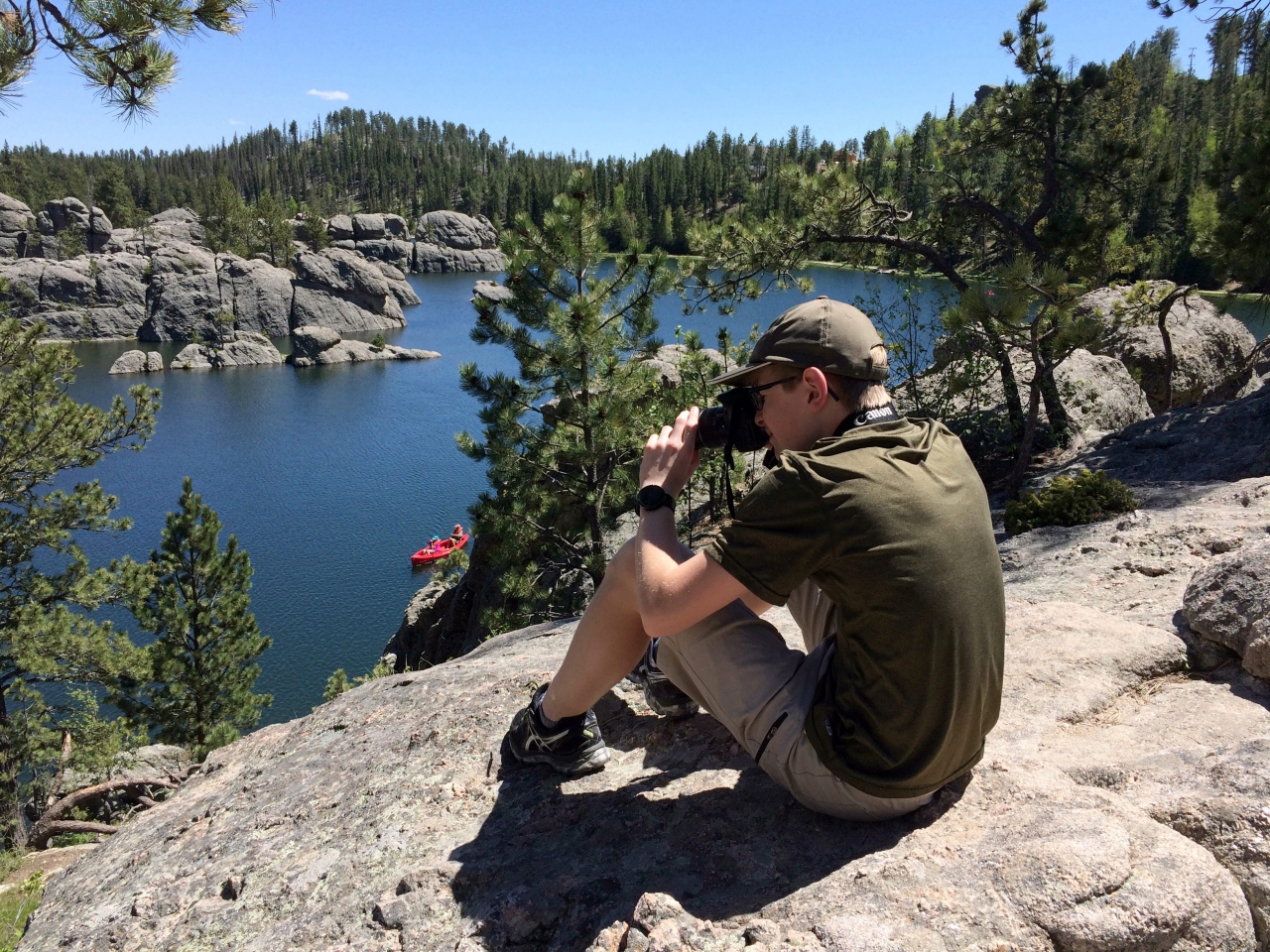 Sylvan Lake is a truly spectacular place to walk, hike, paddle, or even to sit a spell and enjoy the views.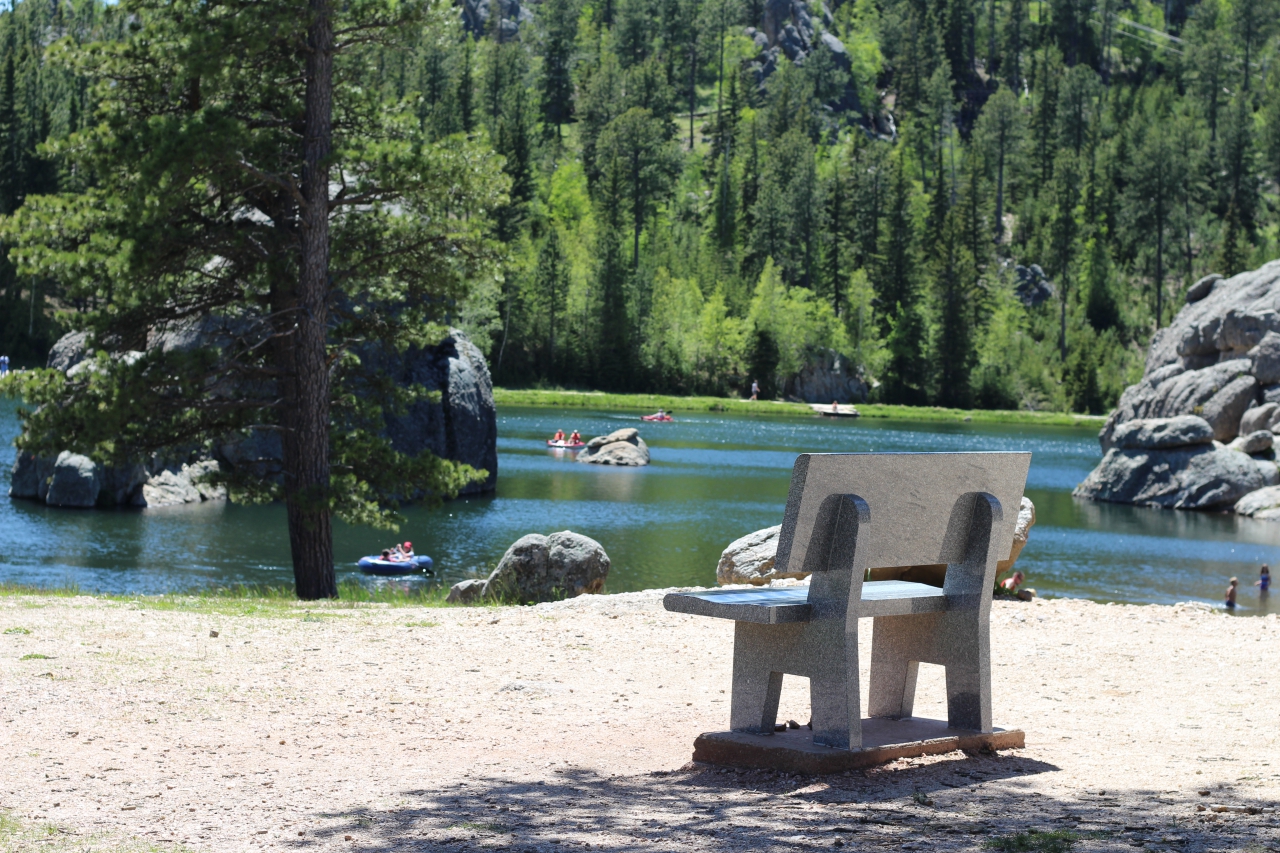 After an ice cream from the store at Sylvan Lake, we were ready to continue our drive.
Needles Highway
The Blacks Hills are known for the unique granite spires that push skyward. The historian who dreamed of building Mount Rushmore had originally wanted to sculpt carvings of famous figures into these granite spires as a way to attract visitors to South Dakota. However, a different spot was selected, and these formations were left just as Mother Nature had carved them.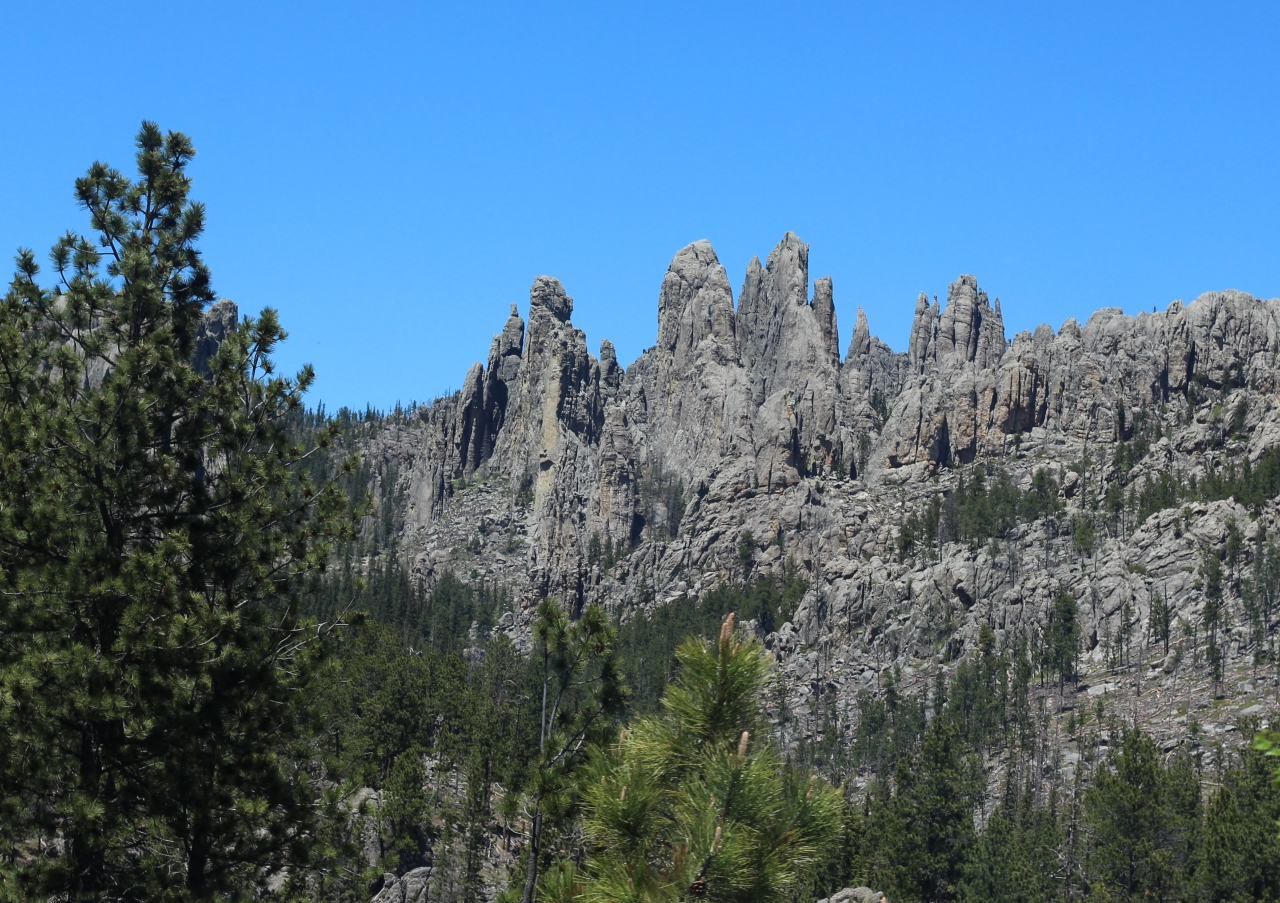 Governor Norbeck designed the Needles Highway to take visitors right into these magnificent structures.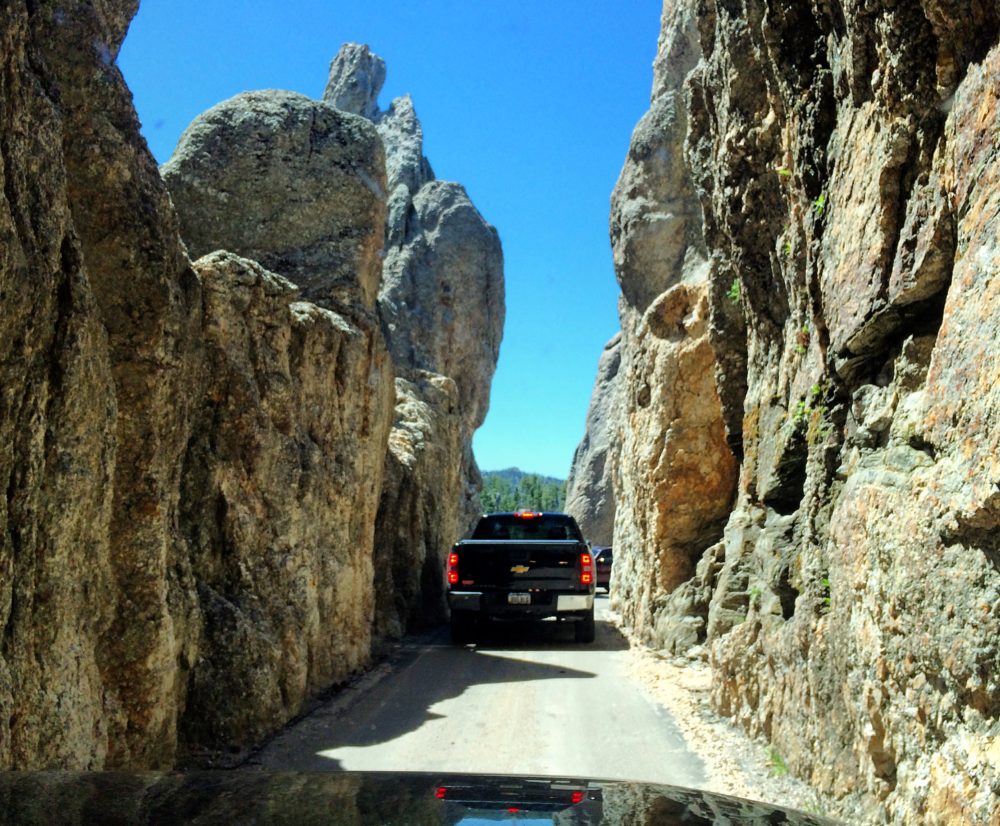 You'll feel like a piece of thread passing through the eye of a needle as you make your way through the tunnels along this highway. (The weird black line in this photo is our vehicle's antennae. It was rudely right in my view whenever I tried to stick my camera out the window to grab a shot.)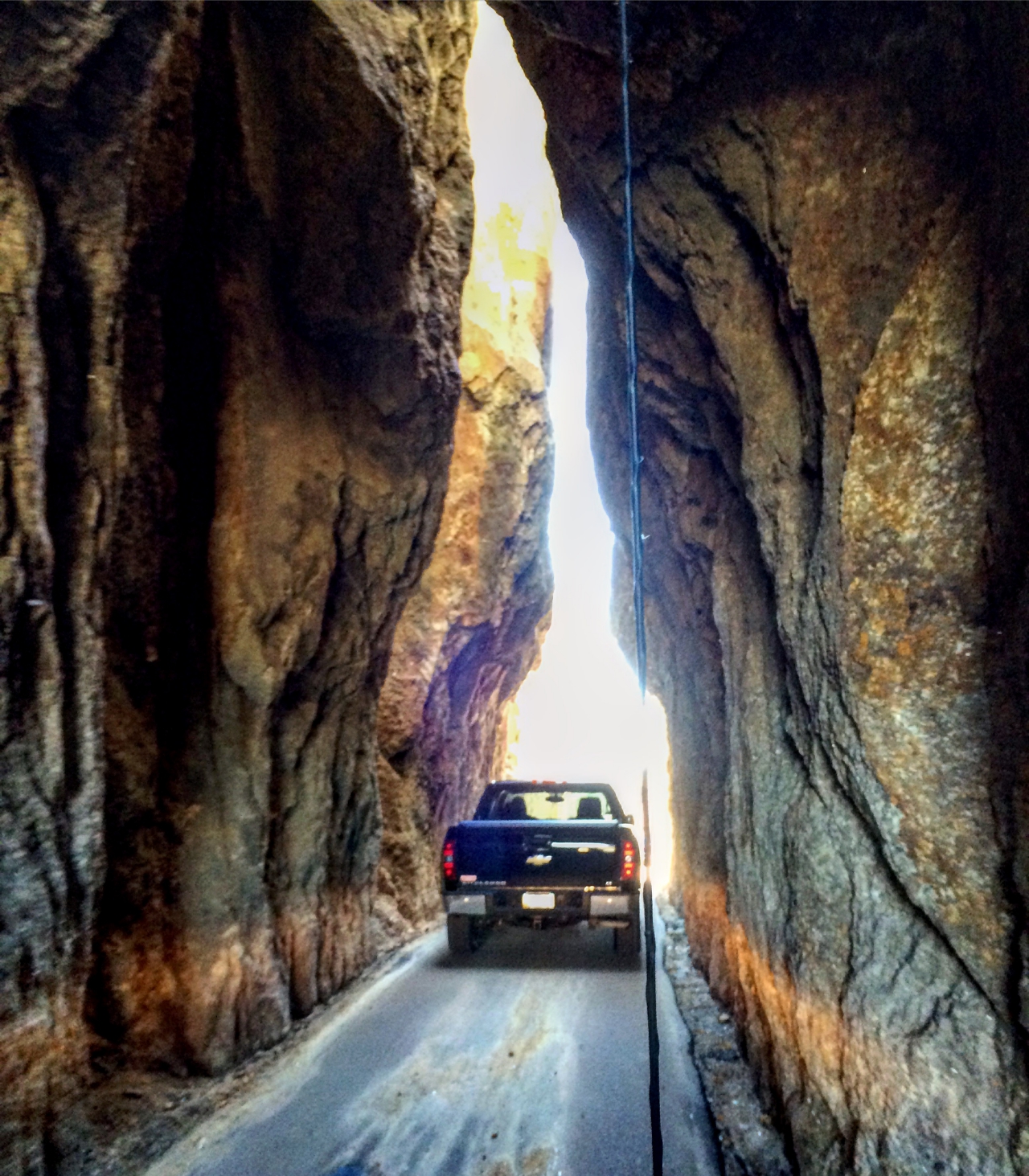 There are places to park and get out to wander into the landscape. I highly recommend you take advantage of these.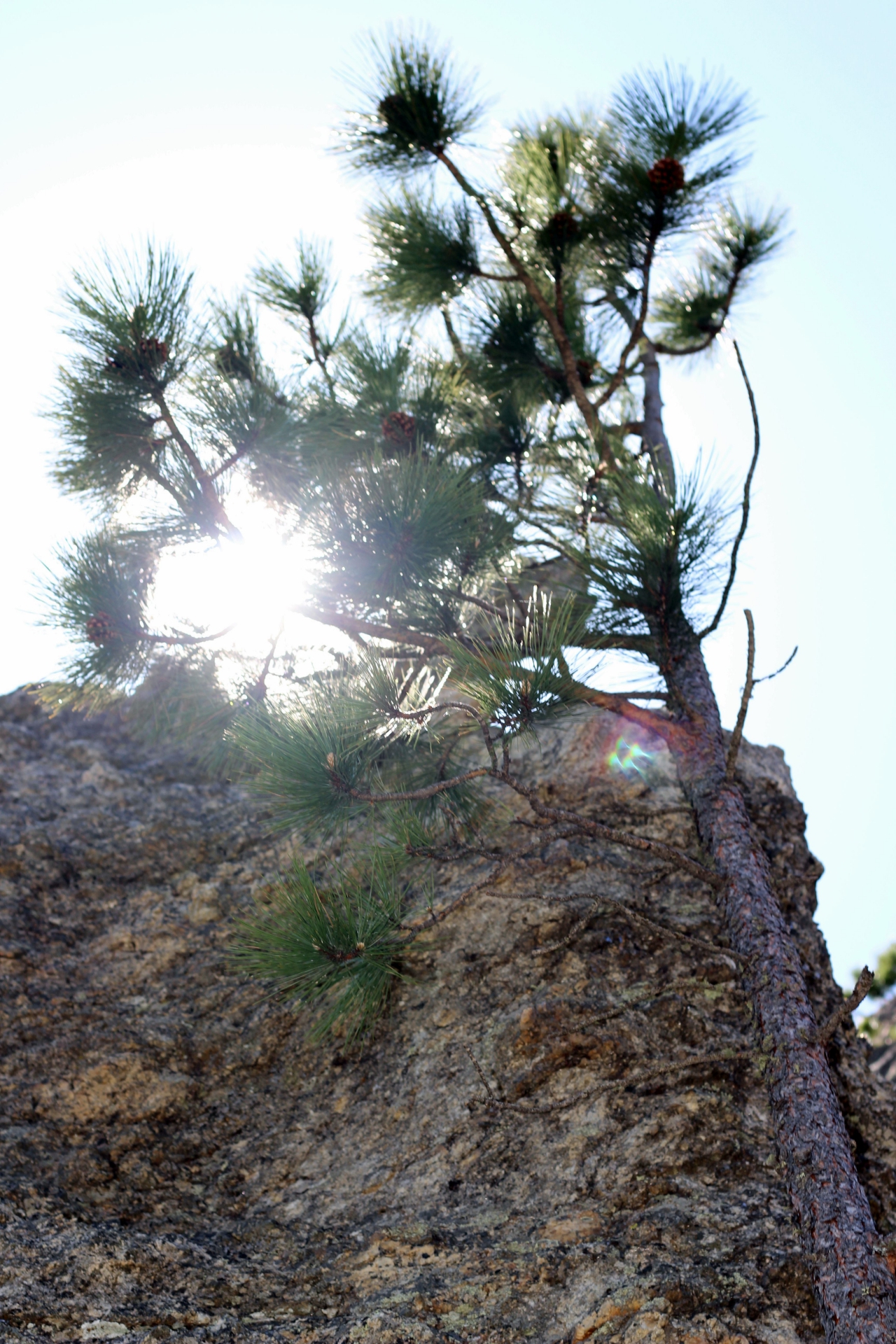 Deadwood, SD
Despite our love for our campsite at the Rafter J Bar Ranch and our fondness for the Black Hills, it was soon time to make our way westward toward Yellowstone. Instead of getting on the interstate, we opted to take highway 385, which took us through the famed Western town of Deadwood.
Larger-than-life figures like Wild Bill Hickok and Calamity Jane made this their stomping grounds (and their final resting place–you can find their graves in the Mount Moriah Cemetery). The historic buildings and cobblestone streets help transport visitors back in time. You can just imagine what this place was like in the Wild West days.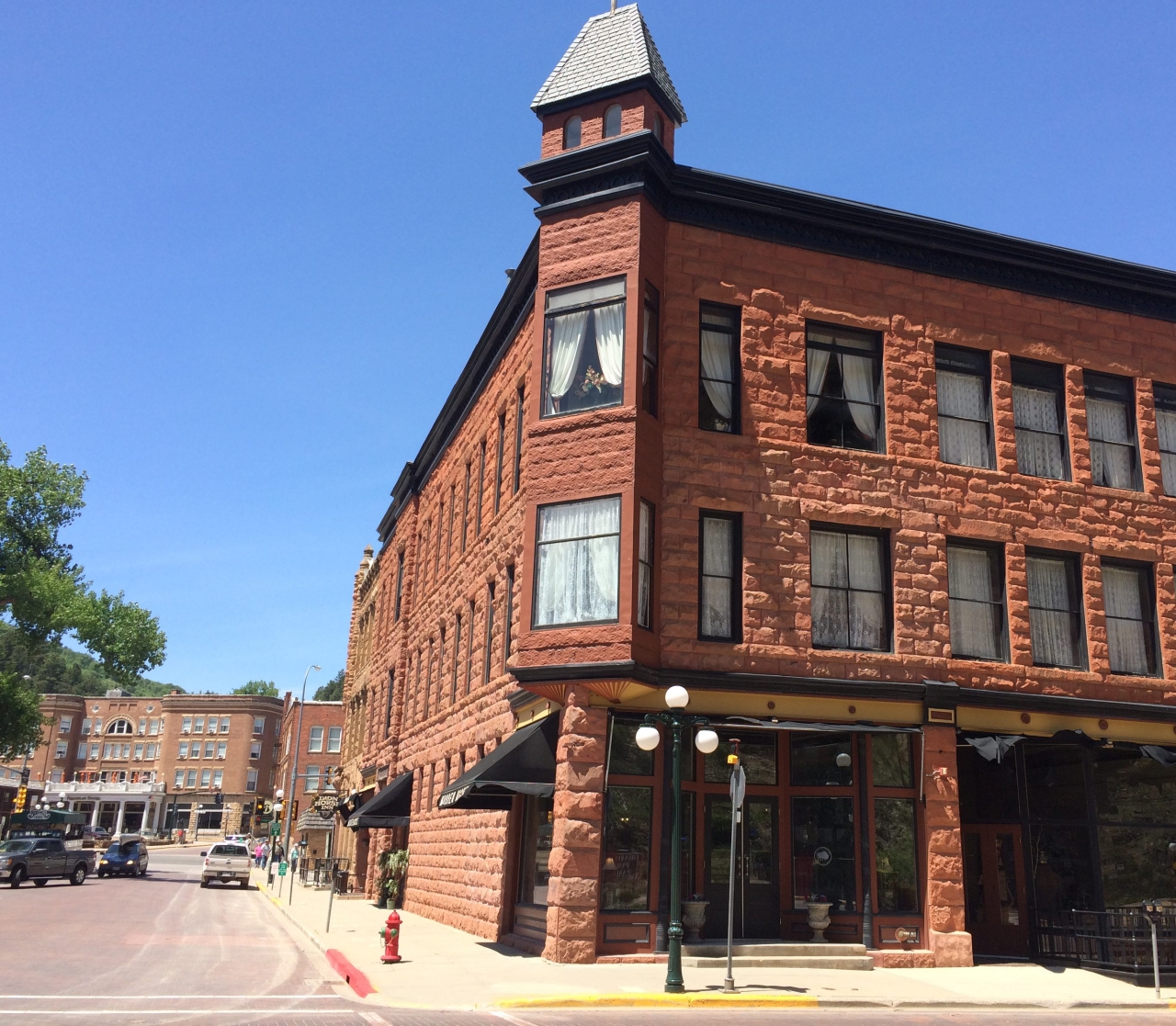 In addition to historic sites, today's visitors to Deadwood will find plenty of restaurants, casinos, and shops, making it a lively spot to stroll the streets.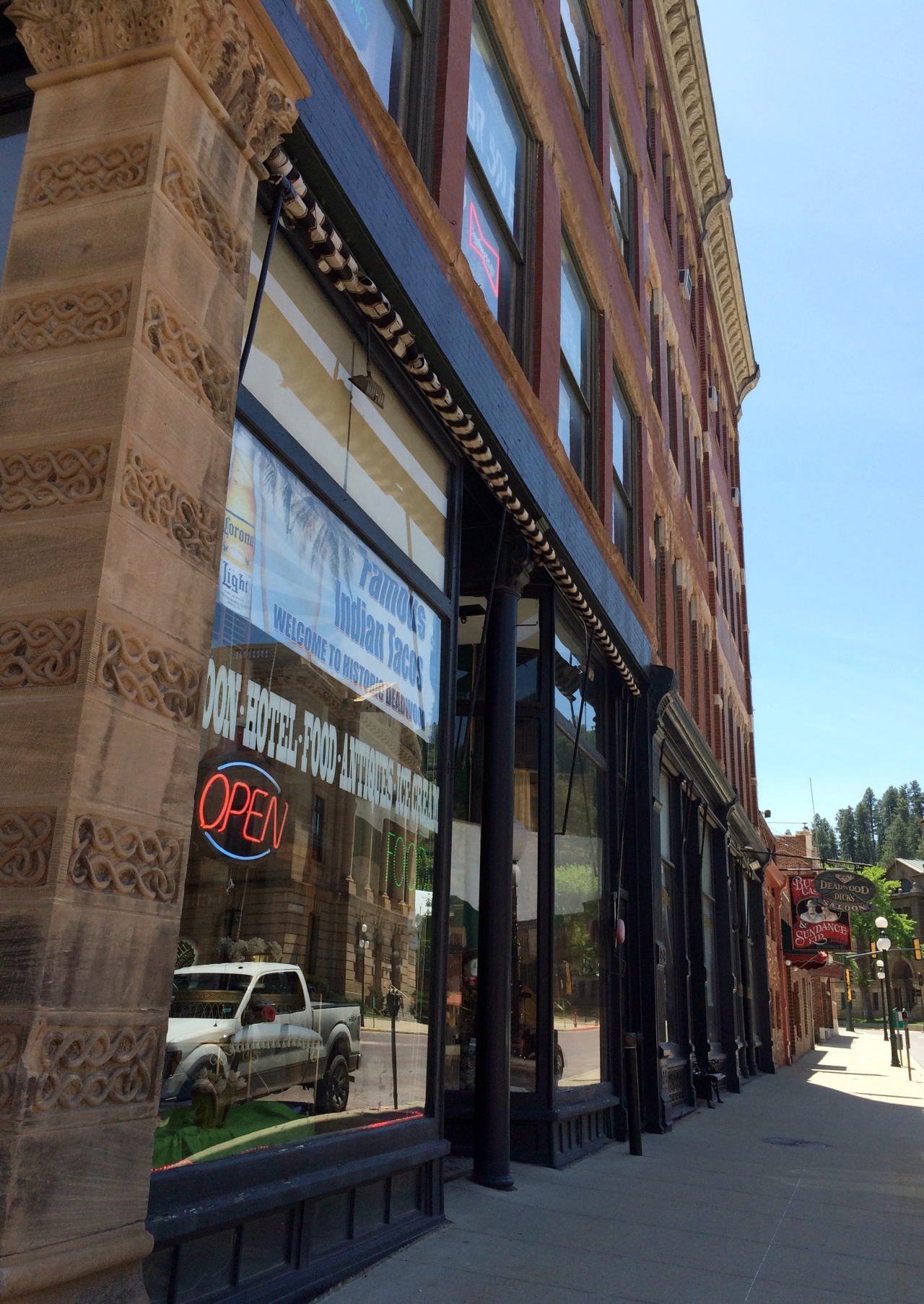 Mustang Sally's patio is a perfect spot to grab a bite to eat and do some people watching.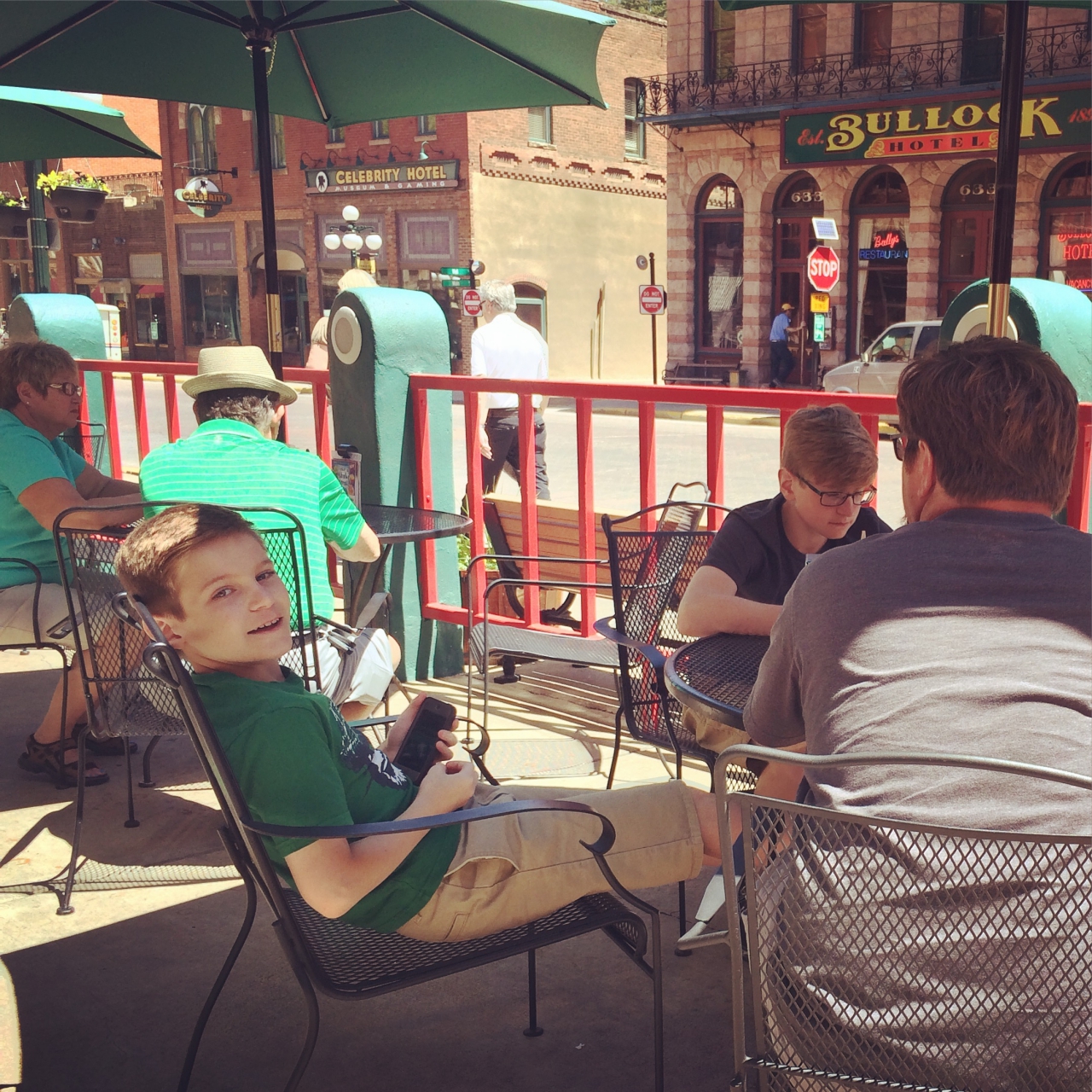 Final Thoughts
The Black Hills region is chock full of beauty and entertainment. We spent 5 days in the area and could have easily spent several more. If we had more time, we definitely would have hiked to the top of Black Elk Peak (previously known as Harney Peak) to stand at the highest point in the Black Hills. We also would have liked to tour a mining attraction or some of the many museums. If you're trip planning, I'd definitely recommend spending more than a couple of days in the region.
Trip Planning Tips for Custer State Park
Allow plenty of time. You can drive the Iron Mountain Road, Wildlife Loop Road, and the Needles Highway in a day, with a little time to hop out and explore. However, if you want to have time to hike, fish, or paddle, you'll need more than a day in the park.
Consider bringing something to paddle or renting a kayak or canoe at Sylvan Lake. It's a beautiful place to make a splash.
If you think your little ones will wade in the lake, bring extra clothes.
Consider packing a picnic. There are many pretty spots to stop and enjoy lunch with a scenic view.
Consider staying at Rafter J Bar Ranch.  We loved this RV park!
There are also campgrounds in Custer State Park that have good reviews.
P.S. You can find a podcast with my review of Rafter J Bar Ranch and Black Hills attraction over at Campground of the Week .
Find Travels with Birdy:
Share this post: