Campground Review: Rafter J Bar Ranch in South Dakota
As I stood beneath the towering ponderosa pines of Rafter J Bar Ranch, I was tempted to cancel the rest of our trip  (read all about it here: Birdy NPS 100) and stay here for the duration of our vacation. The beautiful woodlands, the rolling green hills, the brilliant blue skies, and the perfect temperatures had won me over. Out of dozens of campgrounds in a dozen states, this was my absolute all-time favorite. If you're planning a trip to the Black Hills of western South Dakota, you need to put Rafter J at the top of your campground list.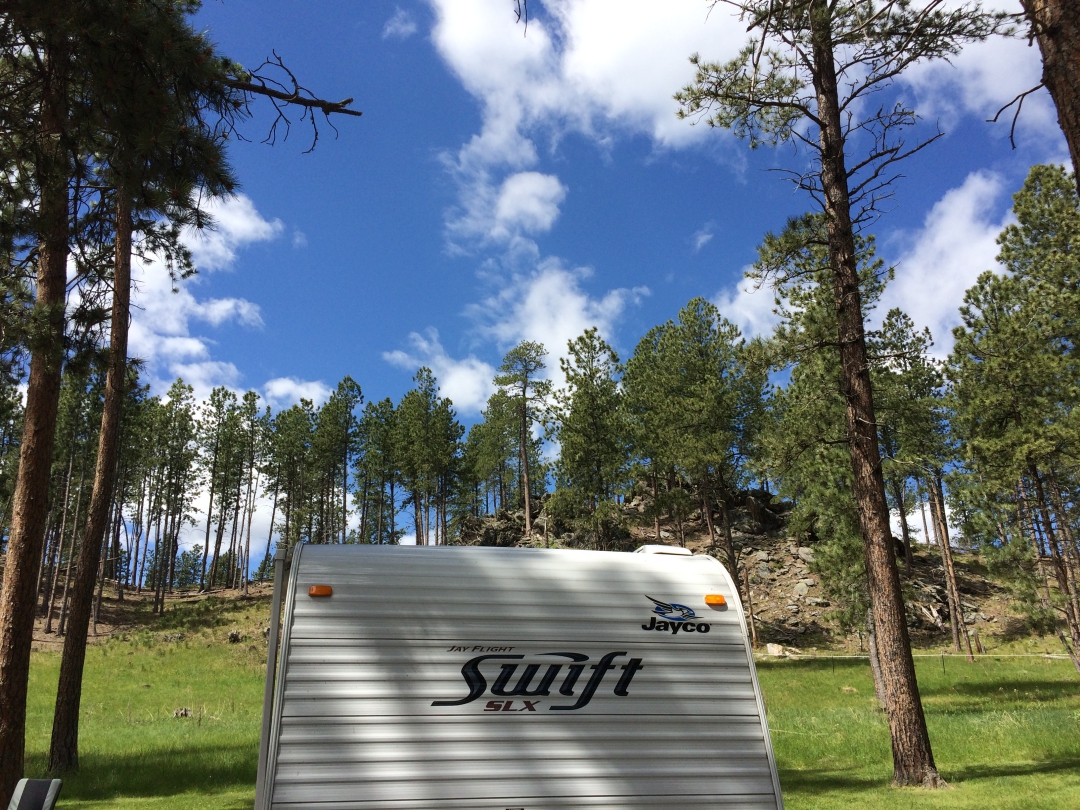 Local Area
Rafter J is located in Hill City, a small town in the Black Hills region of South Dakota. Though much of South Dakota is flat prairie land, this area is marked by craggy granite peaks and soaring pine trees. In addition to the natural beauty, the region is home to many attractions, including Mount Rushmore, Custer State Park, Crazy Horse Memorial, Needles Highway, and more. We barely put a dent in all there is for tourists to do in the region. You can read about what we did do in my Black Hills Part I and Part II posts.
Hill City is a quaint small town with a handful of restaurants, a grocery store, and other amenities. It has everything you need while you stay at Rafter J. The RV park sits a couple of miles out of town, making it convenient to everything.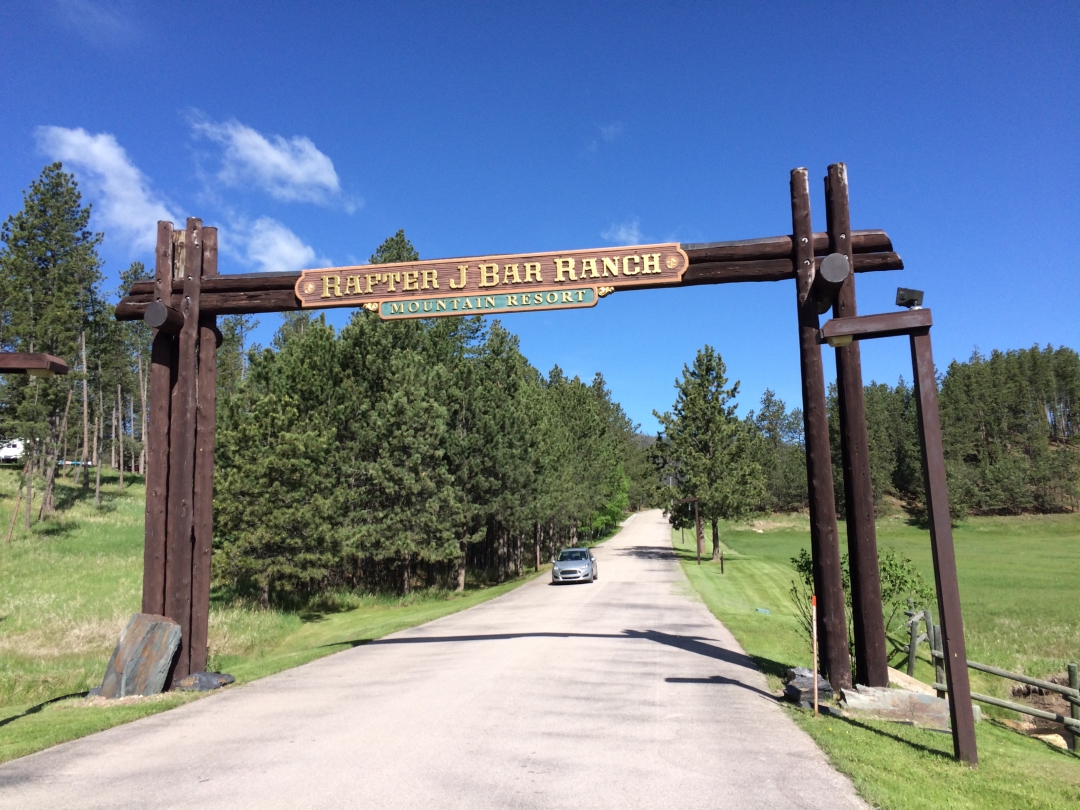 Rafter J has provided a place for visitors to park since the late 1800s. General Custer once stayed here while on a gold-finding expedition. Later, the ranch was a stopping spot for stage coaches. Historic buildings from this era can still be found on the property.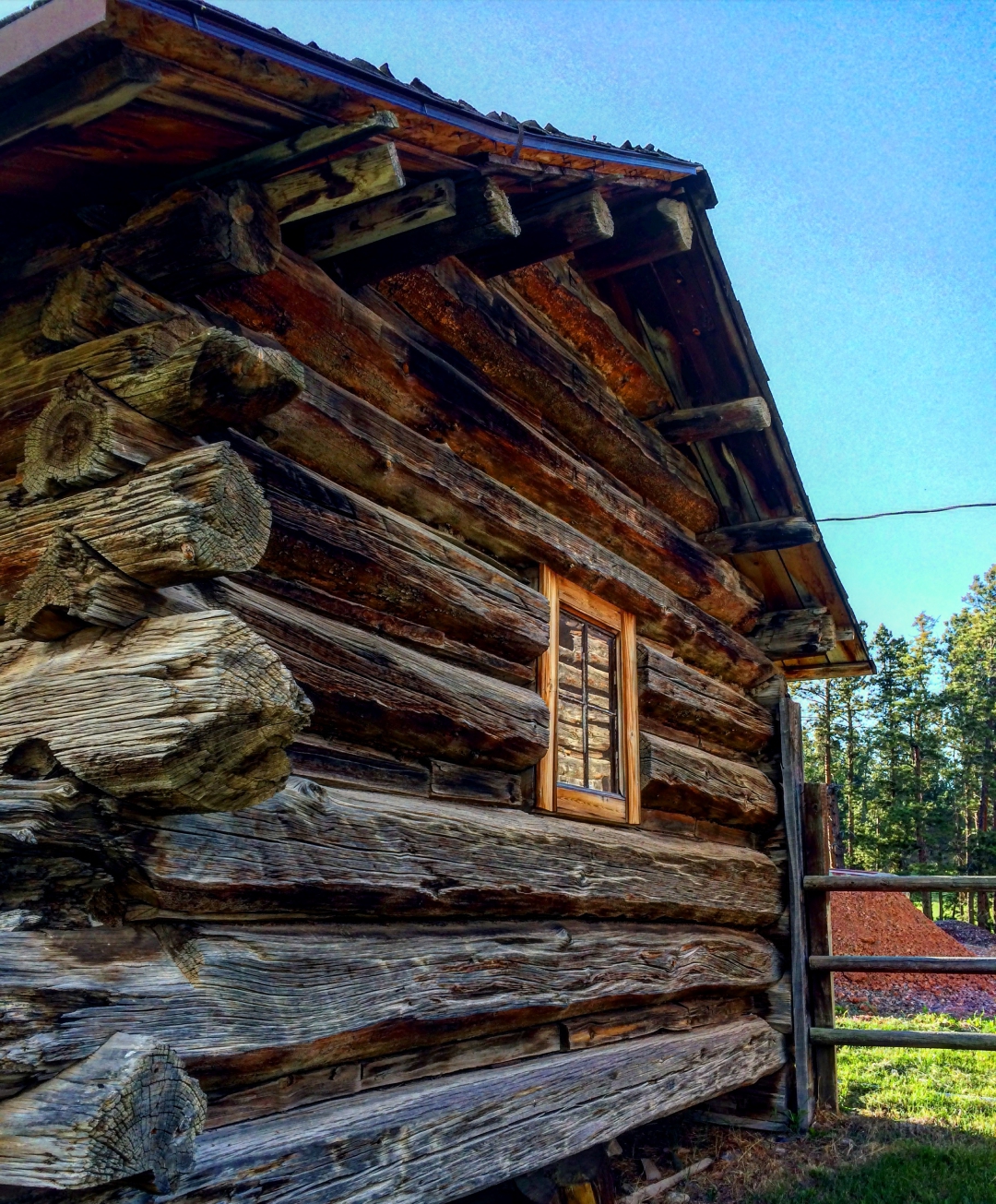 Campground Areas
Deciding to stay at Rafter J is an easy choice; selecting a spot is not. Spread across over 150 acres of land, the campsites at Rafter J vary greatly based on which section your site is in. I'll do my best to give you an overview of the main areas, but don't hesitate to call the park to ask for recommendations for which one would best fit your needs.
Here's a rundown of the areas you can choose from:
Base Camp: This area is most like a traditional RV park with smaller sites and fewer trees (that being said, there are still pretty nice trees). Though slightly less scenic, it is close to the park's amenities. The Base Camp is the only section with satellite tv, and it does not have a shower house, if those are important to you.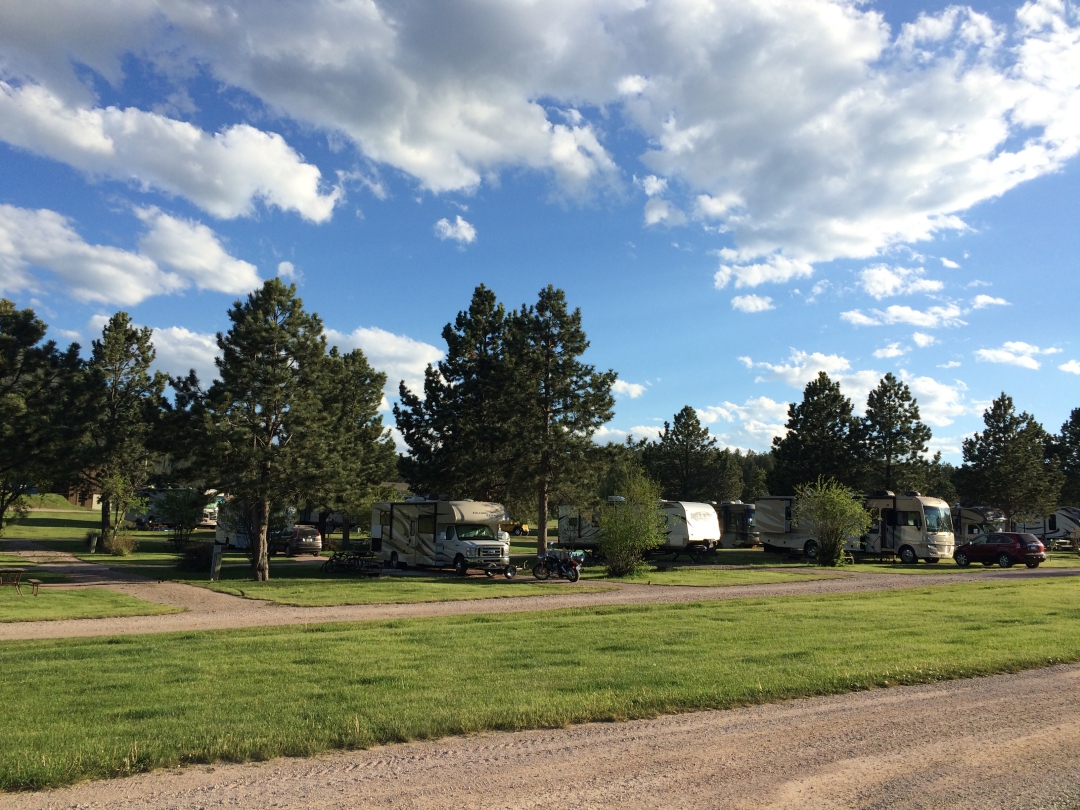 Main Camp: This area is more wooded than the base camp, but the sites are on the smaller side, as well. I felt that the campsites seemed crowded in here since. This section is close to all of the amenities and has its own bathhouse. The Main Camp is also home to the cabins.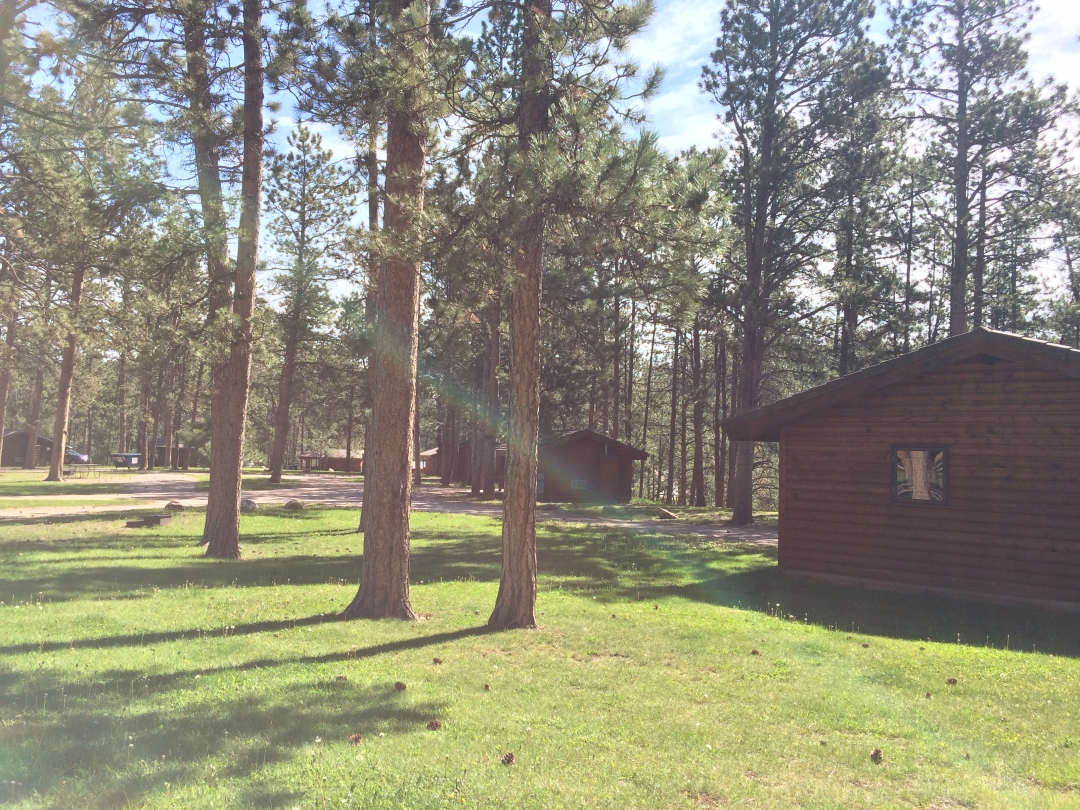 Line Camp: Campers in this area have more room to breath, with larger sites and more scenery. Many big rigs like to line the spots along the entrance to the Line Camp. Some sites are in a lovely patch of trees. The Line Camp is halfway up the hill from the amenities and does not have its own bathhouse.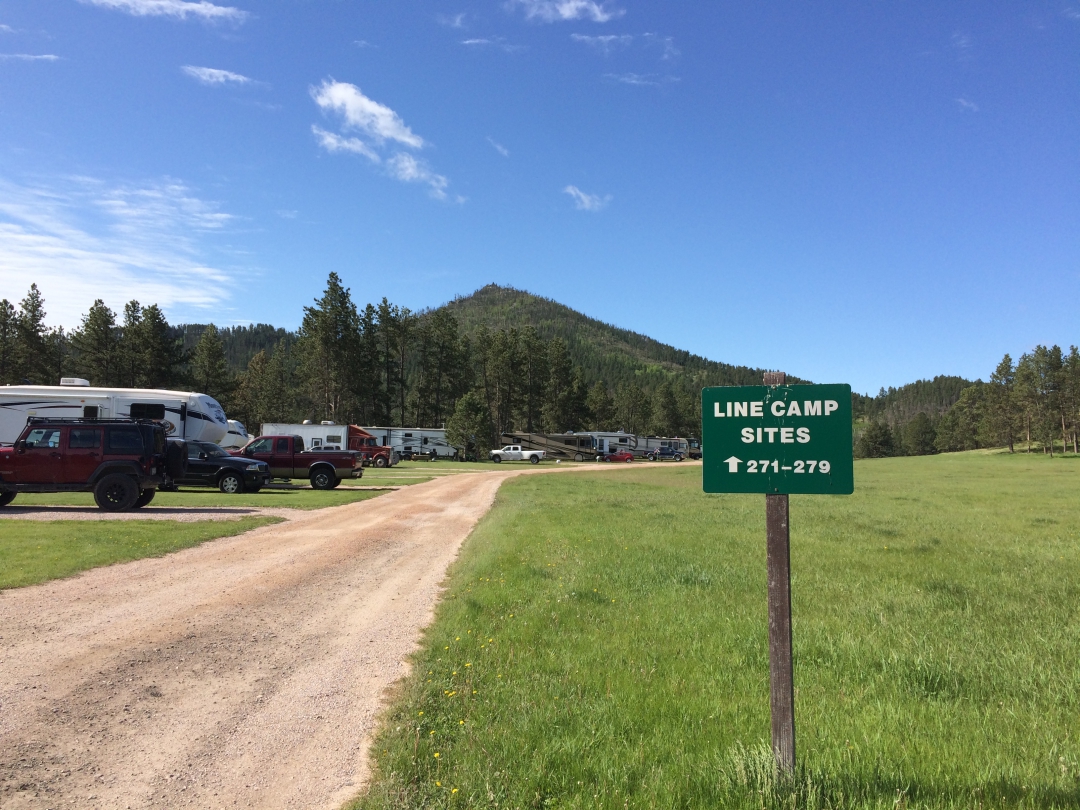 Lower Ranch Camp: This area is also popular with big rigs since the large sites are easy to get into. Though there are not many trees along these spots, they are located at the base of a hill and receive some shade. The Lower Ranch Camp is farther up the hill from the amenities and does not have its own bathhouse.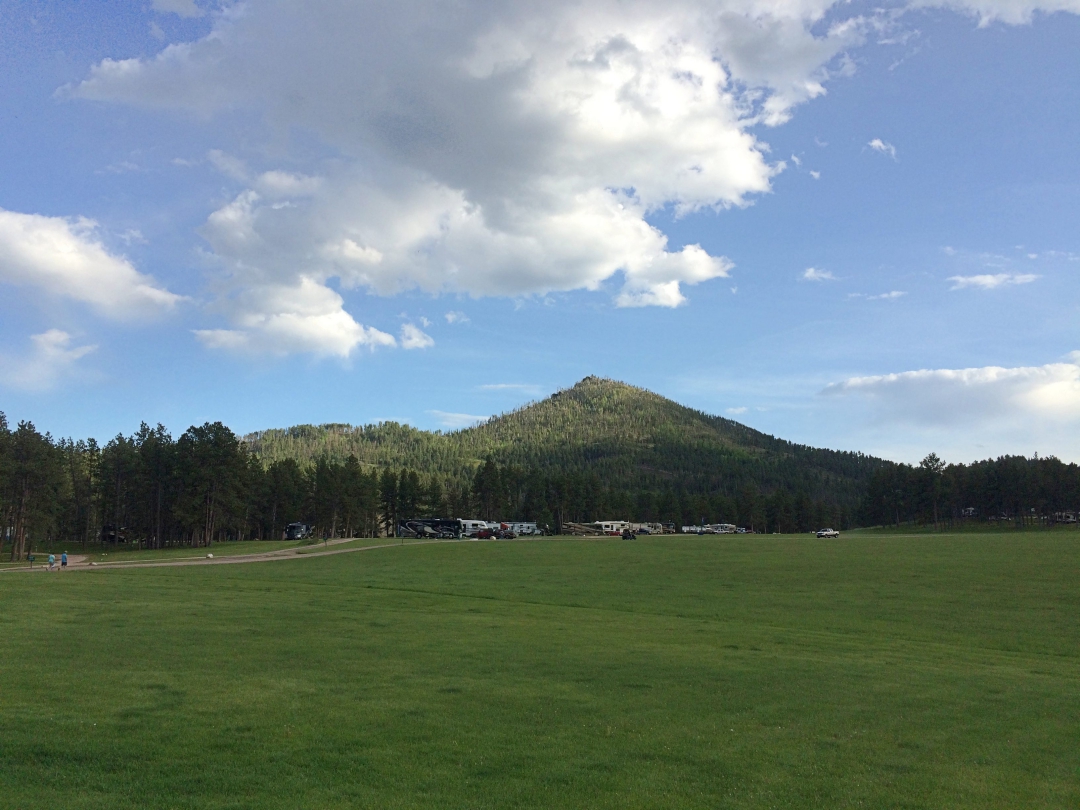 The Island: Large beautiful sites with plenty of room and trees make this area a scenic choice. However, it is more remote and does not have a bathhouse.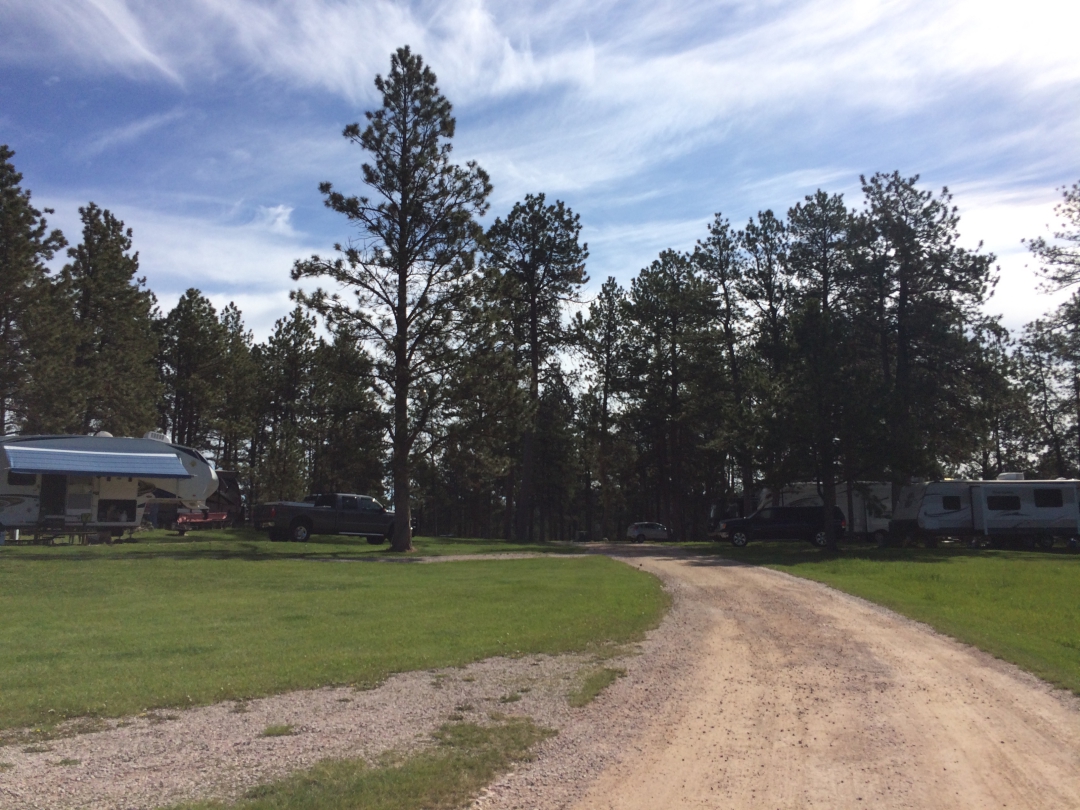 Ranch Camp: You'll find some of the prettiest sites in the camp in the woodlands at the top of the hill (if you consider pine trees beautiful, as I clearly do). The sites are nicely spaced, and some are bordered by national forest lands. You'll also find a very nice bathhouse. The main drawback is the distance from the amenities. It's quite a hike down the hill to get to the pool and back.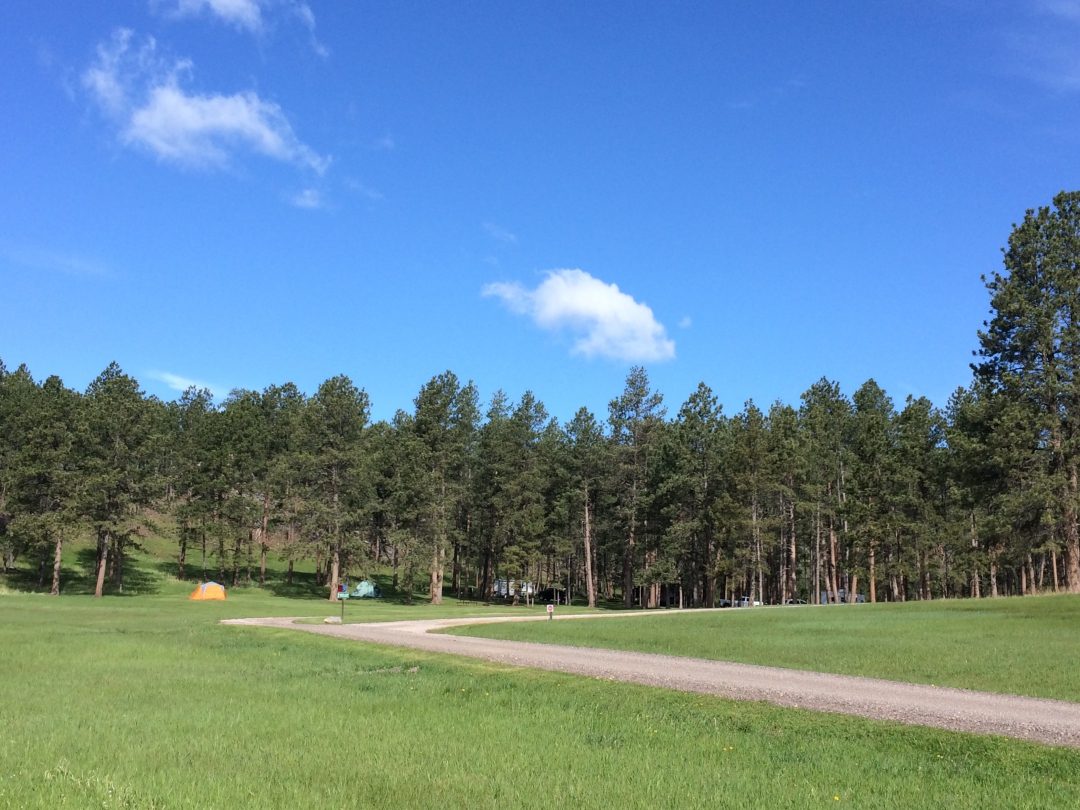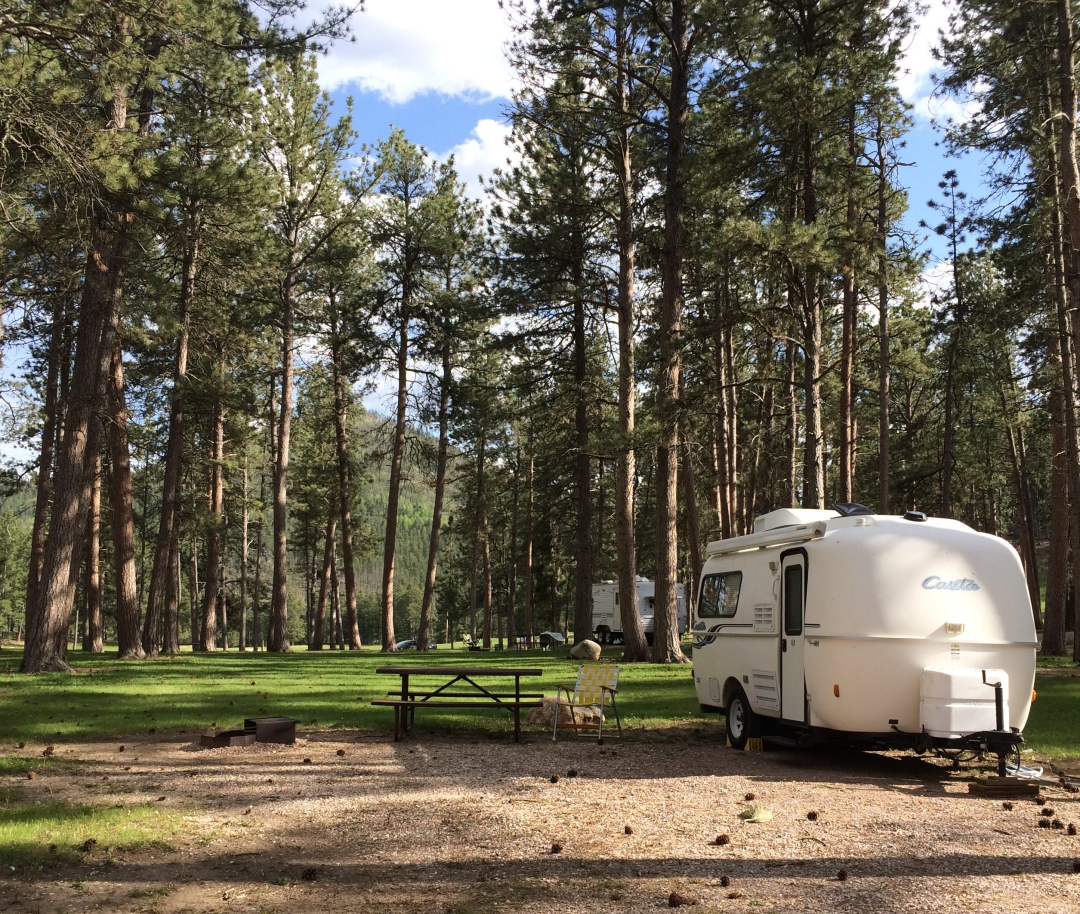 Our Ranch Camp Site
For us, selecting a spot was a no brainer. We knew we wanted a large site with trees and a bathhouse, making the Ranch Camp a great choice for us. Our site backed up to the Black Hills National Forest lands at the edge of the park, and we were a great distance from our neighbors. We felt like we owned our little piece of the park. Here, it even looks like we did: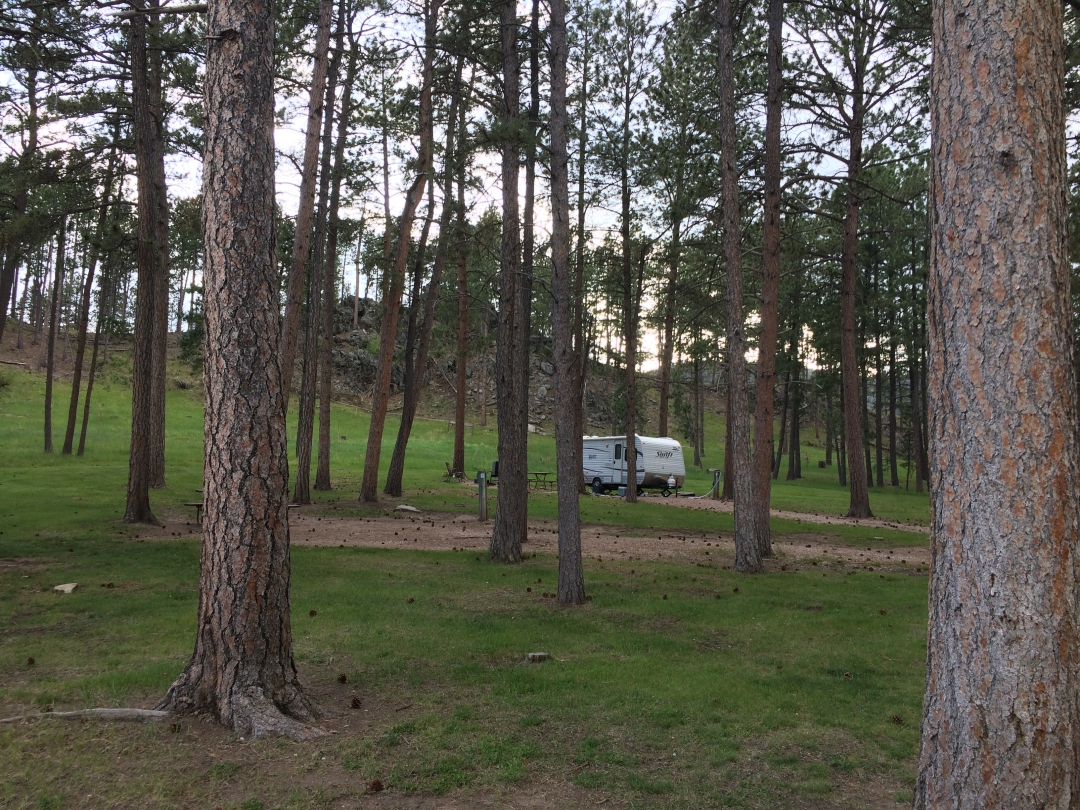 We did have to back Birdy up a long driveway to get into our campsite. Between my son and I both giving my husband directions, we somehow ended up with a tree practically stuck between our vehicle and our trailer. I was sweating it a bit, trying to figure out how we were going to get out of this sticky spot. Luckily, my husband was able to do the right maneuvering and get Birdy parked properly. Note: If you are a novice at backing in, you'll want to select a spot with a shorter driveway.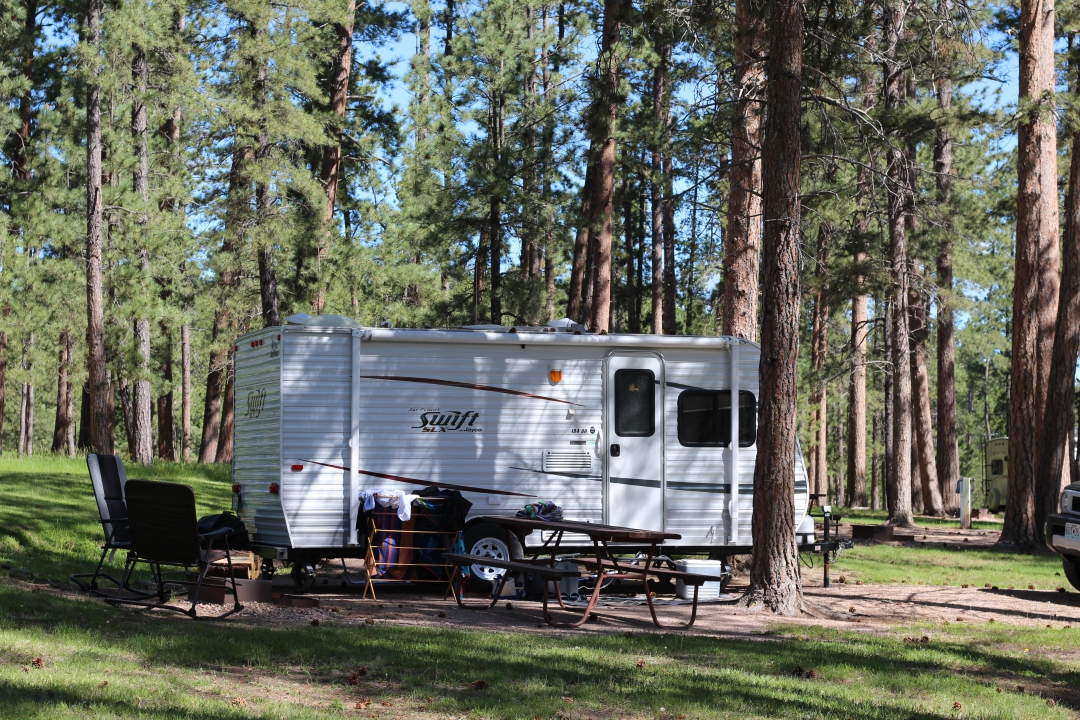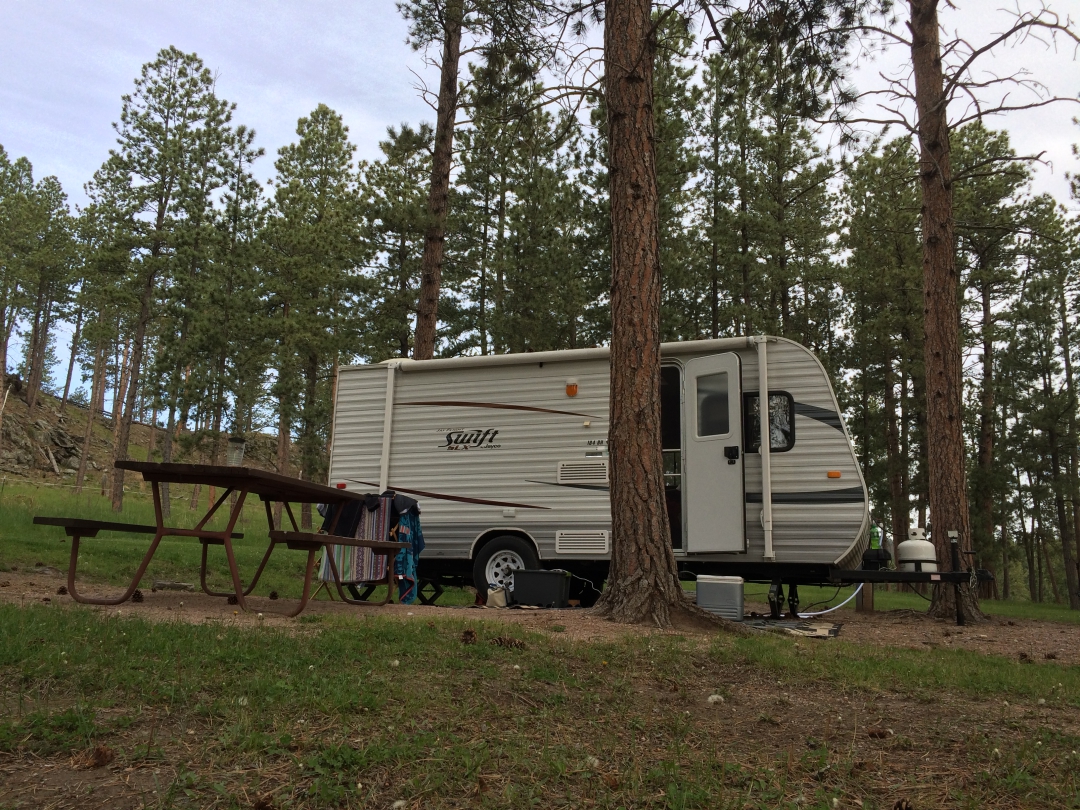 Even the shower house at the Ranch Camp is picture perfect: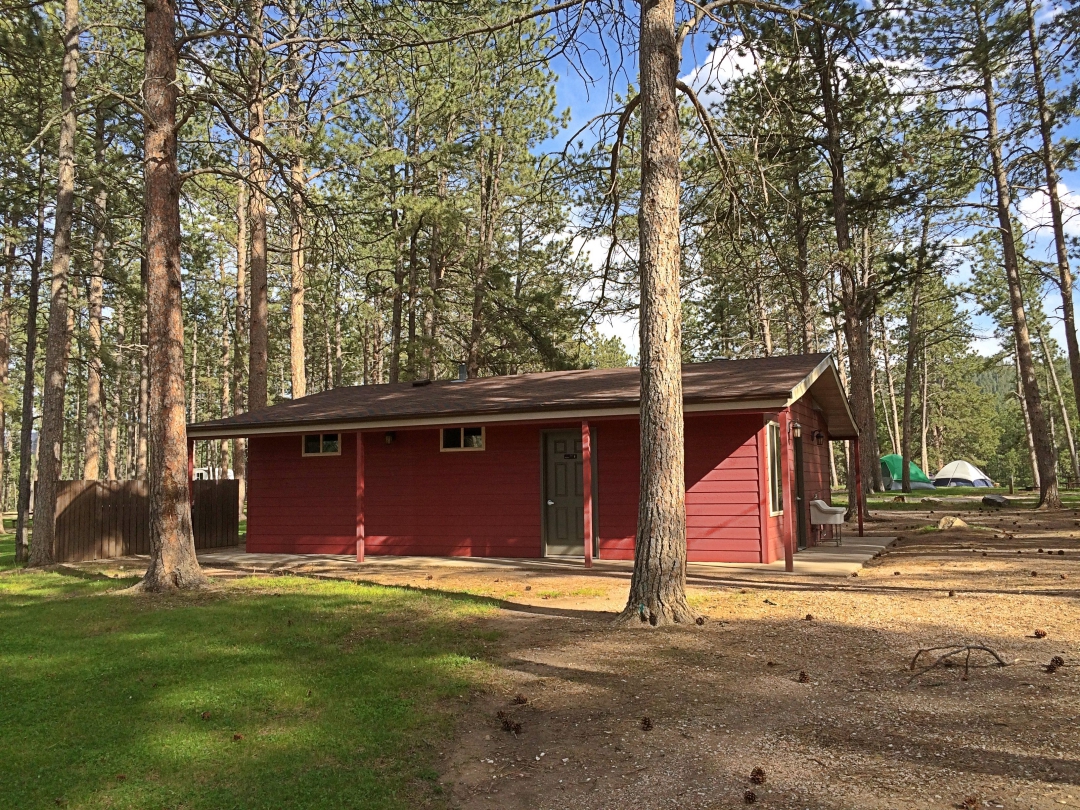 As you can imagine, Ranch Camp is popular with tent campers. It is home to the cutest camp sink I've ever seen. I was tempted to haul my dishes over here.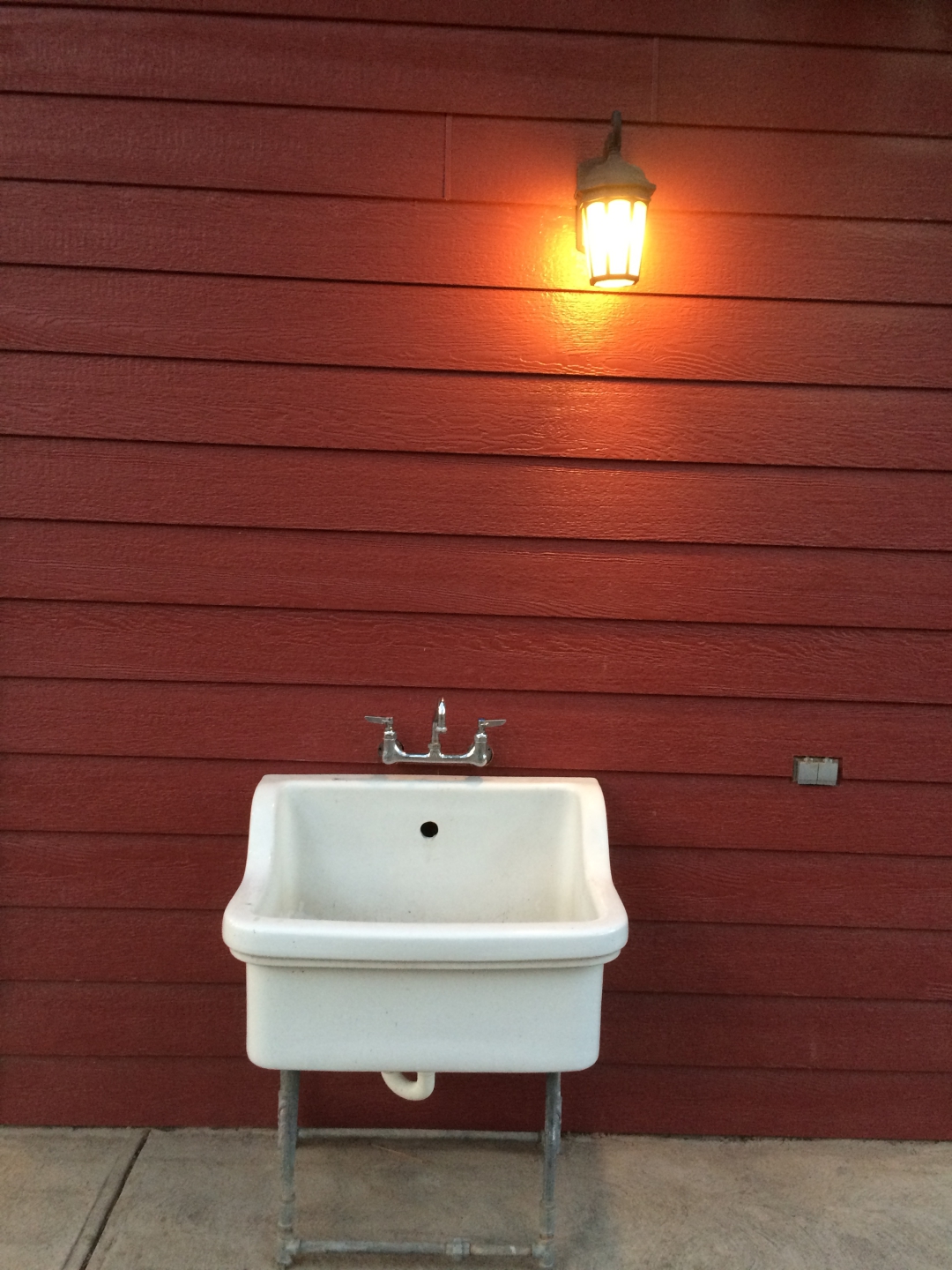 Amenities & Activities
Rafter J offers many amenities. Full hookup and partial hookup sites. Back-ins and pull-thrus are both available. You'll find gas, propane, a camp store, and a dump station in the park.
Though Wi-Fi is listed as an amenity, we could not get the campground's system to work at all, even at the camp store. We did pull in a strong Verizon signal for our phones and data, so we had connectivity at our own cost. Just FYI!
Rafter J has a huge pool and a hot tub with beautiful views of the surrounding hills. Though the nights were chilly while we visited, our boys found the water temperature to be fine.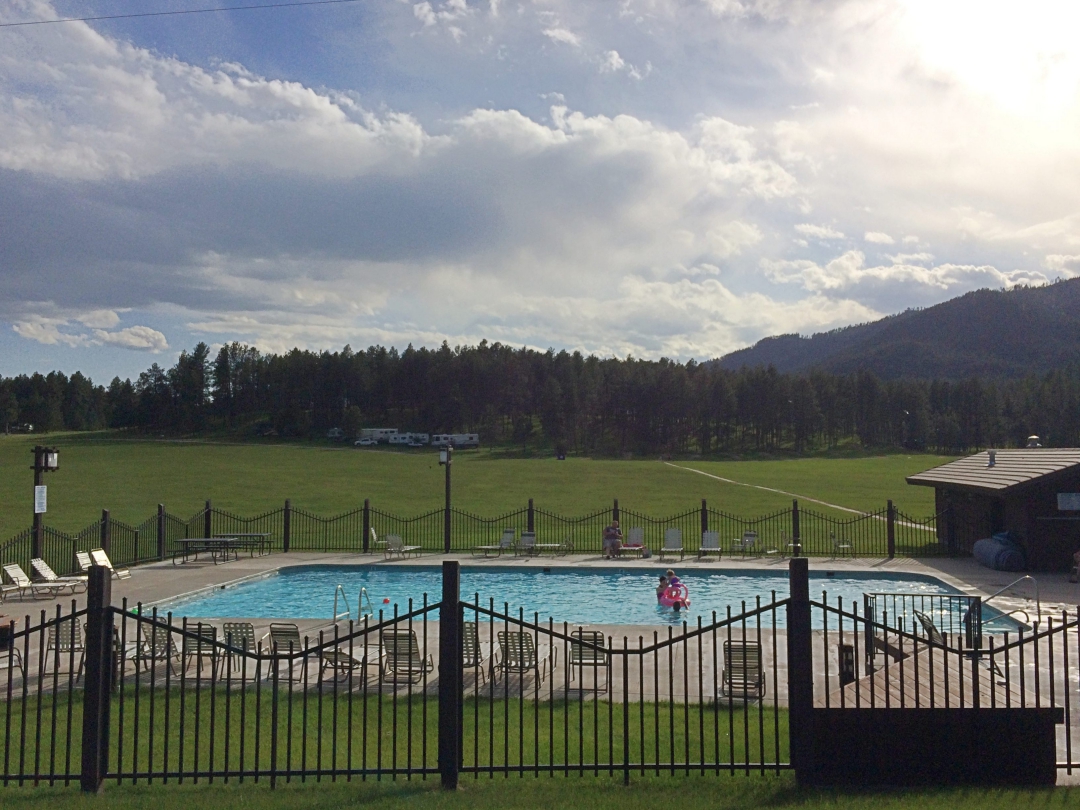 The playground is definitely one of the larger, nice campground playgrounds I've seen: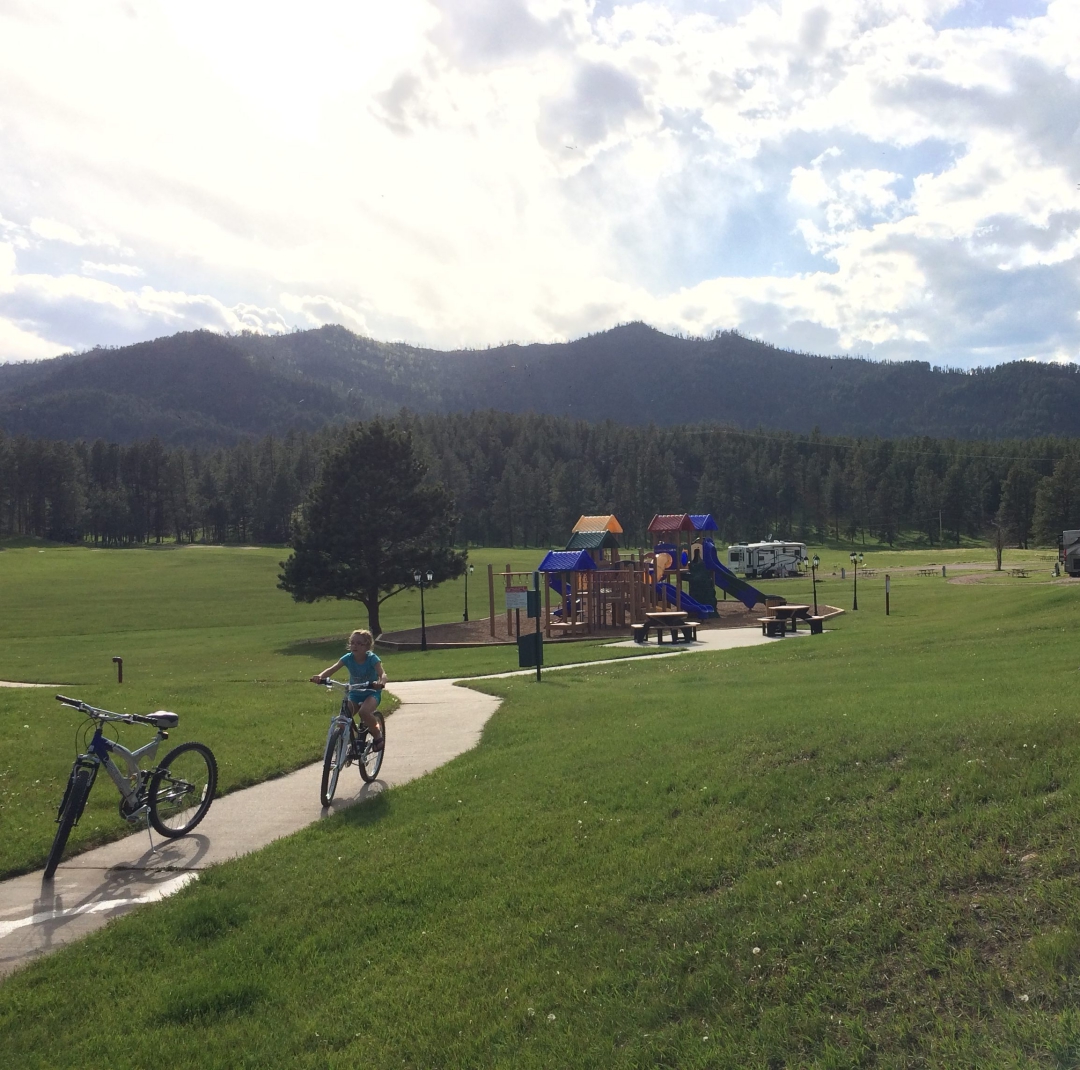 Older teens will enjoy checking out the basketball and sand volleyball courts, so be sure to bring a ball.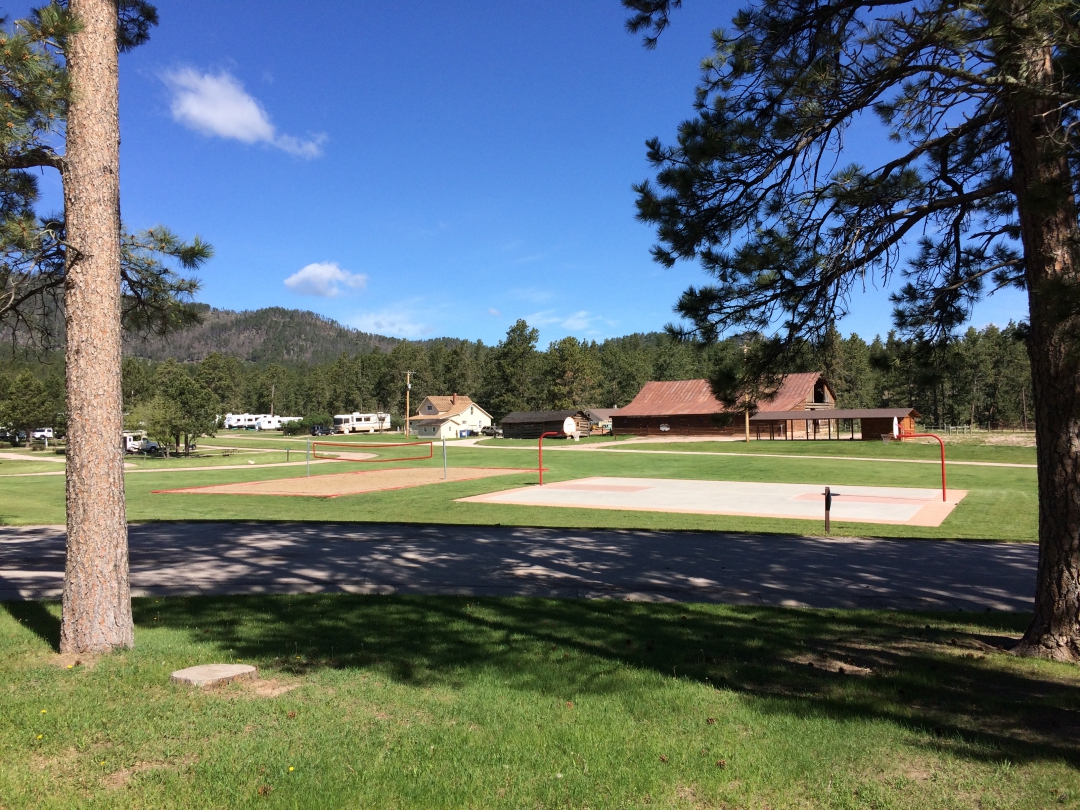 Hiking, biking, and jogging are great activities to do while staying at Rafter J. As huge as the park is, roadways run throughout the grounds, serving as excellent places to walk, jog, or bike. The George Mickelson Hiking and Biking Trail runs along one edge of the campground. If your family is into distance biking, this is one amazing trail to explore, as it runs over 100 miles through stunning scenery. Head out into the Black Hills National Forest lands if you'd like to do some hiking. Small creeks run along one edge of the park, providing a spot to toss a line, as well.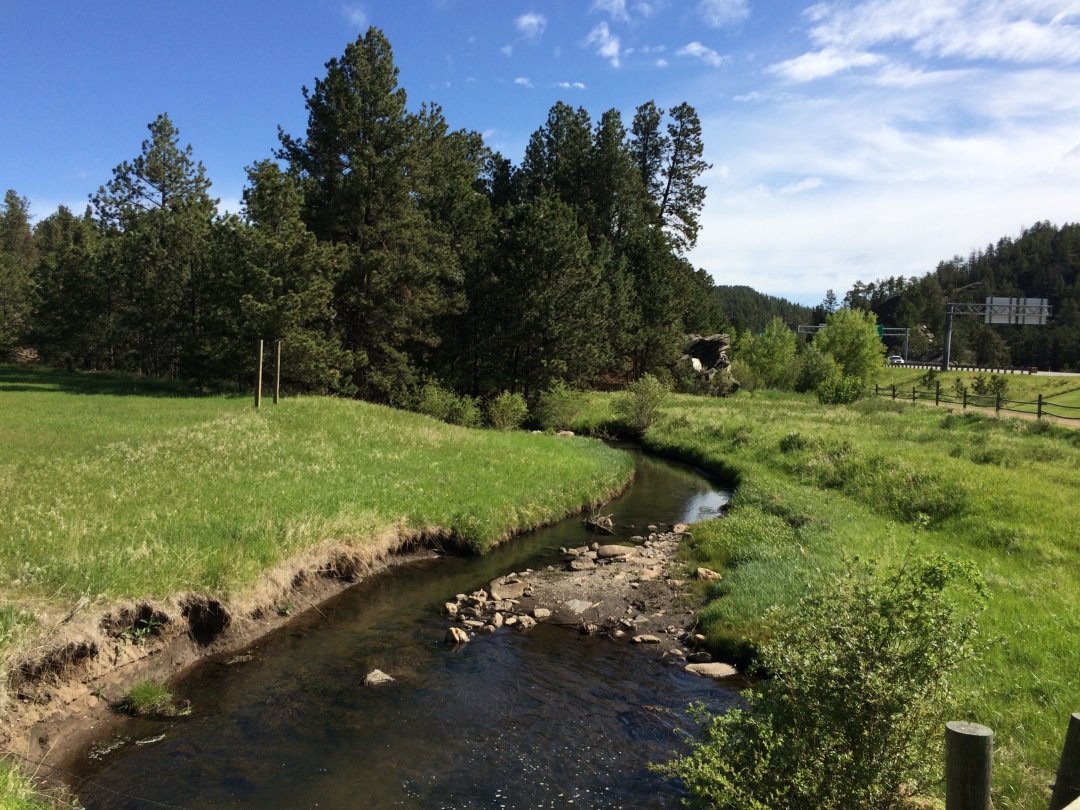 During our visit, we were too busy to check out the game room or the pancake breakfast. Other than all of this awesome stuff, there are no formal, organized activities at Rafter J. Frankly, you'll be too busy to miss them! With so much room to play, our boys had plenty of fun at our campsite.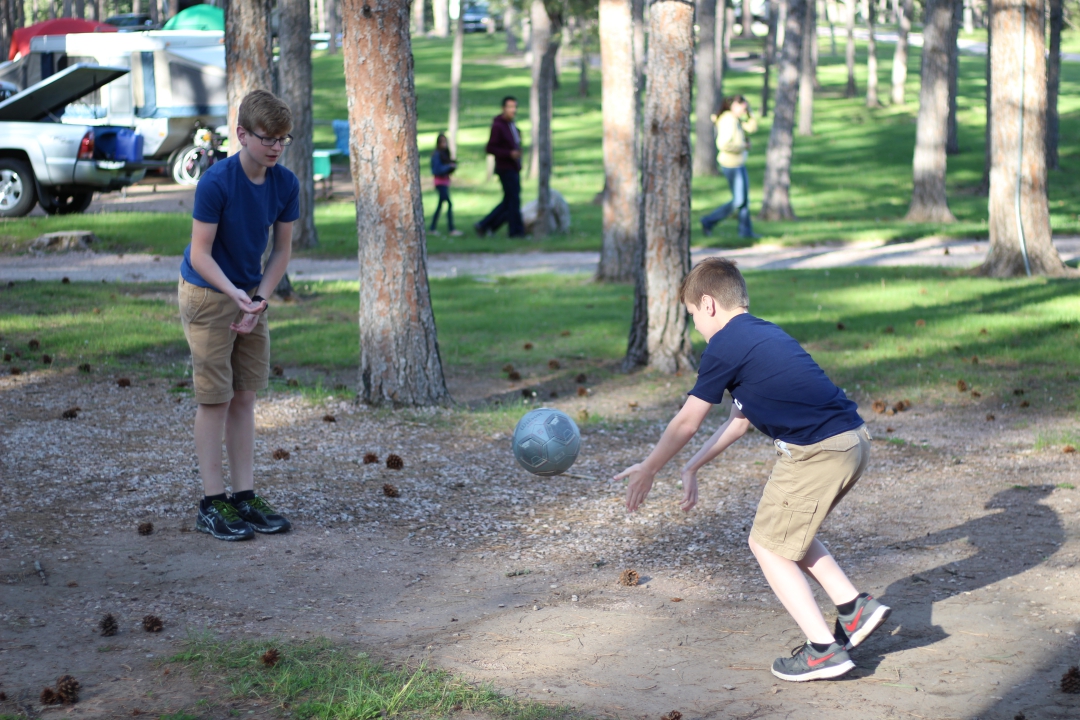 Rafter J is the perfect place to enjoy a campfire. Pine wood bundles are available in the park, making the fire smell even more wonderful.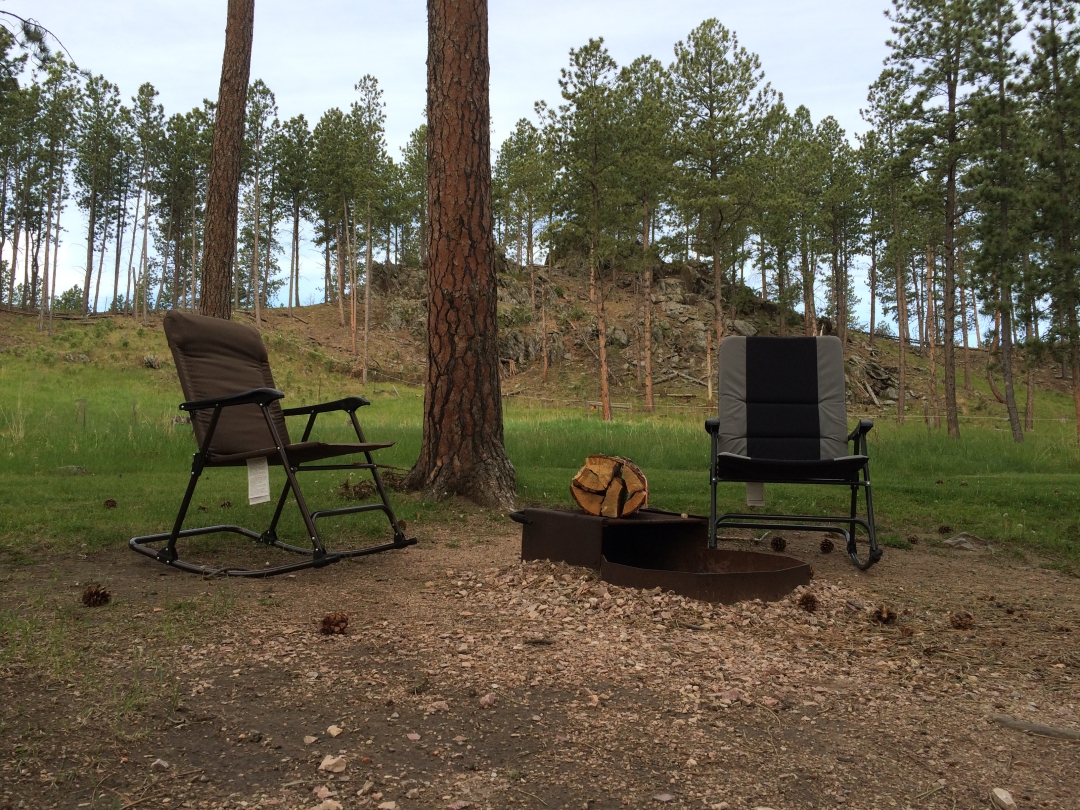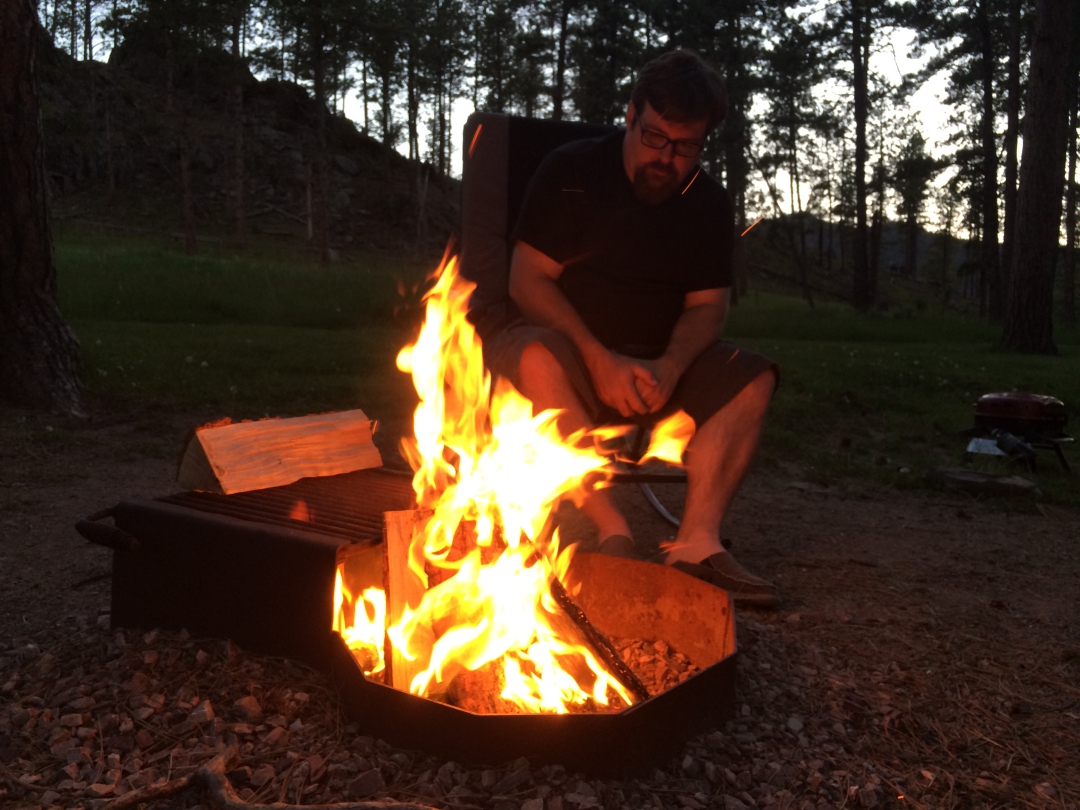 Can't you just smell the pine and the campfire? Rafter J is the perfect place to sit back and relax after a busy day of adventuring in the Black Hills of South Dakota. I'm ready to pack up my trailer and move in.
P.S. That clearly isn't Birdy in the header photo. This sweet Shasta was the perfect eye candy for a photo shoot in Rafter J. Though I love Birdy, she isn't quite as picturesque as this retro Shasta.
JUST THE FACTS
Name & Website: Rafter J Bar Ranch
Location: Hill City, South Dakota, close to Mount Rushmore and other Black Hills attractions
Description: Huge, private park divided into several distinct areas
Rates: Around $50-60
Sites: A mix of FHU and WE sites, plus tent sites and cabins
Bathhouse: Clean
Amenities: Playground, pool, hot tub, game room, biking/hiking trails, and more
Bottom line: Large sites, spectacular scenery, convenient location. Rafter J hits the jackpot!
You can hear all about it on the Campground of the Week podcast:

Find Travels with Birdy:
Share this post: