Campground Review: Watkins Glen State Park
Some people only spend a couple of hours exploring Watkins Glen State Park, but the lucky few spend a couple of days soaking in the beauty. In addition to offering scenic trails, this park offers a scenic campground.
In my previous post, I described what attracted us to Watkins Glen State Park in the first place: the enchanting waterfalls. I saw one image on Pinterest and began dreaming of seeing this park in person. To find out there was a campground onsite was pure bliss.
Located less than three hours west of Niagara Falls, Watkins Glen makes a nice side trip if you're traveling to one of America's most visited attractions. And, of course, Watkins Glen is definitely an attraction in and of itself. Plus, it's located in the beautiful Finger Lakes region, which offers much to explore.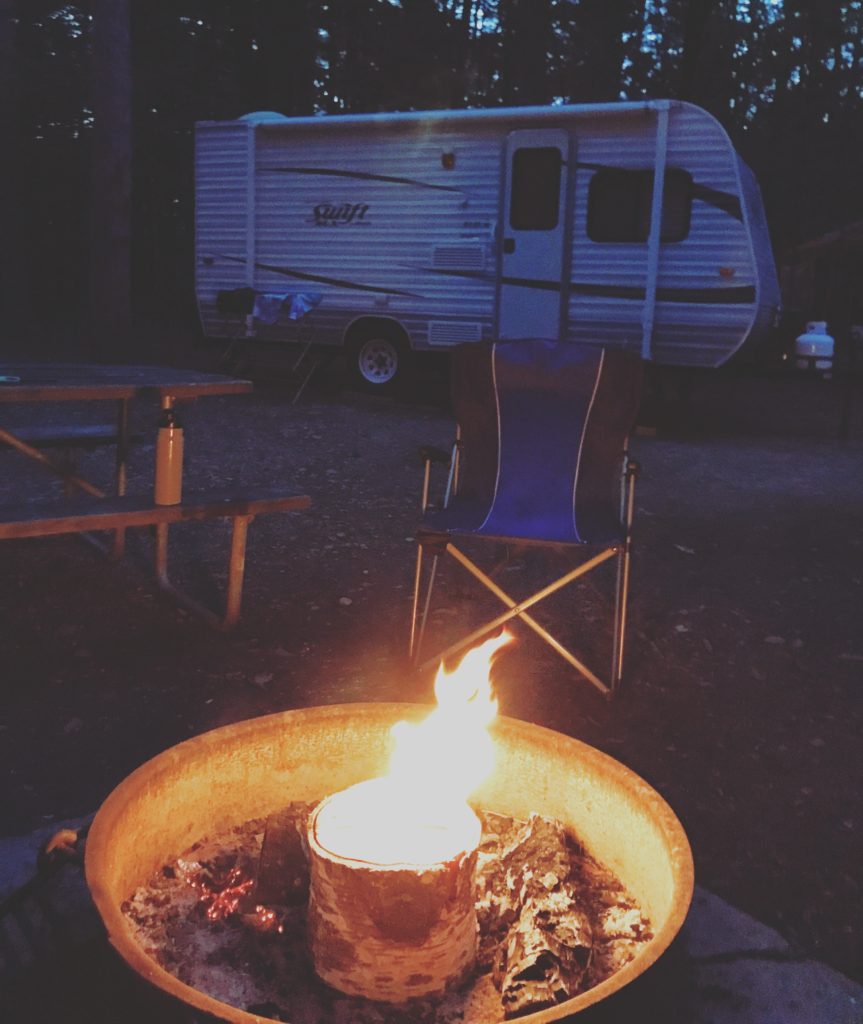 Beautiful Campsites in the Woods
When we first pulled into the state park, the first thing I noticed was the lush trees. The second thing I noticed was the silence. I felt like I could fully exhale and relax in this gorgeous campground.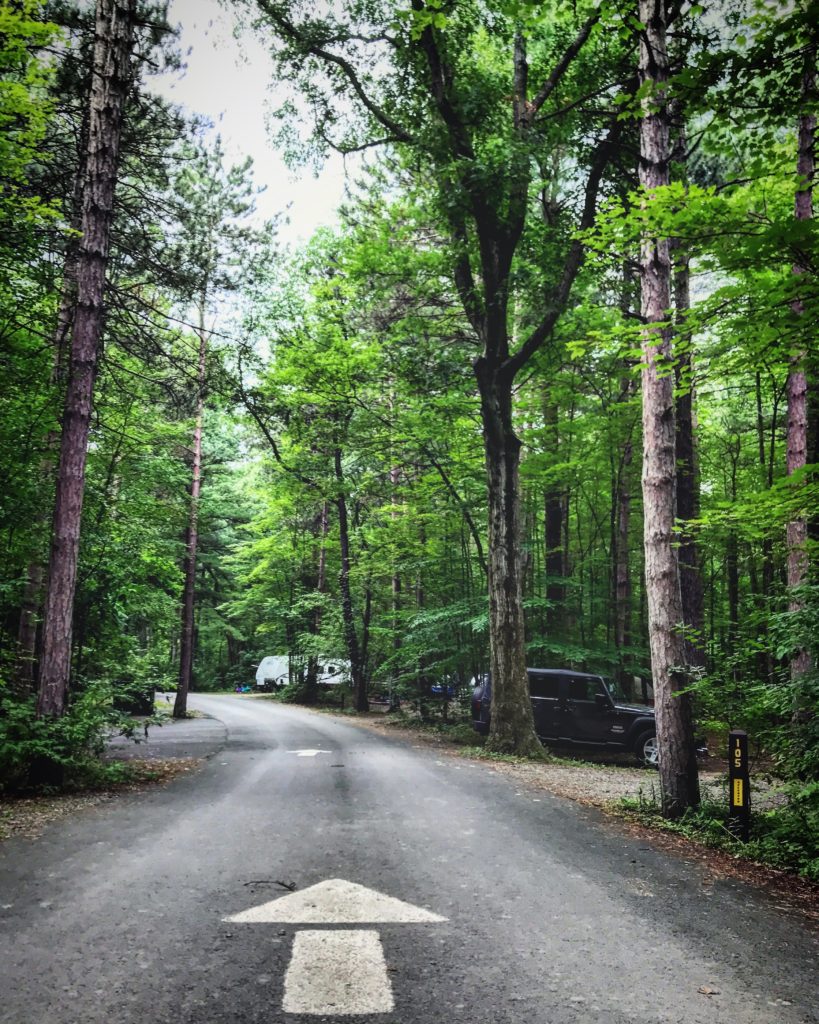 The campsites at Watkins Glen are truly what people envision when they think of great public park campsites…spacious and scenic. Most campsites are large and nicely tucked within the woodlands; however, there are sites that are smaller and closer to the neighbors.
The campground offers over 300 campsites divided into six loops (see map here). Most sites are basic campsites, with no water, electricity, or sewer. The Mohawk Village loop has around 50 electric sites with 30 amp hookups, but, again, no water or sewer. These sites book up the earliest, as you can imagine, so you'll likely need to book far in advance to snag an electric spot.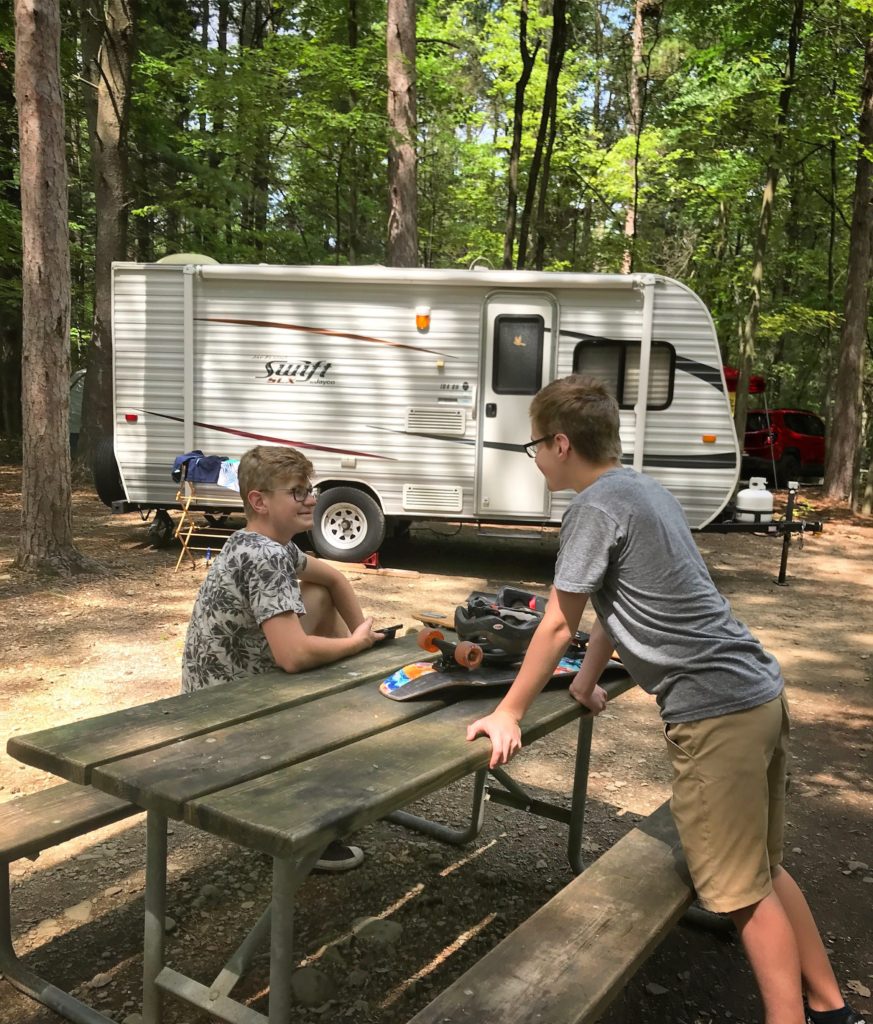 Fees are around $18 a night for basic sites and $30 a night for electric sites (I believe there's a discount for NY residents). An additional $9 is added per reservation if booked online. The website shows a small picture of each site and describes the hookups, length, and etc.
Our campsite (#103) was bordered by woods, and I noticed the sound of the creek cascading through the valley below. I sat my chairs back in the towering trees and thoroughly enjoyed relaxing in this amazing spot.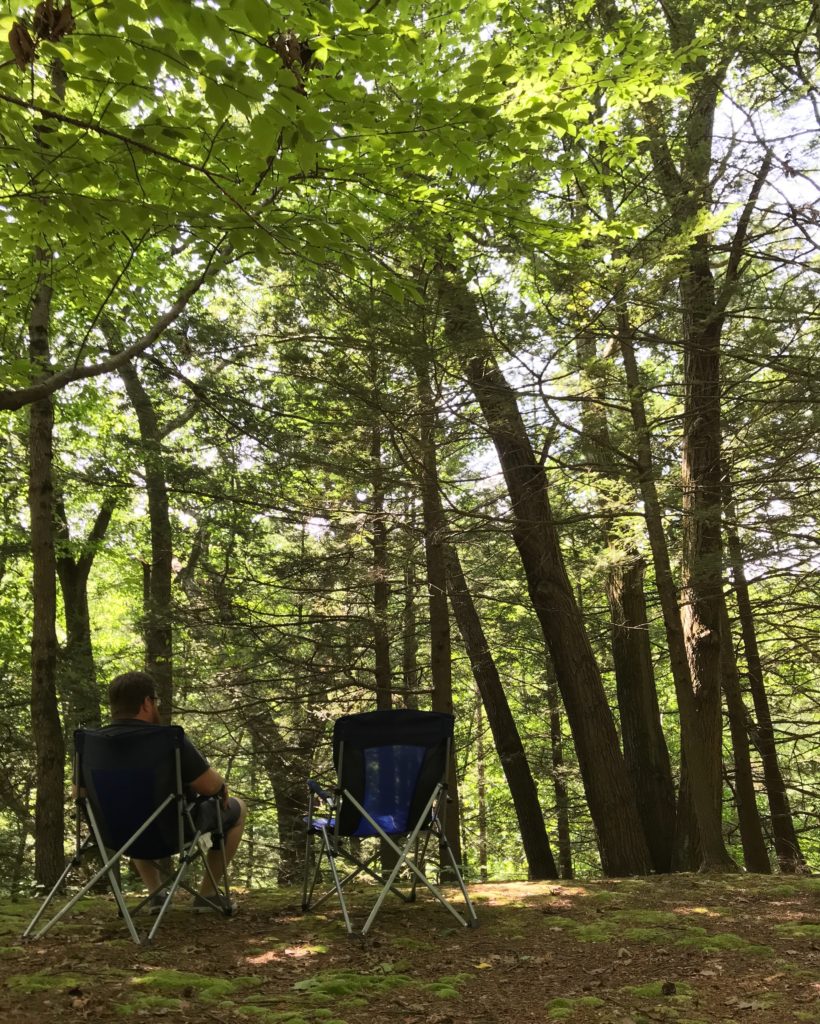 Activities & Amenities
The facilities at Watkins Glen State Park are on the rustic side. Each camping loop has a showerhouse. They are nothing fancy, but they are clean and usable, which can sometimes be questionable at state parks.
While the main amenity at Watkins Glen State Park is the network of hiking trails, the Olympic-sized pool definitely cannot be overlooked. A smaller kiddie pool is nearby. The waters were packed with people during our stay since the pools are open to anyone visiting the state park, in addition to the campers.
The playground near the pool was nicely shaded and looked fun for the little ones. We ended up hanging out in the parking lot for an hour while our sons rode around on a rentable bike we found discarded nearby. Watkins Glen would be a great park for bicycling or skateboarding/longboarding (my sons' new favorite) due to the large camping loops. Other than that, there isn't much to do right in the park. This is really a place to relax and unwind in the trees.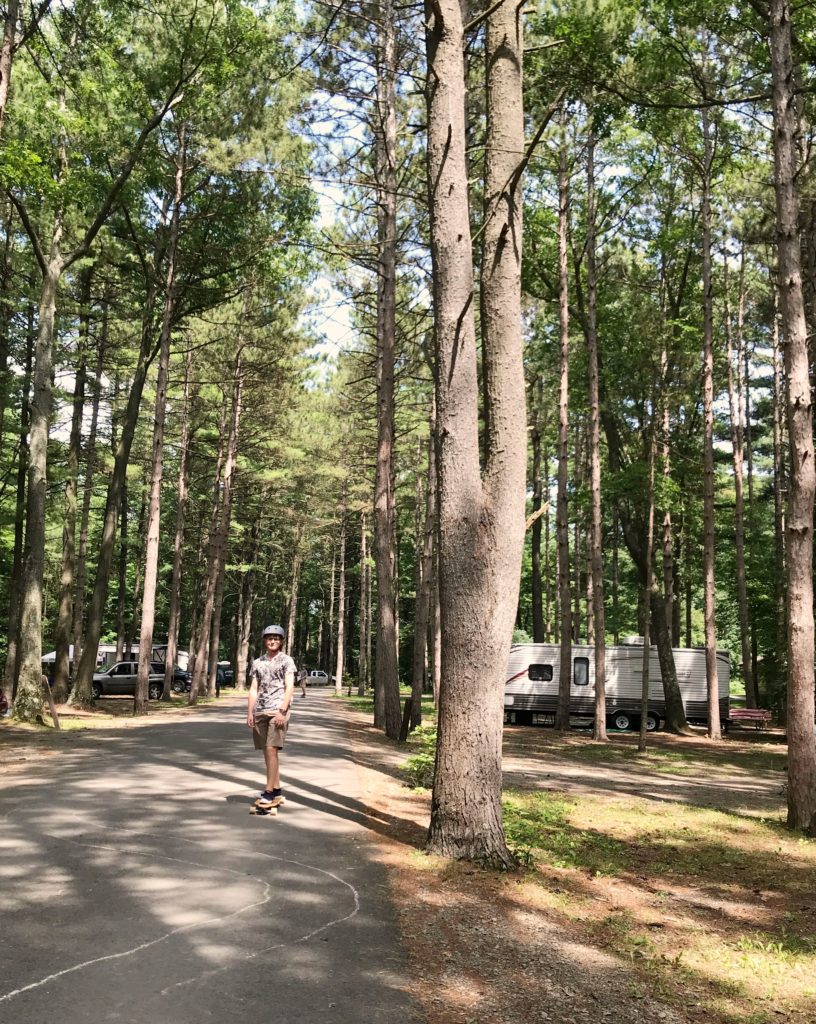 Exploring the Area Near Watkins Glen
Watkins Glen is located in the Finger Lakes region of upstate NY. This area is known for its 11 glacier lakes, as well as its beautiful scenery. While we knew not all of New York State was as urban as New York City, we were surprised by just how rural the Finger Lakes region is.
Watkins Glen is the name of both the state park and a small town at the southwest edge of Seneca Lake. While some people come here just for the state park, there is actually much to explore nearby. We wandered around the charming downtown area one evening and saw a lot of appealing restaurants and shops (many of which were closed since it was a Sunday evening). We also drove along Seneca Lake. We wished we had time to explore more of this scenic region.
Visitors could easily make a day of exploring nearby waterfalls. There are tons! Buttermilk Falls State Park, Letchworth State Park, and Robert H. Treman State Park are all within an hour's drive. We also considered driving over to the Corning Museum of Glass, which gets rave reviews despite the fact that it might not sound all that fun.
Some people know of the town mostly as the site of the Watkins Glen International Speedway, which hosts seasonal NASCAR races. The local campgrounds fill up when the races are happening. Wine lovers might want to explore the many vineyards nestled in the rolling hills surrounding the Finger Lakes.
Final Thoughts
Watkins Glen State Park was truly a phenomenal retreat. After the busyness of our visit to Niagara Falls, it was utterly relaxing to end our trip with a visit to Watkins Glen. Due to a change in my work plans, we ended up having to rush home sooner than we planned, but I am so glad we made the trek over to this waterfall wonderland.
Just the Facts
Name & Website: Watkins Glen State Park
Location: Upstate NY's Finger Lakes Region, approximately 3 hours SE of Niagara Falls and 4 hours NW of New York City
Description: Beautiful state park campground known primarily for the Watkins Glen Gorge Trail, which features 19 waterfalls
Rates: $30 for electric sites; $18 for basic campsites. Extra fees for online reservations.
Utilities: Out of 6 camping loops, only 1 (Mohawk Village) has electricity. No water or sewer in any sites. Dump stations are available.
Bathhouse: Clean shower houses and restrooms are located in each area.
Amenities/Activities: Many hiking trails, Olympic-sized pool, playground
Bottom line: Watkins Glen State Park's campground is a splendid place to stay while exploring the Finger Lakes Region. Just make sure to book early to get those electric sites!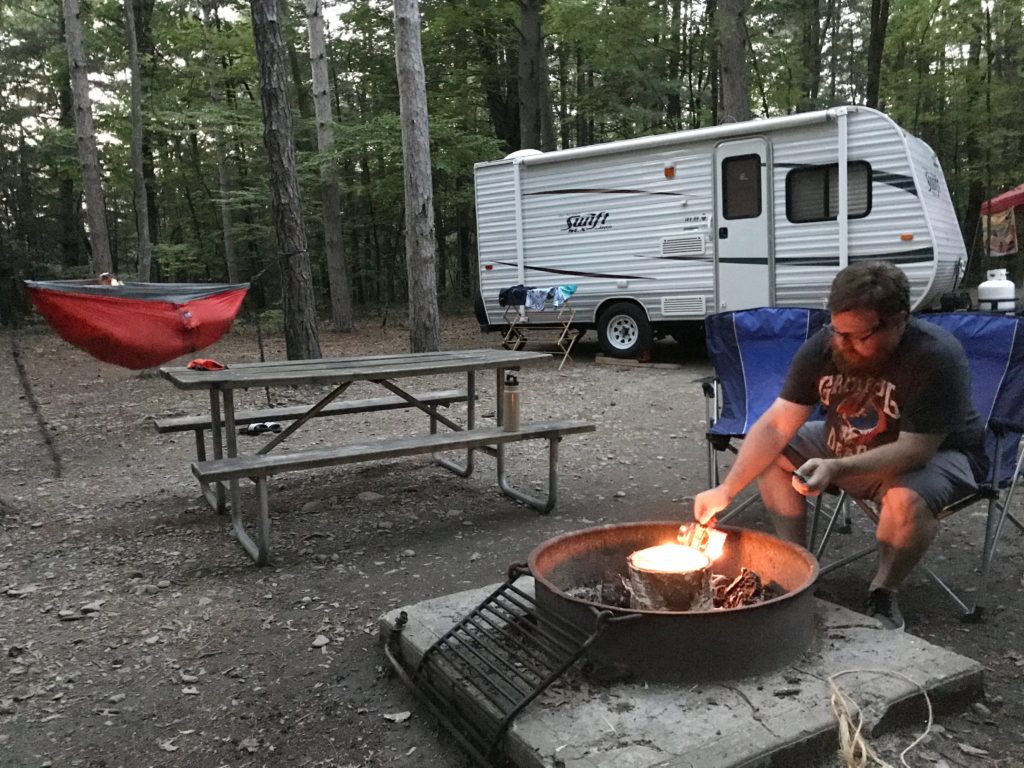 Find Travels with Birdy:
Share this post: