Campground Review: Colter Bay RV Park in Grand Tetons NP
I'm skipping ahead in the the Birdy NPS 100 narrative to talk about the Grand Tetons to align with my appearance on the Campground of the Week podcast. I'll back up soon to describe our Yellowstone adventures!
There's probably a mathematical equation that describes the relationship between my love for a campground and the number of pine trees it has. These two items are definitely positively correlated (I took a statistics class this summer, so I can throw around terms like that). There's just something about those fragrant green trees that I love. Colter Bay RV Park in Grand Teton National Park won me over as soon as I spotted our pretty spot in the pines.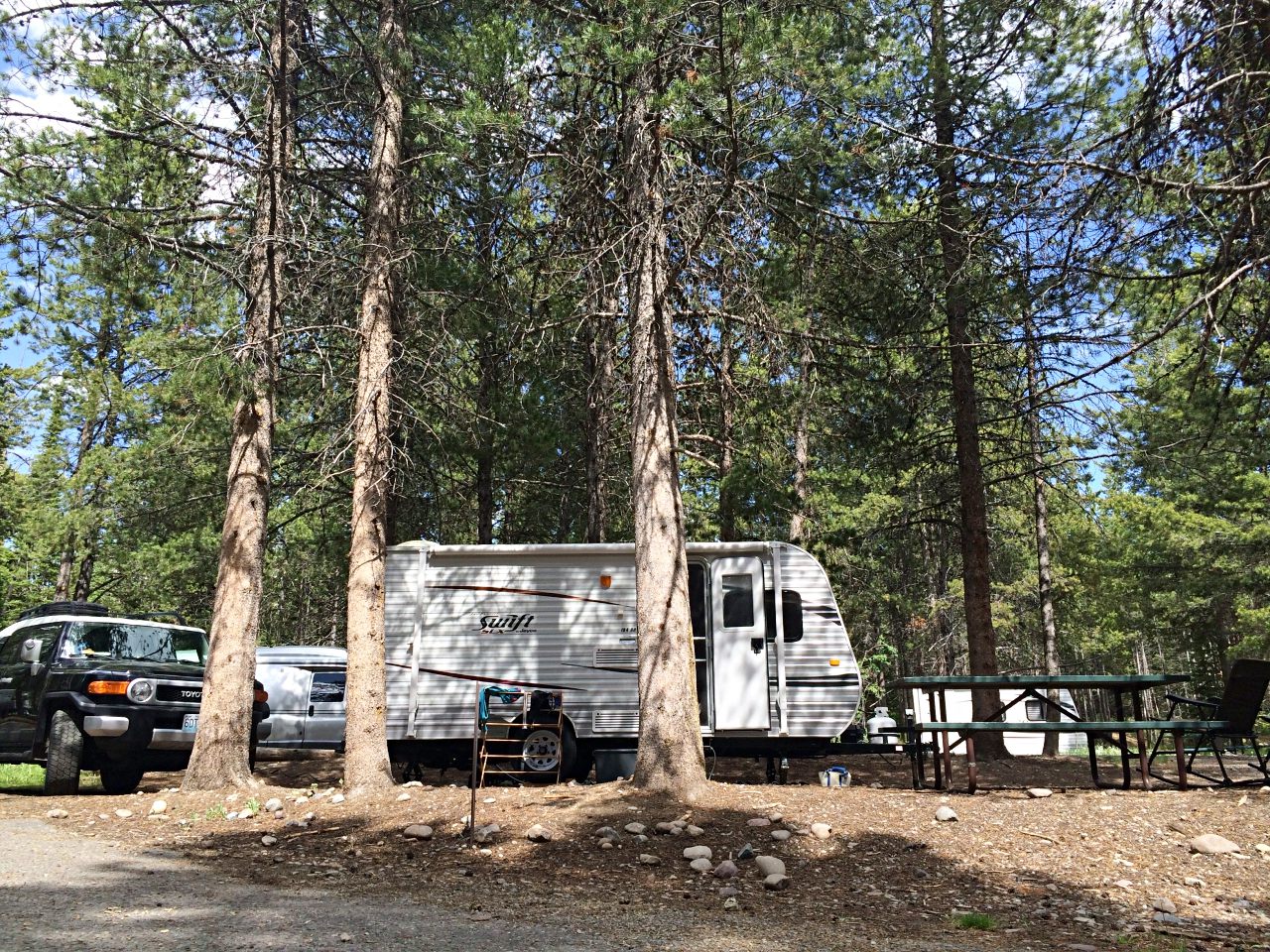 The Grand Tetons border the southern edge of Yellowstone National Park. Some visitors opt to just check them out as they drive through, while others choose to make a visit from their campsite in Yellowstone (the heart of the Tetons is about an hour south).
Having heard about the spectacular beauty of the Tetons, we knew we wanted to devote some days to this area in particular. Online reviews pointed us to Colter Bay RV Park, a campground noted for its amenities, its convenience, and its beautiful setting.
Campground Description
Colter Bay RV Park is located right in the Grand Tetons. Not all national parks offer campgrounds with pretty sites AND full hookups, making this a true gem. For me, it was a little reminiscent of our stay at the Grand Canyon Trailer Village.
Visitors must first note that this RV park is different from the Colter Bay Campground—both are operated by the same concessionaire, but the campground does not take reservations or offer the same hookups as the RV park. Unfortunately, it's a little confusing since they basically have the same name. (The "Colter" part of the name comes from John Colter, a member of the Lewis & Clark expedition, who is thought to have passed through the area).
This RV park is situated close to the shores of the beautiful Jackson Lake. You can walk to the lake from the campground for a stunning view (due to trees, you cannot see the lake directly from the campground). Plus, you are conveniently located close to all of the other attractions in the Tetons. This park isn't as huge as Yellowstone.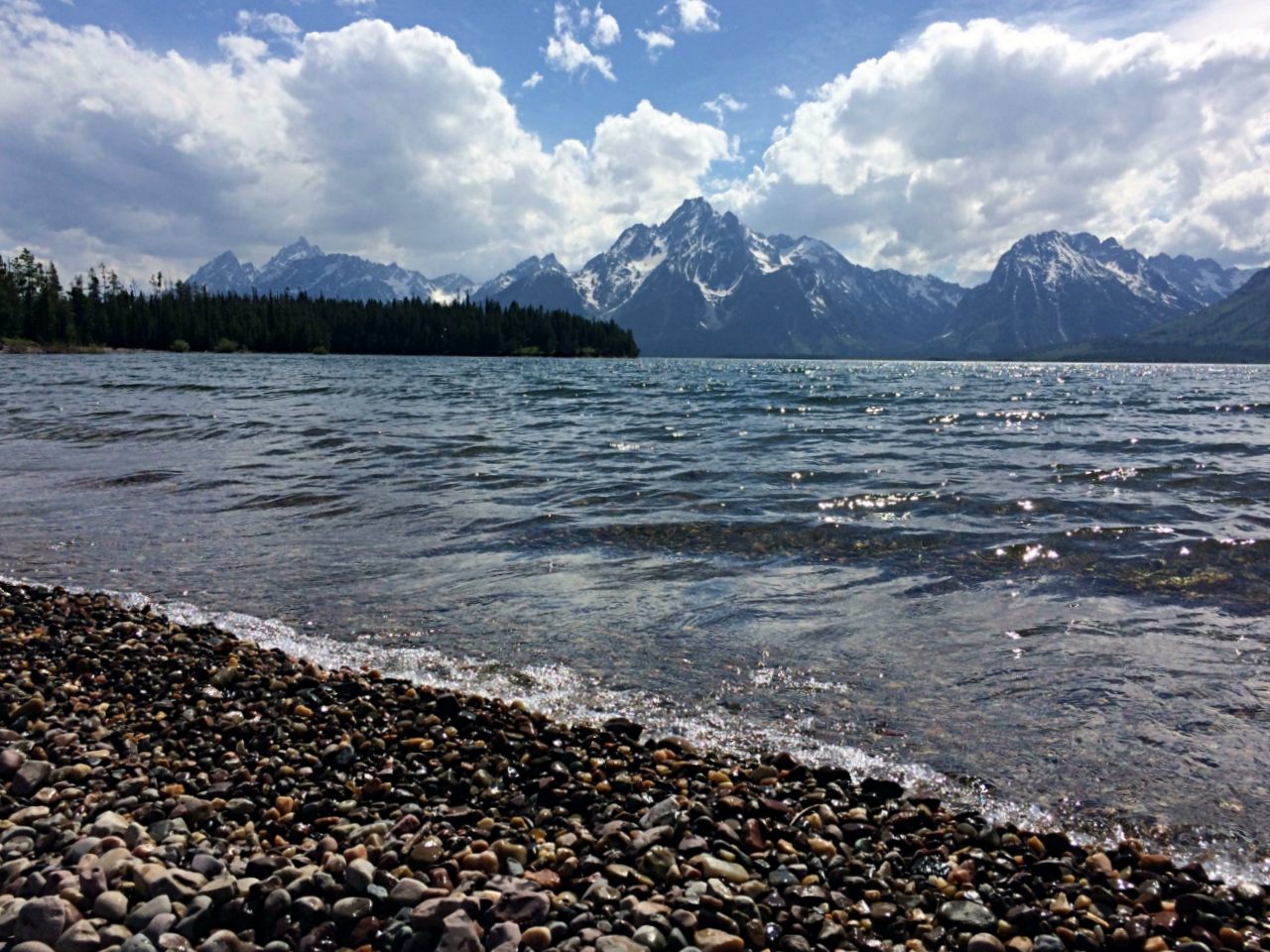 You might encounter a variety of wildlife in the campground, and you definitely need to be bear aware. One morning, as I was just waking up, I heard someone yelling, "BEAR! BEAR!" I quickly popped my head out, but I was too late to spot the spectacle, unfortunately. The yelling man was attempting to warn someone down the road that a bear was approaching from behind.
According to a local we spoke to, it's not uncommon to find a bear ambling through this campground. While here, you need to properly store food and pay attention while walking. We also opted not to leave our propane grill outside since it probably smelled tasty to hungry bears.
One important thing to note about this campground is that it books solid for the summer. The website recommends making your summer reservations by January 1st.
Campsites
You'll find 112 campsites in Colter Bay RV Park. Virtually all of them are pull-through sites with full hookups, which cost $70 per night (a handful of back-in sites are available for $60). This is pricier than most of the campgrounds we've visited; however, the location makes it worth every penny.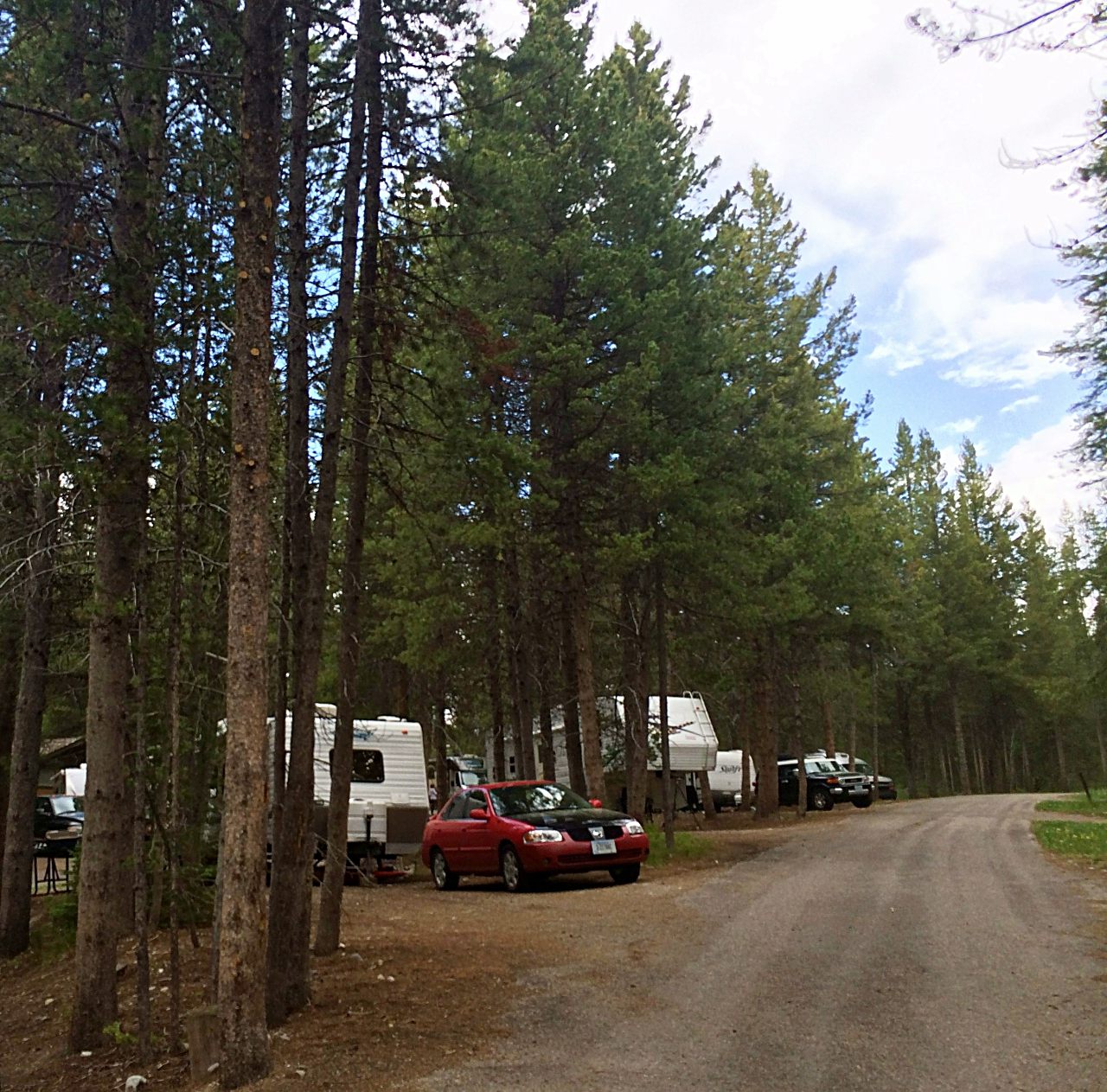 Sites are nicely distanced from each other, with tall green pines towering over each one. The spots aren't huge, but they feel adequate. There are reviews online that note that the sites aren't especially level and some are harder to maneuver long trailers into. We didn't have these problems, but Birdy is on the small side.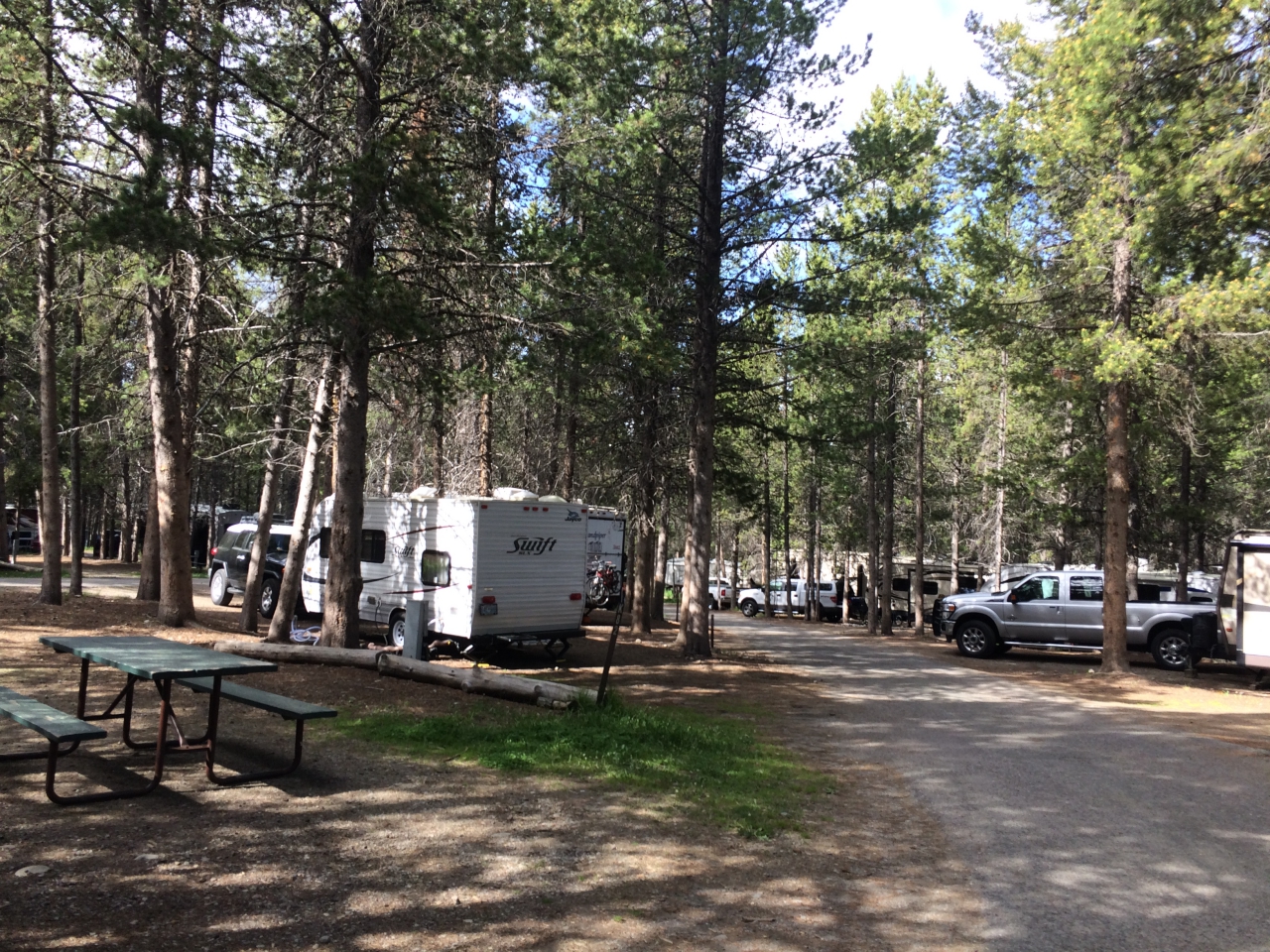 Also, you might notice that the sites don't have concrete or much gravel and are basically dirt. We didn't have a problem with this, but I imagine it can be sloppy if it rains. I actually liked the bed of aromatic pine needles.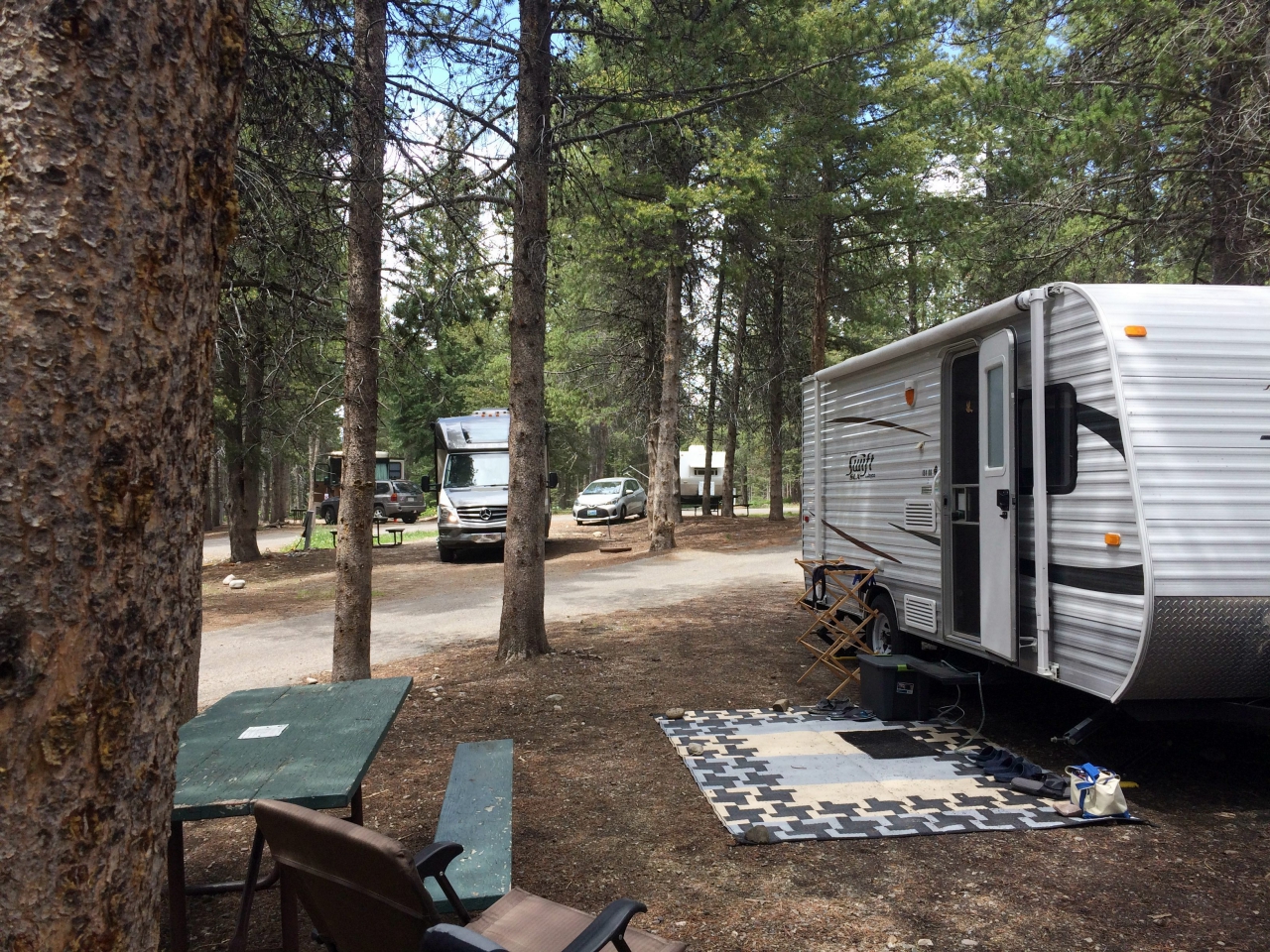 Activities
As a national park campground, you won't find the kinds of activities you'd find in a private park. No pool, no playground, no organized activities. Instead, you'll be within walking distance to gorgeous Jackson Lake. This is the largest lake in the Grand Tetons. There are trails at the end of the campground that make the lake very accessible.
While the water is much too cold for real swimming, Jackson Lake is a great place for the kids to splash around or the adults to kick back and relax. As you can see, even on a cloudy day, this spot is just divine, with snow-capped mountains rising above the rippling water.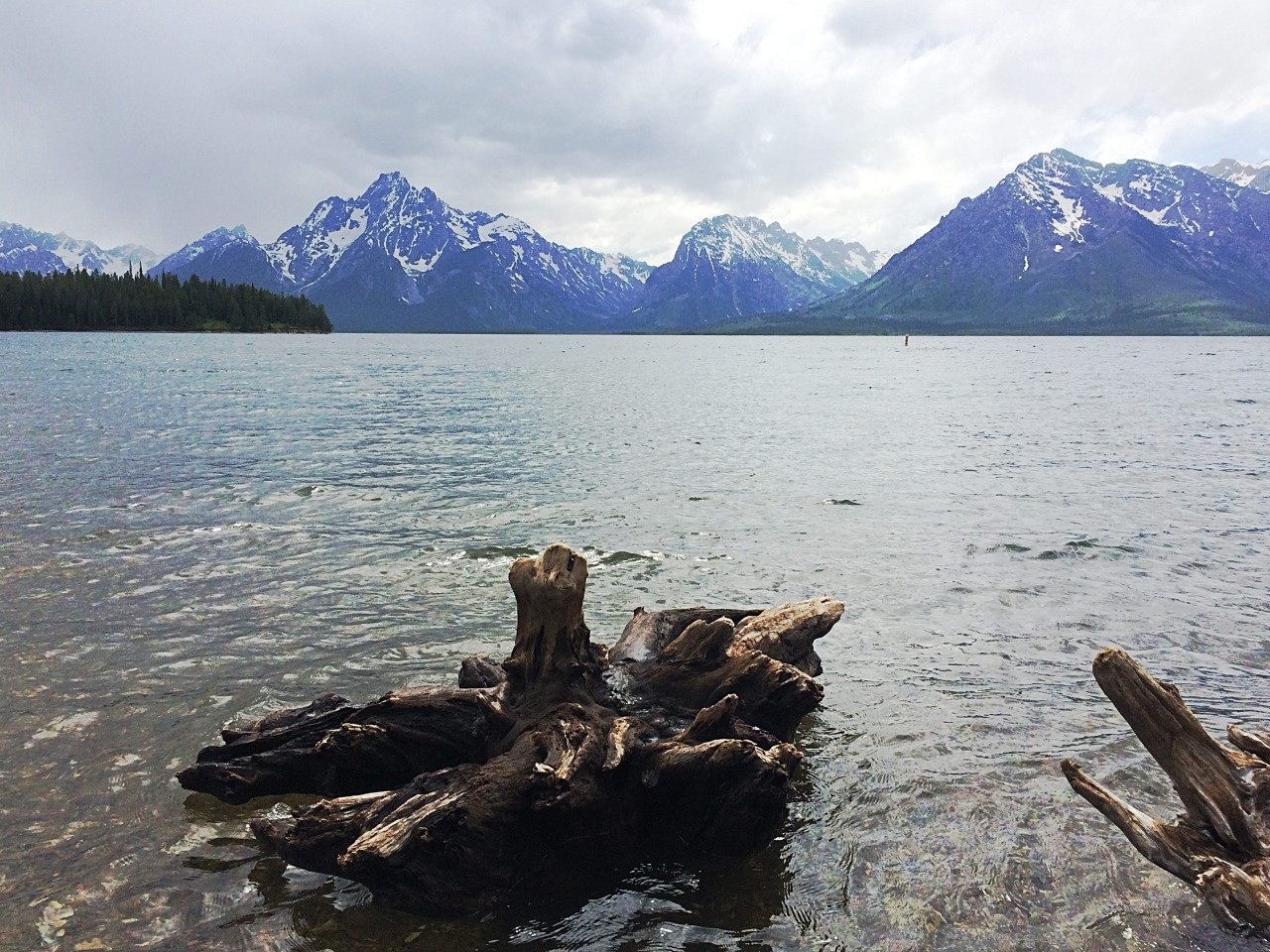 This area is chock full of trails for hiking and biking. The 2-mile Lakeshore Trail is a popular option in the area. It's a great place for spotting wildlife and taking in scenic views.
At Jackson Lake, you'll also find a marina. Canoes, kayaks, and motorboats can be rented here. We opted to canoe on the smaller, quieter Jenny Lake instead, but we did walk down to this marina to get information about all of our options.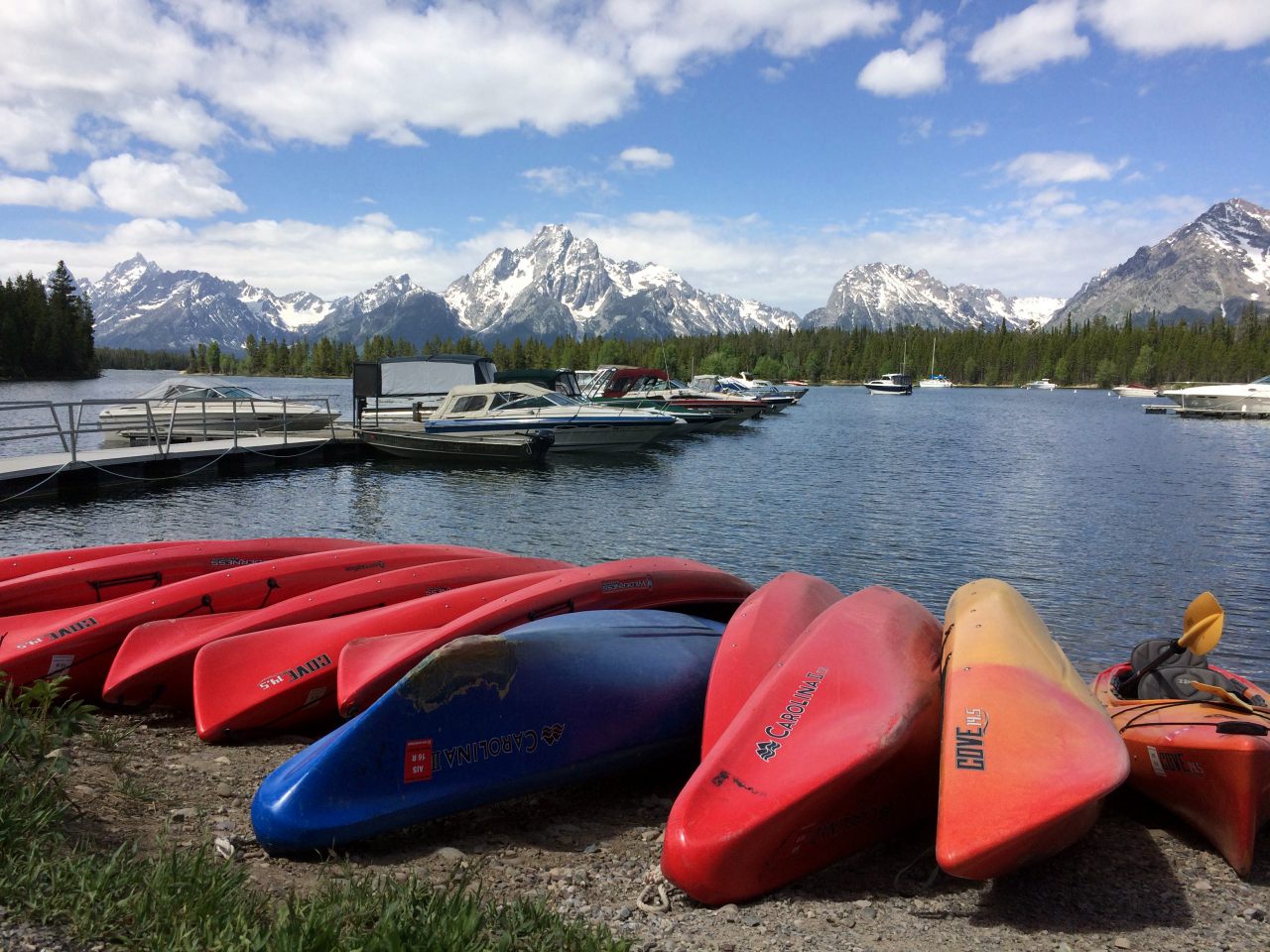 The marina is also a tranquil spot to catch the sunset close to the campground. As the sun goes down, it puts on quite a show as the light fires up the mountain peaks.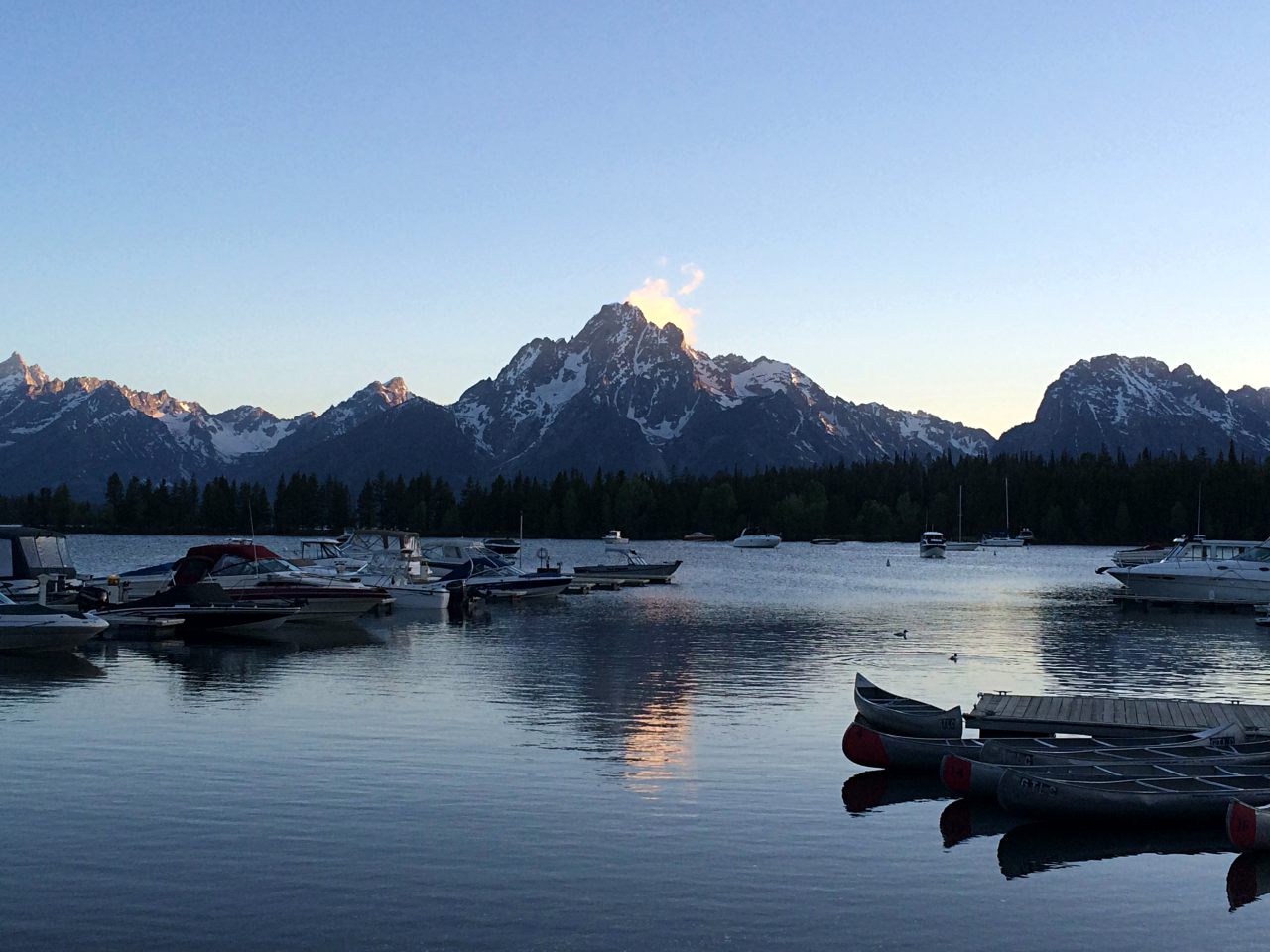 Amenities
The Colter Bay Village area is home to several amenities clustered together, with a laundry facility, shower house, restaurant, and a general store located on the edge of the campground. These were quite a ways from our site, so we preferred to drive rather than to walk.
At our site, we didn't have wifi or great cell service. However, the laundry room offered an excellent wifi connection with plenty of tables. We opted to hang out one evening doing laundry while soaking up the internet connection, killing two birds with one stone.
The nearby Pioneer Grill offers a 1950s-style diner ambiance and quick meals. We didn't get a chance to try out the restaurant, but it's nice to have one close to the campground since the park is quite a ways from the nearest town.
While restrooms (very clean) are located in the campground proper, showers are not. To shower, you must head to the central shower house and pay a small fee. I think it was $4 each or $13 for a family. The nice thing is that you can pay with cash or credit card, unlike other pay showers we've encountered which require quarters. Since this large facility is rather busy, I was worried that the showers wouldn't be very clean, but they passed my muster.
Summary
We loved this campground! The towering trees gave it a nice, rustic ambiance, while it was close to the needed amenities. It's location near the shores of Jackson Lake truly makes it a top-notch choice. We had booked three nights in the park, and we would have loved to stay longer. In fact, if I returned to this corner of Wyoming, I could skip Yellowstone and spend a week soaking up the beauty of the Tetons and relaxing in Colter Bay RV Park.
Just the Facts
Name & Website: Colter Bay RV Park
Location: Centrally located in Grand Teton National Park on the shores of Jackson Lake
Description: Scenic national park campground with pretty sites and a great location
Rates: $70 for a pull-through site with full hookups; $60 for a back-in site.
Utilities: All full hookups
Bathhouse: Restrooms in the park were clean; showers cost money and are busy, but they were decent
Amenities/Activities: Walk down to Jackson Lake when you're not out exploring the rest of the Tetons. At Jackson Lake, you can hike, hang out on the shore, or rent a vessel to take on the water
Bottom line: Don't make the Tetons a drive-by visit. Stay at Colter Bay and give yourself plenty of time to explore. Just look at those mountains!
Note: The campground fills for the summer as early as January. Book early!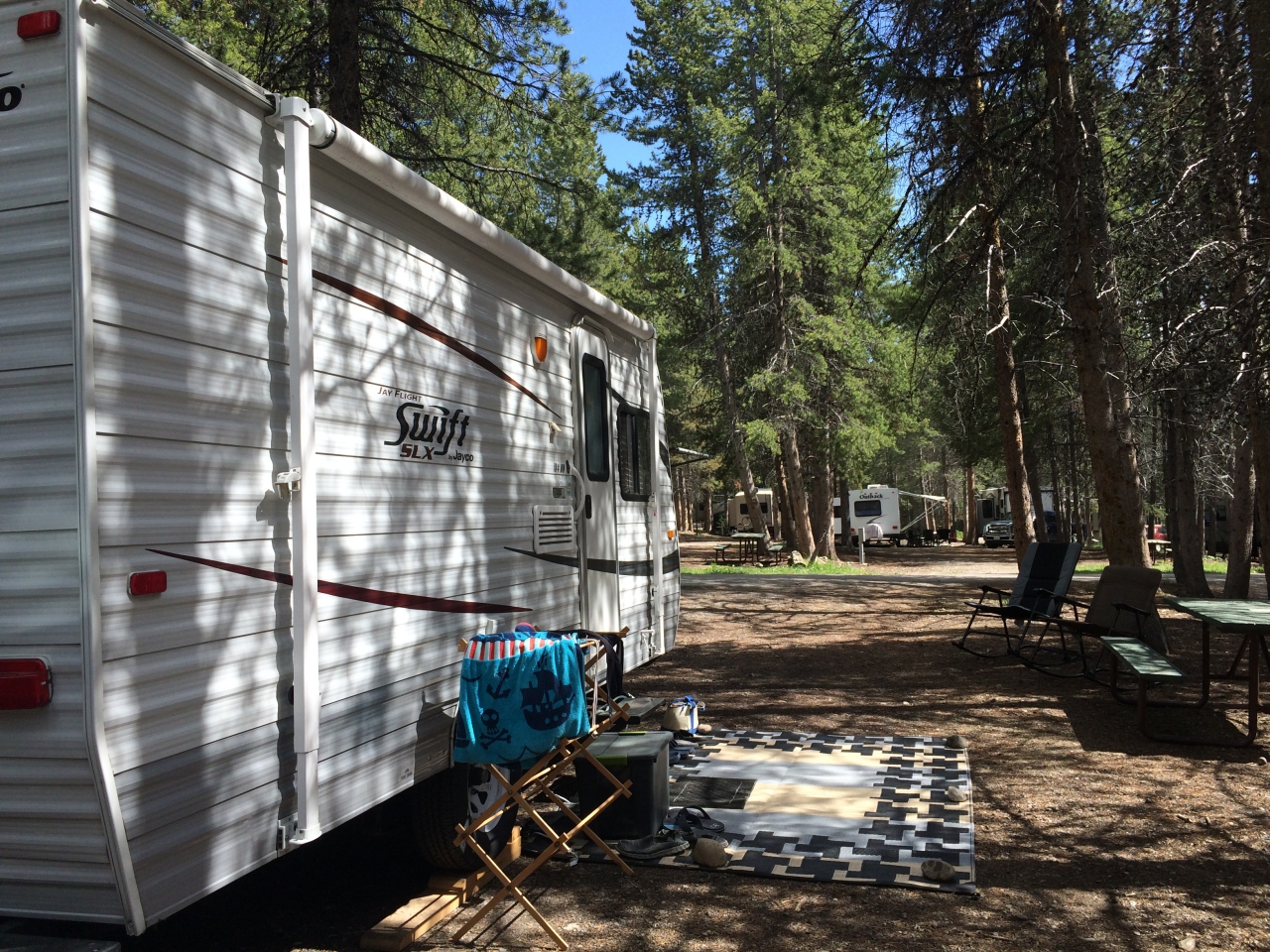 Campground of the Week Podcast
Hear a full review of Colter Bay RV Park and a description of our favorite Grand Teton adventures here: Campground of the Week Episode #60
Find Travels with Birdy:
Share this post: