Turning Lemons into Lemonade: The Time our Tow Vehicle Died in Jackson, WY
As we've traveled over 10,000 miles across the US hauling Birdy, there's always that flickering question of What will we do if we have a breakdown? Our tow vehicle (a Toyota FJ Cruiser) has over 170,000 miles on it, so this wasn't an entirely unlikely scenario. On our first day in the Grand Tetons, we discovered that a breakdown could be a huge inconvenience, but if you're lucky, it won't entirely ruin your trip.
We started our first morning in the Tetons with a drive through the park and up Signal Mountain. On the way down, a light came on on the instrument panel and the car made a jerky motion.
We eased our way along the Teton Park Road, hoping we could make it to an area with a parking lot. As the car jerked and more weird things happened, we realized that wasn't meant to be. Luckily, we made it to a scenic pullover spot before it conked out completely.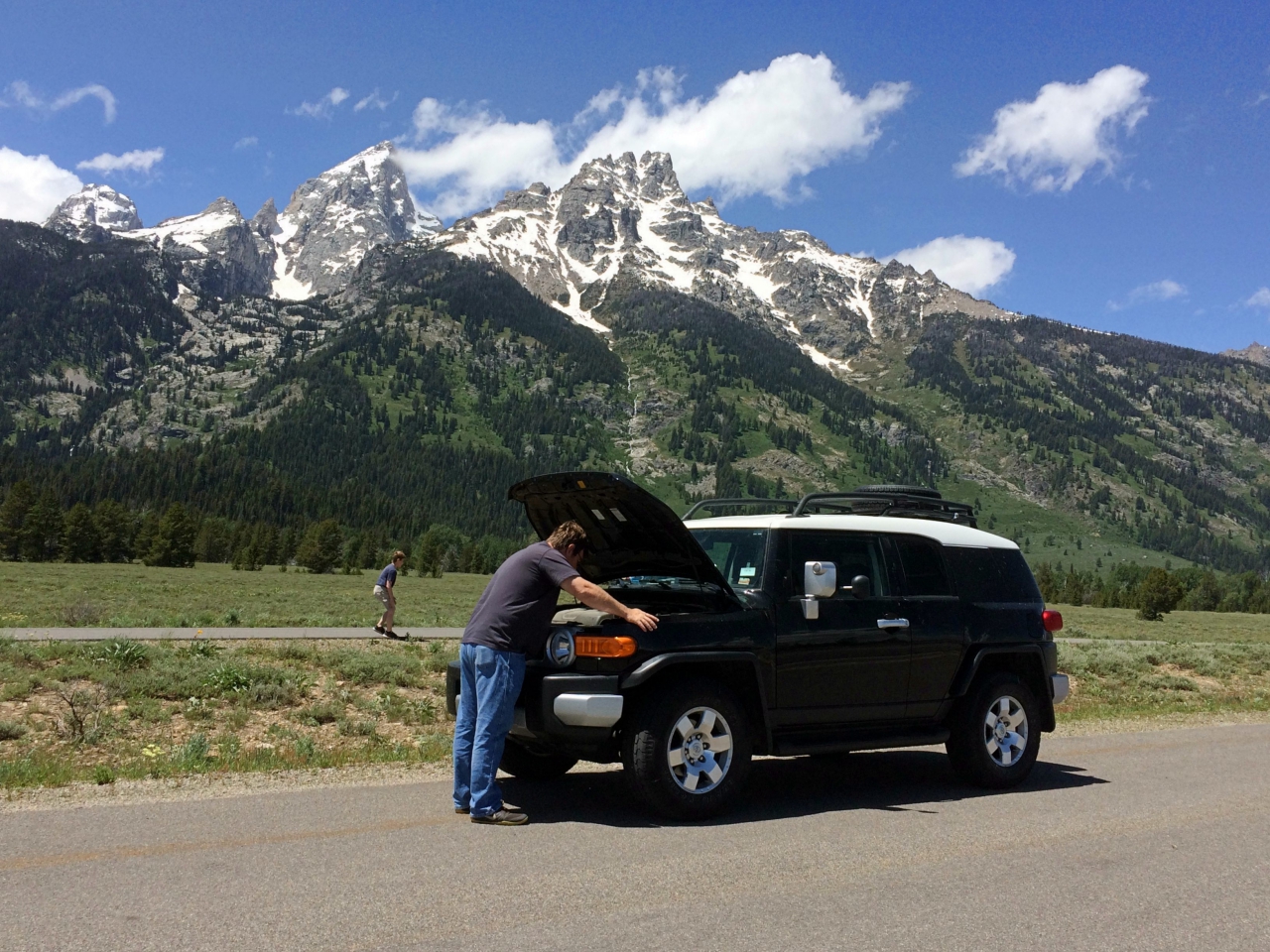 After investigating our symptoms on the Internet, we realized our alternator had likely gone out. This was not something we could fix on the side of the road. Luckily, I had purchased roadside assistance, so I made a call to them for the first time.
After giving the dispatcher lots of details about where we were sitting, we were finally contacted by a tow truck driver, only to find out he was almost three hours away from us. Being inside a national park with few towns around us really limited our options.
If you have to sit on the side of the road for three hours, I highly recommend this location. We were in a safe spot and had a majestic mountain view, beautiful weather, and plenty of people to watch.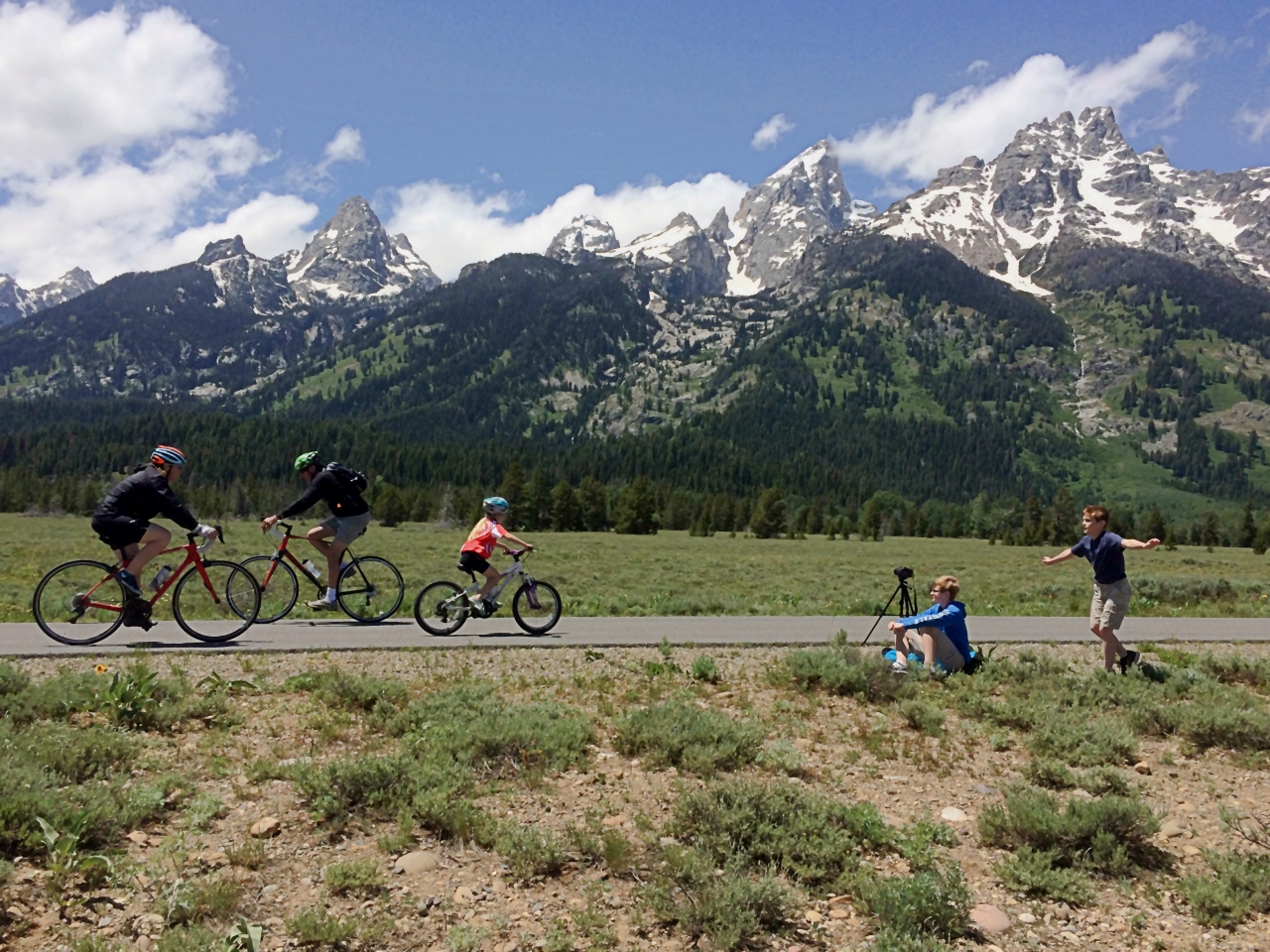 Eventually, our tow truck arrived and the five of us piled in the front (and only) seat in his truck for the long drive to Jackson. The driver entertained us with crazy stories about the animals he's spotted, the thrills of towing in extreme winter weather, and the hazards of driving through Yellowstone. He also told us lots about the region. So, it was kind of like getting a guided tour of Jackson Hole…except not.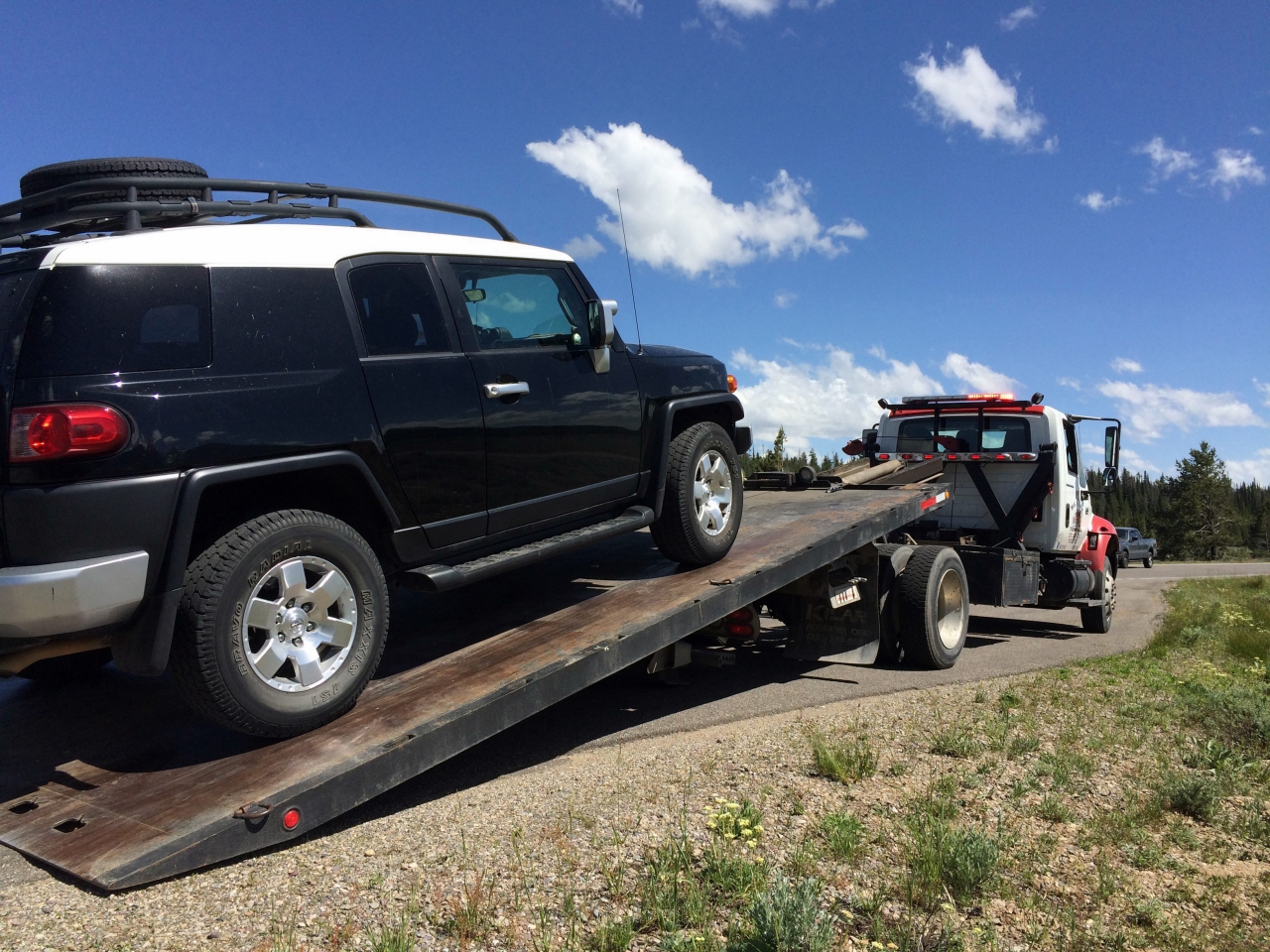 Once we made it back to the repair shop, the mechanics determined they would have to keep our vehicle overnight since there were no alternators for an FJ Cruiser to be found in Jackson. We had to decide whether to rent a hotel in Jackson or a vehicle to get us back to our campsite. Since we didn't have any belongings with us, and since we really, really wanted to see as much of those beautiful mountains as we could, we opted to rent a car.
The car rental place was located two miles from the mechanic's shop, so off we went on foot. This turned out to be the longest hike we got to take in the Tetons. It was pretty interesting way to see Jackson, kind of.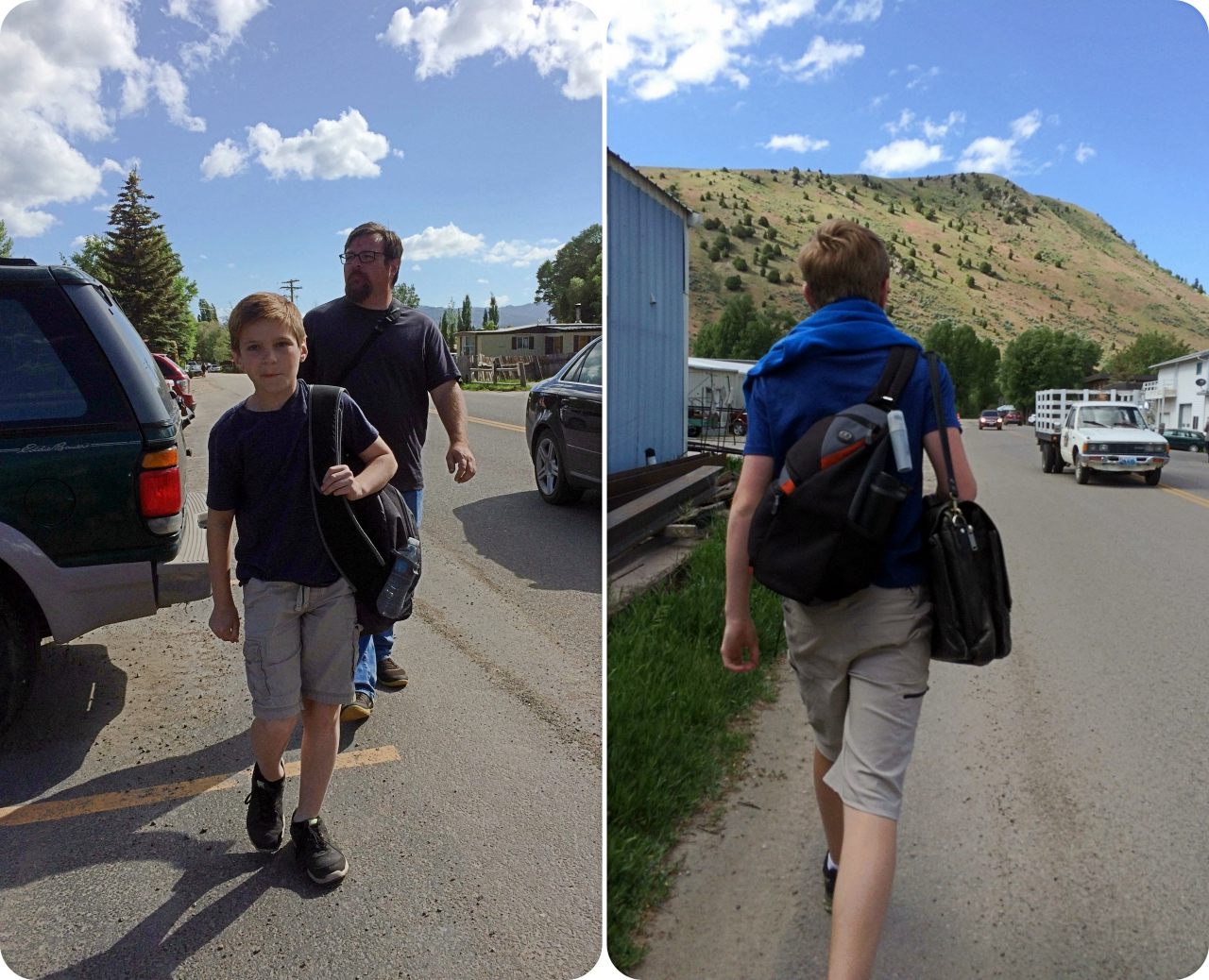 Renting New Wheels
Upon arriving at the car rental store, the boys spotted a sweet lemon yellow Mustang convertible in the parking lot and wanted to rent it, of course. Me, being the practical one, had decided an economy vehicle would be just fine.
We found out it only cost $40 more, so the boys won. I had realized we might as well have a little fun to brighten the day…we could make lemonade out of the sour lemons we had received.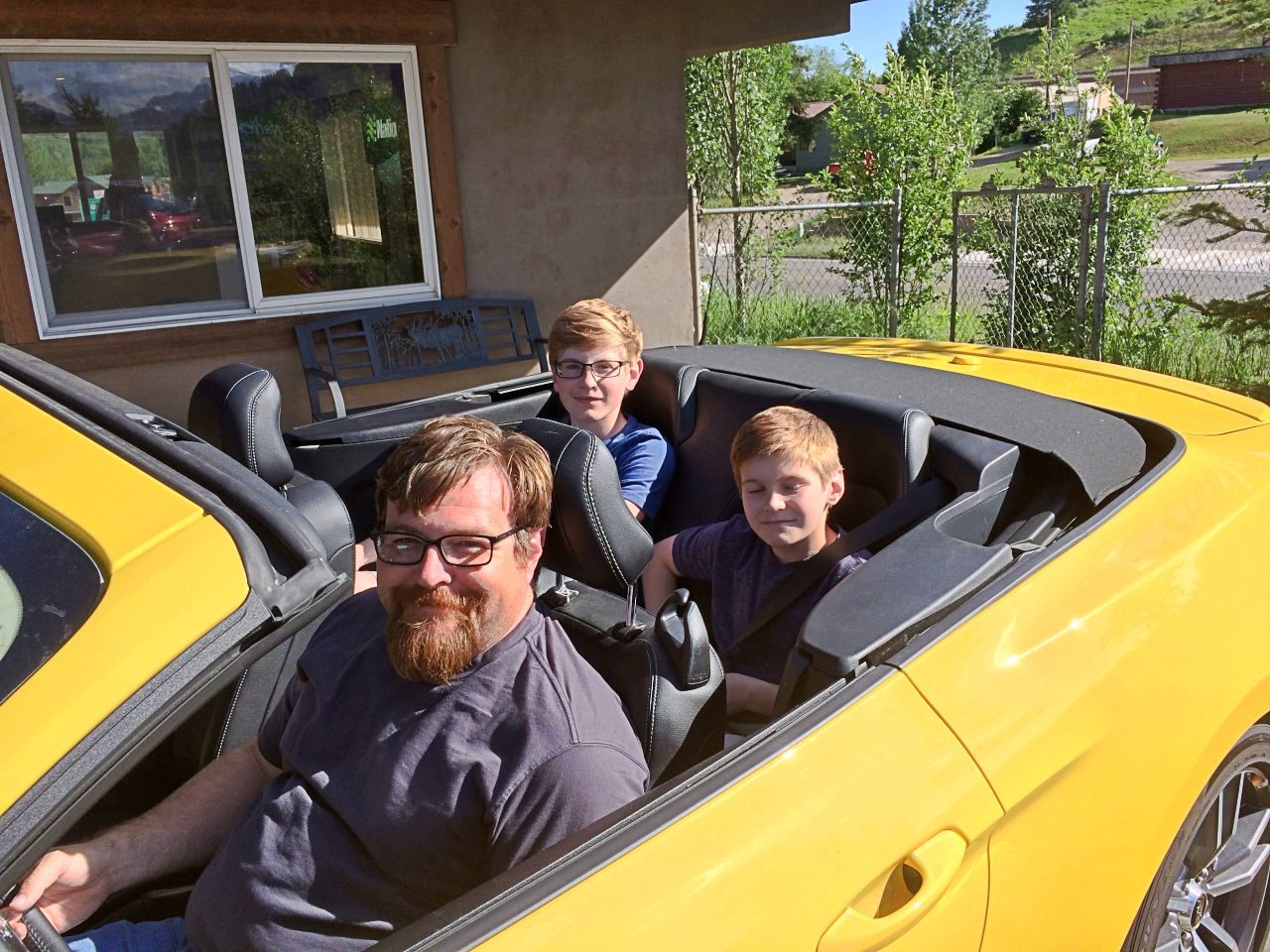 Pretty soon, we were zipping along the highway with the wind rustling our hair. Even I had to admit this was pretty fun.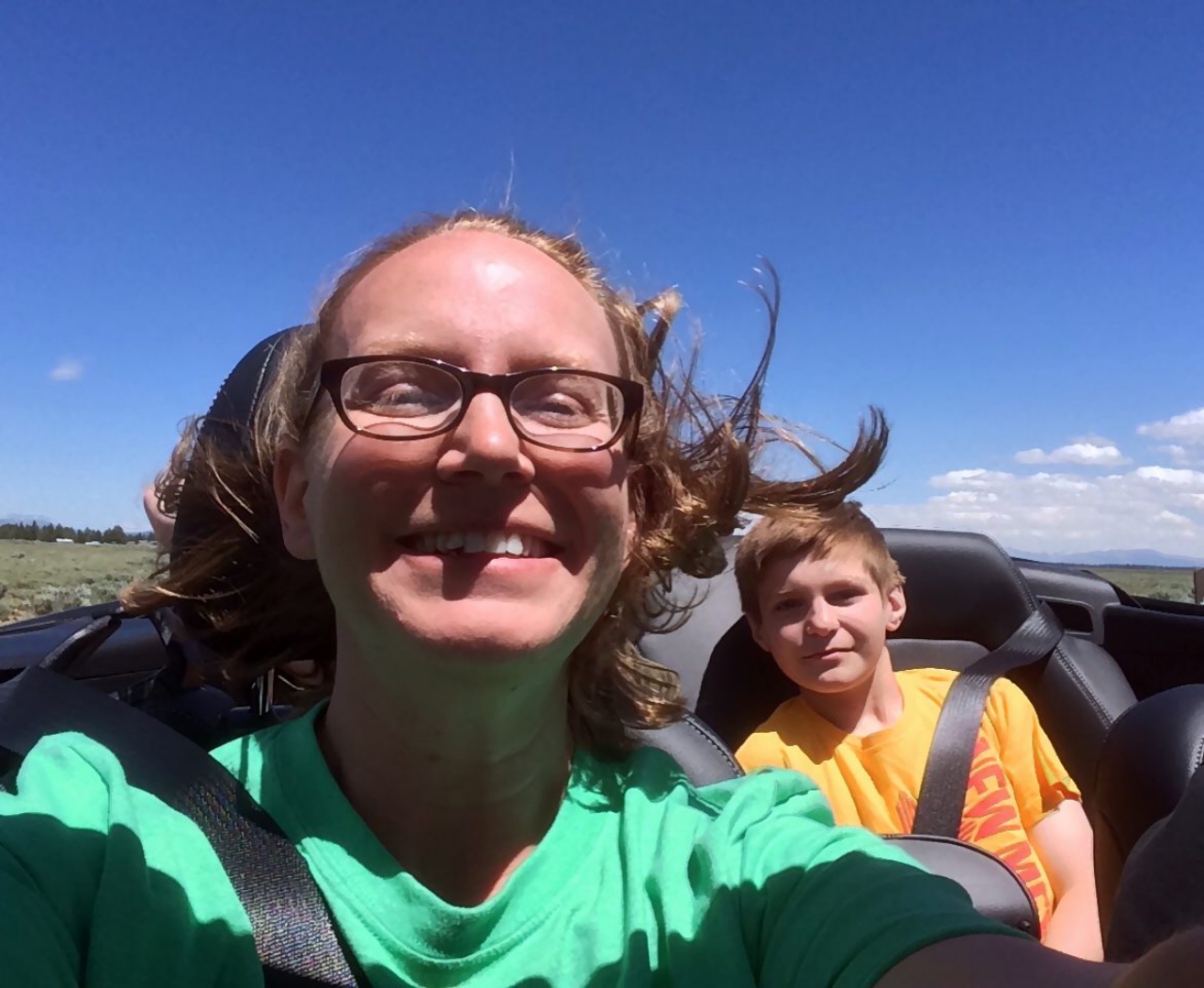 Our boys had convinced me that the convertible would help them see the mountains better, and they were right. It really did feel like we could reach out and touch them…as well as this bird flying right alongside us.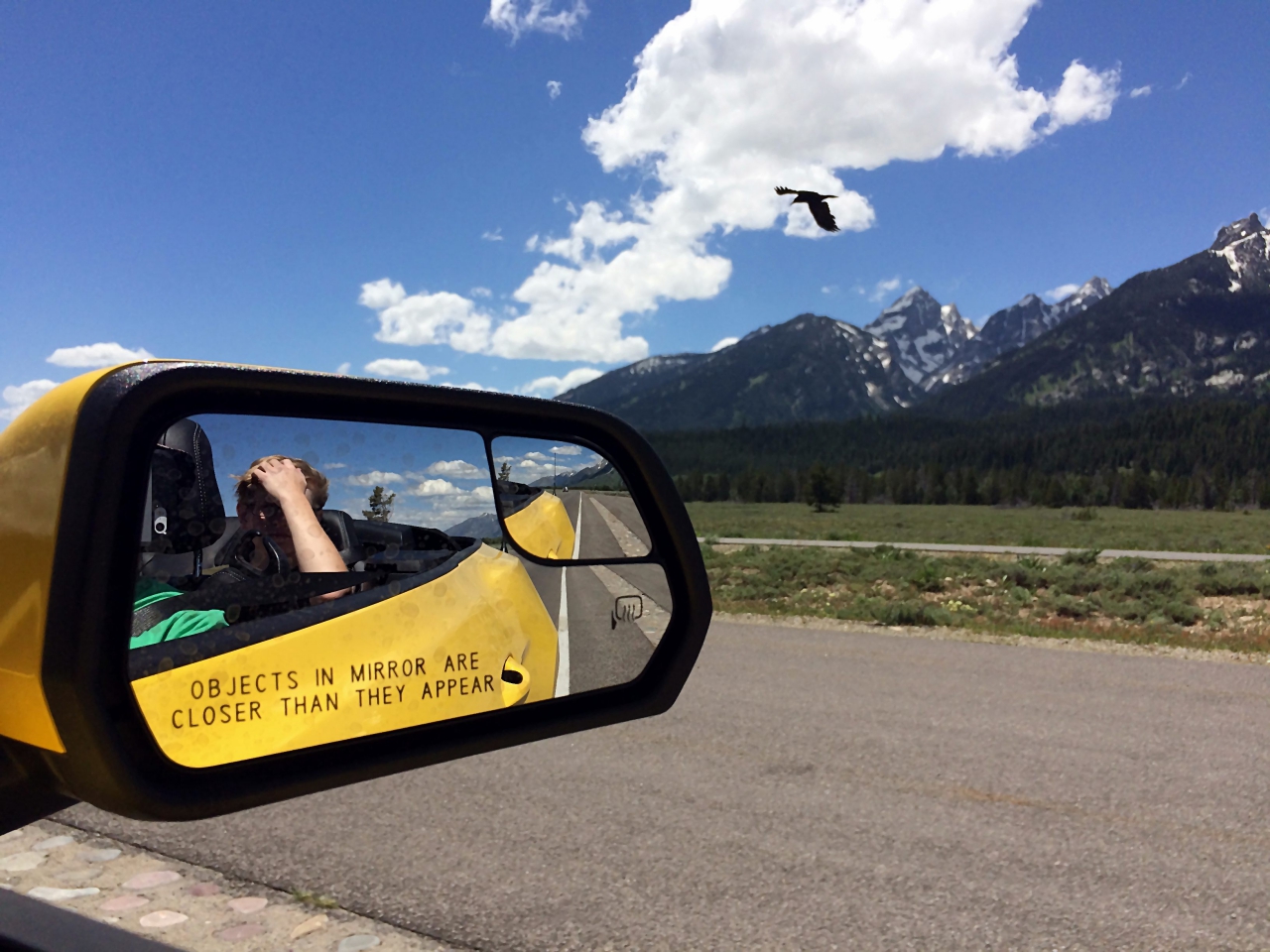 The grin on our younger son's face was especially delightful. He was having so much fun with this. That smile was totally worth the extra $40.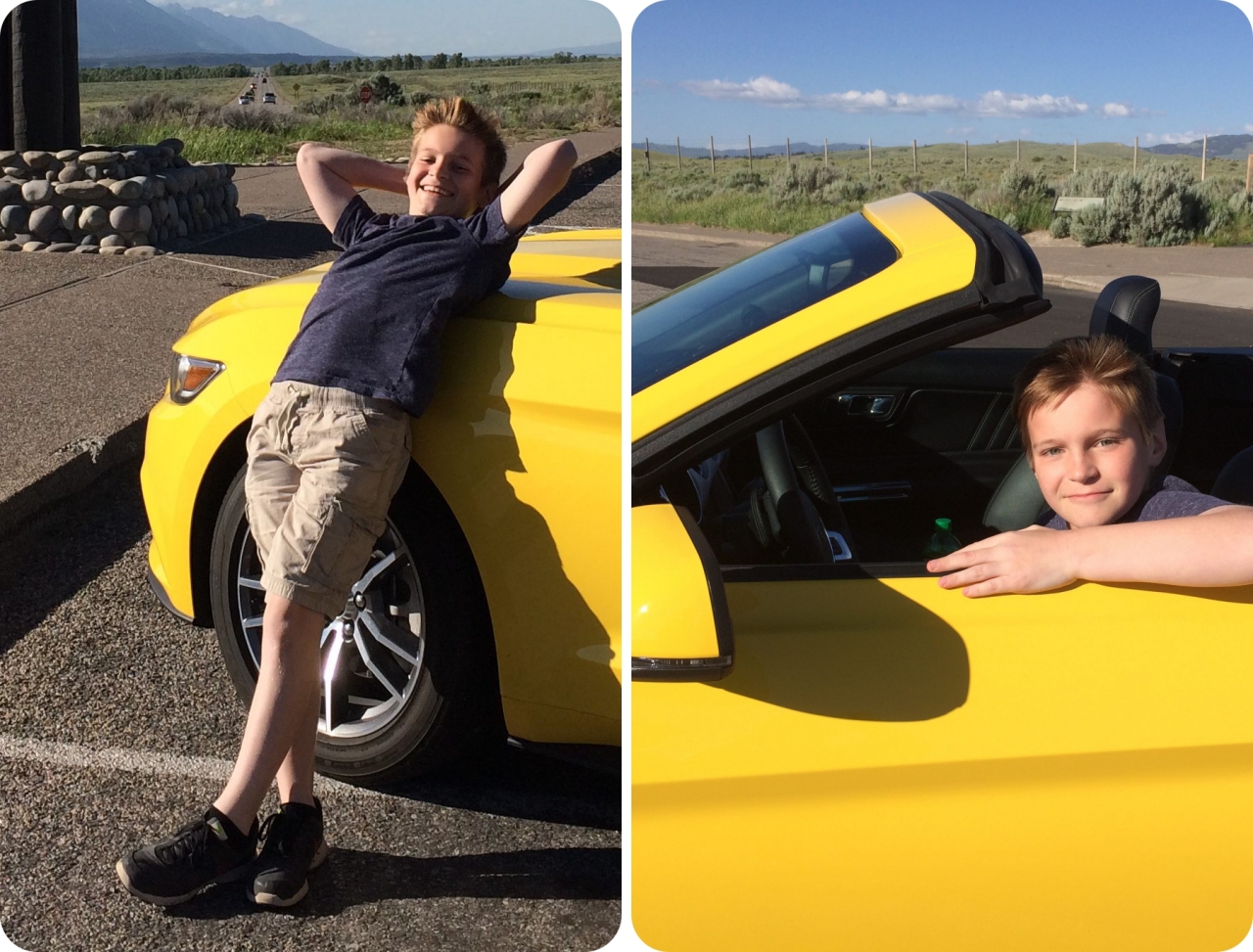 After hitting some pretty spots along the way, we finally made it back to our campsite in Colter Bay RV Park. We got a lot of looks as we arrived in our new vehicle, and we parked it in front of Birdy just for fun. I'm sure people wondered if we were actually towing our trailer with the Mustang.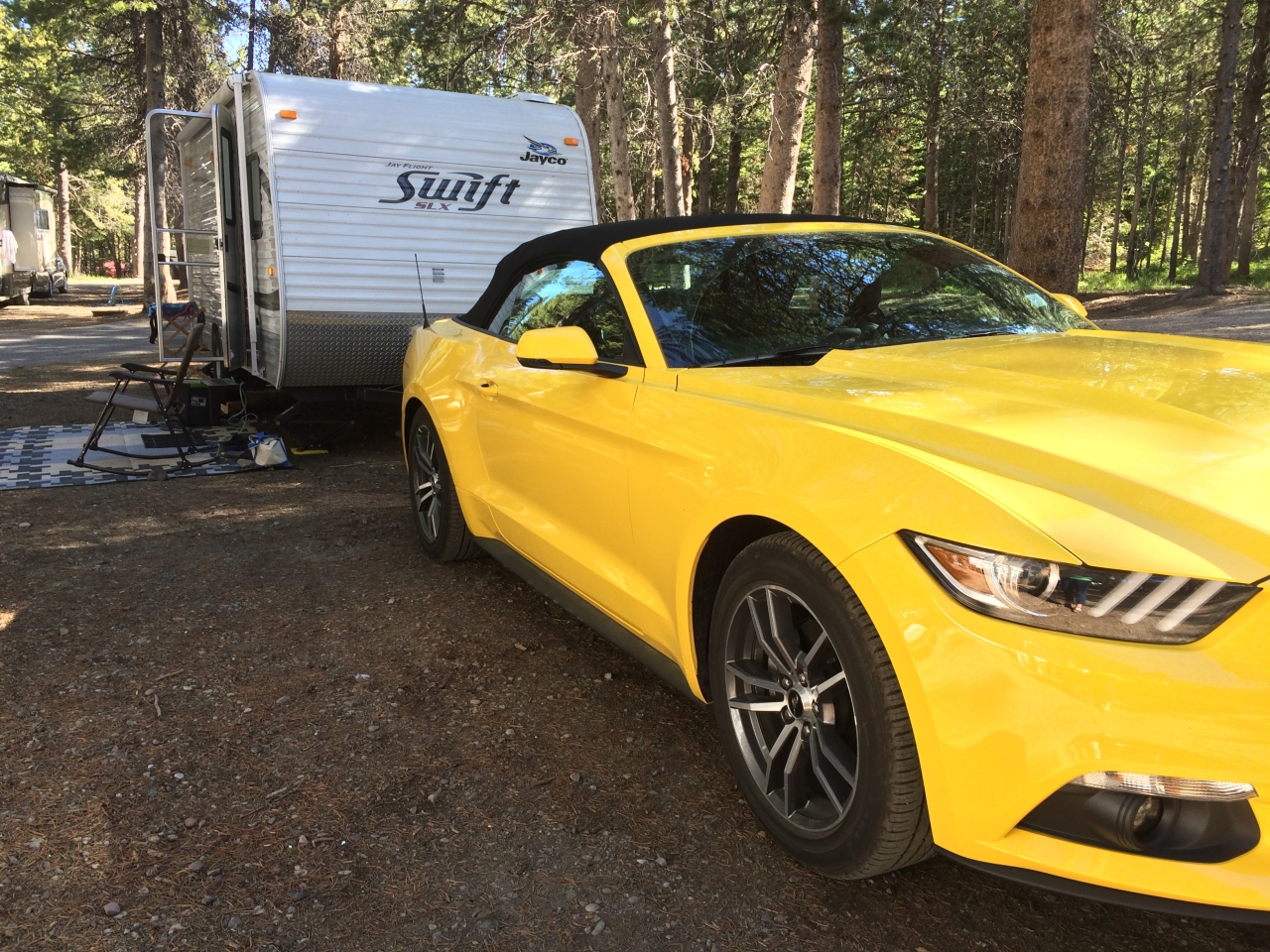 Bright and early the next day, our FJ was finished. We took our time getting back to it since we were enjoying the Mustang in the mountains. Once the trade in was done, we all agreed that it had been fun, but we were really glad to have our own vehicle back and all fixed up.
Lessons Learned about Breakdowns
1) Buy a roadside assistance service. Ours cost $70 and came with a $70 KOA gift card, making it actually free. I have no idea how much this tow would have cost us out of pocket, but since we had to be hauled so far away, I am sure it would have been expensive.
2) If you experience a breakdown and contact your roadside assistance hotline, it can be very hard to describe your location when you're not someplace with an actual address.
3) It can take hours for a tow truck to arrive. We had heard this as a complaint about some roadside assistance companies before our trip. In our situation, however, I don't really fault the company. We were definitely in a remote location.
4) It is crummy getting a car repaired by a shop you aren't familiar with. We were probably overcharged for the repairs since we were out-of-towners who were stranded. It's hard to know who to trust, even with online reviews. However, the important thing was to get back on the road, so we had to suck it up, buttercup.
5) If you experience a breakdown, you can still turn lemons into lemonade. Even though this fiasco ate up over ten hours of our mere two days in the Grand Tetons, we made it fun by renting the convertible and by heading back to the park to squeeze in as much sightseeing as we could. We certainly made memories this day!
In the immortal words of Paul Simon:
Breakdowns come
And breakdowns go
So what are you going to do about it
That's what I'd like to know
Things to Do in Jackson, WY
Jackson is the closest large town to the Grand Tetons, just a 45-minute drive south. Known for its stunning beauty, historic sites, and cool vibe, it's a tourist spot in its own right.
Before going there, I thought it was named Jackson Hole, but it turns out Jackson Hole refers to the whole valley south of the Tetons, with Jackson being the name of the city proper.
Some visitors to the Tetons stay in Jackson and drive up to the park, while we did the opposite. Jackson has lots of large grocery stores, restaurants, shops, attractions, and activities, so even if you aren't staying in Jackson, you should head down to check it out.
Other than the mechanic's shop and the car rental shop, there are other cool places to go in Jackson–can you believe that? Here are a few things we recommend:
Grab a meal at MacPhail's Burgers.  This family-owned joint prides itself on serving huge, quality burgers, which have topped many "best of" lists across the nation. It's pricy, but it was definitely the best burger I've ever had. Buttery mushrooms, stringy, melted cheese, a juicy slice of tomato, savory beef were topped with a freshly baked bun to make a mouth-watering sensation. The fresh-cut fries also knocked my socks off.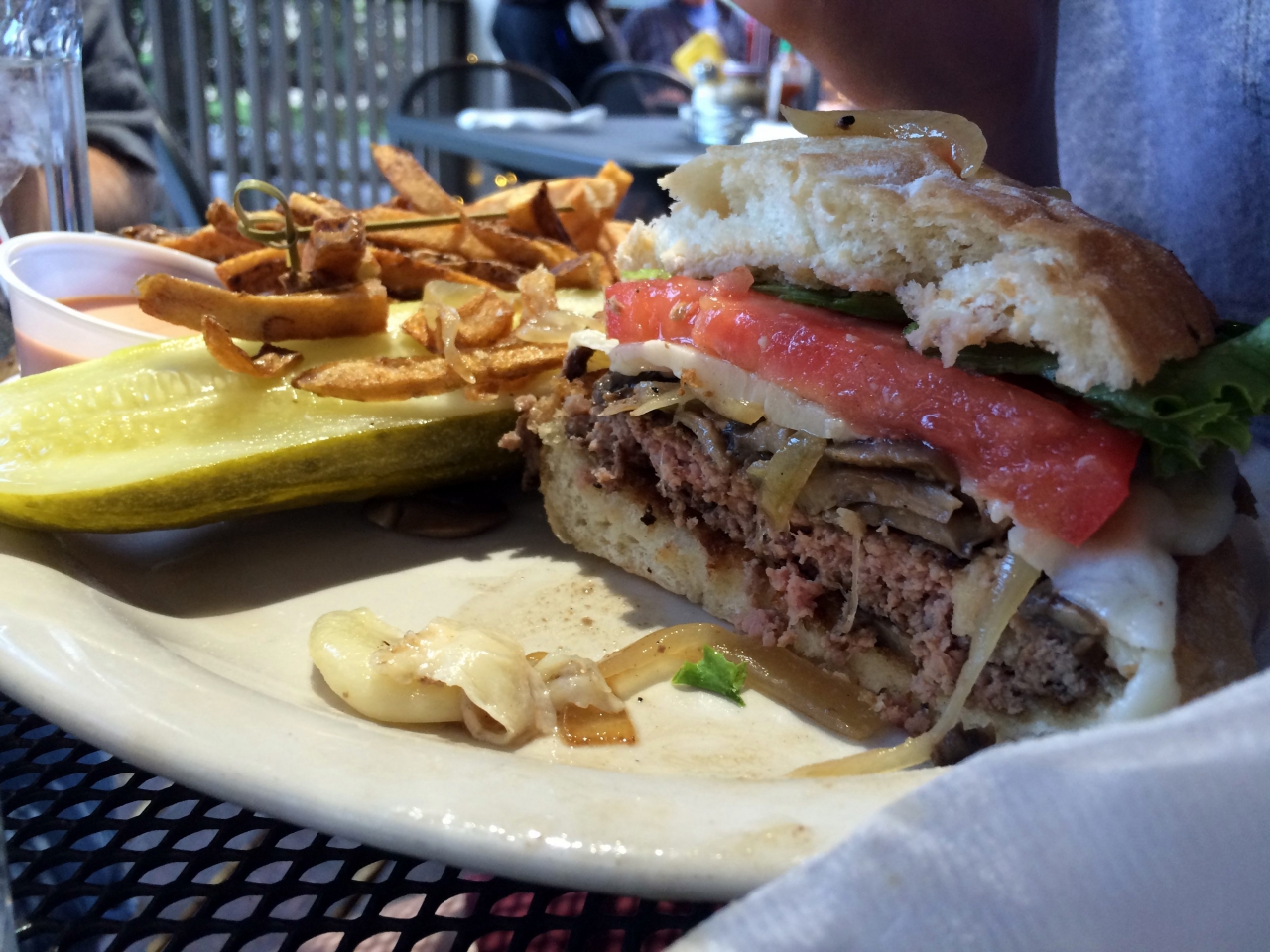 Check out the Phil Baux City Park. We stumbled upon this gem after a huge farmer's market next door caught our eye. The boys were eager to try out the rock climbing wall. Neither had done this before, and this was the perfect chance. The park also offered other traditional play structures, as well, making it a good place for kids to burn some energy.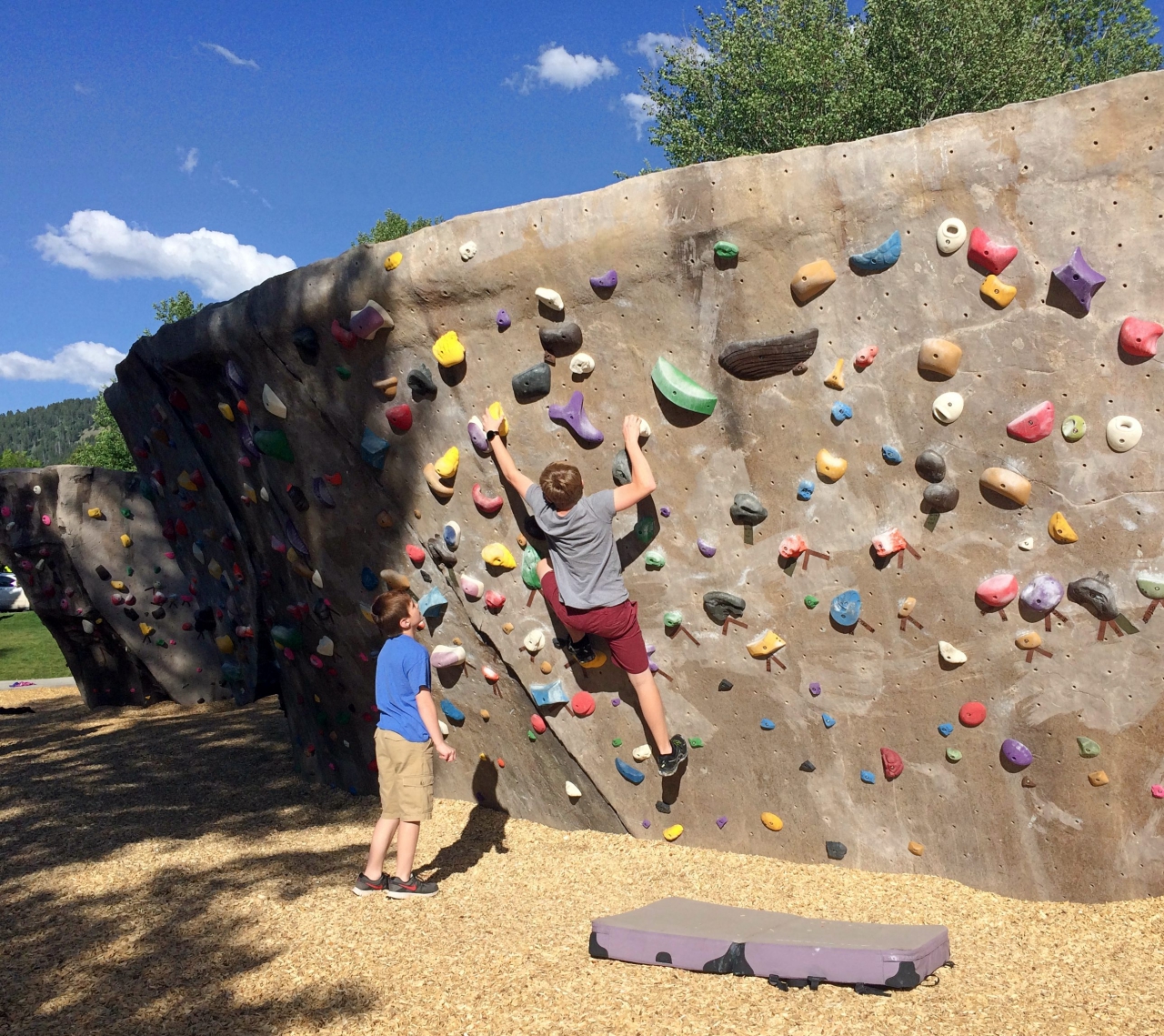 Find the Antler Arch on the Town Square. This iconic landmark is a tradition dating back to the 1950s. The historic town square is framed by four arches made from elk antlers. We didn't have time to stop and hang out, but I snagged a crummy drive-by shot to prove I was there: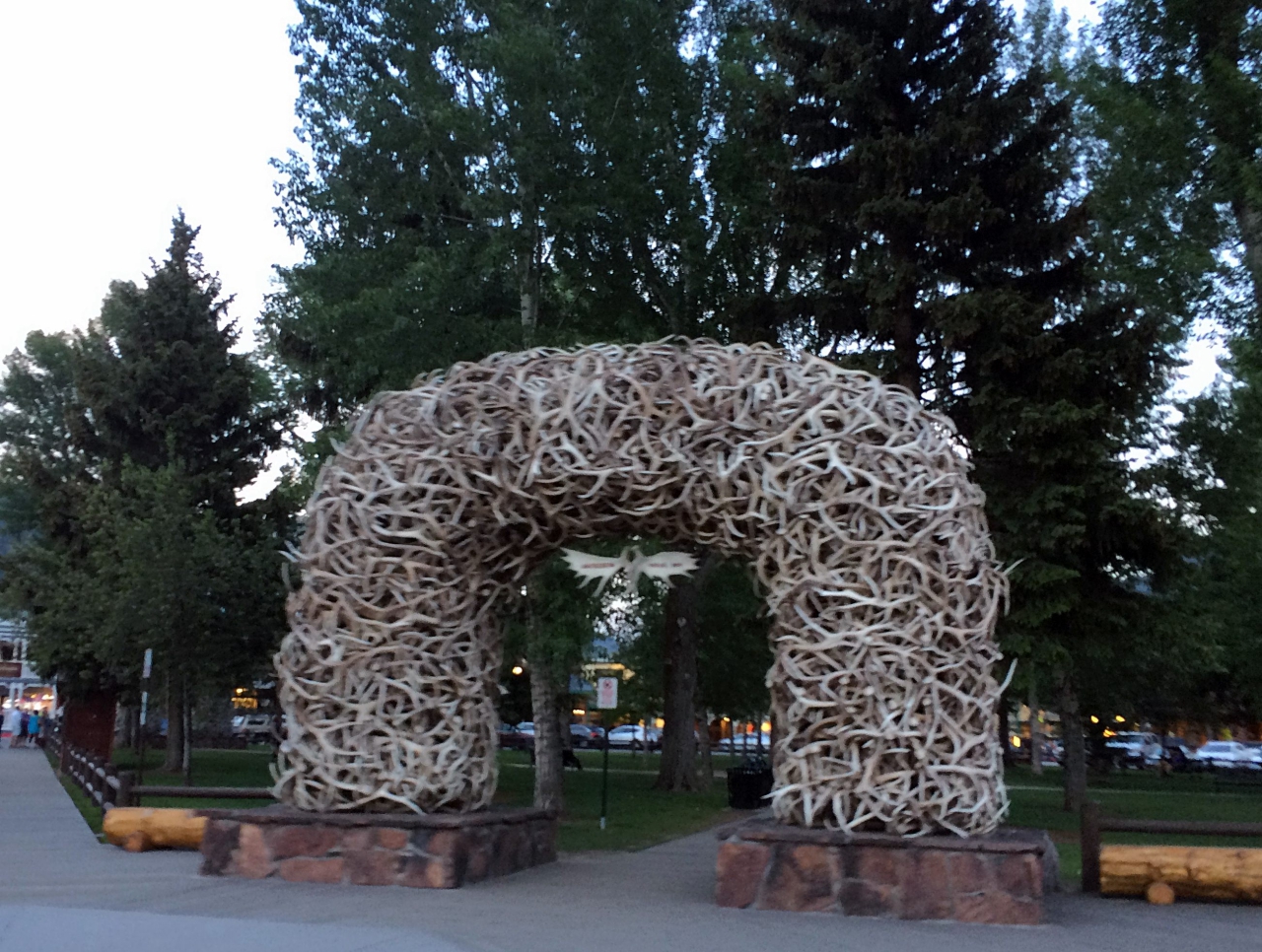 If we had more time, we surely would have enjoy checking out more of Jackson. John Muir once famously said, "The mountains are calling, and I must go," which sums up my thoughts on Jackson. While it seemed like a neat place, I was lured north by the spectacular Tetons and just couldn't imagine spending much more time in the town instead of the mountains, especially since our breakdown had already cost us many precious hours.
Find Travels with Birdy:
Share this post: