Paddleboarding at 38 Paddle Co.
(I'm temporarily interrupting the narrative flow of our summer trip BirdyNPS100 to share some local reviews. Can't wait to tell you about 3 awesome places we recently visited!)
Nestled in the rolling green Ozarks hills of the Branson area, visitors will find 3 beautiful lakes. Table Rock Lake is a heavily-visited water sport mecca. Lake Taneycomo's icy waters make it a popular spot for trout fishing. Bull Shoals Lake is the quietest of the three, with warm, clear waters stretching from southern Missouri into northern Arkansas.
We recently headed to one of the northern arms of this lake to visit 38 Paddle Co., a stand-up paddleboard (SUP) rental company, located 10 minutes east of Branson.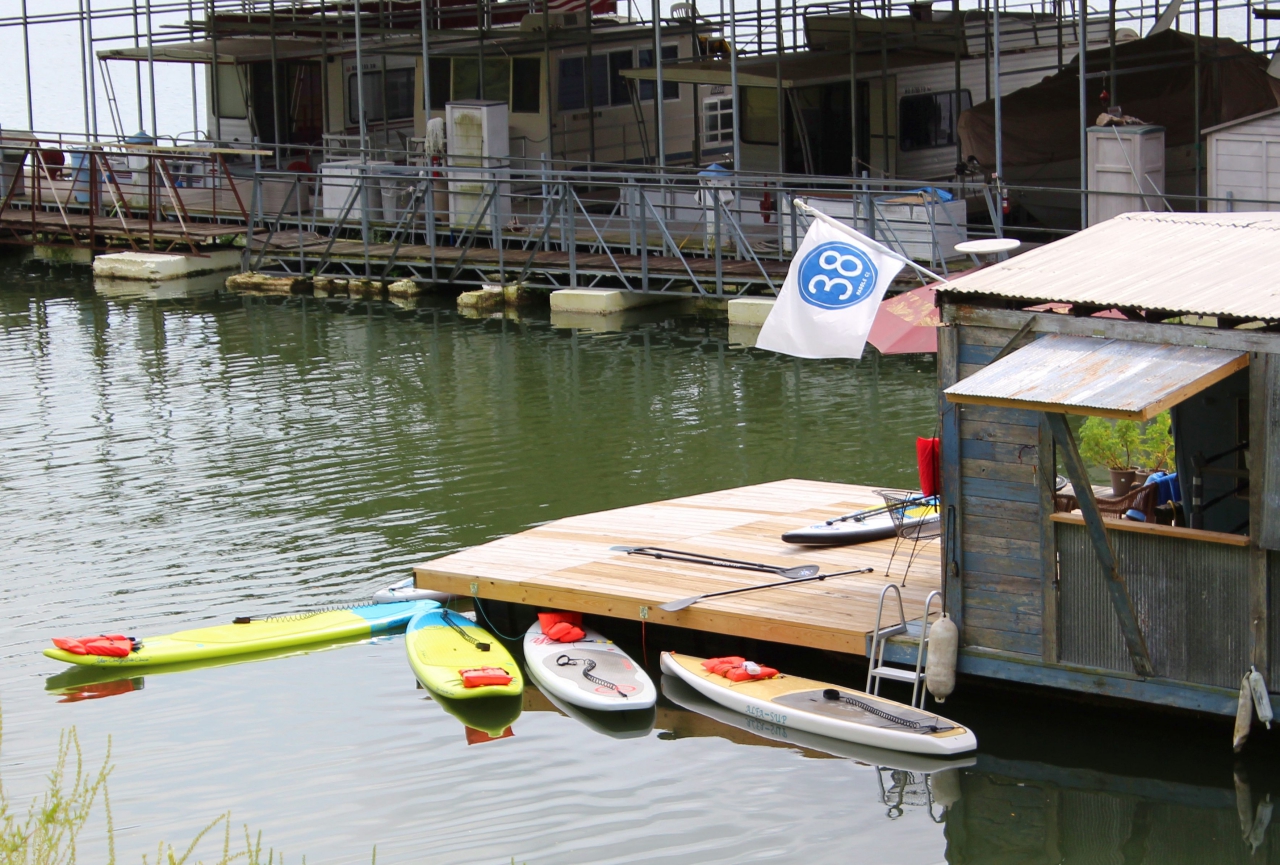 Our family has been eager to try paddleboarding. When we heard of a new rental company in a beautiful spot close to home, it seemed like the perfect place to try it out.
September in the Ozarks is a clash of weather wills. The last hot strands of summer straggle along as the cool, crisp fall weather begins pushing in. The day we went to 38 Paddle Co. was a perfect example of this. Despite the cloudy, drizzly weather, we set out for Bull Shoals Lake. Luckily, the sun began to peek through the clouds as the rain eventually moved out.
Upon arriving, we were immediately charmed by the vintage RV-turned-houseboat that serves as the 38 Paddle Co. office. In the picture below, you can spy the curved tail under the canopy: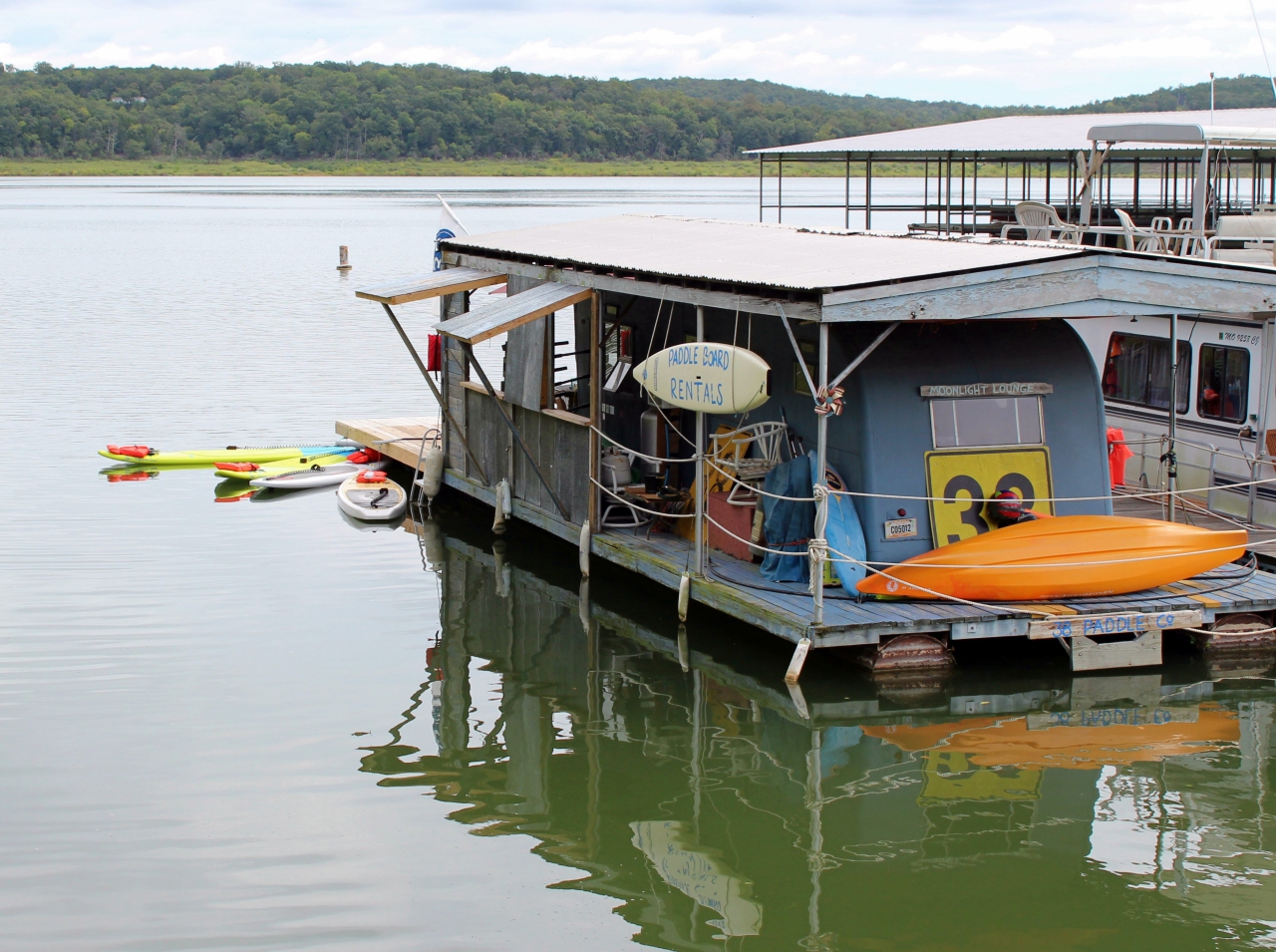 Isn't this a gem?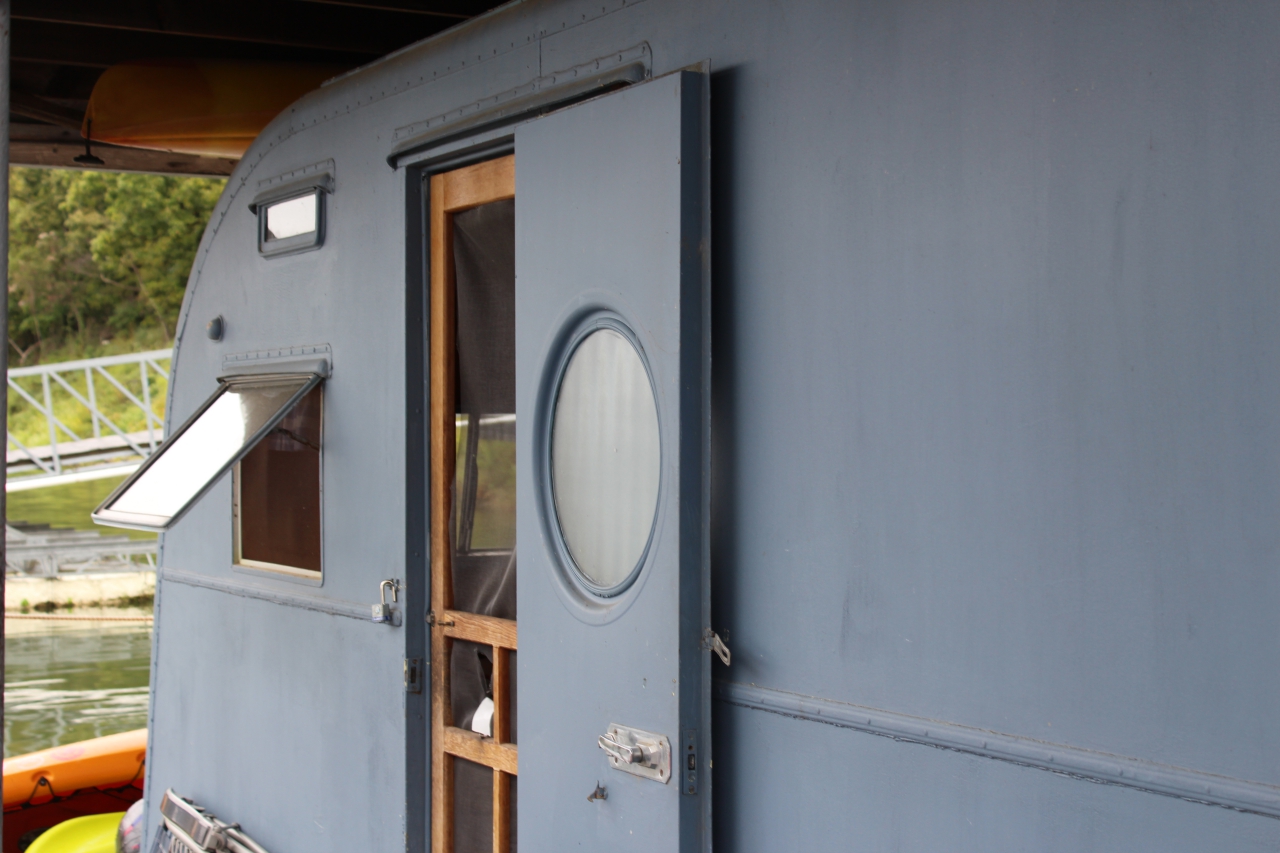 38 Paddle Co.'s Story
38 Paddle Co. is a family-owned business. The owners, Jennifer and Jacob Govero, are passionate paddleboarders who wanted to share this sport with others. In 2016, they brought their dream to life. Perhaps, they live by the motto shown on one of the YOLO brand paddleboards: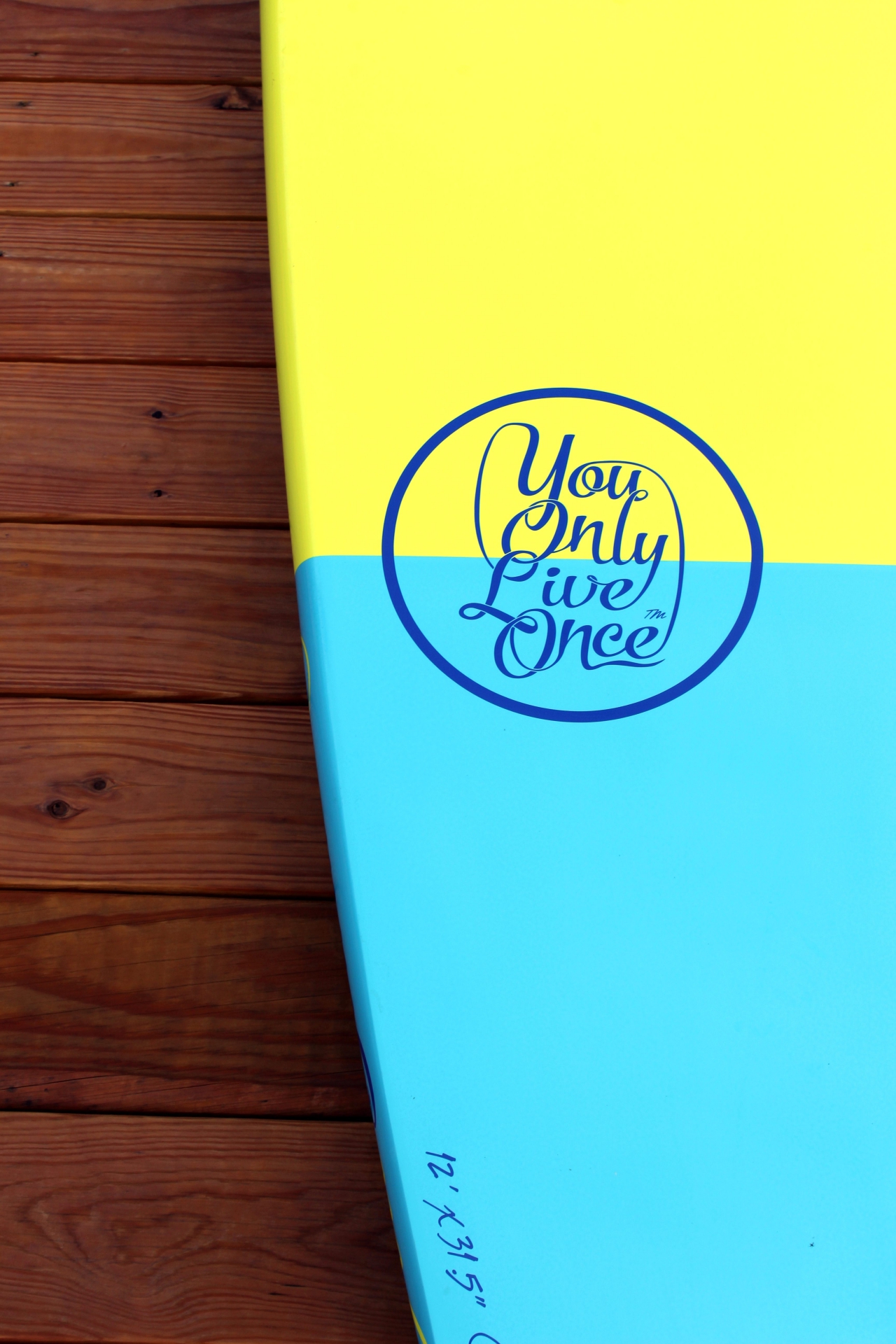 They set up shop on the RV-turned-houseboat and secured a spot at the K Dock Marina. They are located near mile marker 38 on the shore of Bull Shoals Lake, hence the name 38 Paddle Co.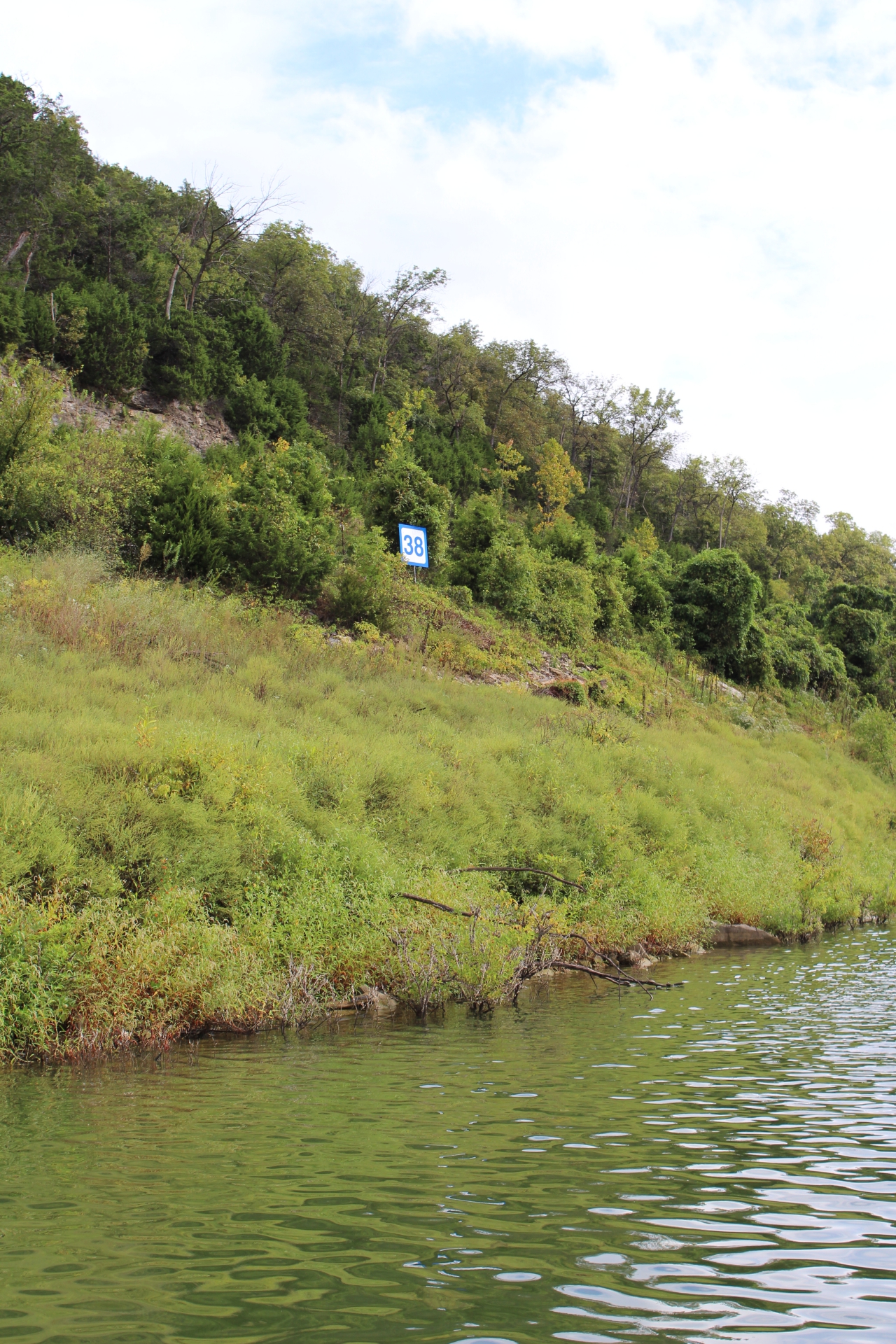 Both owners currently have other jobs through the week, but they seem to fully enjoy putting in the extra hours at their fledgling business. In addition to their regular business hours, they host events for groups. I hope to make it to one of the full moon floats some evening.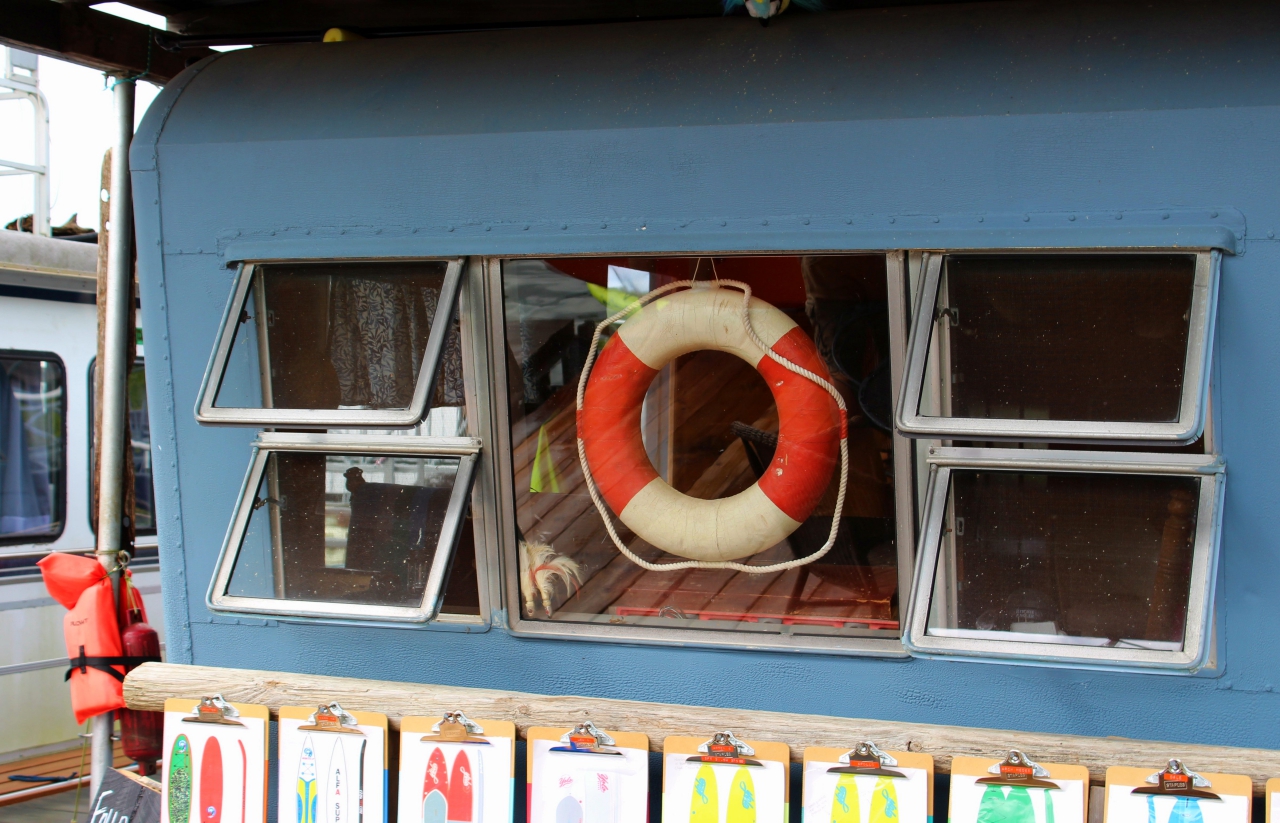 In addition to renting paddleboards, the owners have a selection of items for sale. You can purchase coolers and dry-sacks, as well as items with the 38 Paddle Co. logo.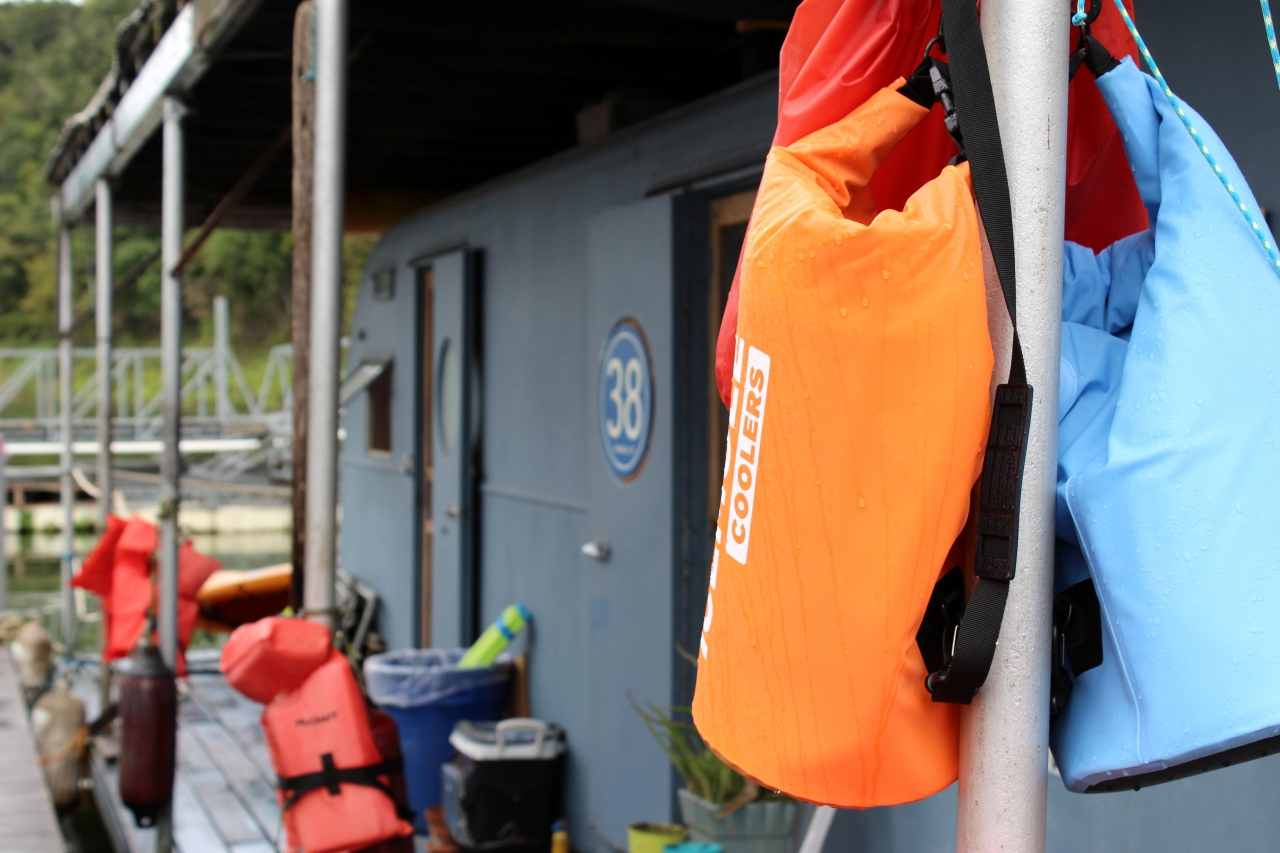 Here's Sam modeling his new super soft 38 Paddle Co. shirt: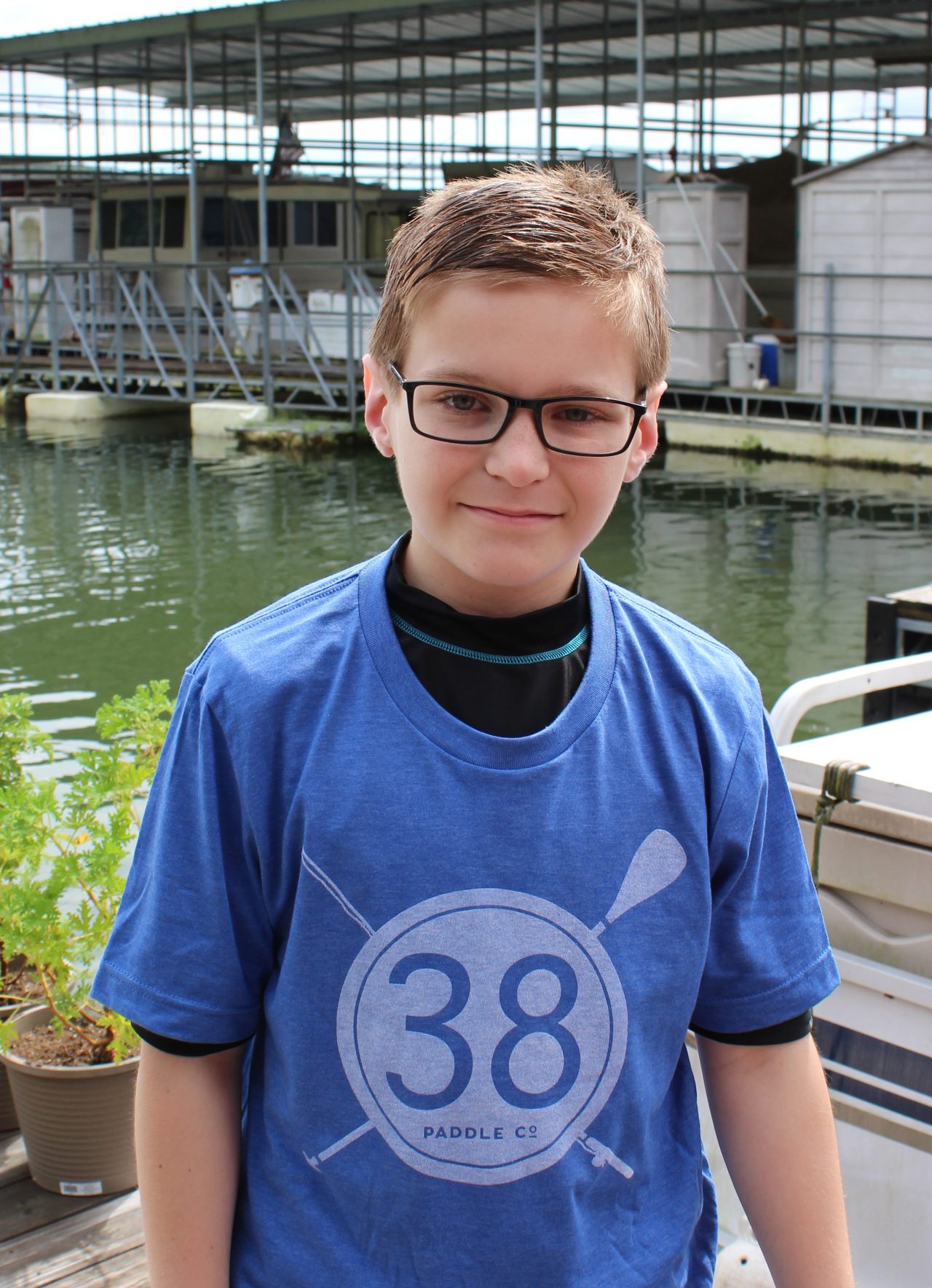 With their first successful season wrapping up, the owners are making plans to grow the business in the years ahead. As paddleboarding spreads in popularity, I have no doubts this business will have continued success.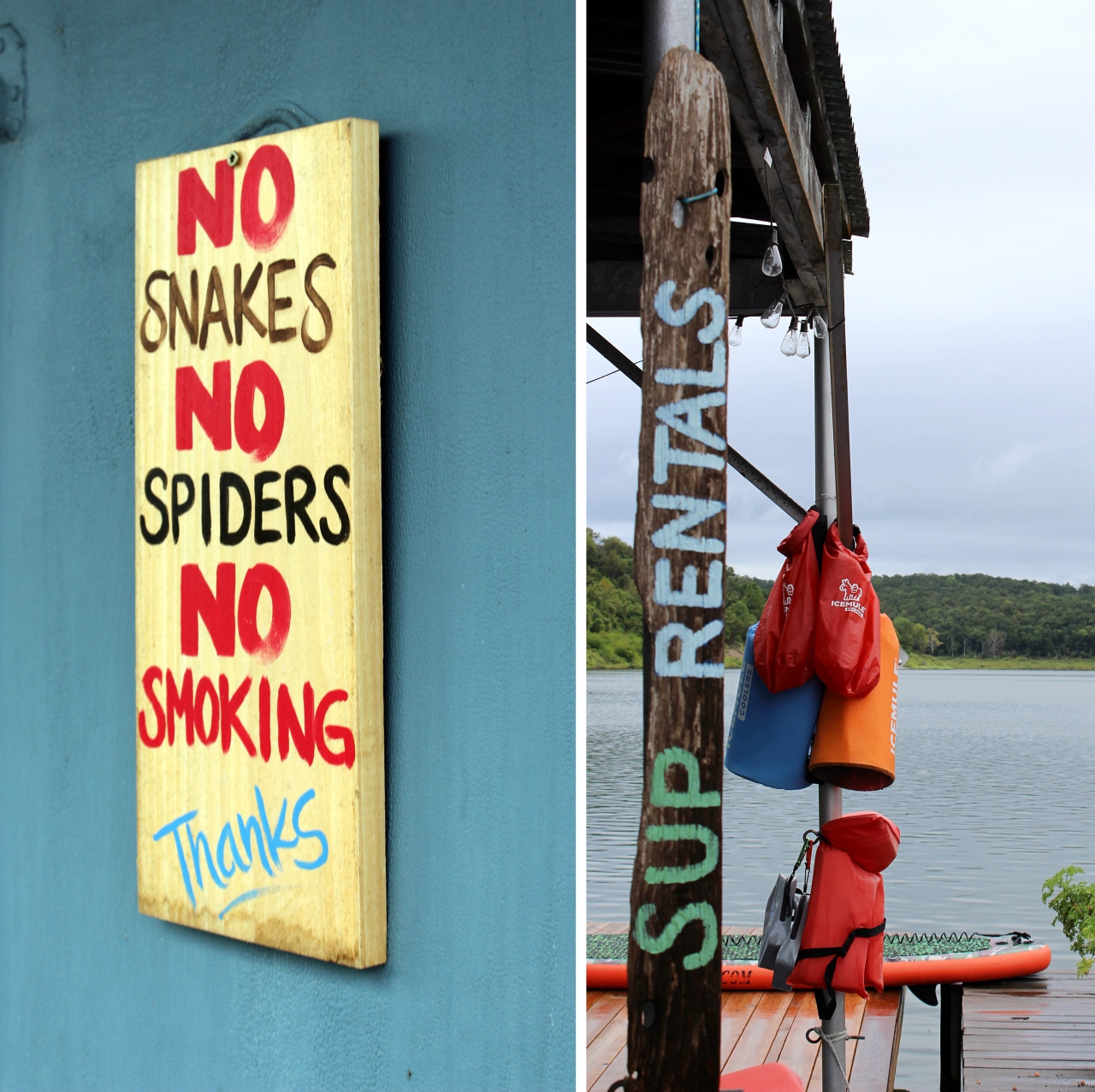 Our Experience
As soon as the rain cleared, we headed out on the deck to get geared up. 38 Paddle Co. currently has a fleet of 8 paddleboards of various types and dimensions. Paddleboards can be made from different materials, making some heavier or lighter than others. Some are even inflatable. The size and shape affects how swiftly the board moves and how steady it is in the water.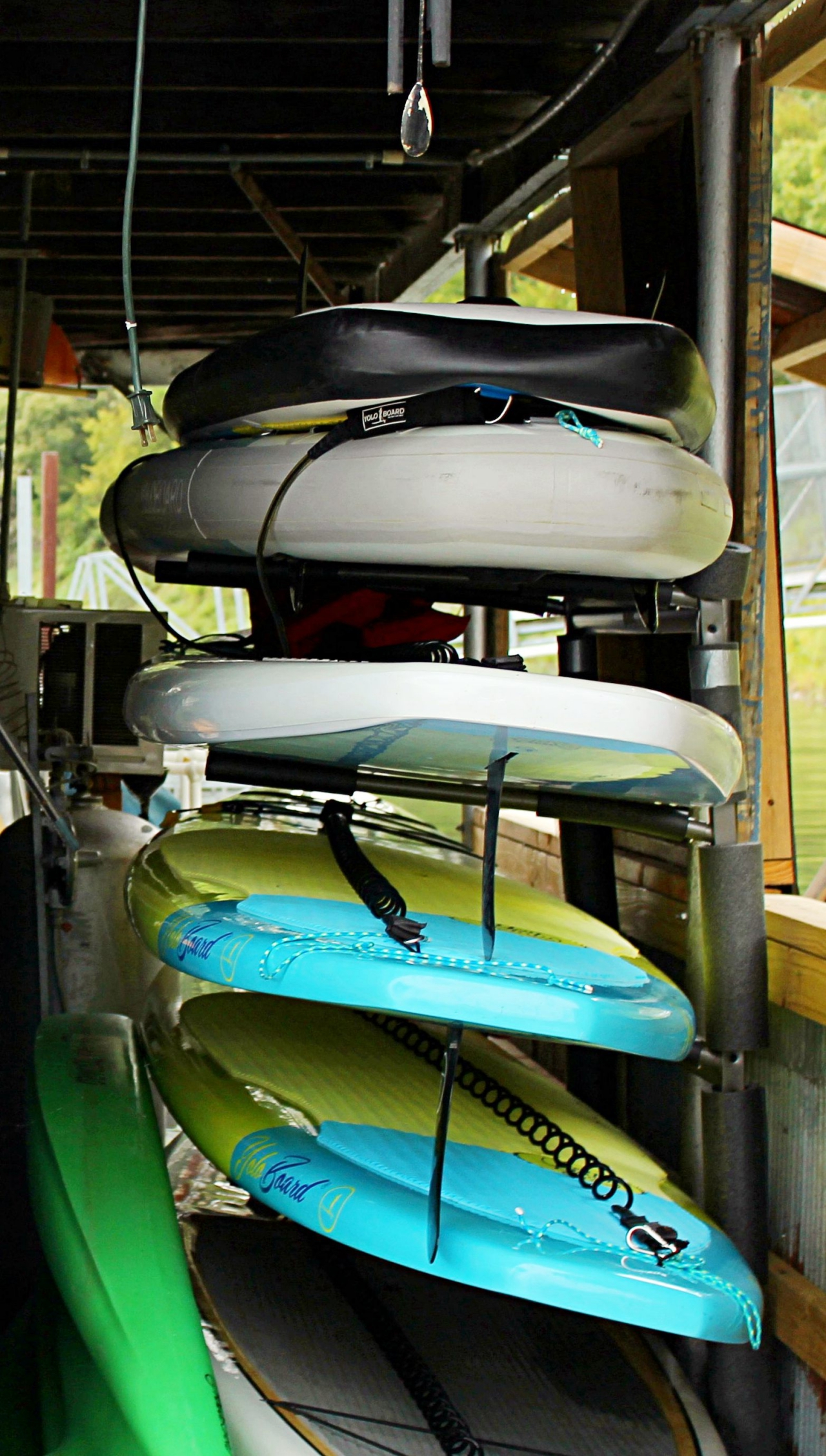 After our boards were selected, it was time to learn the SUP basics. We were handed our paddles and given an overview of the SUP rules and operations. We learned about the life vests and safety whistles attached to each board. More comfortable life vests are available at the K Dock Marina, but we opted not to wear any. Since we were lashed to the board, we knew if we fell in, we wouldn't be far from our board.
Hopping on the boards from the dock wasn't too difficult.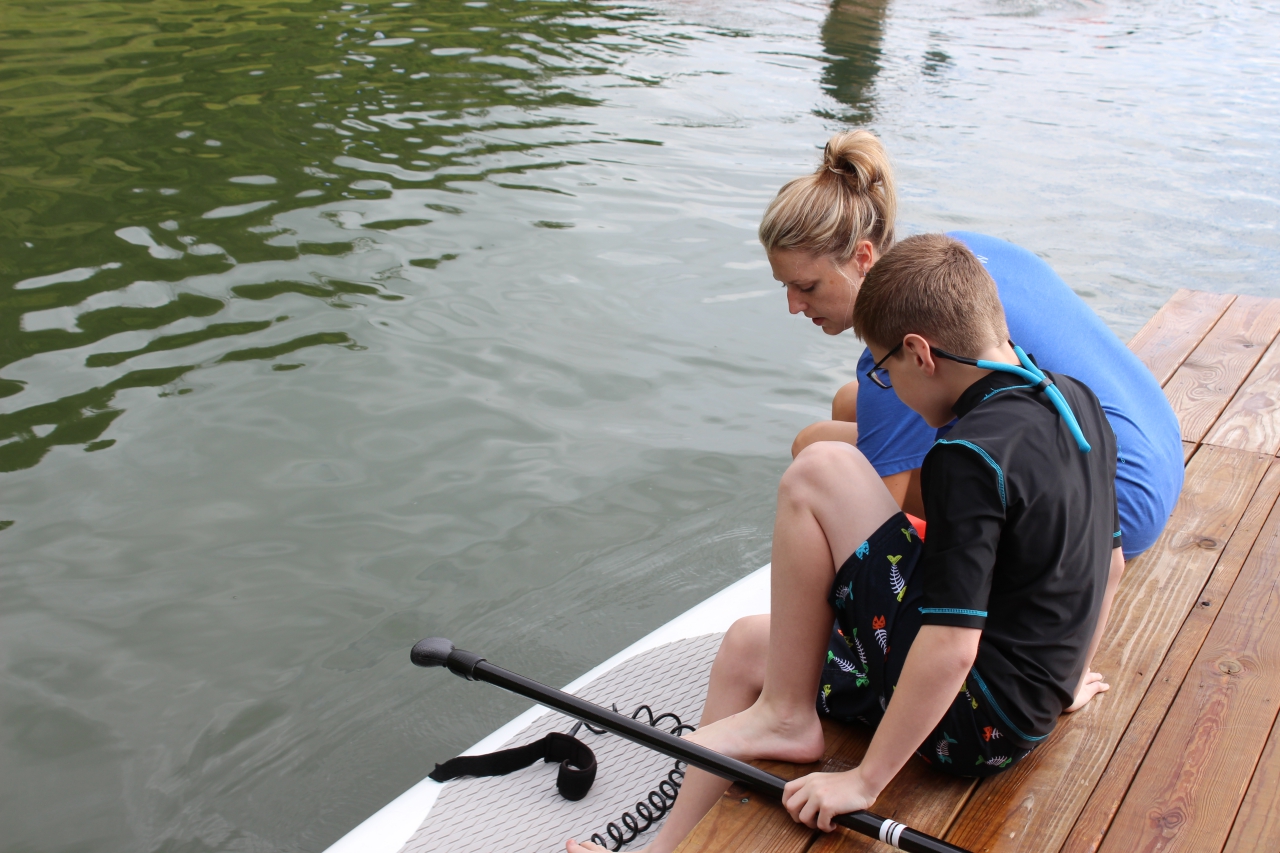 To embark on an SUP, you must first get onto the board in a kneeling position. Kneeling provides a lower center of gravity, making it less likely you'll lose your balance, which is important whenever the board is near the shore or anything else in the water.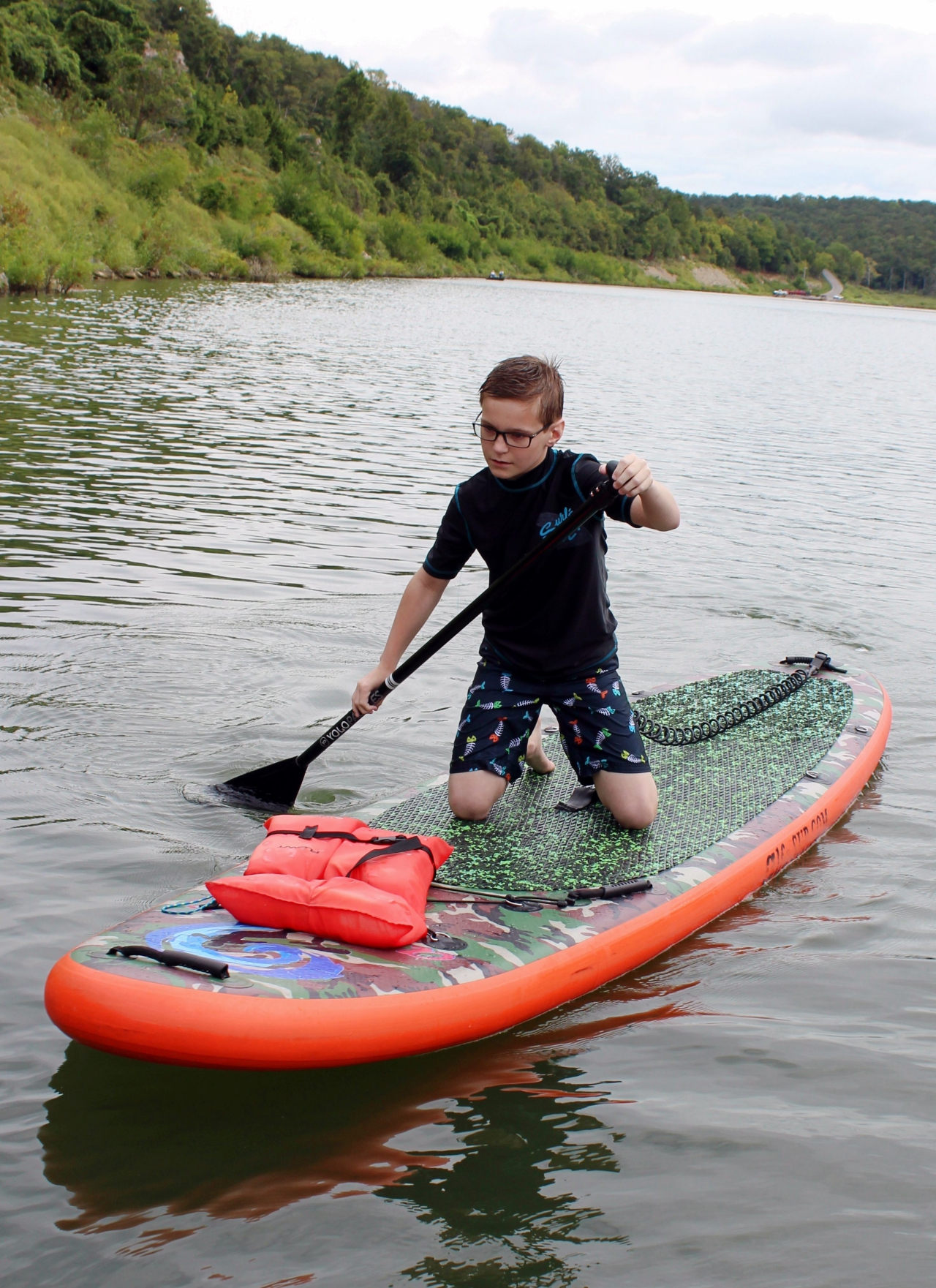 As soon as I got on the board, my knees turned to jello and began shaking. I wondered how in the world I would be able to actually stand up on the SUP without falling.
Standing up on a SUP is definitely an awkward experience for first timers, especially if you're slightly nervous once you come face to face with the board and consider your general lack of coordination (or maybe that's just me). Within minutes, my nerves calmed, and I decided it was time to stand up. Surprisingly, this wasn't quite as difficult as I feared. The paddleboard was sturdy, even as I shifted my balance and wobbled into a standing position. I had done it! And off we went…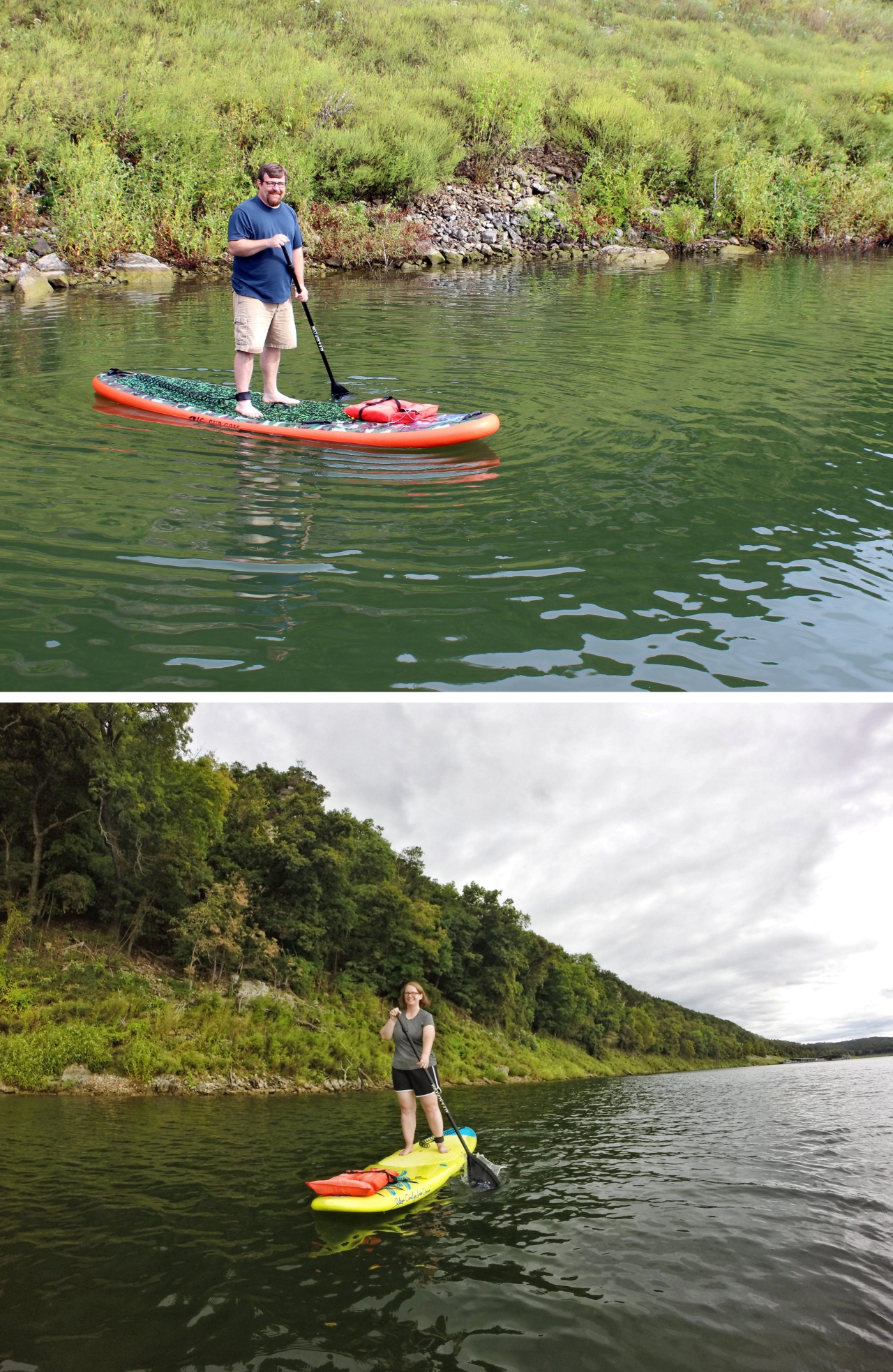 My boys didn't show any of their mother's trepidation, and both boys quickly hopped up. Soon, they were jumping and wiggling around their boards with ease. My younger son even tried out some yoga moves. Here he is balancing in a crow pose: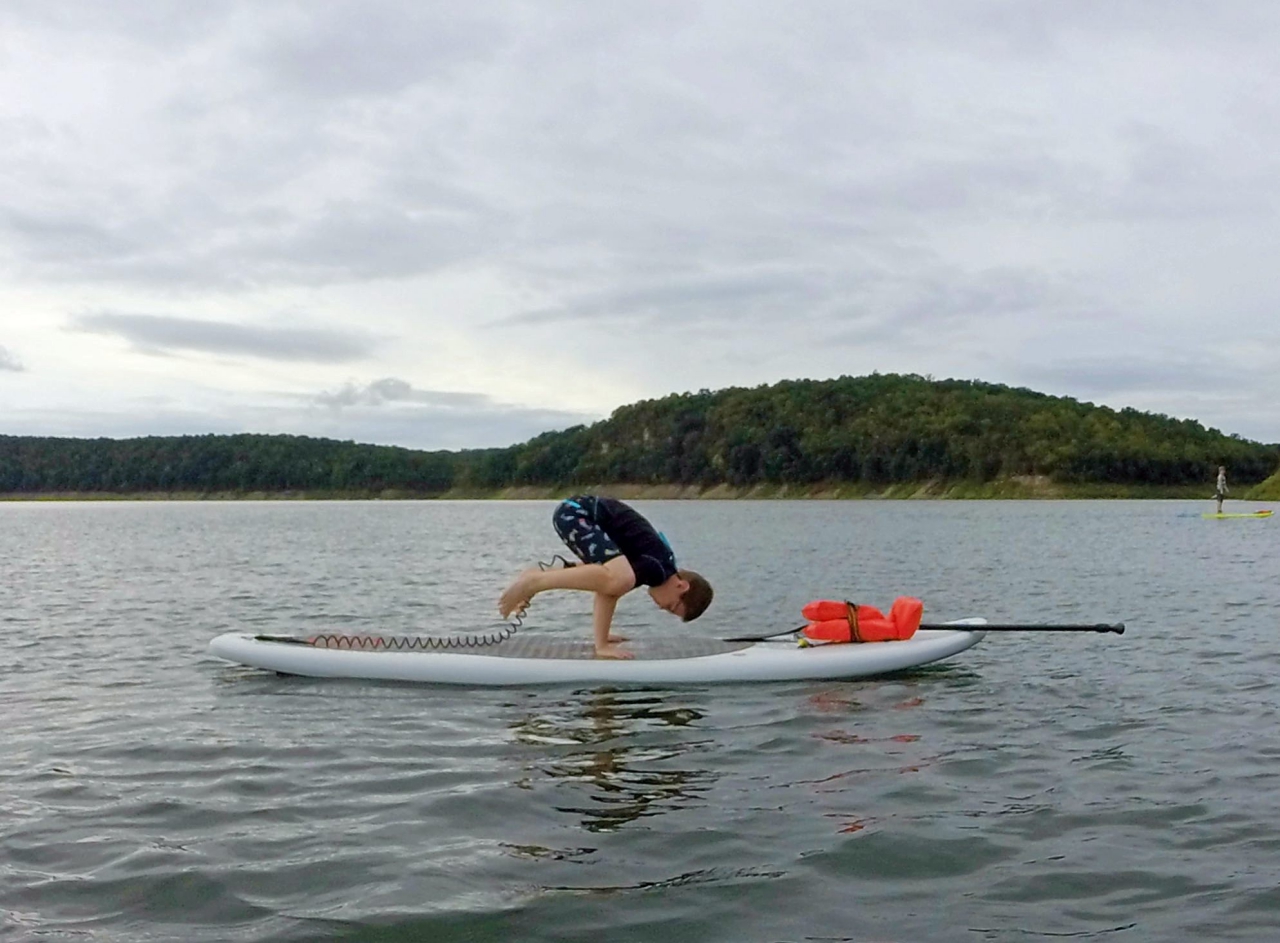 Regular readers know that our younger son prefers video games to nature, something we are working to change in him. Paddleboarding was an immediate hit with him! He was clearly having a good adventure.
Paddleboarding is also a nice way to enjoy the lake. Quietly moving at a slow speed along the shore allows you to feel close to the natural environment. We watched birds fly overhead and fish jump in the water as we listened to the water lap along our board. It's a peaceful experience.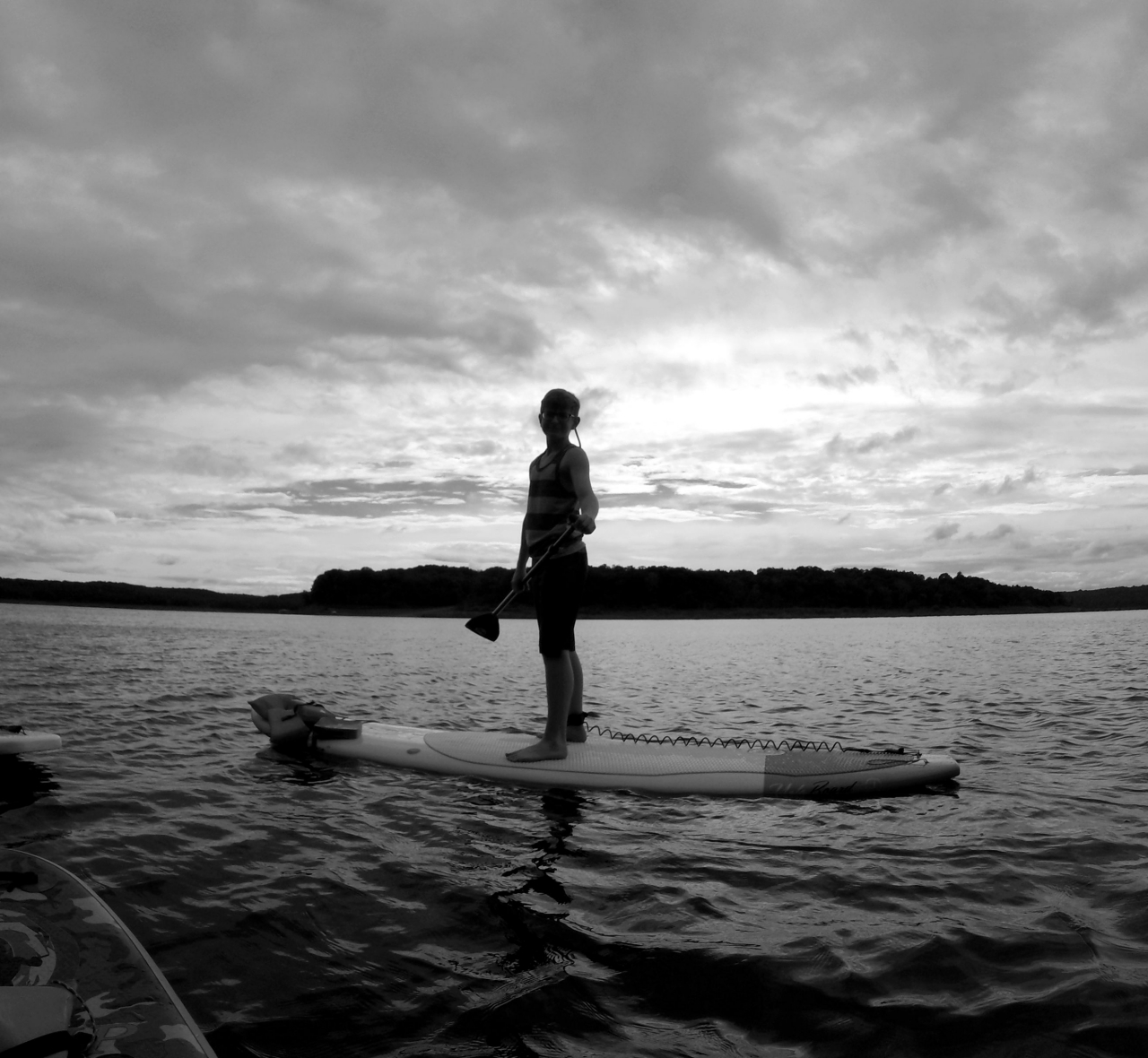 At one point, my husband suddenly fell. Boom! He landed on the board. Within minutes, it was my turn. For seemingly no reason, I lost my balance and went down. Luckily, the board was steady enough to keep me from falling in the water. While falling down is bound to happen, falling IN is less likely than you would imagine. (We opted not to take our cameras or phones onto the water, just in case.)
Had it been a warmer day, we would have eagerly jumped in the water to splash around, but this day was a tad too chilly for that to sound appealing. While I didn't want to get soaked, I enjoyed putting my toes in the warmed-from-summer water.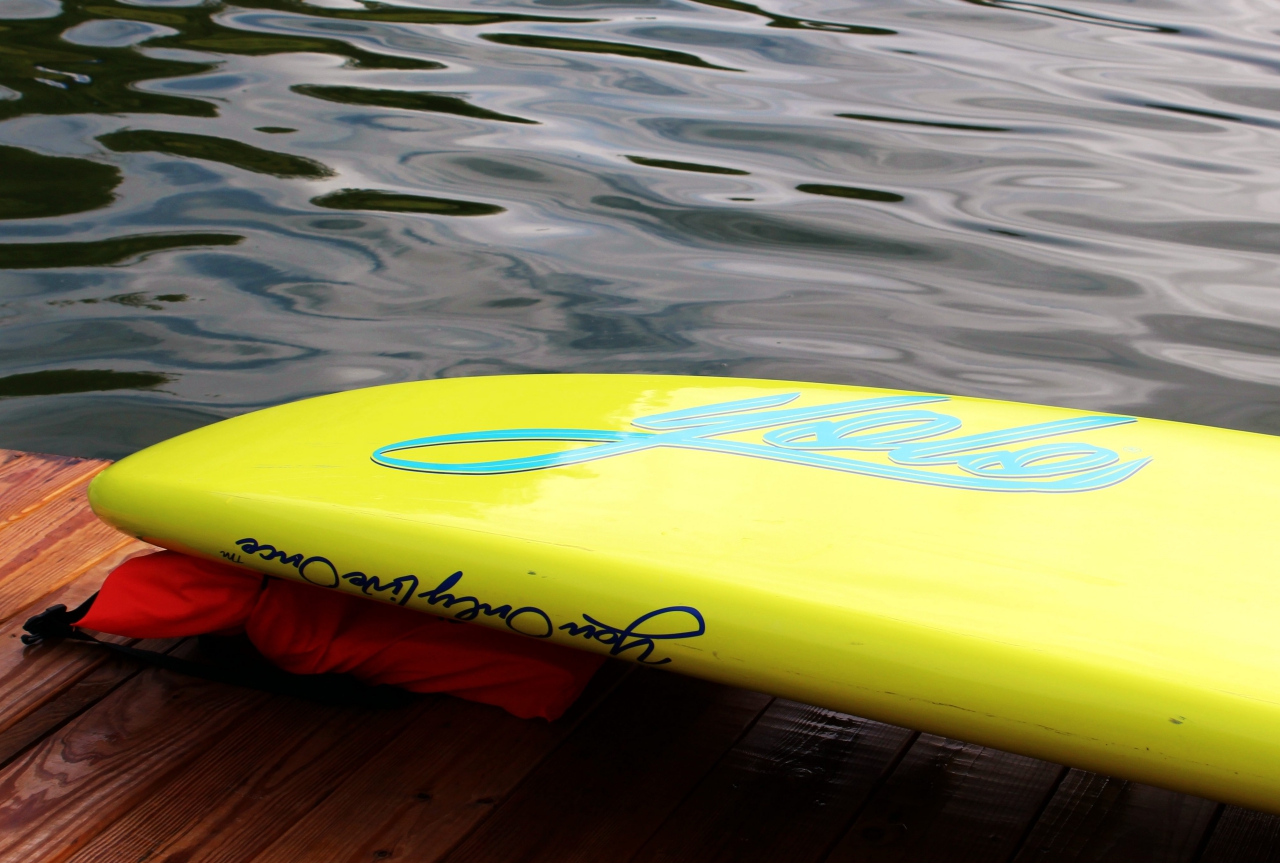 At one point, our younger son did slip and crash into the water. Since the water in the lake is rather deep, and he wasn't wearing a life jacket, I had half a second of mom panic. Luckily, he didn't panic, and he quickly dog-paddled his way over to his board.  With a hop, Sam was back on his SUP in a flash.
After a throughly-enjoyable glide through the cove, we made our way back to the office.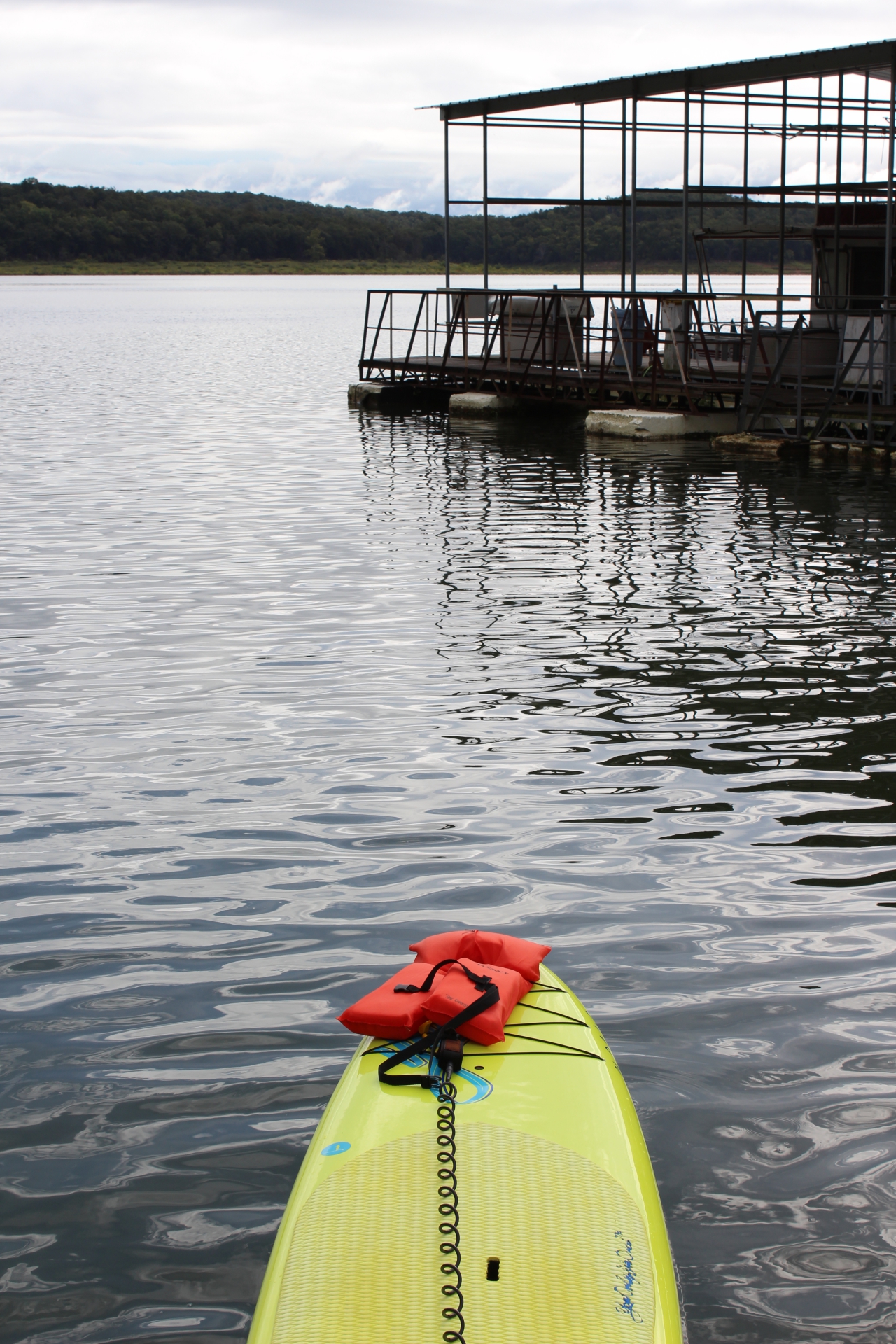 Tips for Your Visit to 38 Paddle Co.
You will get wet, but you probably won't get soaked (unless you jump or fall in). If you plan well and are careful, you can paddleboard even once the weather cools considerably.
You will probably want to leave your cameras and phones on the shore (dry bags are available if you decide to take yours out on the water).
Comfortable life vests are available at K Dock Marina, if you wish to wear one.
K Dock Marina also offers restrooms, a snack shop, and more.
Paddleboards can be rented to take on your boat.
38 Paddle Co. has special evening events. You can also attend these with your own board or kayak.
Wear sunscreen, but you might want to leave your hats due to wind.
Help take care of the boards by watching out for other SUPs and staying back from the shore.
The owners are super nice and helpful! They want you to have a good experience.
38 Paddle Co. has regular business hours, which vary by season. You can also call for appointments, especially if you'd like to book a group event.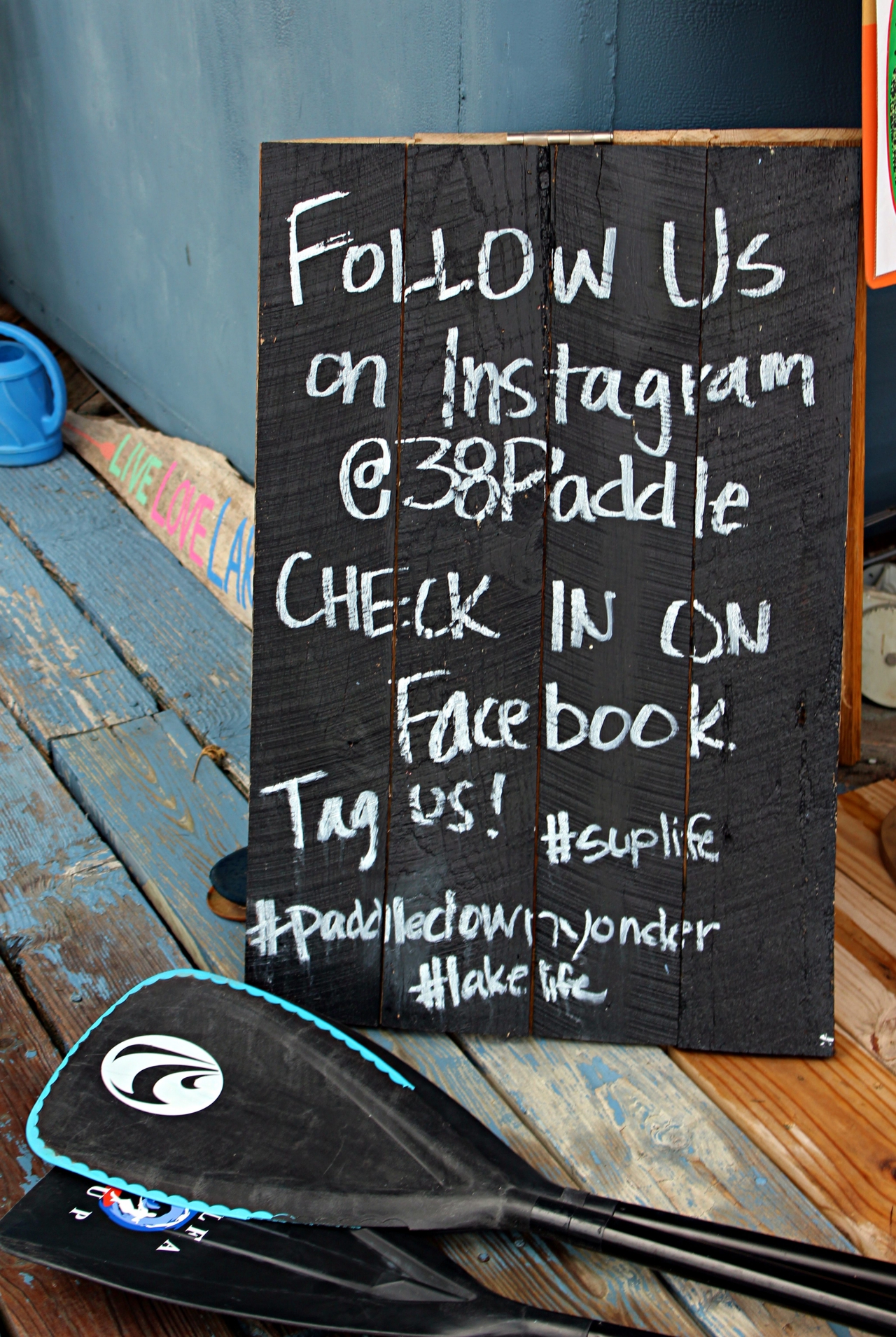 Just the Facts
Place & Website: 38 Paddle Co. (You can also find them on Facebook and Instagram.)
Location: Approximately 10 minutes east of Branson near the small town of Kirbyville on Bull Shoals Lake. If your GPS doesn't find 38 Paddle Co., you can use "K Dock Marina" to get there or get directions on the website.)
Price: $10 per hour per person, with a 2-hour minimum. $35 for 4 hours or $60 per day.
P. S. Friends who are attending the RVFTA Fall Midwest Rally may want to check this out, as a unique way to experience the beautiful fall colors of the Ozarks hills.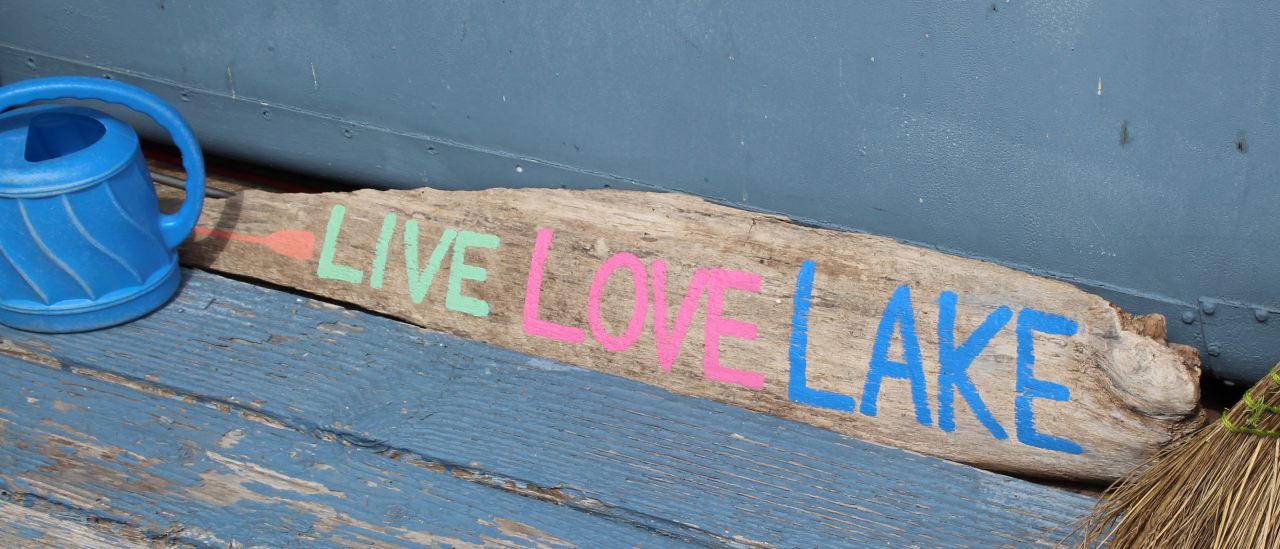 Find Travels with Birdy:
Share this post: