Campground Review: Lake Ouachita State Park Near Hot Springs, AR
We had heard wonderful things about many campgrounds in Hot Springs, which made it hard to decide which to select for spring break trip to the Natural State. The state park campgrounds at Lake Catherine and Lake Ouachita and the Gulpha Gorge national park campground are known to be particularly scenic, while the private parks Catherine's Landing and Hot Springs National Park KOA had reputations for providing fun amenities.
I fell into a campground conundrum. With so many renowned parks in one locale, how could we possibly decide? I took the easy way out and left the decision making to our friend Shay (a.k.a. @Ponytail.Express, a fellow fan of the RV Family Travel Atlas podcast). Shay and her family were planning a trip to Hot Springs at the same time we were, and we decided to meet them at the campground of their choice. Luckily, Shay made an outstanding selection: Lake Ouachita State Park.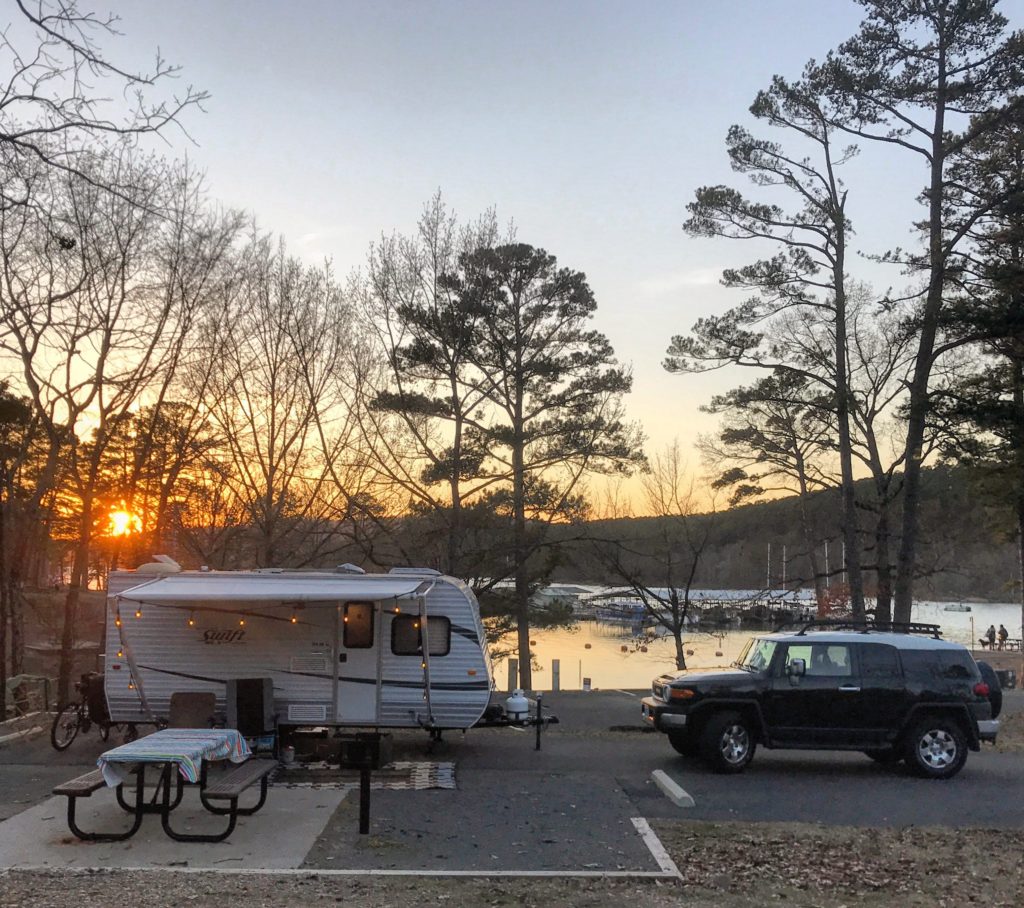 When people think of Hot Springs, they often think of the thermal waters the town is known for; however, this region is also home to several notable lakes. Located on the edge of town, Lake Hamilton is the most convenient and offers a busy, fun atmosphere. Lake Catherine is quieter but still hugs the border of the town, providing easy access. About 20 minutes north of town, you'll find Lake Ouachita, the largest of the three.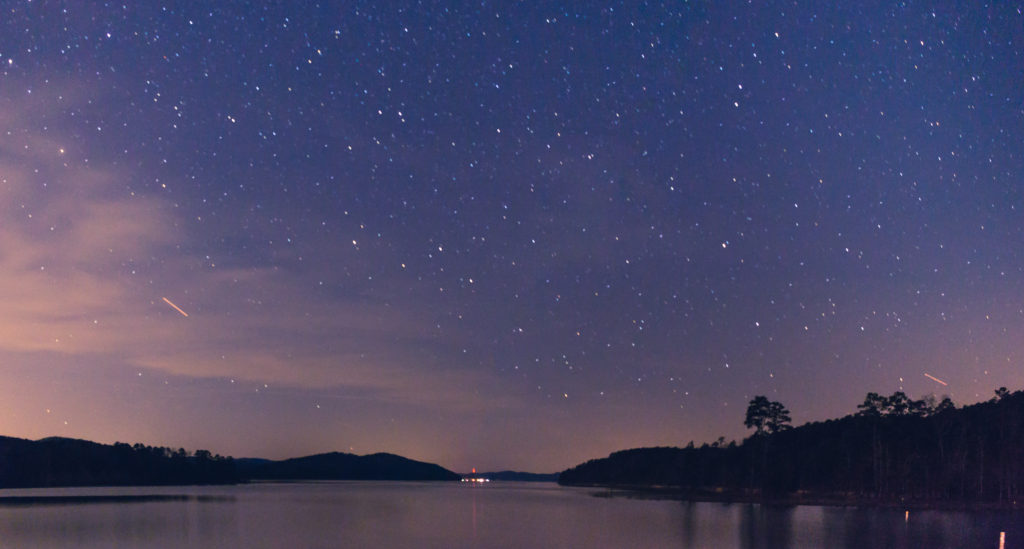 With its location in the Ouachita National Forest, Lake Ouachita is known for its phenomenally clear waters–so clear it was named one of the cleanest lakes in the nation. Bordered by woodlands instead of commercial developments, this pristine waterway is a peaceful place to relax or play. A rolling ridge of green hills surround the sapphire waters. On the lake's eastern edge, you'll find Lake Ouachita State Park, home to a campground, hiking trails, and more.
Campground Details
Since it is a longer drive into the city of Hot Springs, Lake Ouachita State Park may not be the most convenient choice for your stay. However, the scenery will melt away all of your worries, making it worth the commute. This place is beautiful, and your campsite gives you your own piece of the paradise.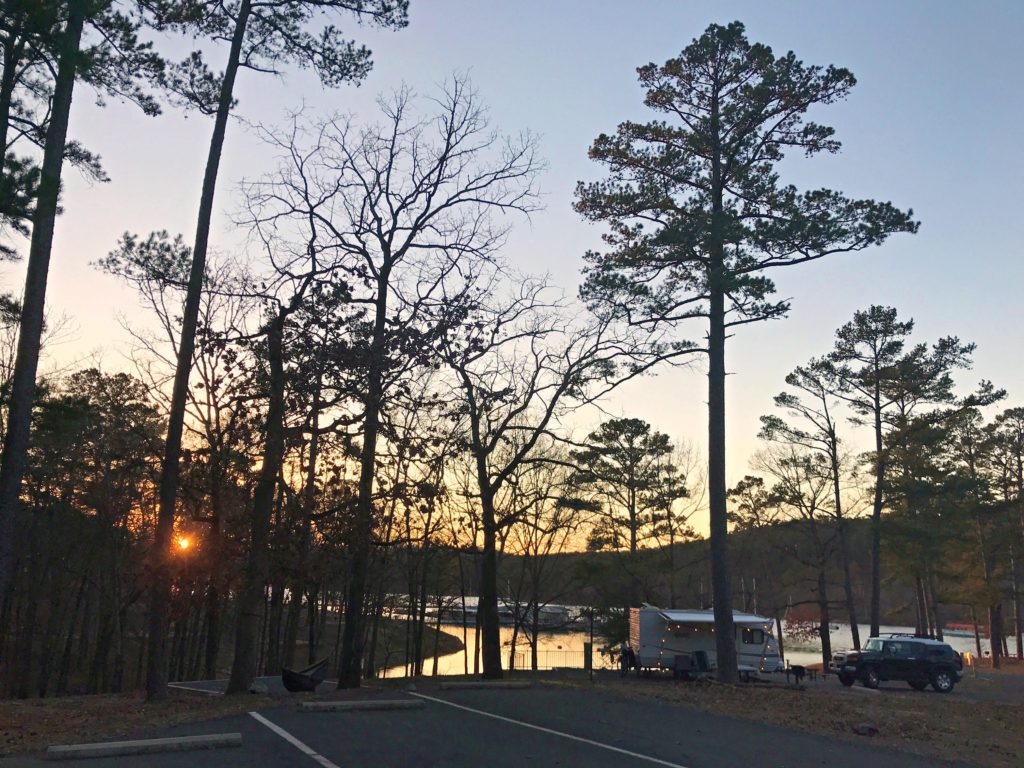 Four camping areas are stringed along the lake's shores–which you can see on this map. Camp Area A is the largest. Not all of the sites have lake views, but they are still quite roomy and scenic.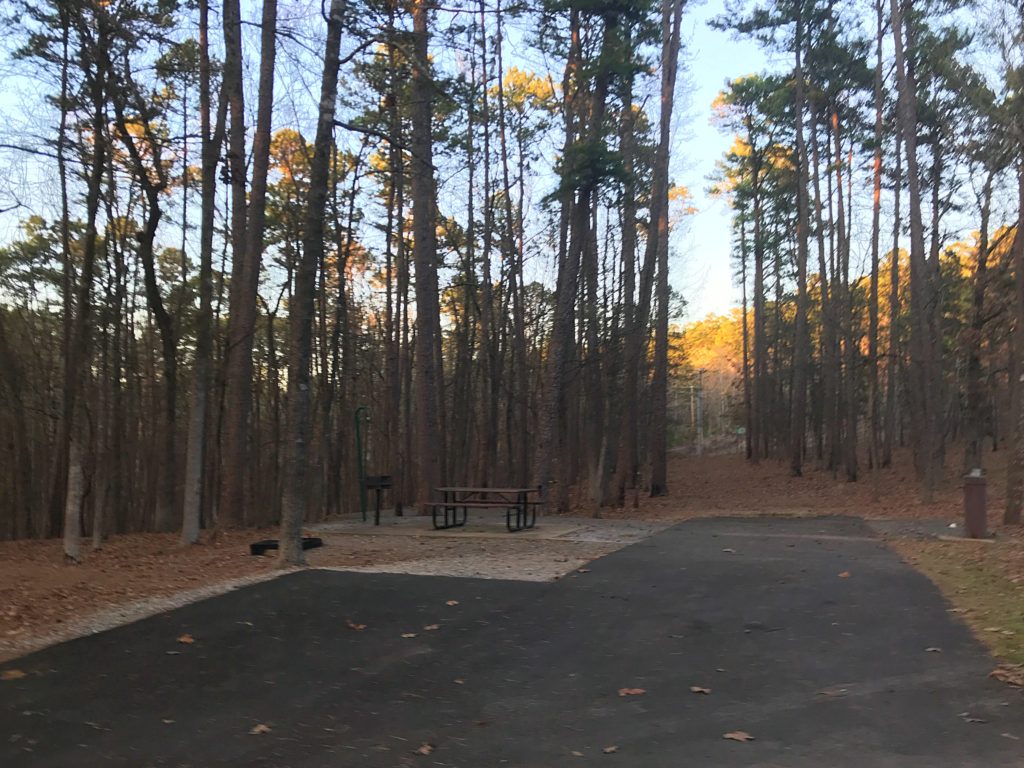 Camp Area A is home to some primitive tent sites, which extend to the very tip of a peninsula into the lake. These sites are divine!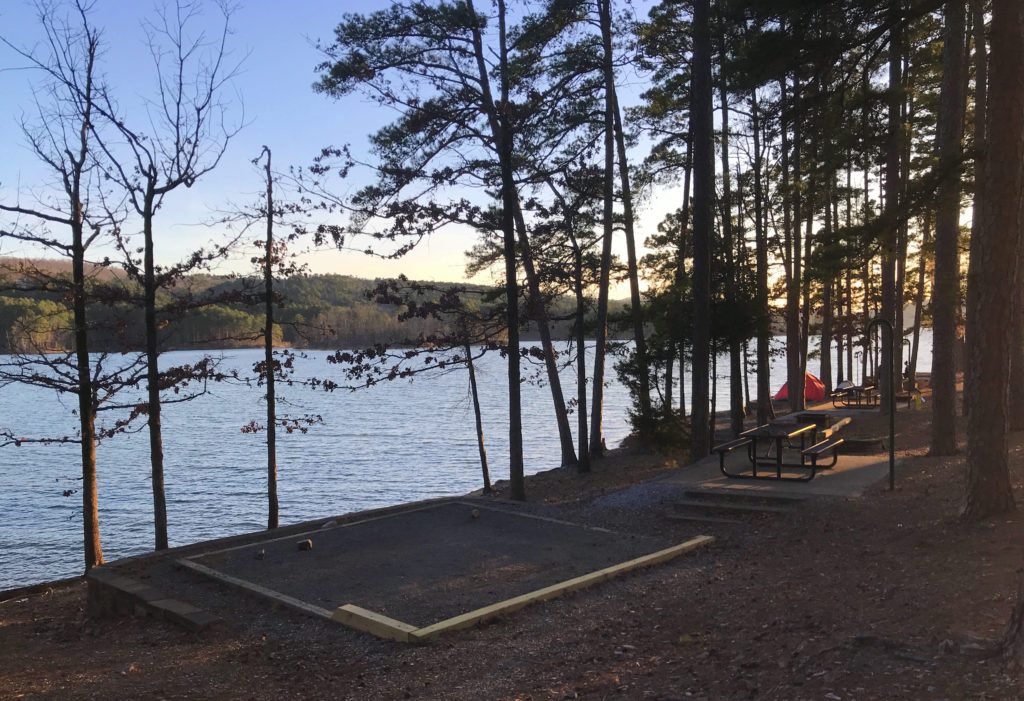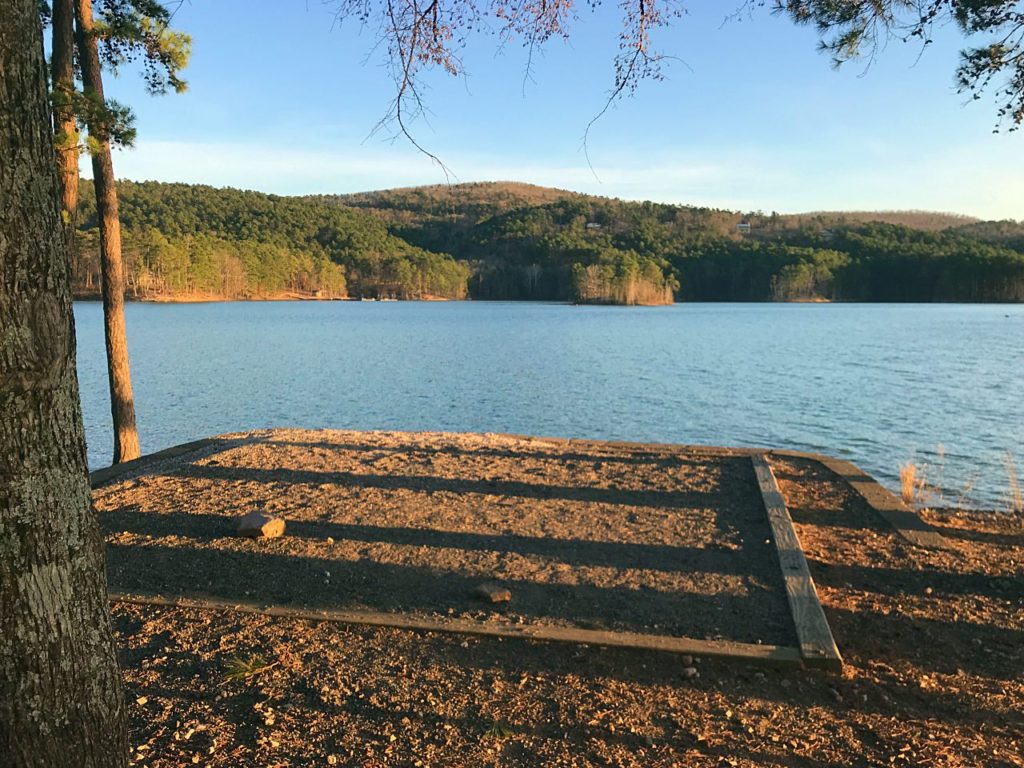 I have sworn off tent camping due to my love of creature comforts; however, the sound of the waves lapping the shores just inches from the campsite made me rethink my tent ban. I'm tempted to snag a tent site and an RV site for Birdy if we return. That way, we can sleep under the stars but return to the RV for all our needs.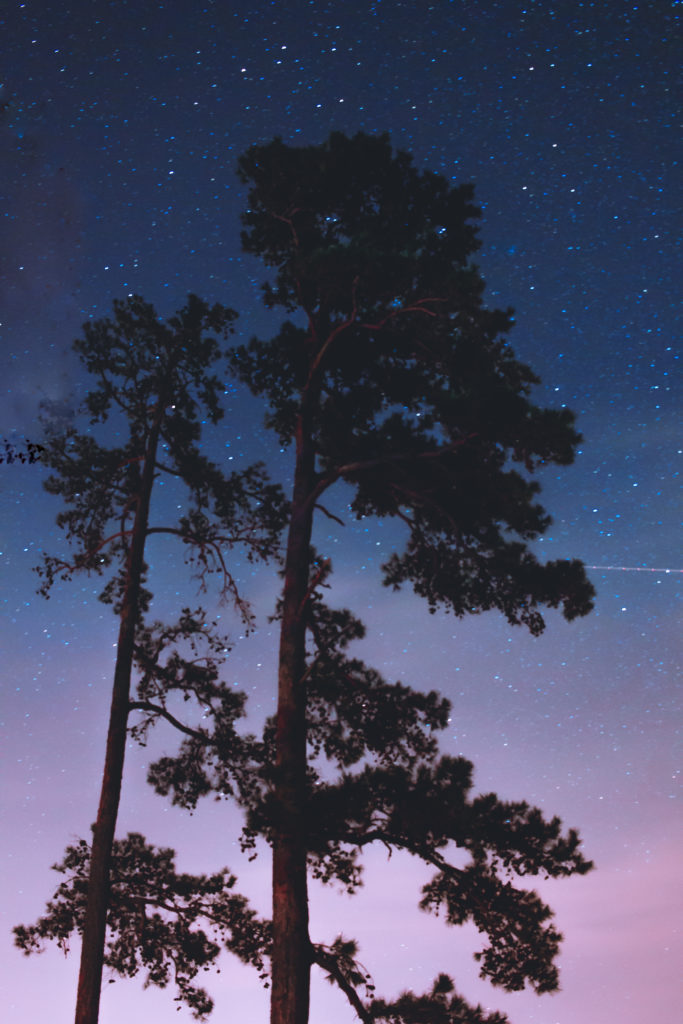 Camp Areas B and C are both small loops that were built/renovated just a few years ago. Offering huge sites with gravel pads and full hookups, these cul-de-sacs are prime locations right on the waterfront.
Many of the Arkansas State Parks also give you a second pad, with space for a tent or canopy. Ours had a tremendous view of the sunset and was an easy walk to a swim beach.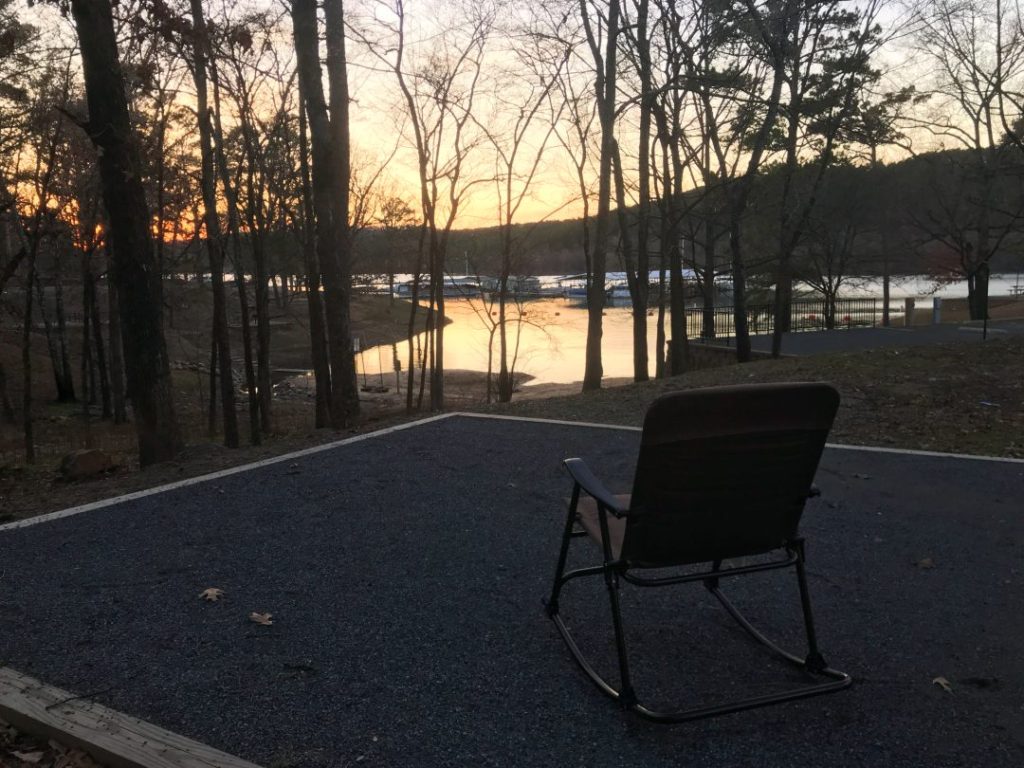 The towering trees are perfect for hammocks. It can be hard to find amazing hammock sites, but Lake Ouachita earns 5 out of 5 stars in this department.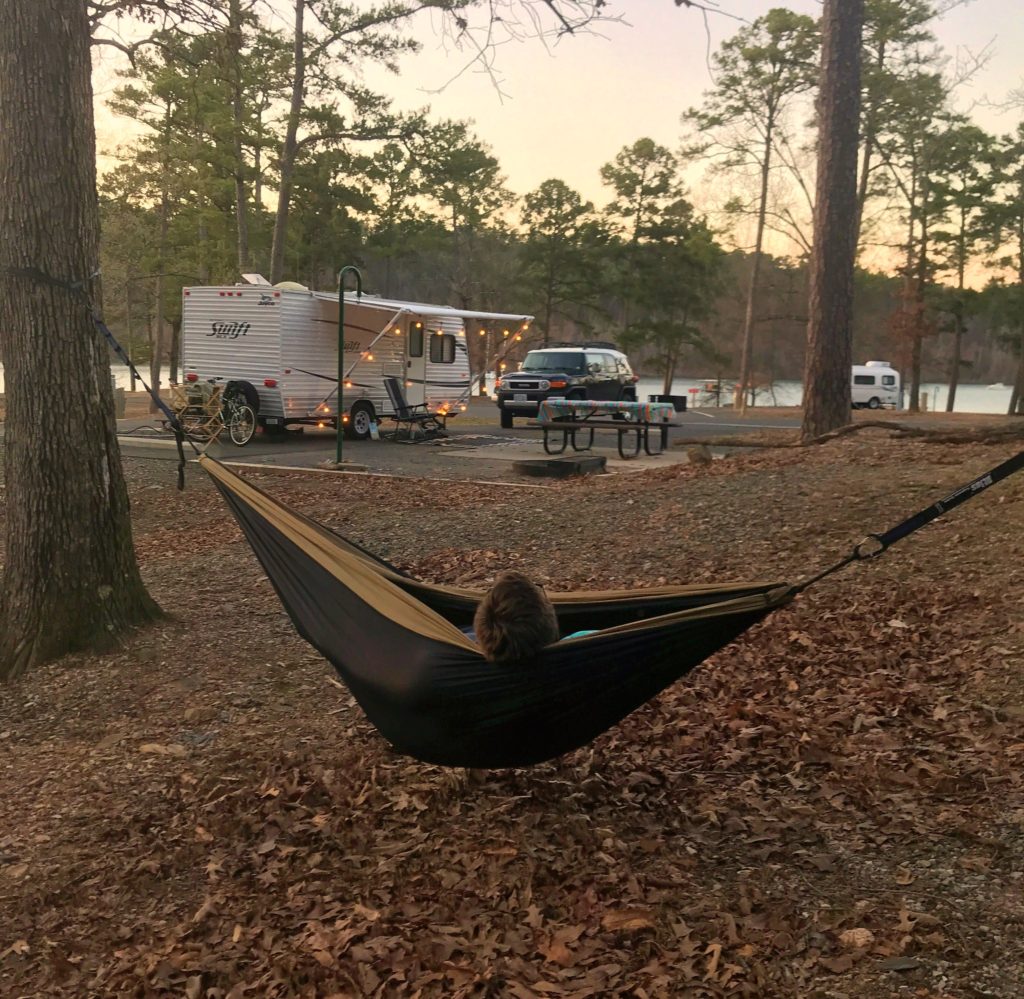 Aside from the tent spaces and RV spots, Lake Ouachita State Park also offers a few cabins but no other accommodations. Most campsites have full hookups, but the comfort stations are clean, if you need to make use of those.
Amenities & Activities
During the summer season, this campground's location right on the lake is a top draw. The marina rents watercraft, including canoes, kayaks, and motorized boats, allowing you to explore the large lake. Two boat launches are offered. If you're carrying your own kayaks/canoes/paddleboards, you'll be able to easily carry them to the waters right from most campsites. We didn't get out on the lake during our visit since it was early spring, but I'd love to come down when the weather is warmer.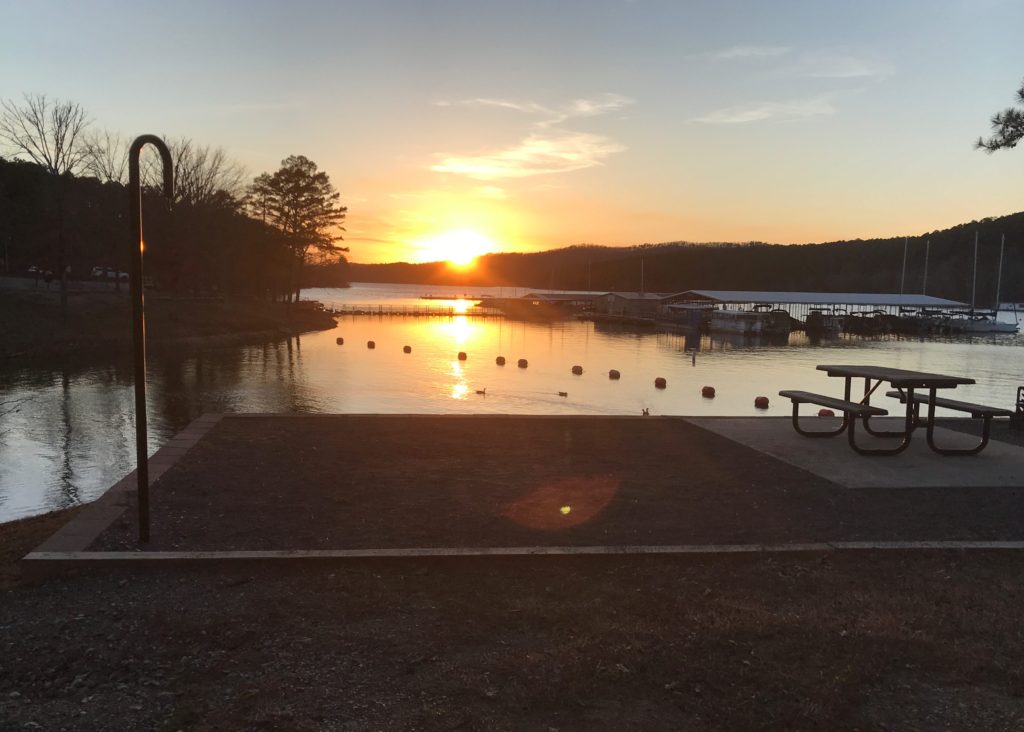 Get down to the shore for sunset if you can. The peninsula by the tent sites in Camp A is an especially beautiful spot to watch the sun sink below the horizon. Plus, the cell signal is amazing here, if you want to check in with the world.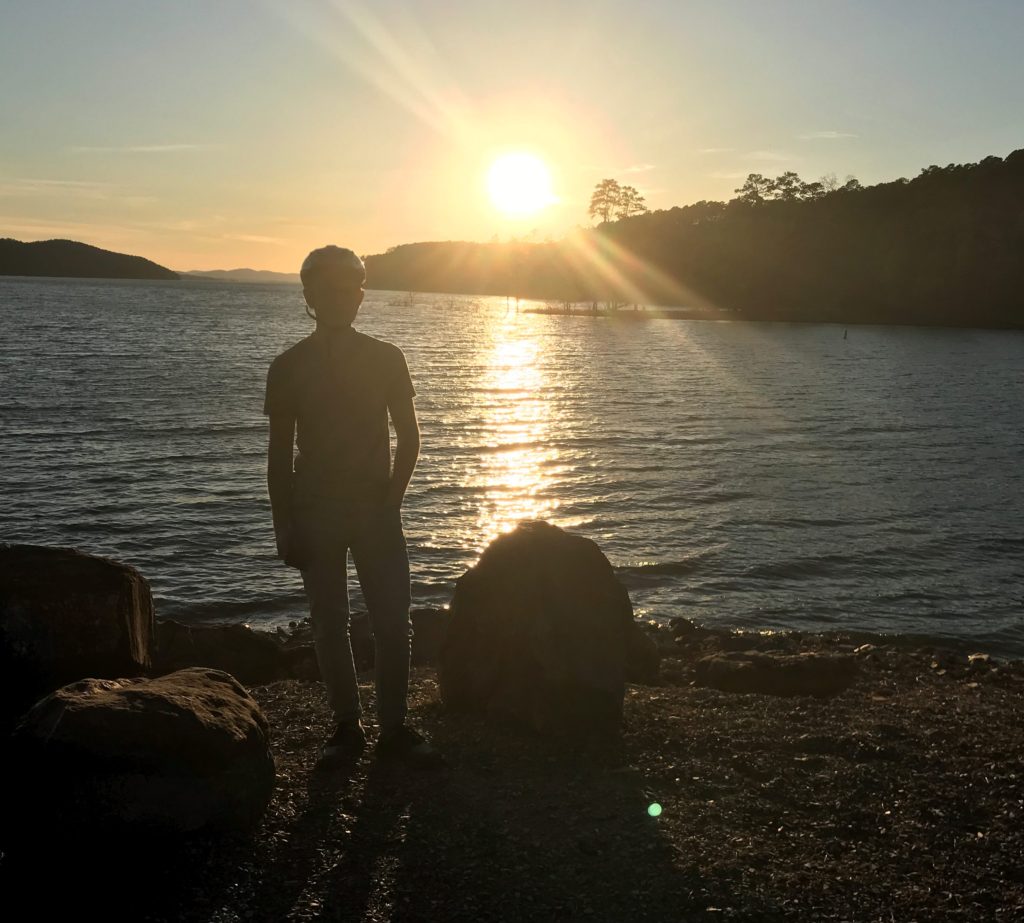 We did not get a chance to check out the hiking trails, but Lake Ouachita State Park has a couple that looked like they would be great hikes. Along the 4-mile Caddo Bend Trail, you'll find excellent views and an exhilarating hike. The shorter Dogwood Trail is just .5 miles and perfect for a quick way to experience the Ouachita woodlands.
The park has an amphitheater and visitor center, which offer a range of events and activities, from interpretive hikes to kayak tours of the lake. The Three Sisters Spring historic sites is an interesting place to check out while visiting the park.
WiFi is not provided at the campsites, but the visitor center does have a hot spot. My teenage sons drove over to suck up some internet one evening, and they were a little embarrassed when a ranger knocked on the car window to see what they were doing.In Camp Area B, we were unable to pick up a Verizon cell signal, nor did did our data work. Your best option for cell phone connectivity is in Camp Area A (the campground map even details which specific areas get the best signal–a very nice touch!).
Local Area
My previous post shared some of the history and highlights of the town of Hot Springs. In addition to Bathhouse Row and the national park area of Hot Springs, visitors will find several other places to explore. One of our favorites is Garvan Woodland Gardens, a botanical garden operated by the University of Arkansas. The space offers something for everyone, ranging from the children's garden to the stunning Anthony Chapel. Here's a photo of my husband and I on our visit in 2009–eons ago!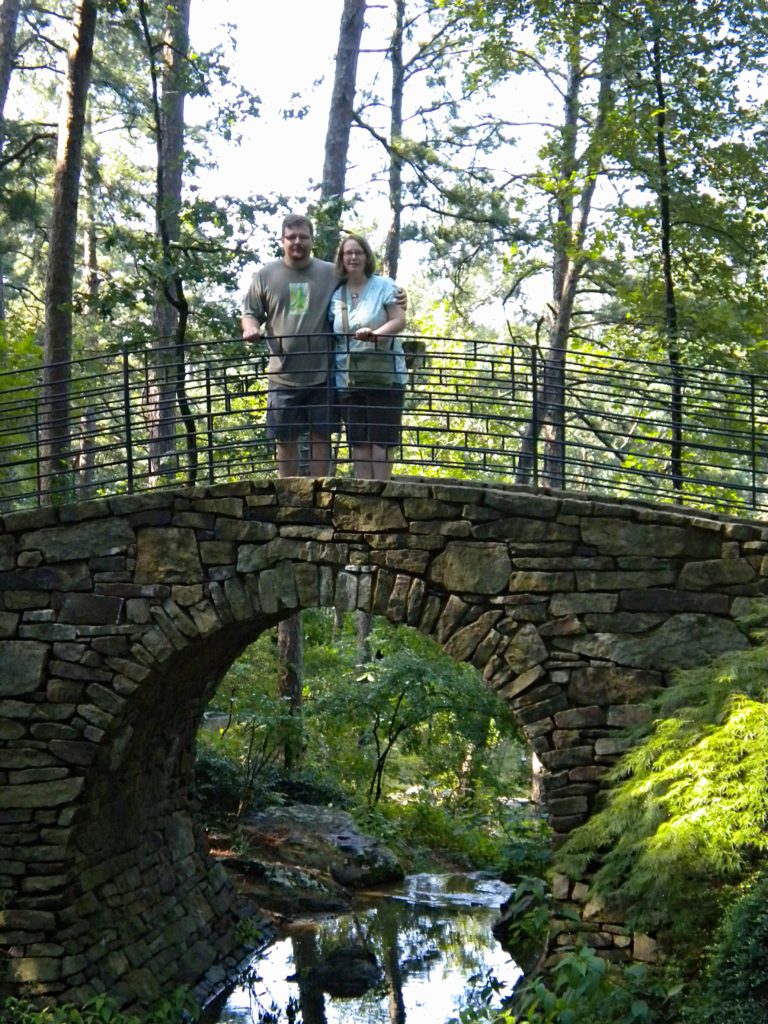 Hot Springs' other claim to fame is the thoroughbred horse racing found at Oaklawn Park.  It's fun to stand right at the fence as dozens of horses thunder by.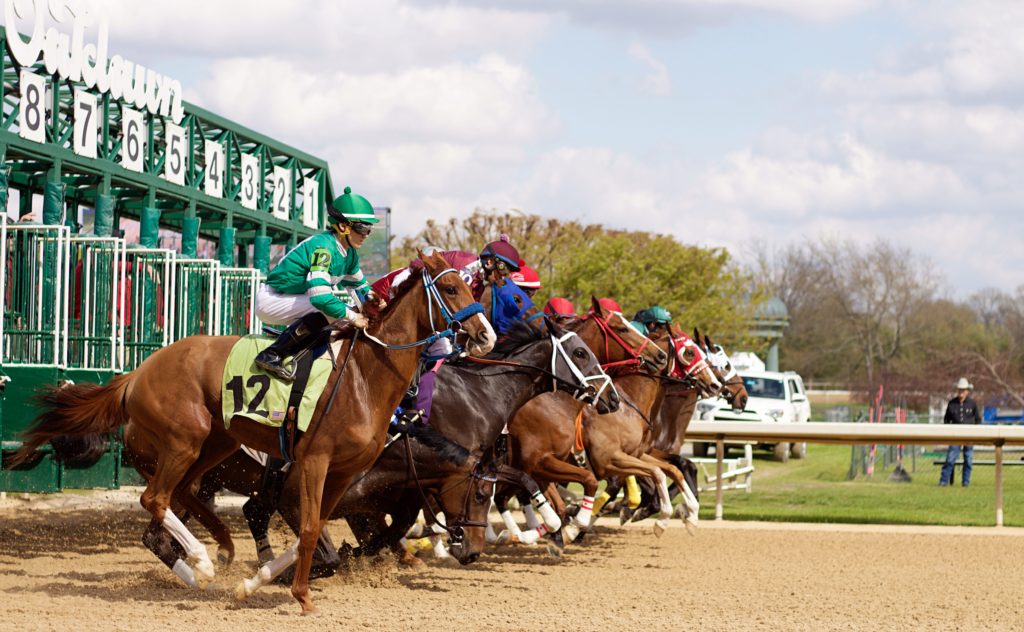 We aren't big gamblers, but it was fun to pick a pony to drop a couple of dollars on. I'm not sure we ended up winning more than we lost, but we had a good time trying to guess who the big winners would be.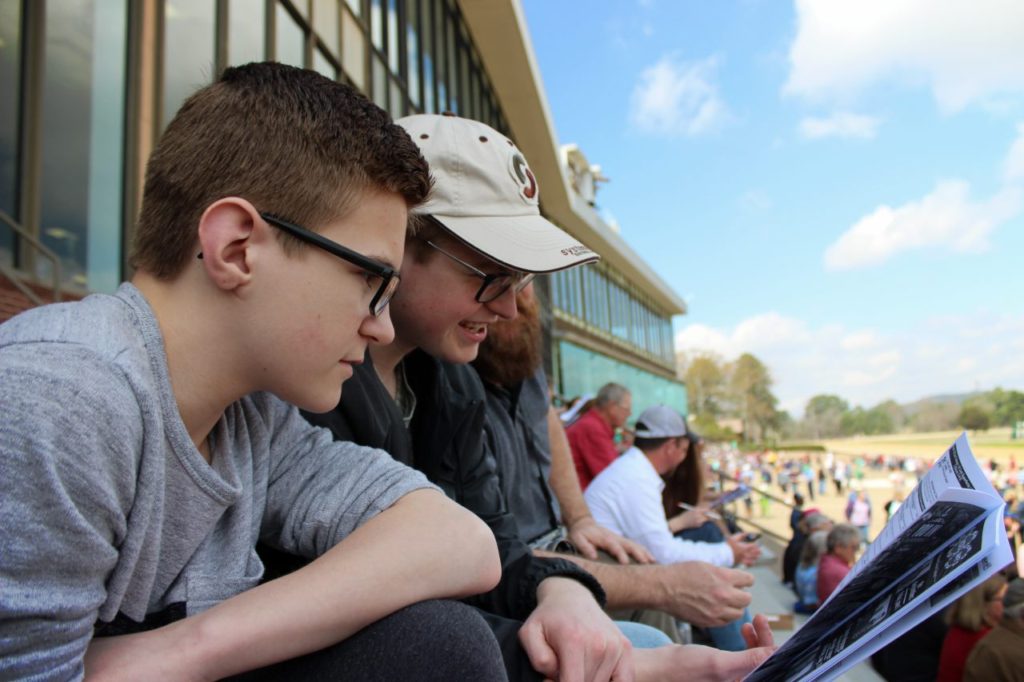 It may sound strange, but we always visit a water store while we are in Hot Springs. Across town, there are spigots where you can fill your own jugs with free hot spring water, appropriately enough. But, Hot Springs' best water isn't hot. Mountain Valley Spring Water is bottled at a cold spring nearby. I swear this water is simply the best! Stop at the historic  visitor center downtown to enjoy samples and to pick up a case while in town. (It may sound dumb to say you should sample the water, but I mean it. They also have flavored sparkling waters.)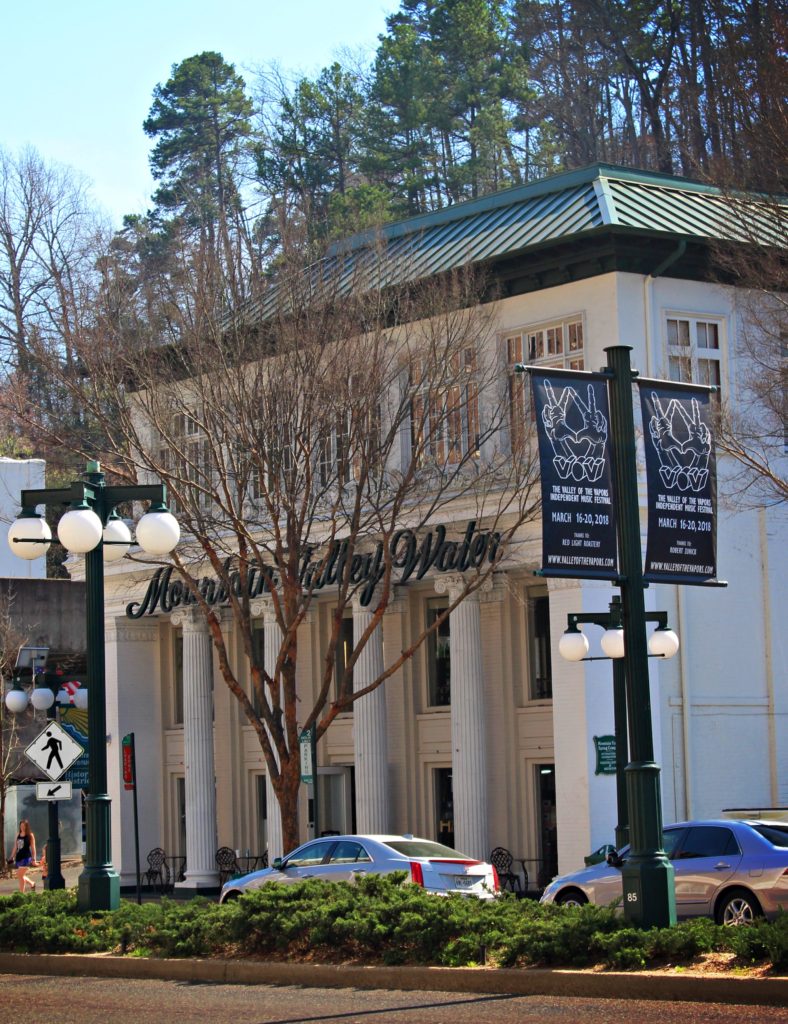 If you're traveling with kids, the Mid America Science Museum is a top pick. Plus, Hot Springs is home to several family friendly attractions, like mini-golf, ziplining and more. It has some of the ramblings of a classic tourist trap.
Top Restaurant Choices
When you're hungry, breakfast at the Pancake Shop is a must. Chances are, you'll find a long wait when you arrive, but you can entertain yourself by looking around the Savory Pantry shop next door. The wait is worth it for the plate-sized pancakes (they warn you to cut a hole in the middle so the syrup has a place to go; otherwise, it'll ooze right off the edge of the pancake and onto the table). The dark roasted coffee was a good contrast to the sweet pancakes. Just don't wait too late, as the Pancake Shop closes midday.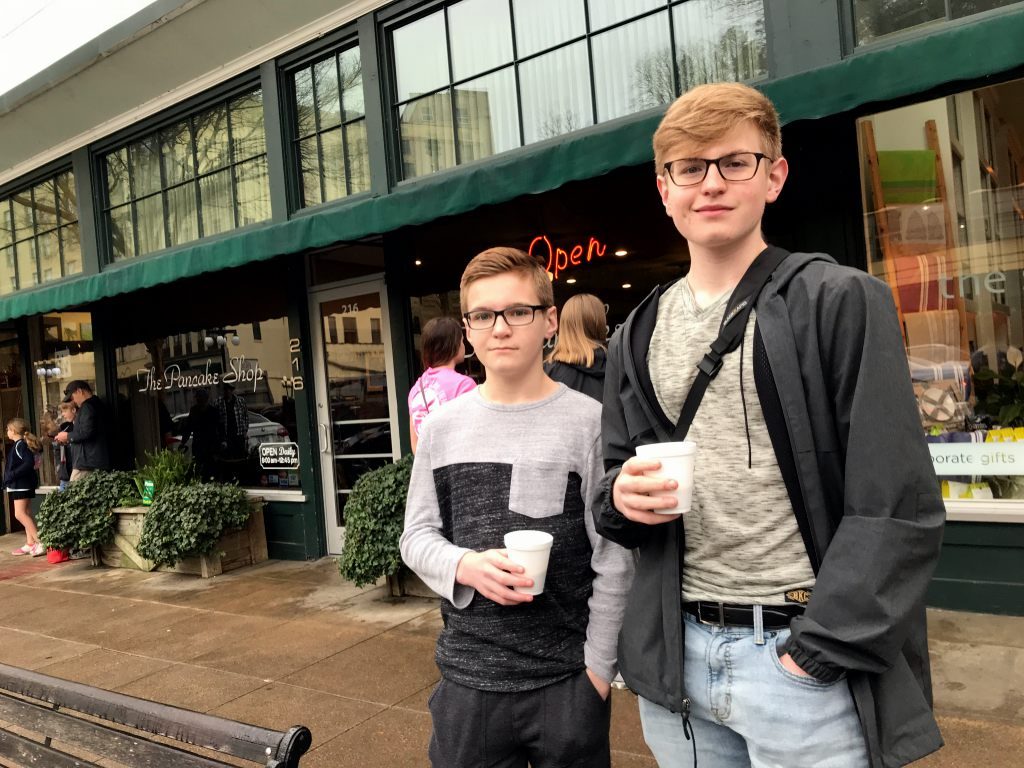 We also thoroughly enjoyed our meal at the Superior Bathhouse Brewery. I had a flight to sample the brews made with the hot spring water, and everything I tried was good. My mouth waters just thinking about the mushroom panini and potato salad. Plus, the front window seats and exterior tables are the perfect places to do some people watching while you eat. Such a unique national park experience!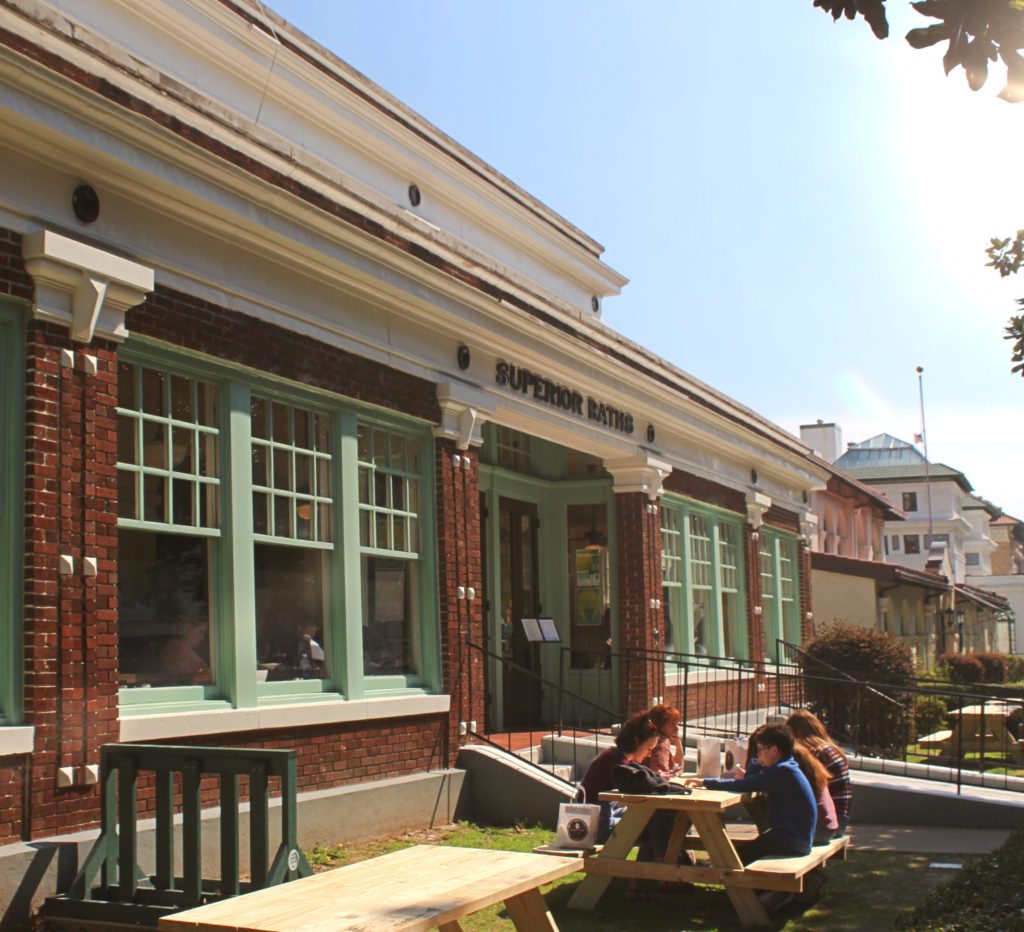 One notable place we didn't try on this trip is McClard's Bar-B-Q, a classic barbecue joint that has been serving it up since the 1920s. Check it out for the traditional barbecue or the famous tamales.
Final Thoughts
Arkansas truly has developed its state parks into something special. They are scenic and well maintained and offer tremendous sites and amenities. After our stays at the amazing Petit Jean State Park, we wondered if the other parks could even come close, and Lake Ouachita State Park did not disappoint. We thoroughly enjoyed our stay. Whether you come to enjoy the serenity of the park or to use it as a basecamp for a Hot Springs visit, you won't be disappointed either. Lake Ouachita is truly a gem in the Spa City area.
Just the Facts
Name & Website: Lake Ouachita State Park
Location: Approximately 20 minutes northwest of Hot Springs, Arkansas
Description: Beautiful state park campground on a pristine lake, relatively close to a historic town
Rates: $34 per night for full hookup sites, $13 a night for primitive tent sites
Utilities: Most of the sites are full hookup, with a few tent sites and perhaps some W/E (I had a hard time identifying whether there were RV sites with W/E only or not, so look carefully when booking)
Bathhouse: Clean shower houses and restrooms are located in each area
Amenities/Activities: Water sports on the lake, hiking, swimming, interpretive programs, exploring the Hot Springs region
Bottom line: Lake Ouachita State Park is a top pick, out of many solid choices, in the Hot Springs area.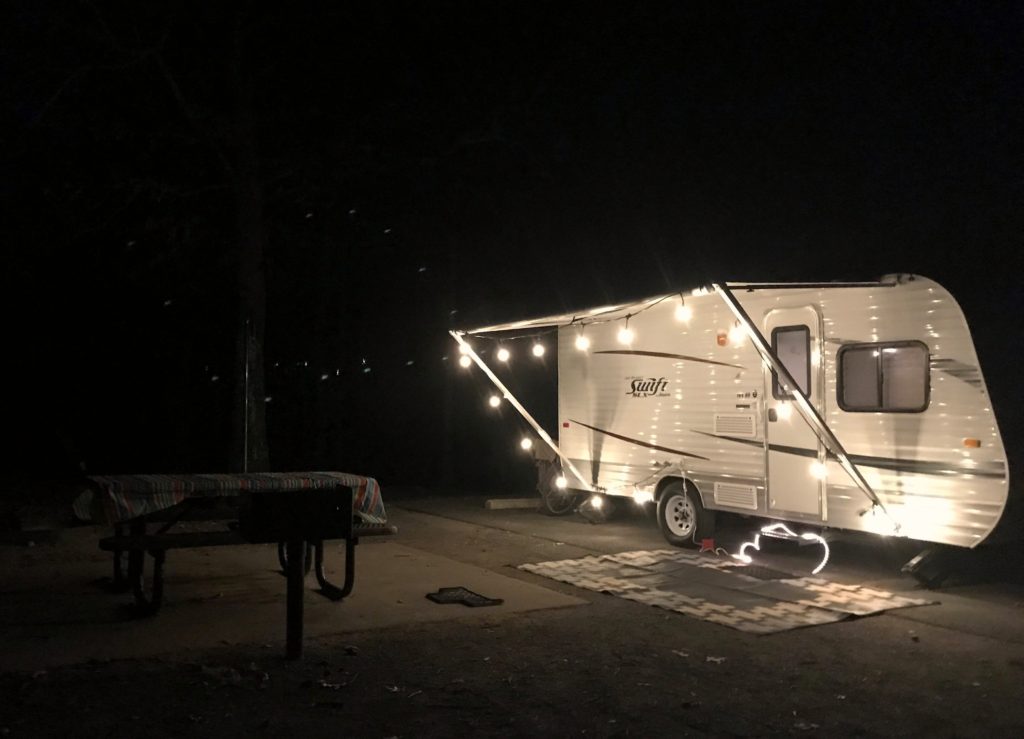 Find Travels with Birdy:
Share this post: