Introducing Missouri's New State Park: Echo Bluff
A huge rock bluff ledge stands tall above a crystal clear Ozarks creek, forming the backdrop for Missouri's newest state park, Echo Bluff State Park, located in south central Missouri near the tiny town of Eminence.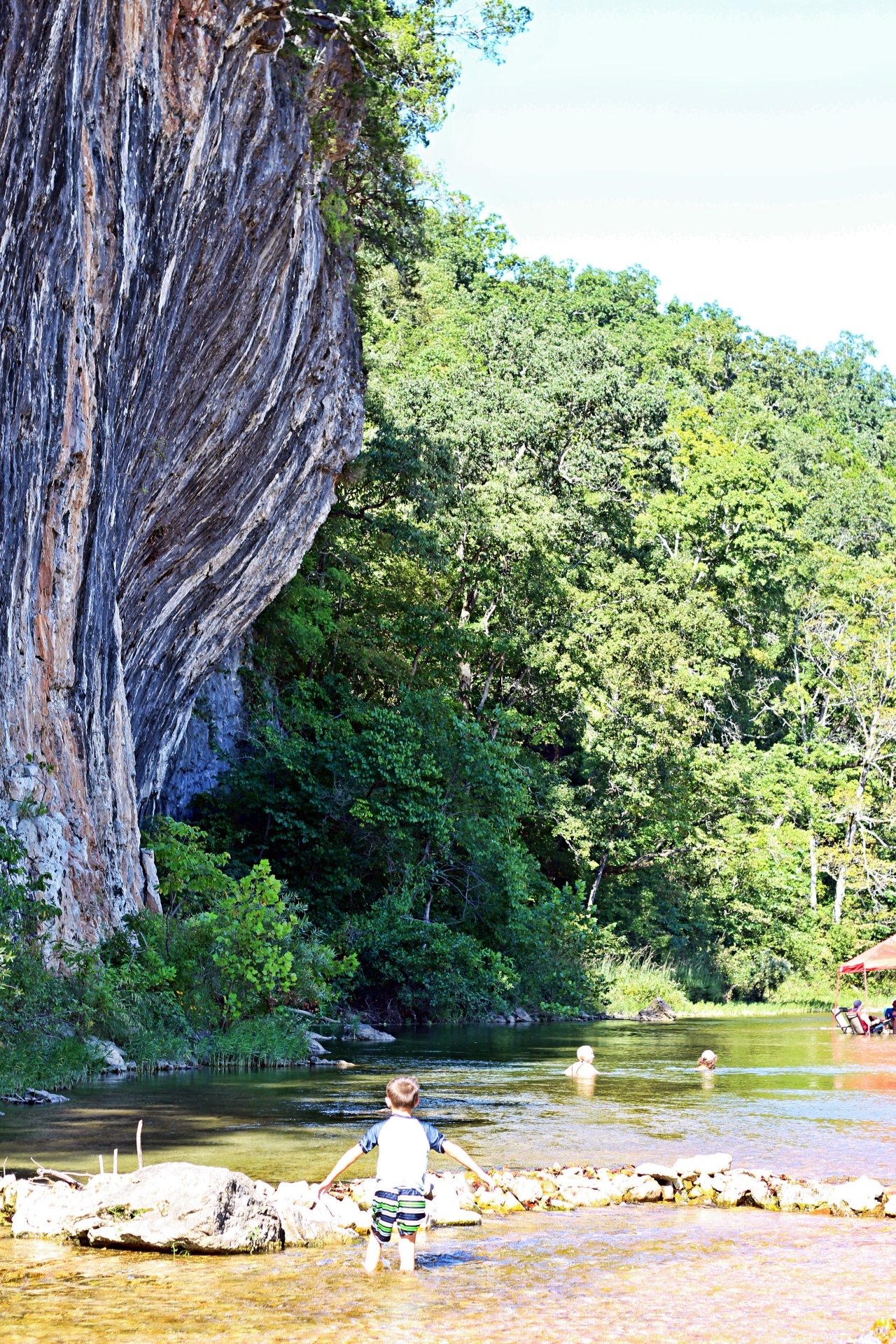 Echo Bluff is a perfect place to get connected to the great outdoors in the heart of the Ozarks National Scenic Riverways region. With Sinking Creek running through the park and the Current River nearby, you will have plenty of picturesque places to splash, fish, and paddle.
The Park
Long ago, this area was home to Camp Zoe, a popular summer camp for children from the 1930s-1980s. Several of the original structures remain, and sign posts share pictures and stories of the kids who first enjoyed this beautiful spot.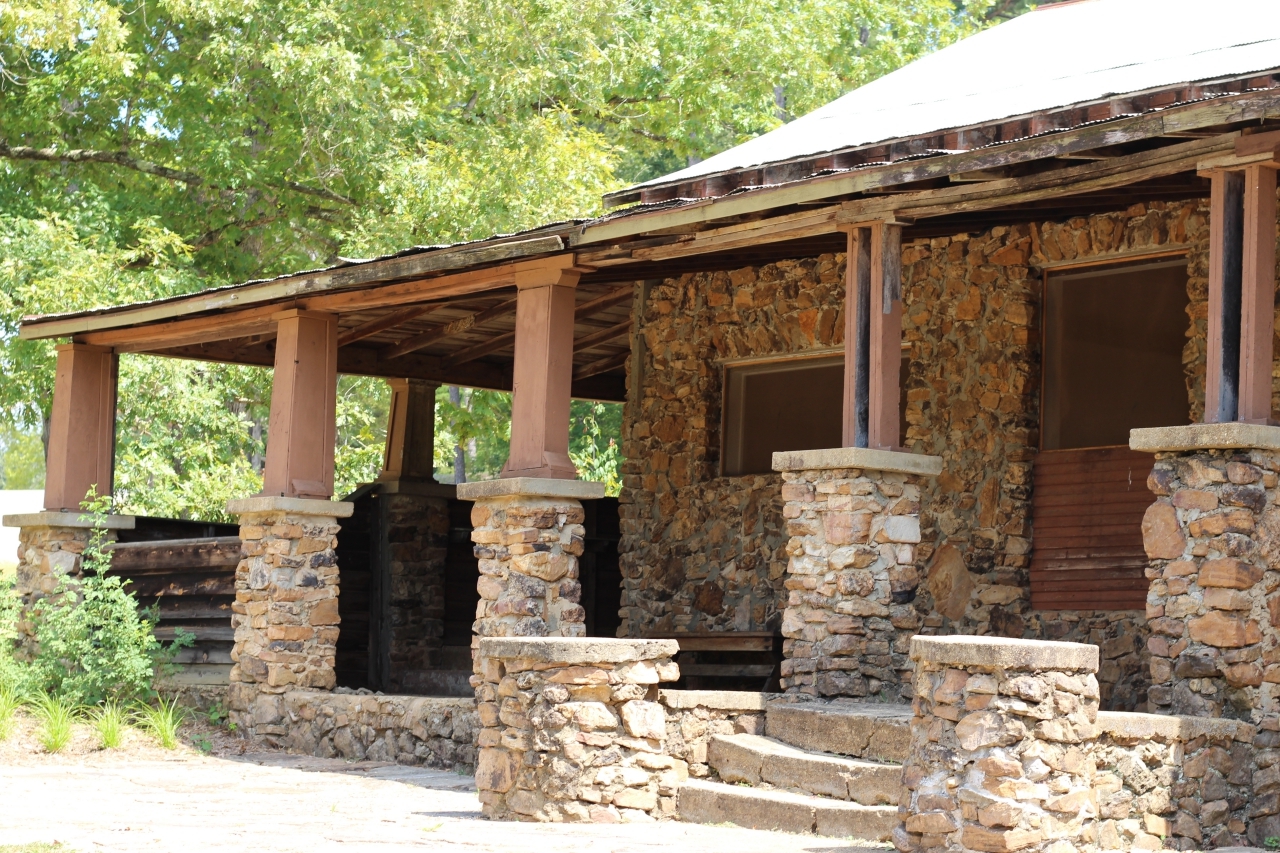 After Camp Zoe closed, the grounds were sold. In the early 2000s, hippies moved in, hosting large music festivals. In a somewhat controversial move, the land was seized (due to drug charges against the owner) and sold to the state. In 2016, it was reborn as Echo Bluff State Park.
Visitors to Echo Bluff State Park are welcomed by a large lodge that hearkens back to the glory days of park design. I like that the planners decided to keep with traditional designs that could be found in the Civilian Conservation Corp work at many of our state's other parks instead of utilizing more modern designs.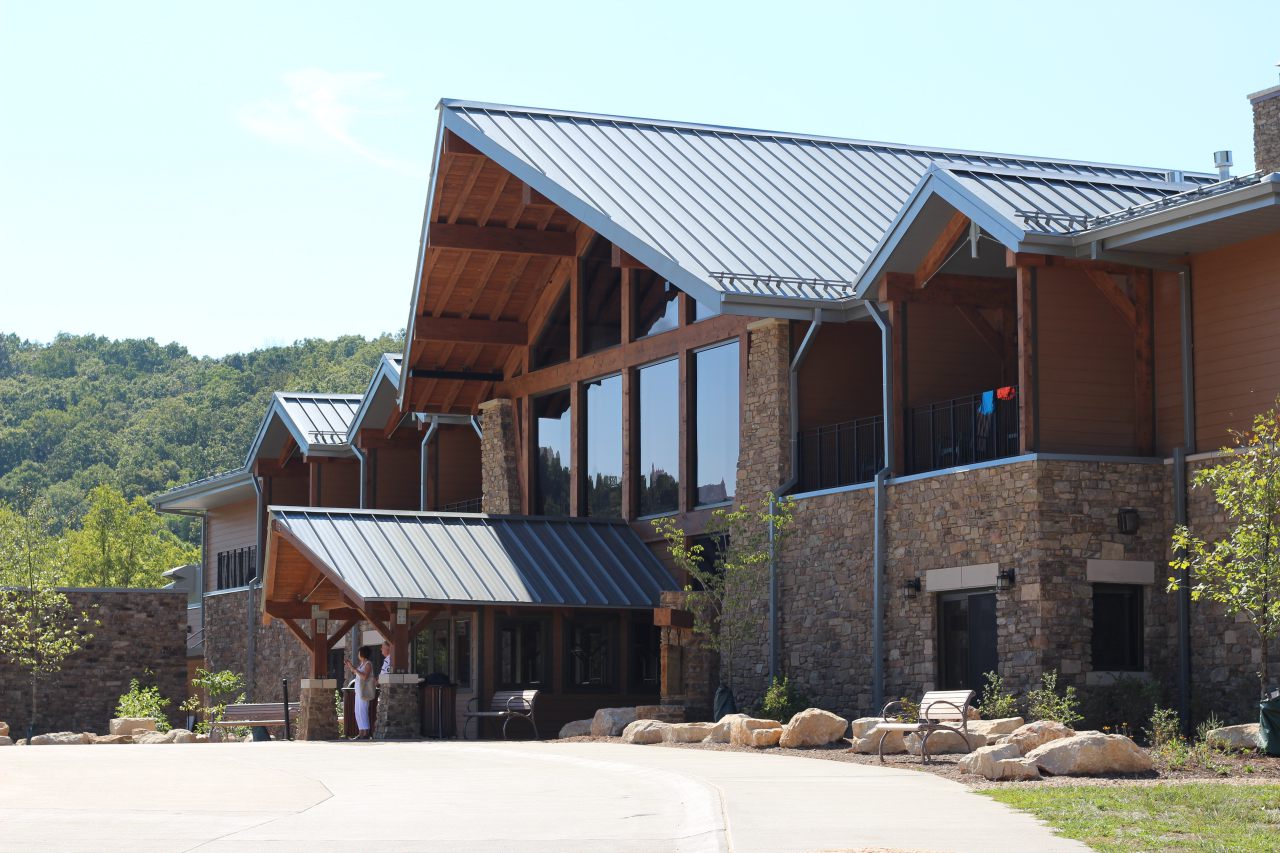 Inside the lodge, you'll find a hotel, restaurant, and camp store. A large hearth room provides a great place to sit a spell and enjoy the views out the massive windows. On a winter's day, it would be especially cozy to sit in front of the fireplace. On warmer days, head out on the large deck overlooking the creek below to relax in one of the rocking chairs.
Campground
Timbuktu Campground at Echo Bluff offers 72 campsites. The RV park is in a large, open area of the park, and the sites are nicely spread out.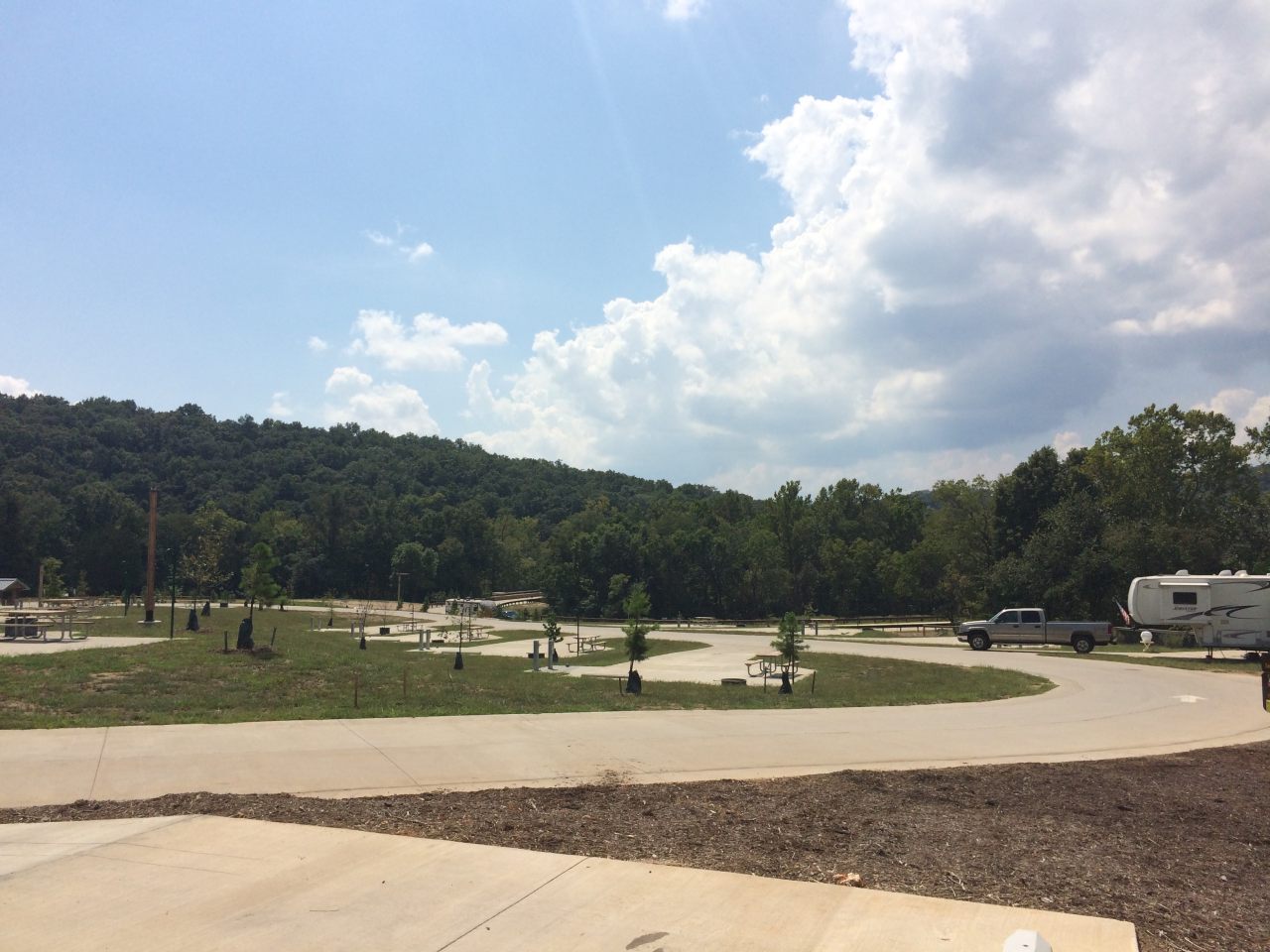 Unfortunately, there are no large trees in the park, which means you won't have much privacy or shade for your site. Birdy was baking in the sun, so we didn't spend much time inside the RV on our summer visit.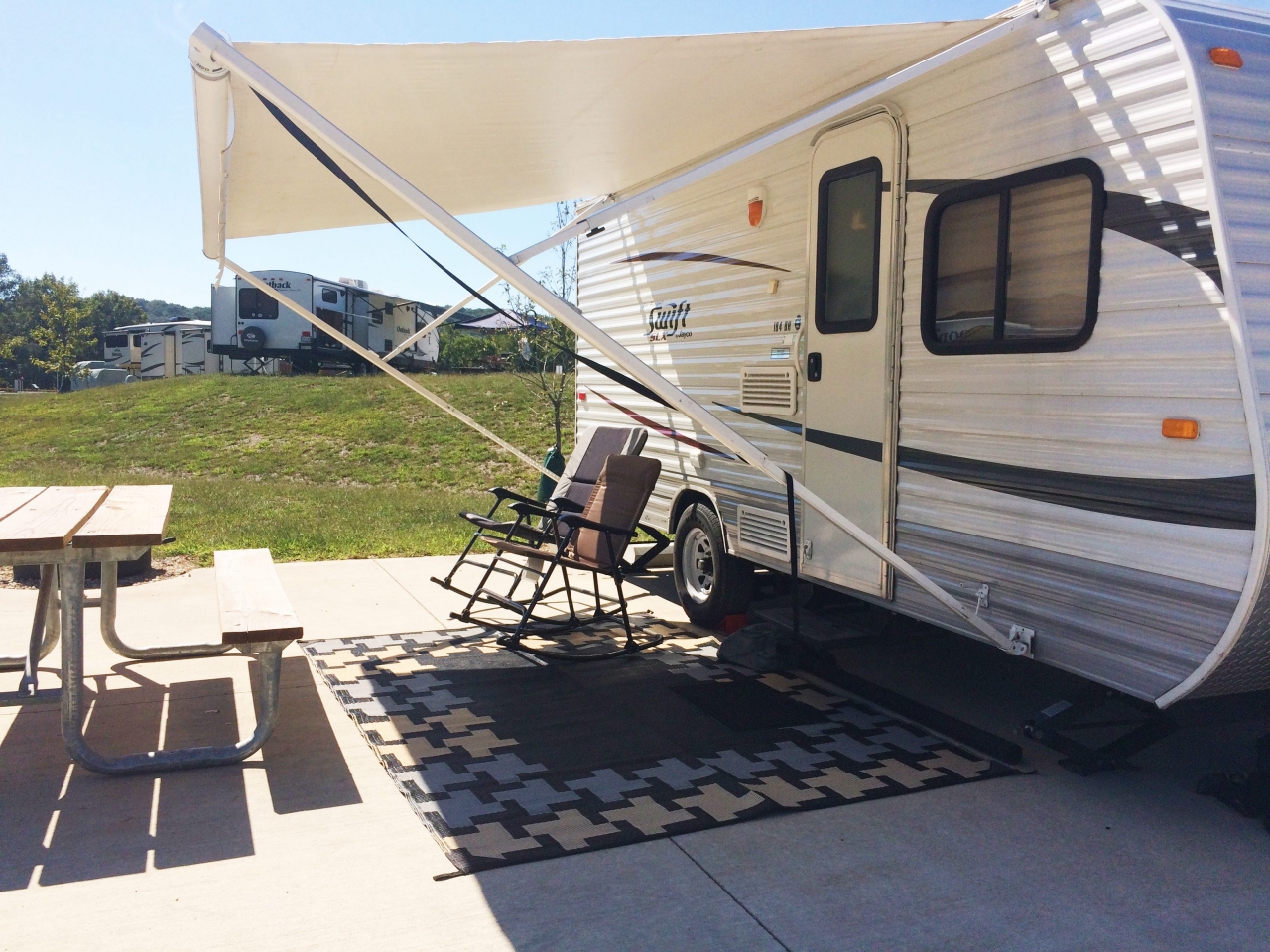 Though the lack of trees is annoying during the day, at night, it's nice to have wide open views of the sky. We enjoyed a beautiful sunset with our campfire.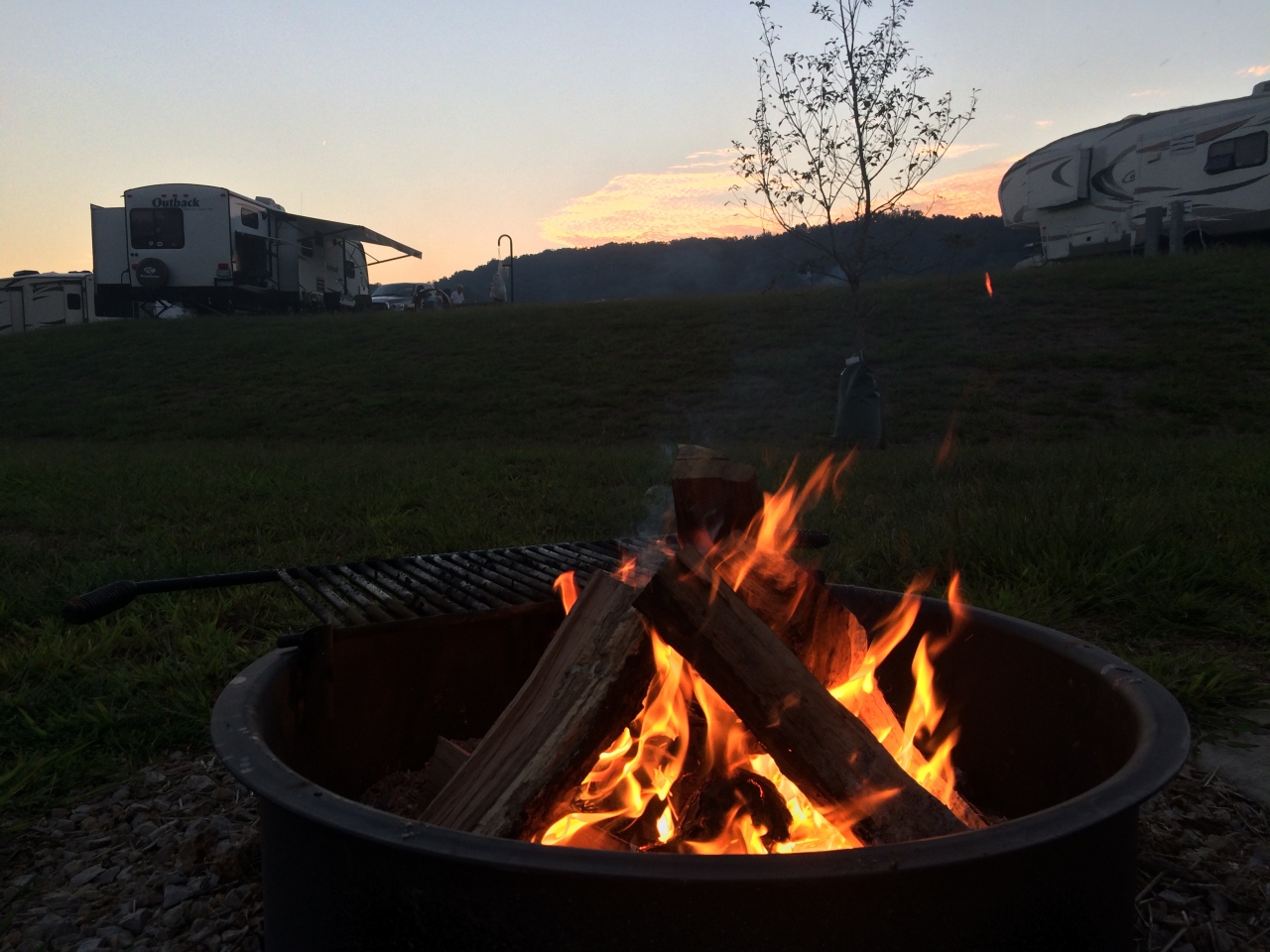 After dark, we enjoyed a walk around the campground, where we met a fellow fan of the RV Family Travel Atlas podcast, which was really fun.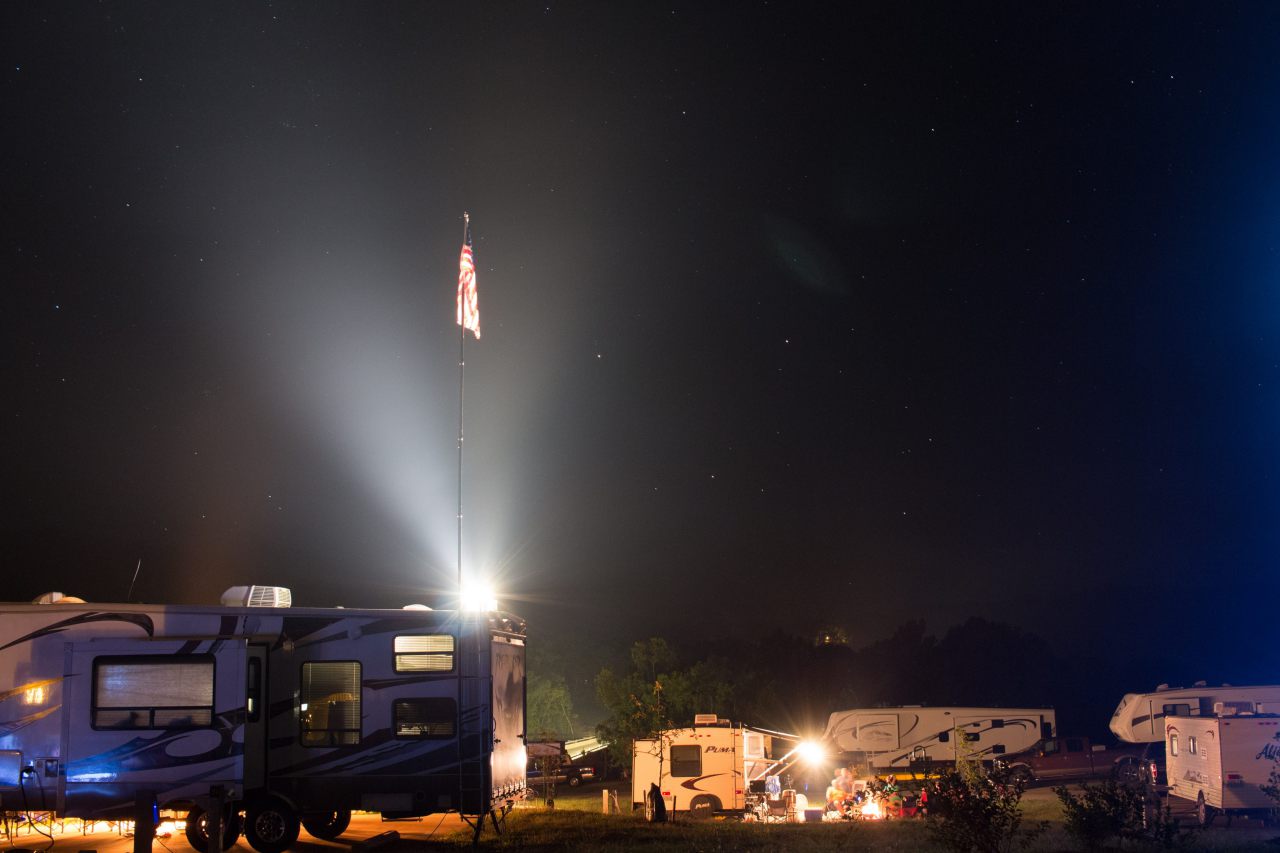 Other Accommodations
A number of walk-in campsites are available for tent campers, and these were the most plush tent sites I've ever seen. Large, level wooden decks are nicely tucked in the woodlands. They even offer little carts for toting your camping supplies, making it even easier to get everything to your walk-in site. This *almost* made me want to try my hand at tent camping.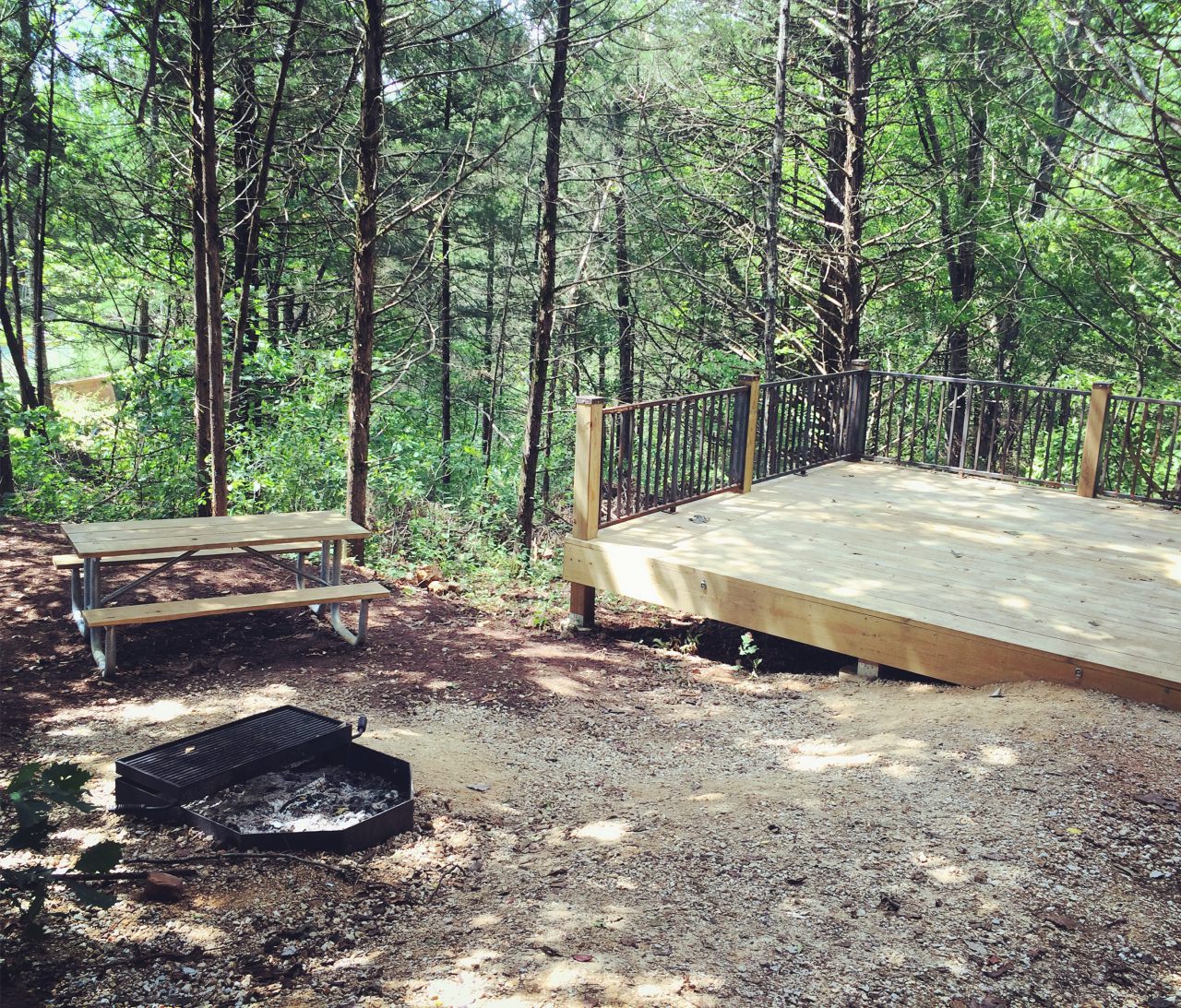 Finally, hotel rooms are available in the large lodge facility and cabins of multiple sizes are available to rent. Echo Bluff has as accommodation that should suite everyone in the family.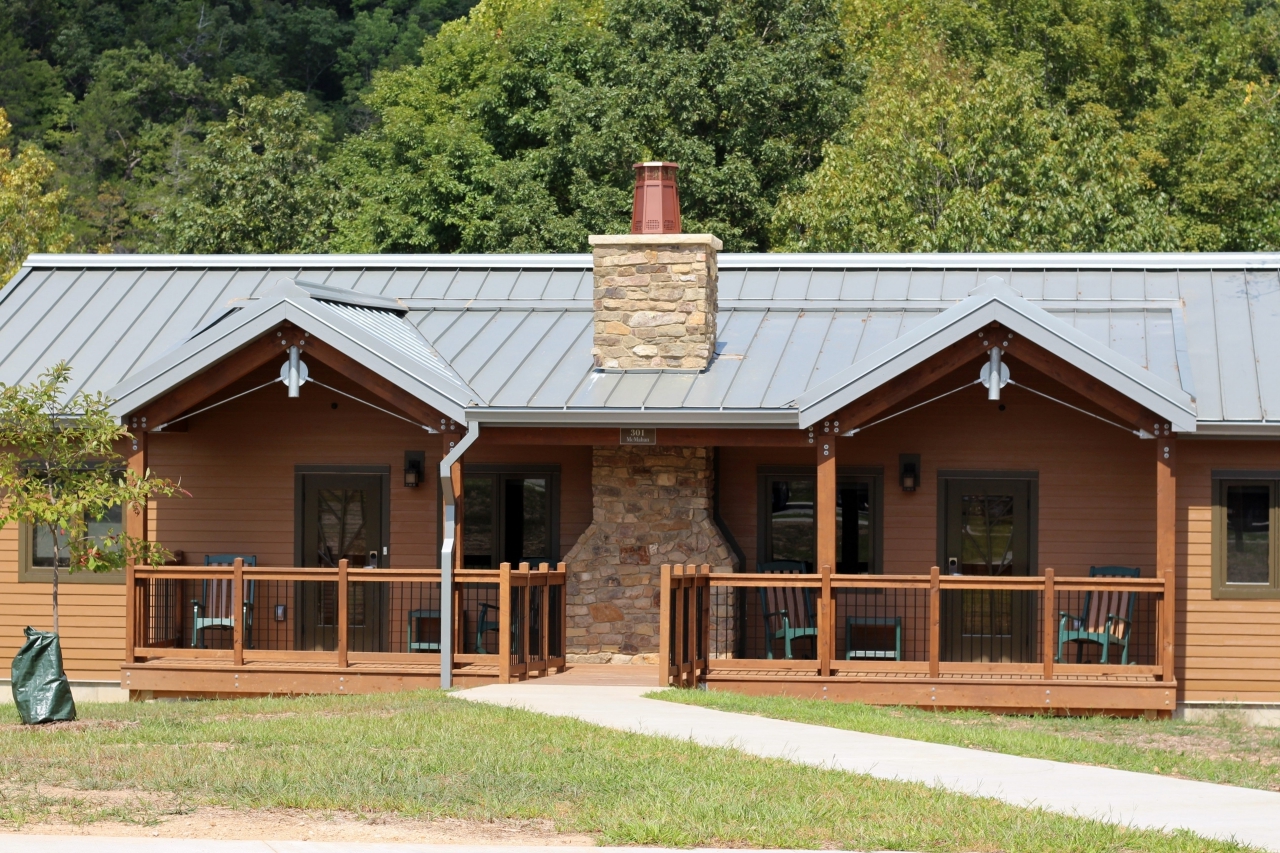 Amenities & Activities
Sinking Creek: Swimming, Fishing, & More
The beautiful waters of Sinking Creek are the best amenity found in Echo Bluff. Most visitors are drawn to the namesake bluff in front of the lodge. Here, the water ripples through, with plenty of shallow areas for little ones to play in, as well as some deeper swimming holes.
We found the bluff area to be a little too crowded for our taste and were determined to find our own little piece of Sinking Creek. Surely, as the creek winds its way through the campground, it offers other public swimming areas, right? Well, we never found another place marked as such. However, at the edge of the campground, we could see the waters just beyond the woods. We followed the trail and found a perfect place to play.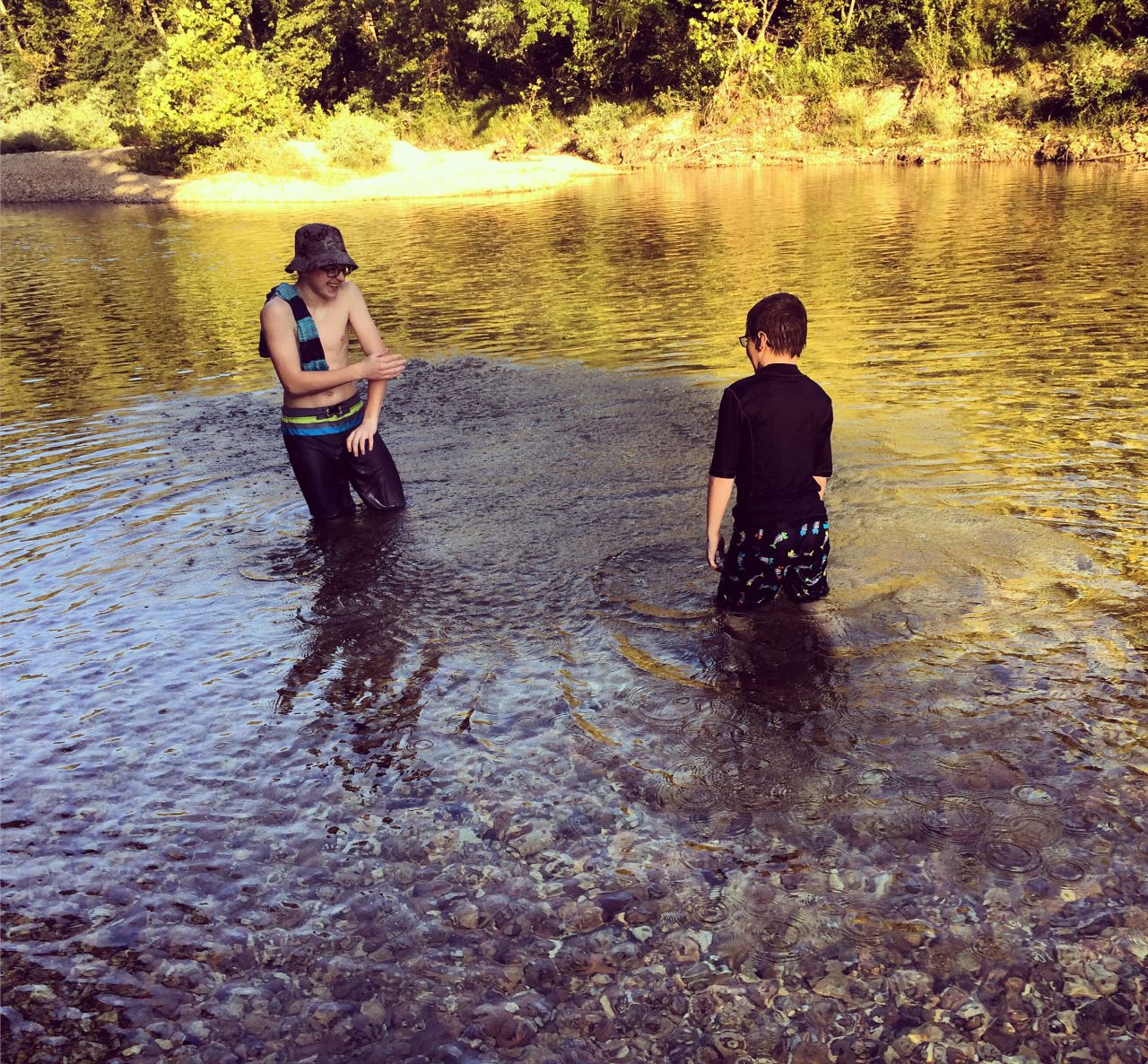 We skipped some rocks, splashed, and swam. It was a delightful way to spend a hot summer evening. The waters were cool, but not breathtakingly cold. Just right. What a peaceful spot to enjoy the beauty of my home state.

Playground
Echo Bluff has the best playground I've ever seen! Most importantly, it has a splash area with water jets, which will be greatly appreciated on hot summer days.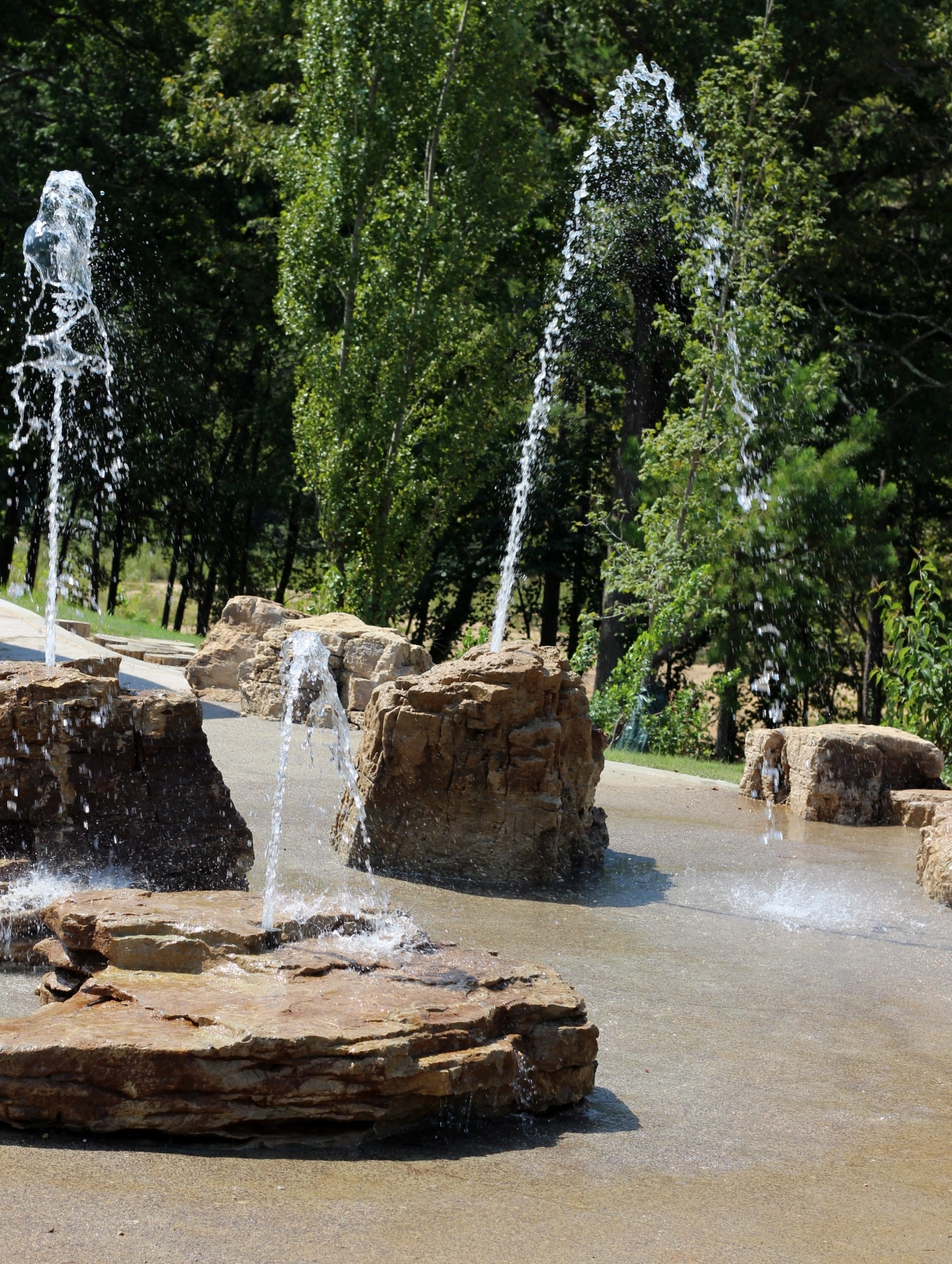 The playground has many elements reminiscent of the local area. Kids can hop around on these tree stumps.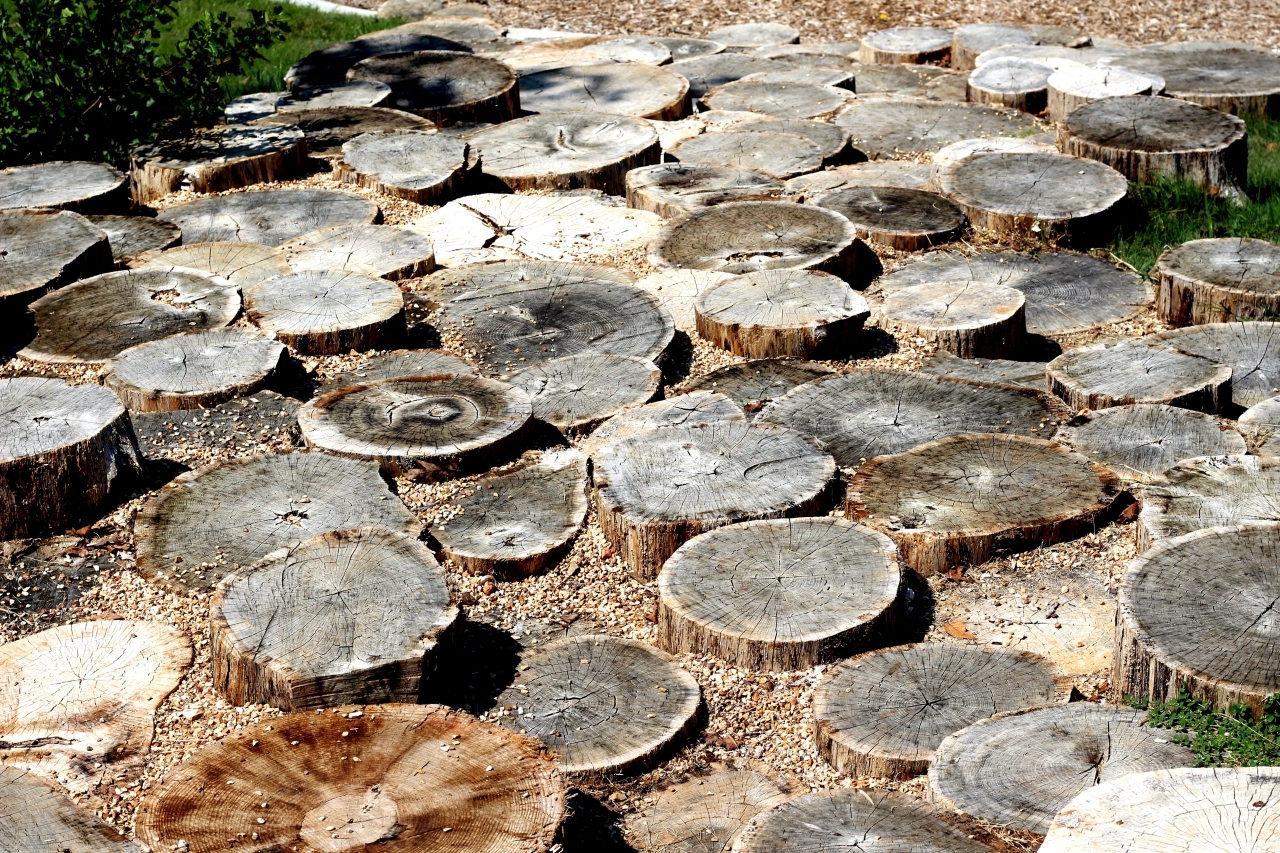 The slide looked pretty cool, but be forewarned, it can soak up the heat of the sun's rays. River rocks and other natural elements allow the playground to fit in with the rest of the park.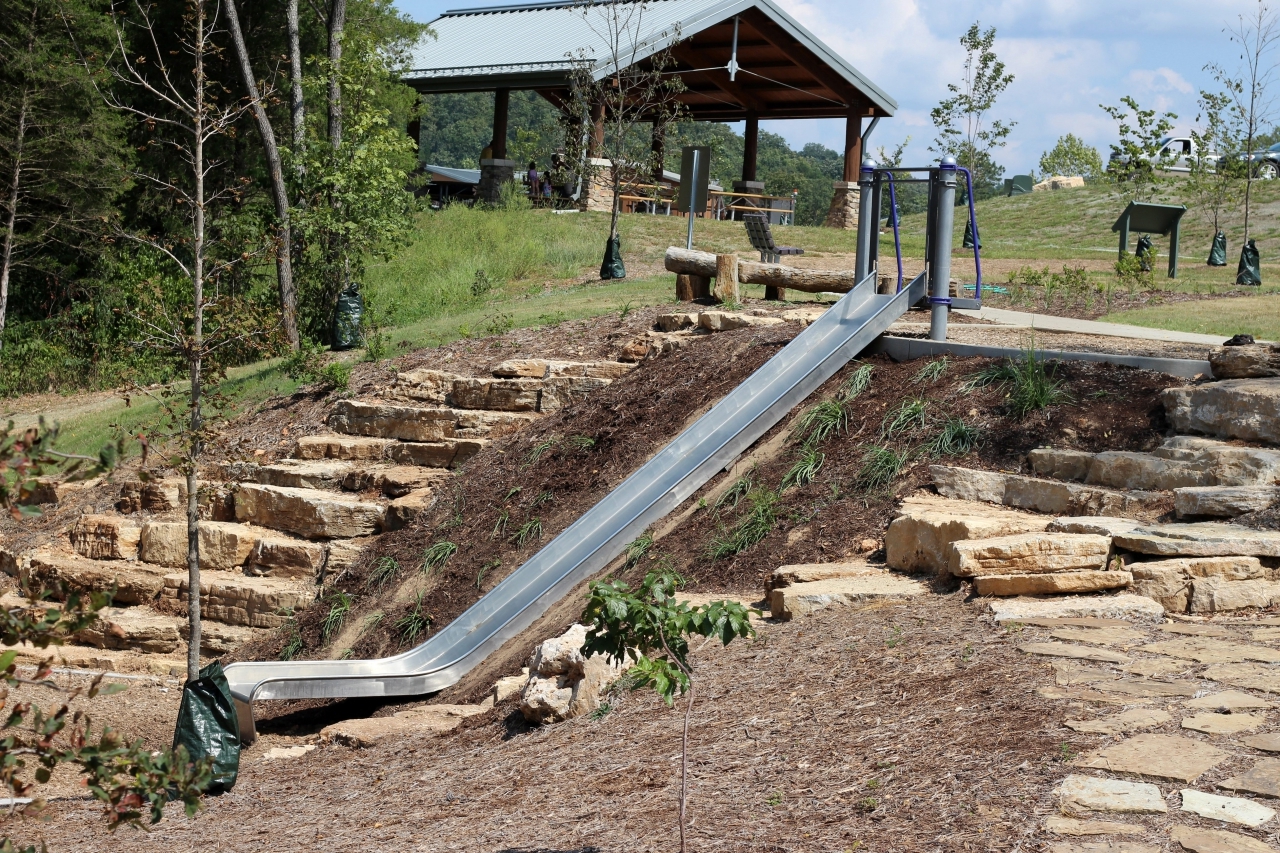 Our boys were a little too big to play on the playground, but even they had fun testing these unique swings.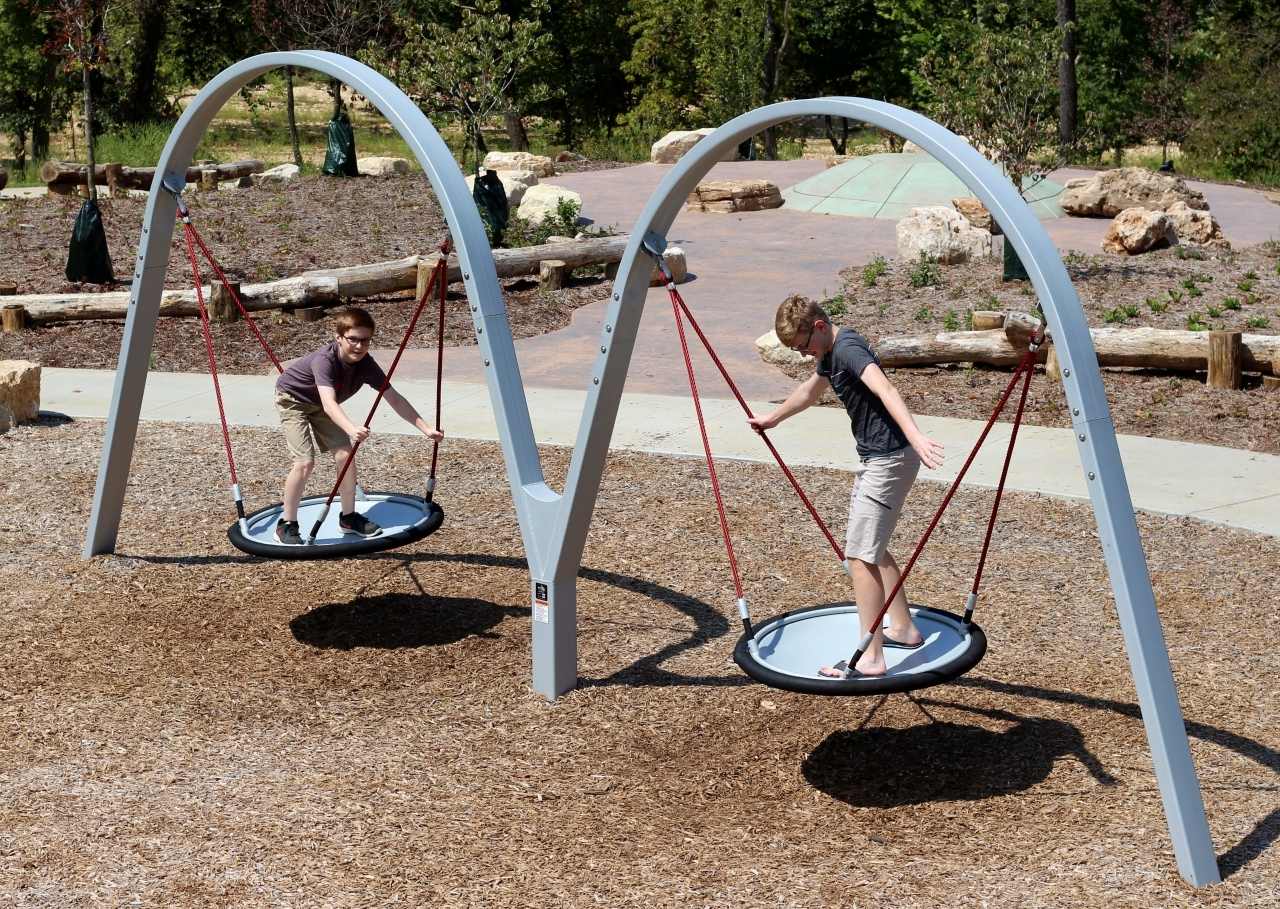 I like that this playground offers unique adventures that really fit with the park's location and theme. It's nice to see the playground being treated as a destination. Kids of many ages will surely enjoy this one.
Other Amenities
The Missouri State Park System aimed to make Echo Bluff a top-class facility, which includes the amenities and activities offered within the park. In addition to the creek and playground, you can also burn some energy hiking or mountain biking on the park's 2-mile trail.
For those staying in the campground, nice clean showers and restrooms are available. One unexpected amenity my boys enjoyed was blazing fast wifi! Here we were, deep in the Ozarks hills, and we had awesome internet.
Finally, since Echo Bluff is situated far from any bigs towns, you'll have dark skies at night, which helps the stars shine bright. We enjoyed trying our hands at some astrophotography.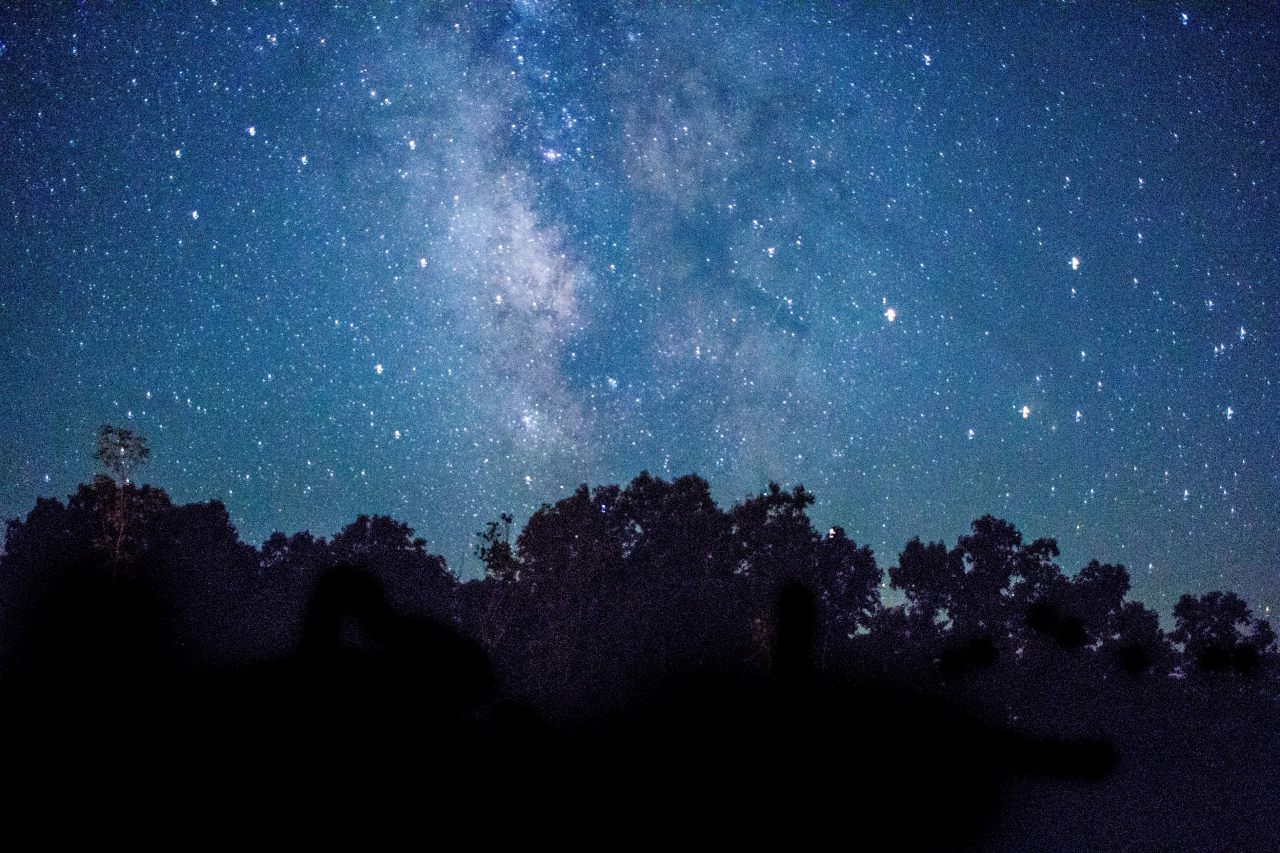 Local Area
Springs and Historic Sites
Echo Bluff is 20 minutes from the small town of Eminence, which has a few diners and small stores. We stopped for ice cream at the Dairy Shack, a classic spot for burgers and shakes. You may experience long lines, but that's because everything is made fresh when you order it.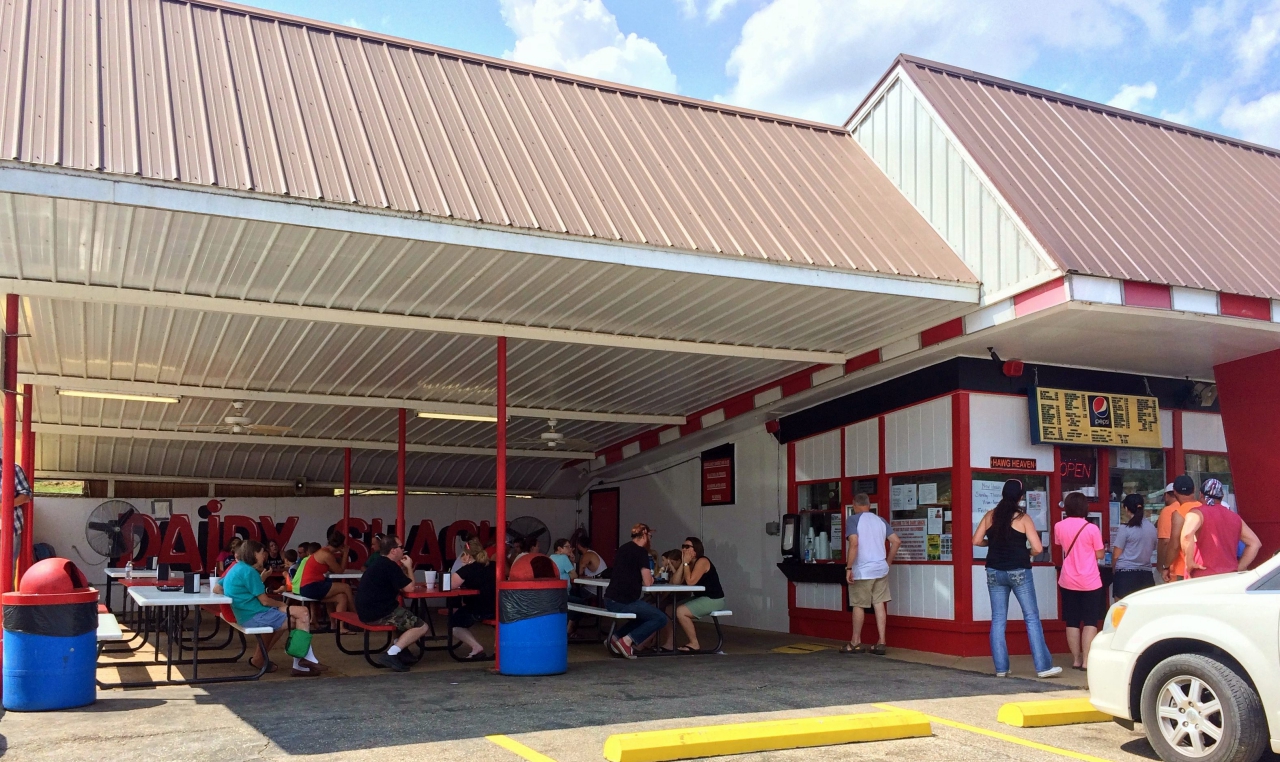 There's a lot to explore in the Ozark National Scenic Riverways area. Established as an NPS site in the 1960s, this area preserves lands and historic sites along the Jacks Forks and Current Rivers in southeastern Missouri.
We headed to Round Spring to check out the beautiful turquoise waters. The much larger Blue Spring is also close by, but we didn't make it there this time.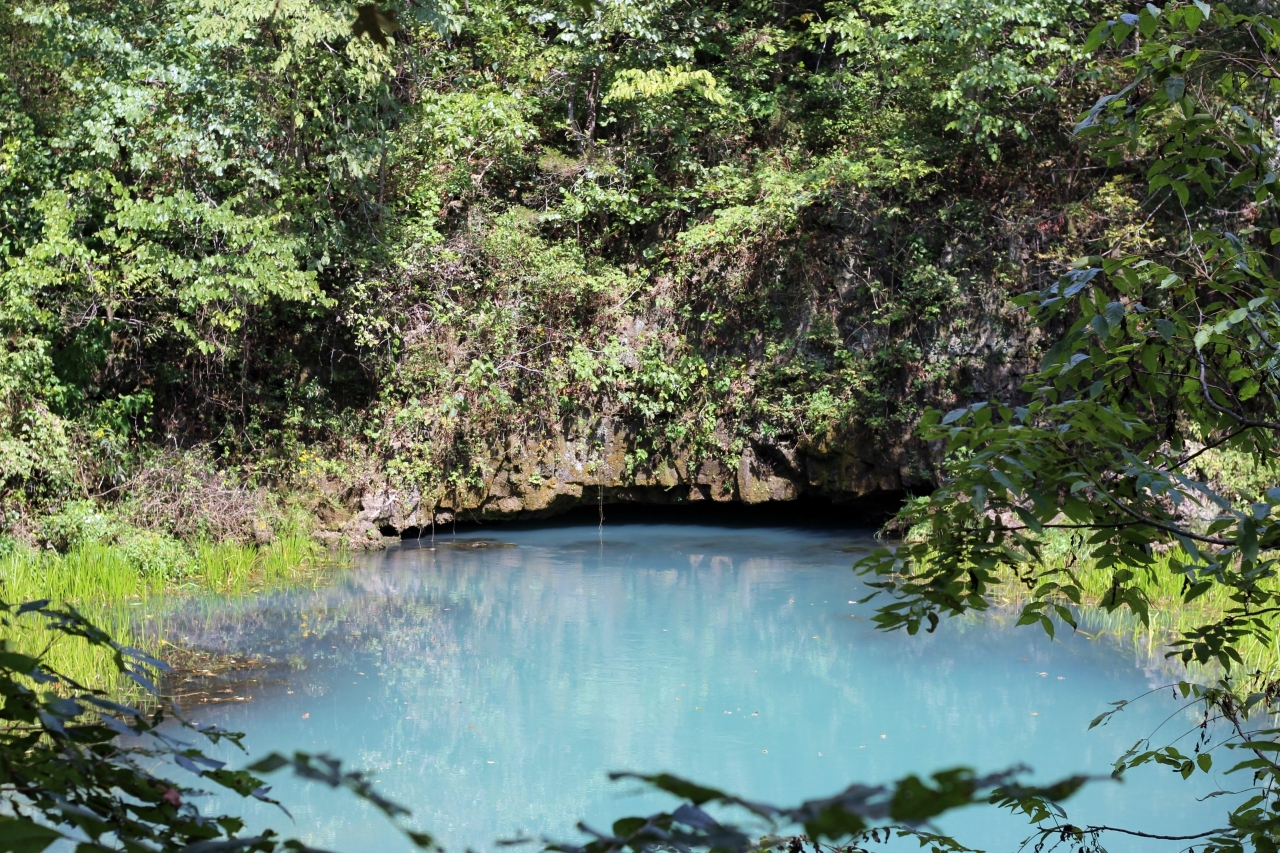 About 30 minutes away, you'll find Alley Spring, which is known for the iconic red mill that stands over the waters (so picturesque, it is featured on our state's America the Beautiful special edition quarter). Though we didn't visit it on this trip, I highly recommend you putting it on your list. Rocky Falls rounds out the list of places to explore near Echo Bluff. Here, waters cascade down a large bluff into a great swimming hole.
National Scenic Riverways
A float trip down a creek or river is a quintessential Ozarks adventure. Near Echo Bluff, you'll find the Current River. The Current is fed by a number of springs, which fill the river with chilly, pristine waters. The upper part is smaller and swifter, while the lower part (closer to Echo Bluff) is nice and wide. Sometimes, it's a little crowded, especially on warm, summer weekends.
No matter which part you explore, the Current's clear cool waters are great for splashing, floating, tubing, and fishing. A number of river outfitters offer canoe rentals, with drop off or pick up services included. Talk to the park rangers or river outfitters to decide which section is best for your family. Then, hop on an old bus and head to the river.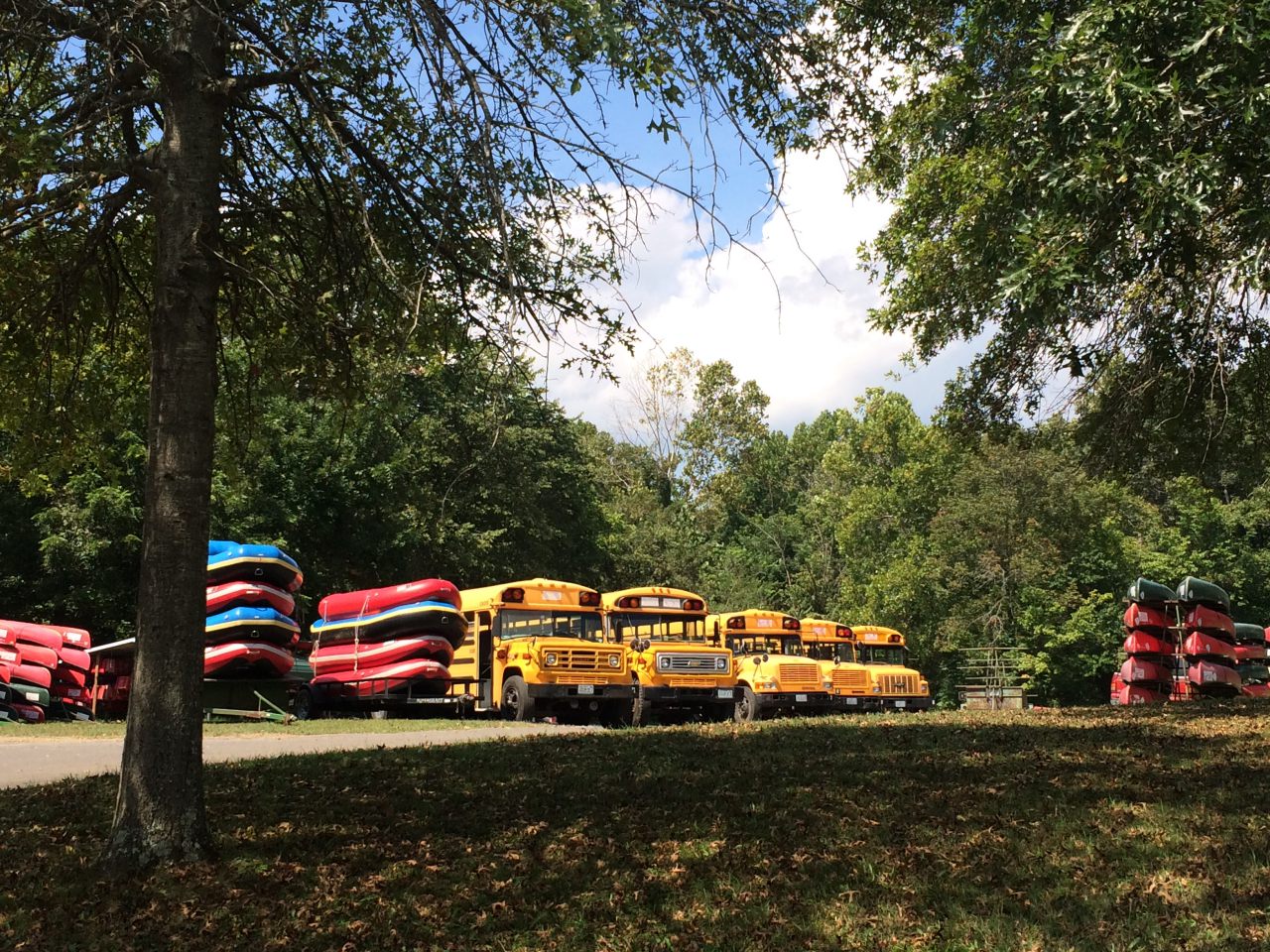 Wild Horses of Shannon County
If you watch carefully, you might spot the herd of wild horses that roam these Ozarks hills. The horses have been known to frequent the area for almost 100 years. Some say they are the relatives of domestic horses that were set free in the Great Depression after their owners were no longer able to care for them.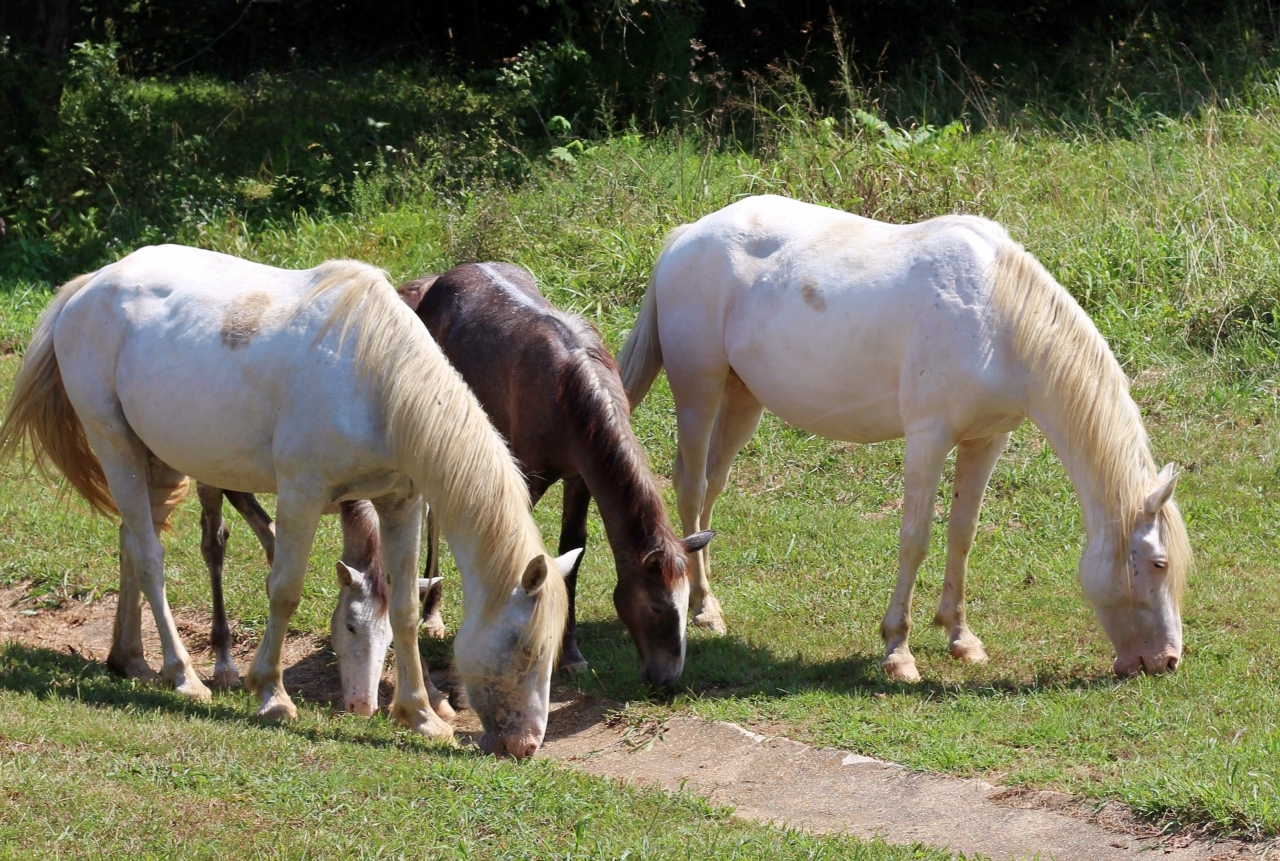 In the late 1990s, the National Parks Service wanted to destroy the herd, but 3000 protestors showed up in opposition–some even arrived on horseback. The horses were protected and remain to this day. A mythical piece of Shannon County history.
Even if you don't find the horses, you'll find plenty of natural beauty and interesting things to explore in the region. It's truly a remarkable place!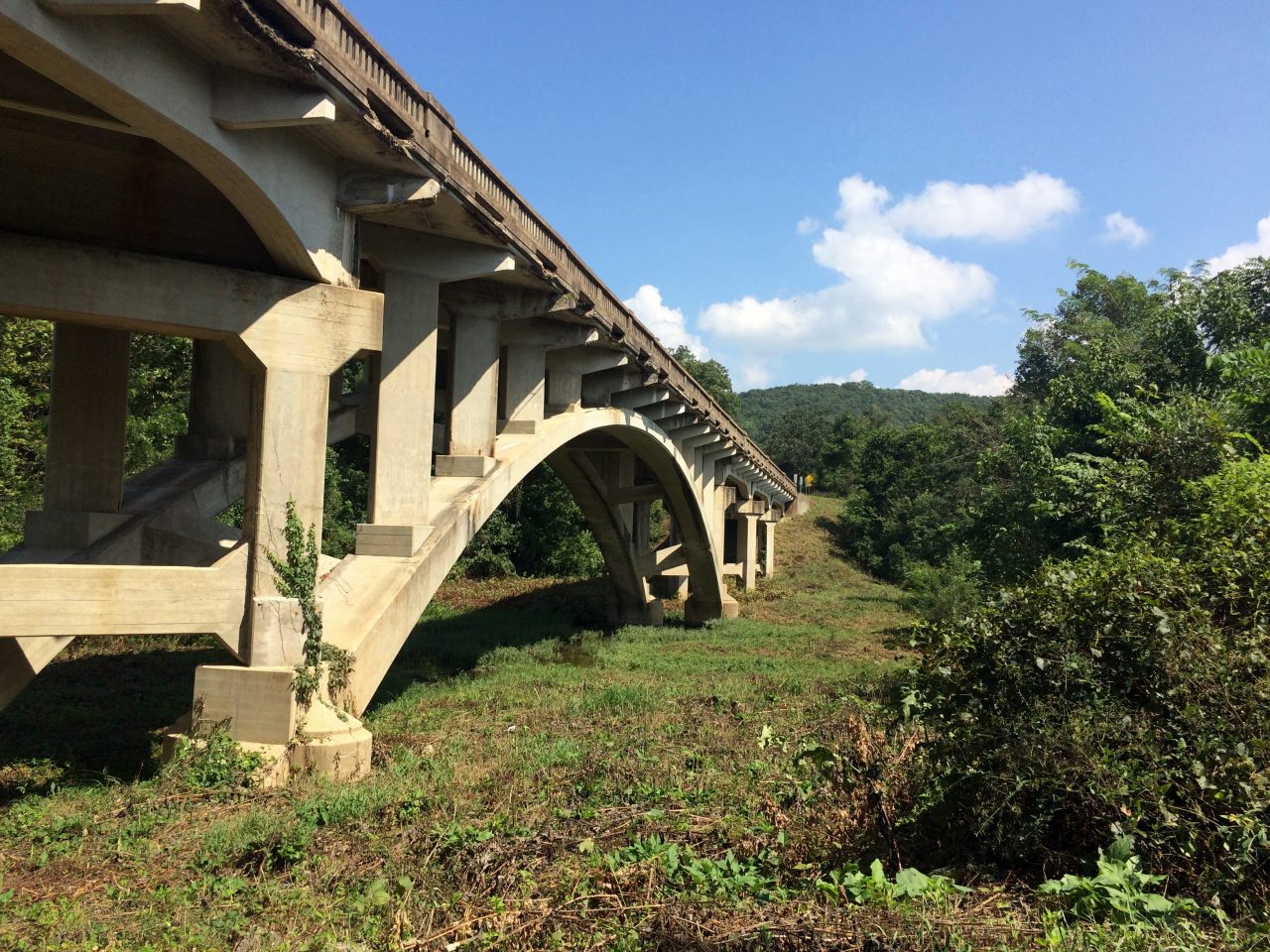 Final Thoughts
Echo Bluff State Park is a beautiful addition to Missouri's park system. It preserves a small slice of the beautiful Ozarks region, with forested, rolling hills and crystal clear waterways. Whether you stop by on a day trip or use the park as a basecamp for your Ozark National Scenic Riverways adventures, you'll be glad you made your way to Echo Bluff.
Just the Facts
Name & Website: Echo Bluff State Park
Location: In the Ozarks hills of Southeast Missouri, south of Salem and north of Eminence
Description: State park campground with tidy sites
Rates: $20-35 for RV sites; $15 for primitive tent sites
Utilities: Full hookup, water/electric, and primitive walk-in sites
Bathhouse: Clean, private restrooms and showers
Amenities/Activities: Sinking Creek, amazing playground, great wifi
Bottom line: Perfect basecamp for exploring this beautiful slice of the Ozarks!
Find Travels with Birdy:
Share this post: