Campground Review: Petit Jean State Park in Arkansas
Arkansas's first state park, Petit Jean, is home to epic views and epic hikes (check out my visitor's guide); therefore, it is no surprise it is also home to an epic campground. Whether you prefer to be close to the lake or snug in the woodlands, you'll find an accommodating spot at Petit Jean.
You often hear RV aficionados arguing about state parks versus private parks. Petit Jean is the type of state park that people fall in love with. The natural beauty makes up for the lack of creature comforts. This is the place where you go to hang your hammock, relax by the campfire, and hike through the woods.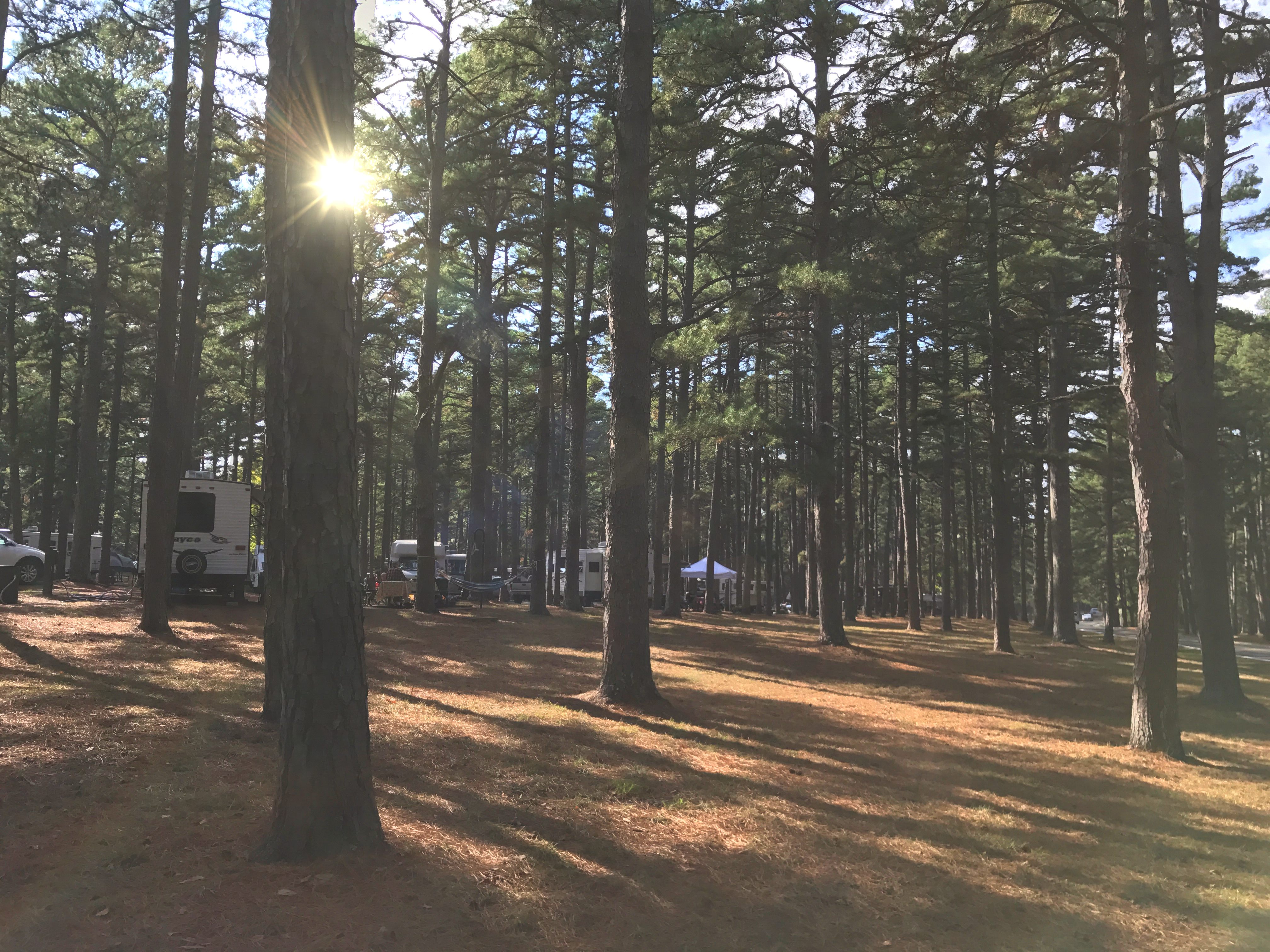 Our family visited Petit Jean State Park during a long fall weekend (due to our warm temps, the falls colors had not yet arrived, sadly). We already knew we loved the park and were glad to find out we loved the campground just as much.
Campsites
The campground at Petit Jean is divided into 4 areas. Check out the park map for a detailed view. You can book up to 12 months in advance, and you'll want to reserve as early as possible since this state park sells out. Weekends require a 2-night stay, and holidays require a 3-night reservation.
Area A runs along the shores of Lake Bailey. A numbers of spots offer water views (with #15-20 being the prime locations).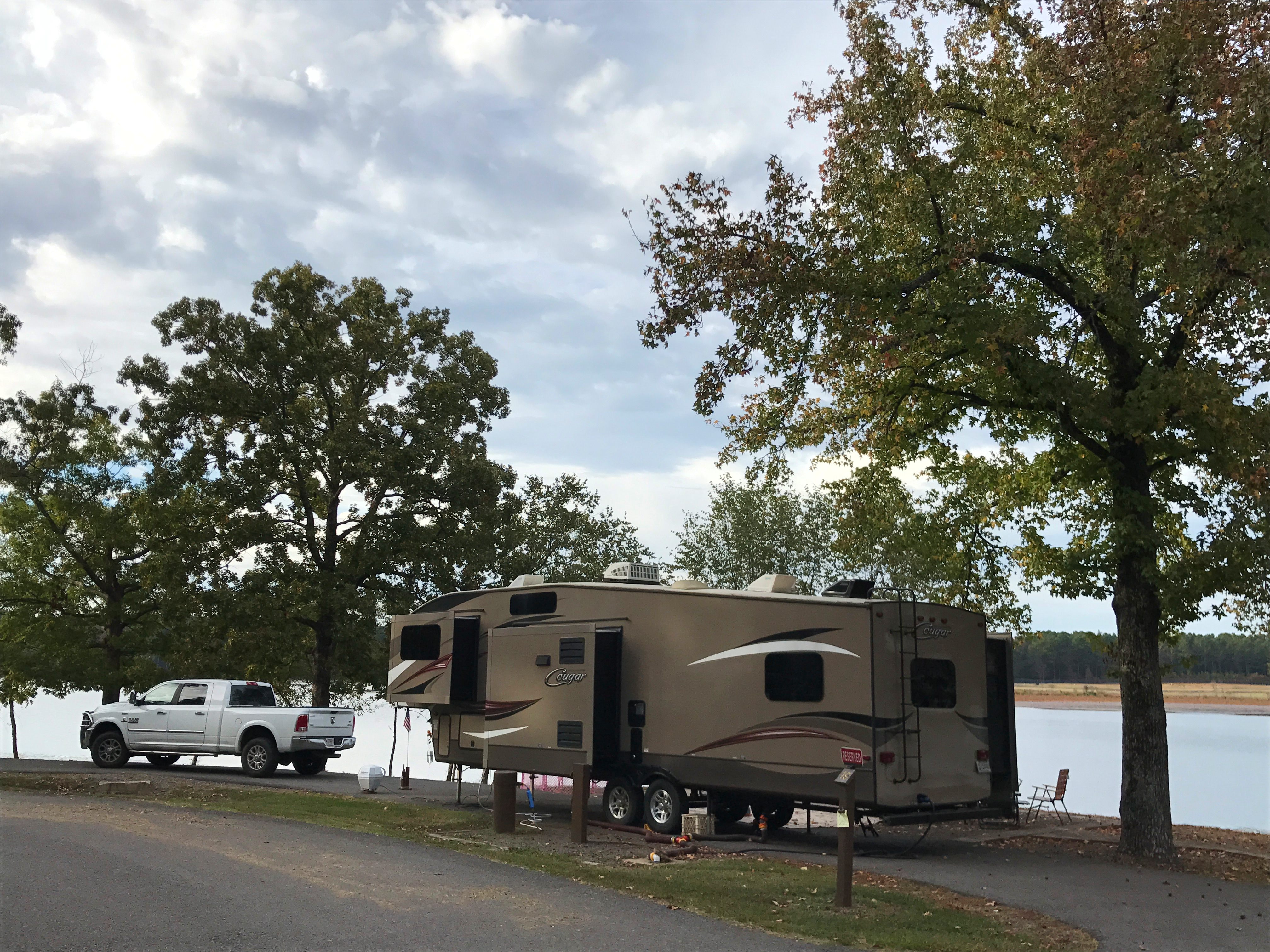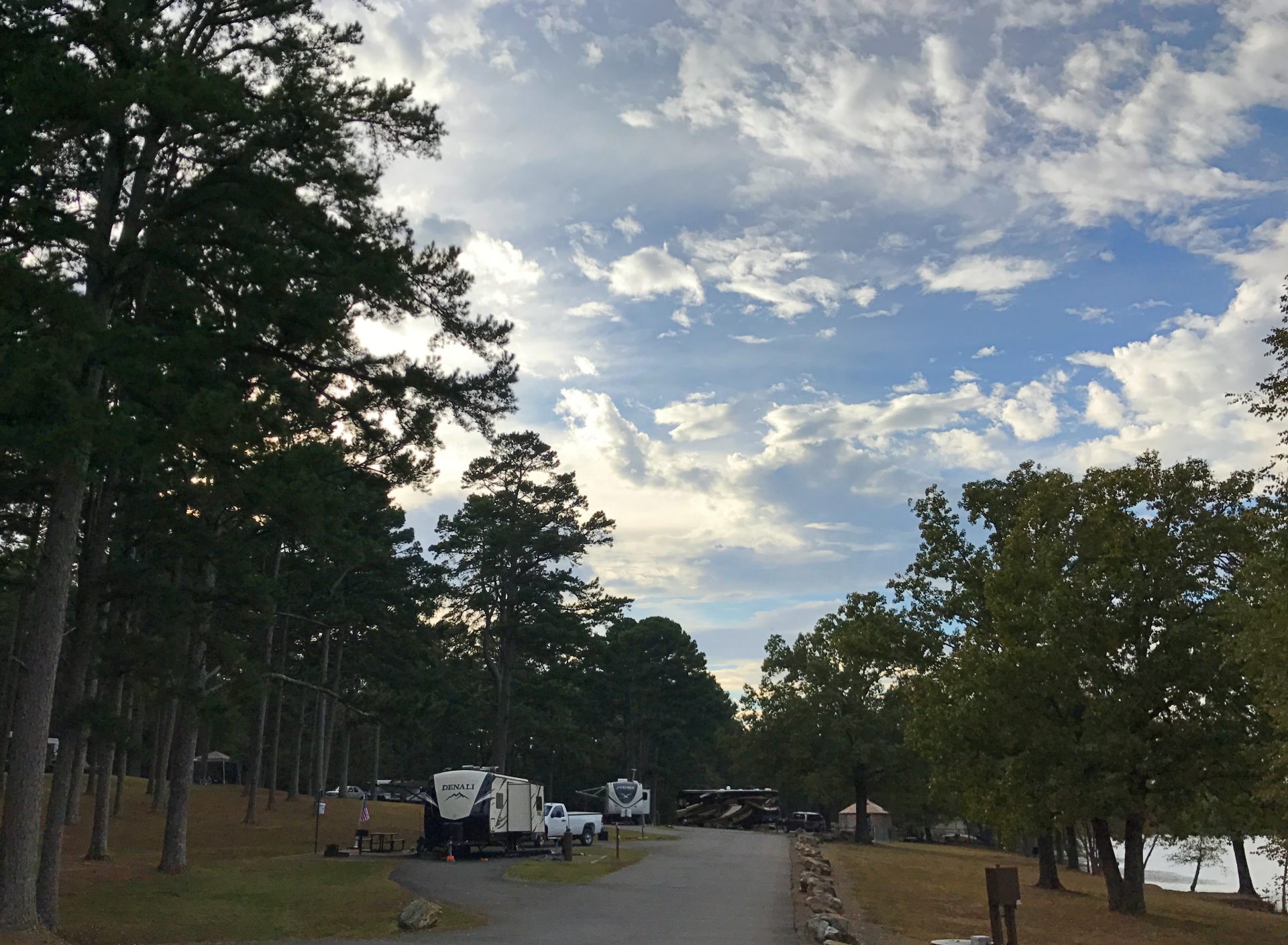 Even if you don't have a view, you'll be within walking distant to the shore. Plus, the sites in this area are huge (they are not, however, as huge as the towering trees).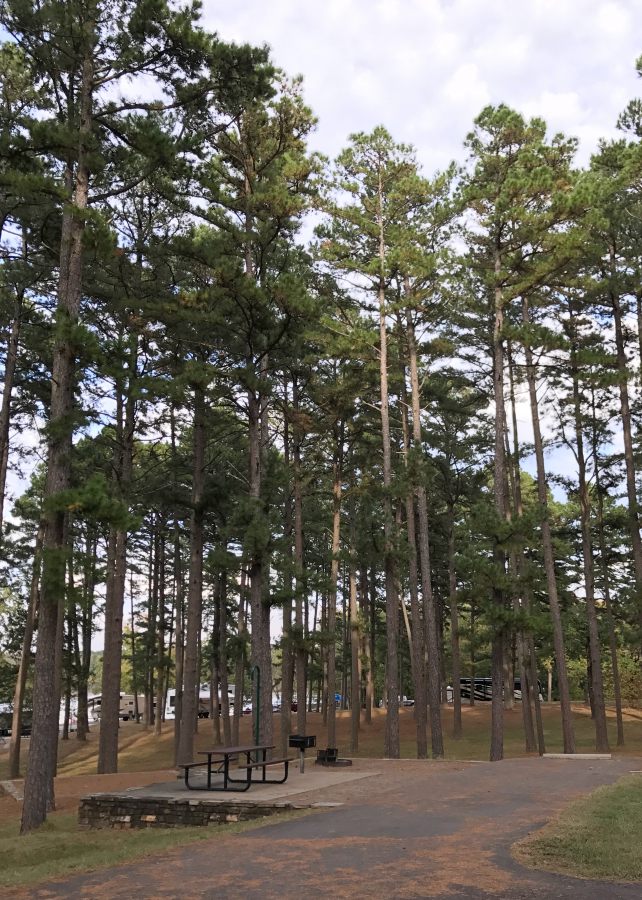 Terraced patios and extra spaces for tents add to the allure of these lakeside spots, rivaling what would be marketed as "deluxe sites" in a private campground.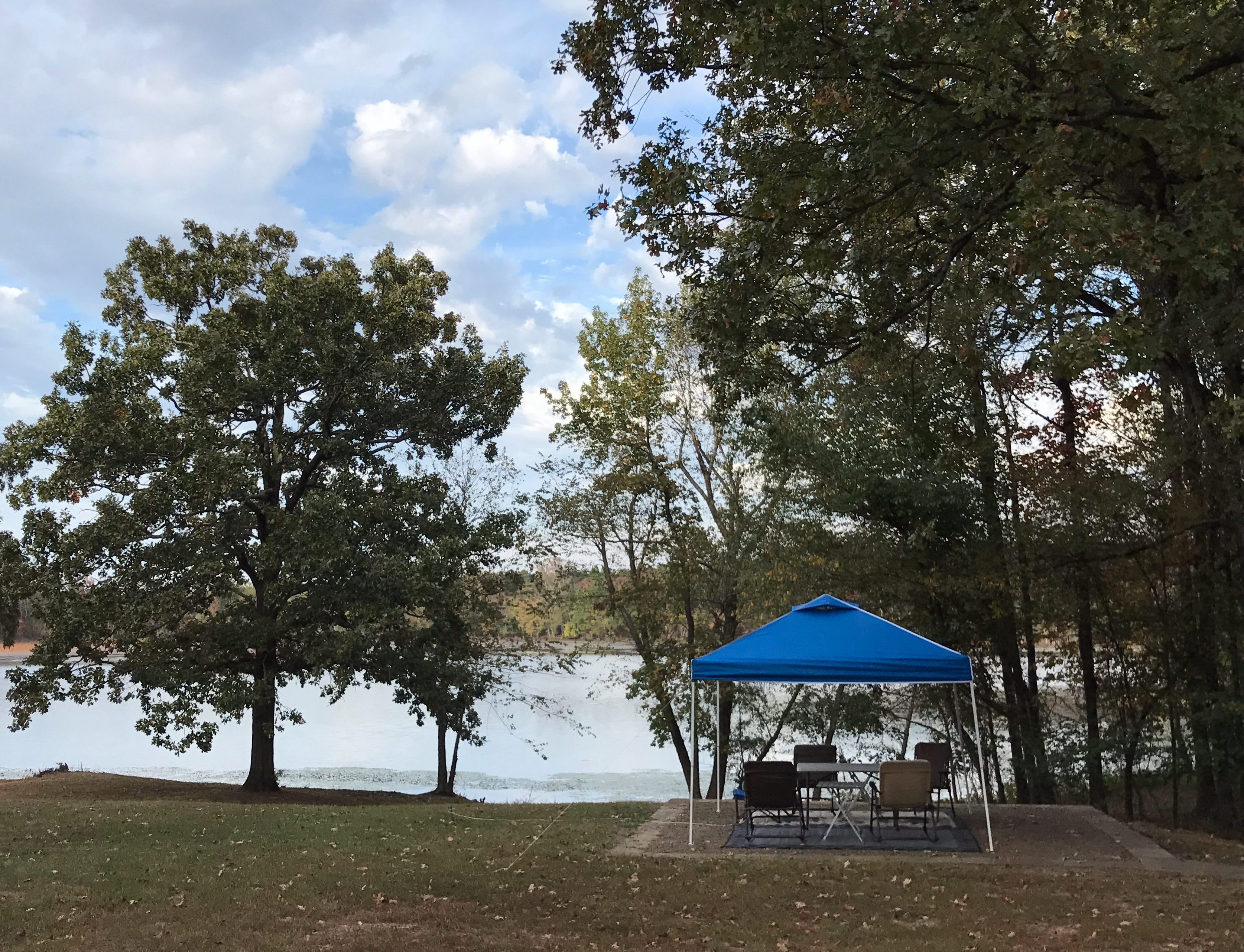 In Area A, expect to pay $32 per night for full hookups with 50 amps. These are truly premiere-level spots worthy of the extra costs (which are still much cheaper than many basic private campgrounds).
Just across the road, Areas B-D are located in the woods. Most of the sites in these areas do not have sewer hookup, and they are $20 a night for 30-amp electric and and water.
In the circle loops of Areas B and D, the interior sites seemed a little smaller, while many of the exterior sites were a little larger.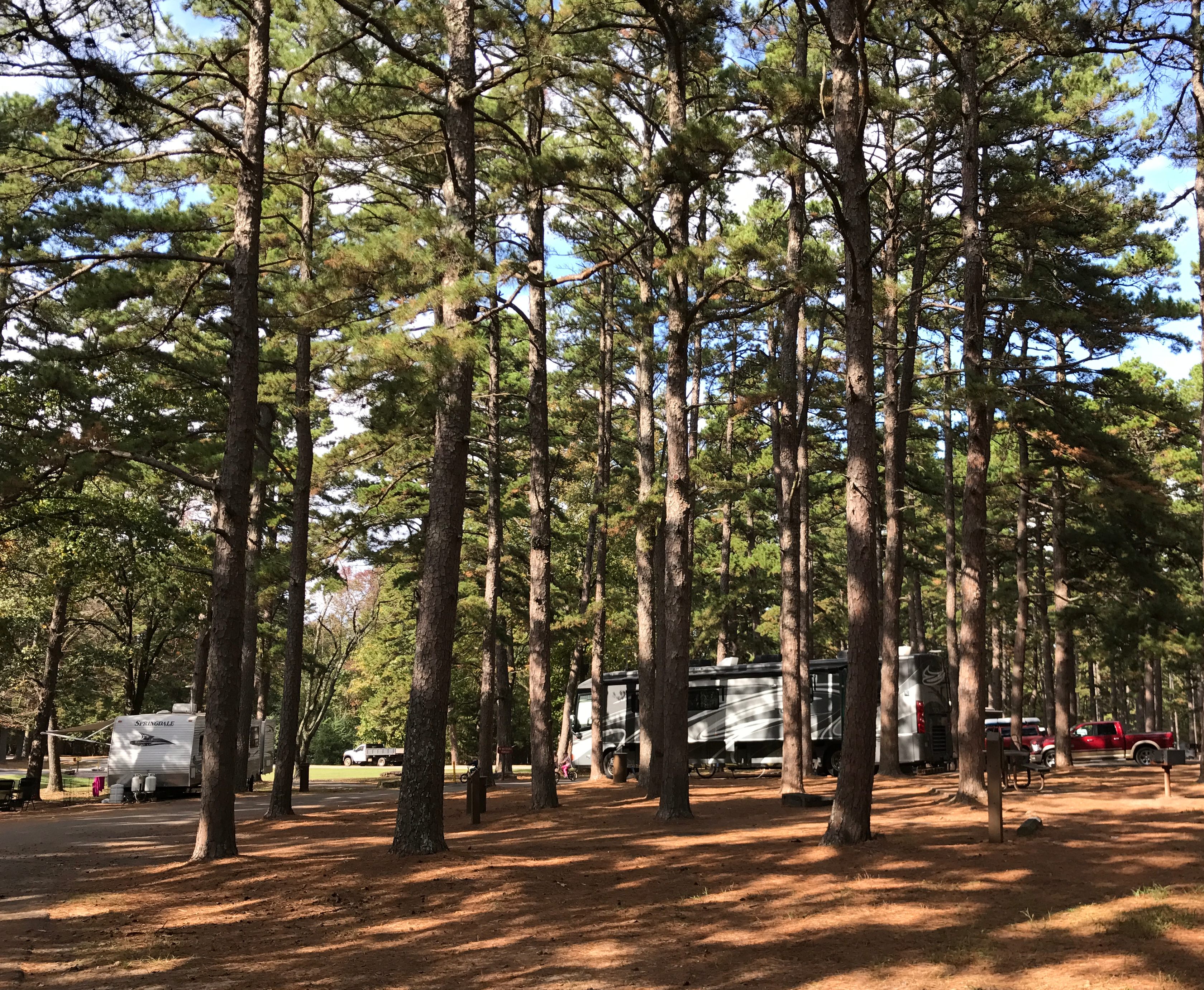 Area C and D seemed a little quieter than B, at least during our visit. Instead of having a loop, Area C has lines of parallel sites set in the woods.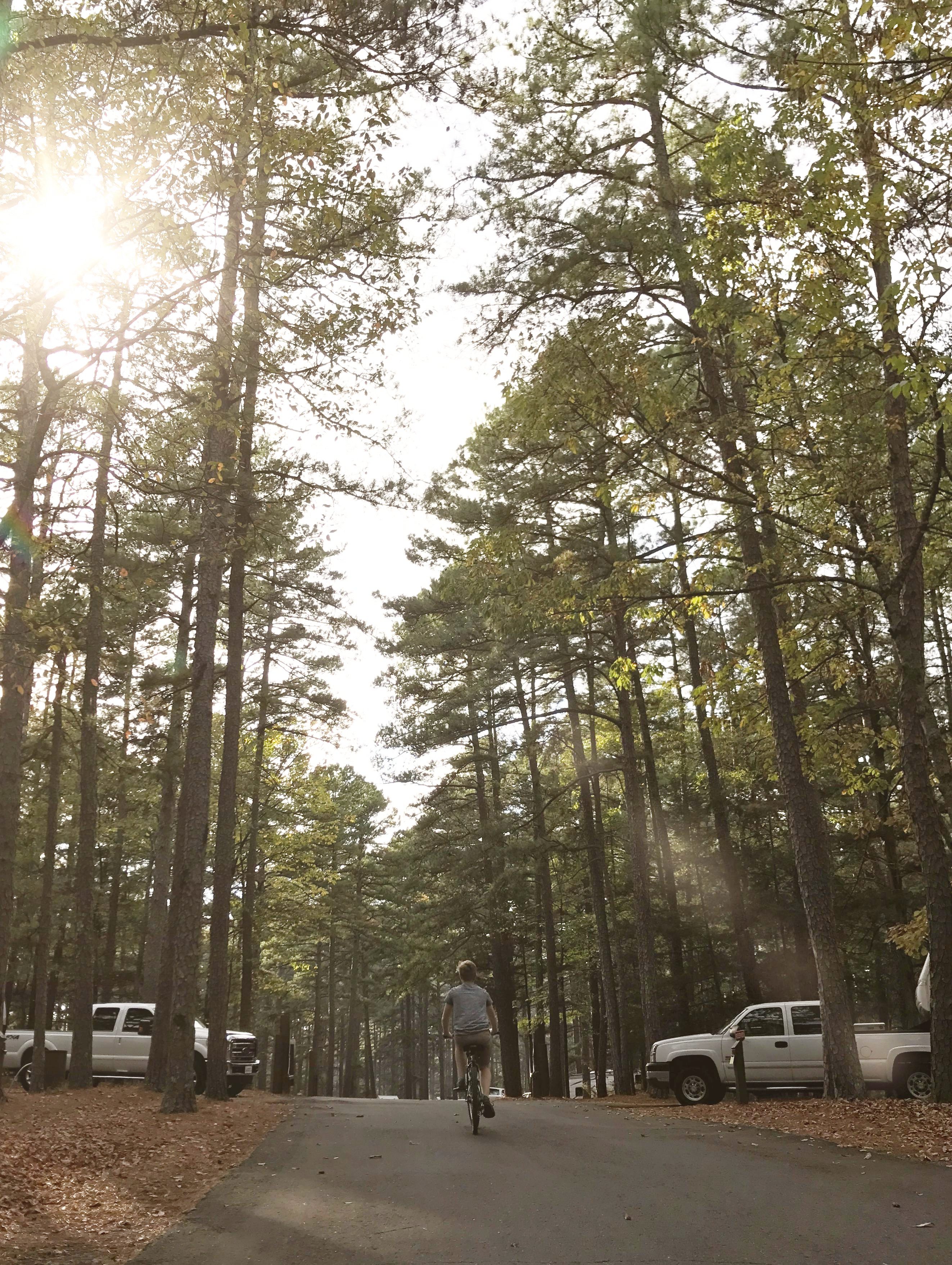 By the time we booked our stay, there were only two spots left in the entire park. We picked site 43 in Area B and were very happy once we arrived. We had a huge empty area beside our campsite, a little wooded area behind it, and nice big trees for hanging our hammocks. Win!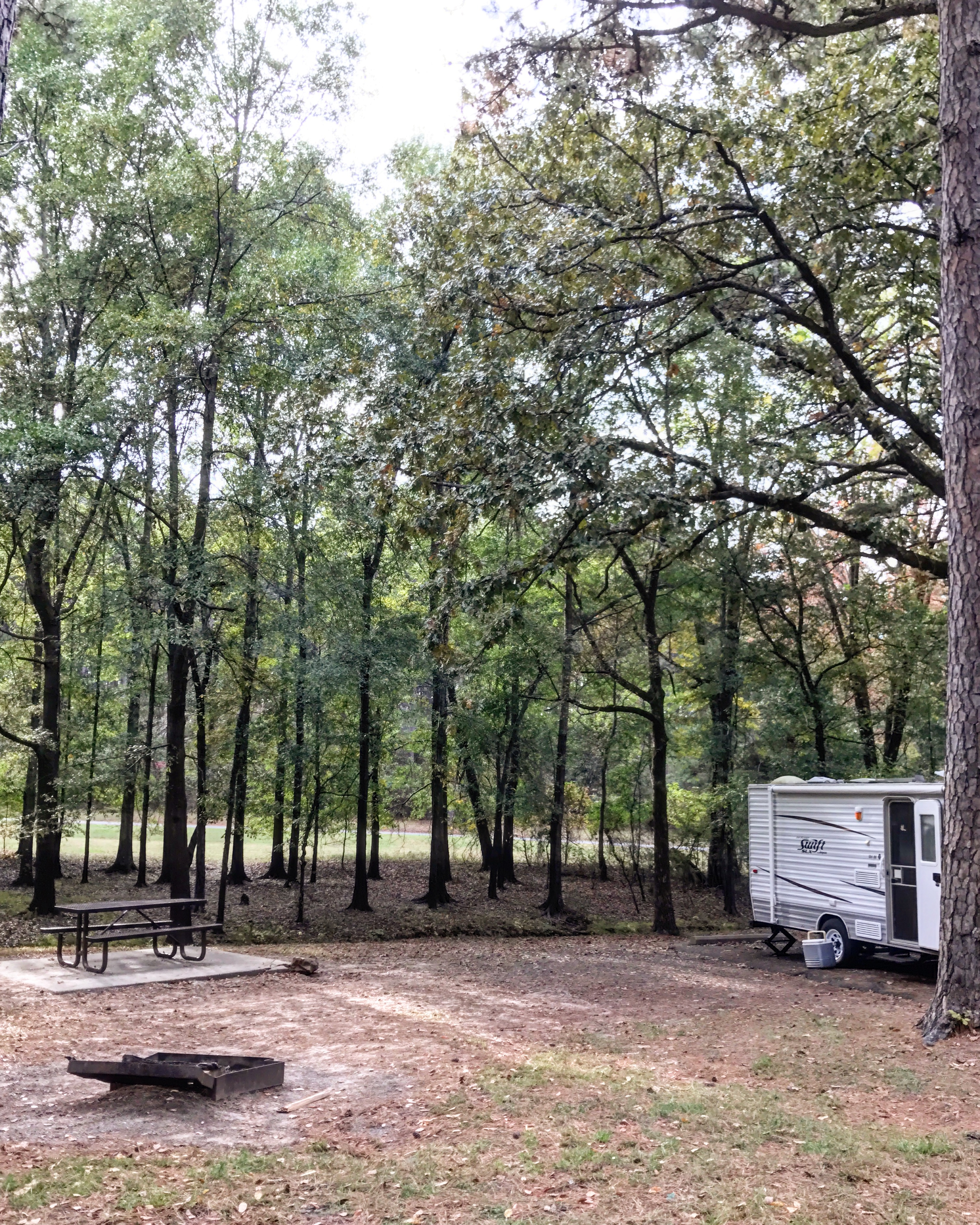 Other Accomodations
If you don't yet have an RV or are traveling with friends who don't camp, be sure to check out Petit Jean's Rent-a-Yurts, cabins, or lodge. The yurts are near the Area A campground, but the cabins and lodge are not within walking distance to the campsites.
On our first visit to Petit Jean, we stayed in a yurt, and it was super fun. For $55 a night, you get a huge yurt with 6 beds (3 sets of bunks), a cooler, chairs, an outdoor grill, and more. Plus, each yurt comes with a canoe and life vests, adding to your recreational options for a very economical price.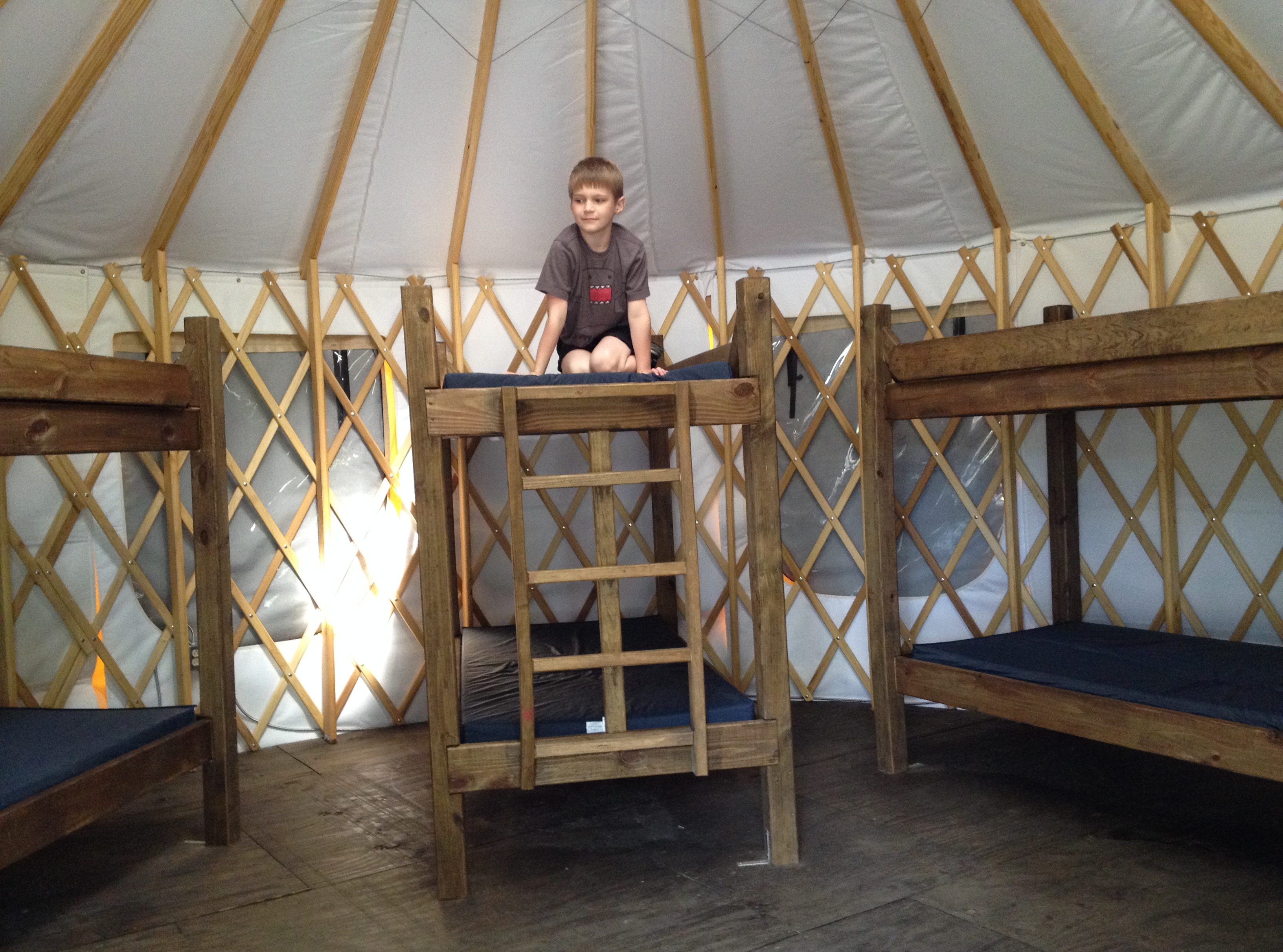 The yurts do not have heat or air conditioning, nor do they have water, a toilet, or fridge. You're roughing it, but not as much as you would be in a regular tent. Expect to walk a ways to get to the restroom and shower house, but your huge deck overlooking Lake Bailey should make up for this inconvenience.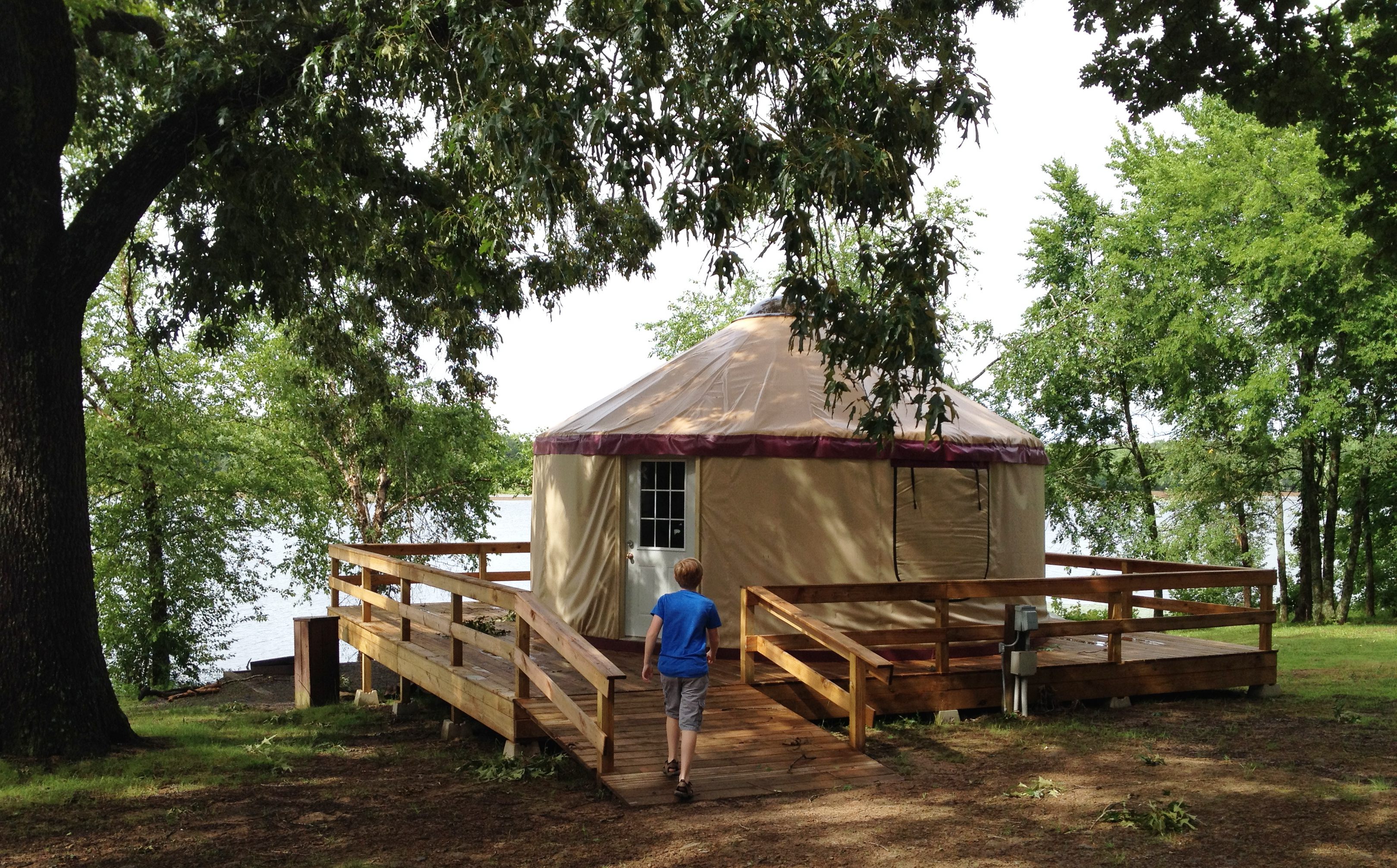 The beautiful Mather Lodge was built by the CCC in the 1930s and updated in 2012. The restaurant and a gift shop are located inside, as are a number of lodge rooms. These are on the small side; however, the price is reasonable at $78-$82, and reviewers say the rooms are clean and convenient.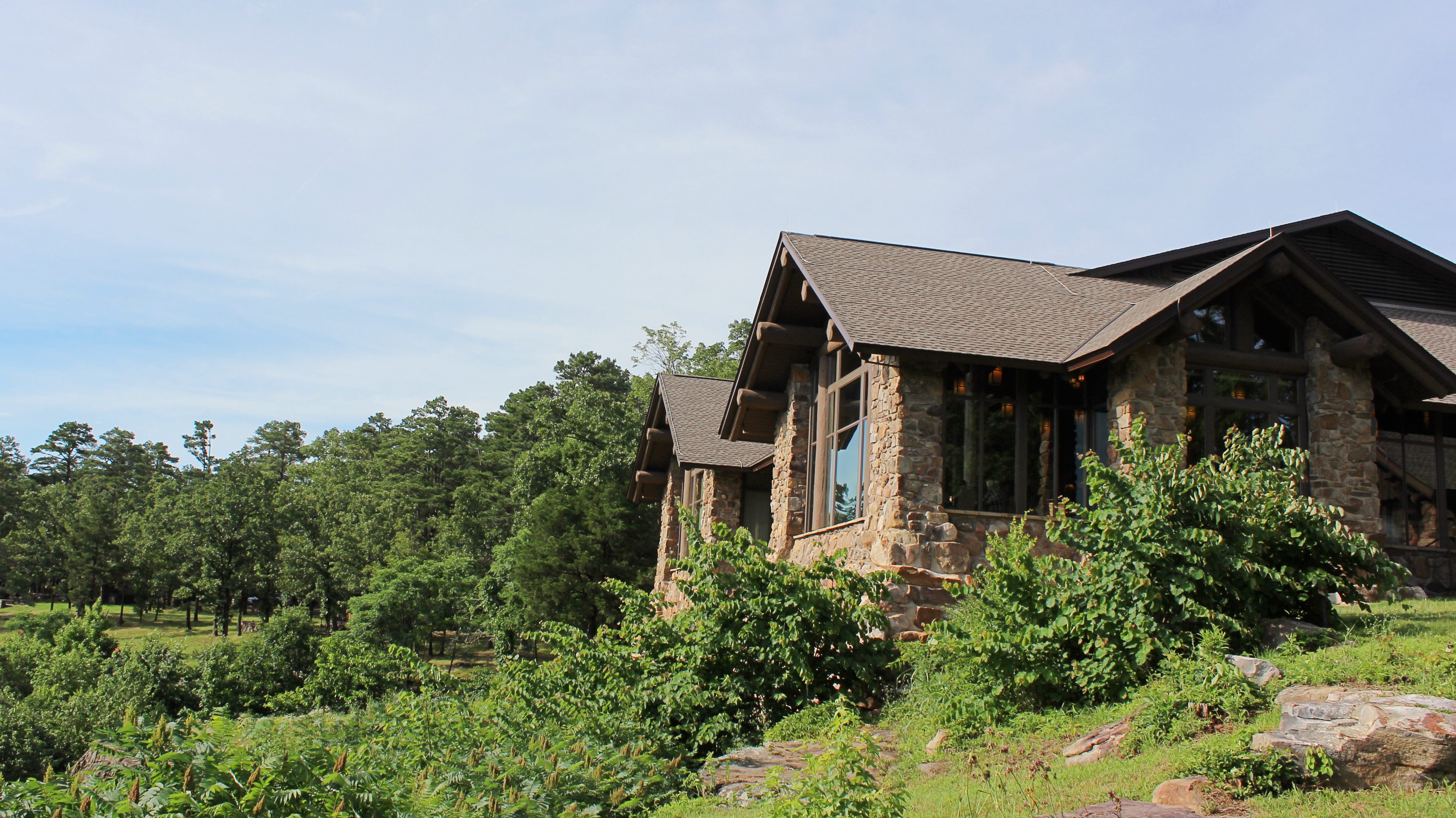 Cabins are another wonderful option. Ranging in price from $88-$198, these offer a variety of amenities. The rustic, stone and wood structures are charming on the outside, and simple and cozy on the inside. These are located near the lodge.
Amenities
Each of the campground areas has its own restroom and shower house. These passed my muster and were clean enough. One thing to note: while the showers had curtains, the bench area where you'd be likely to put your clothes was not behind the curtain. It seemed like dressing could be a little awkward (I didn't try it out).
You will not find WiFi and cell phone service throughout the park. Mather Lodge has WiFi access, but this does not extend to the campgrounds. Cell service will be hit and miss due to the hills and trees. Our Verizon signal was strong at our site in Area B.
Activities
Visitors to Petit Jean should plan to spend time exploring the scenic viewpoints and hiking the park's many trails. I detailed these in my previous post, A Visitor's Guide to Petit Jean.  If you have to just pick one hike, I would recommend going to Cedar Falls. While this trail is a little strenuous, you are rewarded with an amazing waterfall and beautiful scenery along the way.
One unique amenity at Petit Jean is the CCC Hike & Bike Trail, which connects the campgrounds with the lodge, several trail heads, and other interesting spots. Take your bikes if you can.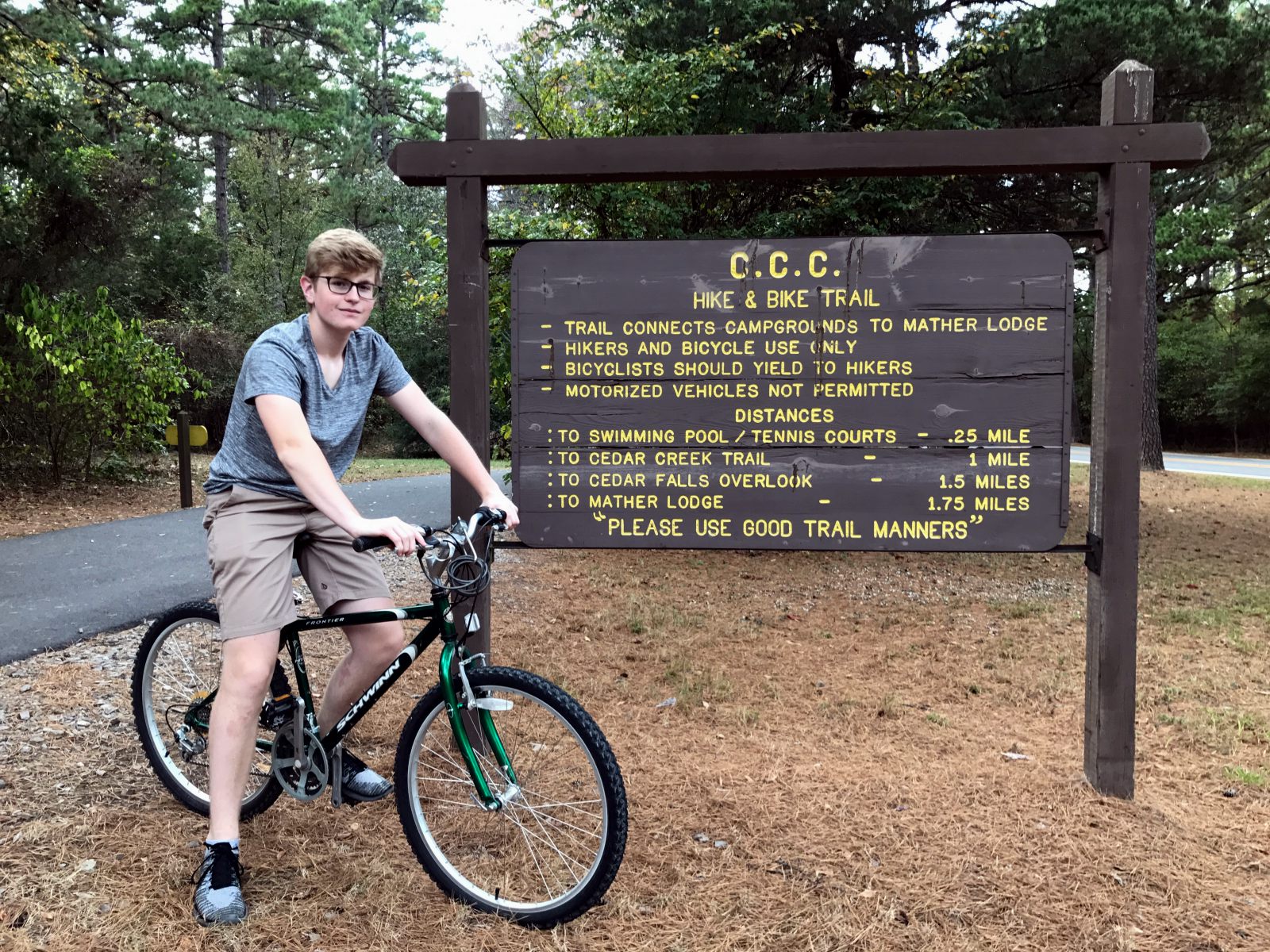 Petit Jean has two pools. One is limited to visitors staying in the lodge and cabins, while a large pool welcomes all visitors. On our first visit to the park, our boys enjoyed cooling off in the pool on a warm summer's day.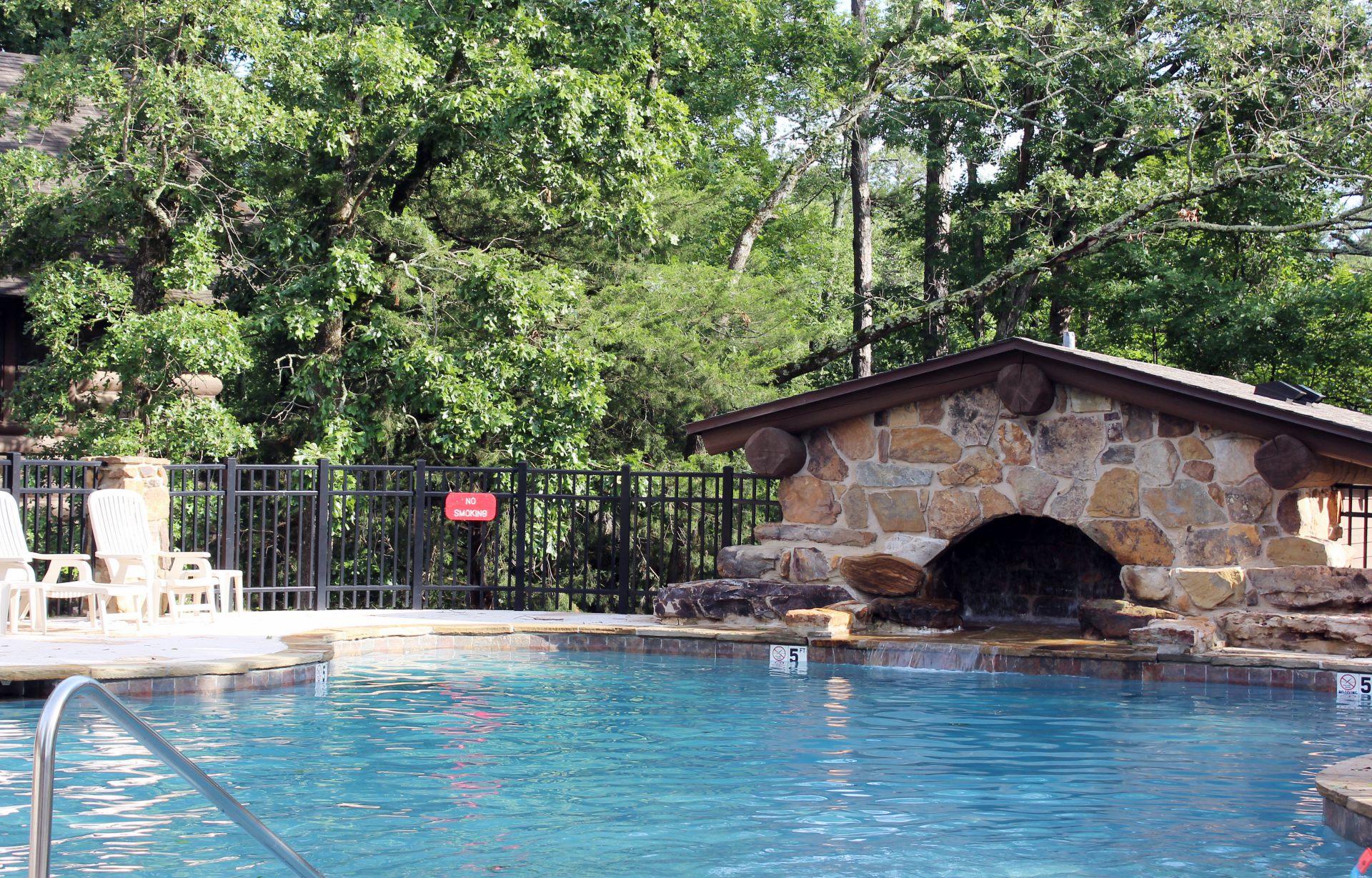 You'll find picnic areas, playgrounds, and historic sites across the park.
If you want food or other amenities, you can check out the restaurant at Mather Lodge and the small camp store. Outside the park proper,
Local Area
Petit Jean State Park is quite a distance from small towns with amenities. To find grocery stores, restaurants, and more, you can drive 25 minutes east to Morrilton, 30 minutes west to Dardanelle, or 40 minutes northwest to Russellville. The larger city of Conway is 45 minutes east of the park and would offer more options. Keep this in mind, and take your necessities in with you.
With its location in a mountainous region, it makes sense that Petit Jean State Park is located near other mountain parks. Arkansas's highest peak is found on Mount Magazine, located an hour west of Petit Jean. This state park offers beautiful scenery and wooded hikes, with the added allure of rock climbing, mountain biking, and other outdoor adventures.
Mount Nebo State Park is located less than an hour northwest of Petit Jean, and it's another scenic spot to explore.
For more urban adventures, head to Little Rock. Petit Jean is located about 1 hour and 20 minutes from the state capital of Arkansas. There's a ton to explore in this town, from the Capitol Buildings to the William Jefferson Clinton Presidential Library. Hike or bike the Arkansas River Trail and then take a tour of the Heifer International headquarters.
The unique town of Hot Springs is just about 1 hour and 30 minutes south of Petit Jean. With an interesting history, artsy culture, and a national park, you'll find much to explore in this energetic town.
Final Thoughts
With so much to offer, Petit Jean State Park is truly a destination worthy of a two or three night stay (or more!). You'll find plenty to explore in the park, or you can take day trips to some of Arkansas's prime tourist destinations. As much as we love this park, the campground did not disappoint. It's truly an example of what people love about state park campgrounds: large campsites in a scenic setting. This place will truly take you away from it all.
Just the Facts
Name & Website: Petit Jean State Park
Location: Approximately 1 hour and 20 northwest of Little Rock, AR, in north-central Arkansas
Description: Beautiful state park campground
Rates: $20-32 per night for campsites, more for yurts, cabins, and lodge rooms
Utilities: Area A has full hookups and 50-amp; Areas B-D have water and 30-amp electric
Bathhouse: Clean shower houses and restrooms are located in each area; shower privacy left a little to be desired.
Amenities/Activities: Hiking, biking, scenic viewpoints, historic buildings
Bottom line: Petit Jean State Park is truly a gem in the Arkansas system! Even though this mountain isn't terribly high, as far as mountains go, it really gives you the mountain atmosphere and offers plenty of adventure.
Hear More on the COTW Podcast
If you'd like to hear all about Petit Jean State Park, head over to the RVFTA website to listen online or look for Campground of the Week episode 115 wherever you find your favorite podcasts:
Campground of the Week Episode 115
Find Travels with Birdy:
Share this post: