Campground Review: Mueller State Park in Divide, CO
You know how you sometimes find yourself at a campsite that makes your heart race a little? Well, that's exactly what Mueller State Park did to mine. I have been to very few spots that I loved as much as this one. I mean, just look at it: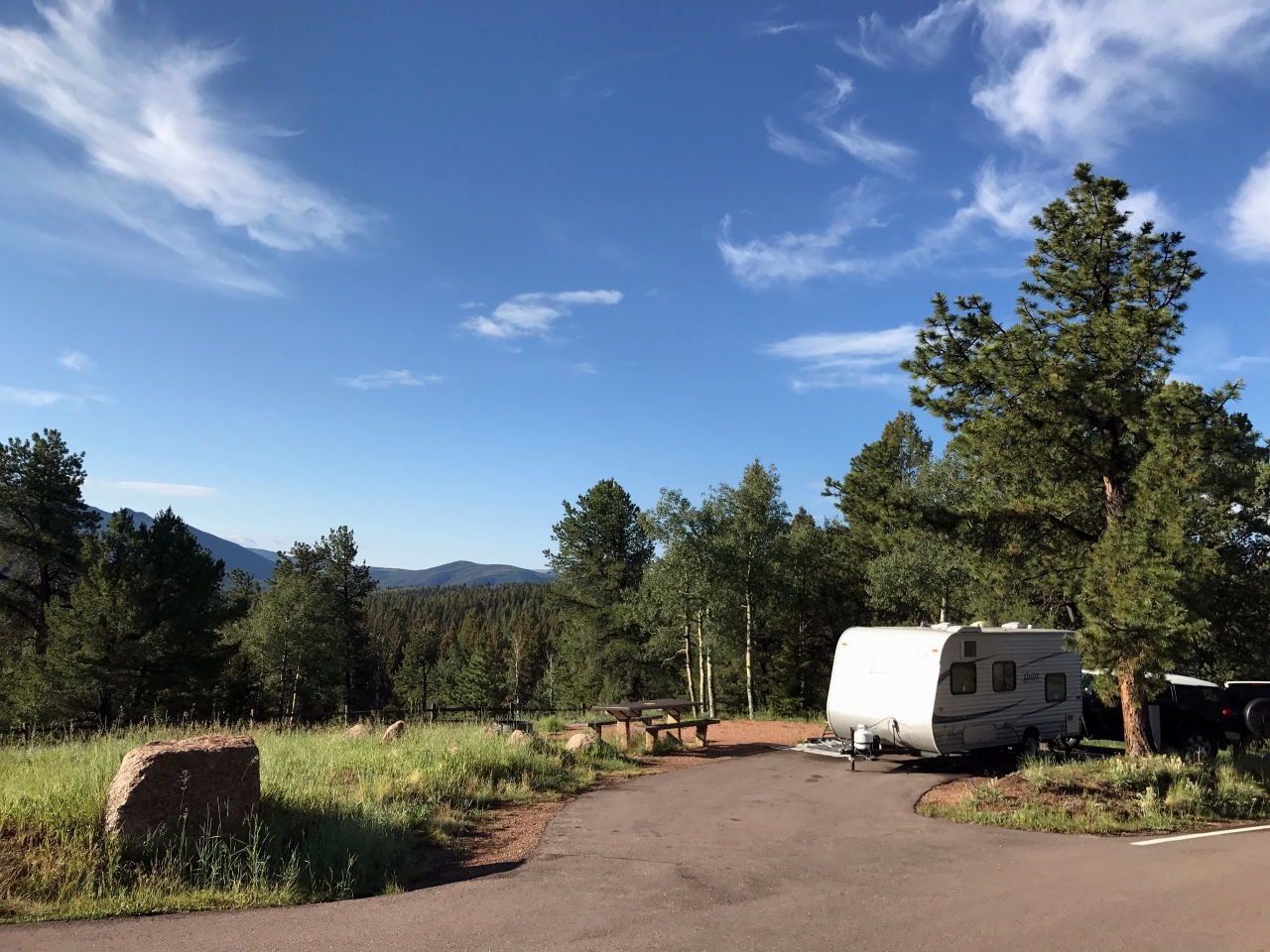 Mueller State Park is located about an hour west of Colorado Springs. What makes it special is its altitude. Situated above 9500 feet in elevation, Mueller offers amazing views, beautiful woodlands, and cool mountain air, providing a refuge from the heat and humidity of summer.
Sites
Campsites at Mueller State Park are divided into several loops. There are two loops that offer walk-in tent camping, while the rest of the sites are a mix of back-in and pull-thru sites, all with concrete pads. The pull-thrus are different from traditional pull-thrus, consisting of roadside pull-offs, where one side of your rig will face the road and the other side will face your view. Here is an example: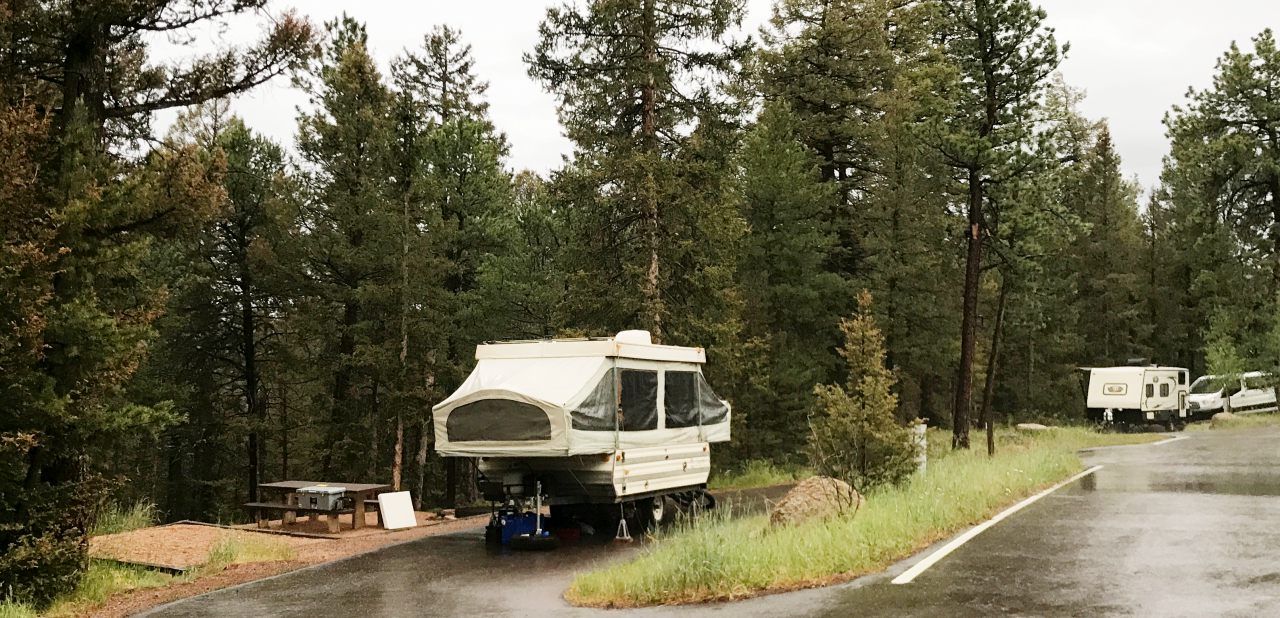 Speaking of views, some of the views are spectacular. When selecting our site at Mueller through Reserve America, I visited the Campsite Photos website. Only a handful of spots were available, and when I looked at site #8, I fell in love with the photo.  It looked like the spot was located on a ridge with a mountain view. You sometimes can't tell much from a tiny photo, so I was nervous about whether I made the right choice. Once we arrived, I was thrilled. Site #8, for the win!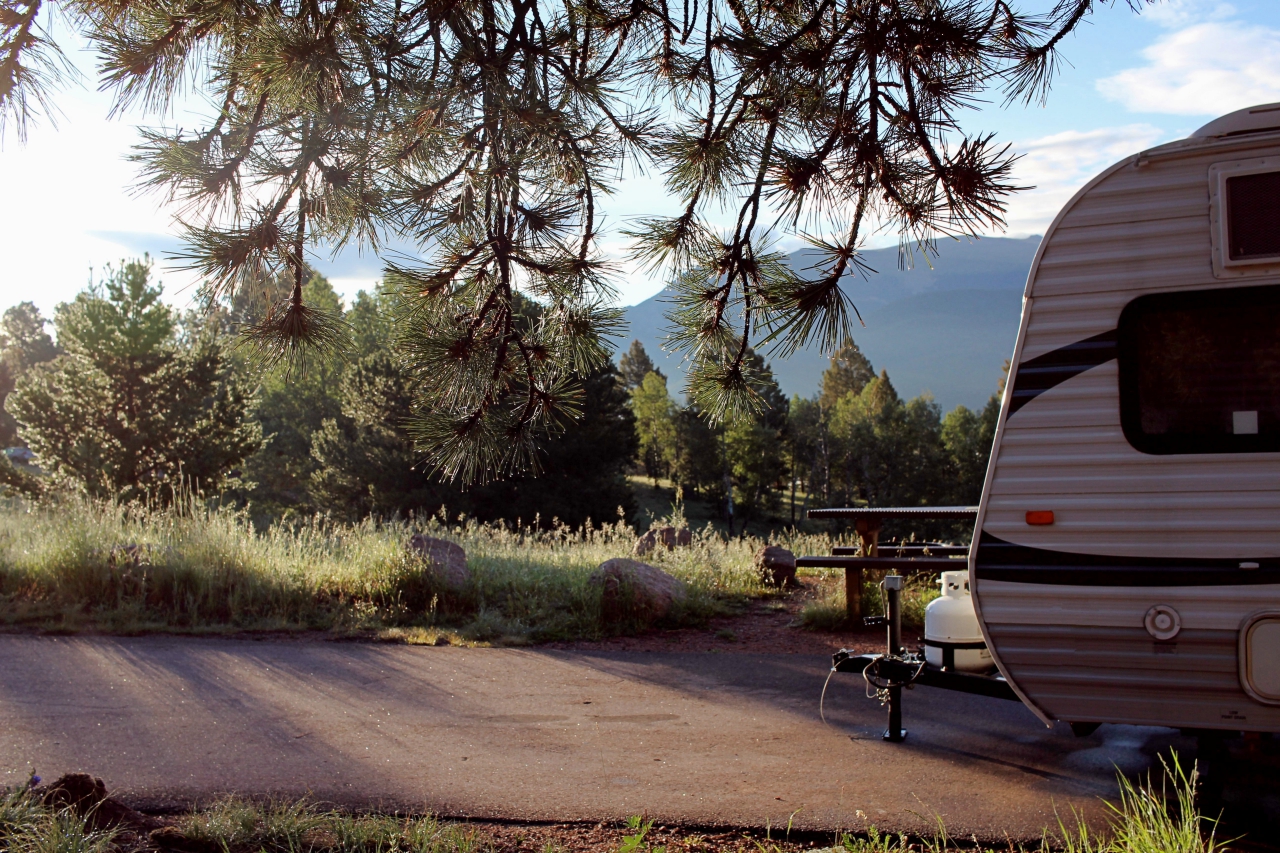 Site #8 and site #9 are neighbors and share views of a meadow with the mountains just beyond. Throughout our stay, we sat outside as much as possible, taking in the majesty. And really, who would eat breakfast inside with this view?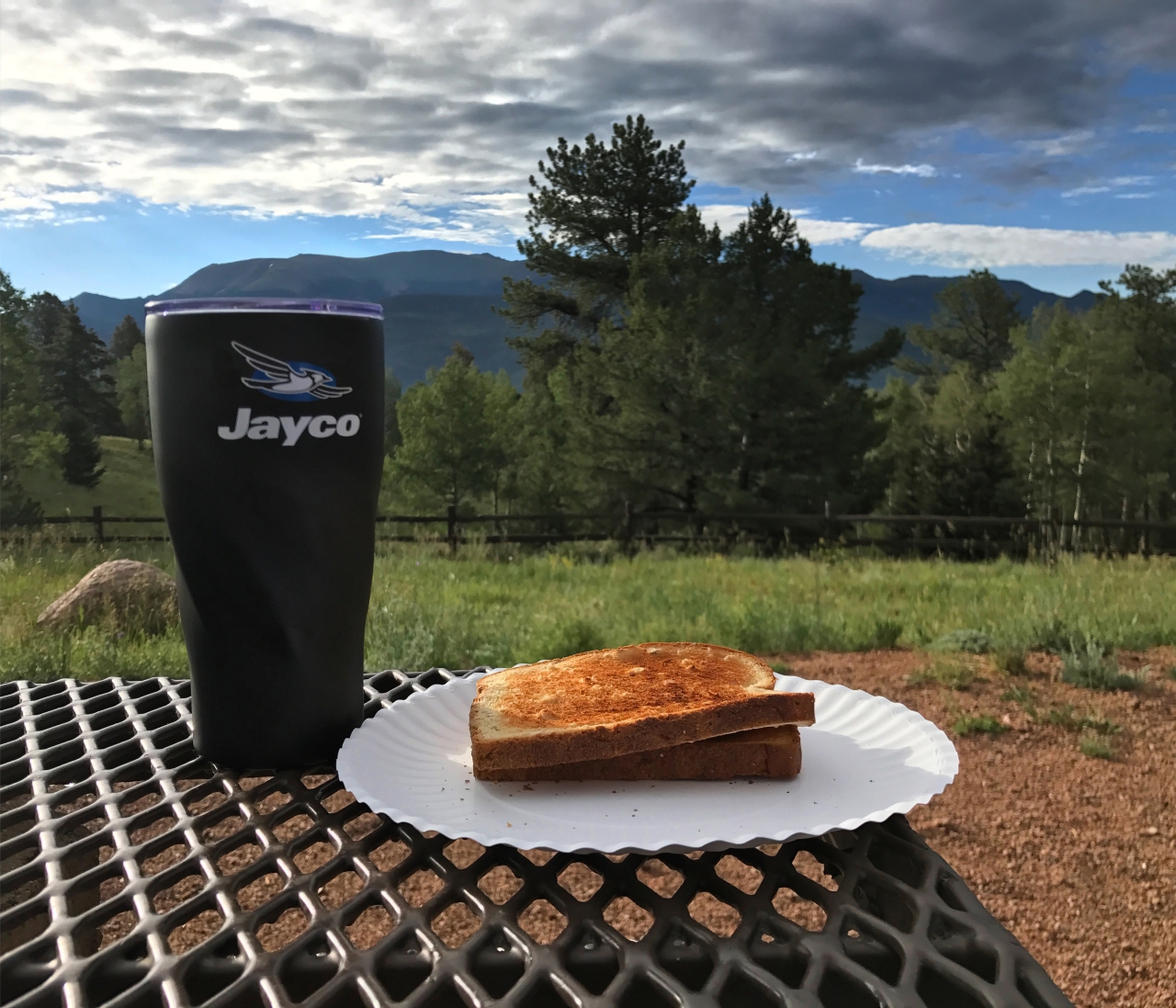 Other sites with mountain views include #32 and #34, which have more trees than our site did, but still allow you to catch a peek of the peaks.
Sites in the loop called Peak View have views of Pike's Peak. These sites were some of my favorites in the park because you back in to a wooded site, but you can put your chairs in front of your rig and look out at a large meadow with Pikes Peak rising above. One small downside, this loop is the furthest from the comfort station and shower house, with quite a hill to climb if you plan to walk.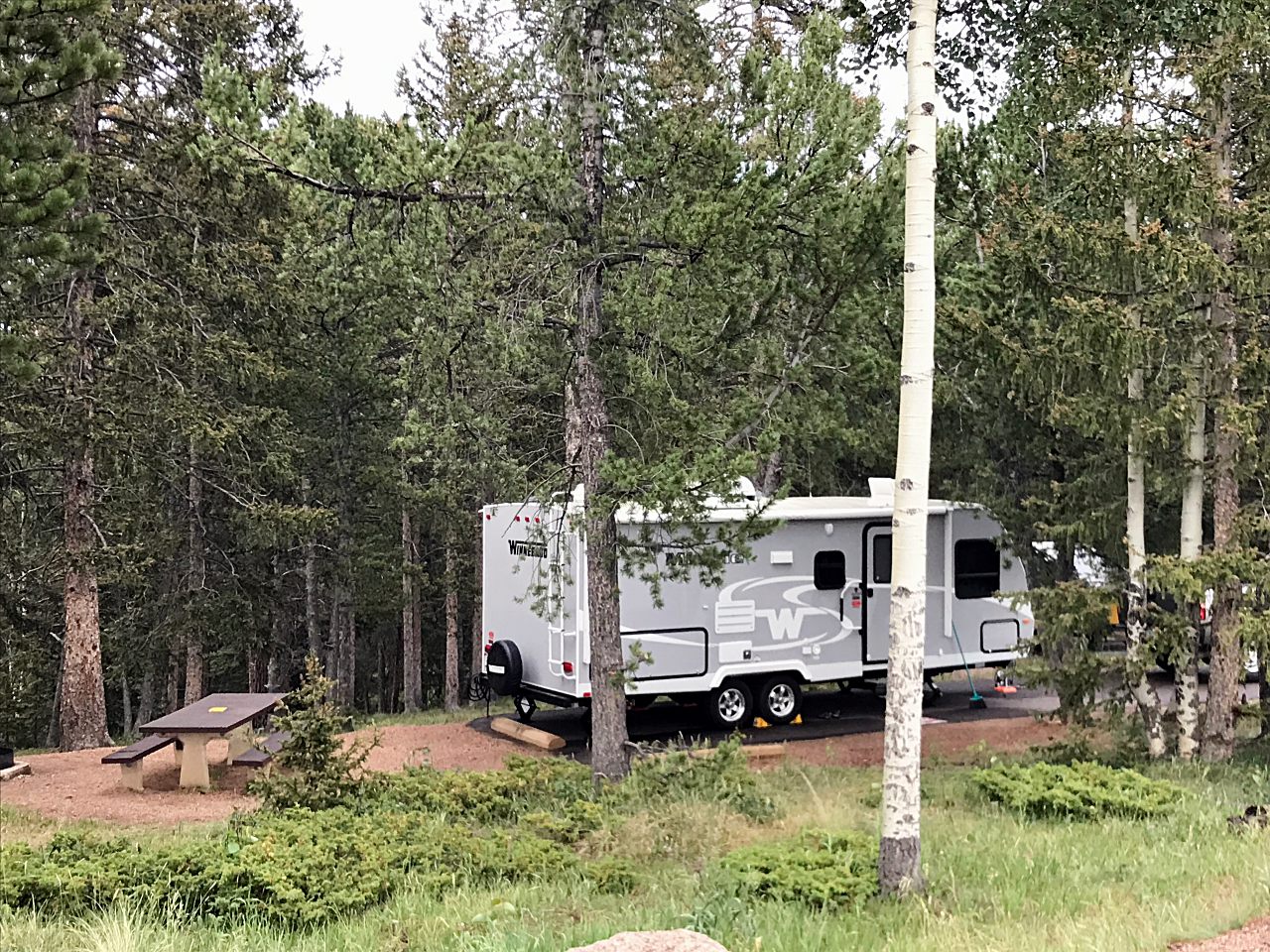 While these handful of spots (#1-5, 8-9, 32, 34) offer expansive mountain views, most of the rest of the sites at Mueller do not. Most of the sites are lovely in a different way, located in the woodlands. Expect to picnic in the pines. Of these sites, I thought #6-7 were especially pretty with dense woods. If you happen to go in October when the aspens turn golden, I expect spots #94-95 to be perfect, as they have more aspens on site than many of the others.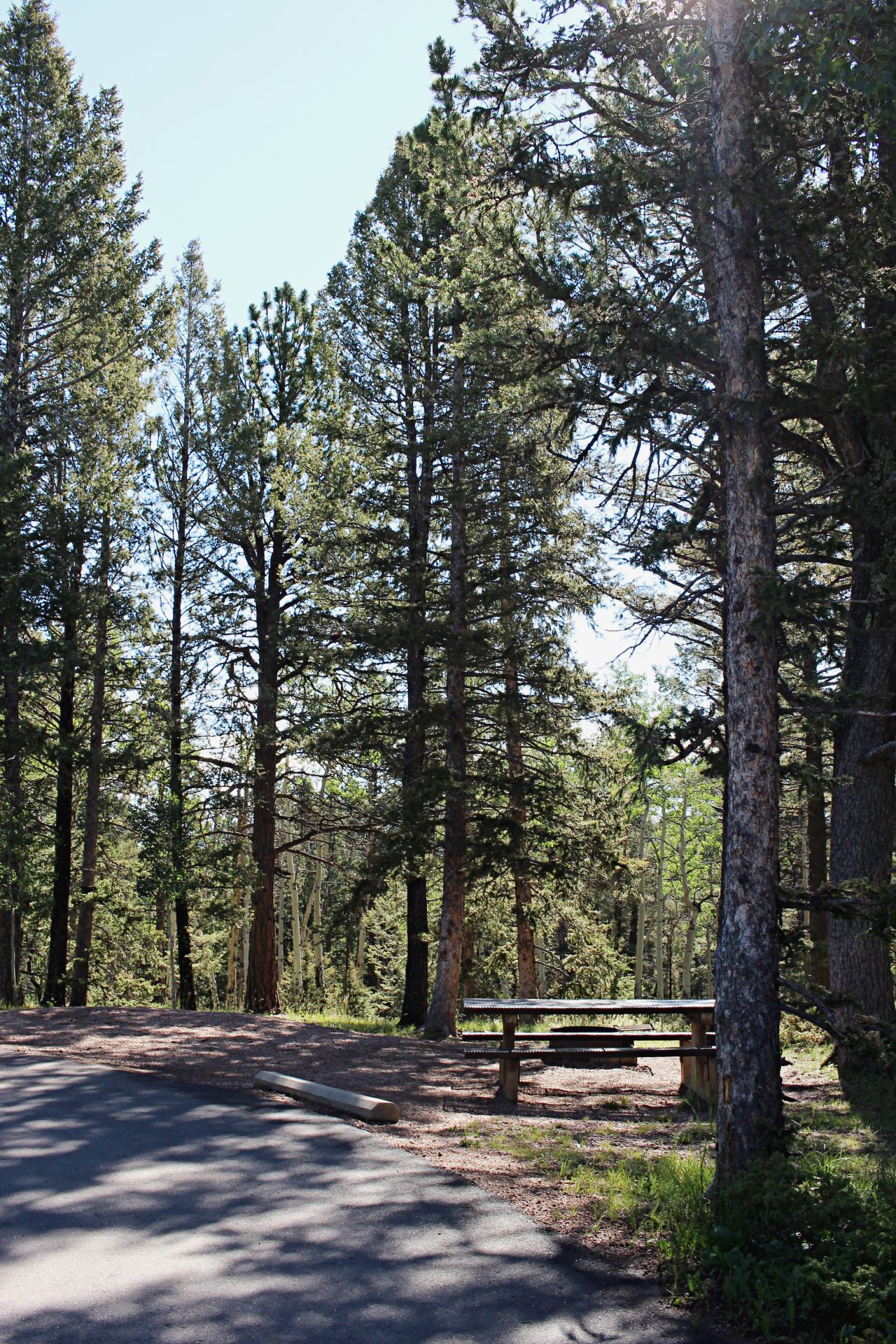 Finally, I have to give a shoutout to sites #123-124. There are some terrific boulders behind the spots, and little ones would love to play here.
With bear activity in the area, you must take precautions at your campsite to avoid leaving food, grills, or scented items outdoors. If you are staying in a tent, popup, or hybrid, you need to be especially careful indoors, as well.
Campsites cost $28 per night, but be aware you will also be charged $7 per day per car for the state park entry fee. So, really, this makes the campsite more like $35 a night—still plenty reasonable, in my opinion.
In addition to the walk-in and traditional campsites, three cabins are available for rent. These seem to be plush cabins that ooze charm, and the prices looked reasonable to me for their size. However, I suspect you have to reserve them on the very day reservations open up in order to snag one. I'd love to return to Mueller in the winter, hit the sled hill, and then return to build a fire in the fireplace of my cabin.
Overall, even though not all of the sites have mountain views, they are all really nice campsites in a truly beautiful state park. This is an epic place to relax or to adventure in the great outdoors.
Amenities
All sites at Mueller Ridge have electricity (up to 30 amp), but you have to be aware there is no water or sewer at your site. Spigots are generously located around the park offering drinking water, and there is a dump station near the entrance to the camping area. Some older reviews you will find online will say the dump station is closed, but that matter has been fixed, and they have reopened (I'm not sure if they are available all year, however).
This is a great place to sit back and enjoy a campfire. Firewood is sold in the park. It's also a perfect place for a picnic. Other than the tables at your site, there are a number located throughout the park.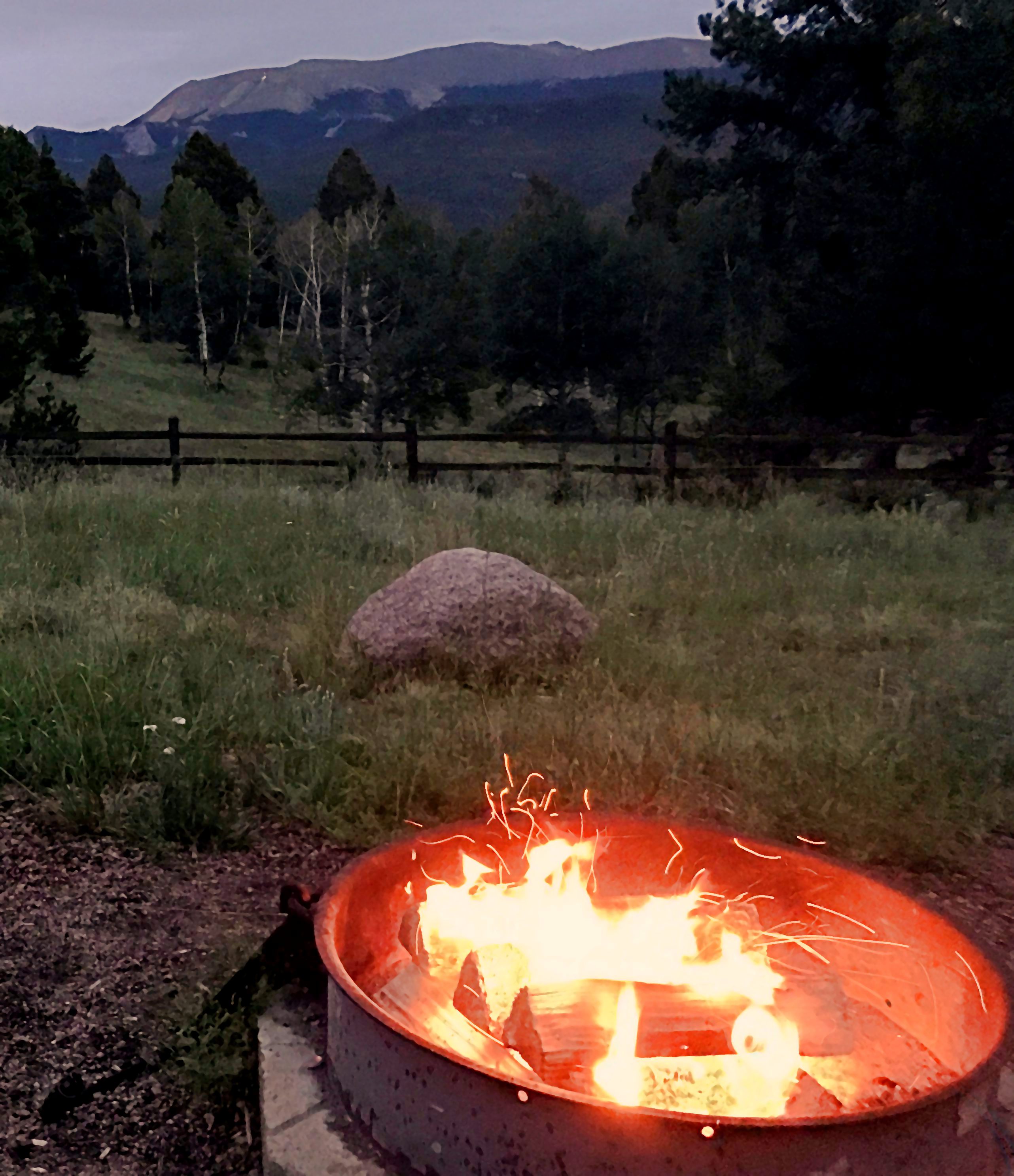 Throughout the camping loops, you'll find vault toilets. A comfort station with flush toilets and a dishwashing sink is centrally located. The larger shower house and laundry facility is located further up the hill.
As you may know, I'm picky about my showers, and state parks can sometimes get dismal grades. Mueller gets an A! Both the comfort station and the shower house were exceptionally clean. Do note that showers cost 25-cents per minute with a 4-minute minimum. You can get quarters in the laundry room. The water was warm and the pressure was good.
Connectivity can be an issue in the park. Our Verizon phone signal was weak, and the data signal seemed to come and go at our campsite. While it can be good to just disconnect and enjoy your time, we had children at summer camp two states away, so having some way to communicate was important to us. The park does not offer wifi. We did not try to find free wifi in Divide, but in Woodland Park, you will find it at McDonalds, Starbucks, and other locales.
Activities
Mueller State Park offers 50 miles of trails for hiking, mountain biking, and horseback riding (you can even reserve a room at the stable to board your horse). Check out the trail map to see which paths are open for each activity. As I showed in my last post, the hikes are spectacular (after you get used to the altitude). They are well marked and well maintained. From tiny wildflowers to massive mountain views, you'll find lots to look at as you explore the trails.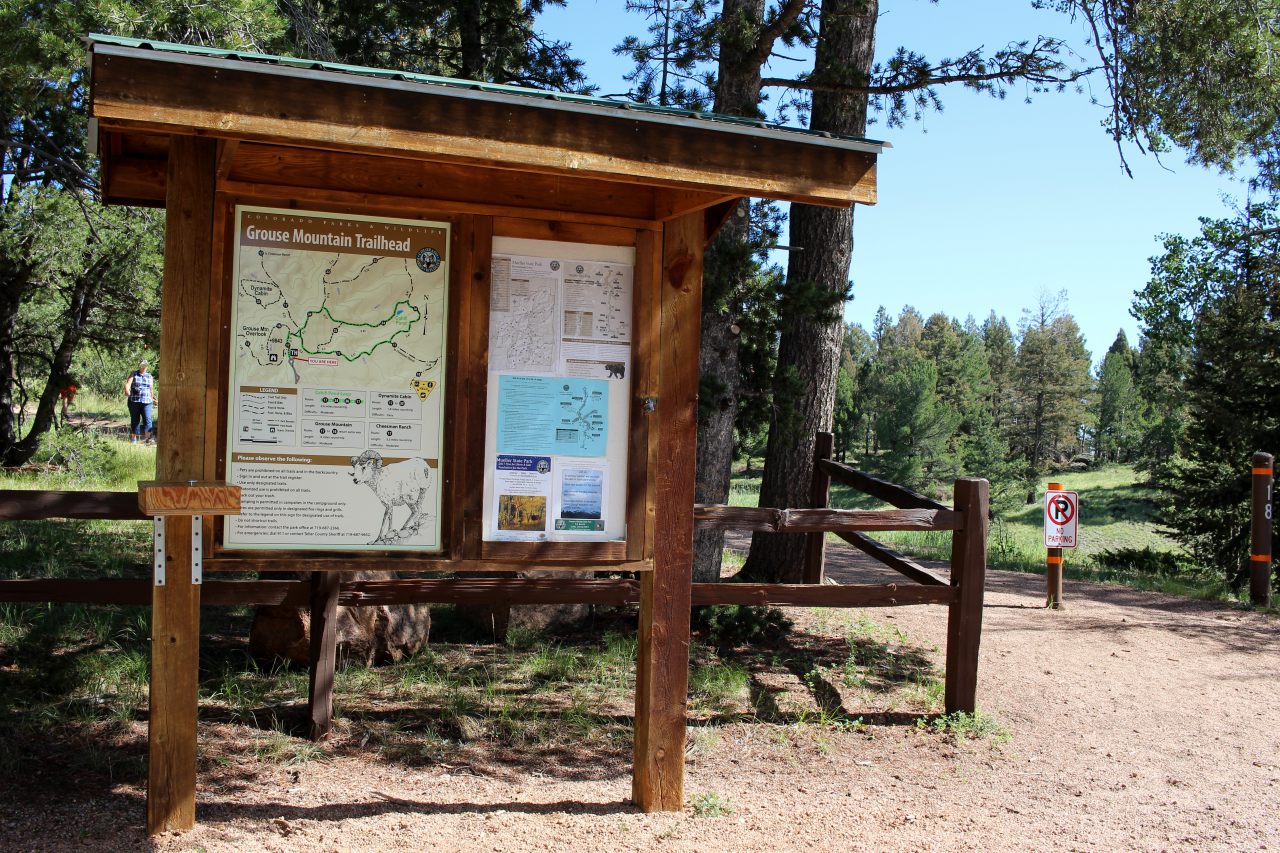 You will also have ample opportunities to watch for wildlife as you meander through the woods and meadows. We saw a red fox and lots of mule deer. Black bears and elk also inhabit the park, but they are more elusive.
One thing I noted is that they do not have a very detailed description of the trails, other than this list of family friendly hikes. However, the rangers and naturalists at the visitor center are very knowledgable about the park and can help you find what suites you. Pets are not allowed on most trails, which is another element to consider if you are taking along your pooch.
The visitor center has a nice display introducing you to the flora and fauna of the region. Short films and educational activities are sometimes offered. A small gift shop has regional items, hiking guides, and other treasures (this is not, however, a camp store with food and necessities. For those, you will have to drive 10-15 minutes up the road to Divide).
Mueller offers an impressive list of activities, ranging from naturalist-led hikes (which we took part in), educational programs at the amphitheater and visitor center, archery, fishing clinics, and more. Pick up a schedule or check it out online (you can filter the events calendar to show a specific park and date range).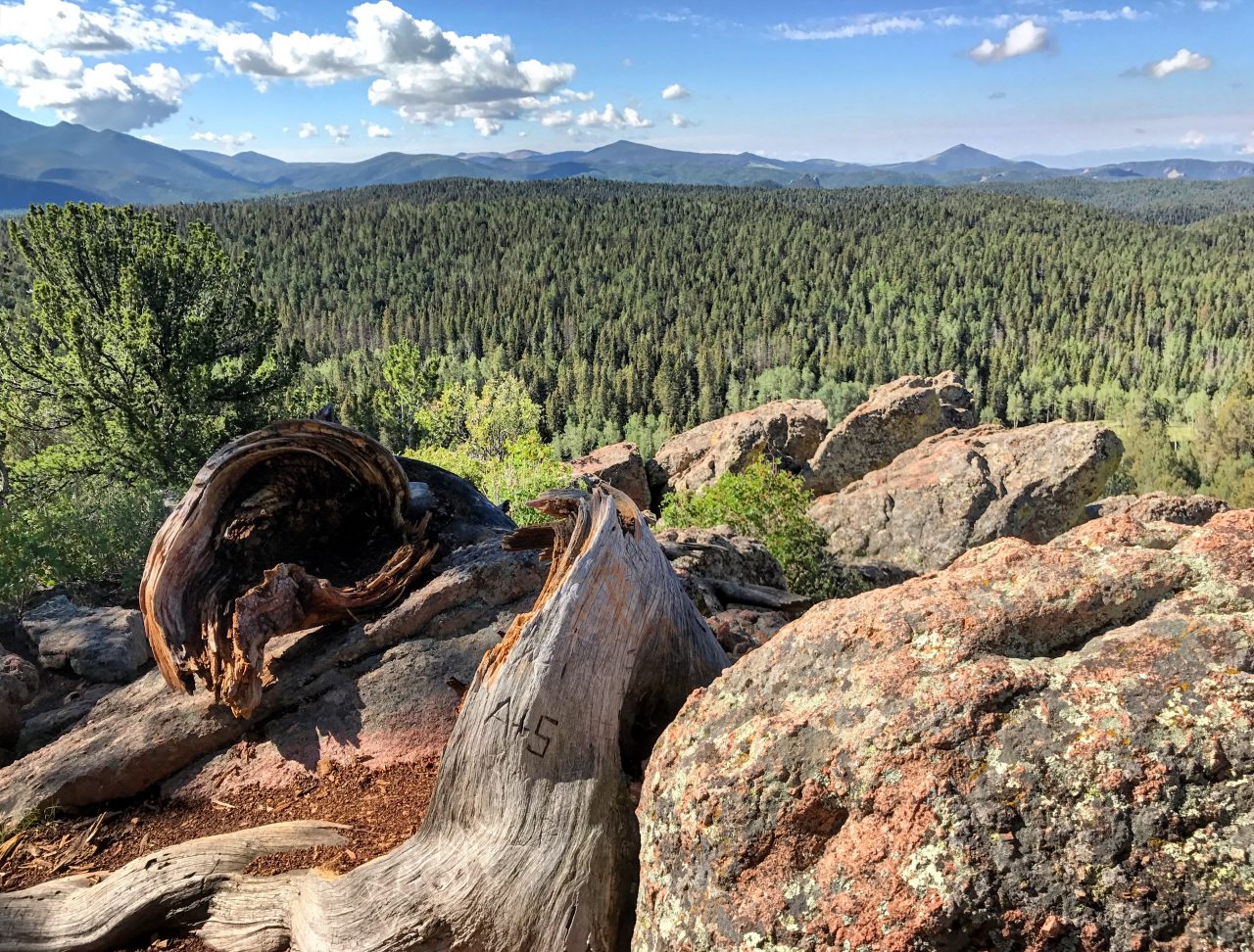 Families will definitely want to check into the Family Activity Backpack program. Your family can check out a backpack with nature guidebooks, bug boxes, binoculars, a nature journal, and more. The kids may also be entertained by riding bikes through the the campground or by playing on the nice playground structure (located near the shower house).
Fishing is offered in a few of Mueller's ponds. The park stocks the Dragonfly Pond a couple of times a year. This pond is very accessible for children and elderly family members; however, it may be overfished due to its location. If you are willing to hike a few miles, three ponds have good populations of brook trout. Be sure to check into state fishing licenses and regulations before you go. A stop at the visitor center can help you find all the details you need.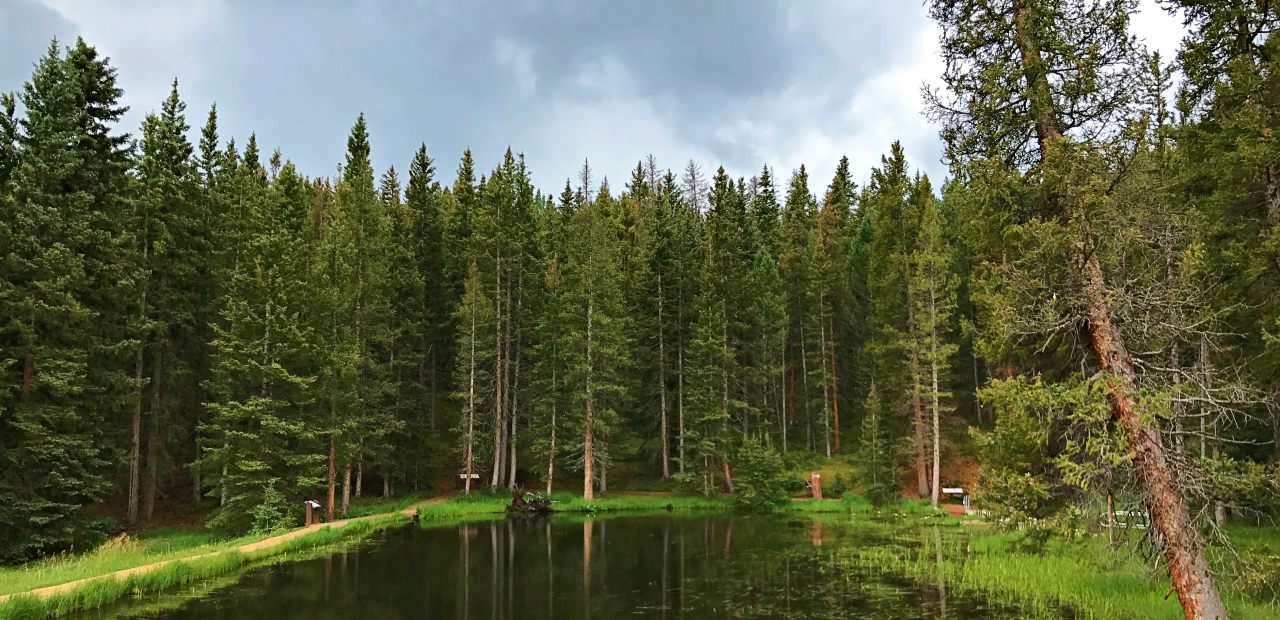 Activities vary with the seasons. Spring and summer bring out the wildflowers. Fall is especially scenic as the massive aspen groves turn gold. And winter is a great time for sledding and cross-country skiing (18 campsites are kept open in the winter).
It rained on us every single day of our visit. Luckily, the rain often held off until midday, and sometimes, it ended before the evening. If you visit in summer, you may need to rise early to get the most of the great outdoors. However, don't let the rain totally deter you from going outside. The smell of the fresh mountain air tinged with pine completely sold me on walking in the rain. If only you could scratch and sniff this photo: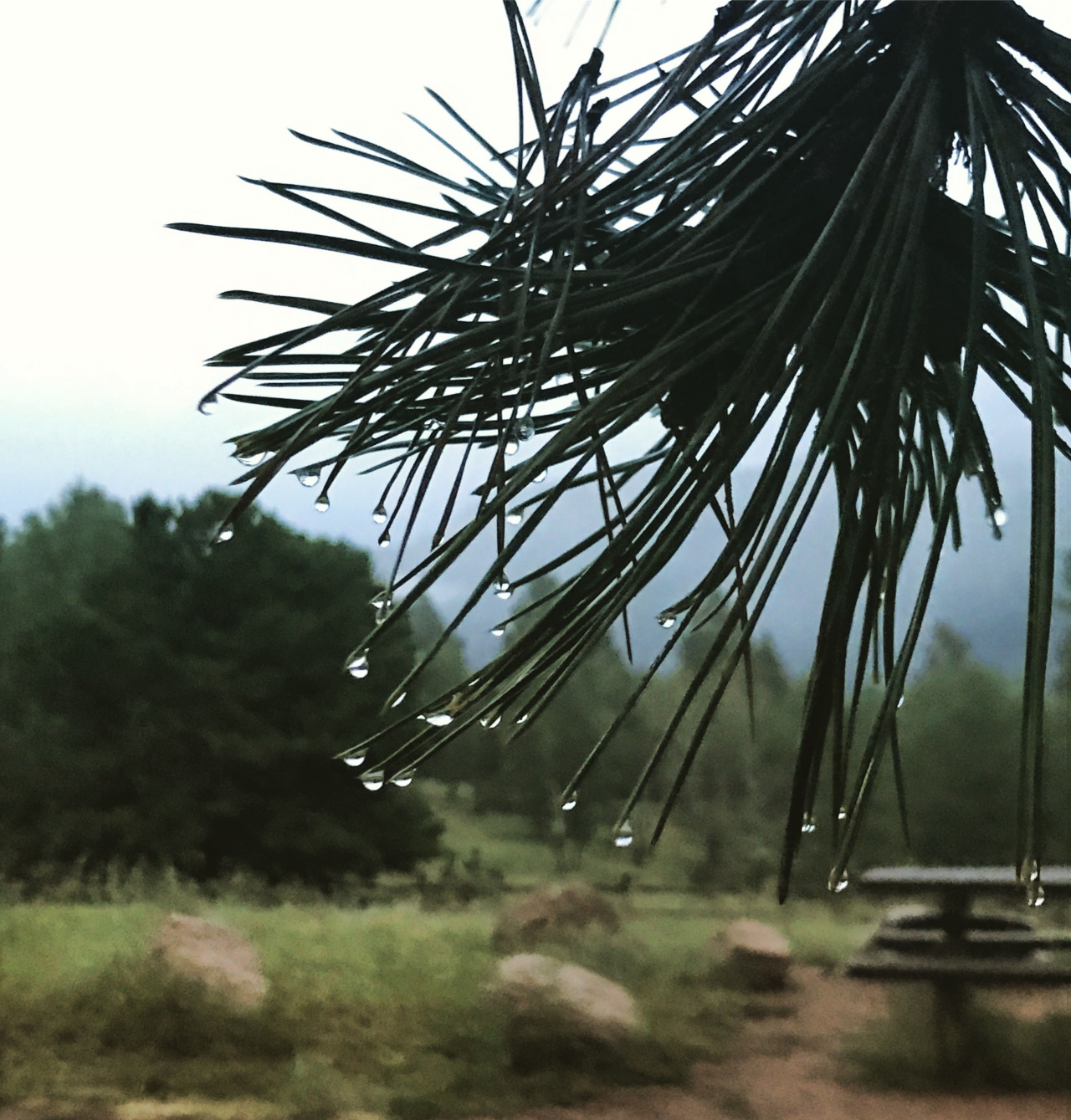 Local Area
Mueller State Park is approximately 10 minutes from the very small town of Divide. You'll find a handful of local restaurants and a nice little grocery store. We found all of the essentials we needed for our short stay, but specialty items will require more of a drive.
A little further away (20-30 minutes from Mueller), you'll find the town of Woodland Park, which has the feeling of a vacation town and offers a wide selection of restaurants and stores. While it has a Walmart and fast food chains, you'll still find plenty of local restaurants and shops to browse, all with the mountains rising overhead. (In the photo below, I was trying desperately to get a shot of Pike's Peak in the morning sun and clouds, but I couldn't get a clean shot as we drove along. However, as you can tell, you'll enjoy lovely views if you look beyond the fray.)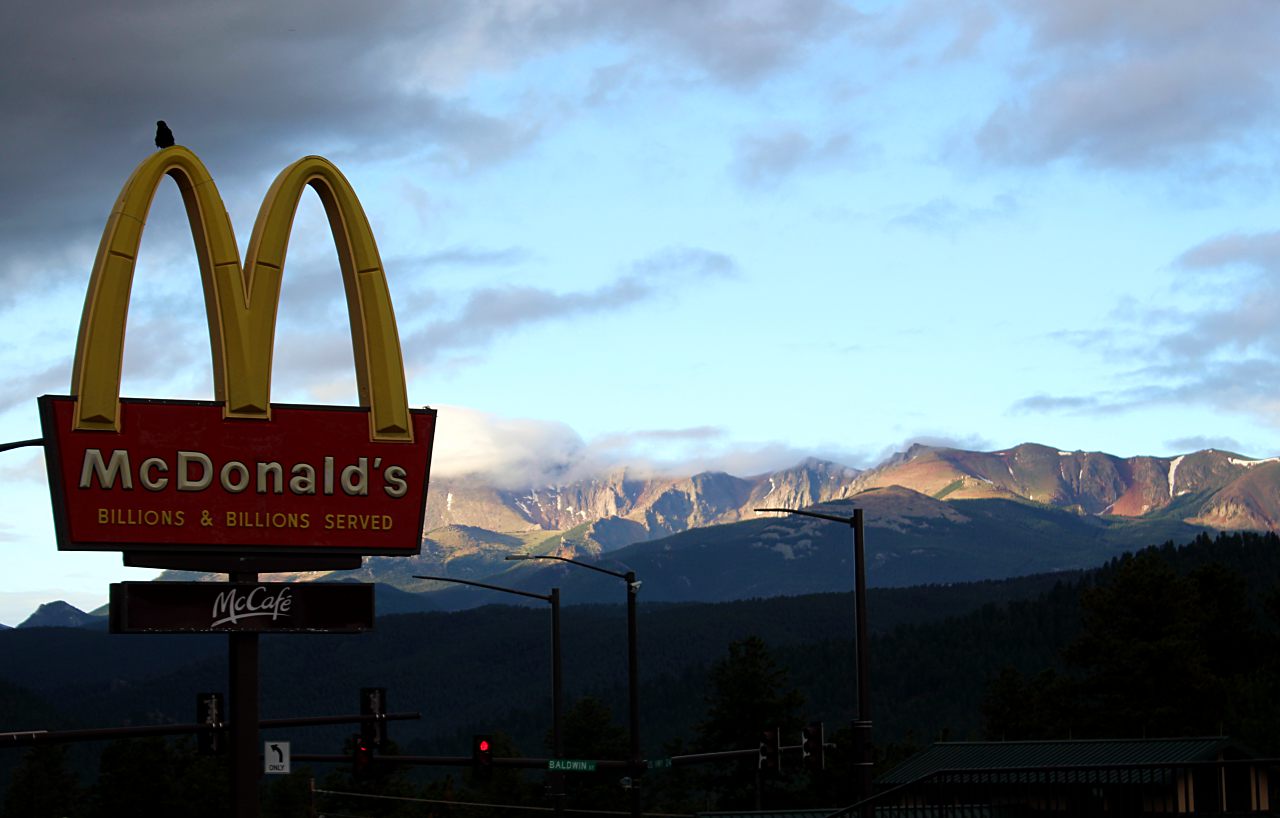 From outdoor recreation to interesting attractions, you'll find lots to do within an hour's drive. My last post described the stunning Eleven Mile Canyon area, approximately 45 minutes from Mueller. This is a top pick for stunning scenery and for trout fishing. My next post will focus on the fun we had in the Colorado Springs area. But, the great thing is that you can just stay in Mueller State Park and find plenty to enjoy for a few days.
Just the Facts
Name & Website: Mueller State Park
Location: Approximately an hour west of Colorado Springs in the southeast corner of Colorado, near the small town of Divide
Description: Beautiful state park campground situated at 9,500 feet in elevation
Rates: $28 per night (plus park fee of $7 per day per car). Book early because this park sells out in peak season. I reserved in February and only found a handful of spots for July.
Utilities: Electric only (no 50 amp). Water is available at spigots throughout campground; dump station also offered
Bathhouse: The centrally-located shower house and the comfort station restroom with flush toilets were exceptionally clean. Showers cost $1.00 for 4 minutes. Some loops are not near the comfort station, offering vault toilets instead.
Amenities/Activities: Over 50 miles of trails for hiking, biking, and horseback riding. Nice visitor center and organized hikes and presentations.
Bottom line: Mueller State Park is a picture perfect mountain getaway, offering beautiful sites and trails.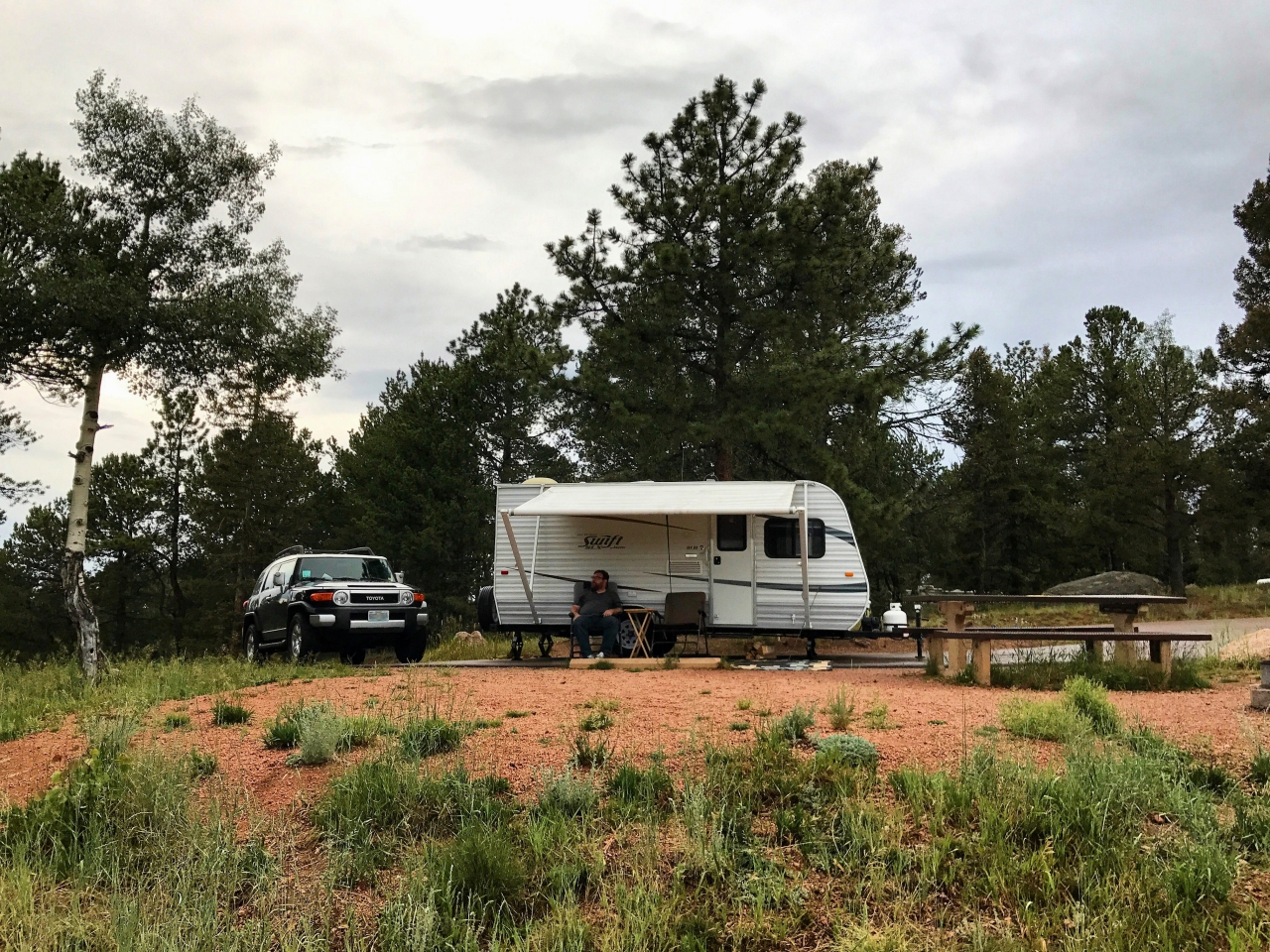 Find Travels with Birdy:
Share this post: