Podcast Appearances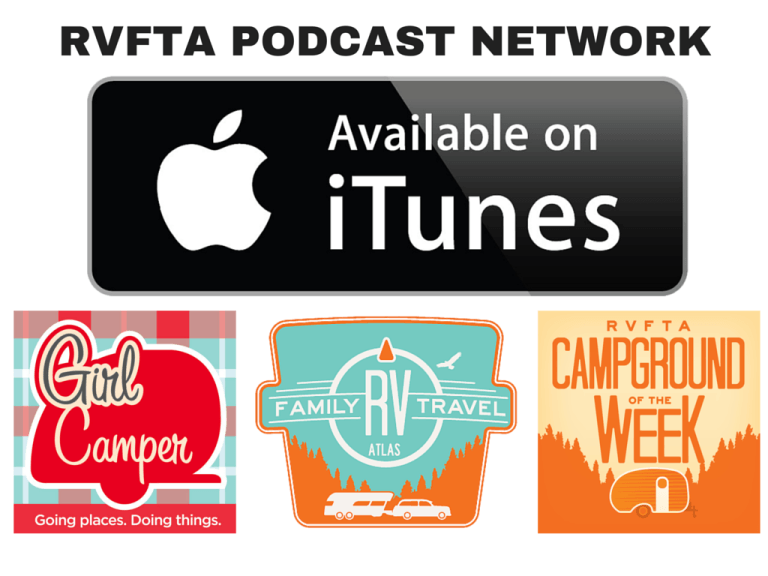 The fine folks over at RV Family Travel Atlas have had me on their show to talk about our RVing adventures, which led to a some guest gigging on the Campground of the Week podcast.
You can listen on iTunes, Stitcher, or straight through the website. Find my episodes here:
RV Family Travel Atlas
Episode #100: Yellowstone National Park: On the 100th(!) episode of RVFTA, I shared the Yellowstone portion of our #BirdyNPS100 to celebrate the National Park centennial. Hear my top 5 tips for planning your Yellowstone trip and learn about our favorite spots.
Episode #89: Unplugging Teens & Tweens for RV Travel: Hear my top 4 tips for getting teens and tweens to (happily?) disconnect from their digital devices while on family RV trips.
Episode #48: Dispatches from Glacier & Yosemite: On this episode, I described our favorite adventures in Yosemite National Park, including floating the Merced River and climbing Pothole Dome.
Episode #36: Pack Up Those Kids!: Old 86 Campground in Branson, MO, was the site of our first trip with Birdy. Hear about why we loved this campground, as well as some of our "fails" from our first season of camping.
Campground of the Week
Review: Lake Ouachita State Park near Hot Springs, AR: This is a scenic basecamp for a visit to Hot Springs
Review: Watkins Glen State Park in the Finger Lakes Region of NY Watkins Glen is a waterfall wonderland, and the campground is amazing, as well!
6 Amazing State Park Campgrounds in the Midwest: It was a difficult task, but RVFTA's Jeremy and Stephanie challenged me to find the very best state parks in the Midwest. Find out what made my list here.
Episode #115: Petit Jean State Park in Arkansas: Petit Jean was Arkansas's first state park, and I daresay it's the state's finest. Listen to learn about the epic hiking and epic campground.
Episode #106: Eureka Jellystone Park Resort at SixFlags near St. Louis, Missouri: St. Louis has tons of free, family-friendly attractions, and the Eureka Jellystone is a perfect basecamp, with lots to do in the park.
Episode #87: Wanderlust RV Park in Eureka Springs, AR: Eureka Springs is a relaxing Ozarks getaway, known for its quirky charm. Wanderlust RV is a top pick.
Episode #80: Echo Bluff State Park in Missouri: The newest developed state park in MO is a beautiful retreat in the Ozarks National Scenic Riverways region.
Episode #75: Badlands/White River KOA: We loved the Badlands! Hear all about our basecamp just outside of the park gates.
Episode #68: Grand Canyon Trailer Village: If you're heading to the Grand Canyon, this NPS campground puts you right at the heart of the park.
Episode #60: Colter Bay in Grand Tetons: The Grand Tetons NP is a majestic parks, and the NPS campground does not disappoint.
Episode #54: Devils Tower KOA: Hear about this fun campground at the base of a pretty cool national monument.
Episode #49: Rafter J Bar Ranch in South Dakota: Hands down, this has been my favorite campsite ever. Rafter J is the perfect base camp for exploring the Black Hills region.
Episode #39: Yellowstone Grizzly in West Yellowstone: Looking for a great basecamp for exploring Yellowstone National Park? Our family really enjoyed our stay at this great campground just outside the park gate.
Episode #30: Tall Pines Campground in Branson, Missouri: True to its name, Tall Pines Campground does indeed have tall pines (and oaks), making it a really beautiful private park conveniently located near the popular tourist town of Branson, MO.
Episode #24: Bella Vista Village RV Park in Bentonville, AR:  This is one of our favorite small towns, mostly due to the amazing Crystal Bridges Museum of American Art.  Bentonville has a great art museum, hiking and biking trails, and plenty of small town charm.
Episode #21: San Francisco RV Resort in Pacifica, CA:  Finding the perfect campground close to SF can be quite difficult, but we were please with our stay at SF RV Resort. It may be a parking lot, but it is a parking lot right on the ocean.
Episode #17: Bennett Spring State Park in Lebanon, MO: Bennett Spring State Park offers the classic campground experience. Set some chairs around the campfire and relax. Wake up early the next day to try your hand at catching some of the rainbow trout that swim in the crystal clear stream.
Episode #10: Rancho Sedona RV Park in Sedona, AZ: Sedona is known for its beautiful red rocks and desert landscapes. Right in the heart of town, along the banks of Oak Creek, you'll find the Rancho Sedona RV park. This was our favorite campground of our Birdy Goes West road trip in 2015.
Episode #2: St. Louis West KOA in St. Louis, MO: This campground is a great basecamp for exploring all there is to see in the city, or it is a great destination in and of itself. Sit back under the canopy of trees, take part in the many activities offered in the park, or hit the highway and explore St. Louis.
Happy travels!
Kerri Cox